It's Side Dish Day! Not really, I just made that up.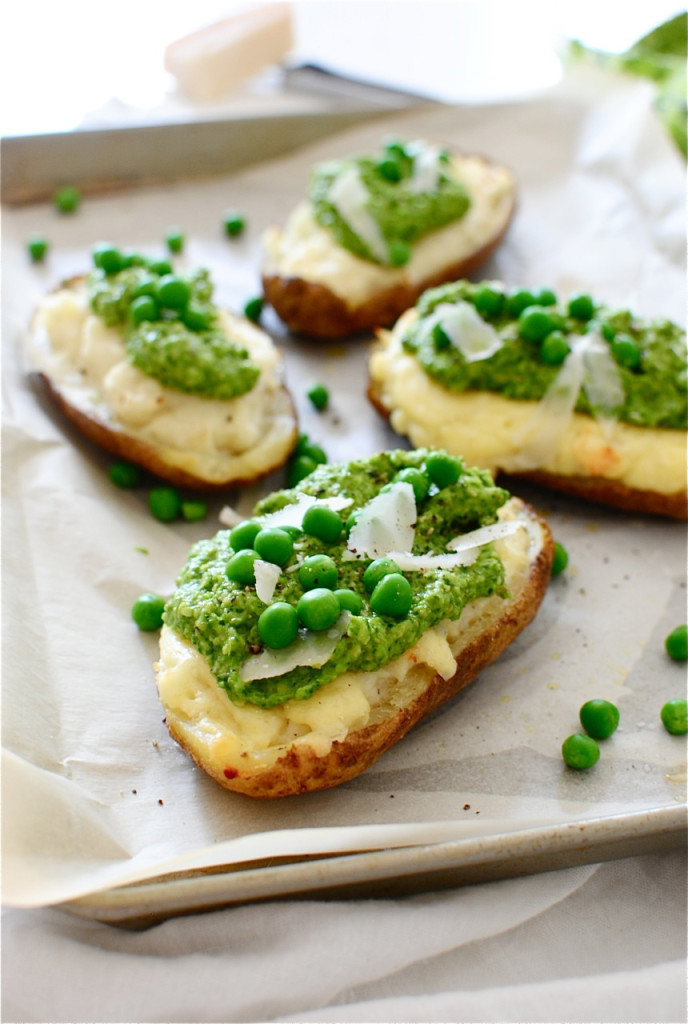 But let's just pretend. It's Side Dish Day! What a great day.
I have to say, huge meals like on Thanksgiving, Christmas, where there's a gigantic chunk of meat and then a bunch of yummy side dishes, I totally go for the sides. No question. They're usually either cheesy, starchy, veggie-y, or some hybrid love child of the three. This dish. This be the hybrid love child of the three. And it's super magnifico. Starchy from ze pertaters, cheesy from ze . . . well, cheese, and veggie-y with ze scallion pesto and massive pea explosion on top. It's spring food! Kind of.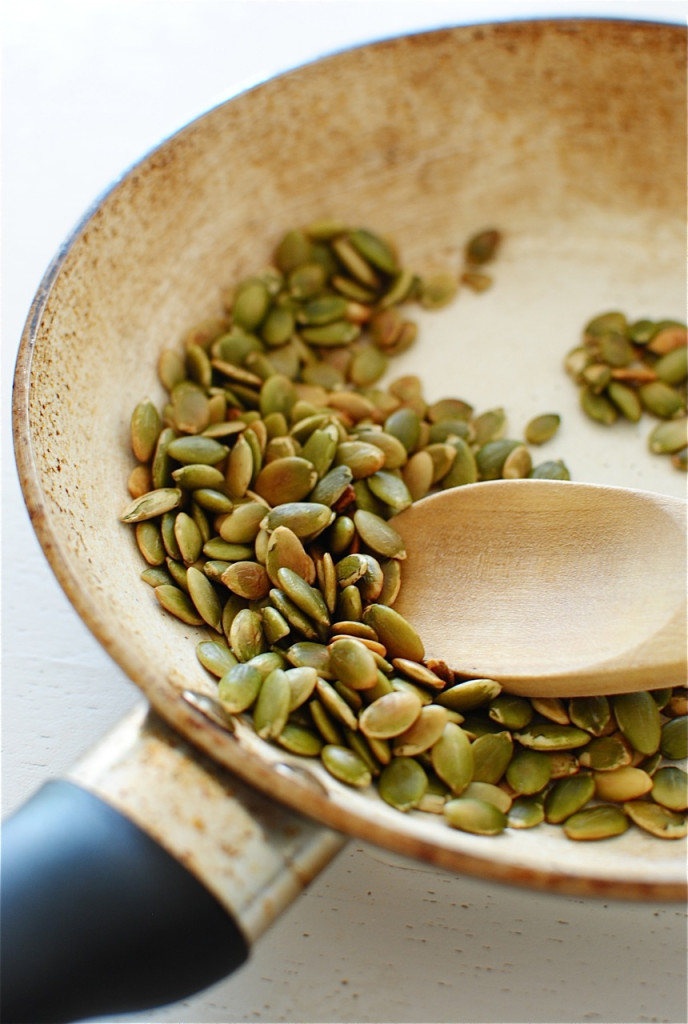 These are pepitas. AKA: shelled pumpkin seeds. I'm popping them into the scallion pesto in place of traditional pine nuts. See how scandalous I am? Toast them first! Just a few minutes in a little sauté pan is fine. Once you smell the nutty fragrance and see a little color on them, you're good to go. Plus it gives you the chance to yip, "PEPITAS!" over and over and over like an obnoxious dweebo.
Remember when I used to record words and slip them into my blog posts!? HAHAHA. I need to do that again. Like, FLATBREAAAD. Remember that? Oh my gosh. And the one about the sub sandwiches? Yeah, I don't even know how you put up with me.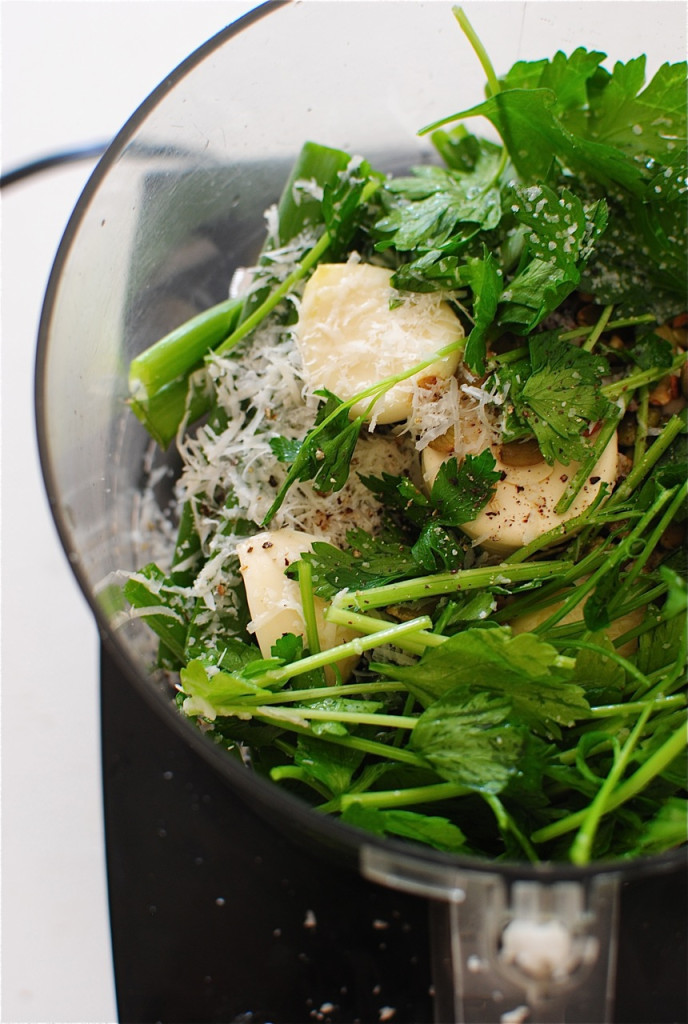 This is the pesto! I call it scallion pesto because there's an entire bunch of scallions in there, but I also added a handful of parsley (even some stems) to give it some oomph. I have to say, this pesto has a little kick! With the raw garlic and green onions. But I dig it. I dig a good kicky-face pesto. Because saying kicky-face pesto doesn't make me sound weird at all.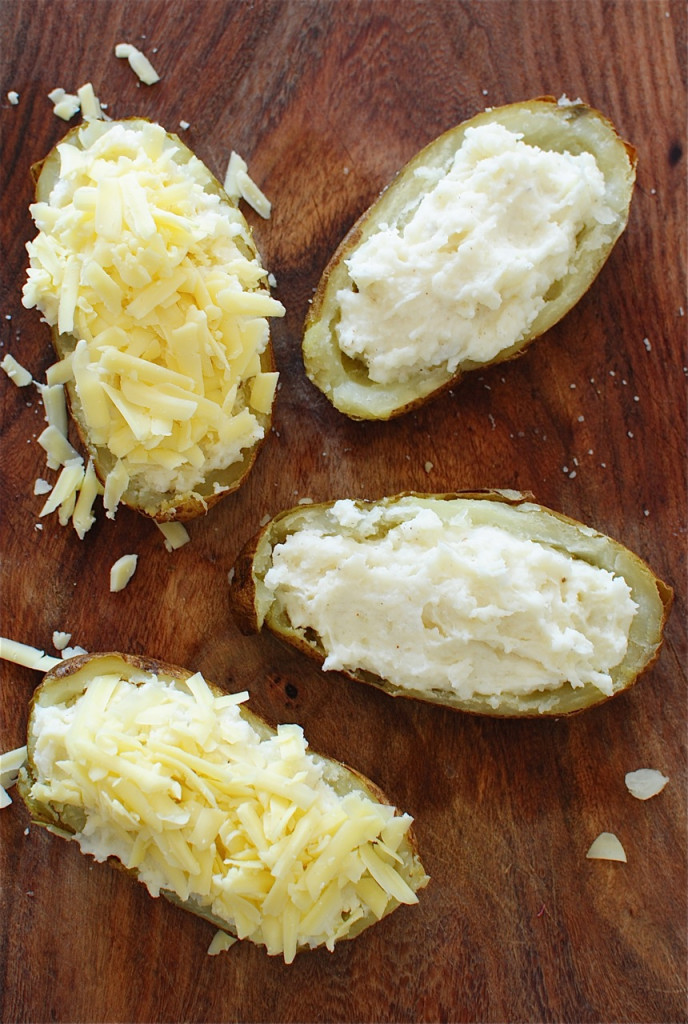 The potato baking method was a tip from Aaron. Start them in the microwave for eight minutes. Four minutes on each side. Then finish in the oven at 400 for 20 minutes. Then you'll slice them in half and make a crazy filling to go back in and bake again! Hence the . . . twice-baked . . . name.
Anyway, instead of sour cream I swirled in some plain Greek yogurt, just to lighten her up a smidge. Duncha worry, she's still creamy and dreamy. Also, see the two with no cheese on top? Hello, cheese hater hubz. Can you imagine the sadness? The loneliness? He's also super skinny, so there's that. Ugh.
I only have one more photo so I'm wrapping this up. There you have it! Twice-baked, topped with a gawgeous dollop of spring pesto and fresh peas. I served this with a simple rotisserie chicken and some sautéed lemony green beans, and errrbody was happeh. Mmmmmm MMMMM.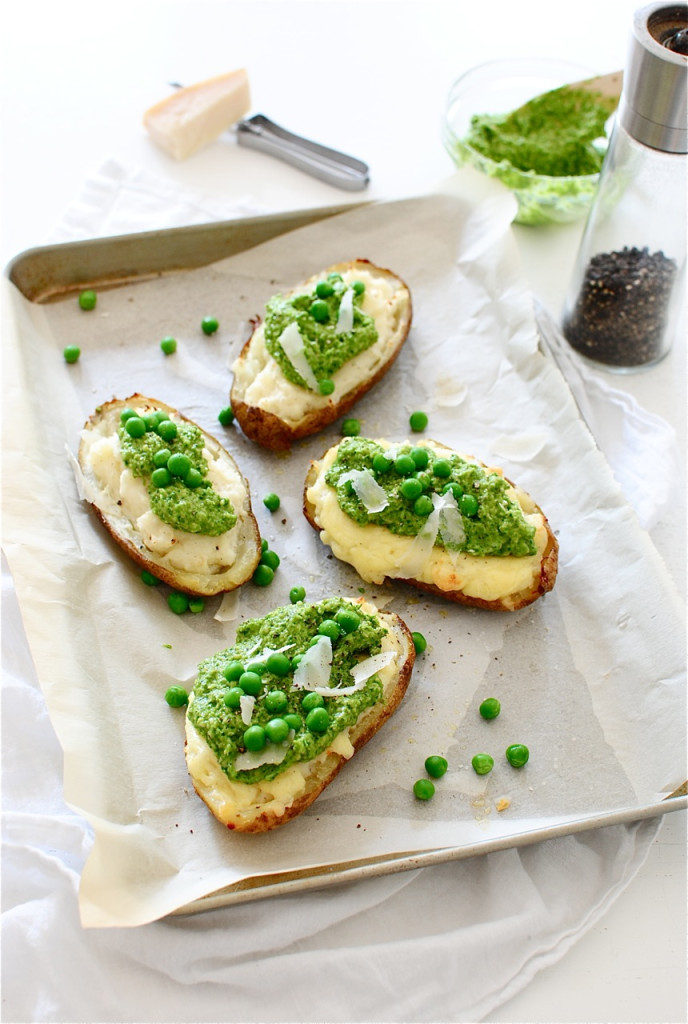 Side Dish Day! Still not a thing.
Cheesy Twice-Baked Potatoes with a Scallion Pesto:
What it took for four halves:
for the pesto:
* 1/3 cup toasted pepitas (pumpkin seeds)
* 1 bunch scallions, roots trimmed and cut into 3-inch pieces (not the roots, the scallions)
* 1 cup loose parsley
* 3 cloves garlic
* 1/4 cup freshly grated parmesan cheese
* 1 Tbs. fresh lime juice
* 1/2 cup extra-virgin olive oil
* 1 pinch of coarse salt and freshly ground pepper
for the rest:
* 2 baking potatoes (russets are fine)
* 1 cup aged white cheddar cheese (regular cheddar is fine)
* 2 – 3 Tbs. Greek yogurt
* 2 Tbs. butter
* 1/3 cup milk
* 1 pinch nutmeg
* pinch of salt and pepper
* fresh peas for topping (thawed from frozen is fine!)
Preheat oven to 400.
Place the potatoes in the microwave and cook for 4 minutes on one side. Flip and cook (wave?) 4 more minutes. Transfer the (hot!) potatoes to a baking sheet, drizzle with a little oil, sprinkle with coarse salt and slide them into the oven for 20 minutes. Done.
Using an oven mitt or cloth, slice the potatoes in half lengthwise. Carefully spoon out as much potato filling as possible, placing into a large bowl. Leave a little potato flesh around the edges of the potato skins, for support.
To the bowl, add most of the cheese (leaving a little for topping), yogurt, butter, milk, nutmeg, salt and pepper. Whip or mix together to combine. Spoon the filling back into each potato half. Sprinkle the remaining cheese on top and slide back into the oven for 20-25 minutes, or until the cheese is melted and starting to brown and bubble.
While the potatoes cook, make your pesto. In a large food processor, combine the toasted pepitas, scallions, parsley, garlic, parmesan, lime juice, salt and pepper. With the motor running, add the oil in a thin stream until you get a pesto. Taste it. Spicy, huh with that raw garlic! Mmmmm.
Top each twice-baked potato with a healthy dollop of scallion pesto and a spoonful of peas. Maybe some fresh parmesan slices on top? Cracked black pepper? Heavens, yes.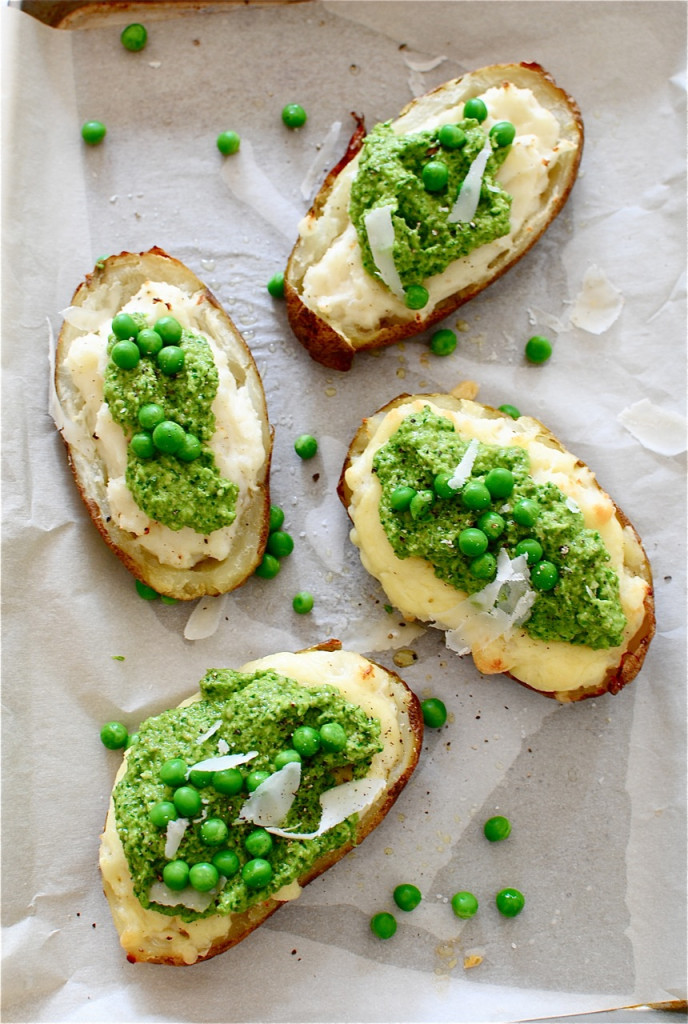 P.S. Your kids may/will faint from the cheesy potato bliss. Don't say I didn't warn you.