You know those birds I was talking about singing A Chorus Line on my back porch at 6am? They've now moved on to The Phantom of the Opera and I can't decide if I owe them admission fees or a knuckle sandwich.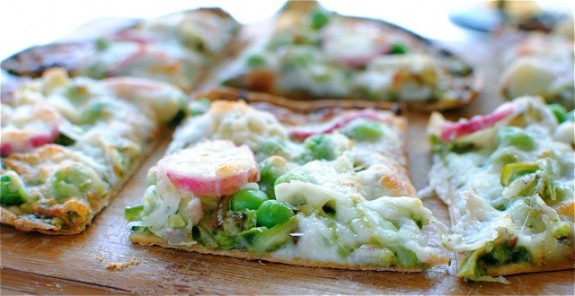 Let's talk about flatbread while I try to figure out these perplexities in life. Flatbread! I wish you could hear the way I say that word. I wonder if there's a way to record it and include a little audio link for you. Is there? There totally should be! I have to figure this out. Anyway, the way I say it is somewhere between a drunk muppet and a car horn. Flatbreaaad!
I HAVE TO INCLUDE AN AUDIO LINK.
Now I can't even concentrate on what I was going to tell you about this flatbread pizza because I'm completely obsessed and on the hugest mission ever in the entire world.
OH. Um, I seriously think I'm figuring out this audio thing.
But yeah, it's amazing, springy, healthy, vegetarian, blah blah blah.
Oh my face I'm about to die laughing. I really think I figured this out.
And it takes like negative time to make because the crust is already made and you just pile on the garden center and bake-a-roo.
But don't let anyone hear you say "bake-a-roo."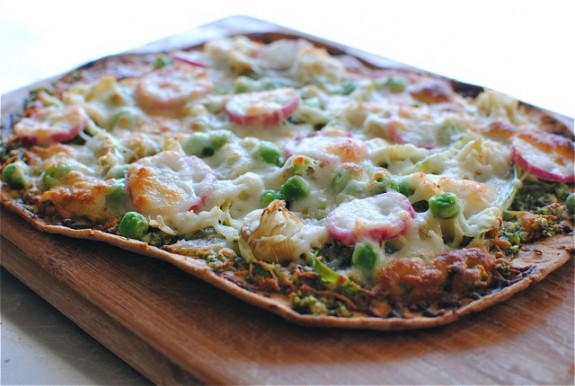 You guys, I'm totally impressing myself with TECHNOLOGY right now. I think I've actually done it!
And the pizza is to die for, yadda yadda.
I'm about to change our relationship forever.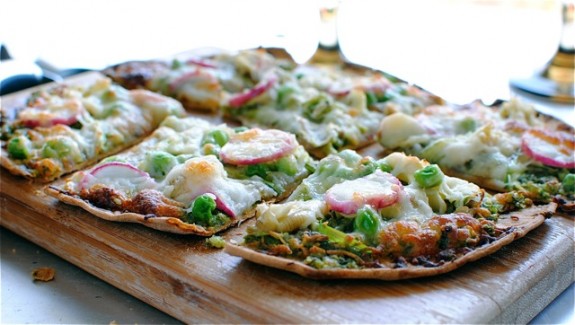 I FIGURED IT OUT. Look at me all smart and technologically advancedicalized! FLATBREAAAD
…I cannot tell you how hard I am laughing right now.
Spring Vegetable Flatbread:
What it took for 2 flatbreads:
* 2 whole wheat flatbreads (from the store)
* 1/2 bunch asparagus, ends trimmed and peeled with a vegetable peeler into ribbons
* 3 cups arugula
* 2 cloves garlic, chopped
* 1/4 cup raw almonds
* 1/4 cup freshly grated parmesan, plus more for garnish
* 1/3 cup extra-virgin olive oil, plus 1 Tbs.
* 1 pinch coarse salt and freshly ground pepper
* 1 large shallot, thinly sliced
* 6 jarred artichoke hearts, rinsed of their oil and leaves (?) separated
* 1/2 cup frozen peas, thawed
* 4 radishes, thinly sliced
* 1 cup shredded mozzarella
Preheat oven to 400.
In a food processor, combine the arugula, garlic, almonds, parmesan, salt and pepper. With the motor running, add the oil in a thin stream until you get pesto.
Heat the remaining Tbs. oil in a small skillet over medium high. Add the shallots and saute until they soften and brown slightly, 5 minutes.
Spoon the pesto evenly over the flatbreads. You may have leftovers depending on how heavy handed you are with the spreading. Or you may have too little if you got lick happy in the kitchen.
Evenly layer the shallots over the flatbreads. Then add the asparagus ribbons. I really like asparagus ribbons. They make me giggle. Follow with the artichoke hearts. Then sprinkle on the peas. Then layer on the radishes. Then add the cheese.
Then you throw it in the oven and bake 10-15 minutes, or until the cheese is browned and bubbly and you're doing the pee pee dance you're so excited.
Garnish with more parmesan if you like, slice and inhale with a drink of your choice!
PS: The 3 winners of the Pioneer Woman's new cookbook ARE:
* Manda who said, "I can relate when she talks about bassets smelling like Fritos! We have one and he is a stinky bugger!!"
* Ashlei who said, "I love how when she uses half and half instead of cream, she says it's because she's being healthy. Makes me chuckle every time."
* Kitt who said, "My favorite Ree-isms are…….
Whatever makes your skirt fly up……
So good it will knock your socks off…..
When she refers to her kids as "punks".
When she refers to her hands in a photo as "pink alien hands".
Oh there are so many! Ree is a great writer/blogger and can totally relate to the average person. I've read her books and most of the history (years) in "Confessions of a Pioneer Woman" from her website. Very entertaining!"
Congratulations, ladies! I'm emailing you now!