So this is totally not Mexican food. My bad!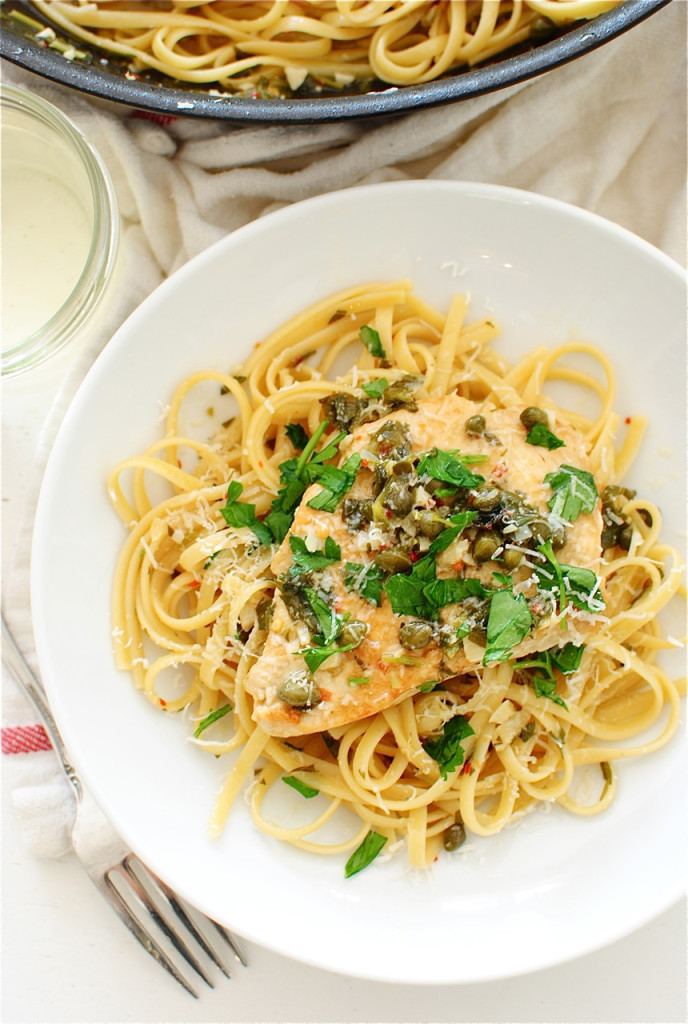 But it's linguine with chicken and obscene amounts of butter and lemon. Will you forgive me?
So, Chicken Piccata. Is this a regular meal for you? A longggggaaaa time ago it was something that was surprisingly a bit intimidating for me. I'm not sure why. It's relatively straight forward, what with the boiling of the pasta, the searing of the chicken, the creation of a buttery lemony capery sauce, the face planting of the entire upper torso into the pan. You know.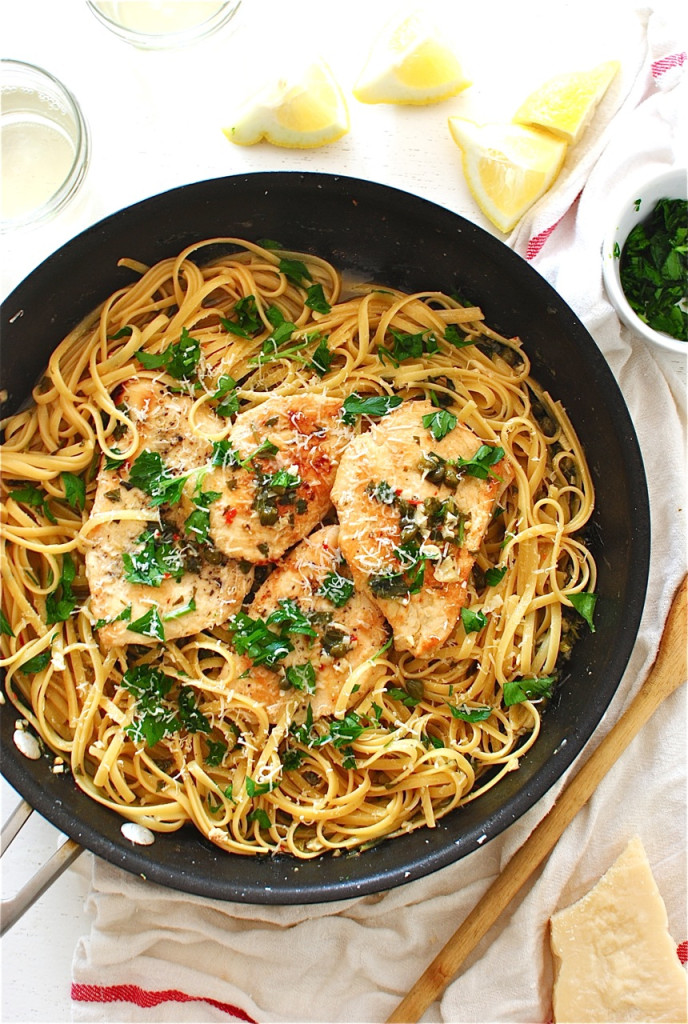 This is acccctually Aaron's take on it! I keep typing multiple lettersssss for emmmmmphasis. Are you annnnnnoyed yet? Yettttt? Okay. Okayyyy.
Sorry.
Anyway, recently one night after work I was dead face tired (#willandnatalieomg), and I was like, "Aaron, will you make us some Chicken Piccata real quick?" Him, "Some chicken piccwhawha?" Me, "It's just pasta with seared chicken, lots of butter, lemon juice, maybe some white wine, capers, parsley. You'll figure it out."
And skip to my dang lou, if he didn't come out twenty minutes later with theeee most glorious version. I was pretty floored, to be honest. Boy done did guuuud. But he added half a cup of wine, so obviously it wins at life.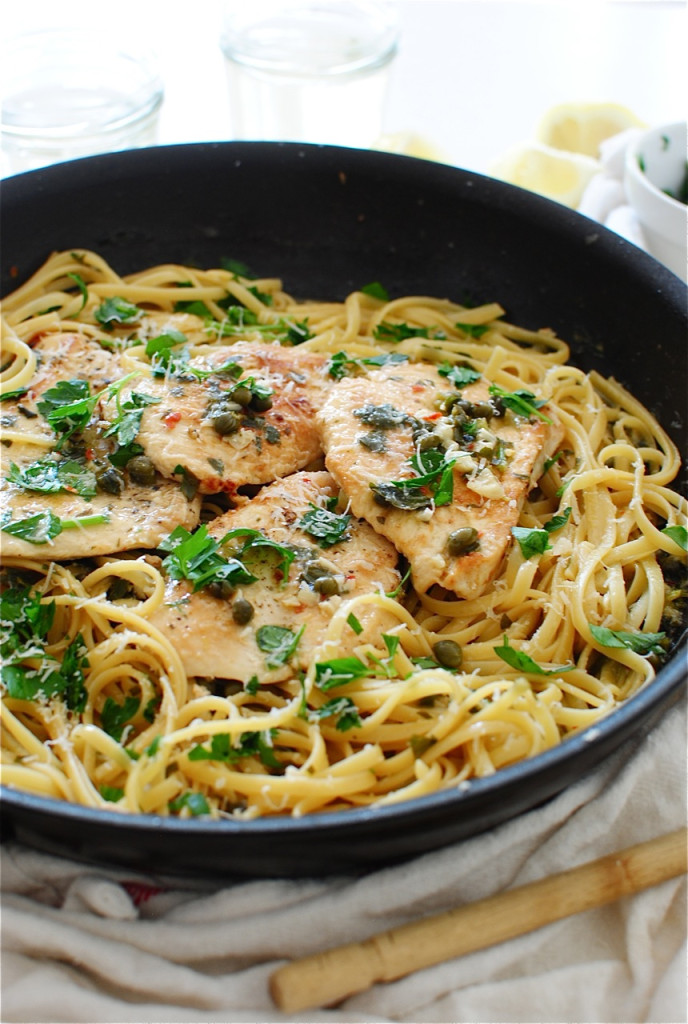 I say this in the instructions, but I'll mention it here, too. Riiiiight at the end, if you're feeling extra Chachi-fied, go ahead and throw in two more pats of butter. It's so worth it. Yes, it takes it over the top and sure, it's more calories, but you will go to bed that night knowing you did the right thing for the progress of humanity.
If you don't throw in the two extra pats of butter riiiiight at the end, true, the world will not end, and yep, you've saved calories. But listen. If you don't add the two pats of butter riiiiiight at the end, your bathroom will be haunted with the ghosts of yesteryear's earthworms for the next five thousand years.
Is this a risk you're willing to take?
I didn't think so. Two extra pats of butter riiiiiiiiight at the end it is.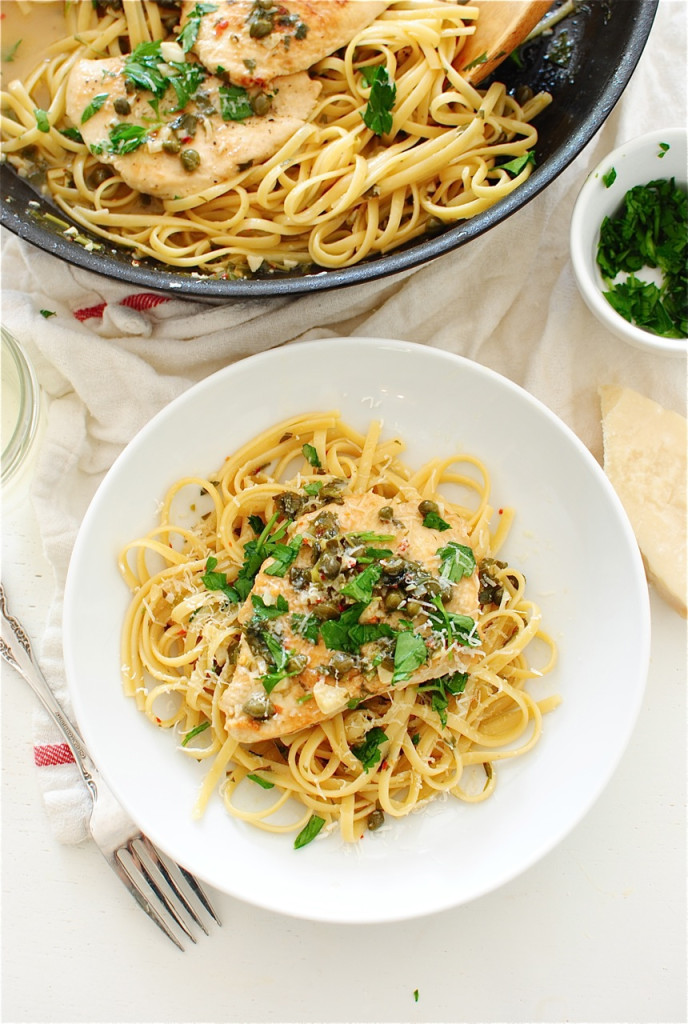 You won't regret this.
Chicken Piccata:
What it took for four:
* 14 oz package chicken breasts (two breasts)
* 1 Tbs. extra-virgin olive oil
* 5 Tbs. butter (divided)
* 3 cloves garlic, minced
* 1/2 cup dry white wine
* 1/2 cup chicken stock
* one lemon
* 1/2 cup chopped fresh parsley, plus more for garnish
* 2 Tbs. capers
* 1/2 pound linguine (or more if you dig!)
* 1/2 cup freshly grated parmesan cheese, plus more for garnish
* maybe two more pats of butter? sorry. not. sorry.
Take a knife and slice the chicken in half lengthwise, butterflying it. Lightly pound it out between two slices of plastic wrap. Season both sides with salt and pepper.
Melt 2 Tbs. butter and 1 Tbs. oil in a large skillet. Once the foaming has subsided, add the chicken. Cover and sear on one side for three minutes. Flip and sear 3 more. Remove the chicken from the pan and cover to rest.
Add the remaining 3 Tbs. of butter to the pan. Let it spit and spat and foam up, then add the garlic. Sauté for maybe 30 seconds. Add the wine and stock. Bring to a quick boil, then reduce the heat to a medium low. Add the juice from half a lemon, capers and chopped parsley. Let it lightly simmer for a few minutes while the pasta is cooking in a large pot of salted water.
Once the pasta has allllmost reached al dente, drain and transfer to the pan, to finish cooking. It will feel soupy at first, but once it cooks a little bit, it will soak up that juicy, heavenly, buttery happiness.
At this point you can take the heat off and add the parmesan cheese. Anddd the extra butter if you're feeling sassy. No bigs if you don't, though. Taste it real quick. OMG. Need lemon? Add a little more. Man, oh man. Add the chicken back to the pan and toss everything together.
Serve with fresh parsley, extra lemon wedges (or slices!) and lots and lots of parmesan cheese. Fo' real.
You're welcome to invite me over if you want. Do you want? Don't answer that.