I'm pretty sure I was supposed to be British.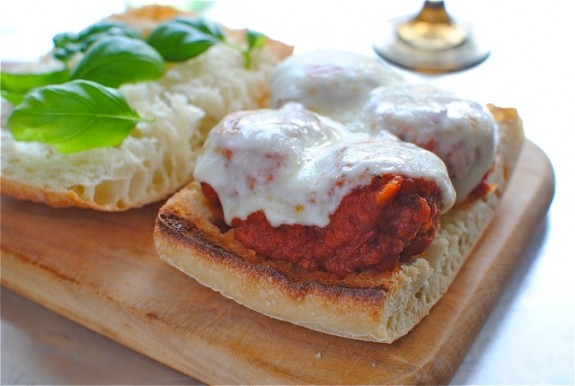 English, Irish, Scottish, Welsh, SOMETHING with a cool accent that makes me feel smart. I know this to be true because we're in Downton Abbey overdrive and closing in on season two and things were so cray cray back then! I want to hear Lord Grantham say "cray cray." HA HA HAH A HAHA. Ohhh, me.
I also know this to be true because my inner (okay, outer) monologue is a brilliant (okay, excruciating) mixture of all the regions, allowing me to criss cross dialects so that I can figure out which one best suits me.
I work from home and I'm alone and JUST LET ME HAVE THIS.
Things were sounding pretty sweet the other day as I was practicing my new Engscotwelshy accent while making these here chicken meatball submarine sandwiches. I was making excellent progress and experiencing confidence in the finest form. So fine I pretended to ride a little pony around my back yard while fetching lovely flowers for the library. I wish this was a joke.
I'm really honing my craft, you guys. As a matter of fact, this honing business is so off the chain that I decided to give you HWBSTW installation #2. That's "How Would Bev Say That Word" for those of you who have already shoved this post to the dark corners of your cerebrum.
In this case it's not one word, but a whole sentence. And I could not be more sorry.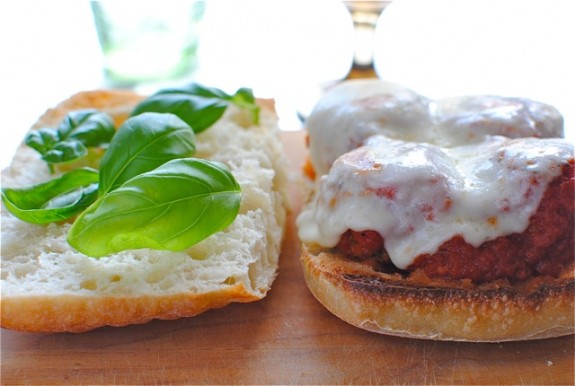 But before I embarrass myself to the high heavens, I need to address two quick things:
1) Don't let this weekend escape without chicken meatball sub sandwiches in them. This situation is dire and need not be ignored. I'm giving you my SERIOUS FACE RIGHT NOW.
2) What I am saying…okay TRYING to say in this audio clip is, "Chicken Meatball Sub Sandwich, Mr. Bates." Mr. Bates is a character in the show and I just felt like his name was crucial to the development of my practice.
I can't believe I'm about to do this to you.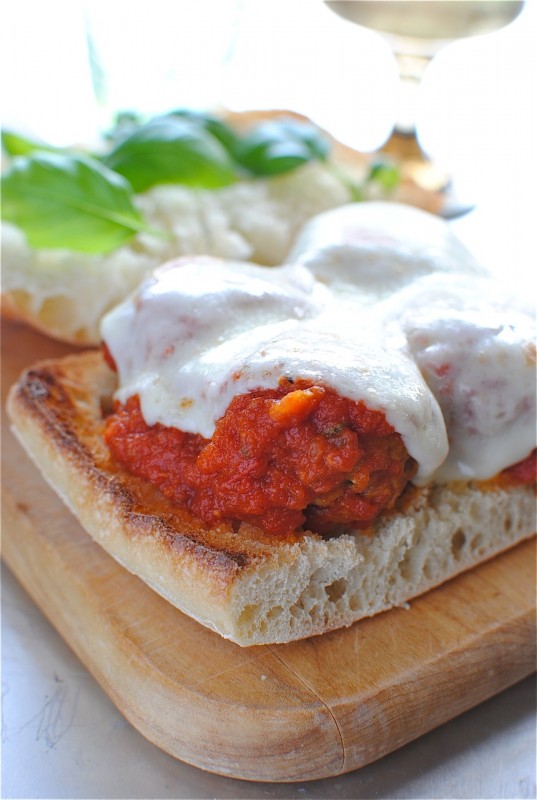 Chicken Meatball Sub Sandwiches:
What it took for 4 subs:
* 1 pound ground chicken
* 1/2 medium onion, finely diced
* 2 cloves garlic, minced
* 2 cups baby spinach, finely chopped (it's 2 cups BEFORE the chopping)
* 1 Tbs. tomato paste (obviously that's not a full Tbs. up there. I ran out.)
* 1 egg
* 3/4 cup panko (or breadcrumbs)
* 2 Tbs. extra virgin olive oil
* 1 (28 oz) can San Marzano tomatoes, pureed in a food processor
* 6 basil leaves, roughly torn
* 1/4 cup parsley, roughly chopped
* 1 loaf ciabatta bread, cut into 4 equal sizes and sliced lengthwise
* 4 slices provolone cheese
* coarse salt and freshly ground pepper
In a bowl, combine the chicken, onion, garlic, spinach, tomato paste, panko, egg and a good pinch of salt and pepper. Using your hands, get everything all combined. Then form little balls out of the mixture. I got 18 balls. You can always make them smaller for more.
At this point you can stick them in the fridge, covered for as long as you need to. Or if you're famished, let's proceed.
Heat the oil in a medium skillet over medium high. Add the meatballs and brown all over, about 8 minutes total.
Pour the pureed tomatoes over the meatballs, reduce heat to low, cover and simmer for 40 minutes, cooking the meatballs all the way through. The sauce will reduce just a tad as well. At the very end, toss in the torn basil and parsley. Go ahead and season with a pinch of salt and pepper too.
Flip on the broiler and slide the bread in for about a minute. Then place 4 balls with the marinara on the bottom half, followed by a slice of provolone cheese. Stick back under the broiler until the cheese melts and starts to bubble, maybe 2 minutes. Keep an eye on it!
Serve with more basil, if desired! I obviously desired. You should probably desire.