Anothuh oneeeee-pannnn wonderrrrrr!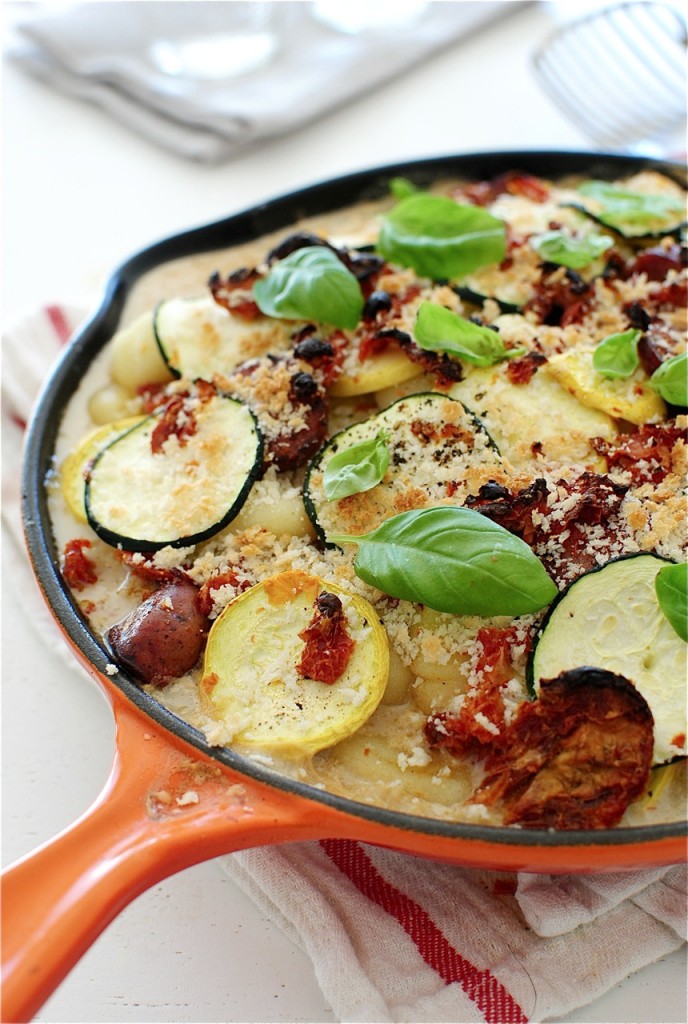 Remember the movie That Thing You Do? With Tom Hanks and Liv Tyler? Like, forever and three hours ago? I LOVED that movie. "Youuuu. Doing that thing you doooo. Breaking my heart into a million pieces, like you always dooo!"
Anyway, remember at the beginning of the movie when they spelled the band The Oneders? And people kept saying "Oh-NEE-ders?" Remember that? Wasn't that so funny? Like one-pan oneder, haha!
That was funnier in my head.
So I seriously need you to make this recipe. You remember when I made this one-pan dish and this other one-pan dish? And then this one? This is a LOT like it, but with dried gnocchi, seared spicy andouille and a slight ratatouille feel with the overlapping layers of thinly sliced zucchini and squash.
Not ONLY do you get to use two words in a row that end in ouille, you get to smother this ridiculousness in a creamy sundried tomato sauce.
We can take a moment to let that sink in.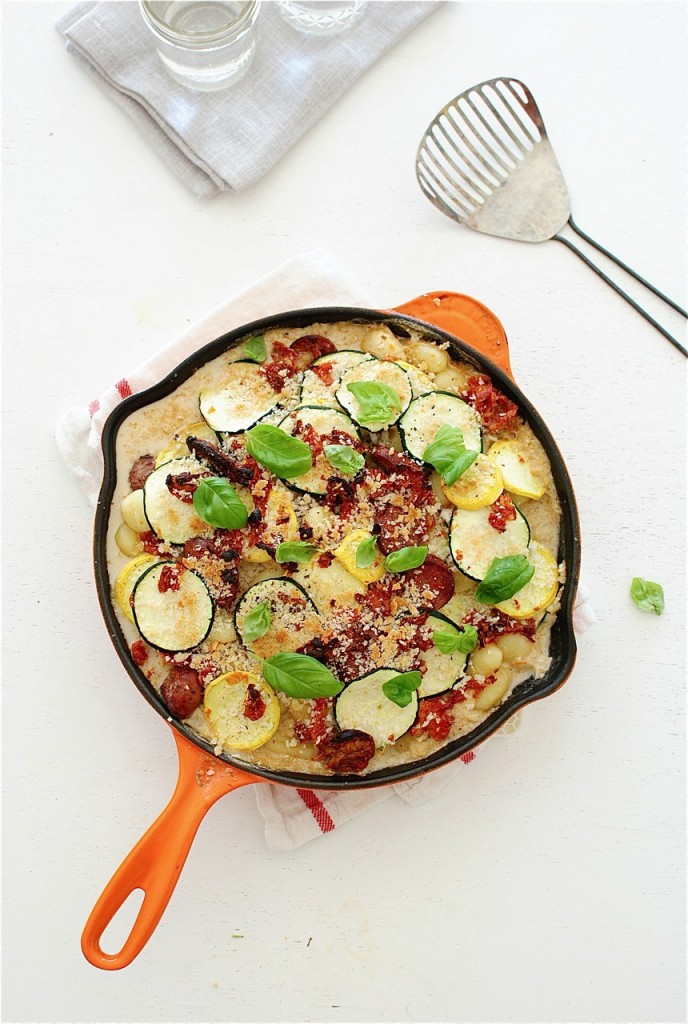 You'll bake it. The gnocchi will soften. The veggies become tender under a blanket of the cream sauce. The sausage is basically just being awesome in it all.
THEN, you sprinkle the dish with a bit of panko and slide it under the broiler for a kiss.
Fresh basil leaves for garnish. GAH.
Maybe some grated parm? YES.
Your entire torso? DONE.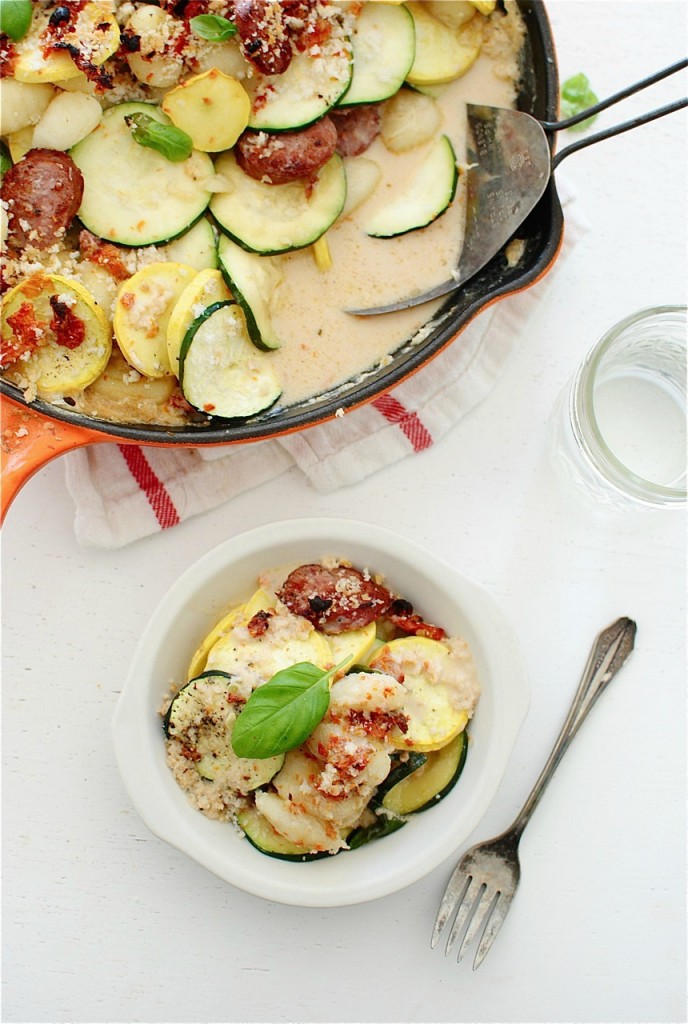 Get in that.
Creamy Gnocchi, Sausage and Veggie Skillet Bake:
What it took for four:
* 14 oz andouille sausage, cut into 1/2 inch slices
* 1 medium zucchini, thinly sliced (a mandolin makes this a cinch)
* 1 medium squash, thinly sliced
* 16 oz package of gnocchi (uncooked)
* 2 Tbs. butter
* 2 Tbs. flour
* 2 cups milk
* 1 cup chicken stock
* 8-10 sundried tomatoes, blitzed in a food processor for a few seconds
* 1 pinch of salt and pepper
* panko, for garnish
Preheat oven to 375.
Heat a large skillet over medium-high. Add the sliced sausage and sear on both sides until you get some good sear marks. Remove half of the sausage from the pan.
To the skillet, sprinkle a few of the gnocchi over the sausage. Follow with an overlapping layer of zucchini and squash. Season with a tiny pinch of salt between the layers. Add a few more sausage pieces, a few more gnocchi, and another layer of veggies. Continue layering until you have nothing left IN THIS WORLD. Err, nothing left to layer. Sorry.
In the meantime, melt the butter in a small sauce pan. Once the foaming subsides, add the flour and whisk until light brown. Add the milk, broth and sundried tomatoes. Continue to whisk until the sauce becomes thick and creamy. Season with salt and pepper.
Pour the creamy sauce over the skillet, covering all of the sausage, gnocchi and veggies. Transfer to the oven and bake for 30-40 minutes, or until the gnocchi is cooked through and the veggies are tender and lightly browned.
Remove from the oven and sprinkle the panko on top. Slide it under the broiler for MAYBE five minutes. Keep an eye on it!
Serve with fresh basil leaves! GAH.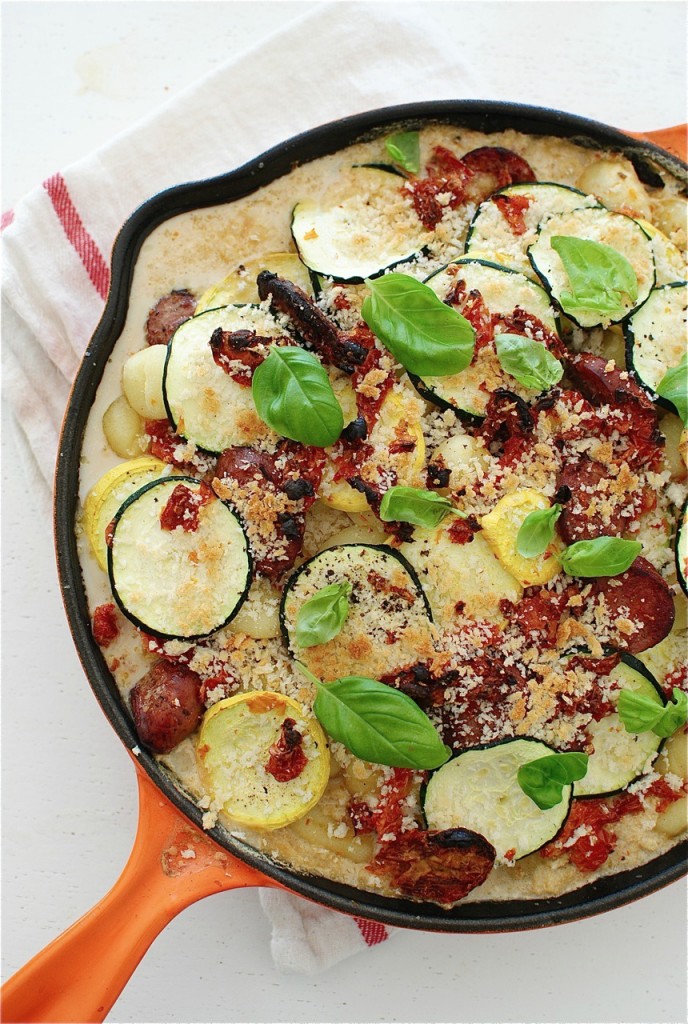 One-pan oneder! Still not funny.