Another one-pan dish, baaaybaaaay.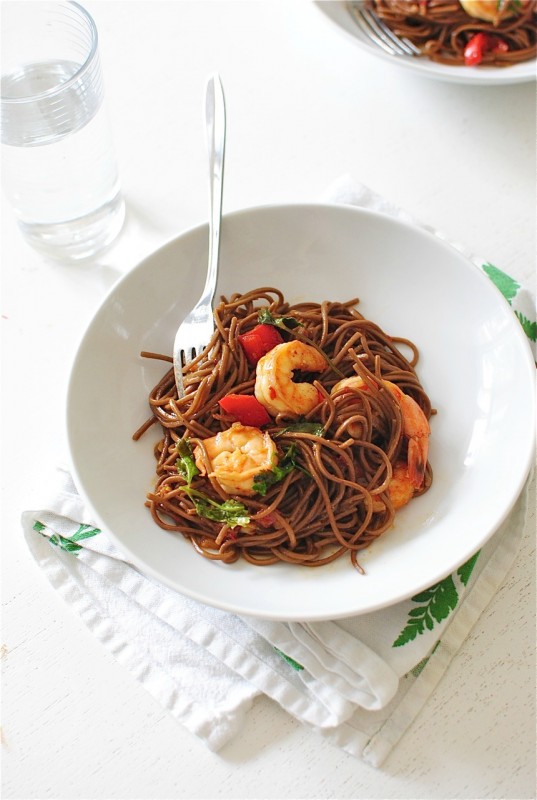 Is it too soon to call you baaaybaaaay? Do you need to take me to dinner first? Oh! Make me this.
So, remember that one time we one-panned this coconut shrimp dish? And we really liked it. It took a less than one Laverne and Shirley, was so outrageously yummy you drop kicked your face, thus deeming you the Queen of the Universe.
How about we do it again? But this time, with soba noodles! And a super crazy beefy soy broth with brown sugar, sambal oelek, and lime juice. How about it?
Get this. I bought the prettiest shiitake mushrooms for this meal, and completely forgot to use them! h.a.s.h.t.a.g.a.l.l.t.h.e.b.a.b.i.e.s.
Couldn't believe it. Totally noticed them in the fridge over the weekend, said, "Drat!," got made fun of for saying drat, pouted a bit, then moved on with my life. They're still in my fridge, come to think of it. I guess I should sauté them with my morning eggs. And toasted crusty bread! Oooo and scallions, and maybe some honey-flavored goat cheese. YES.
What was I saying?
One-pan soba noodles, omg. Makes ya just wanna strip down and skinny dip in that mess.
Oh it doesn't do that to you? Oh.
Me, either.
. . . Except that it does.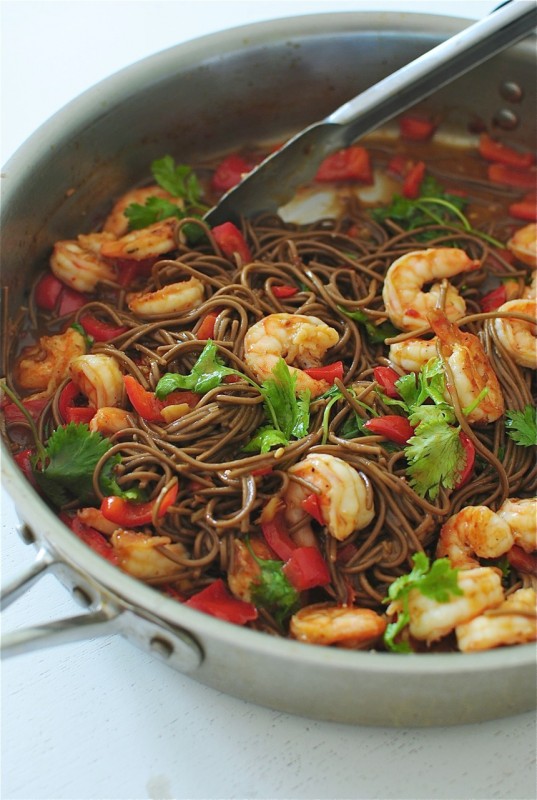 Whatever decisions you have coming up in your life, this will be the one that makes the most sense.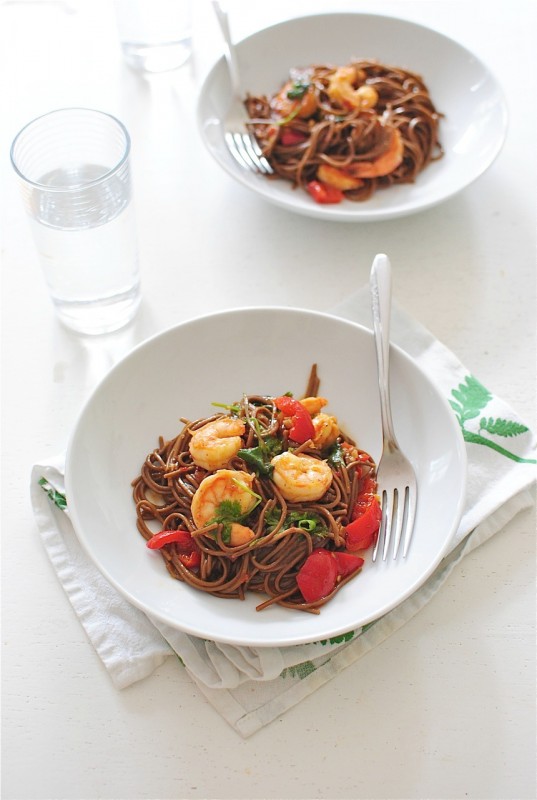 ONE-PAN.
One Pot Soba Noodles with Shrimp:
What it took for 2:
* 1/2 pound shrimp, peeled and deveined
* 2 Tbs. extra-virgin olive oil
* 3 cloves garlic, minced
* 1 Tbs. finely minced ginger root
* 1 (15 oz) can beef stock
* 3 Tbs. soy sauce
* 1 Tbs. sambal oelek
* 2 Tbs. brown sugar
* 1 lime
* 2 bundles soba noodles
* 1 red bell pepper, diced
* 1 (5 oz) package sliced shiitake mushrooms
* 1/2 cup cilantro leaves
* salt and pepper to taste
Bring the oil to a medium-high and add the shrimp. Sear on both sides until you see a little color, two minutes total. Season with a little salt and pepper. Remove from pan and set aside.
Back in the pan, add a little more oil if needed, and the garlic and ginger. Sauté for 30 seconds, then add the beef stock, soy sauce, sambal oelek, brown sugar, and the juice from the lime. Stir and simmer a minute or two, then add the soba noodles, red bell pepper and mushrooms. Let the noodles soften, then add the cilantro and shrimp back to the pan.
Toss to coat everything. The sauce will thicken, so taste it and add a little water if needed. Or lime juice! And a little salt if needed.
Slurp.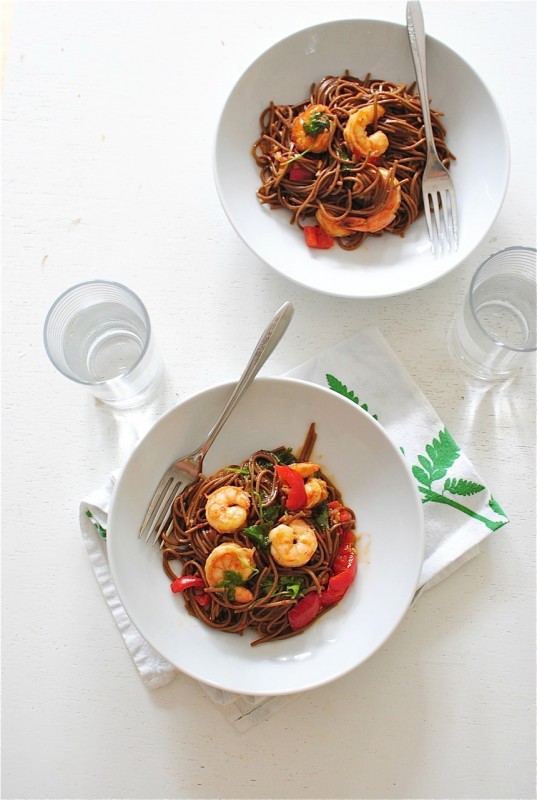 Don't forget your 'shrooms!