FRANCH FRAHS.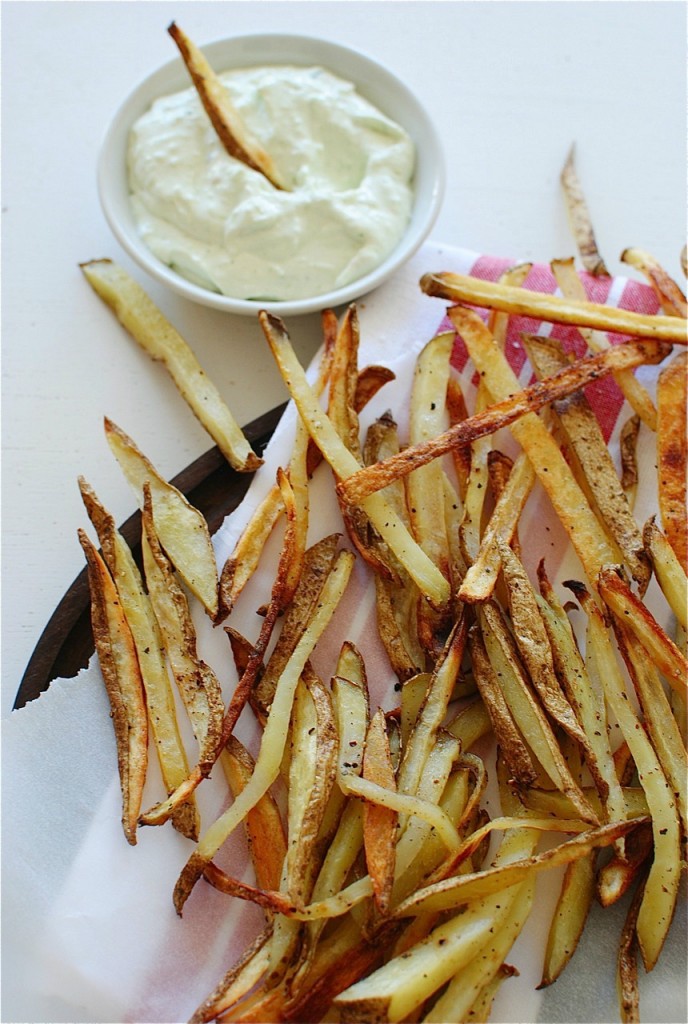 First of all, my white balance is beyond horrible in this post, but I just don't rightly care because we leave for our 10-year anniv/Easter vacay early Wednesday morning! You know how it goes. Vacay brain = awful blue hues in photos = we don't care none = still a good person.
So yeah, how often do you make fries at home? 'Fess uuuuup. And I mean like, baked fries. 'Fess uuuuup. And I mean like, with a roasted garlic parmesan dipping sauce. 'Fess uuuuup. And I mean like, I'm just kidding.
I actually LOVE making french fries. The way I do it, it may seem like a lot of work, but a lot of it's hands off. And when you do it just right, mama said knock you out. She will say it. Mama will say, "knock you out, my darling." (I'm hyper.)
First you slice. Get them good and thin! You can keep them thicker if you like a more substantial pub feel. But I like 'em thin! Not crazy thin, just regular thin. I have jokes here, but I'm refraining because I love human friends.
The first trick is to soak the fries in cold water for about an hour. Soak and rinse. It removes a lot of the starch and will allow the fries to get goooood and crispy. Can't have no soggy fry, yo.
The SECOND trick is to really, really dry each one. It sounds like a pain, and it might be, but if you have Fleetwood Mac playing and that thunder is only happening when it's raining? And those players are only lovin' you when they're playing? Goes by in a flash.
Say women…they will come and they will gooooo.
What was I saying?
OH, I almost forgot about the dipping sauce. I only have one photo left so I have to tell you now. It's INSANITY. Sour cream, parmesan, roasted garlic and chives. All blendy blended. Hallelujah.
No kidding, next time you need a snack or something for your gremlins to eat, you just have to try this!
Thin cut fries + baked + that rideeec sauce + your entire face = duh.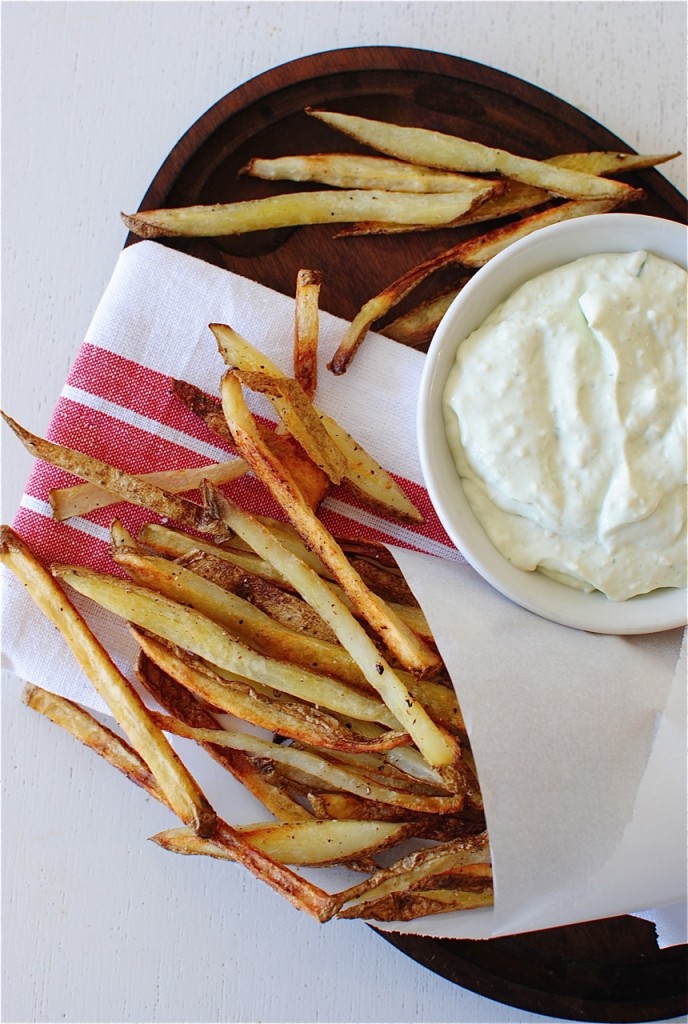 Stevie Nicks approves this message. (don't quote me on that)
Baked French Fries with a Roasted Garlic Parmesan Dipping Sauce:
What it took for two to three to snack on:
* 2 medium russet potatoes
* 2 Tbs. extra virgin olive oil
* 1 good pinch of coarse salt
* 2 good grinds of freshly ground pepper
* 1 head garlic + 1 tsp extra virgin olive oil + 1 small pinch of salt
* 1 cup sour cream
* 1/2 cup freshly grated parmesan cheese
* 1 Tbs. chopped chives
Preheat your oven to 400.
Slice the root end off the garlic, exposing the cloves. Place the head in a small piece of aluminum foil; drizzle with a little oil and a tiny sprinkling of salt. Fold the foil over the garlic and roast for about 30 minutes.
In the meantime, Cut the potatoes in half lengthwise. Place the halves face down and thinly slice them. Then turn each thick slice on its side and cut two to three more times, to get the slices pretty thin. Once all the fries are cut, place them in a bowl of cold water, covering the fries. Let them sit about 30 minutes, drain the water and add fresh water. Let them sit another thirty minutes. Rinse the potatoes under cold water and thoroughly dry every single one. It's lame, I know, but SO worth it!
Arrange the potatoes on a large baking sheet. Drizzle and toss with the olive oil. Sprinkle with the salt and pepper. Bake at 400 for 30 minutes. Lightly toss the fries and check for any that are burning. Keep baking another 10 to 15 minutes, until the fries are golden, crispy and gutsy! That's what we used to call them in the early '90s in high school. Gutsy. I have no idea.
While the fries are baking, make the dipping sauce. In a large food processor place the sour cream, roasted garlic cloves (just squeeze them out of their skins!), parmesan and chopped chives. Puree until smooth and knock-your-face-off delicious. May wanna add a tiny pinch of salt. Just taste it and see.
Serve fries with the roasted garlic parm dipping sauce and ommmmgggggg.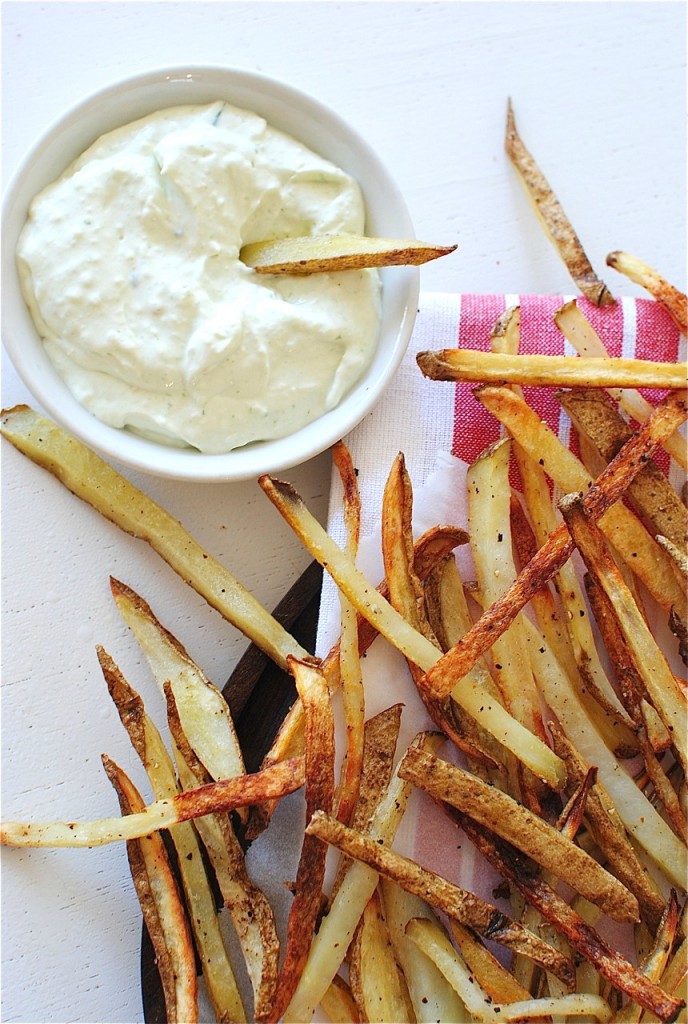 When the rain washeeeees you clean you'll knooooooow. You will knoooooow.