Yes I have eight enormous photos but it's worth it!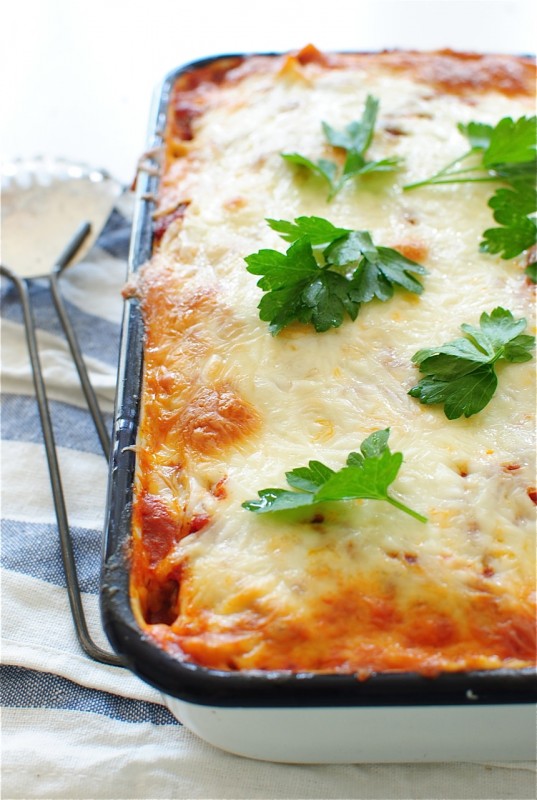 Today it's all about this dish. No willy nilly. No riff raff. No bamboozle caboodle. No swindley bimbly. No flim flam shim sham. No hornswoggle hoodwinky dinky boodonky konk.
It's one pan. It's dried pasta. It's uncooked everything. It's blanketed in cheese. And it WORKS.
Are you excited!? I am! But I get excited about peeling off sunburned skin, so . . .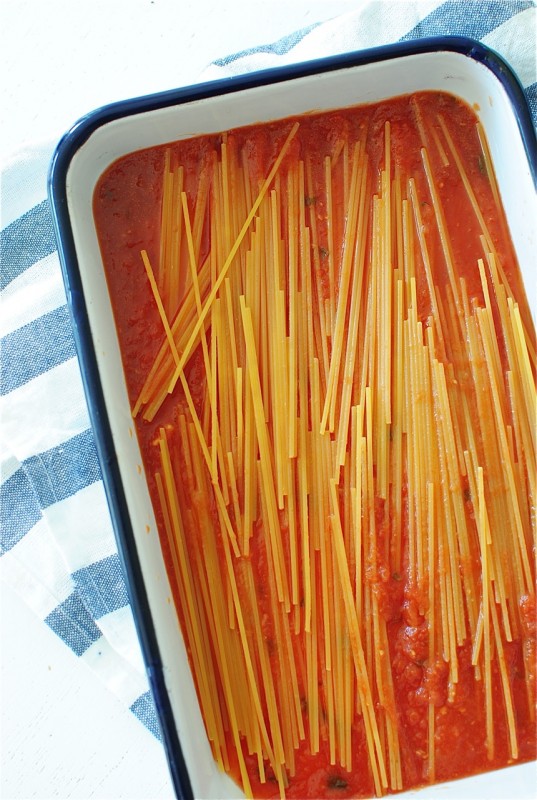 Let's start at the very beginning. A very good place to start. (name that movie) You simply take DRIED (!!) spaghetti, break it in half and place a little on top of your favorite marinara in a baking dish. It can be homemade. It can be jarred. It doesn't matter because it's Tuesday night and you're tired but still cute in that new blouse you got going on there.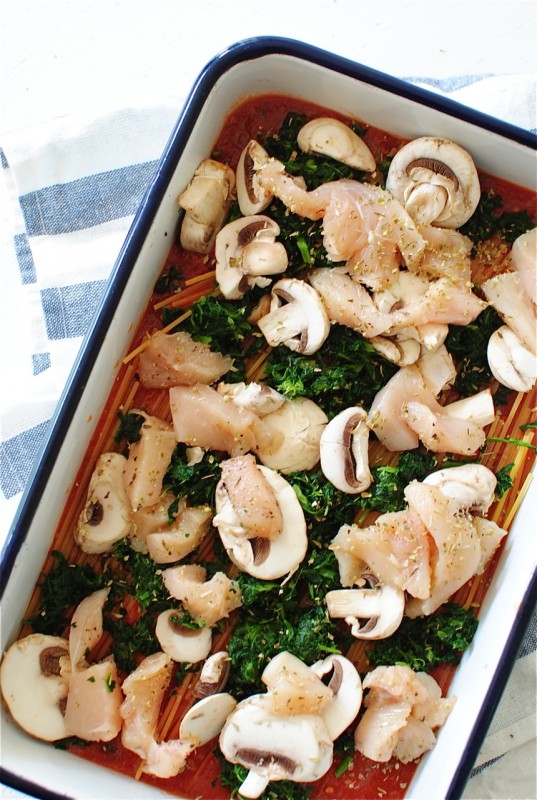 Then! Take some presliced mushrooms (weeknight meal), some thawed frozen spinach (weeknight meal) and some diced raw (!!) chicken (weeknight meal) and plop her down on top of the noodles.
Then add more noodles. And the rest of the mushrooms, spinach and chicken (weeknight meal weeknight meal weeknight meal) (!!!).
Was that confusing? Because my head hurts a little.
Wait, are you still thinking about sunburns?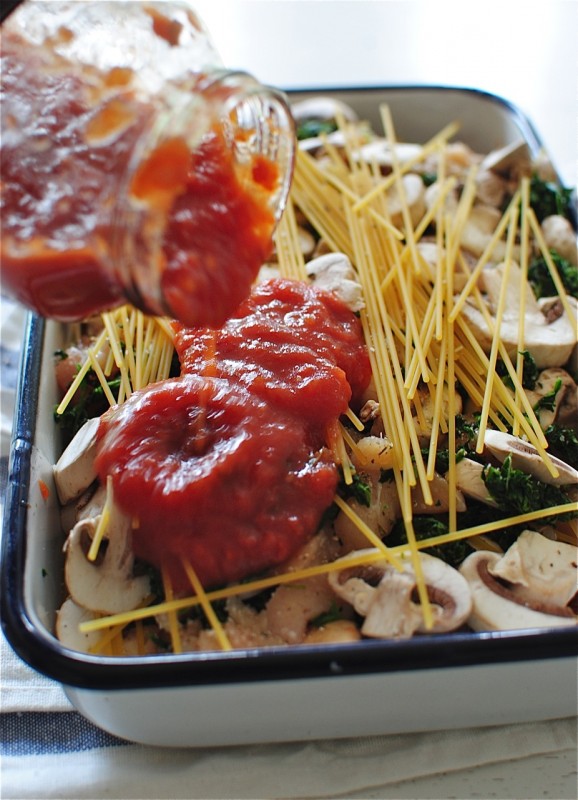 Finish with a few noodles, then pour the rest of the marinara on top of errrthang. Make sure every noodle gets covered in sauce. This may sound like a lot of sauce, but I'm telling you, you need it. Don't cry for me Argentina.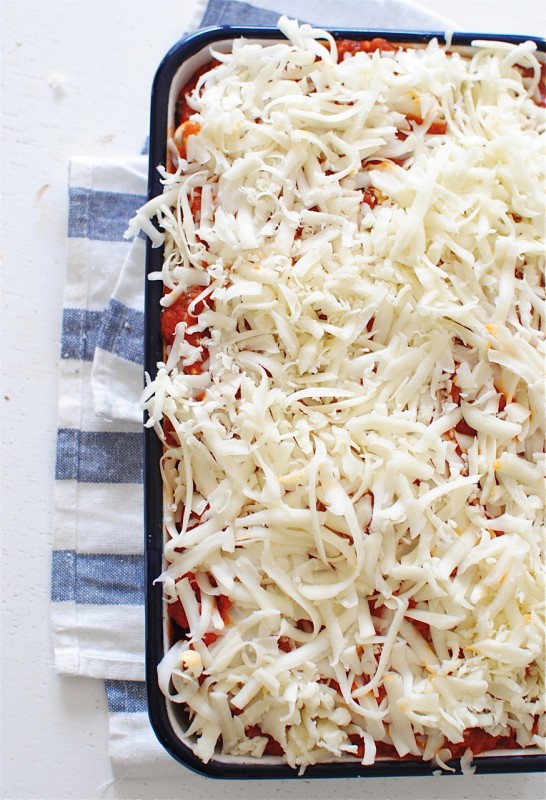 Then, for the love of all the baby ponies and gerbils in the world, cover the entire thing with so much cheese you almost go blind. Then add more.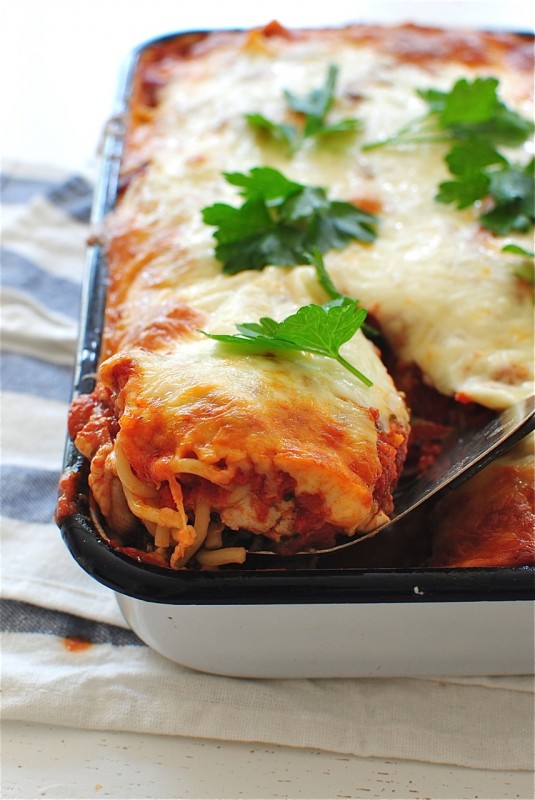 Do you remember that one time when mama said knock you out? Because she did. And this was it.
You just won't believe it, the pasta is perfectly al dente! Not mushy at all. Not undercooked. And the chicken is gorgeously tender in all that sauce. 45 minutes was my magical time. Your oven may have PMS, so maybe check it at the 30-minute mark? Whatever you do, make as huge a mess as I did, so I don't feel so alone in this world. Thanks, man. You're the best.
One pan! Hold on that needs to be in bold. ONE PAN. Dump it all in dried and raw, layer layer, bake bake and seriously your face will praise your face for the rest of time.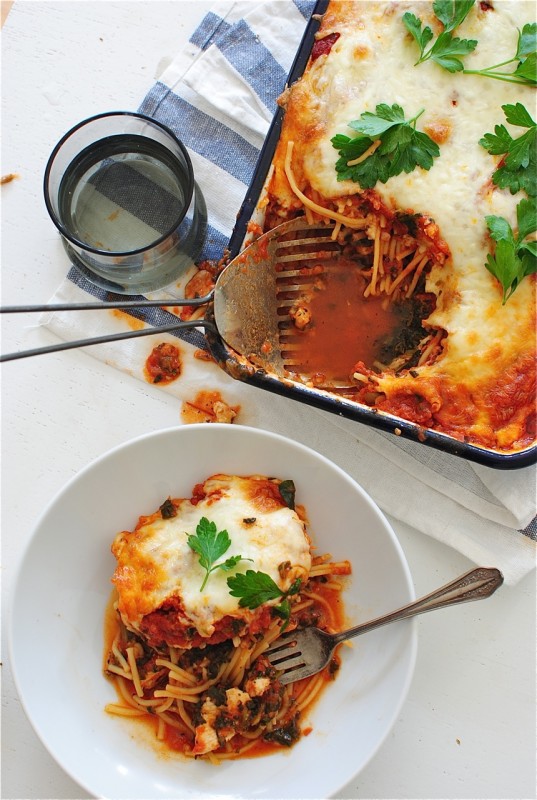 One pan!
One-Pan Chicken Spaghetti Bake:
What it took for 4:
* 8 oz (half a box) dried spaghetti, broken in half
* 8 oz (package) sliced mushrooms
* 14 oz chicken breast (two breast halves), diced
* 2 tsp dried oregano
* 1 (10 oz) package frozen spinach, thawed and squeezed of excess liquid
* 42 oz (one 26 oz jar + one 16 oz jar) of your favorite marinara
* 1 (8 oz) block mozzarella cheese, shredded
* 1 pinch salt and pepper
Preheat your oven to 350.
Season the diced chicken with the dried oregano, salt and pepper.
Pour about a cup of the marinara in the bottom of a 9×13 baking dish. (an 8×12 dish works great, too) Layer half of the spaghetti along the bottom of the dish. Layer with half the sliced mushrooms, half the chicken and half the spinach. Arrange a few more dried noodles on top, then follow with the rest of the mushrooms, chicken and spinach. Layer the remaining broken spaghetti on top and cover the entire dish with the remaining marinara. Make sure every noodle is covered with sauce. Sprinkle the dish with the mozzarella cheese.
Cover and bake for 30 minutes. Uncover and bake an additional 15 to 20, or until the cheese is melted and bubbly.
Cuddle up.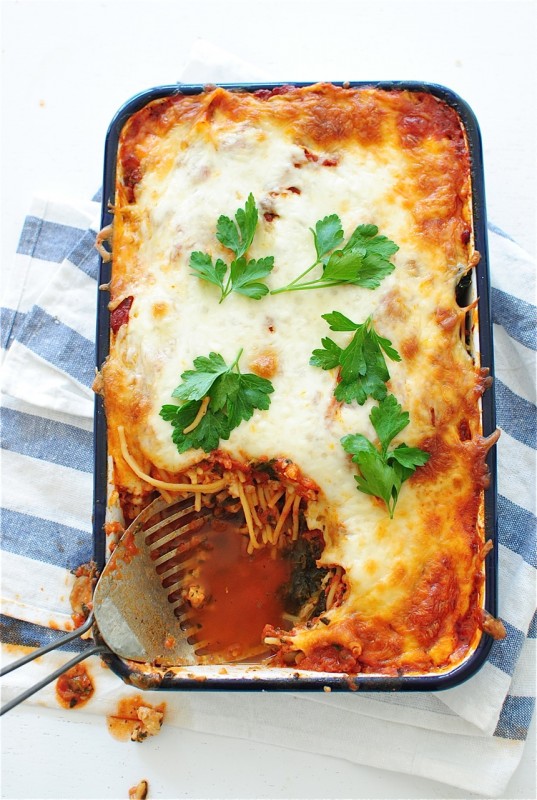 Now I want a cookie.
Save