Pasta will always be the answer.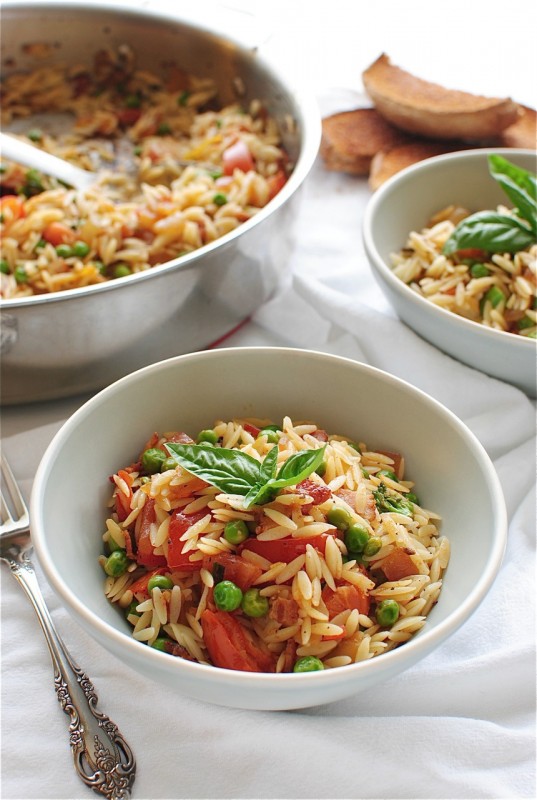 Man alive, I asked you guys for help and THE PEOPLE HAVE SPOKEN. Thank you all for your super rad suggestions! I'm gonna do my verrr best to touch on all of it. Maybe twice. MAYBE THRICE.
But for today, we have bacon. And orzo. And vegetables. And lemon zest ooooOOOOoooo!
I've never done the "ooOOOooo" thing before, so I was just testing it out. What did you think? If you saw me act it out in person I'd have jazz hands and everything. And I'd wiggle my torso like a Teletubbie. And this is getting awkward.
This COULD be considered a pantry meal, if you consider your garden the pantry. Which I kind of do. In a way. Because it's just right there, with all kinds of ish in it, just patiently waiting to be plucked and consumed.
Also, I need to say, our garden's not producing tomatoes just yet, so don't get too jealous. These romas were leftover from when Aaron bought them to throw at me while I micromanage him. NOW you can get jealous. I think.
Adding orzo to bacony vegetables = stooooop iiiiit but don't eeeeeveeerrrr.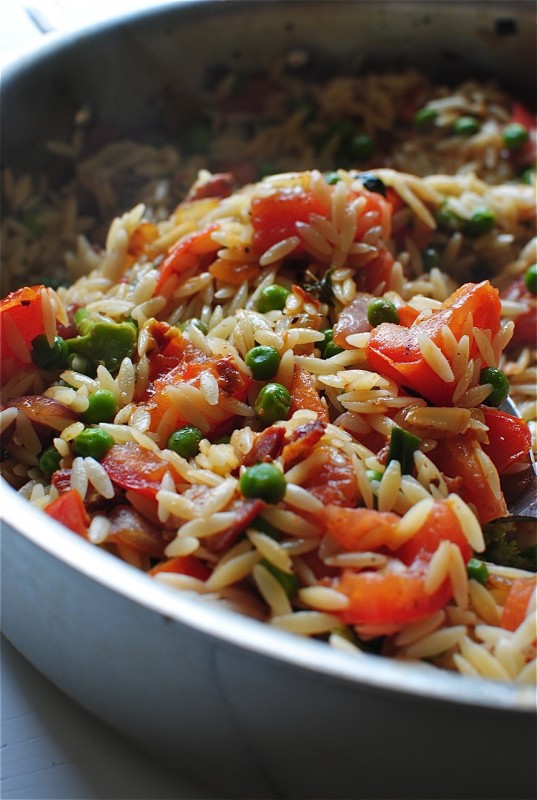 Remember to add cheese! I forgot until after the photos were taken because I'm a dill will nill pill.
And add basil! I didn't forget that part because I'm a smarty warty narty party.
I think someone poisoned my morning tea.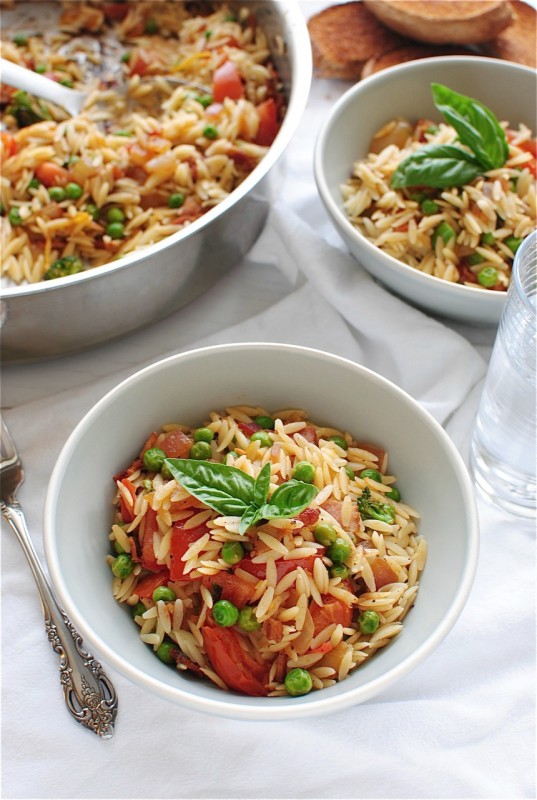 Pasta will always be the answer.
Orzo with Bacon and Summer Vegetables:
What it took for 4:
* 4 strips bacon, cut into small chunks
* 1/2 small red onion, diced
* 1/2 small white onion, diced
* 3 cloves garlic, minced
* 2 scallions, finely diced
* 1 Tbs. lemon zest
* 3 sprigs fresh thyme
* 1 tsp freshly chopped sage
* 1 pinch crushed red or green pepper flakes
* 1 cup frozen or fresh peas
* 3 – 4 roma tomatoes, chopped
* 1 cup broccoli florets
* 1 1/2 cup orzo
* coarse salt and freshly ground pepper
* fresh basil and parmesan cheese (optional but omg, do it)
Render the bacon in a large skillet over medium heat, until crispy. Remove bacon pieces with a slotted spoon and place on some paper towels to drain.
Drain all but 2 Tbs. bacon fat. Add the onions to the pan and sauté until they start to soften, 4 minutes. Add the garlic, scallions, lemon zest, thyme and sage to the skillet. Season with the crushed pepper and a little salt. Sauté another minute, or until that mix is pretty fragrant.
Add the tomatoes, broccoli and peas to the pan. The juice from the tomatoes will create a very light sauce, so you'll simmer the mix until the veggies soften, 5 minutes. You may add a little water to help it along if you want!
In the meantime, boil the orzo until al dente, just a few minutes. Reserve a few Tbs. of the pasta water and drain the rest.
Add the bacon back to the pan. Add the cooked orzo to the pan and give everything a good toss. If you need to add a little pasta water for a little more "sauce," go right ahead. Taste it. What do you think? Little more salt? What about some lemon juice? oooOOOooo.
Garnish with fresh basil and parmesan cheeeeese, if ya want. Dive on in.
Bacon is a pretty good answer too.