I guess we should eat something good for us.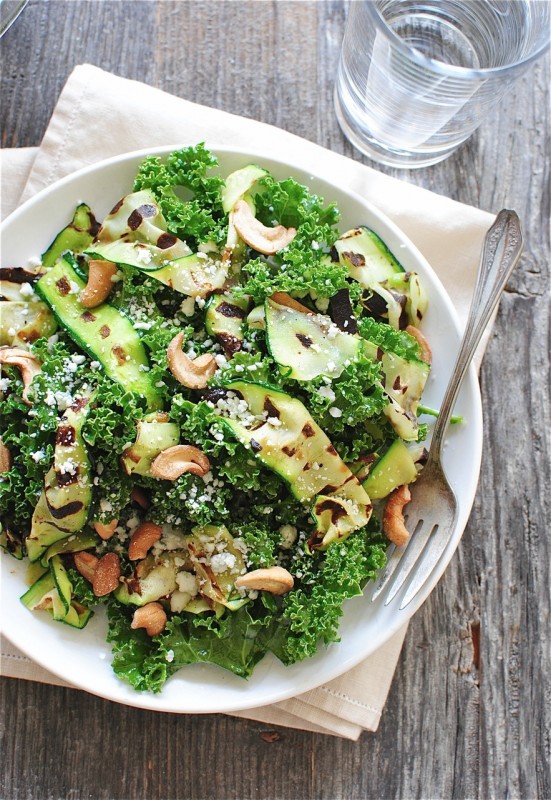 If we have to.
ACTUALLY, this is one of those trickster salads. The kind that when you're making it you're like, "uuuugh." But then you take the first bite and you're like, "ooooh." And then you keep taking bites and you're like, "whoaaaa." And then a few more bites and you're all, "shoooooot, FOO!"
Trickster salad, I tell you.
Let me tell you more.
The zucchini is thinly sliced into ribbon glory, and then lightly grilled until the grill marks become transparent through the ribbons, leaving you with no choice but to feel a little pride. Grill pride.
And then the cashews are lightly toasted, just enough to enhance the whole salad with that back-of-your-mouth nuttiness. This isn't coming out the way I intended.
But then the blue cheese crumbles add juuuust the right amount of creaminess and sharpness to the salad. And paired with a bright lemon honey dressing? You're not going to know how to even handle this.
And lest we forget the kale! Crunchy, coated in dressing, bright green and glorious. Like a tropical rainforest just begging for a good chomp sesh.
Okay now I'm excited about eating something good for us.
Trickster salad recipeeeeee right here!
Stay tuned for tomorrow's post. I don't want to give anything away, but it rhymes with schmurple htrsocchi.