O Rigaromeo, Rigaromeo, wherefore art thou Rigaromeo?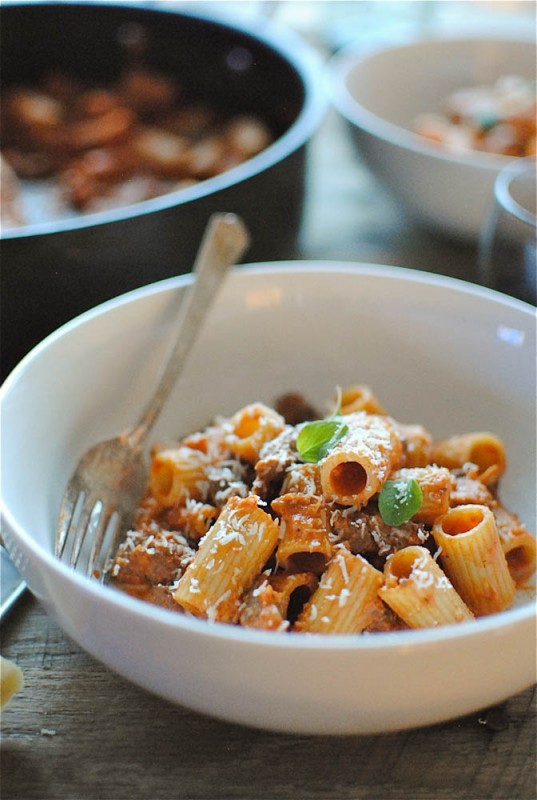 Deny thy flavor and refuse thy taste?
Or if thou wilt not, but be sworn my appetite.
And I'll no longer be starving.
(Rigaromeo, aside:) Shall I cook more, or shall I tempt at this?
'Tis but thy make that is my enemy.
Thou art thyself, though not a carbohydrate.
What's carbohydrate? It is nor grain nor fruit.
Nor earlobe nor fingernail, nor any other part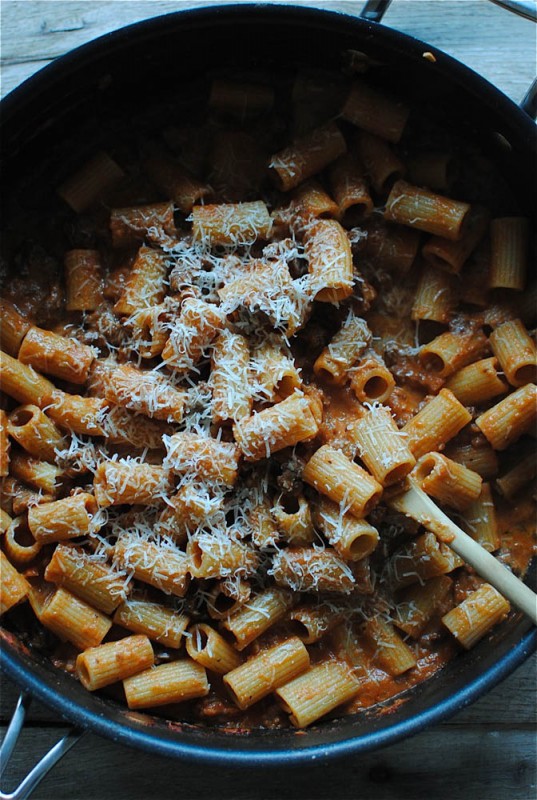 Belonging to a plant. O be some other make!
What's in a make? That which we eat a chocolate
By any other make would taste as sweet;
So Rigaromeo would, were he not Rigaromeo call'd,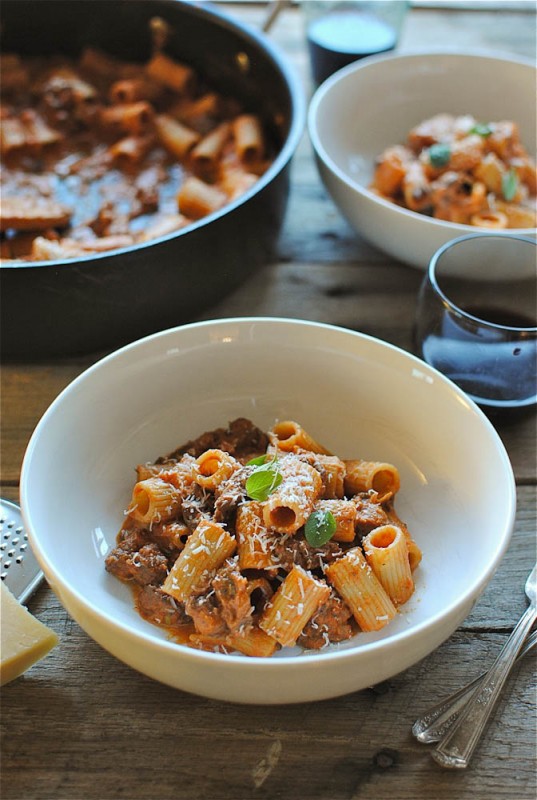 Retain that dear texture which he owes
Without that title. Rigaromeo, doff thy make,
and for thy make, which is no part of thee . . .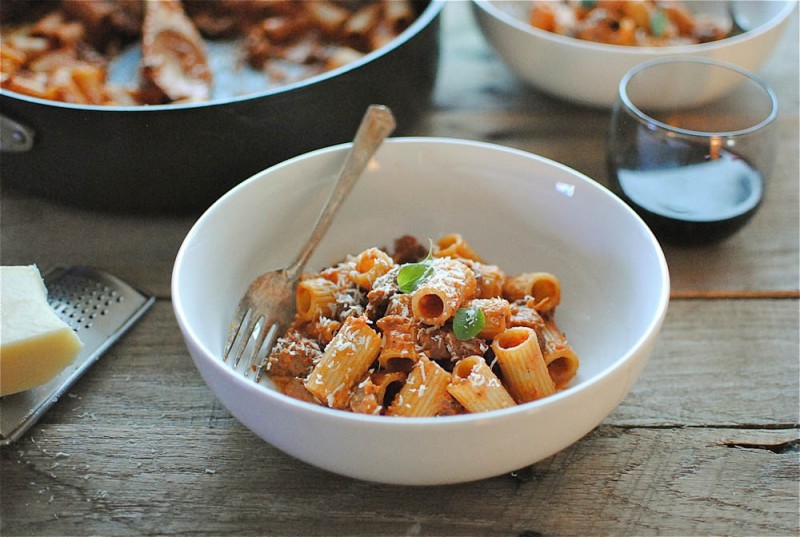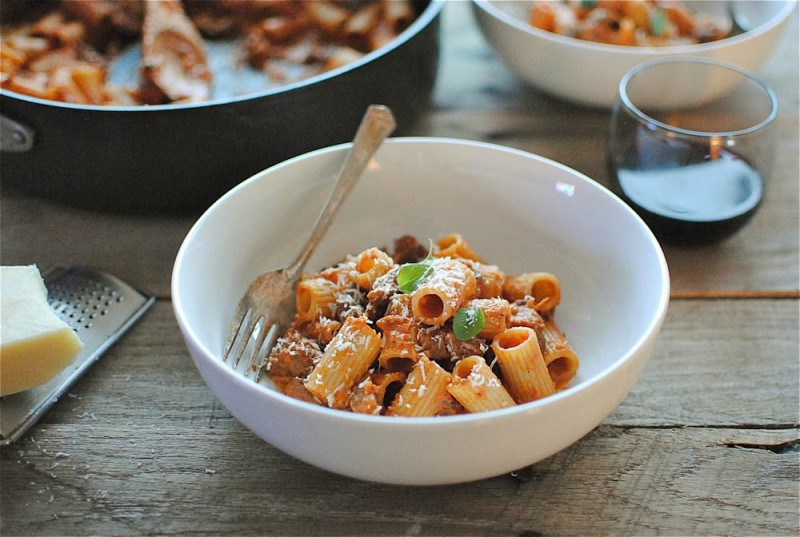 Take all my mouth, because I'm pretty dang hungry.
Creamy Rigatoni with Tomatoes and Sausage:
What it took for 3 or 4:
* 2 Tbs. extra-virgin olive oil
* 4 sun-dried tomato chicken sausages (casings removed and torn into chunks)
* 1 small red onion, diced
* 3 cloves garlic, minced
* 1 Tbs. fresh oregano
* 1 tsp fresh sage
* 1 pinch crushed red pepper
* 1/2 cup red wine
* 1 (28 oz) whole peeled tomatoes (run through a food processor until smooth)
* 1 bay leaf
* 1/2 cup cream
* 1/2 pound rigatoni (or maybe more like 3/4th)
* 1/2 cup freshly grated parmesan cheese
* coarse salt and freshly ground pepper
In a large skillet, bring the oil to a medium-high heat. Add the chicken sausage chunks and brown all over, 5 minutes. Add the onions, garlic, herbs, crushed red pepper and a pinch of salt and pepper. Sauté another 4 minutes, or until the onions have softened.
Add the red wine and cook off, about 2 minutes.
Add the tomato sauce and the bay leaf. Cover and simmer 20 to 30 minutes. Taste it. Freaking crazy, I know. Need anything? A little salt?
Then add the cream. Ugh.
In the meantime, cook the rigatoni until it reaches al dente. Drain, and toss it into the tomato-sausage sauce. Add half the parmesan. Toss to combine.
Fish out the bay leaf, and serve her up, garnished with more cheese!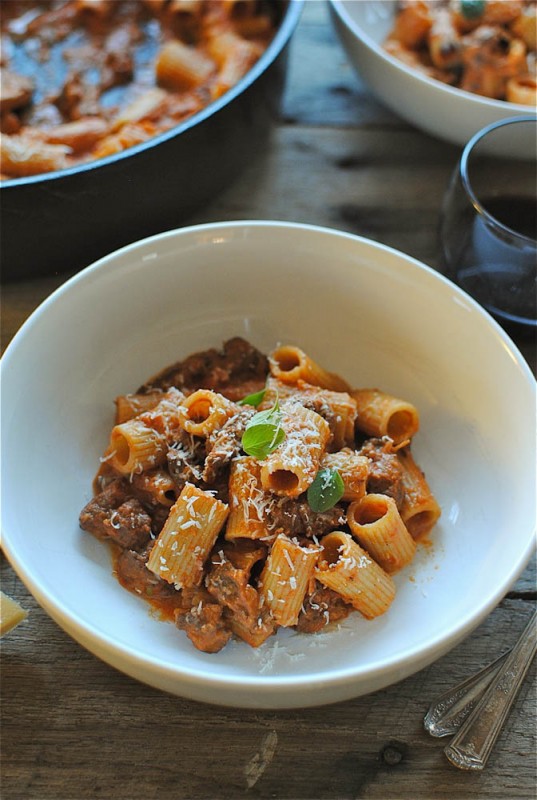 Okay so should I curtsy or run out of the room really fast?