Doesn't beer-steaming sound like the most wonderful thing on Earth?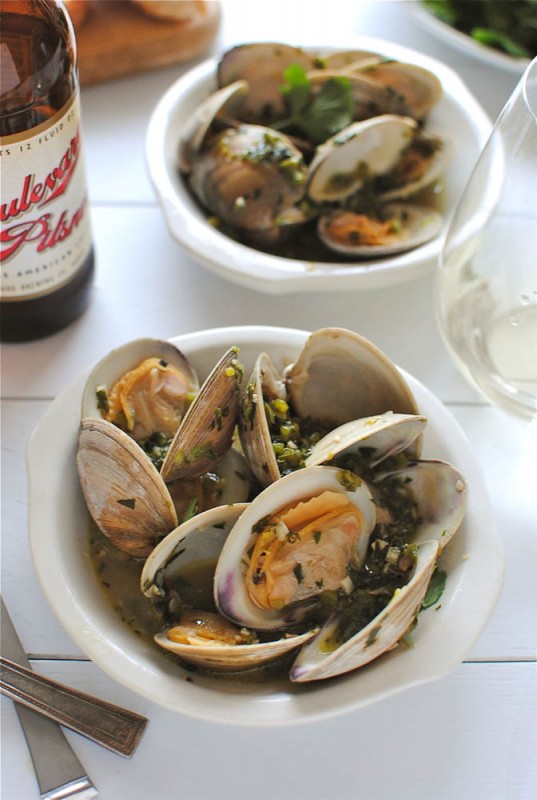 (But first, a quick apology at how blurry these photos are. It was pouring rain and my hair was on fire and I think my neurological system was experiencing some malfunctions.)
That said, I seriously think I could beer-steam everything ever. Beer-steamed chicken? Why not? Beer-steamed sushi? Sounds scandalous! Beer-steamed salads? Where's the dotted line? Beer-steamed SAUNAS? A) I think that might have been a redundant double negative, but B) Who rightly cares? It sounds awesome. Oh and honestly, I don't even know if the hyphen if necessary in all of that. It just makes me feel at peace.
But today, we're gonna steam these little babies. Also, I'll do my very best to NOT call them babies as I'm about to induce their beer-steamed demise.
Also #2, there's a video at the end of this post, so don't go anywhere. HOO HOO HAHHA HA HAHAAAAAA.
So this has a Mexican flair to it, with minced jalapeno peppers, a lot of garlic, cilantro and lime juice. Oh and a quick hear ye, hear ye: I left all of the seeds and ribs in the peppers, because I like my face to rain, but honestly, it wasn't spicy at all. I think all the liquids in the steaming process maybe mellowed it all out. So if you're on the heat fence about it, leave it all in! But also, I've heard that jalapeno pepper A can be way hotter than jalapeno pepper B, and that no one can ever truly know. So in other others, go with your gut. Your heat gut. Trust yourself, and only yourself. Your heat self.
Did I mention there's a video at the end of this post?
I love steaming clams because you hear all the little pips and pops as their shells open up. And you get to go pearl hunting! I'm just kidding. Although I'm not lying when I say I thought I saw a pearl in one of these clams, and then realized it was just a beer bubble. And that I was also looking in the wrong animal.
You have to make this! Takes like 5 seconds to pull together (after the prep work) and then you get to sop all of that cilantro-y, garlicky, peppery beery broth with huge chunks of crusty bread. Serve them in one huge bowl for a date night, or divide them up into little bowls if you have guests over. Whatever you do, don't clam up!
OHHHHHHH.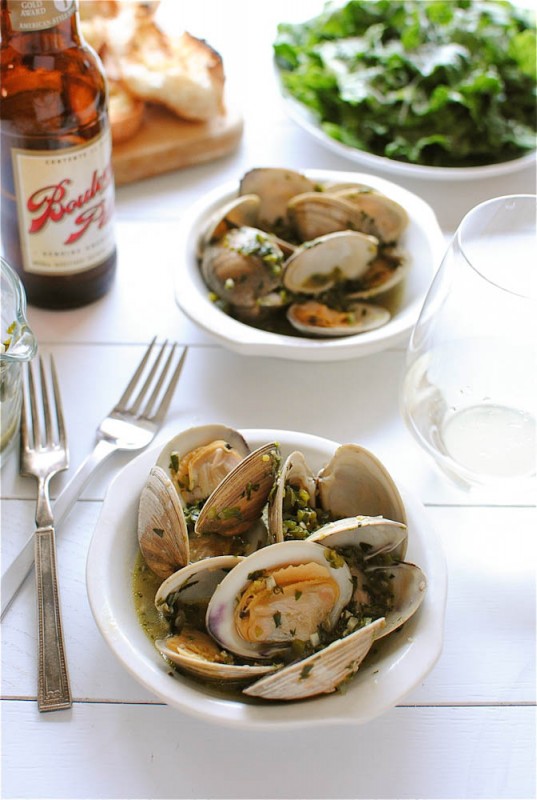 Oh.
Beer-Steamed Clams:
(inspired by Rick Bayless because I watched him make them on TV but I can't find his recipe on his site, waaah):
What it took for 2 (for dinner) or 4 (for a snack):
* 2 pounds littleneck clams
* 2 Tbs. butter
* 1 large jalapeno pepper, minced (remove seeds for less heat)
* 3 cloves garlic, minced
* 1 cup beer
* 1 cup chicken stock
* 1/2 cup freshly chopped cilantro leaves
* juice of a lime
Keep the clams on ice until you're ready to clean and cook. Oh we're ready? Okay.
Dump the clams into a large bowl and cover with room temp water. Let sit for 20 minutes. Drain the water. (It's going to be pretty sandy.) Add more water. Let 'em sit another 20. Drain the water. Add more water. Now, add 1/2 tsp salt and let sit for 20 more minutes. Drain the water. Give the clams a good scrub and set them aside.
Melt the butter in a large pan over medium heat. Once the bubbling settles, add the jalapeno and garlic; sauté 1 minute. Add the clams to the pan and pour in the beer and stock. Toss around for a second because you're going to have the urge. Now, cover and let them steam anywhere from 5 to 10 minutes, until they all pop open like little babies. (I tried.) (If any don't open, discard them!)
Now, fish out the clams and arrange them in little bowls.
Back in the pan, add the cilantro and lime juice. Let simmer and reduce for about 5 minutes.
Pour the beery broth over the clams and baybaaaaaay.
Serve with crusty bread and a nice big green salad!
But you should know, sometimes things happen before you steam them. Case in point, this Vine video illustrates what unfortunately happened to me as I was cleaning them. Ouchie.
Clams Hurt, Dudes. (You have to click this link. I can't figure out how to just get the video to play in here. of course)