It's all about the rind, n'est pas?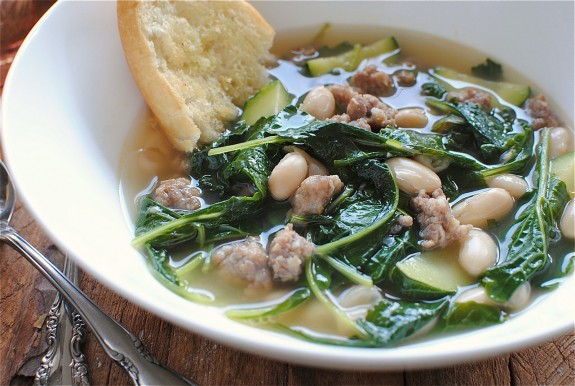 I have no idea why I threw a little Francais into that sentence. This isn't even a French soup. Let me start over.
It's all about the rind, I MEAN RIGHT, YOU GUYS?
Yeah, that was just straight up obnoxious boulevard.
Question: Do you freeze your cheese rinds? I've been freezing mine for years now, and it's always so funny when I reach into the freezer to get something and I spot my gigantor bag and I say, "oh yeah, there are my horse hooves!" to no one.
Thing is, I tend to clean forget about them. UNTIL NOW, duh duh duuuuuuuuuh.
Bottom line, they are a work of top-secret magic wizardry and you need to know about them. Unless you already know about them. So if you do already know about them, we could talk about something else I guess, like Isaac, or my new-found mission as a 36-year old to really and I mean REALLY try and keep my nails trimmed and painted and to STOP biting them and I just bought this Sally Hansen maximum growth stuff an- oh you DO want to know about the rinds. Oh.
Before we get to it though, can I just say that what happens in this soup will freak your entire mouth. You start by browning some Italian sausage (or chicken, or turkey, or veal, or opossum) all lovely like. Scoot her out of there for a smidge, then bloom a LOT of garlic and some crushed red pepper. I'm already dying. Then you toss a few zucchini moons in there and just kiss it with the garlic. And then the creamy cannellini beans get a good garlic oil massage and your feet start groovin'.
THEEEEEN. Ugh, okay. You add a few cups of chicken stock, a bunk ton of baby kale, and then pause for a moment. This is it. You slip that thar parmesan cheese rind into the soup and suddenly feel the beams of your heart's lighthouse guiding you into the truth.
It will melt, it will infuse, it will seduce, it will transform, it will send your soup down the path of righteousness.
Noooooo words. Actually, I do have words. But they're more like squeally utterances:
A:LSDJFS AWRL:#$SDS: OMG. WHYYY..aLJSFSALJ..WHYYYY AM I NOT LIVING INSIDE MY MOUTTTHH UGH AJSDFJKSFJD.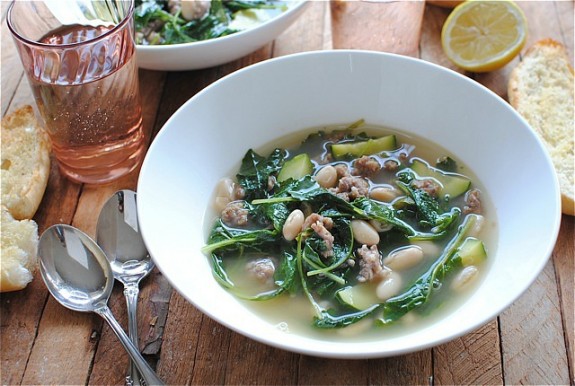 In short, I died.
This soup is light, but rich. The garlic-infused vegetables and beans are still completely obliterating my memory. The nuttiness imparted from the cheese rind will basically take a baseball bat to your senses and life.
And oh! Squeeze some fresh lemon juice over it right at the end and theeeeeeeere's that lighthouse again.
Beam on, lovers. Beam on.
White Bean, Kale and Italian Sausage Soup:
What it took for 4:
* 2 Italian sausage links, casings removed and roughly pulled apart
* 2 Tbs. extra-virgin olive oil
* 3 cloves garlic, minced
* 1 pinch crushed red pepper
* 1 zucchini, sliced into half moons
* 1(15 oz) can cannellini beans, drained and rinsed
* 5 cups chicken stock
* 5 oz tub baby kale leaves (or one bunch roughly chopped)
* 1 parmesan rind (optional)
* 1 lemon
* coarse salt and freshly ground pepper
Brown the Italian sausage in a large pot over medium high heat. Once cooked through, remove from pot and set aside. (cover with a paper towel if you flies. I mean, we totally don't, but just in case you do.)
To the pot, add the olive oil. Once heated, add the garlic and crushed red pepper. Bloom 30 seconds.
Add the zucchini and sauté 2 minutes. You don't want any color really. Just toss it with the garlic for flavor. Then add the beans. Toss another minute.
Pour in the stock, then add the kale and parmesan rind. Bring to a boil, reduce heat and simmer on medium for 15 minutes. Season with salt and pepper.
Using tongs, remove the rind (it will be softer) and discard. Add the sausage back to the pot and simmer 2 minutes. Taste it. Need any more salt? Go riiiight ahead.
Ladle among 4 dinner bowls, spritz with lemon juice and serve with some good garlic crusty bread!
(seeeeeeeeeeriously)