Uhhhhh yeah. That would be fig butter all over this thing.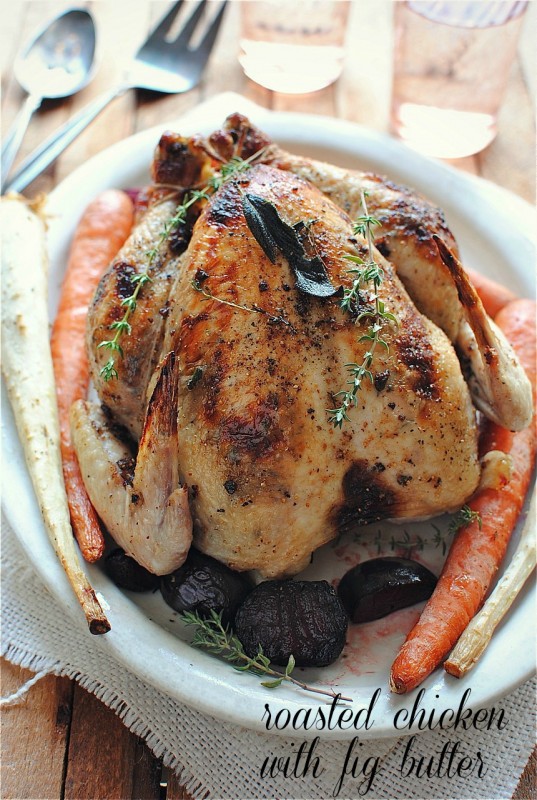 But before we begin, is it bad form to want to offer a hurricane a drink? Isaac is going to be here shortly and I'm so excited I'm putting on dang mascara.
Fig butter. Doesn't it sound so Downton Abbey or something? "Me Lady, let me fetch me a carafe of soothing fig butter whilst you have your gown pressed for the grand gala this crisp, starry evening."
A whole entire carafe: ew or yay?
OR WAIT. Dude what if it's in the new Downton Abbey COOKBOOK. I'd be so ticked. Probably not though.
I'm getting off track. This is what rain named ISAAC does to me. And I really want that cookbook.
I didn't take any pictures of the actual spreading of the fig butter because my camera was all, "nuh uh, bia. you betta not even think about getting that salmo-shiz all over my sniz." And I was like, "chill your cheelah, cam."
I honestly just typed all of that out, didn't I?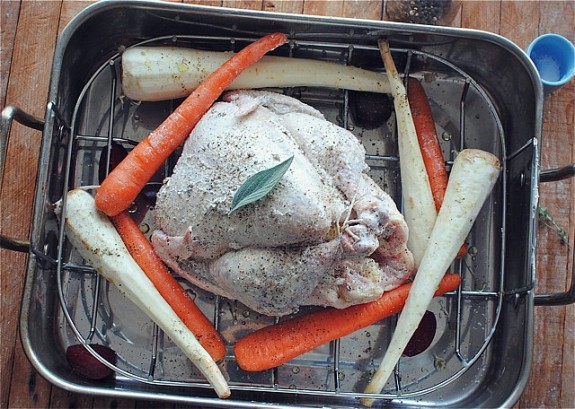 So basically, what we have here is the juiciest, most tender roasted cherub of a chicken deliciously and melodramatically (you do know me, right?) massaged with the subtle sweetness of figs and herbs. And butter. A whole entire carafe of it, ME LADY.
She looks like she's saluting you, doesn't she? "Roasted and ready for command, sir!"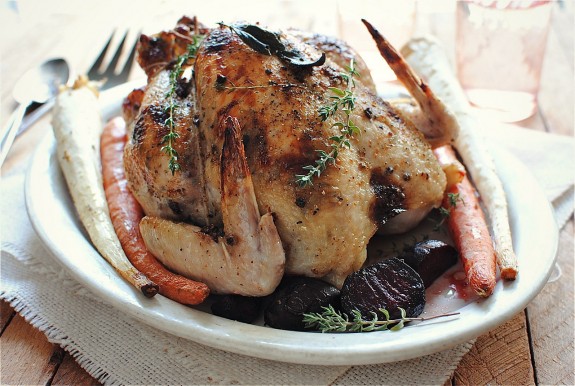 And I'm quite positive we landed on yay.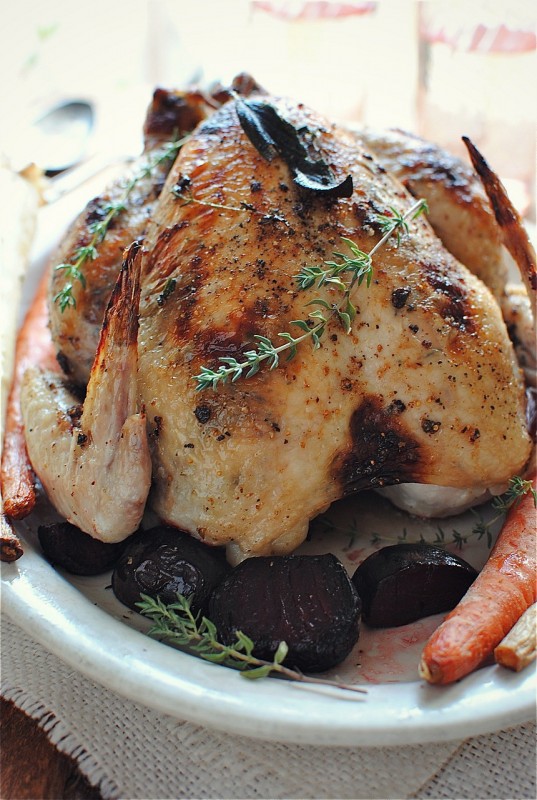 I'd pretty much let fig butter live on my tongue forever, rent free.
Roasted Chicken with Fig Butter:
What it took for 2:
* 1 stick butter, at room temp
* 1/2 cup black mission figs, ends trimmed and sliced in half
* 4 sage leaves
* 4 thyme sprigs, 2 of them stripped of leaves
* 1 (3.5 pound) chicken, preferably organic
* 1 lemon, halved
* 3 cloves garlic
* coarse salt and pepper
* vegetables of choice (I used carrots, parsnips and beets)
* olive oil
Preheat oven to 425.
In a small food processor, blitz the butter, figs, sage, stripped thyme leaves, and a small pinch of salt and pepper until smooth.
Rinse the bird and remove any giblets or innards or giblards or innets; discard. Take your fingers and run them under the skin, loosening it away from the flesh. Do this over the legs too. Then, take the butter and smear it between the skin and the flesh, all over the bird. It's going to get a lil' messy, so go ahead and rub it all over the outside of the bird too. Mmmm, fig butter.
Then lick your fingers. I'm just kidding!
Salt and pepper the cavity of the bird, then stick the lemon halves inside, along with the garlic. Shoot, if you have any leftover fig butter, smear some up in there too.
Lightly salt and pepper the bird all over the outside and place in a roasting pan. Truss the chicken with some kitchen twine (Don't eeeeven ask me how. It's always a total fluke for me.) Sprinkle with remaining thyme sprigs.
Now, for the veggies, what I SHOULD have done was sliced them lengthwise before roasting them. I roasted them whole. Bad Bev. (They took longer than the bird.) So yes, slice them, toss them with a little oil, salt and pepper and loosely arrange them around the bird in the pan.
Roast for an hour to an hour an a half, until the juices run clear and you've reached at least 160 degrees in the thigh.
*Since there's butter on the outside of the bird, it will start to brown quickly, and you don't want it to burn. So I'd tent it every other 20 minutes, to keep from burning. Just something to keep in mind. If you want to keep the butter on the inside and simply oil the outside, toootally fine. Because I ended up brushing mine with a little oil too.*
Let the chicken rest for 15 minutes, slice and serve!
p.s. Here's an Instagram of what my vegetables looked like AFTER I sliced them and roasted them for a smidge longer. Lawdy be.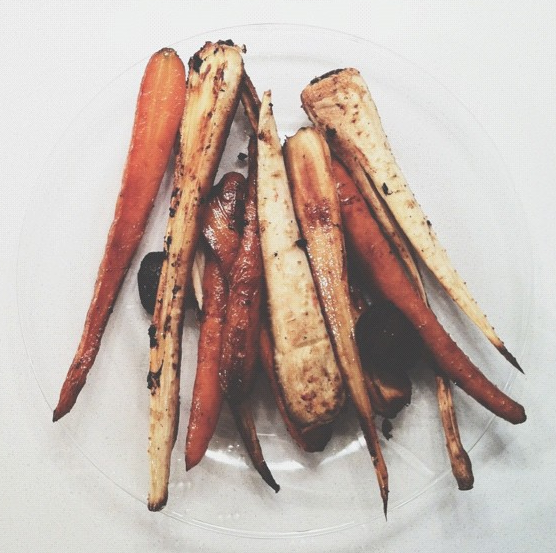 By the way, I bought a new eyebrow brush yesterday and I can NOT stop brushing my brows. I . . . just thought you needed to know.