So it's February and we're grilling pizza. Outside. In the OUTDOORS. But you don't rightly care because there is a chocolate giveaway at the end of this post. I know how you people work.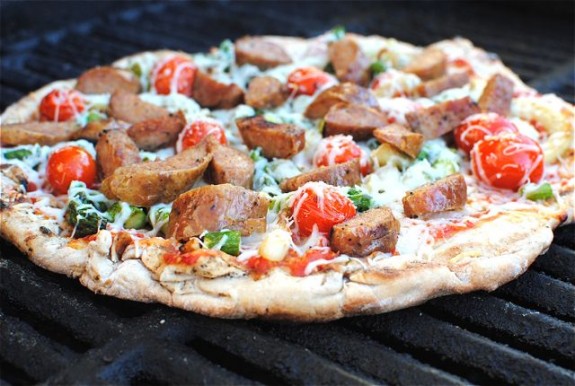 But hold on to your cheelahs because I really need to blab about this pizza for an hour or 40. It was one of those times where we were totally rubber chickening because we had no idea what to make for dinner. "We don't have ANNYYTHINNGGGUUUUGGGGH. I'm STARVINGUUUGGGH. MAKE ME SOMETHINGUUUGGGGH." Then I remembered a rando fennel bulb in the crisper and some asparagus that was this close to sprouting fangs. (we'll get to the chocolate soon, I promise!) And I was all, "Pizza! Let's have pizza. And we can thaw these sausages, omg life is so grand." And then Aaron fell back into the rubber chicken with, "Yeah but we don't have enough flour and my baaack huuuurts."
So. guess. what. he. did.  (after sitting in the massage chair for 3 hours)
He used Bisquick in place of the lack of flour! And it worked! We had a little bit of all-purpose, a little bit of whole wheat and a smidge of Bisquick, and all our problems disappeared like a candle in the wind.
You're totally scrolling down to the chocolate.
I made a quicky mo-licky (?) tomato sauce and Aaron grilled the spicy sausages and we sat in stunned silence for the duration of the night. Not even a season finale of Dexter could phase us. (that's a total lie. I was freaked beyond the ability to blink.)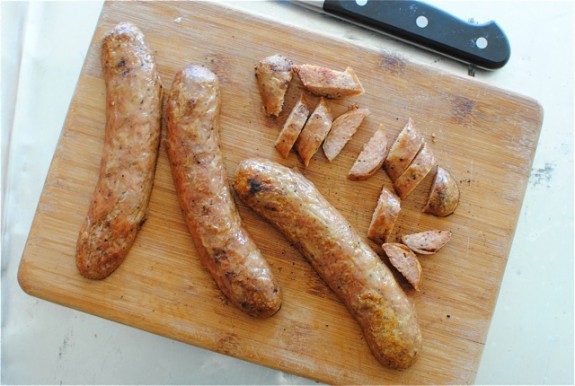 Go ahead and unhinge your jaw.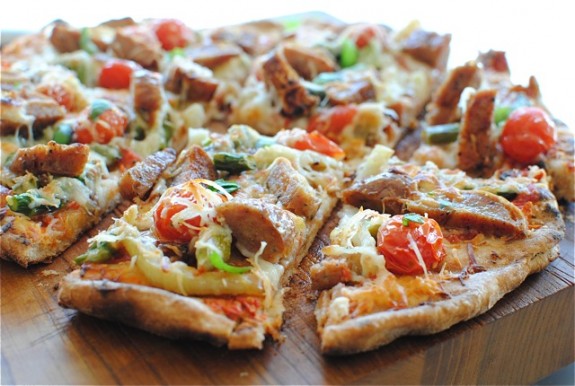 Mommy dearest.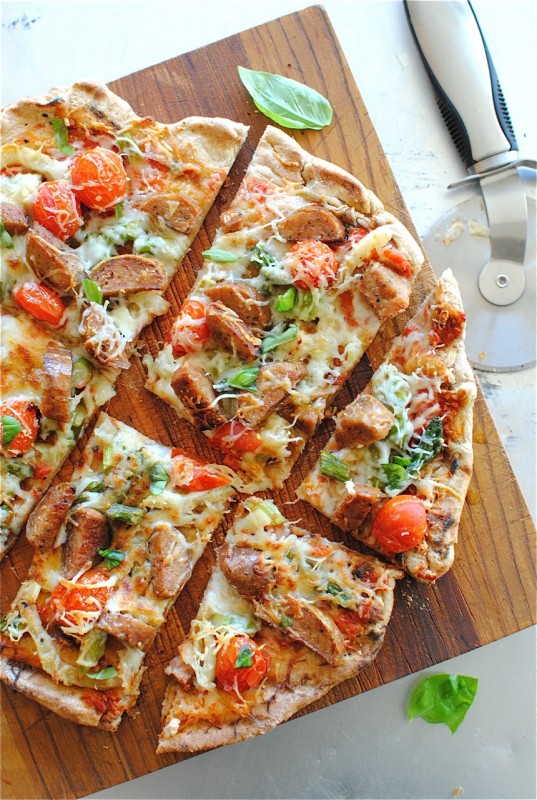 WE MADE IT. Time for chocolate. So, Scharffen Berger sent me 16 bars of chocolate. 8 to keep. And 8 to give away! They range all the way from a delicious milky 41% to a wonderfully dark 82% and the packaging is totes cute. Which gets me every time.
Want some? Yes, yes you do.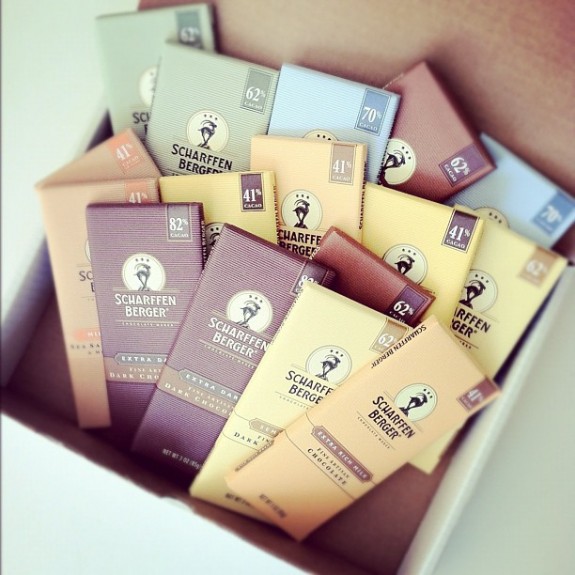 To enter the giveaway, alls ya gotta der is, leave a comment telling me:
* JUST HOW FAR would you go for chocolate? Or the one you love? OR BOTH?

For extra entries, you can:
* Follow me on the Facebook. Then leave a comment letting me know.
* Follow me on the Twitter. Then leave a comment letting me know.
* Follow Scharffen Berger on the Facebook. Then leave a comment letting me know.
* Follow Scharffen Berger on the Twitter. Then leave a comm…yeah you get the point.
This giveaway will run until this Thursday the 23rd at 6pm, CST. I'll pick a winner via Random.org and announce it Friday! Due to shipping costs, this giveaway is limited to only the US and Canada. Please make sure to include a full email address so I can contact ya.
Full Disclosure: I was not compensated for this giveaway, other than the 8 bars that I was allotted to keep for myself and devour. They have found a new home safe in my belly.
Get it!
oh yeah, the pizza recipe:
Sausage, Fennel and Asparagus Pizza:
What it took for 2 12-inch pizzas:
* 1 cup all purpose flour
* 1 cup whole wheat flour
* 1/2 Cup Bisquick
* 1 packet dry active yeast
* 1 cup warm water, divided
* 1 tsp honey
* 1 tsp salt
* 3 Tbs. extra-virgin oil, divided
* 2 cups cherry tomatoes
* 1/2 bunch asparagus, ends trimmed and diced
* 1 fennel bulb, end trimmed, core removed and sliced thinly
* 3 sausages or brats of your choice
* 2 cups shredded mozzarella cheese
* fresh basil for garnish, if desired
In a small bowl, dissolve the yeast into 1/4 cup warm water and honey. Let sit 5 minutes, until nice and bubbly.
In a larger bowl combine the flours, the Bisquick and salt. Add 1 Tbs oil, the yeast mixture and the remaining 3/4 cup water. Mix the dough with a spoon or your hands for about 4 minutes, until you form a ball. If you need to toss in a bit more flour, go ahead. You want a nice smooth dough ball. Flip the dough onto a clean surface and knead for about 2 minutes, getting it extra smooth and awesome.
Put the dough ball in a large bowl with a little oil coating it, cover with a warm damp towel and let the dough rise for about 45 minutes.
Once the dough has risen, using a pastry cutter, divide the ball into equal smaller balls, 2 to 4.
On a floured surface, Roll out the dough to your desired thinness.
Preheat the grill to medium-high.
In the meantime, throw about 1 1/2 cup of the tomatoes into a mini food processor and blend until smooth. Then pour the puree into a small sauce pan and simmer with a pinch of salt, pepper, and a basil leaf or two for 5 minutes.
Heat the remaining oil in a medium skillet and toss in the sliced fennel. Saute until it starts to soften, 5 minutes. Add the asparagus and tomatoes and saute another 3 minutes, until everything pops and is crisp-tender. Add in a pinch of salt and pepper.
Back on the grill, add the sausages and grill until plump and lightly charred, roughly 20 minutes, depending on your sausages. Remove from heat and cut into small half circles. (You can always brown Italian sausage (casings removed) in a pan if you want. Which I normally want.)
Brush the grates with a little oil, and place each pizza crust right on it. Grill until the bottom is set, 3 minutes. Remove crust from grill and flip it over. Spoon out a layer of tomato sauce, followed by the fennel, asparagus, cherry tomatoes and diced sausages. Sprinkle with mozzarella and back on the grill it goes for another 15 minutes or so, until the cheese is nice and bubbly and the dough is cooked through. But keep an eye on it. Not all grills are created equal and I don't want you to hate me if yours burns. Coo?
Top with more fresh basil if desired, slice and inhale.