I swear I could put lime and cilantro on everything ever.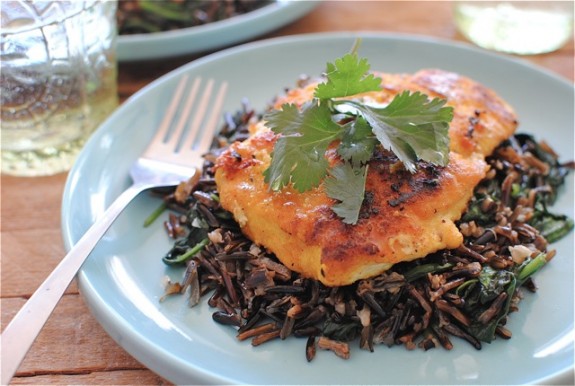 You must feel like all you read on this blog is, "AND GARNISH WITH LOTS OF LIME AND CILANTRO OR ELSE YOU'LL GROW TWO HEADS AND HAVE ALLIGATOR SKIN BY MORN'."
You poor thing!
I put it on tacos, in soups, on stir fries, my hair. Oh wait, that's supposed to be lemon. Or is it lime? Ohhhhh ew, this explains a lot right now.
I'll. . . be right back.
All righty! Now that my brand new Vegas Cher wig is in place, I can continue with this post about turmeric chicken and coconut wild rice.
Have you ever cooked rice directly IN the coconut milk? Doitdoitdoitdoit. It's not over the top coconuty at all. It's just this sweet subtle hint of a tropical island with tan dudes in grass skirts playing ukuleles and singing Somewhere Over the Rainbow in that really soft voice that was so popular a few years ago as they pour pina coladas into your mouth but they make sure not to get that little umbrella thing stuck in your throat because you'd start to choke horribly and your Vegas Cher wig might fall off and expose your lime hair. It's exactly like that. It's wonderful.
And I don't even have to tell you about the beauty and wonder of adding wilted spinach to it. I just might rightly crumble.
And if you're looking at that chicken wondering why it's neon and glowing, that is because it possesses the medicinal magic of turmeric. It's like chicken that ran away with the circus! Sort of.
And then there it is. Sitting all perty like on the plate, garnished with lime and cilantro. Garnished with love and energy. Garnished with wisdom and intelligence. Garnished with puppies and kittens!
Okay maybe not that.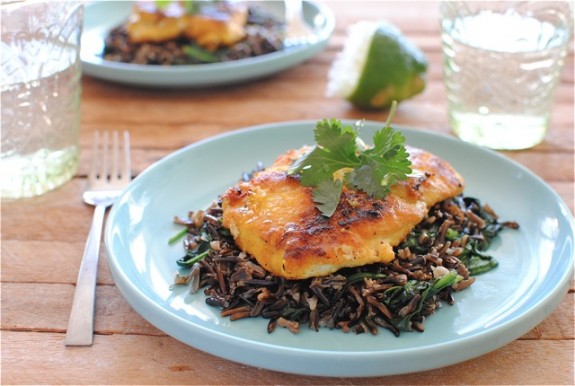 Birds fly over the rainbow, you guys. Why, oh why, can't I?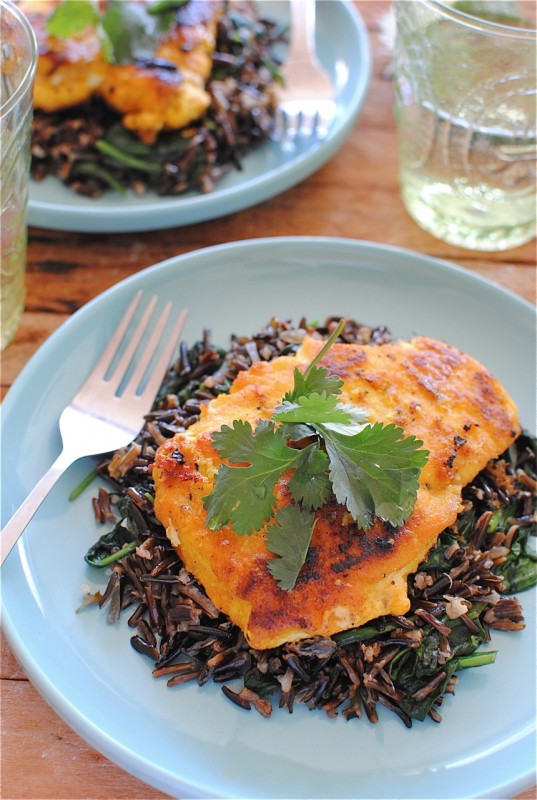 OH I WILL SEE YOUR RAINBOW AND RAISE YOU THIS VEGAS CHER WIG.
P.S. Dun fugget to enter my chocolate giveaway, FTW.
Turmeric Chicken with Coconut Wild Rice:
What it took for 4:
* 1 cup black wild rice
* 1 (14.5 oz) can coconut milk
* 3 Tbs. extra-virgin olive oil, divided
* 6 cups baby spinach
* 1 Tbs. ground turmeric
* 1/2 cup all-purpose flour
* 1/2 tsp coarse salt
* pinch of freshly ground pepper
* 2 chicken breasts, sliced in half and pounded out thinly
* 1 lime
* cilantro for garnish
In a rice cooker, cook the rice in the coconut milk until it's done.
In the meantime, heat 1 Tbs. oil in a medium skillet and add the spinach. Cook until wilted, 2 minutes. Add the spinach to the cooked rice, along with a pinch of salt and pepper.
In a shallow dish, combine the flour, turmeric, a pinch of salt and pepper. Lightly dredge the tenderized chicken through the flour mixture. Heat the remaining oil back in the skillet and add the chicken. Sear on both sides until browned and cooked through, about 8 minutes. Squeeze half  of the lime juice on top of the seared chicken.
Remove from heat.
Serve chicken over a bed of wild rice and garnish with a few cilantro sprigs and another good lime spritz. DUH.