Excuse me but, where's winter?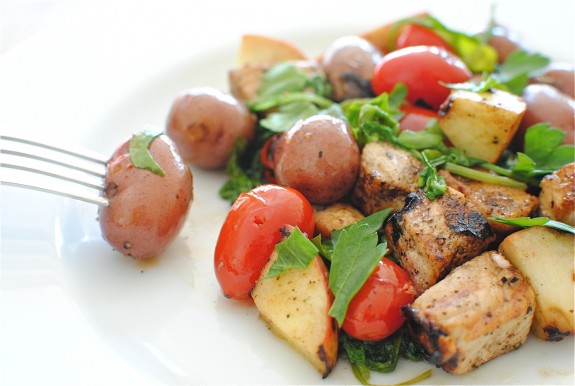 I've looked under the bed, on the side of the house and in my purse and I'm not seeing it. I even looked at our Kansas City long range forecast and there's like, no sign of the old man.
I've always wanted to say "long range." I feel so grown up!
Usually by now we have 55,000 feet of snow on the ground and the temps are so brutal even our chee chees are iced over. But it's verging on balmy which means I'm verging on a colossal confusion stroke. And that's not good for my marriage.
So I grilled kebabs. Rumor has it that it was not on my outdoor grill because I'm lazy and can't…figure it out. BUUUUUT, I still shaved my legs, wore baby blue flip flops and listened to Dick Dale on repeat.
Hey, if old dude winter chachi face is going to take his time, SO AM I.
Pork Kebabs with Apples and Potatoes: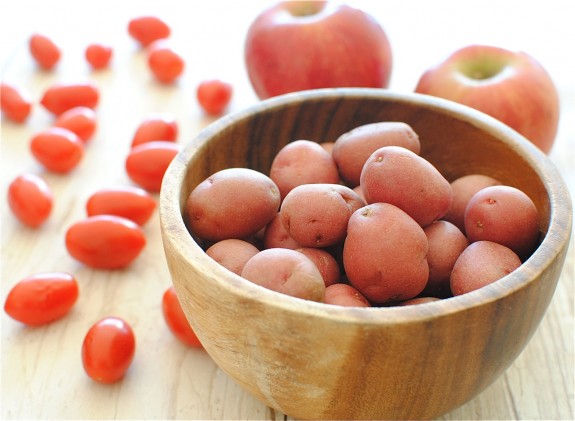 I promise this is the last time you have to see my jank polish job.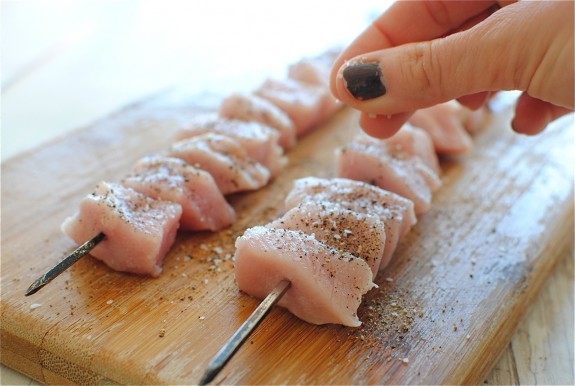 I skewered everything separately because the cooking times can vary per ingredient. I think Rachael Ray told me that in a dream a long time ago.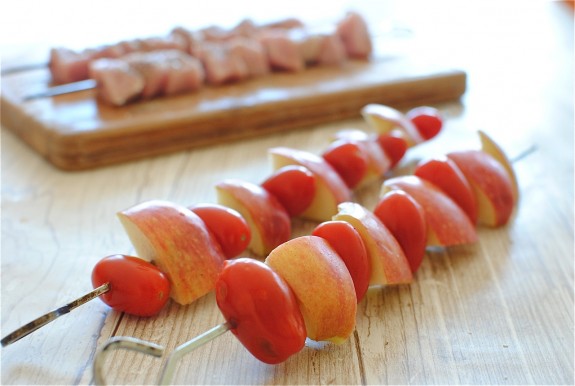 Remember to parboil your taters, or else that Dick Dale album is going to get really annoying.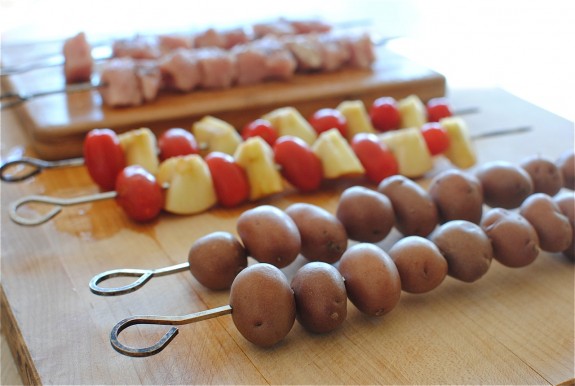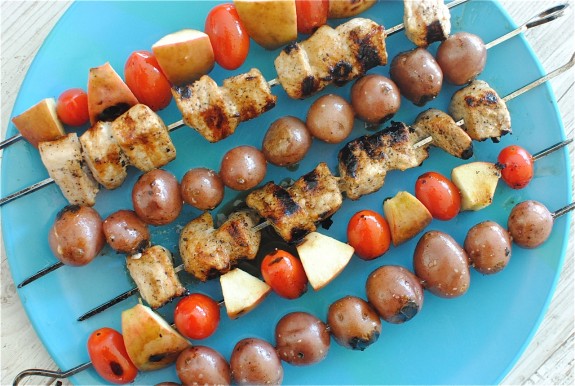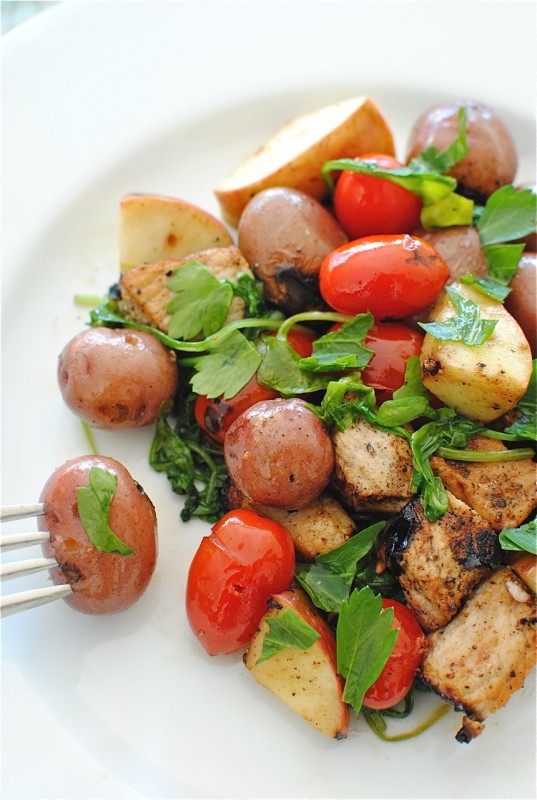 I realize that through this post I've now jinxed Kansas City. I want to apologize for the snow we'll experience…through August.
 What it took for 2:
* 2 boneless pork chops, cut into a medium dice
* 20 cherry tomatoes
* 2 cups small red potatoes, parboiled 15 minutes
* 1 apple, cut into a medium dice
* 3 Tbs. extra-virgin olive oil
* 2 Tbs. honey
* 1 tsp apple cider vinegar
* 8 oz arugula
* 1 lemon
* coarse salt and freshly ground pepper
Skewer the pork onto two…well, skewers. Season with salt and pepper. If you use wooden skewers, be sure and soak them in water for 30 minutes to avoid burning on the grill.
Skewer your tomatoes and apples. Then skewer up your parboiled potatoes.
Skewer this!
Sorry.
In a small bowl, whisk together the oil, honey, vinegar and a squirt of lemon. Go ahead and toss in a pinch of salt while you're at it.
Spritz an indoor grill with some cooking spray. Heat to medium-high and arrange the kebabs on the grill. Cook until you get some nice grill marks on all sides, maybe 10 minutes.
Toss the kebabs with wilted arugula and garnish with fresh parsley and a good squirt of lemon juice.
TAKE THAT, WINTER.