We're harvesting quite a bit of broccoli right now from our garden. (I can sense every kid ever wincing right now. SICK DUDE. KEEP ME AWAY FROM THAT YARD. DON'T GIVE MY MOM GET ANY IDEAS.)
Aside from the insano health benefits of broccoli, the little florets are almost candy-like in this simple pasta dish. No real secret either, just a quick boil with the pasta and a toss with caramelized onions, sweet corn, fresh jalapeno and the burst of crisp parsley.
Summer is seriously gettin' its party on up in your mouth.
Summer Vegetable Pasta: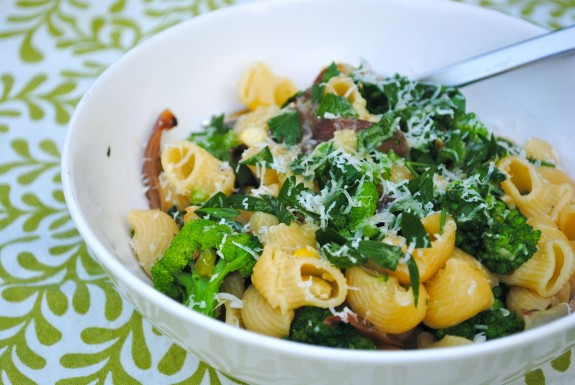 What it took for 2:
* 1/2 pound short pasta (such as pipette)
* 1/2 pound broccoli, cut into florets
* 1 cup green beans, ends trimmed and cut into 1-inch pieces
* 1 small red onion, thinly sliced
* 2 small ears corn (kernels removed)
* 1 jalapeno, minced (leave seeds in for a little more heat)
* 3 Tbs. extra-virgin olive oil
* 2 Tbs. herbed compound butter
* fresh parsley and pecorino cheese for serving
* coarse salt and freshly ground pepper
Heat the oil in a large skillet over low heat. Add the sliced onions and cook, stirring occasionally until caramelized, about 30 minutes. During the last 5 minutes of caramelizing, add the jalapeno and corn. Toss in a pinch of salt and finish cooking.
In the meantime, cook the pasta until just shy of al dente. In the last 2 minutes of cooking, add the broccoli and green beans. Reserve 1/2 cup pasta water and drain the rest. Add the pasta and greens back to the pot, and toss in the onion mixture. Stir to combine. Add the butter and the reserved pasta water. Taste. Season accordingly with more salt and pepper.
Serve with parsley and cheese!