Recently I discovered a most beautiful food blog on the interwebers. The kind of blog that makes you gasp at the crisp photos, salivate at the colorful food, and leaves you wondering why they haven't invited you over for dinner every single night….ever.
While perusing their site for inspiration for my own cooking, I fell upon a gorgeous little ditty, which sent my jaw straight to the floor like a lead paper weight. I checked fridge inventory, with a clipboard you guys. A quick tap to my cat-eye glasses with my sharpened number two led me a shocking surprise: I have everything in stock!
This dish is seriously delicious. Don't be nervous about words like "bulgur" or "saffron" either. Just pony up, pour a glass of wine and get on it.
Thank you Green Kitchen Stories for sending my life in a beautiful direction tonight.
I promise not to stalk you.
….too much.
Saffron Bulgur with Summery Vegetables: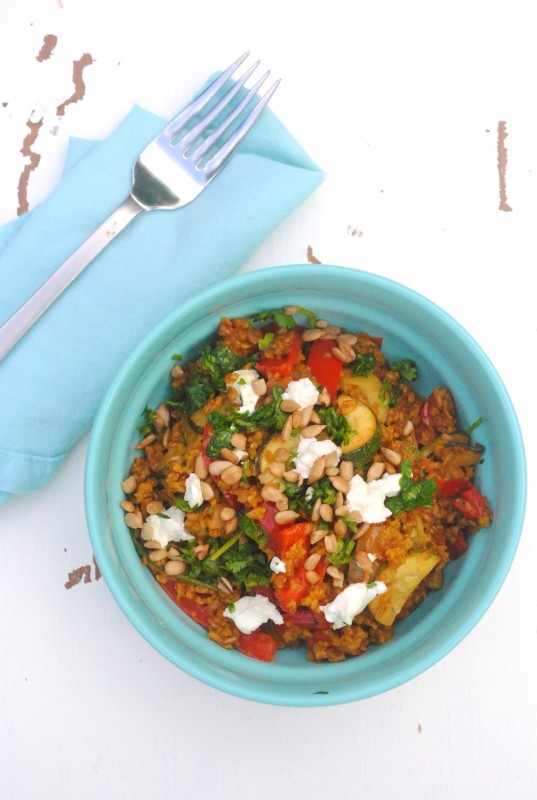 What it took for 2:
* 3/4 cup bulgur
* 2 cups vegetable broth
* pinch of saffron
* 2 Tbs. extra-virgin olive oil
* 1/2 white onion, finely diced
* 2 cloves garlic, minced
* 1 small hot chile pepper, minced (leave seeds in for more heat)
* 1/2 red bell pepper, finely sliced
* 1 zucchini, halved crosswise, then lengthwise, then into thin half moons
* 1 cup cherry tomatoes, halved
* 2 cups arugula
* juice from half a lemon
* 1 cup fresh cilantro, roughly chopped
* 3 Tbs. soft goat cheese
* toasted sunflower seeds for garnish
* coarse salt and freshly ground pepper
Bring the veggie broth to a boil and add the bulgur. Stir to combine and add the saffron. Cook 10 minutes.
Heat the oil in a medium skillet over medium. Add the onion, garlic and chile pepper and cook about 5 minutes, until softening. Add the bell pepper, zucchini, cherry tomatoes and the lemon juice. Cook another 10 minutes, then toss in half the cilantro. Season with salt and pepper, and stir in half the goat cheese. (I KNOW.) Add the veggie mixture to the bulgur and stir to combine.
Serve with remaining cilantro, goat cheese and toasted sunflower seeds. Wawndaful!