I will not say cornhole. I will not say cornhole. I will not say cornhole.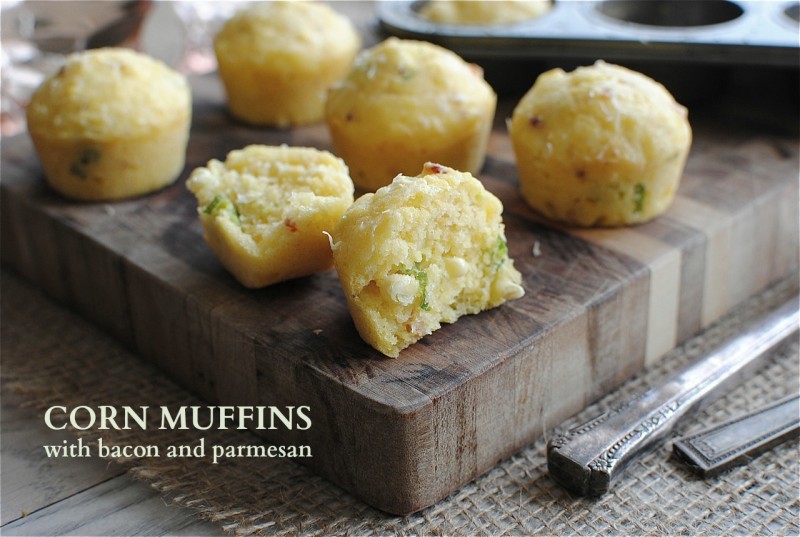 Oh hi! Look who's been getting her little bake on, eeeeh, eeeeeh? Speaking OF, this weekend I have major major major plans to attempt something that ends with cake and begins with pound and has the word chocolate and maybe almonds in it. But I don't want to give it away just yet.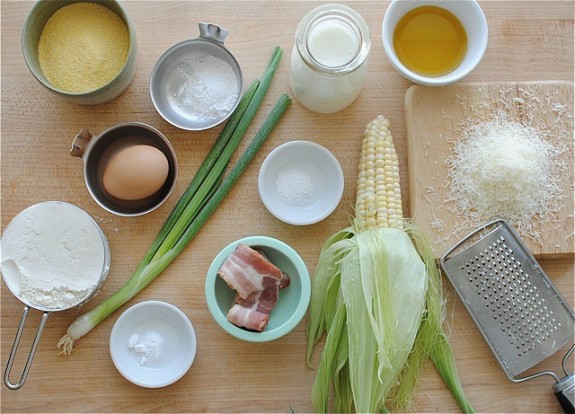 Do you want to know what tickles my floating fancy boat? Besides saying cornhole? (I am known for my soaring maturity levels, ya know?) These muffins. These muffins, these muffins, these muffins.
A) They're savory. I'm sorry but bacon crumbles, scallion greens and fresh parmesan? Yyyyyyyyyyyyyyyyyyyyyyyyyyyyyyyyyyyyyyyyyyyyyes.
B) I added fresh corn. What's a dern corn muffin without the dern corn? All of the recipes I was seeing forgot to include CORNhole. I mean corn. Just corn. What the h, duders? So I added it. And it was so good to me.

C) They're mini! Okay 8 of them are. I randomly found this ca-ute little mini muffin tin pan thingy whilst antiquing a few weekends ago, and I just hhhhaaaaadhdahdahhahdadh to use it soon or else I'd lock myself in my basement and THINK ABOUT WHAT I DID NOT DO.
Mix, stir, pour, stir, put your left foot in, take your left foot out, bake, bake, put your left foot and you shake it all about.
How you doin'?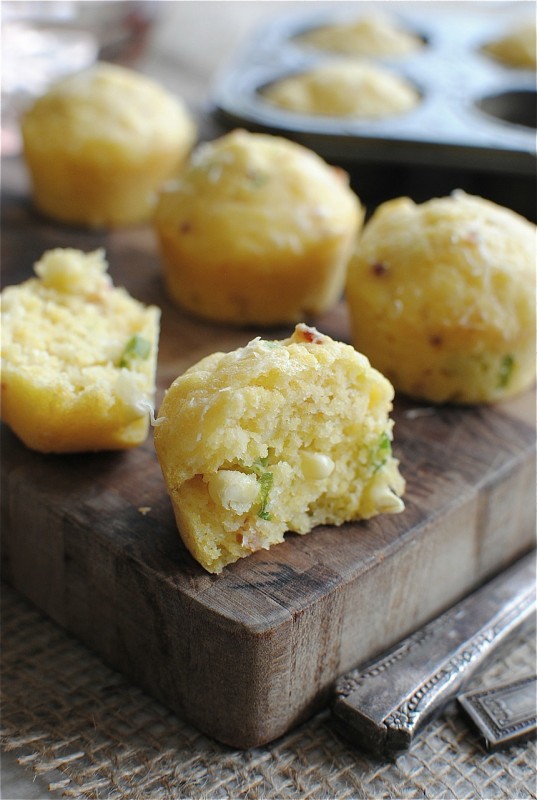 Spread with butter and invite me over.
Corn Muffins with Bacon and Parmesan:
(a weird combination of a few recipes from Cooking Light, tweaked, twiddled and twirled)
What it took for 8 mini muffins, because I thought it would be cute, and then like 8 more regular sized muffins:
* 1 1/4 cup buttermilk
* 1/4 cup extra-virgin olive oil
* 1 egg, lightly beaten
* 1 cup all-purpose flour
* 3/4 cup corn meal
* 1 tsp sugar
* 2 tsp baking powder
* 1/4 tsp baking soda
* 1/4 tsp salt
* 1 ear corn, kernels removed
* 2 strips bacon, fried, drained and chopped
* 1/4 cup freshly grated parmesan cheese
* 1 scallion, finely sliced
Preheat oven to 400.
In a small bowl, combine the buttermilk, oil and egg. Whisk to combine.
In a medium bowl, combine the flour, corn meal, sugar, baking powder, baking soda and salt. Stir to combine.
Make a well in the center of the flour mixture, and pour the buttermilk mixture into it. Stir to combine. Add the bacon, corn, scallions and cheese. Give another stir to combine it all.
Pour mixture into a lightly greased muffin tin (I did a mix of mini and regular) and slide her into the oven for about 13 minutes, or until a toothpick comes out clean.
Oh! You can also sprinkle some more parmesan cheese on top of the muffins before baking if you want. You should want.
Slice, butter, and proceed with facial shovage.
Here they are PRE-SLICED. In case the need for this visual was missing from your life.
PS: Cornhole is a GAME, you gutter vagabonds!