J'eat your black-eyed peas yesterday? I sure hope you took 'em down like barbarians because I don't even wanna know what happened come sunrise today. DANGER LURKS, YOU GUYS.
It lurks.
Now that we're all getting back into the grind, finding our groove, getting back into the groove and finding our grind, I felt it only appropriate to show you a snack. Because, hi, tearing down a huge Christmas tree and all those blasted decorations can really do a number or 4 thousand on ya. Aaaaand for some maybe even emotionally? I'm not that way though. At all. I could throw a torch on everything by January 1st and not bat an eye.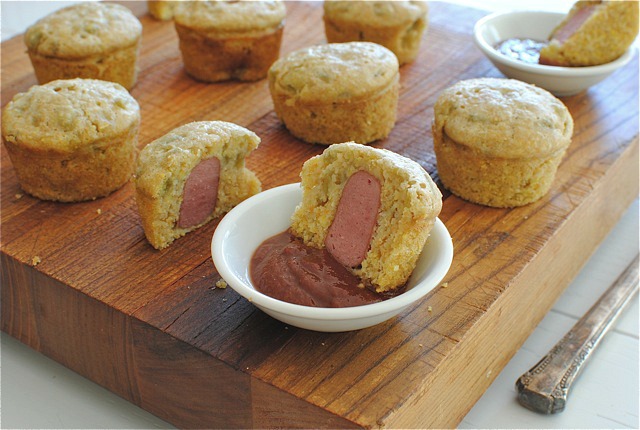 Sadly I'm no where near kidding. My husband calls me "The Light Switch." I can go from, "Awww you're so sweet and you smell good! Is that the new cologne you got for Chri-" to "-GET OUT OF MY FACE I CAN'T BREATHE" in less than a nano. It's . . . adorable?
This is why we need a snack. (and booze)
AND, peep this, it's also your back-to-school savior snack for ze kids. A corn dog for them. The sriracha hot sauce for you. (well, and the booze)
Can I get a holla back, y'all?
Here ya ger – Mini Green Chile Corn Dog Muffins with Sriracha Sauce
and p.s. I swear I'm not going to be showing you Tablespoon stuff every single day. I just had a bunch of back-logged stuff that I needed to get out to the WORLD. (my fist is on my chest and I'm looking into the distance, stage left)
and p.s.s. I know you probably don't even care. Like, in a good way, Not in a, "I don't even CARE 'bouchew, foo!" way.
and p.s.s.s. But maybe you do feel that way, which is okay too! I mean, I'd be sad, but what can ya do, right?
and p.s.s.s.s. Okay I'm done.