I'm pretty sure this recipe is the biggest oxymoron ever.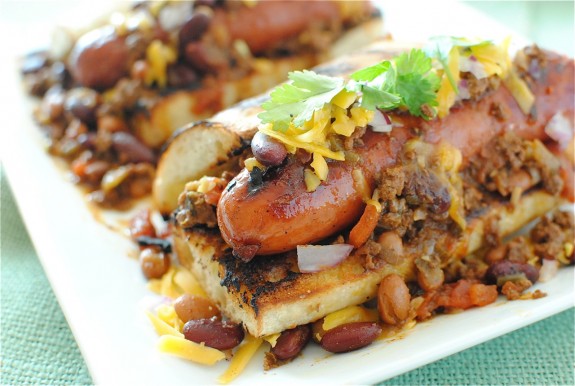 And quite possibly the most freaky delicious oxymoron that's going to knock your face into next Tuesday.
Last week on the Facebooks and Twitters I asked you if I should make these here chili dogs. And then my accounts exploded due to little red notifications and BEEP BEEEEP BEEEEEEP ALL UP IN MY EARDRUMS overload. Man, you guys are on fire for your dogs.
Which made me decide to be on fire for them as well. So much I nearly burned the house down.
(You have no idea how much I'm having to resist a winky face emoticon right here.)
So I got Aaron involved, which took .00000001 of a second. I wanted to give you a more stylish version using pimp ingredients, but still deliver that manly, burly, I THINK I JUST GREW A BEARD gusto.
And without a chili dog doubt, we did it.
The chili (with slightly sweet tones from the sugar, sweet paprika and honey – oh yeah) simmered for a good 3 hours. The artisan baguettes were grilled to perfection. The kielbasa sausages brought me to a place of sweet surrender. Aaron fainted.
Okay. This next joke is obvious. So you just have to let me get it out of my system. It's who I am.
I DOUBLE DOG DARE YOU TO MAKE THESE.
(I seriously can't help these things.)
But really, if you don't make these for the Superbowl, or today, you'll be letting your entire life down.
Gourmet Chili Dogs: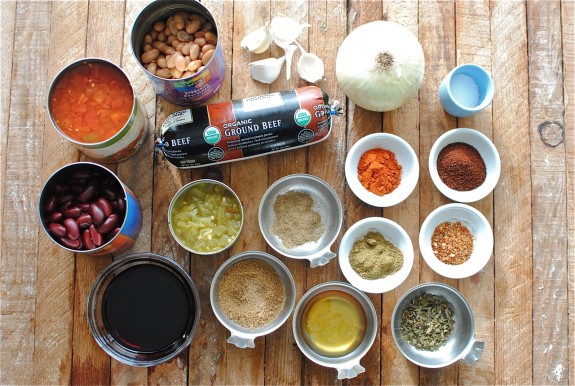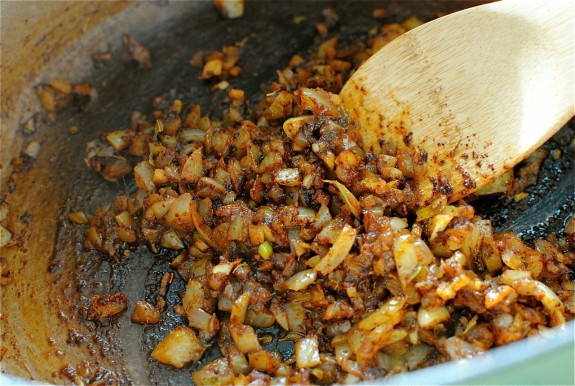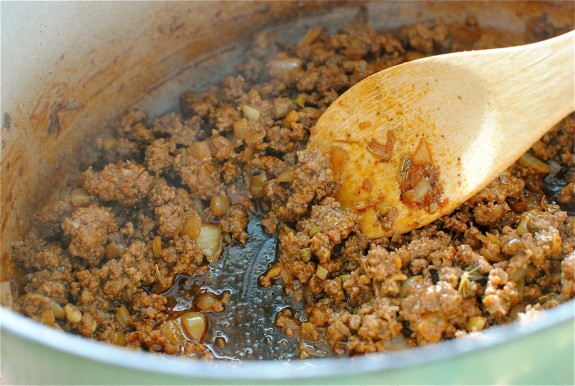 This is the part where I forgot to take a picture of the ACTUAL CHILI.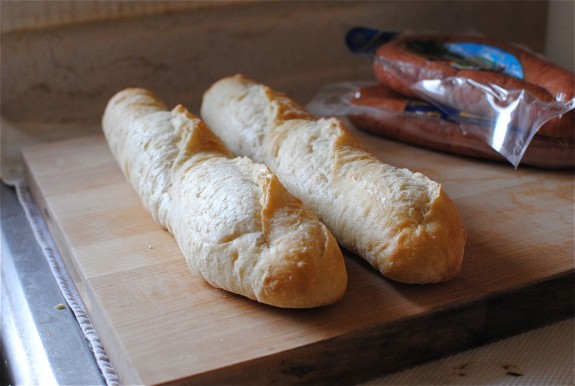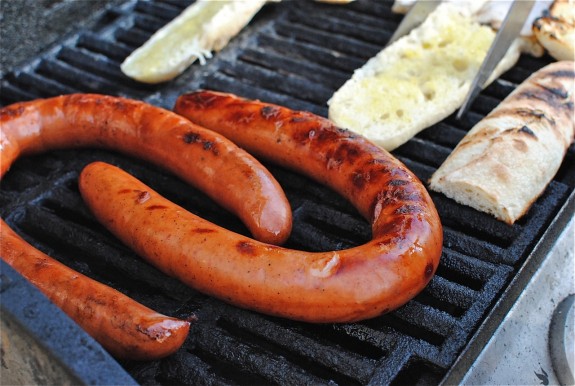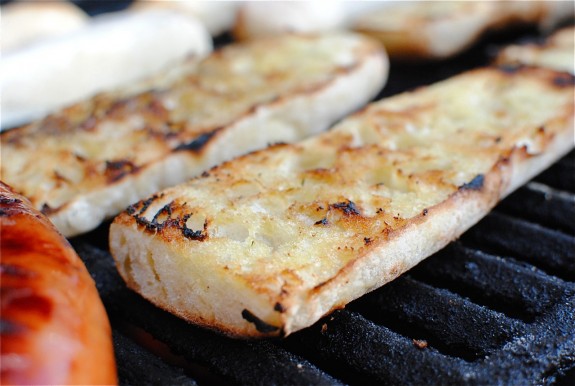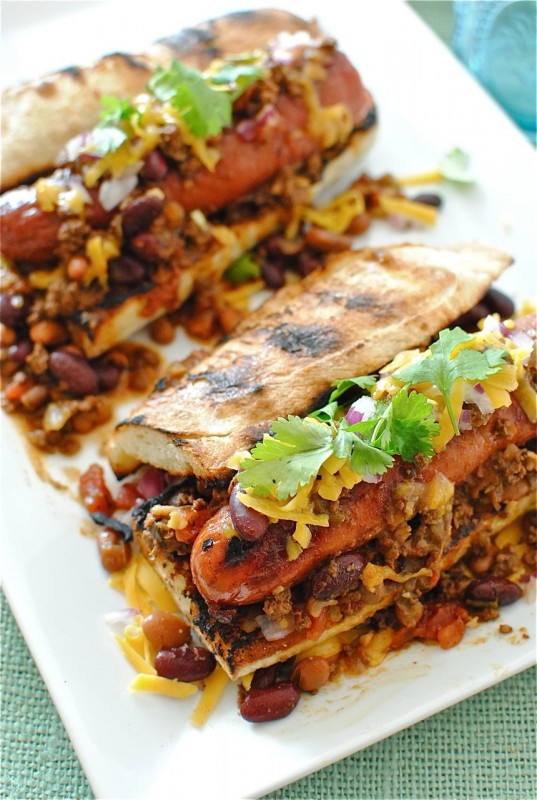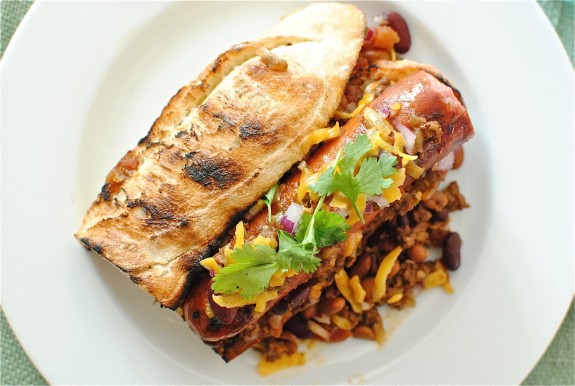 Chili dogs = Charlie dog approved.
What it took for 6 (probably with a little leftover chili, yeah!):
for the chili:
* 2 Tbs extra-virgin olive oil
* 1 medium yellow onion, finely diced
* 4 cloves garlic, minced
* 1 tsp crushed red pepper flakes
* 2 Tbs. ground cumin
* 2 Tbs. chili powder
* 2 Tbs. sweet or smoked paprika
* 1 Tbs. ground coriander
* 1 Tbs. Mexican oregano
* 12 oz organic ground beef
* 1/2 cup red wine
* 1 (14.5 oz) can diced tomatoes
* 1 (14.5 oz) can pinto beans, drained and rinsed
* 1 (14.5 oz) can kidney beans, drained and rinsed
* 1 (4 oz) can diced green chiles
* 2 Tbs. brown sugar
* 2 Tbs. honey
* 2 Tbs. balsamic vinegar
* 1/2 cup broth or water
* coarse salt and freshly ground pepper
for the dawgs:
* 2 pounds Polish kielbasa sausage (or 6 links)
* 2 baguettes, split in half and lightly brushed with olive oil
* 1 cup shredded cheddar cheese
* 1/2 cup fresh cilantro leaves
* 1/2 cup finely diced red onion
In a large pot or dutch oven, heat the oil over medium-high. Add the onions and garlic; saute 3 minutes. Add the crushed red pepper, cumin, chili powder, paprika, ground coriander and Mexican oregano. Bloom the spices for 1 minute.
Add the ground beef, a good pinch of salt and pepper and cook until browned all over, 4 minutes.
Add the red wine and cook 1 minute.
Add the tomatoes, beans, green chiles, brown sugar, honey, vinegar, broth (or water) and another pinch of salt and pepper. Reduce heat to medium-low, cover and simmer about 3 hours.
Heat grill to medium-high. Grill the sausages until plump and slightly charred all over, about 15 minutes. Remove from heat and cut into 6 links.
Slice baguettes into hot dog lengths, place a dog on the bottom half, top with loads of chili. Garnish with cheese, cilan…..okay you know the drill. EAT UP!
*** NOTE *** I used a slotted spoon for the chili, but you'll have some nice juices in the pot, if you prefer a more sloppy dog. Which I definitely recommend.