Okay, so I just finished reading this book. It's fiction, but one of the main characters is a chef, so any time she references food, the recipe is supplied at the end of each chapter.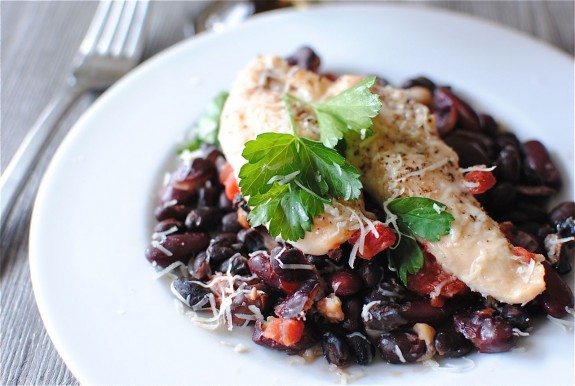 Pretty pimp, eh?
The book itself is gosh darned good, if you're into giggling like a school girl, weeping like a baby and having your heart ripped RIGHT OUT FROM ITS CAGE AND SMEARED ALL OVER I75 LIKE AN ARMADILLO WITHOUT A CHANCE.
So, this week I'm going to be cooking some of the recipes from the book to see if fiction chefs really know their beed-neez.
And no, I'm not cooking armadillo. Sick, you guys.
She calls this meal "pantry chicken and beans" which is rawk solid for someone who took the red-eye flight home (not really but I've always wanted to say that) after a weekend getaway and had zero idea or motivation to make anything that involved .1 ounce of energy.
I tweaked it a smidgeroo, but the overall results remained the same. IT'S AWESOME. It's got a nice salty punch with the olives and anchovy paste (don't be skeered) but also comforting with the tender pieces of chicken lightly covered in grated parmesan. I think next time I might top the entire thing with panko or breadcrumbs for some toasty crunch factor business.
And replace the chicken with armadillo.
(DID SHE JUST SAY THAT?)
Pantry Chicken and Beans: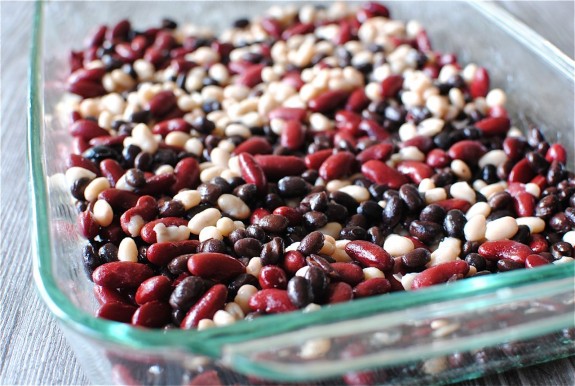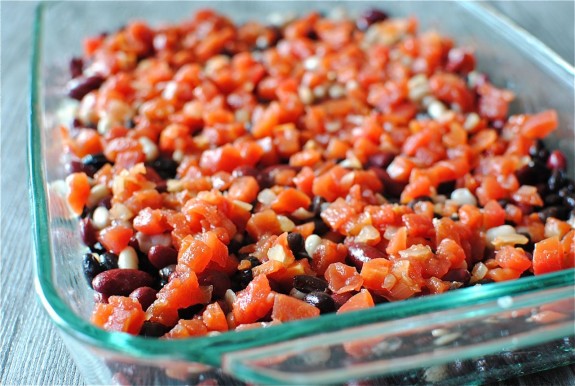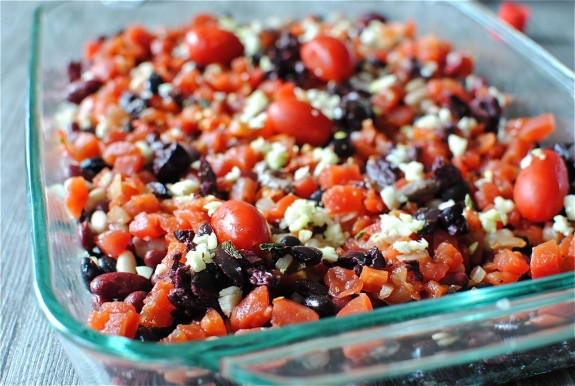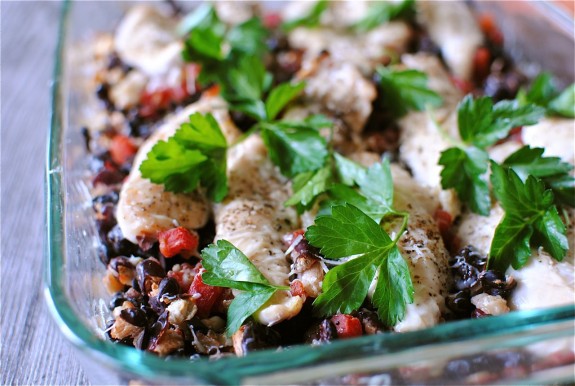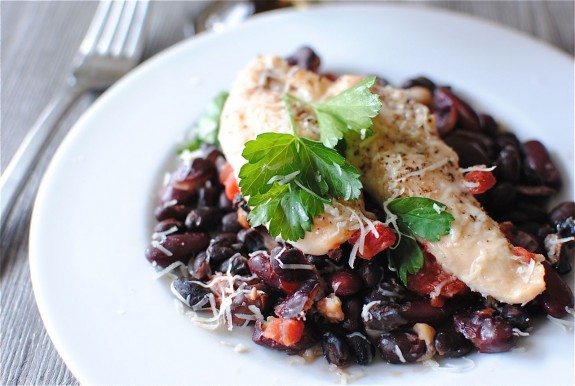 What it took for 4:
* 1 tsp extra-virgin olive oil
* 1 (14.5 oz) can black beans, drained and rinsed
* 1 (14.5 oz) can kidney beans, drained and rinsed
* 1 (14.5 oz) can navy beans, drained and rinsed
* 1 (14.5 oz) can diced tomatoes, slightly drained
* 1 pinch crushed red pepper
* 1/3 cup chopped kalamata olives
* 2 tsp anchovy paste
* 3 cloves garlic, minced
* 1/2 cup cherry tomatoes
* 12 chicken breast tenders
* 1/2 cup freshly grated parmesan
* parsley, for garnish
Preheat oven to 350.
Oil the inside of a 9×13 baking dish.
Dump the beans in.
Then dump those tomatoes on top.
Then sprinkle with the crushed red pepper, followed by the anchovy paste dollops, the chopped olives, garlic and cherry tomatoes. Toss it about with your fingers to get it all combined.
Throw it in the oven for 25 minutes and bake until the cherry tomatoes start to soften and burst a tad. Top with chicken tenders, season with salt and pepper and throw back in the oven for 30 minutes. If you need to flip it to broil for a couple of minutes, das fine.
Sprinkle with grated parmesan and parsley. Serve her up and eat, eat!