I love making soup in the summertime because it means I don't have to do much. Aside from a little chippity-chop-chop of a few vegetables, the pot does all the work!
This really works to my advantage, you see. This gives me more time to focus on which Ross and Rachel milestone we're crossing. It gives me time to pay attention to Monica and Chandler's wacky shenanigans. It allows me the opportunity of tapping into the ups and downs of Joey's and Phoebe's day-to-day struggles in getting people to understand them.
You guys, this is CARDINAL STUFF I'M DEALING WITH.
Thanks to the classic minestrone, I can put 10% of my mental energy into dinner, and 90% into the syndicated group of 6 that still keeps me giggling day to day.
Oh do NOT tell me I'm alone in this.
Easy Breasy Summer Minestrone: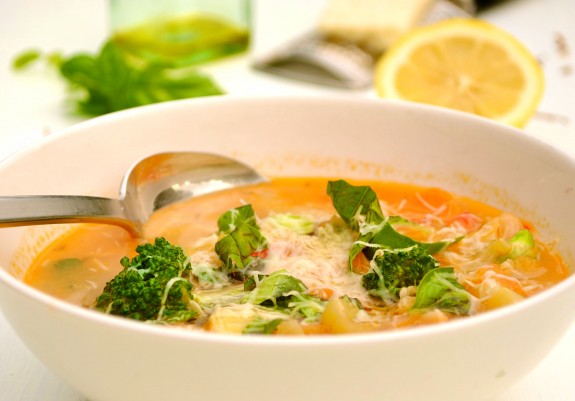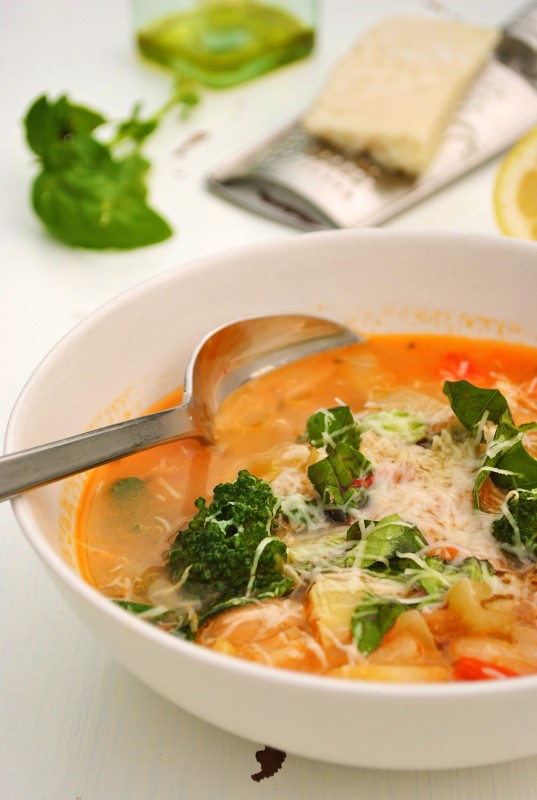 What it took for 4:
* 1/4 cup olive oil
* 1 red onion, chopped
* 3 carrots, diced
* 2 celery stalks, diced
* 3 cloves garlic, minced
* 1 red bell pepper, diced
* good pinch of crushed red pepper
* 2 tsp fresh rosemary, minced
* 3 large tomatoes, chopped
* 4 new potatoes, diced into 1-inch chunks
* 1/4 head green cabbage, thinly sliced
* 1 can cannellini beans, rinsed and drained
* 1 cup broccoli florets
* 10 leaves basil, torn
* coarse salt and freshly ground pepper
* fresh parmesan for serving
In a large pot, heat the oil over medium-high. Add the onions, garlic, carrots, celery, crushed red pepper, red bell pepper, rosemary, a good pinch of salt and pepper. Cook about 8 minutes, until veggies start to soften.
Add the tomatoes and cook them down, about 3 minutes. Add the potato, cabbage, beans, and 4 cups of water. Bring to boil, reduce and simmer for about 20 minutes.
Taste and season accordingly. Add the broccoli and toss in most of the basil and stir to combine. Cook 1 more minute.
Serve soup with more basil and parmesan cheese for garnish.
Drizzle with oil. Don't be scared. And while you're at it, spritz with fresh lemon!