Creamy and dreamy. Are you seeing this?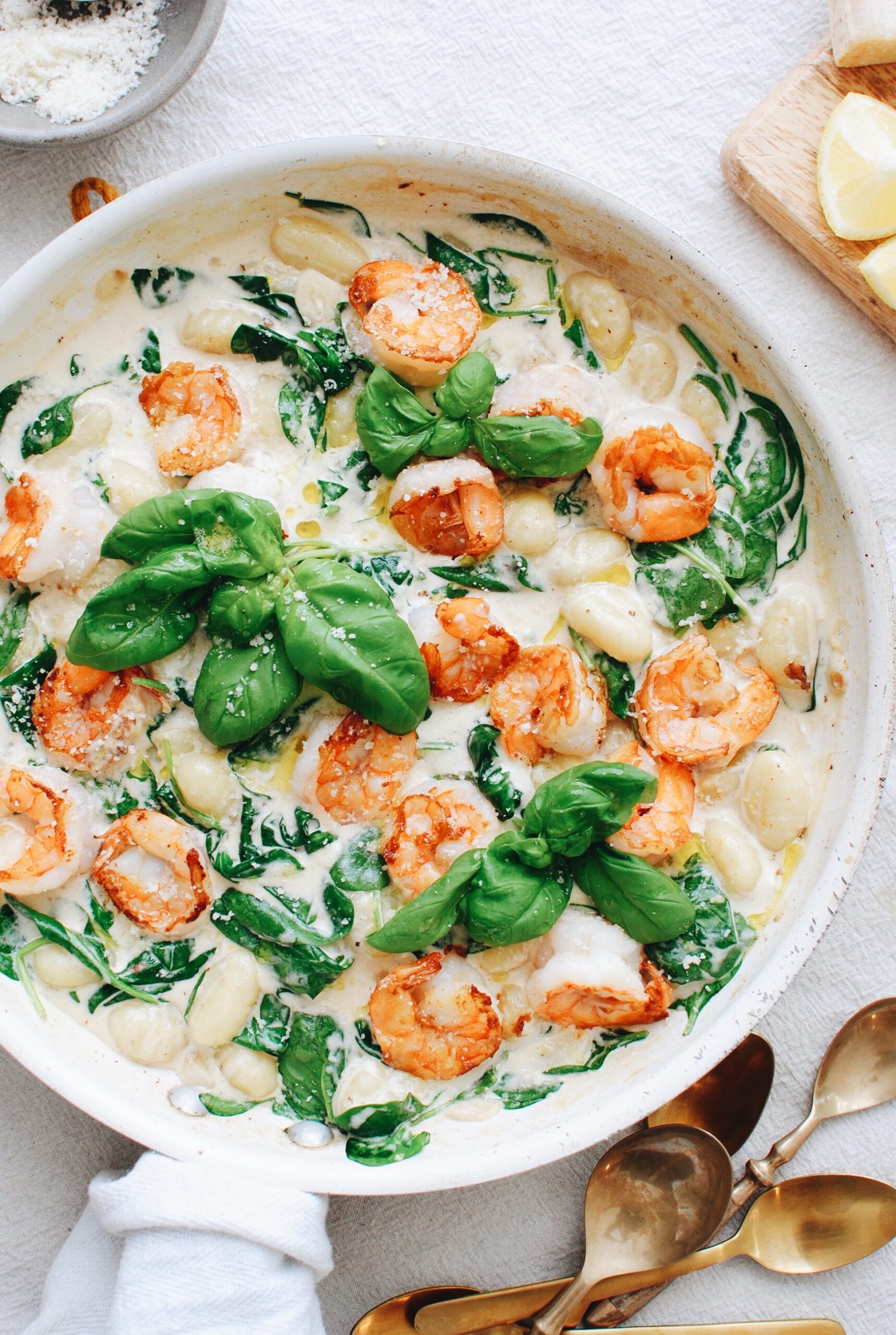 I have 150 pages of left of The Great Alone and every time I make a food, eat a food, look at a food I think, "The Allbrights really would have liked this. Well, Cora and Leni would. ERNT can eat his own toenails."
What was I saying?
Oh! Creamy and dreamy. I have a recipe for you that's simple enough for Monday night, but once it's in your mouth it feels like a vacation.
Let us peepeth.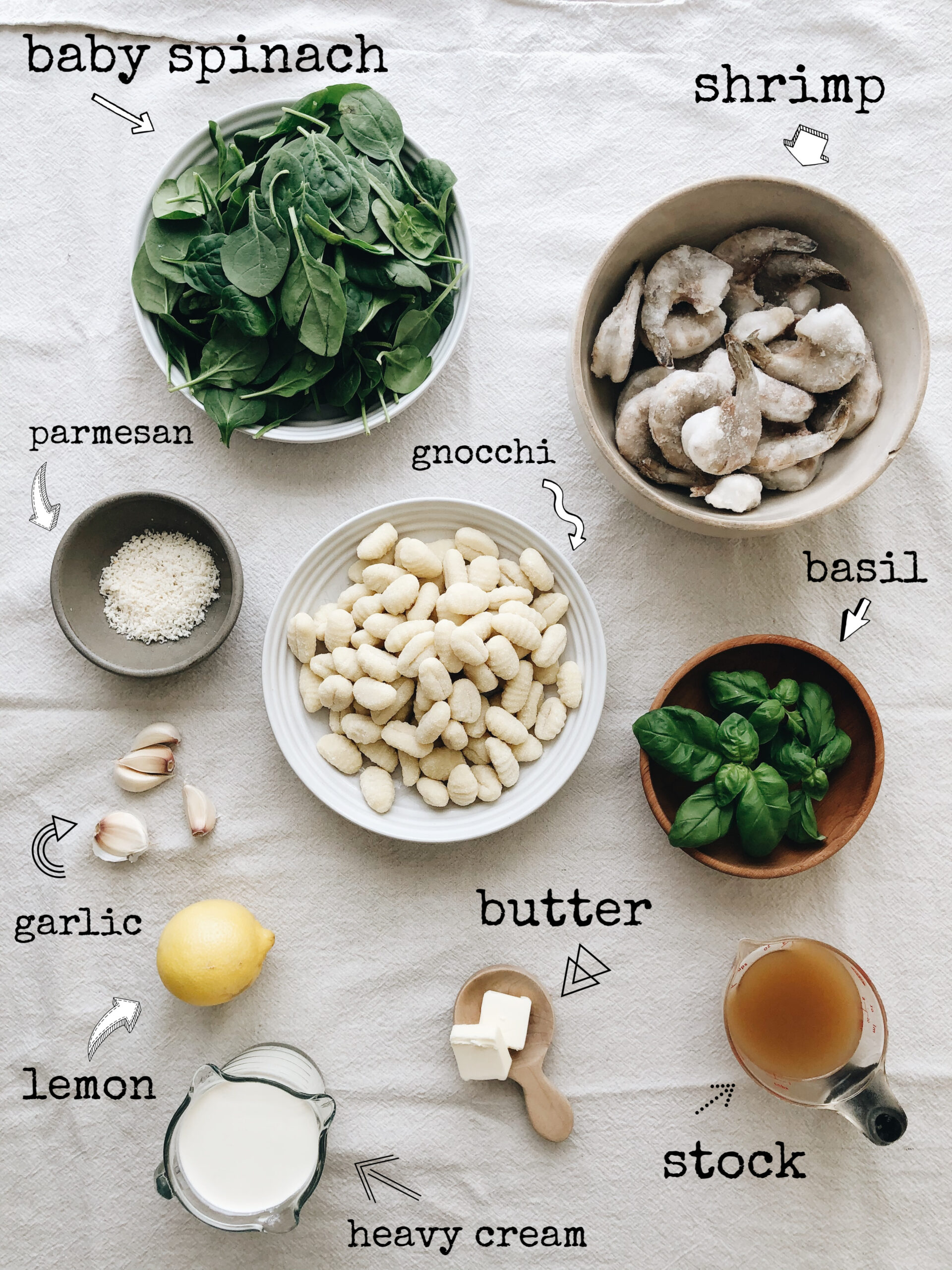 All so simple. You have all this already, don't you?
Don't you, BRUCE? (Bruce is a man who works at Trader Joe's whom I met the other day in the check-out line, and he asked for a shout out on the blog as I bagged an avocado. And I said, "Okay sure, Bruce." And he said, "Really, say my name!" And I said, "I WILL, BRUCE CHILL OUT." I didn't say that last part. Hi, Bruce!)
But like, all straight forward ingredients. Fancy, but still everyday.
Watch what happens.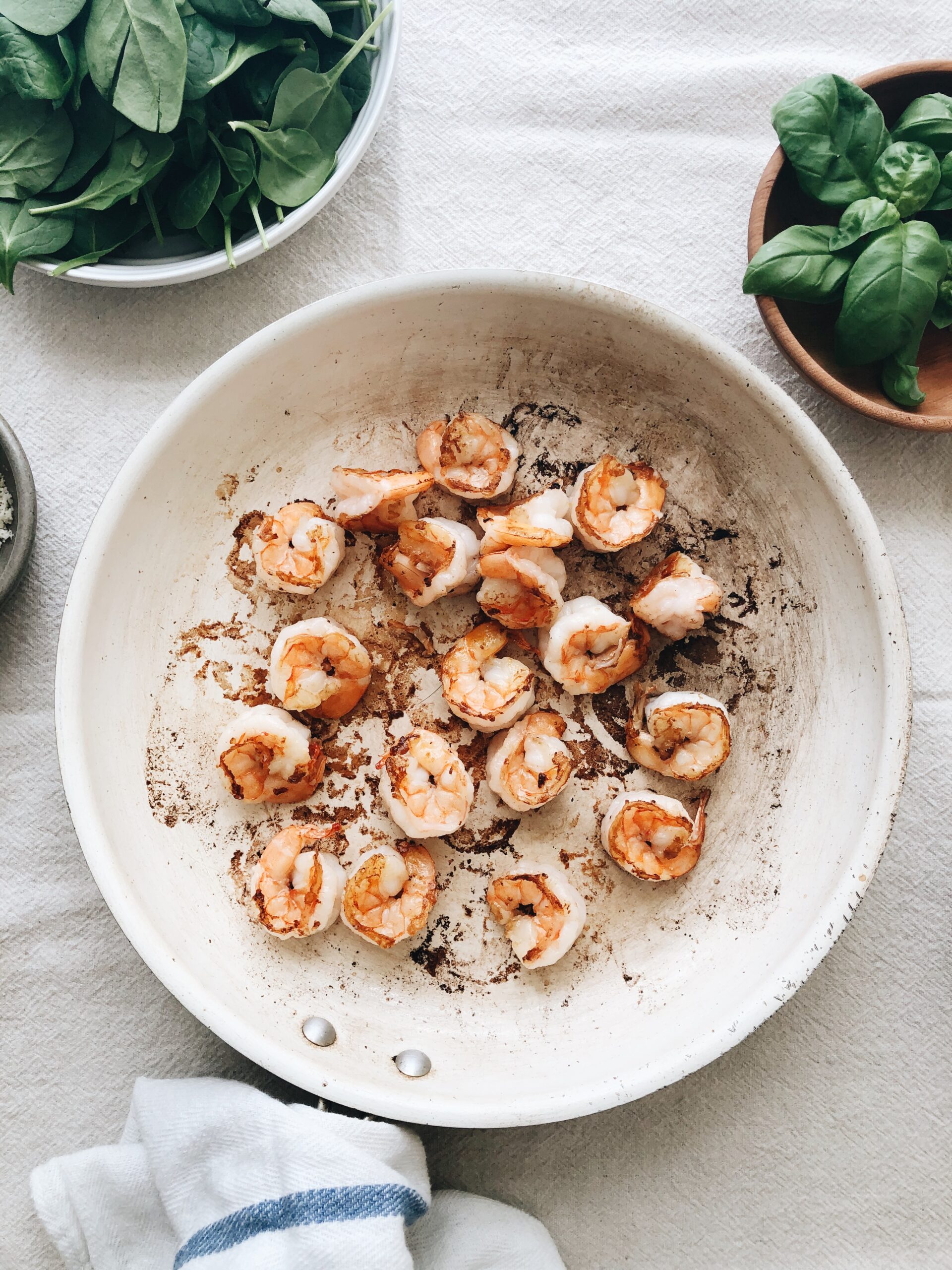 You sear some shrimp in buttah. Just salt and pepper, nothing obscene.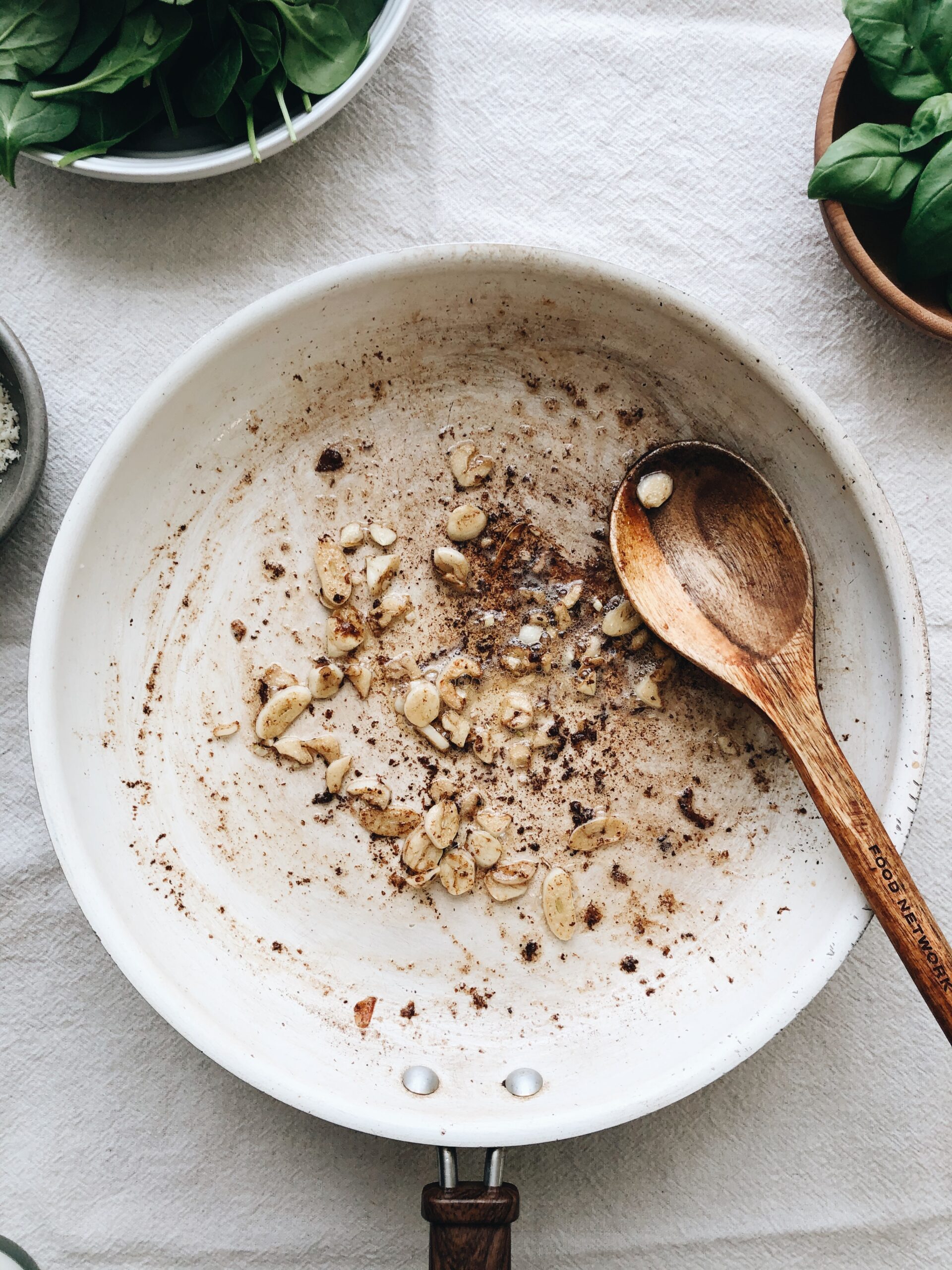 Then you slice up a ton of garlic and saute it in a little more butter. If you need to add a tiny splash of stock to deglaze, get on that.
I like the garlic SLICED here because you really get to taste it. Instead of finely minced and lost in everything, you get little actual bites of garlic here and there. And that is living.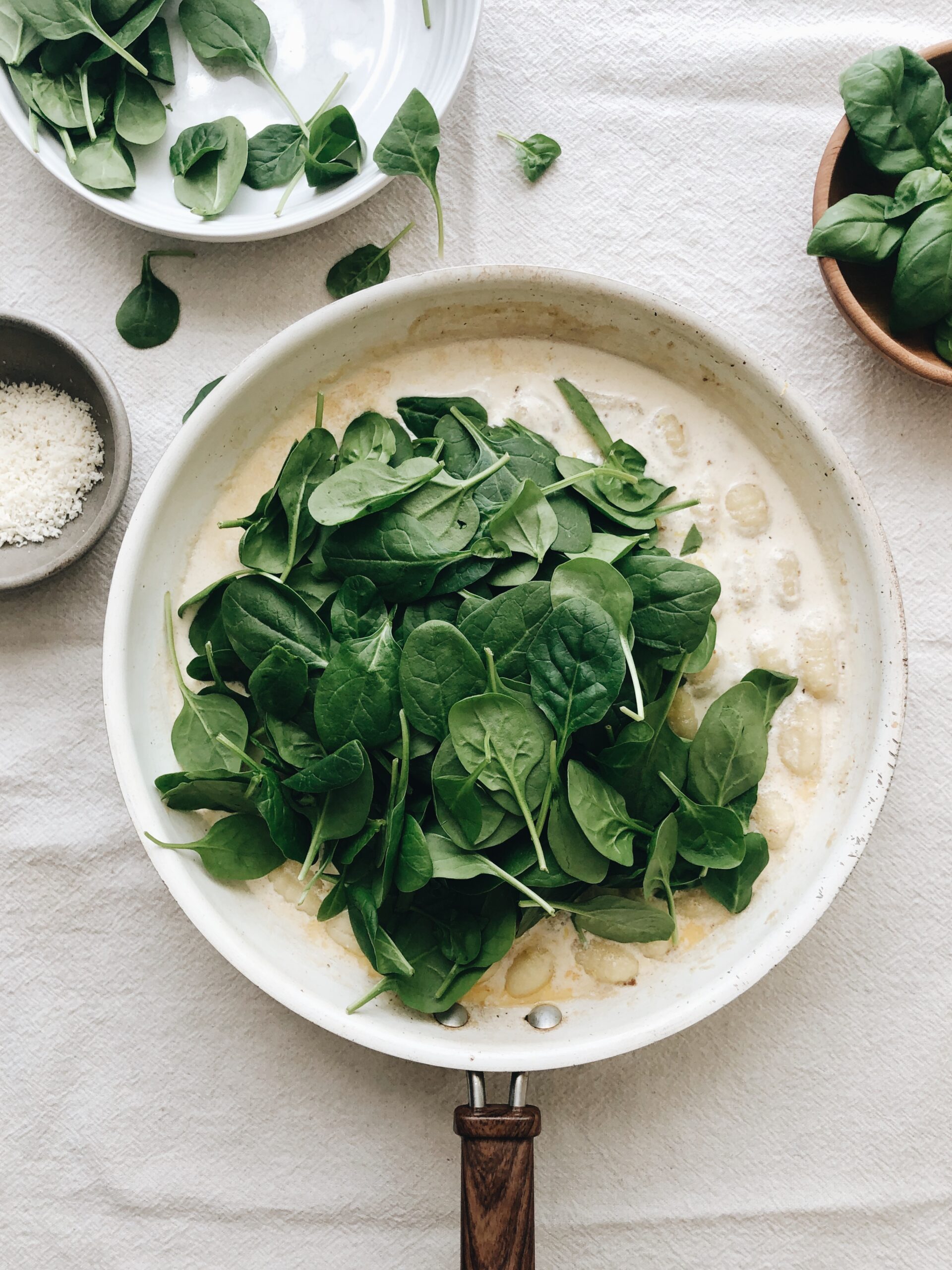 So this is what happens next. Instead of starting with a roux that makes a sauce on the thicker side, we're just pouring both the chicken stock and cream to the skillet, with a pinch of salt. Then add the gnocchi (dried is best!), slide that cover on and let it bubble away on a medium heat for 3-5 minutes. Taste one to make sure it's tender, and good grief it is. You're ready for lemon.
Zest the whole thing right over the skillet. Then slice the lemon in half and squeeze in the juice. (through your fayngers so you catch the seeds!) Stir it around.
Now the spinach goes in. Takes like two minutes to completely wilt. And you can do this off the heat! Ain't no thang.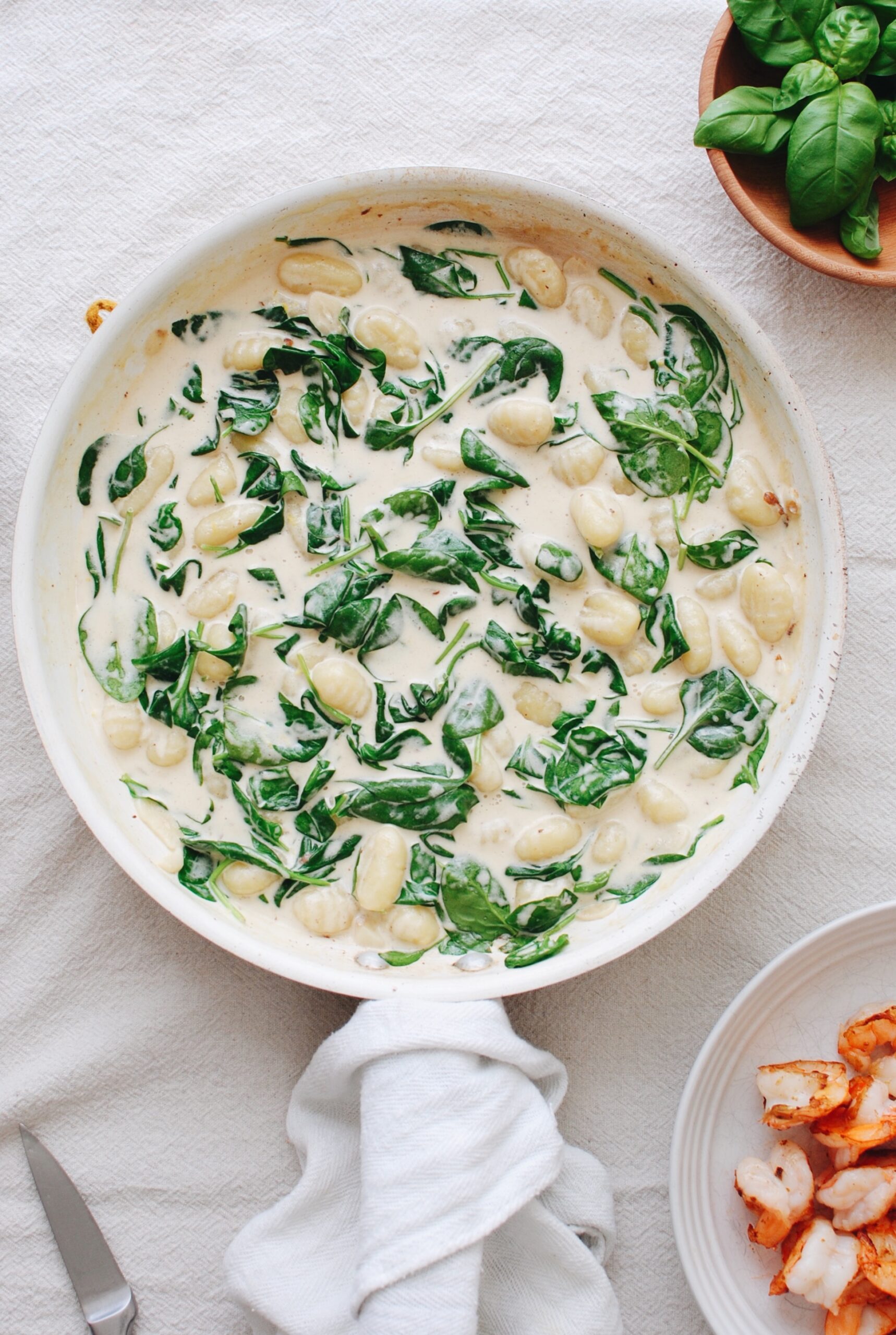 Look at that. Honestly if you're not into shrimp, just do this. Add some crushed red pepper flakes for heat, the basil leaves and plenty of parm.
What I LOVE is that the gnocchi has just enough starch to barely thicken the sauce without it being gluey. The cream sauce is actually pretty loose and light. Bright with acidity from the lemon, and we're not even done!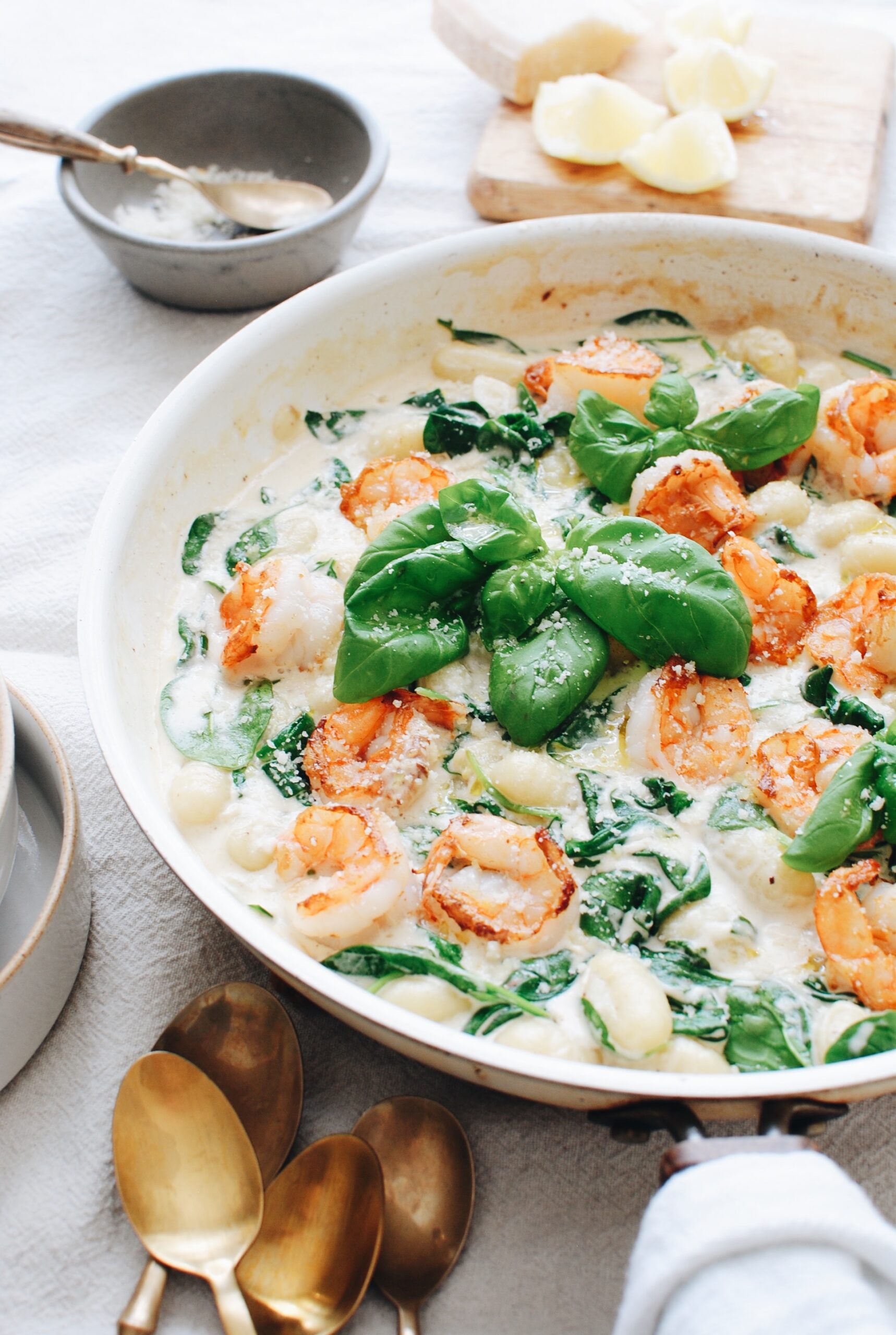 You basically nestle the shrimp back into the dish, tuck some fresh basil leaves here and there, give the whole thing a good dusting of freshly grated parmesan, and gaze down at the divinity.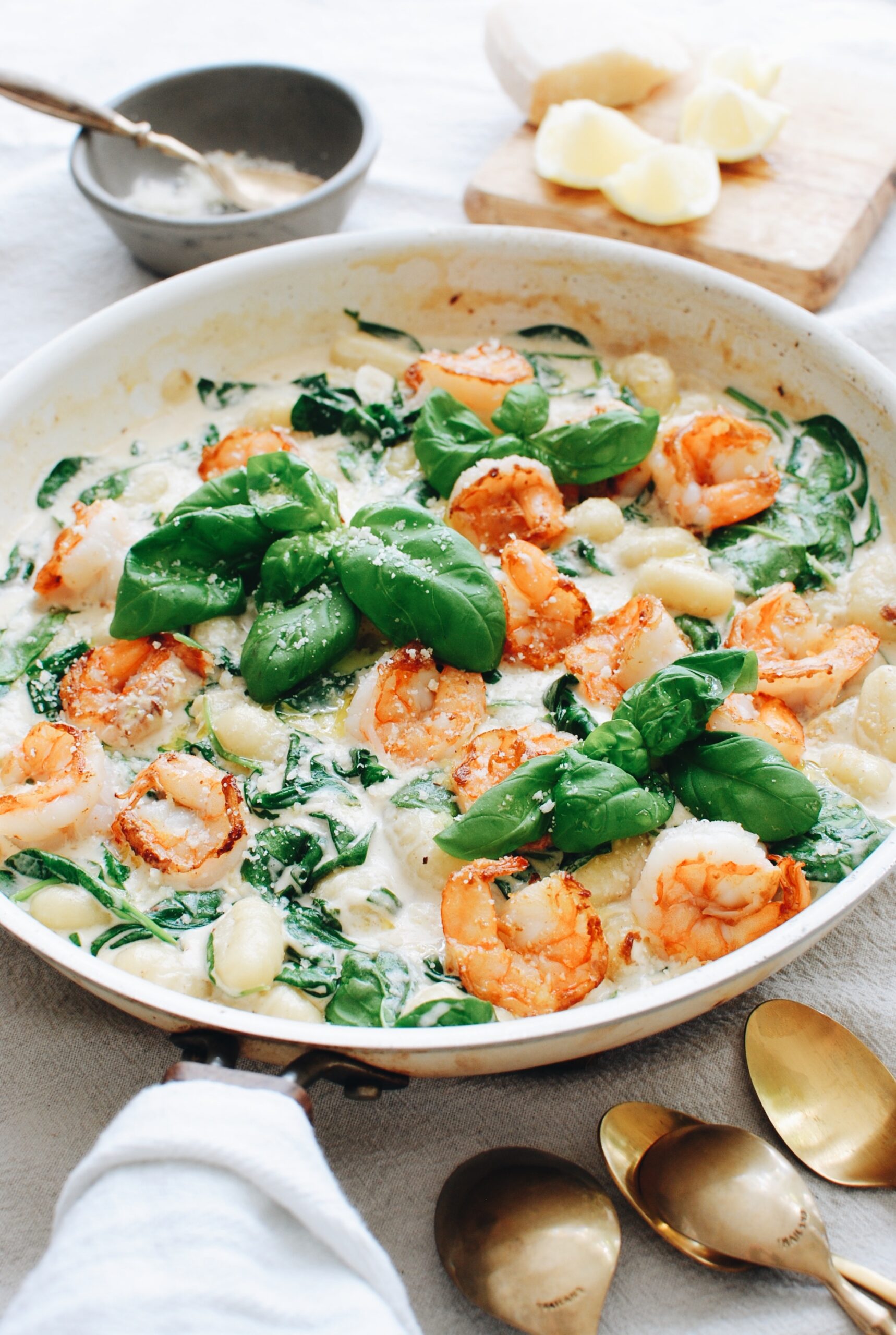 It is fantastic. Aaron, who's not much on cream sauces, or shrimp even said, "Bev this is wonderful. One of my favorite things you've made lately. That cream sauce is perfect – light but still rich. Your hair looks really good today, by the way."
He didn't say that last part. But Bruce would have.
Make this make this! We've got a hefty snowstorm headed our way tomorrow night, so stock up on everything now and slide this recipe into your stuck-at-home-for-the-rest-of-time meals.
I'm positive that you'll find it quick and painless to pull together, but tastes like it flew in from France or something.
I don't know, just make it!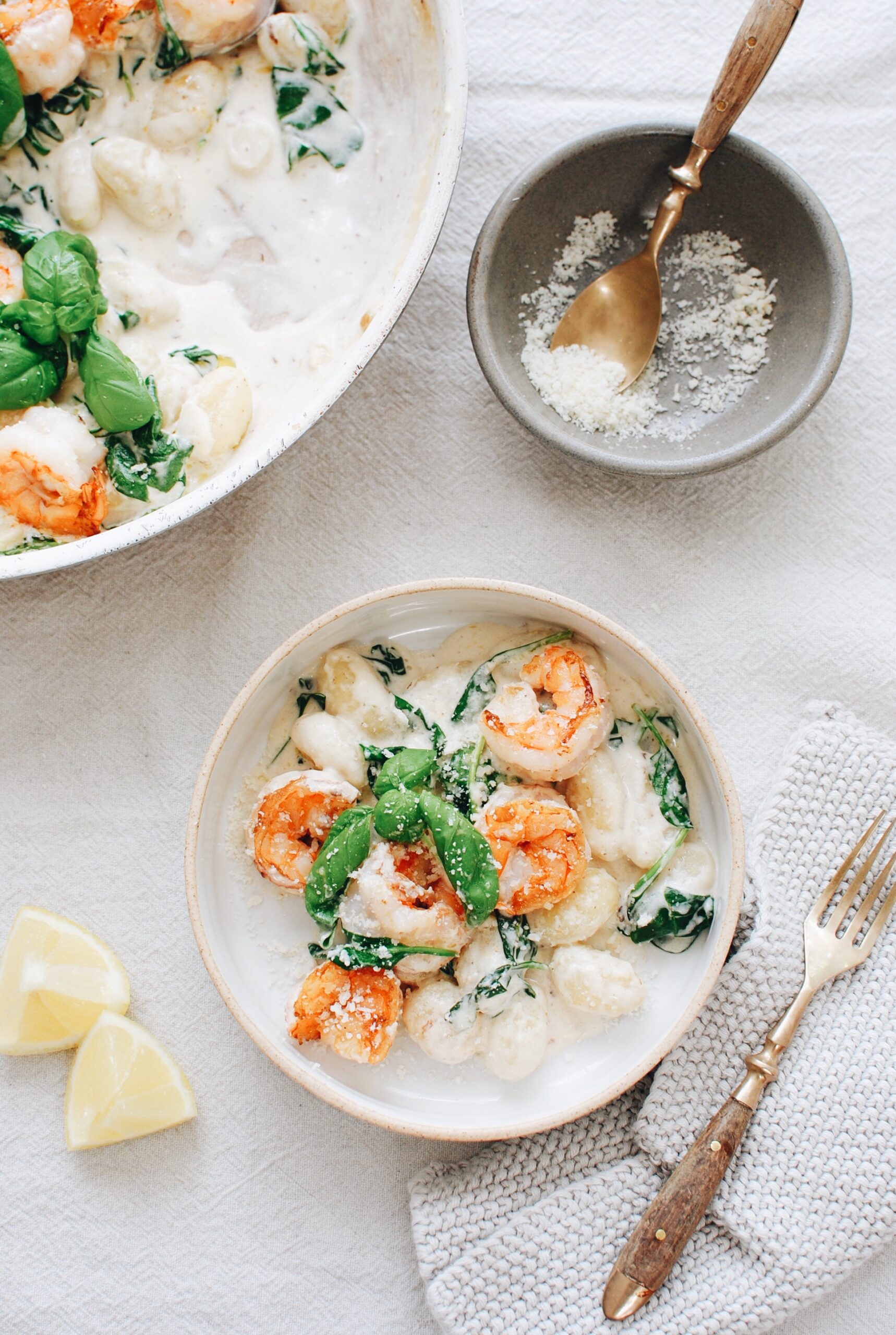 I bet Bruce does.
Creamy Shrimp Gnocchi with Spinach
Ingredients
2 Tbs. butter
1 pound frozen shrimp, thawed, peeled and deveined (I used 16/20)
5 cloves garlic, sliced
1 cup chicken stock
1 cup heavy cream
1 (17.6 oz) package dried gnocchi
1 lemon (plus another for serving wedges)
4 oz baby spinach
A handful of fresh basil leaves
Freshly grated parmesan
Coarse salt
Instructions
Melt one Tbs. of butter in a large skillet over medium-high heat. Add the shrimp in a single layer, season with a pinch of salt and sear for 2 minutes. Flip another 2 minutes, until they've got good sear marks all over and opaque in the middle. Remove them from the pan and set aside.
To the skillet, add the remaining Tbs. of butter. Once melted, add the sliced garlic and sauté for 30 seconds to a minute. If you need to add a splash of chicken stock right about now to deglaze, go ahead. Scrape up the browned bits with a wooden spoon. Flavor!
Add the stock, cream and gnocchi. Give the pan a wiggle to get everything coated, slide the lid on and simmer on medium heat for 3-5 minutes. Taste one gnocchi to make sure it's toothy and tender. Once it's to your liking, zest the lemon into the pan, and squeeze the juice in. Taste it now and add another pinch of salt to get it exactly how you like it.
Add the spinach to the gnocchi and gently stir to wilt. You may need to do this in batches. You can do this off the heat, too.
Nestle the shrimp back into the gnocchi, tuck in fresh basil leaves here and there, give it another squeeze of lemon (if you have extra wedges!) and dust with freshly grated parmesan.
It's just divine! Fancy in flavor, but so simple in process.
You'll love it. Serves four!
7.8.1.2
396
https://bevcooks.com/2020/01/creamy-shrimp-gnocchi-with-spinach/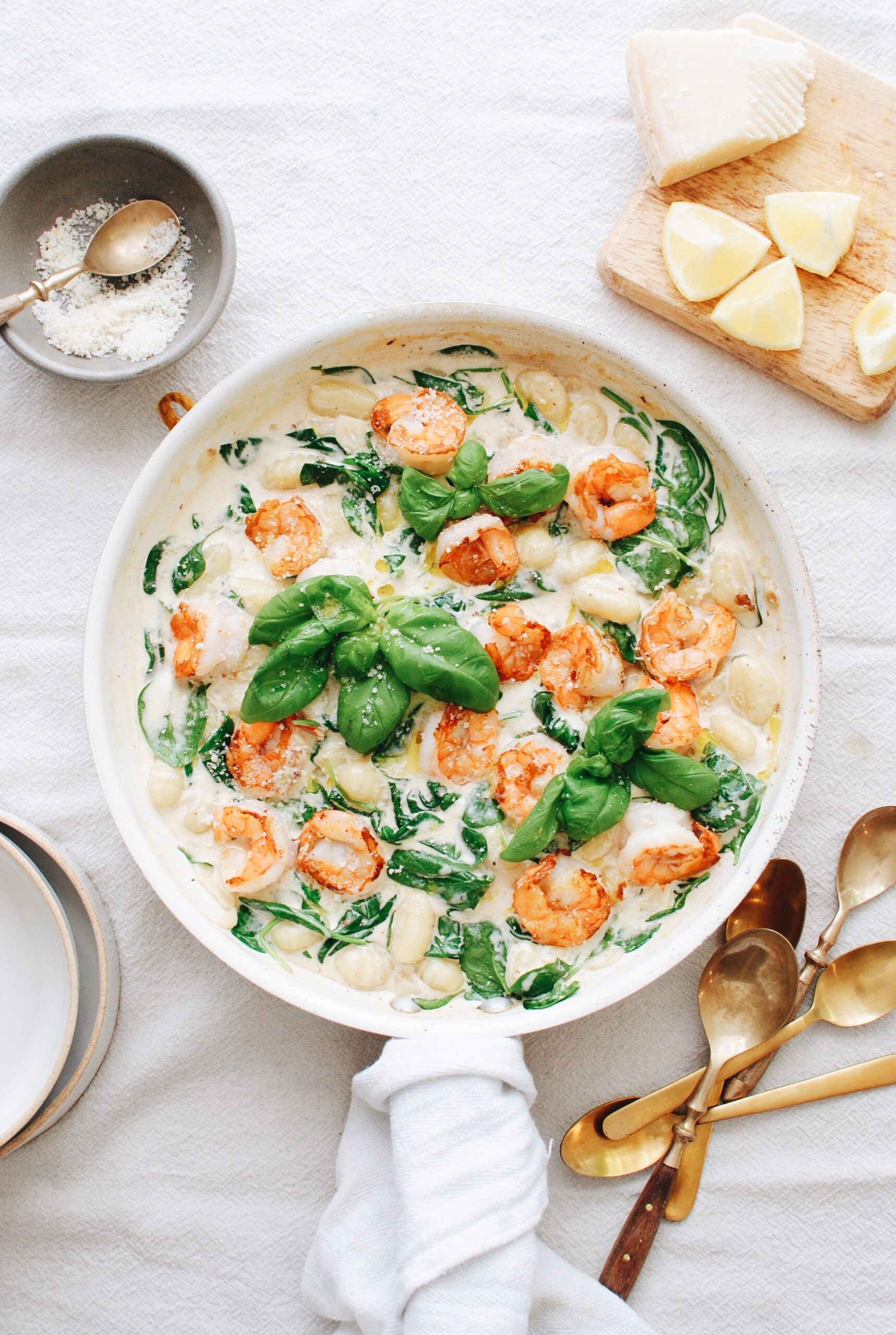 Can we just swim in that?