SLUUUUURP. Also known as, what I say every September when I post the first soup recipe.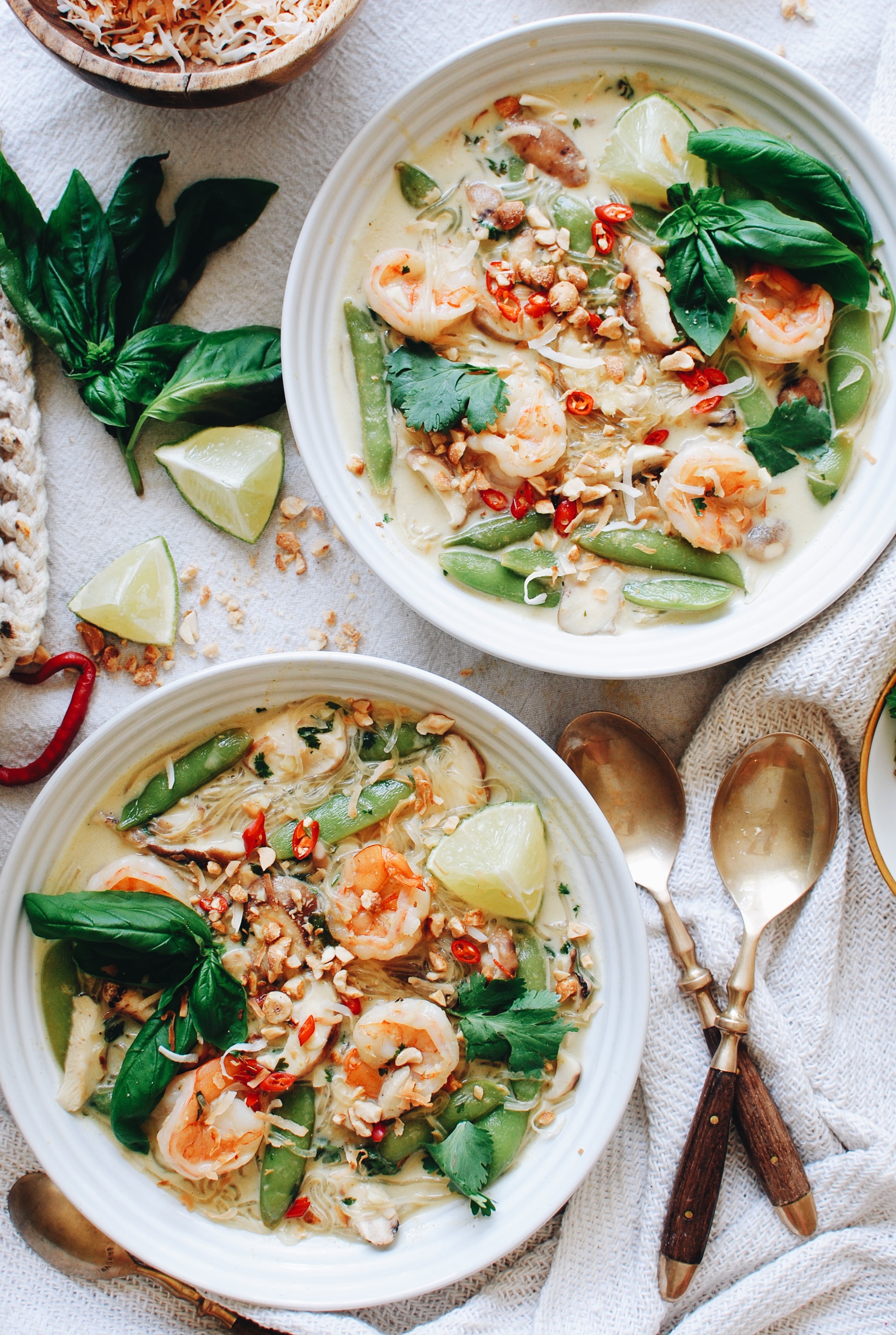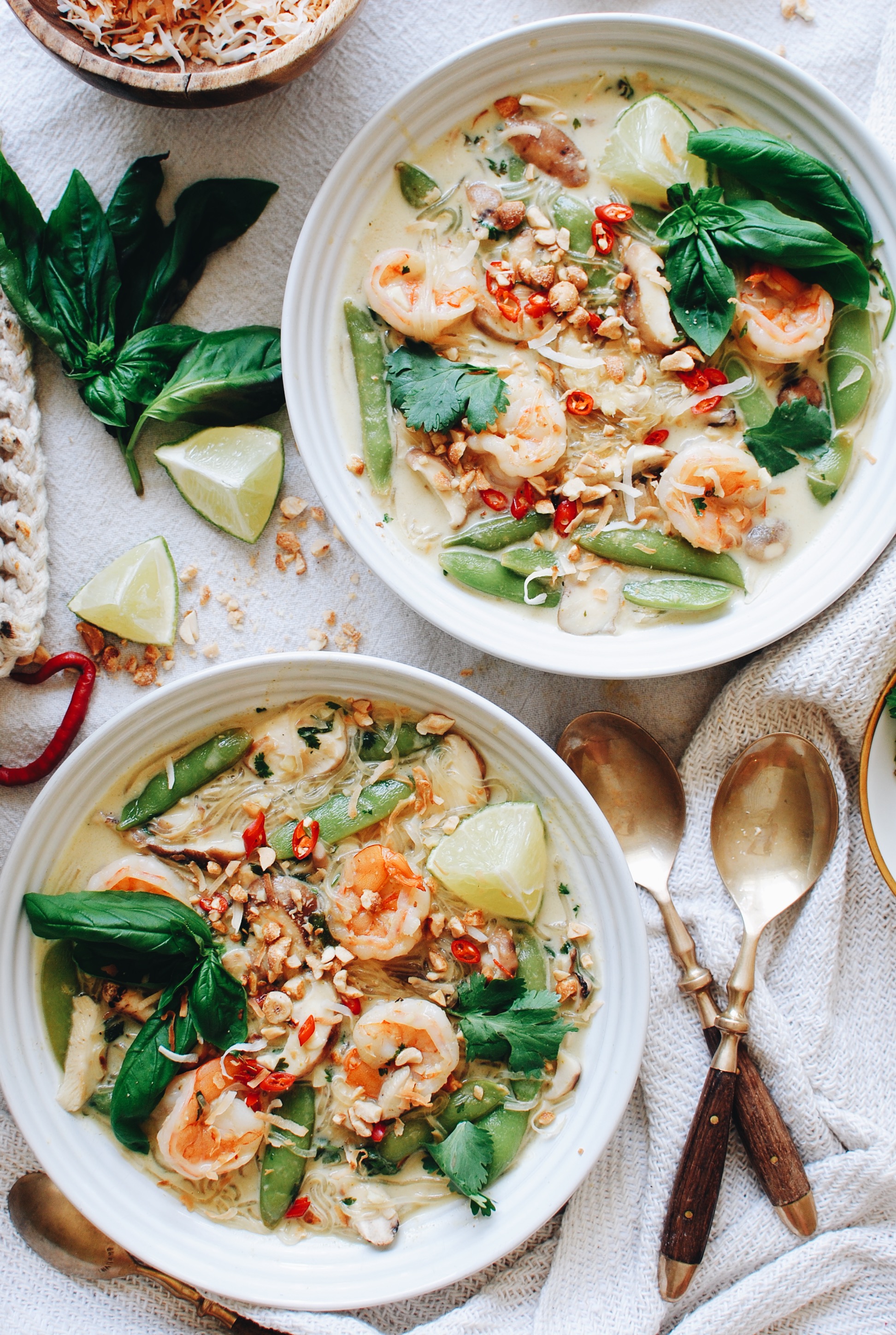 Even IF it's going to reach 90 effin' degrees today, I still count September as the official start to slurp season, so there, Mama Nay Nay.
And it's curry! We like curry, right? Of course we do. It's curry.
Currycurrycurry.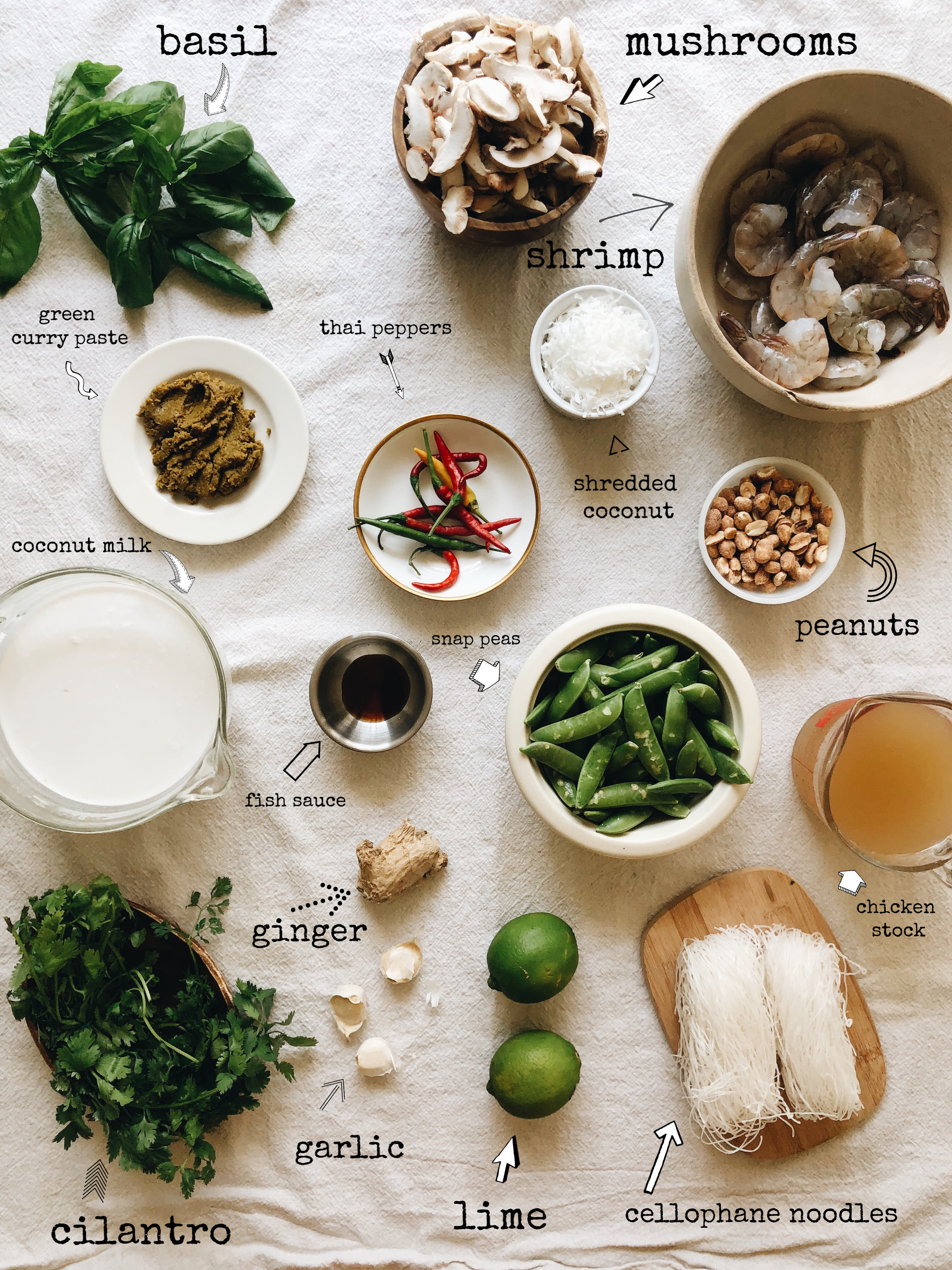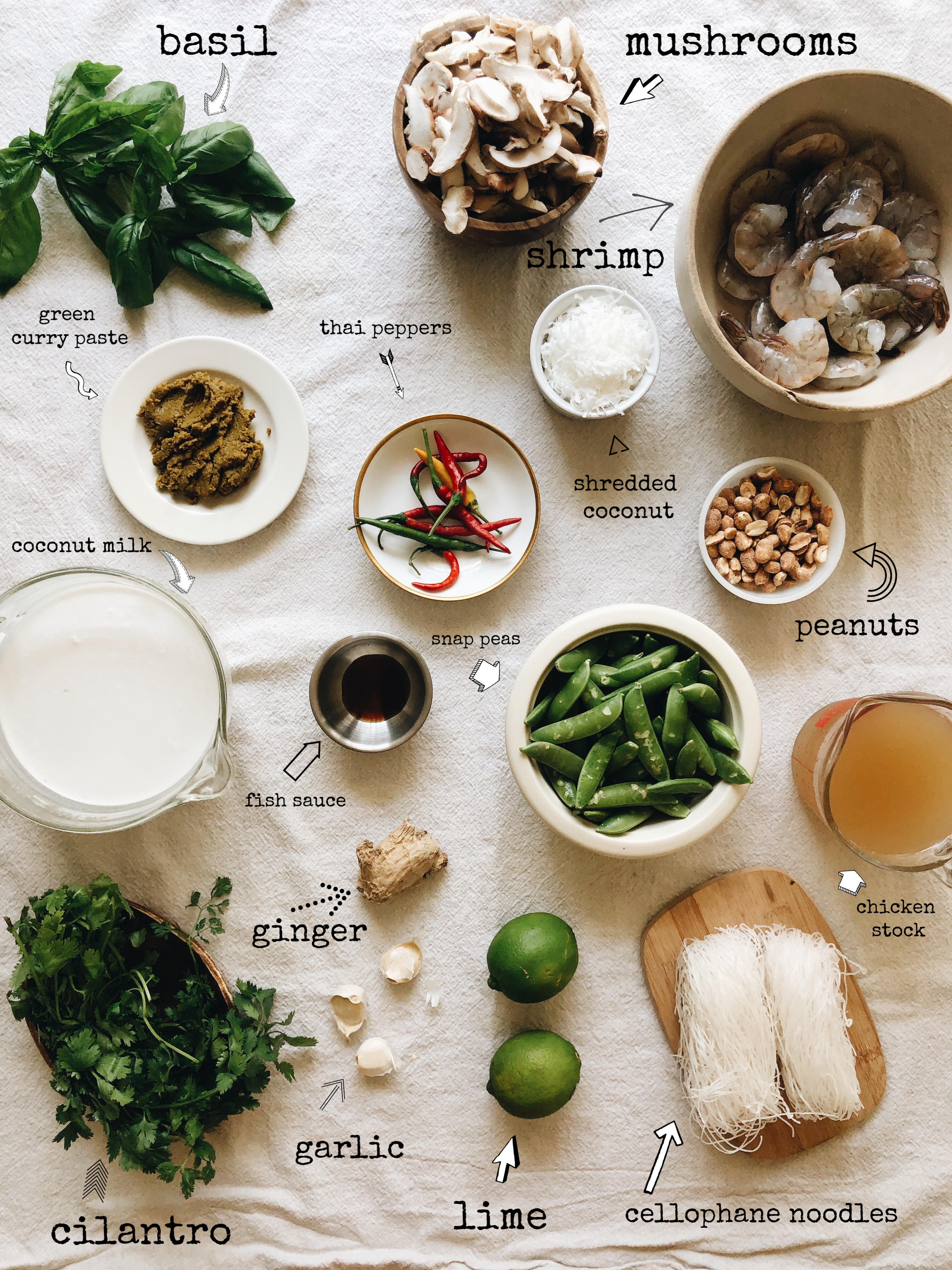 At first I was going to call this "No-Fuss Curry" because I really didn't feel like getting too intense with the ingredients. Wanted to keep it simple, bright, approachable, not stabby. But as I started laying out everything I actually wanted to go into the curry, I decided on "Regular-Fuss Curry."
It's not insane, pulling this soup together. But like any curry goes, there are layers, there's some prep work, there's some babying. And I'm even using paste! There's our short cut. The green curry paste.
"Normal-Amount-of-Fuss Curry."
"About-What-You'd-Expect-with-the-Fuss Curry."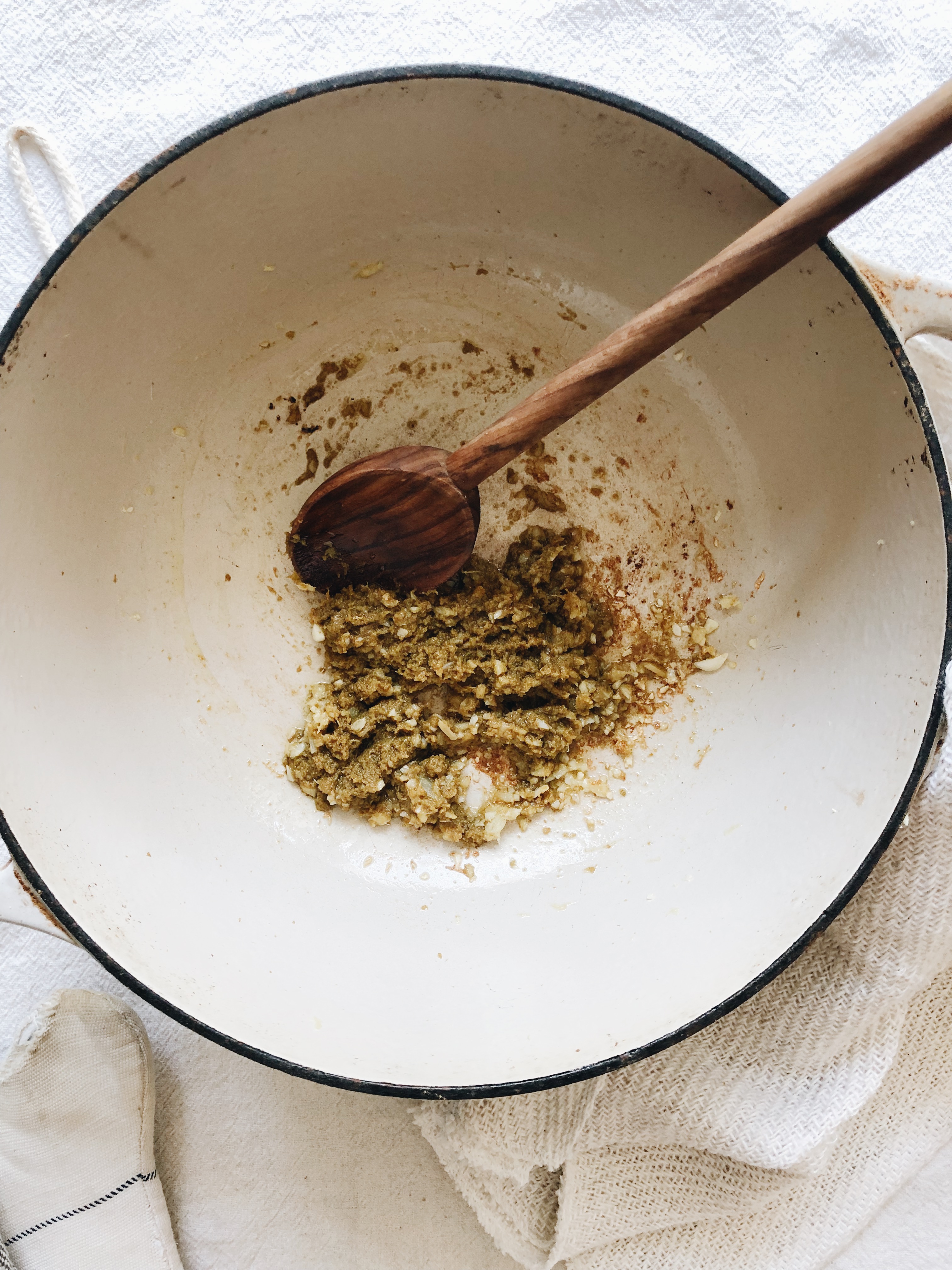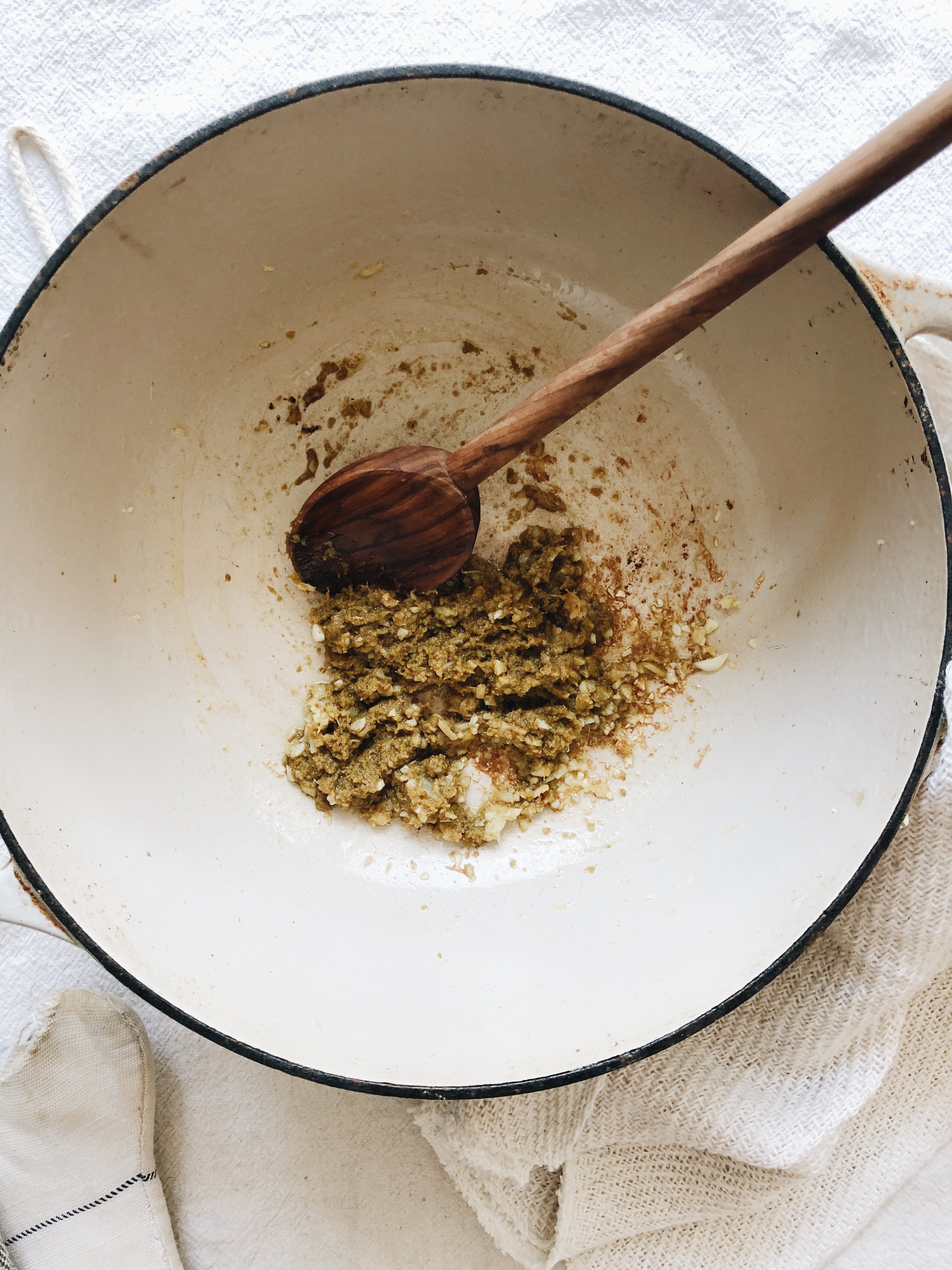 You start by sautéing some freshly minced ginger root and garlic. About a minute. Long enough for the fragrance to drop kick you in the nostrils.
Then add in the curry paste and let it all party together for a minute or two. Smells so good in your life right now.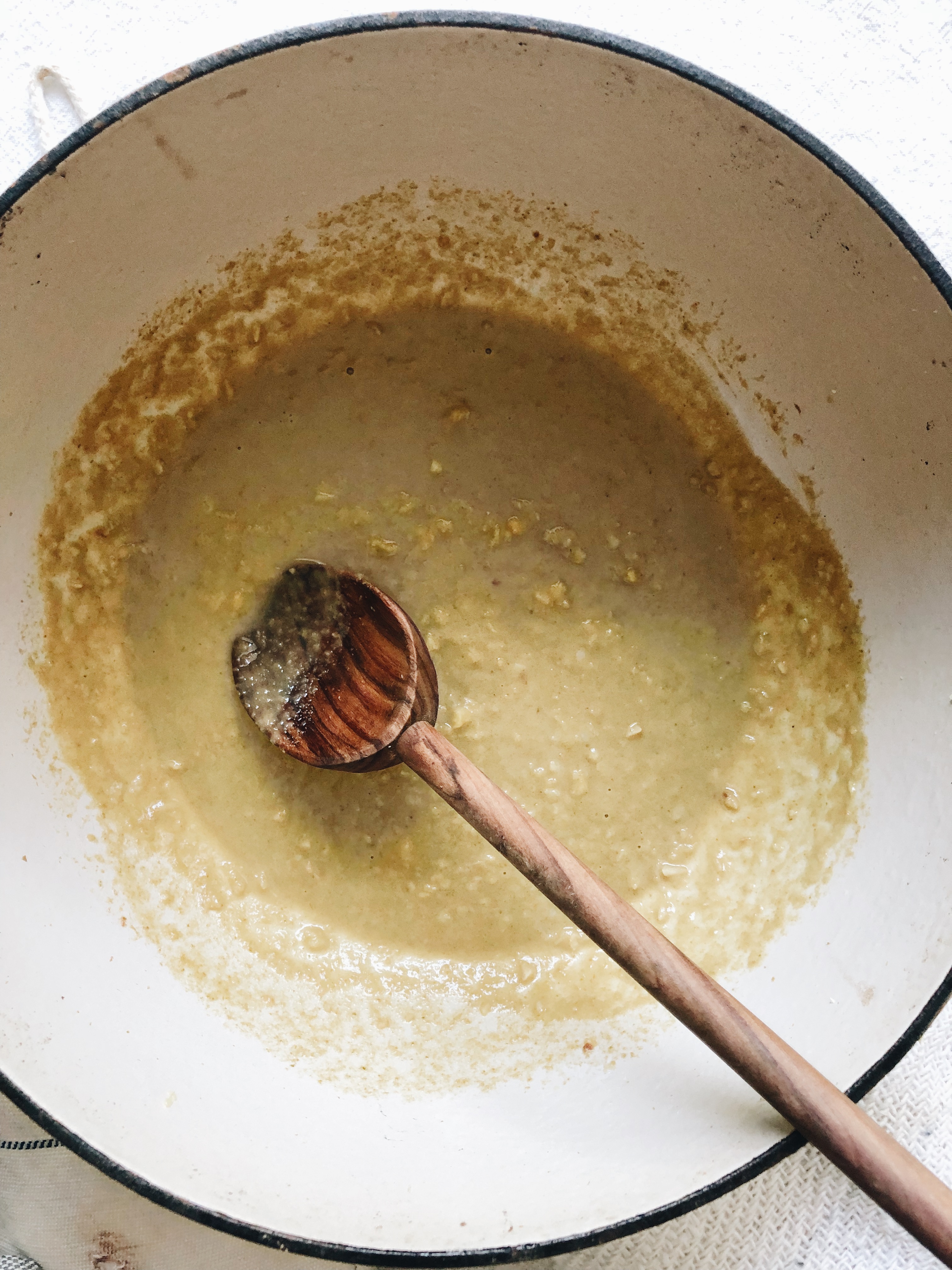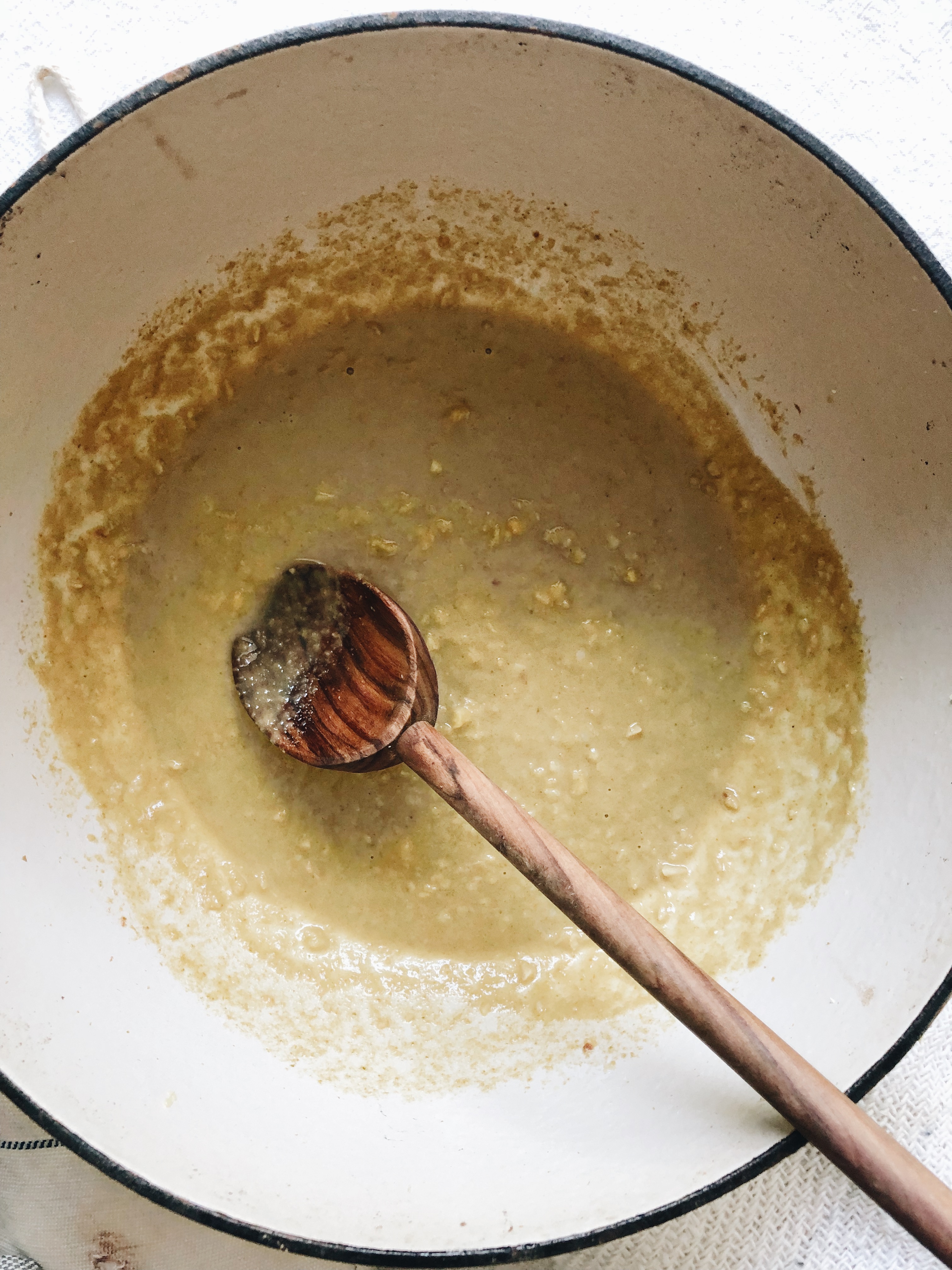 Then stir in a little bit of coconut milk. Maybe 1/3 of a cup. Enough to create a curry slurry. Ha. Once that's bubbling and glorious, add the rest of the coconut milk along with the chicken stock. This will simmer on a medium heat while you pile in the rest of the goodies. Simple enough.
"Average-Fuss Curry."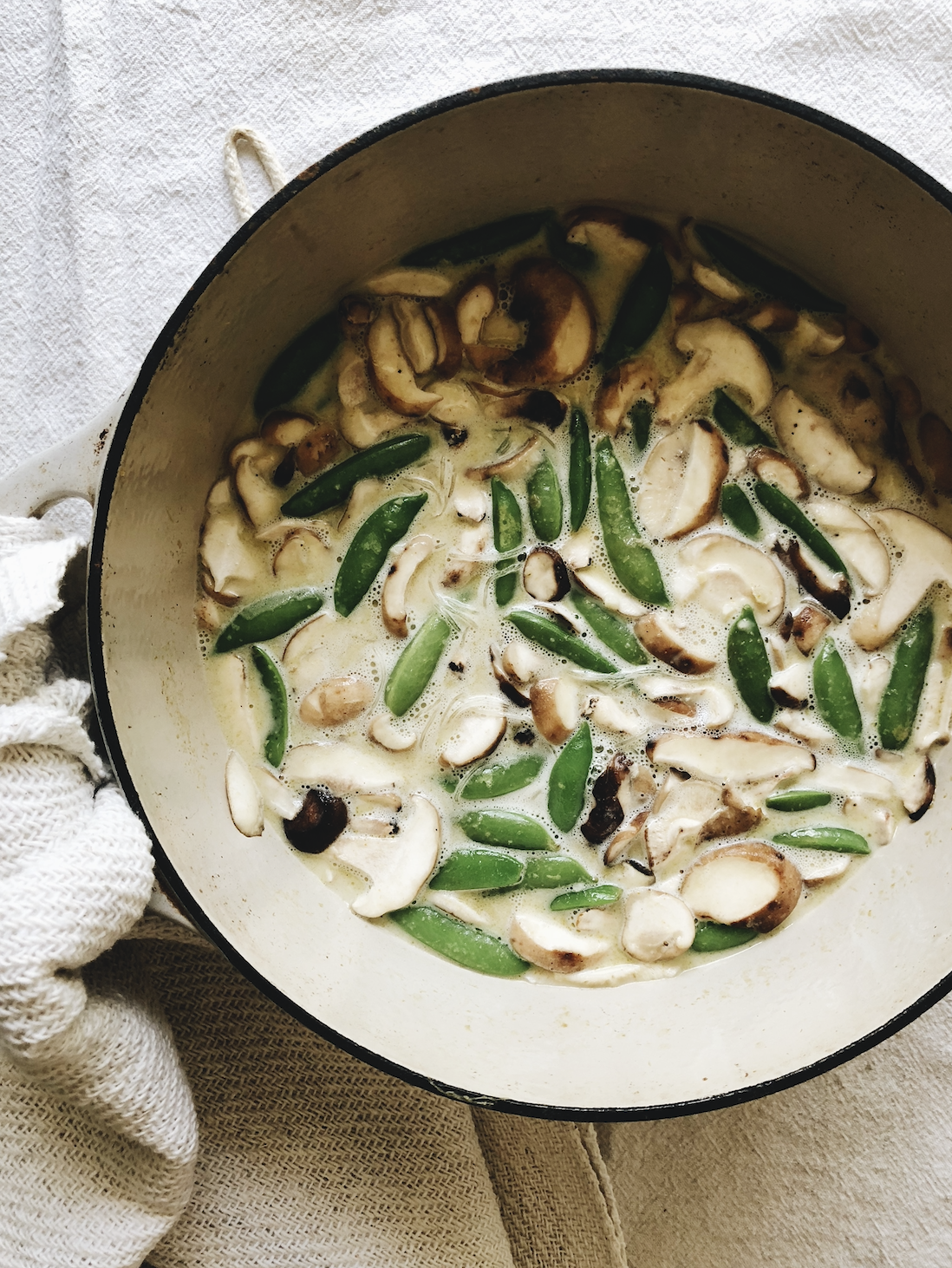 In go the sliced shiitakes, snap peas, one bundle of cellophane noodles (IF you go with two bundles, like in my photo, you'll end up having curry noodles and not curry SOUP. Those glass noodles like, octuple in size and soak up those liquids, man. So go with one. thanks.)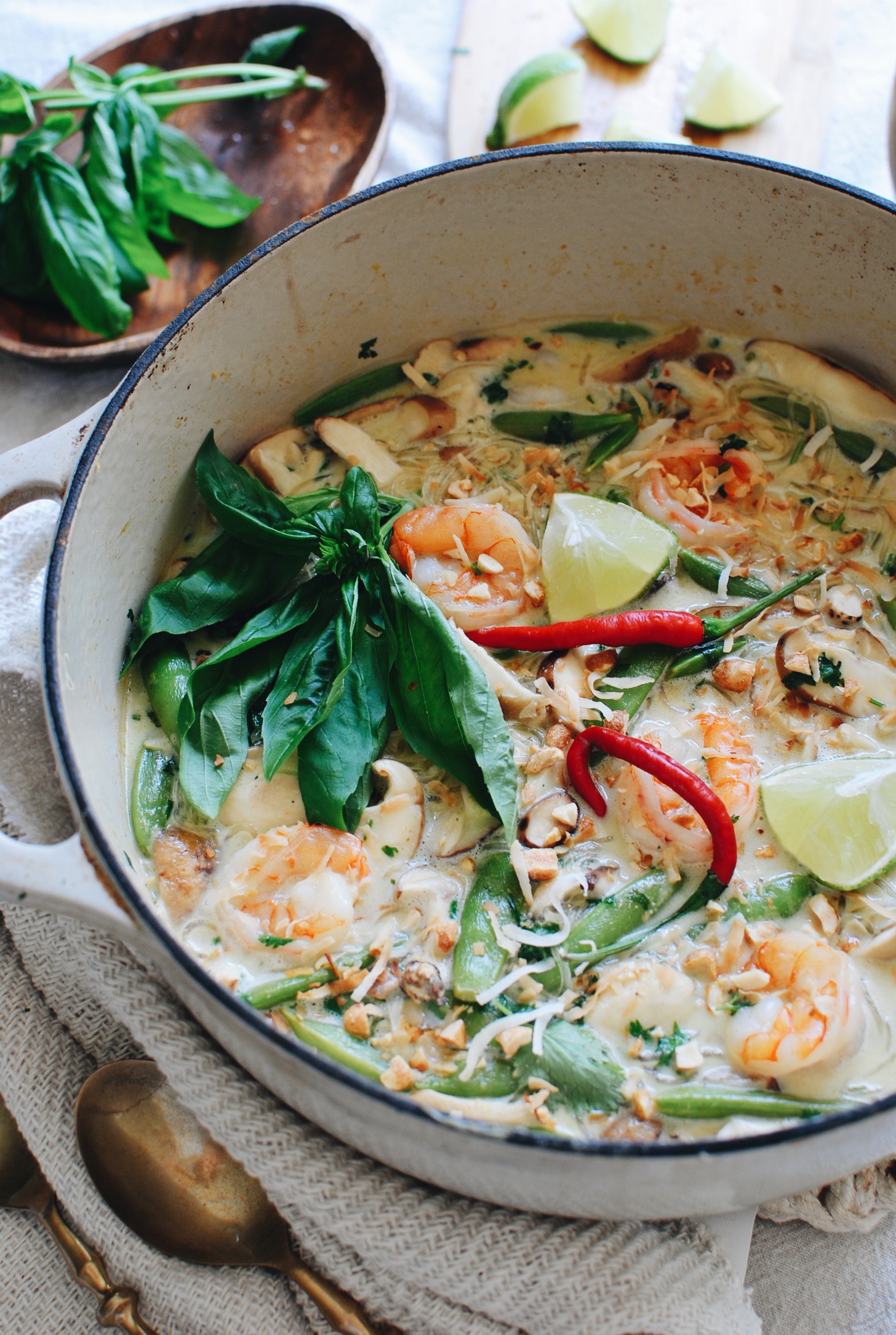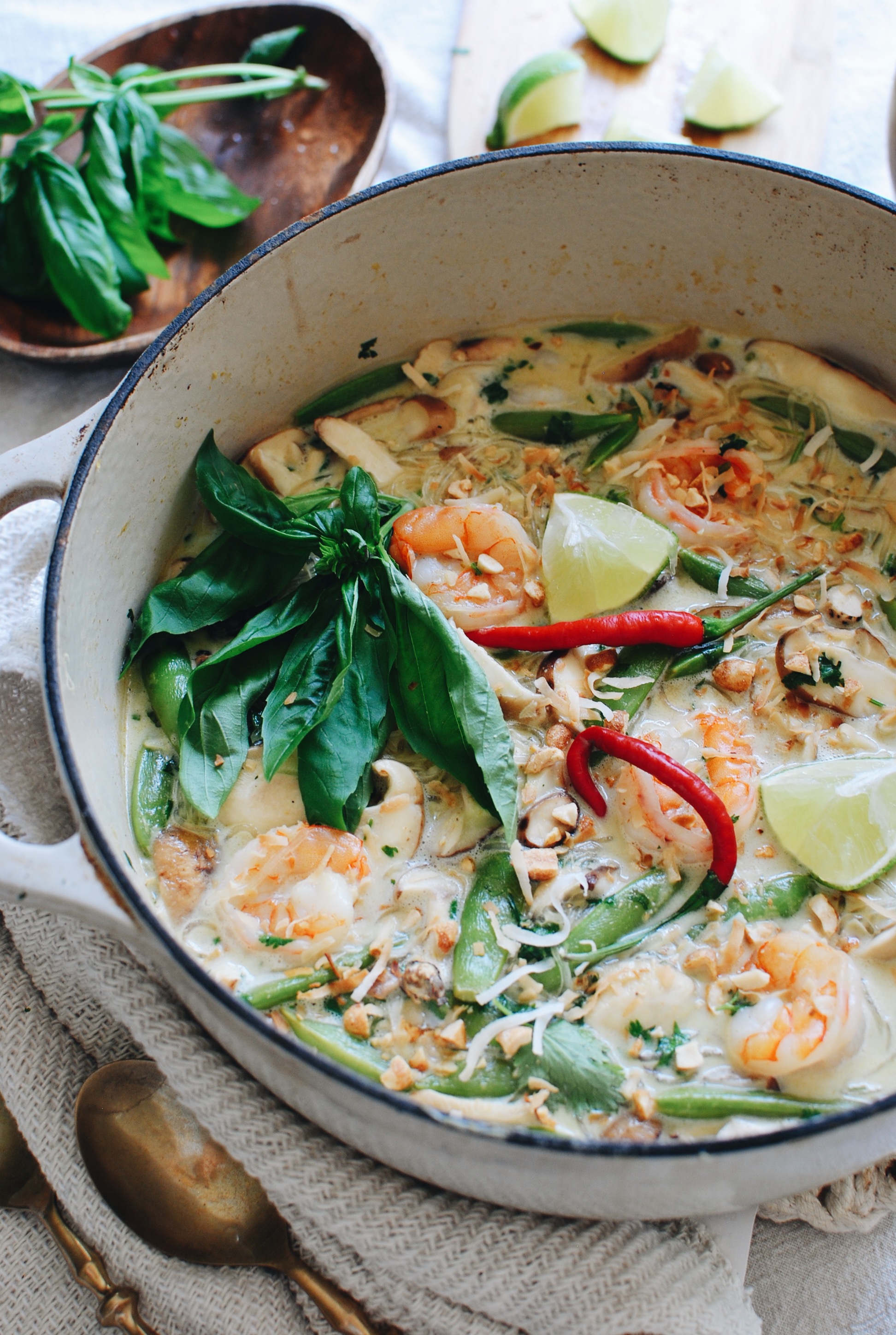 Voila! You've added shrimp, lots of lime juice, a tiny bit of fish sauce (that's the secret ingredient! just don't smell it because I can't have you wanting to murder me today. I already have to wash my hair.)
And on top you've got toasted shredded coconut, chopped peanuts (I pulsed mine in a food processor to save a minute), fresh cilantro and basil and thinly sliced Thai peppers!
The peppers – not mandatory. But I love spice and the farmer's market had such cute little colorful baskets of peppers, so I obviously had to use 'em.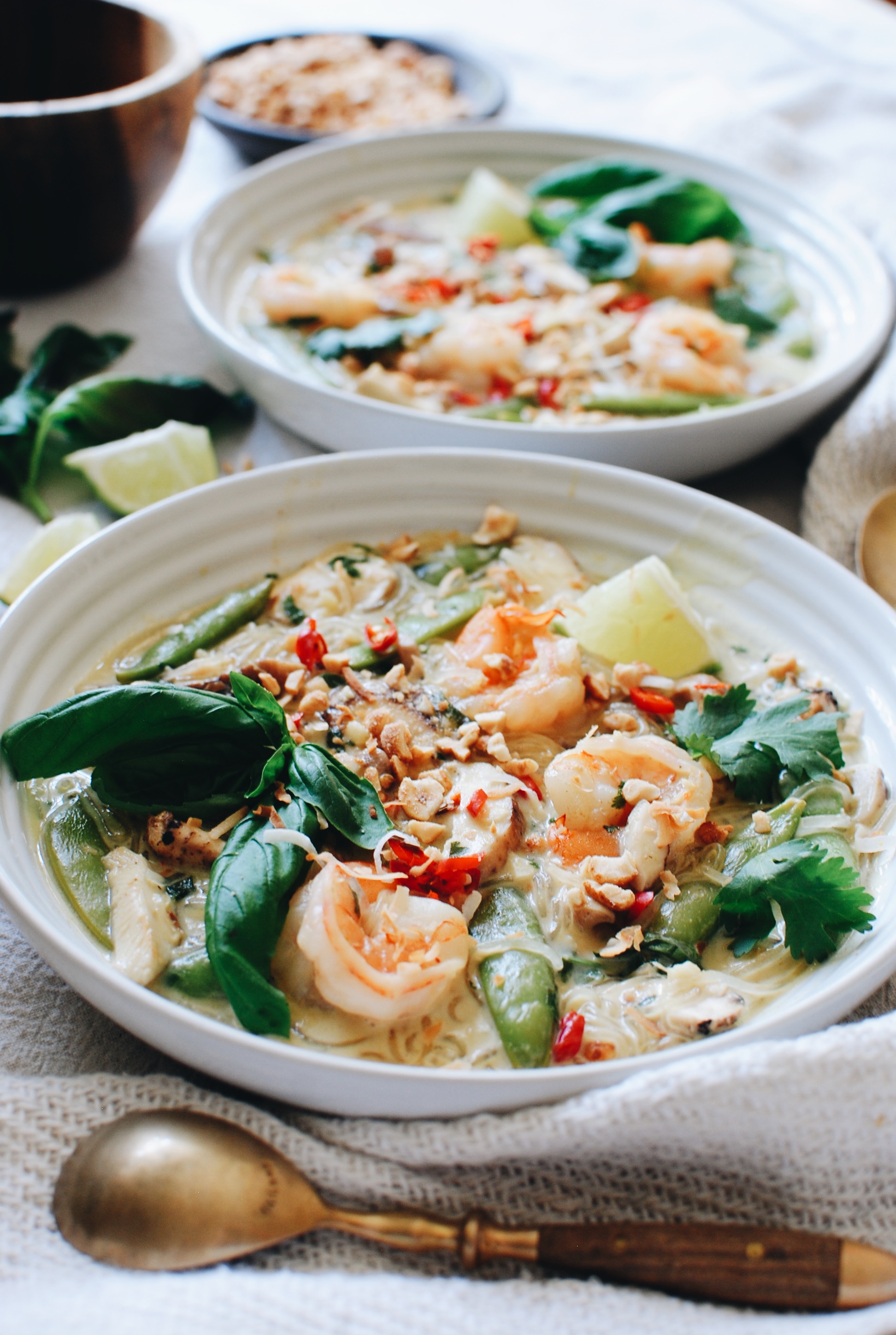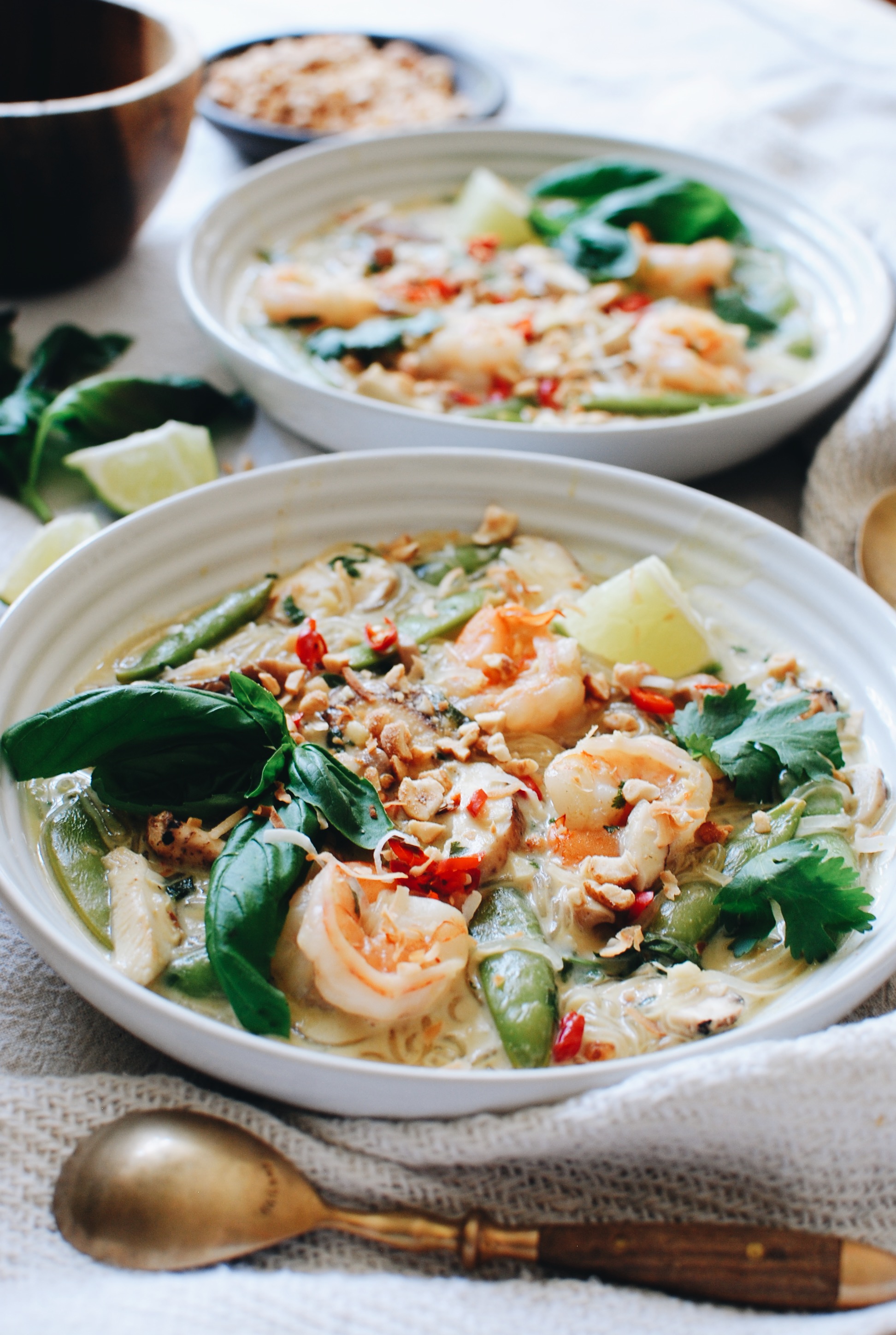 And it's just absolutely delicious. The green curry is mild, but with all that fresh lime juice and coconut milk, and all that vibrancy on top with the crunchy toppings and heat from the peppers – PAINFULLY good. And not too, too much fuss! Right?
Right?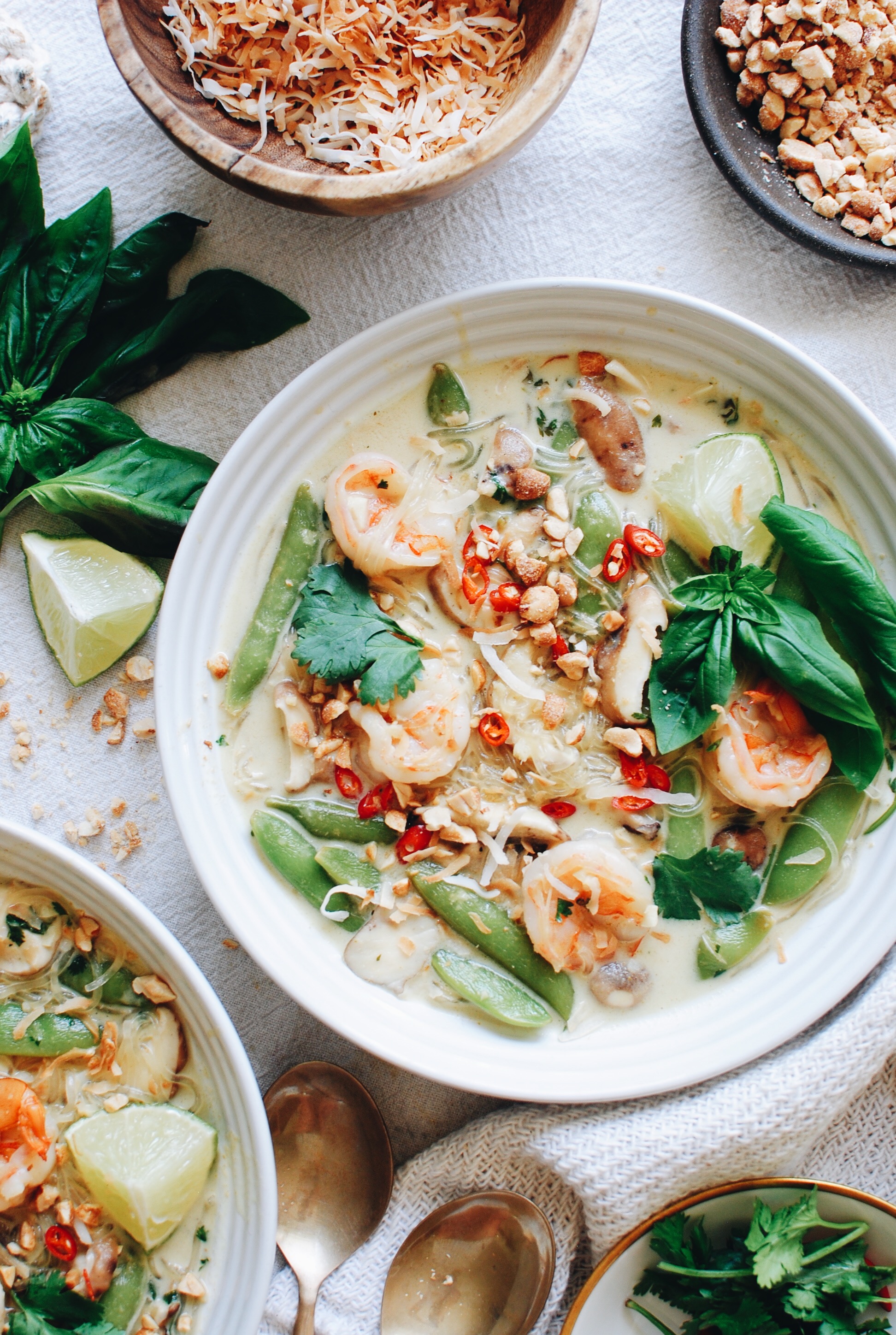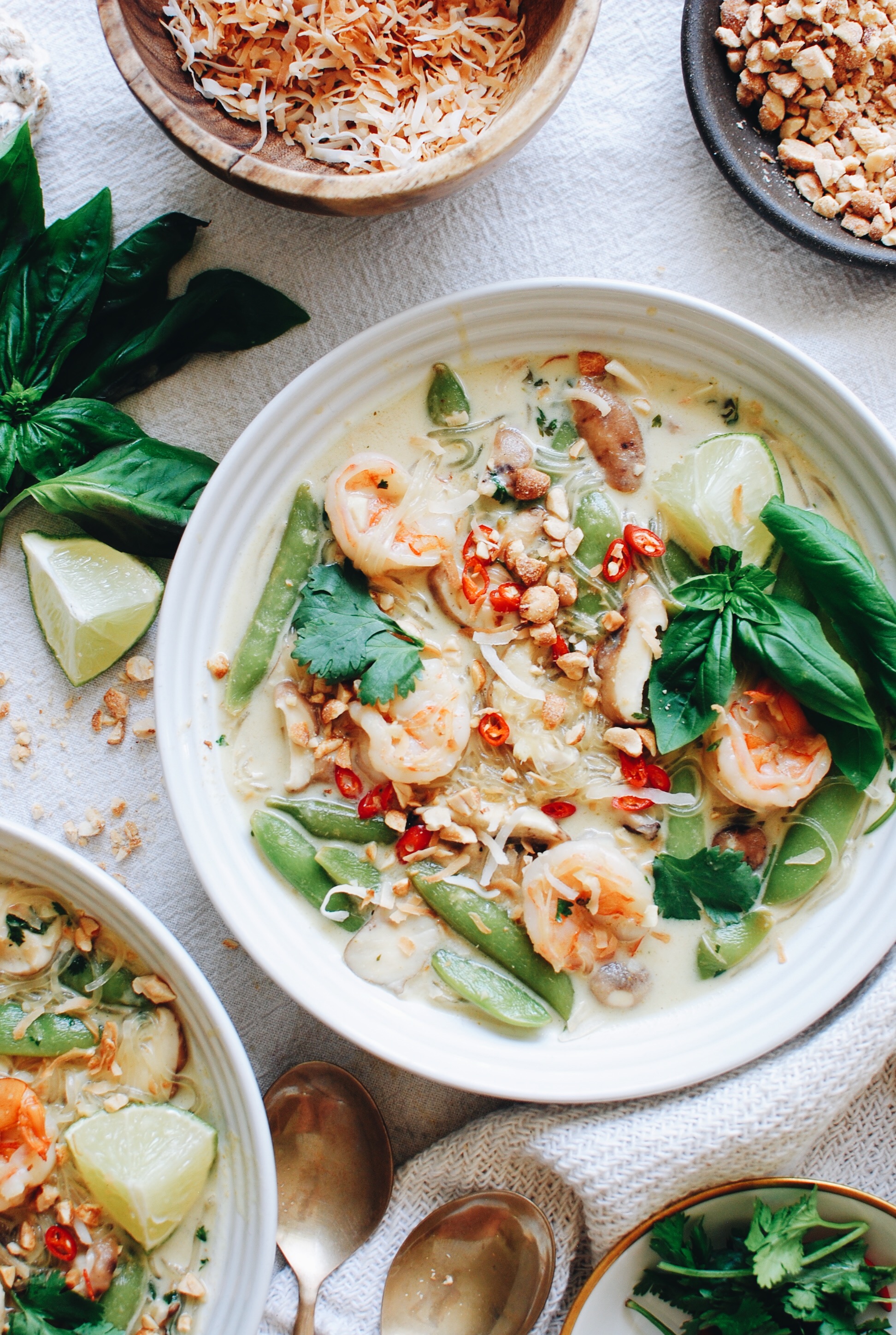 "Totally-Worth-It-Amount-of-Fuss Curry."
Green Curry Soup with Shrimp, Mushrooms and Snap Peas
Ingredients
1 pound shrimp, thawed, peeled and deveined
3 cloves garlic, minced
1 Tbs. minced ginger root
2 Tbs. extra-virgin olive oil
3 Tbs. green curry paste
2 (13.5 oz) cans coconut milk
2 cups chicken stock
5 oz sliced shiitake mushrooms
2 cups sugar snap peas
1 tsp fish sauce
2 limes
1/2 cup peanuts, roughly chopped
1/2 cup shredded coconut, lightly toasted
1/2 bunch cilantro
A few basil leaves, for garnish
Thai peppers, thinly sliced, for garnish
Coarse salt
Instructions
Heat the oil in a large pot over medium. Add the minced garlic and ginger root and sauté for about a minute, until fragrant. Add the curry paste and stir it into the aromatics, letting it bloom and becomes oily and fragrant, just a minute or so.
Now add a small amount of coconut milk, stirring into the curry paste to create a little slurry. Slowly add the rest of the coconut milk and stock and bring to a light simmer. Add the mushrooms, snap peas and cellophane noodles. Let it simmer for five minutes, then add the shrimp, fish sauce, lime juice, half of the cilantro leaves, and a good pinch of salt. Simmer another few minutes, letting the shrimp cook through.
Ladle into soup bowls, and garnish with chopped peanuts, toasted coconut, more lime wedges, basil leaves, cilantro leaves and the thinly sliced Thai peppers.
Serrrrve and slurp!
7.8.1.2
373
https://bevcooks.com/2019/09/green-curry-soup-with-shrimp-mushrooms-and-snap-peas/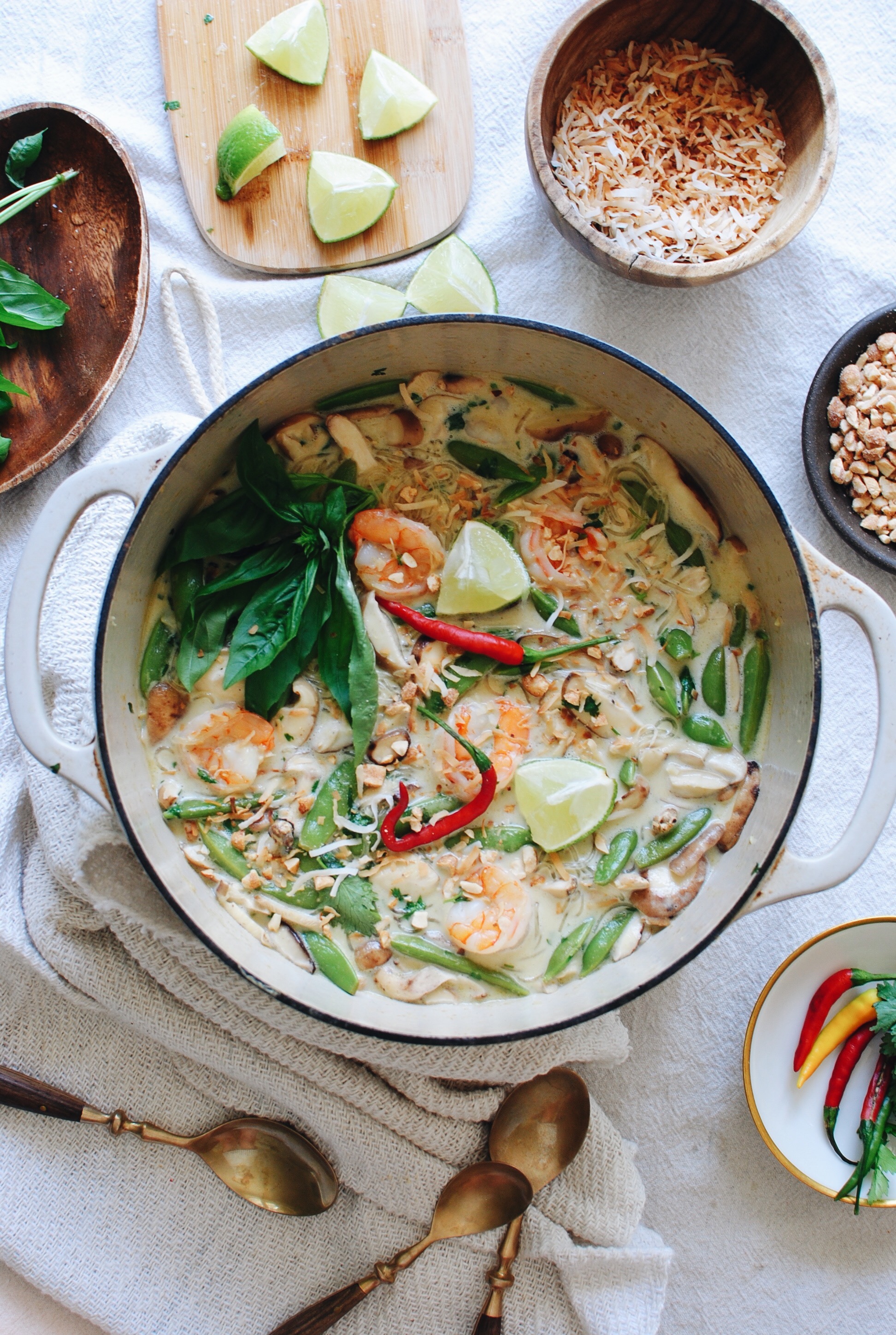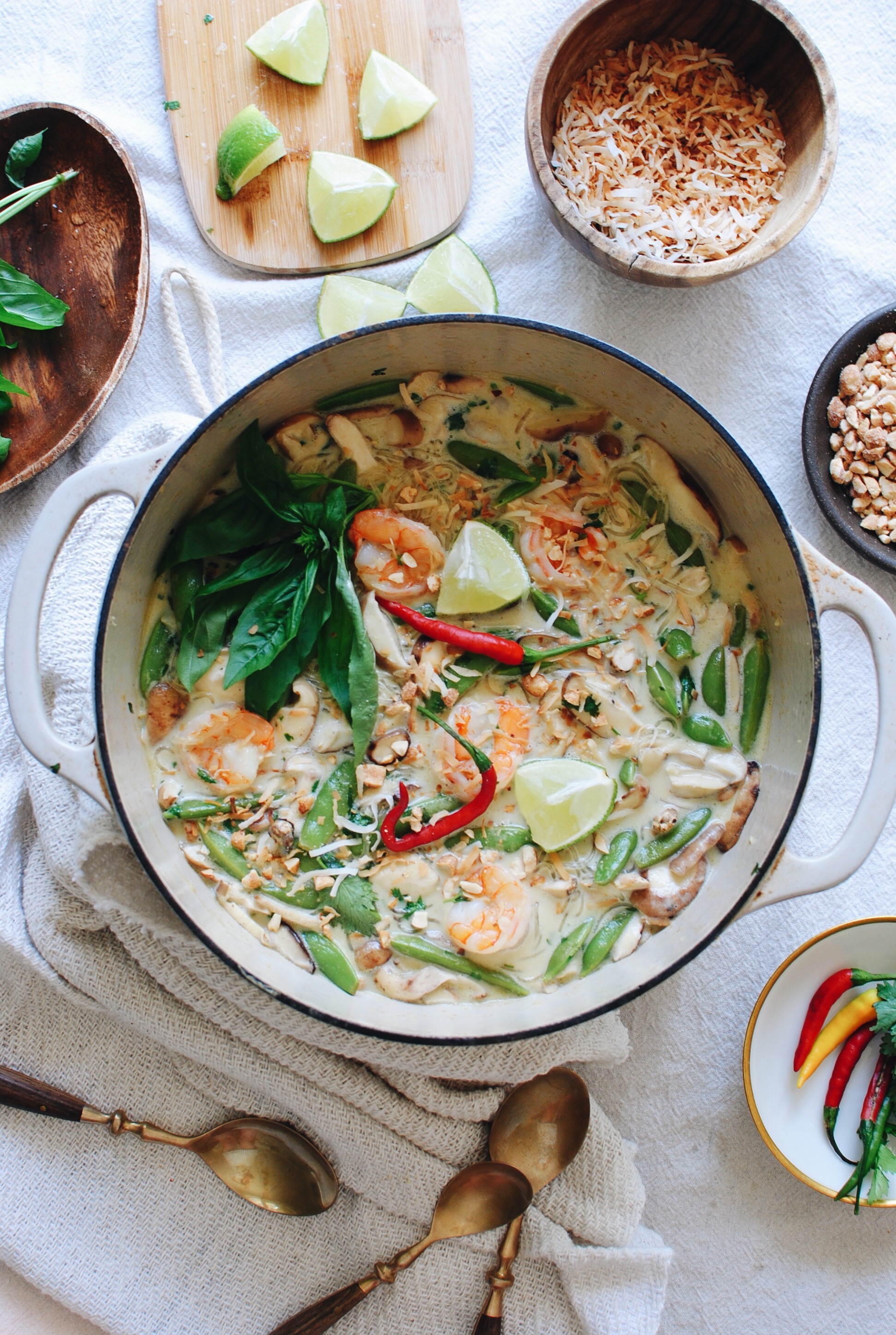 SAAAAAA-LURP.