Time to unleash our inner closet sorority girl!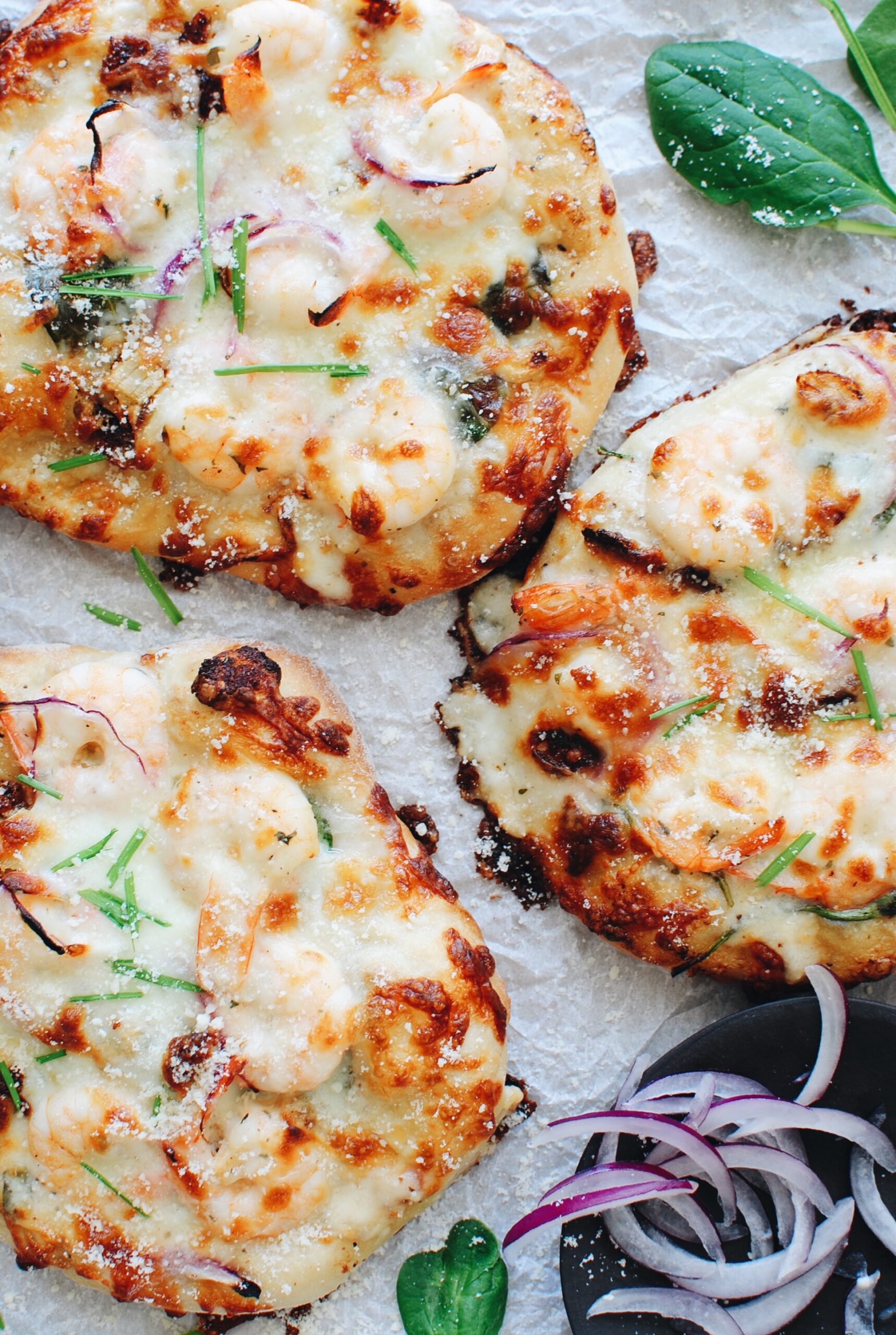 Is "inner closet" repetitively redundant? Eh, who's to say.
RANCH pizzas. I'm not even sorry about how much I love ranch dressing. And I'm not sure if sorority girls even like ranch dressing anymore. Do they? BACK IN MY DAY (said like the Grandpa Simpson) it was all the rage with Greek gals. And me. Still is. I love ranch. I'll never quit ranch.
So I made you ranch pizzas with shrimp and spinach!
And let's NOTICE IT FITS MAH NEW THAYME, Y'ALL. Eight ingredients! And there's some weird voodoo wizardry ish about to happen, you watch.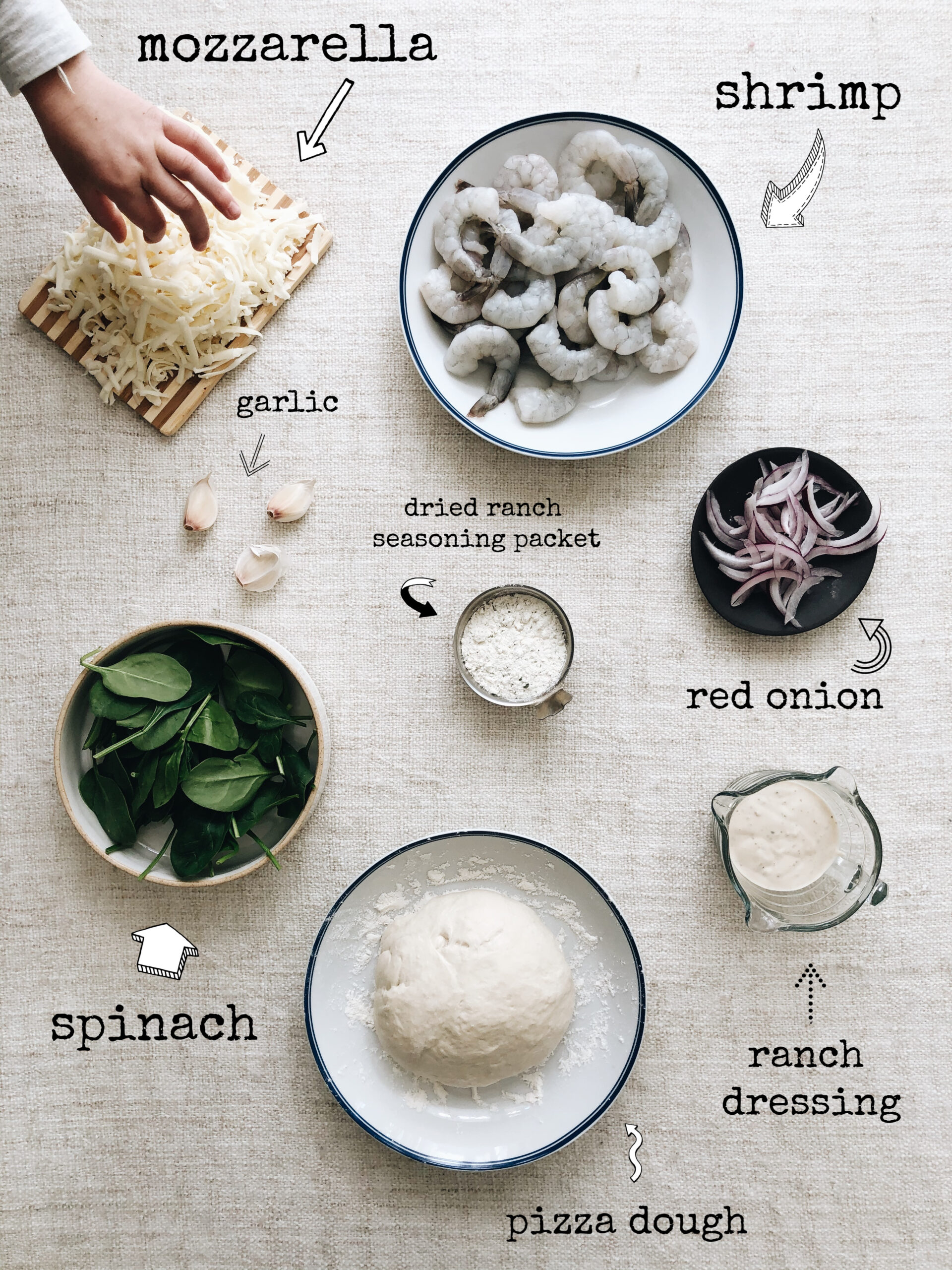 The shortcut? Store bought pizza dough. I have made my own dough plenty of times, but I had to wash my hair on this day and couldn't manage THAT MUCH ACTIVITY in my life, guys.
Another shortcut and STAR of the show is, well, ranch dressing. AND a dried ranch dressing packet! And the germs of a six year old hand in my cheese. Awesome.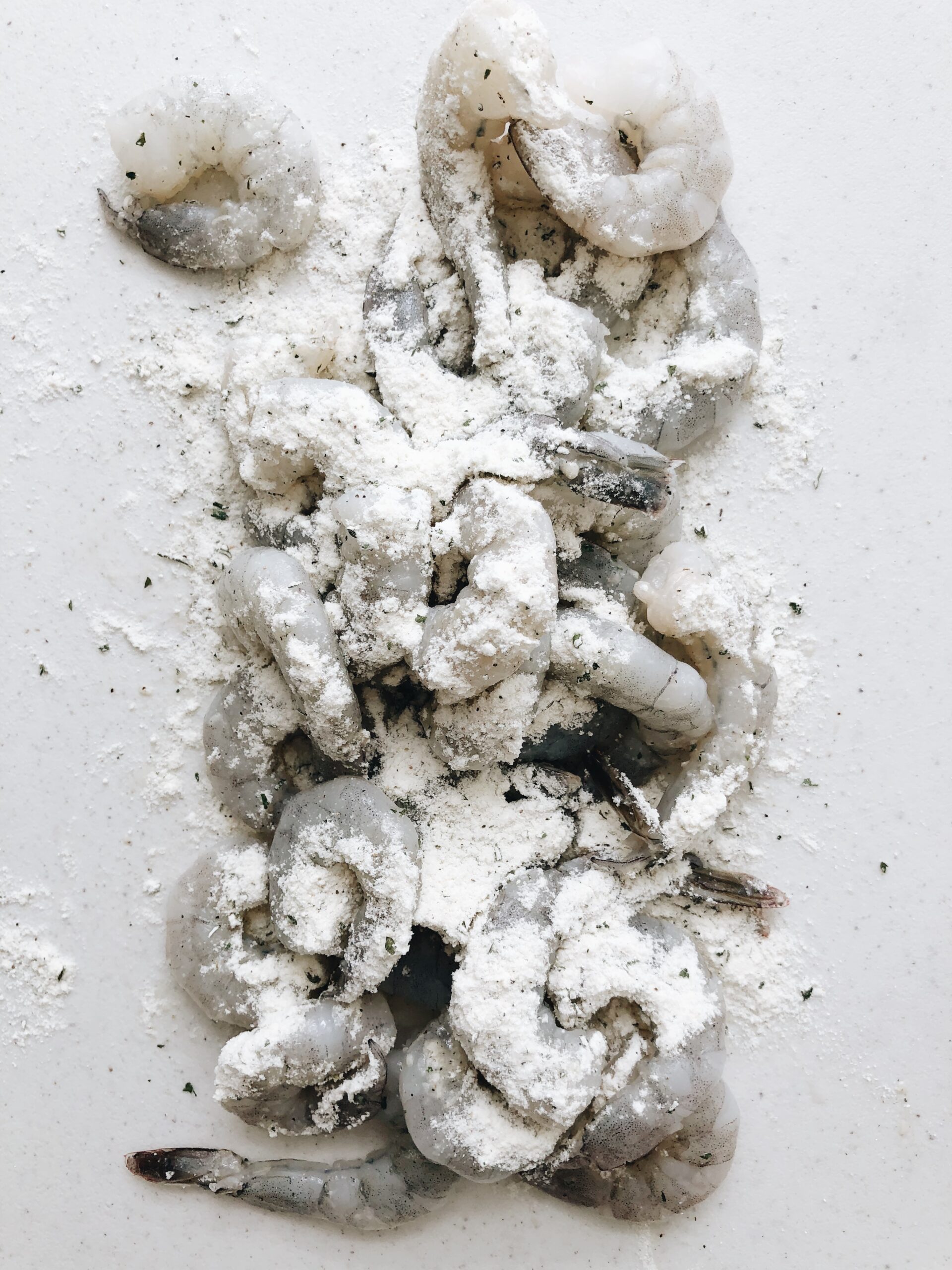 Just toss that thawed and peeled shrimp with a single packet of ranch. It already has salt in it, so no need to add more! You can always finish later with a good salt if y'awnt.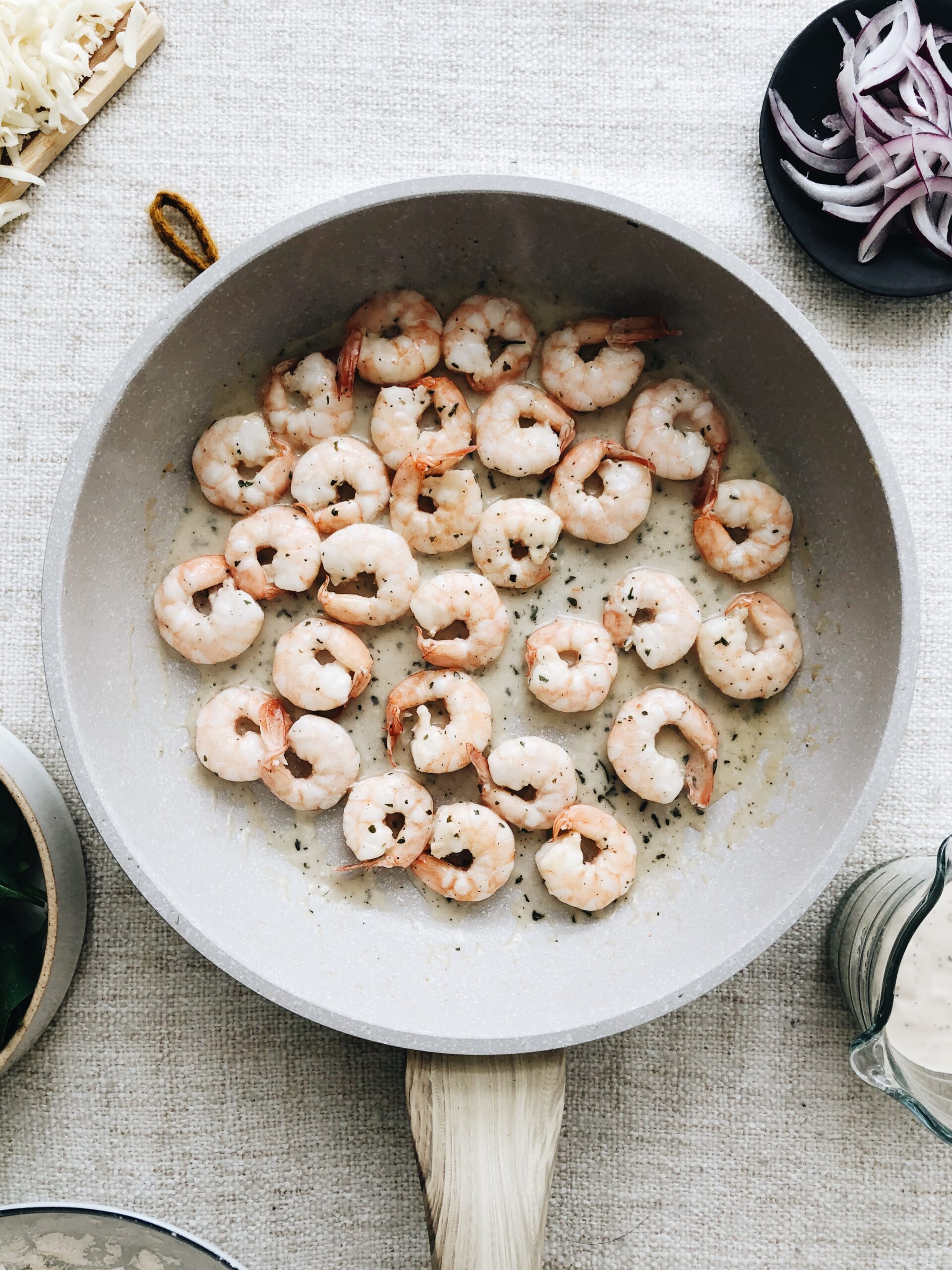 THIS is the thing with that seasoning – do you notice how the shrimp's not exactly seared? The ranch mix + the water released from the shrimp creates a sliiiiiight slurry. There must be cornstarch or something in the seasoning, because a TEENY CREAMY SAUCE will appear right before your eyes and this is the magic of 2020.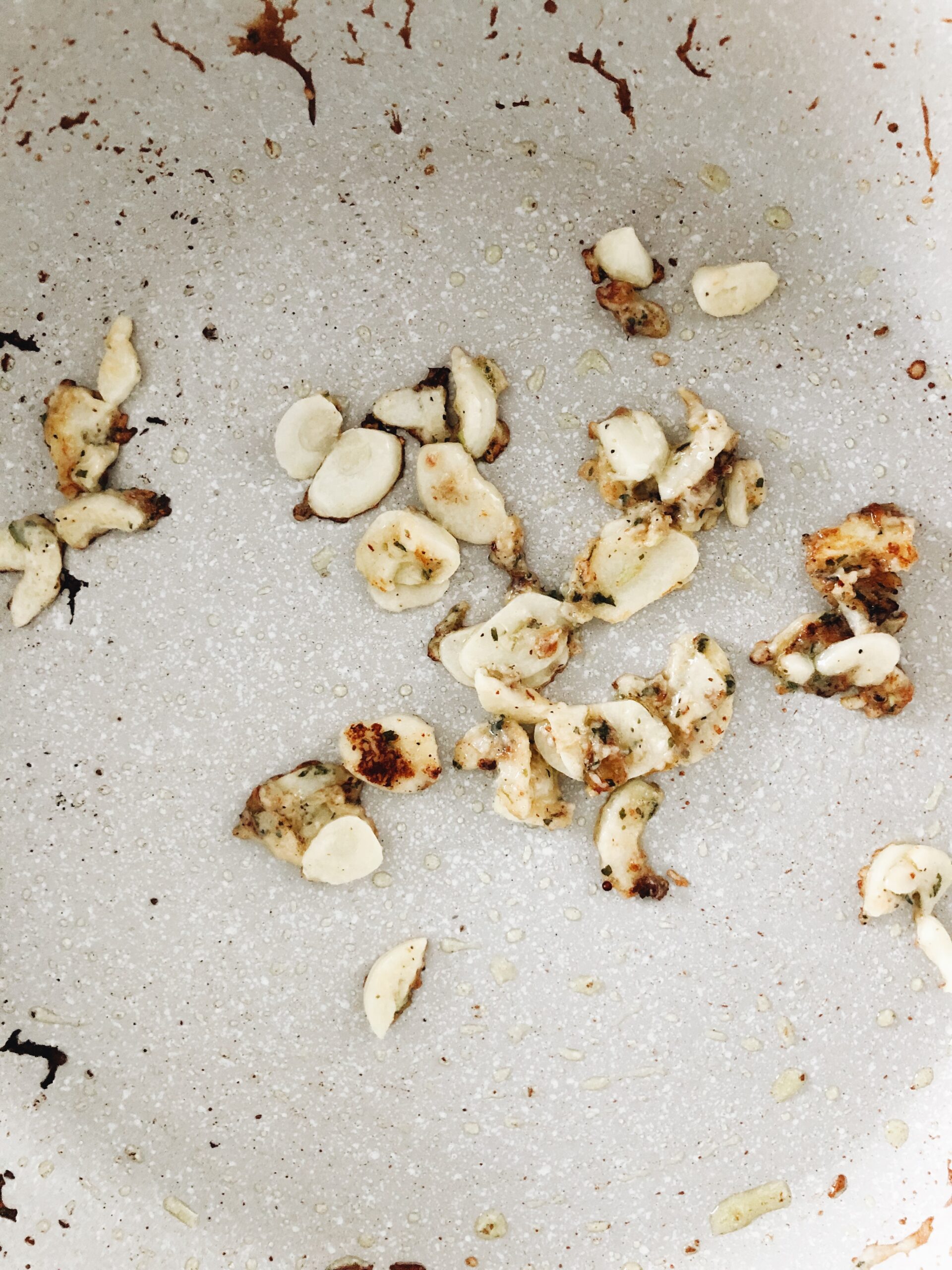 THEN, you'll thinly slice three garlic cloves and sauté them in the residual ranch sauce in the skillet. They'll get crispy crunchy but tender and that flavor will m u r d e r. Just get ready. And have your will in place.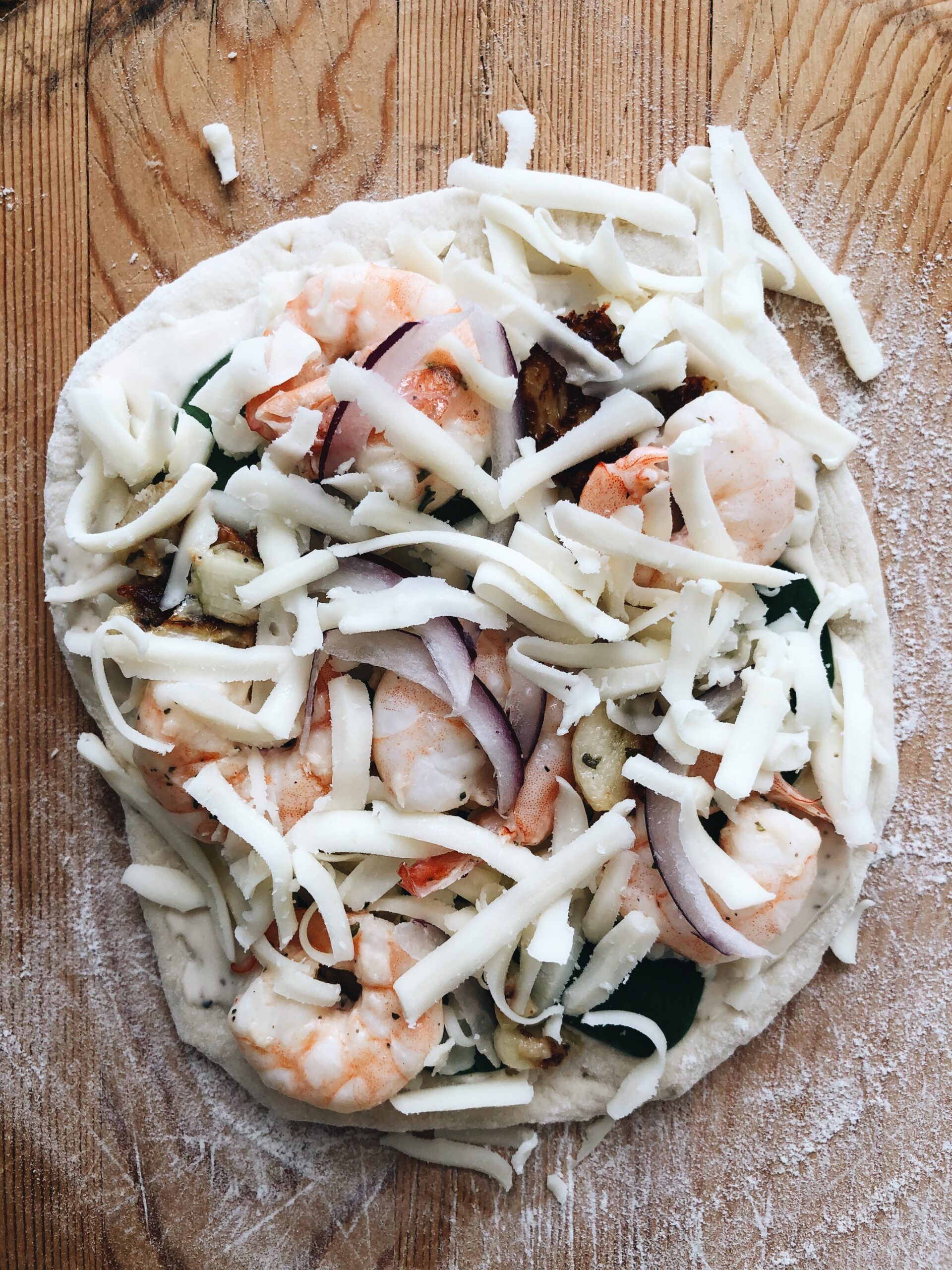 From here we build!
Dough rolled out to your desired shape and size (I dig three smaller pizzas out of a pound of dough, but make one huge one or two medium ones if that's what your soul fairies demand of you.), ranch dressing as the pizza sauce, spinach leaves, garlic bits, ranchy shrimp, thinly sliced red onion and mozzarella! Obviously tweak this to your liking, if you're not an onion fan, or would prefer a peppery arugula over spinach. Fly, little bird.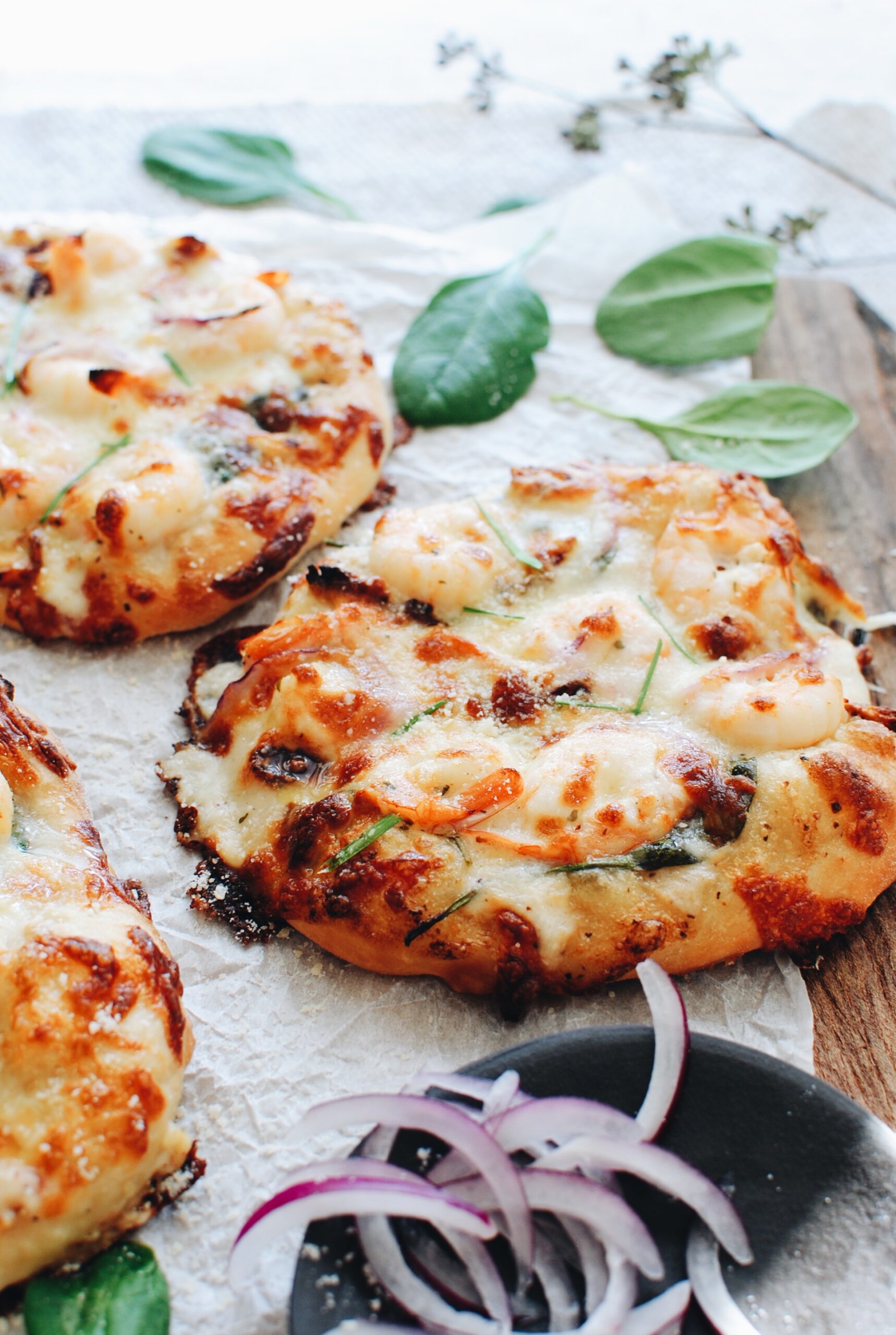 OH HAAAAAAI.
Okay, the ranch. The ranch is just . . . STUPID good in this. Both the creamy dressing and the packet work together to double up the flavor like you don't even know, brah.
And I'm telling you, that first garlicky bite? You'll just absolutely lose your ish.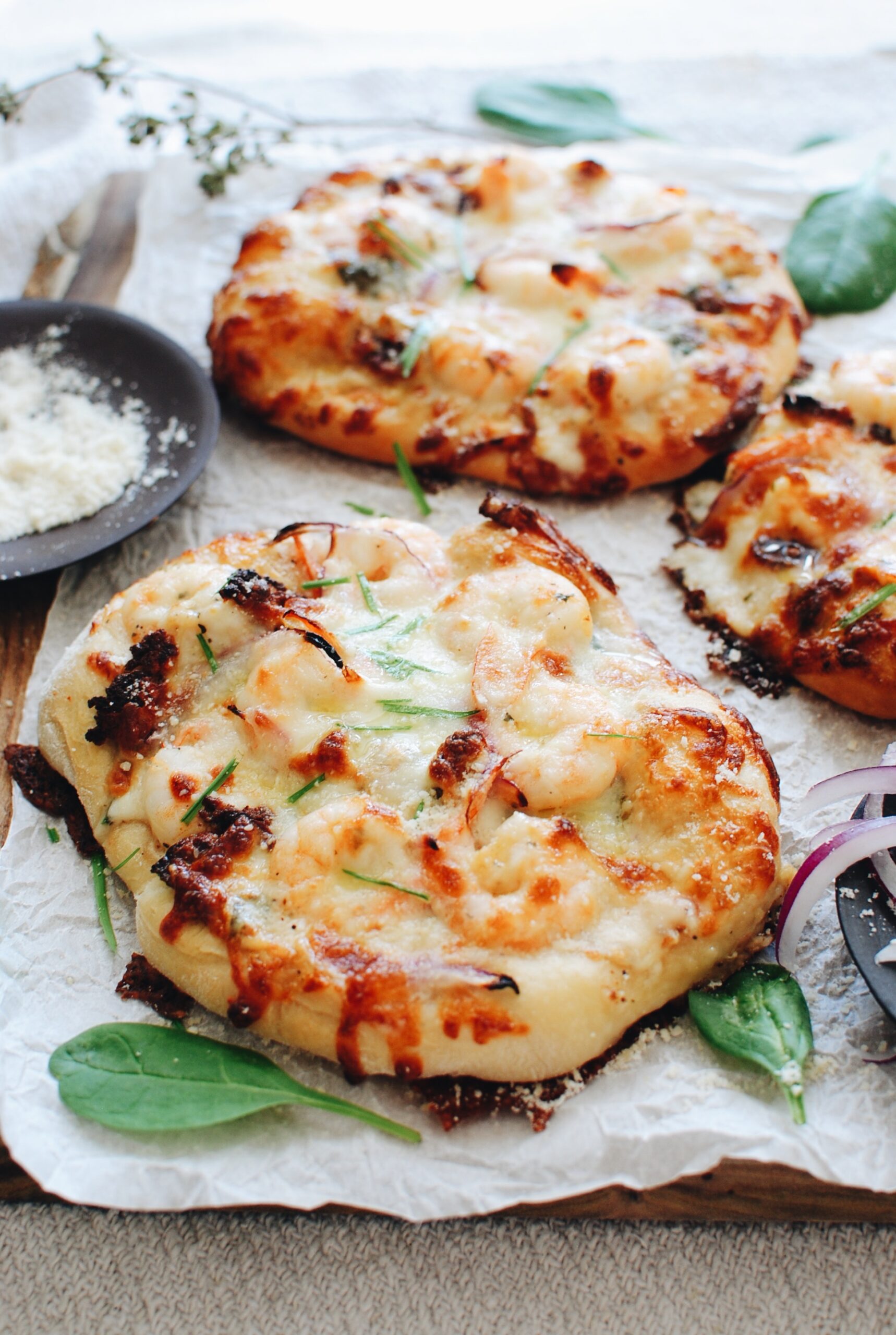 And you can garnish anyway you want. Parmesan cheese, chives, parsley, it all works. My kids had just cut the tops off the wheat grass from their little terrarium thingies so I was like GIMME. A food blogger's gotta do what a food blogger's gotta do.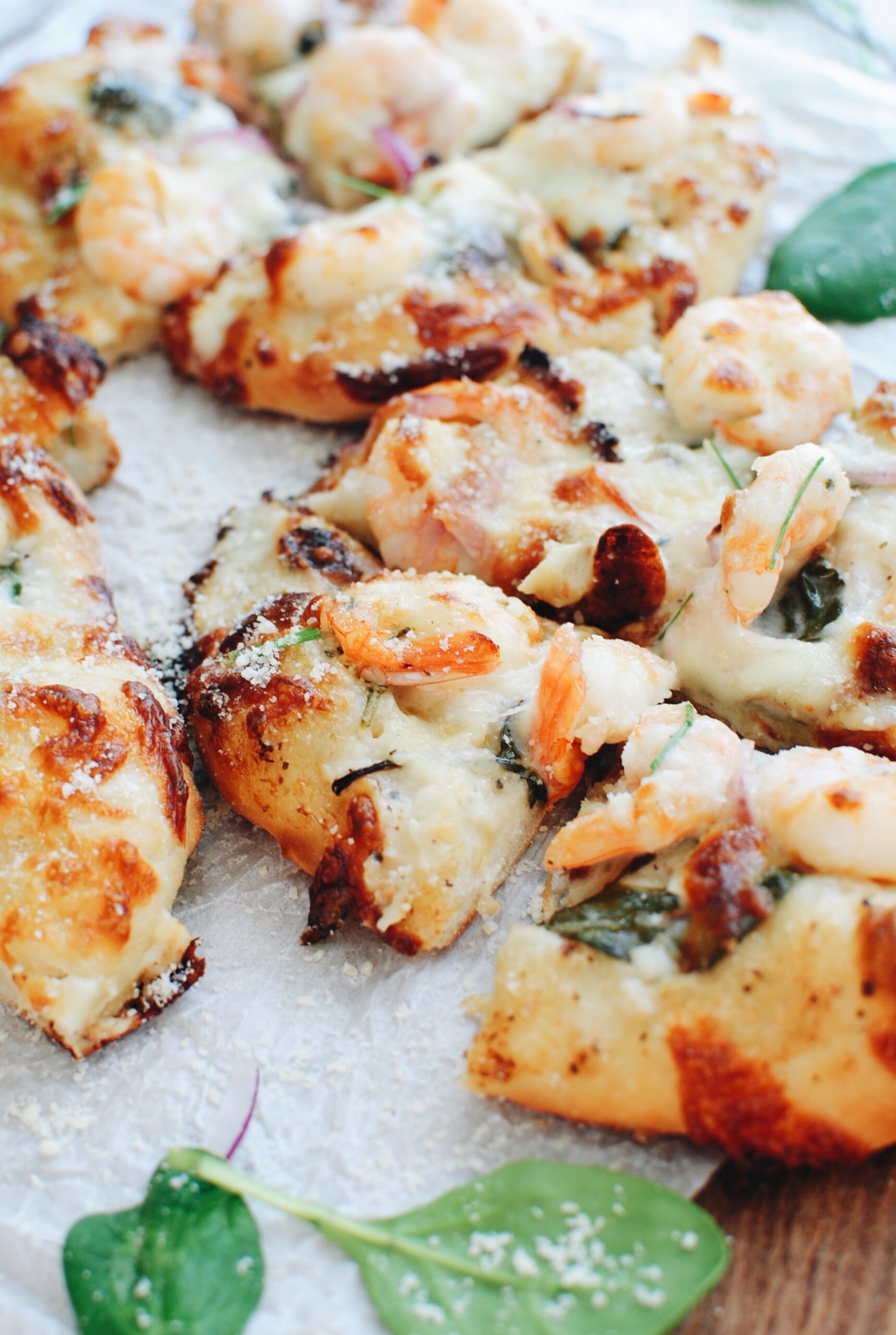 And on top of that, I just love shrimp on a pizza. I truly do. You see these three pizzas? Guys these are all mine. It was the most glorious thing ever.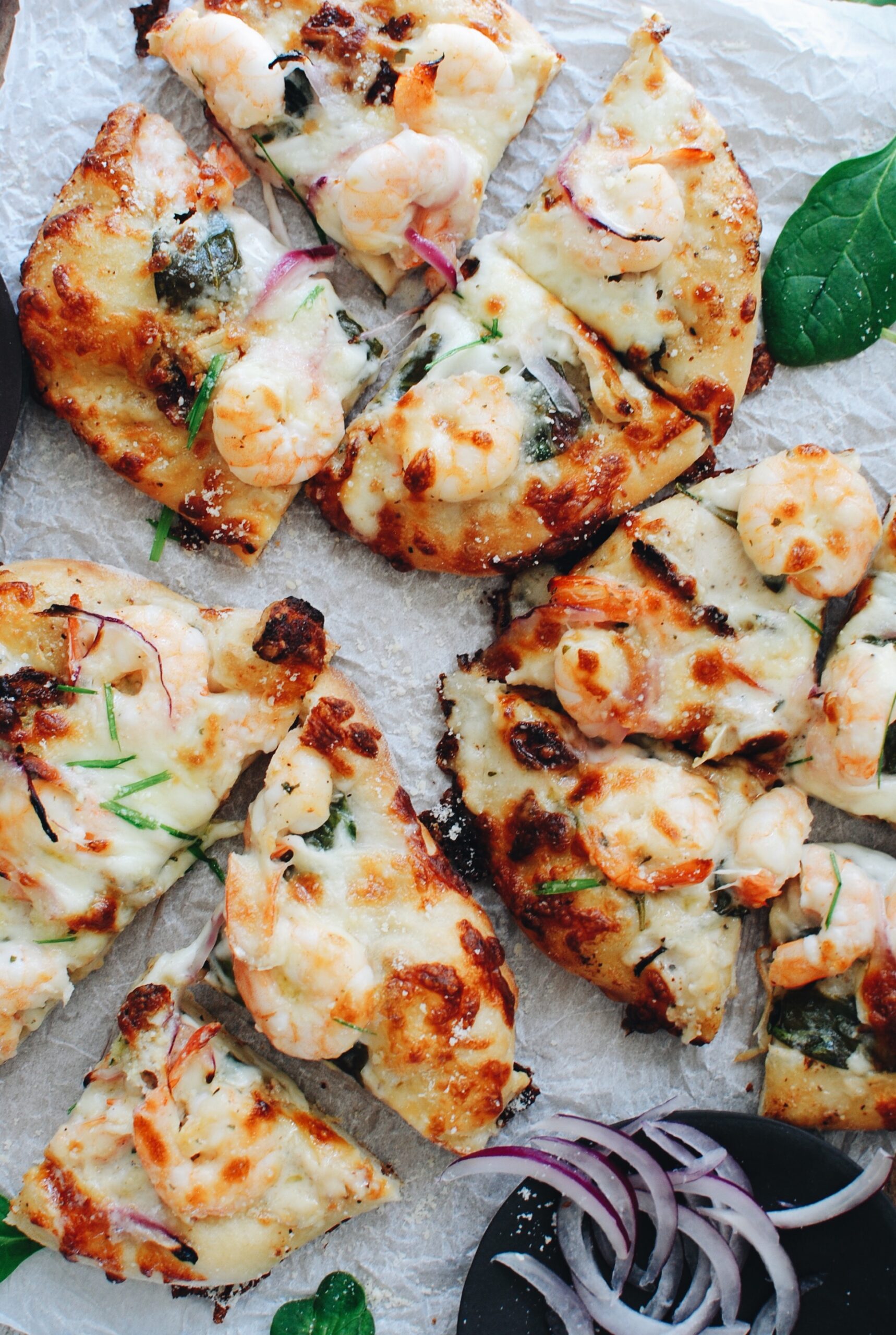 Yeah I'm still showing you photos of ranch pizzas. Can you even handle it?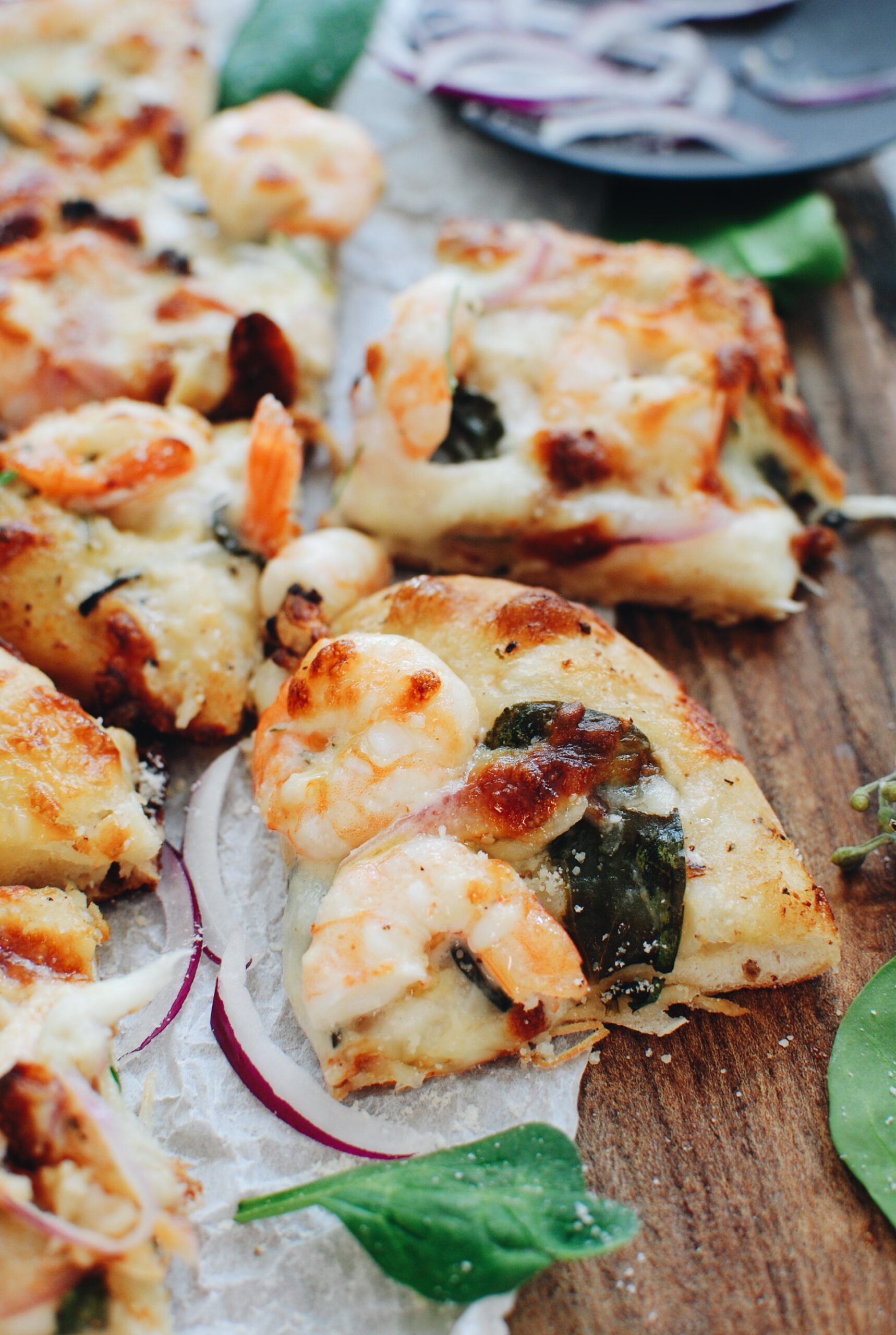 Thought so.
Ranch Shrimp and Spinach Pizzas
Ingredients
1 pound shrimp, thawed, peeled and deveined
1 pound pizza dough
1 oz dried ranch dressing packet
1/2 cup ranch dressing (good quality!)
3 cloves garlic, thinly sliced
1/3 cup thinly sliced red onion
Baby spinach leaves (about 5 per personal pizza)
1 (8 oz) block mozzarella cheese, grated
Instructions
Preheat your oven to 450.
Toss the shrimp with the dried ranch seasoning while bringing a medium skillet to a high heat. Drizzle a tsp of oil in the pan. Add the shrimp and cook on one side for almost two minutes. The ranch seasoning and the water released from the shrimp will create a slight creamy sauce and it's just so good. Flip the shrimp and cook another thirty seconds. You don't want to overcook the shrimp. Using tongs or a spoon, transfer the shrimp to small bowl. Add the garlic to the skillet and sauté in the residual ranch sauce. Get it nice and browned and crunchy. Just a couple minutes tops. If that.
Now roll out your dough to the size and shape you want. (I got three personal pizzas out of a pound.) and brush each with ranch dressing. Top with baby spinach leaves, the garlic bits, shrimp, red onion slices and the grated mozzarella.
Place each on a pizza stone or the back of a large baking sheet and bake for 15 minutes, or until the cheese is browning and bubbly and you basically want to scream.
Let rest a few minutes (if you even can) and garnish with parmesan cheese!
My version makes three personal pizzas, but adapt to make it fit what you love!
7.8.1.2
406
https://bevcooks.com/2020/02/ranch-shrimp-and-spinach-pizzas/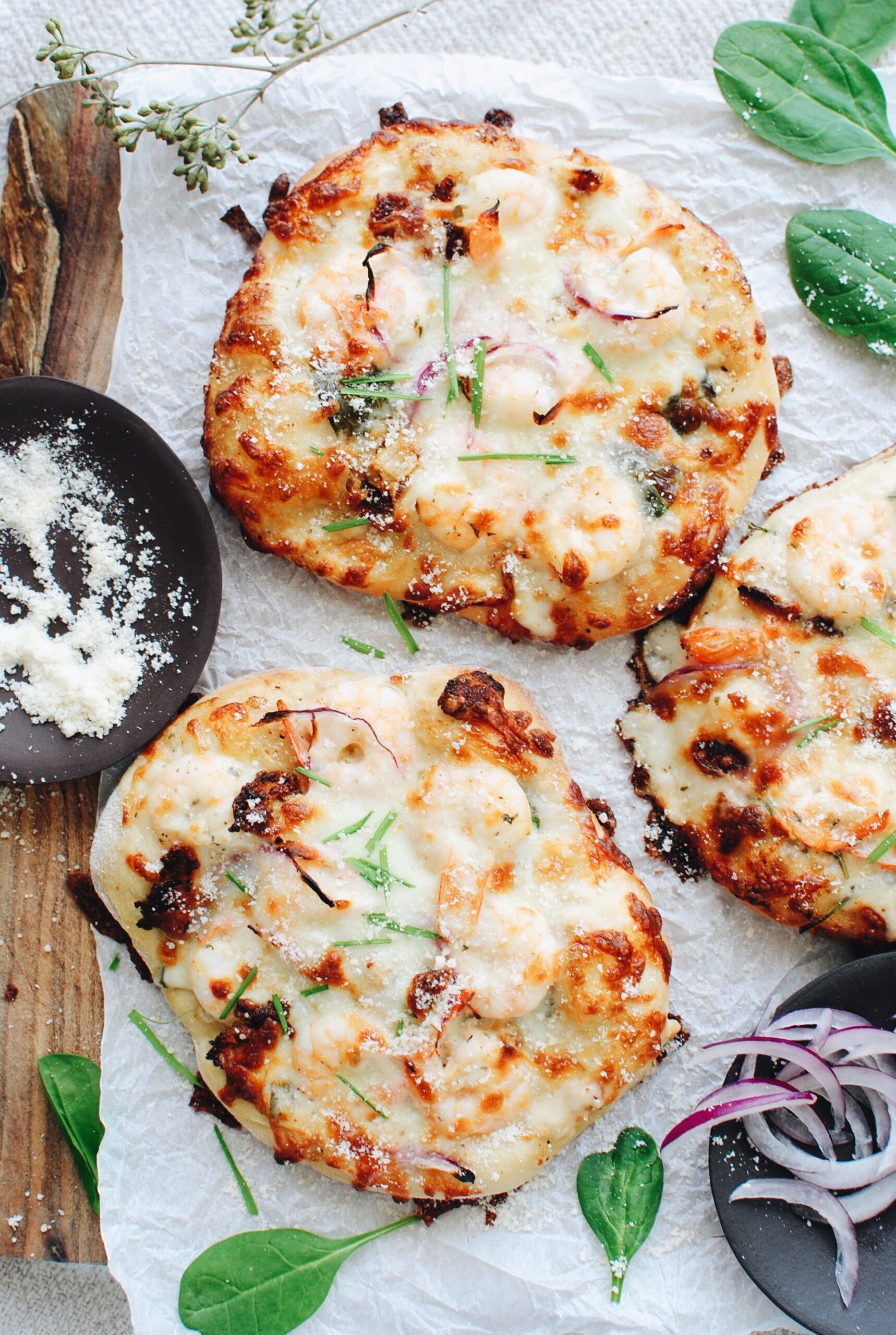 My inner sorority girl is like, so happeh right now.