TACO TUESDAY. I seriously don't think I've ever posted tacos on a Tuesday. Who am I?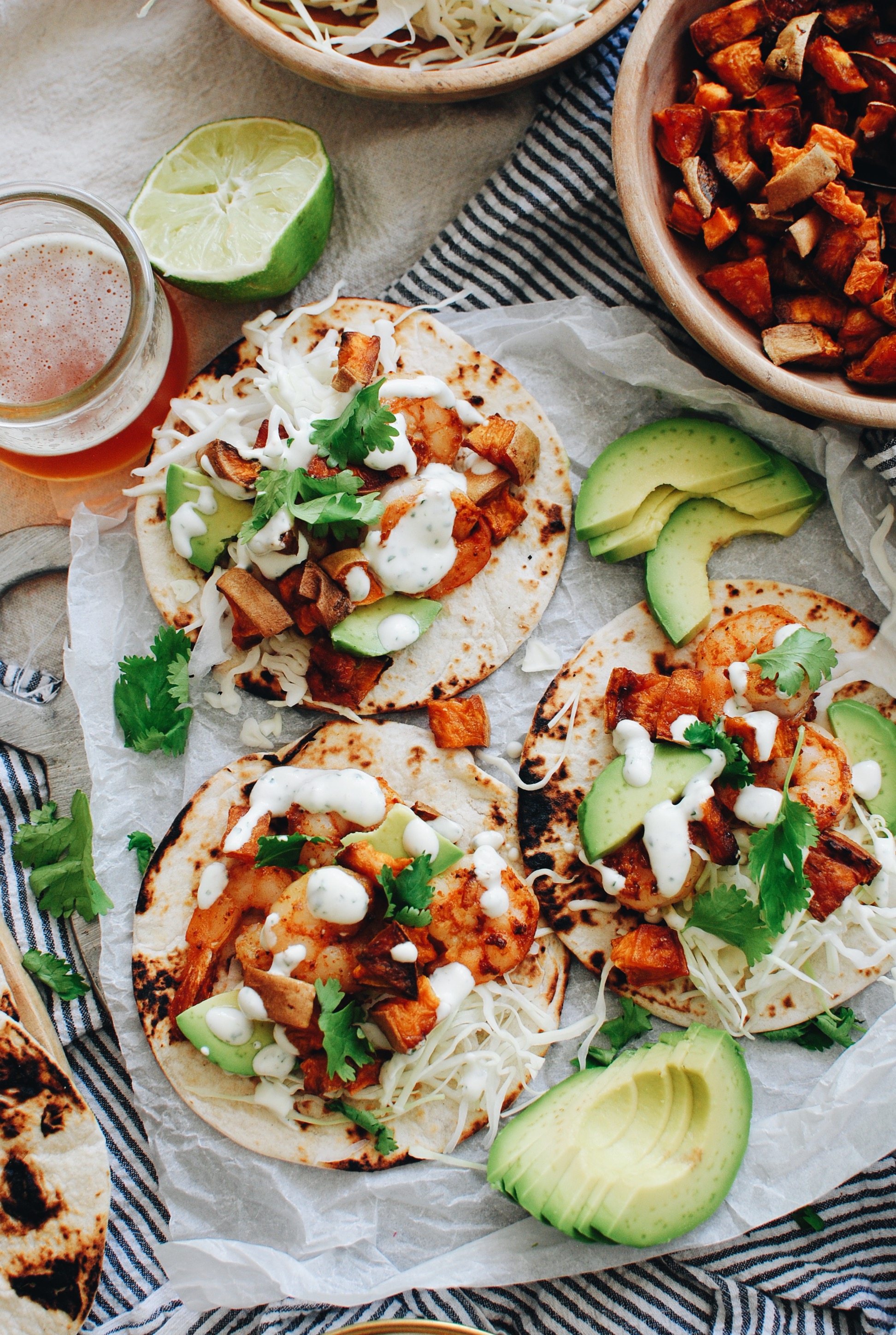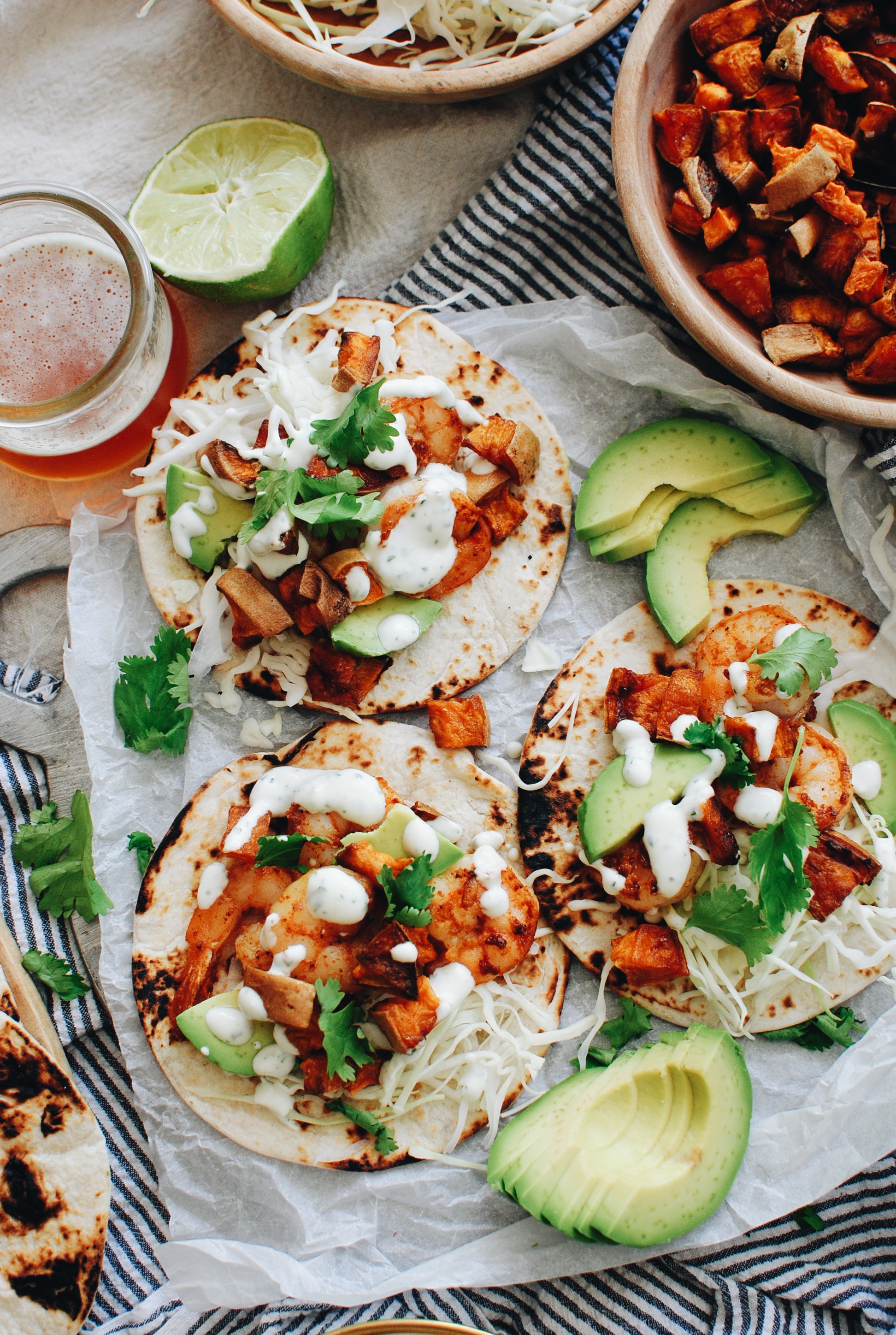 I figured before it's bullz-out holiday madness, we'll grub on something not-so-bullz-out holiday madness.
Like shrimp tacos! But I threw in sweet potatoes because October. Don't get mad.
And I made them little so you can eat 145.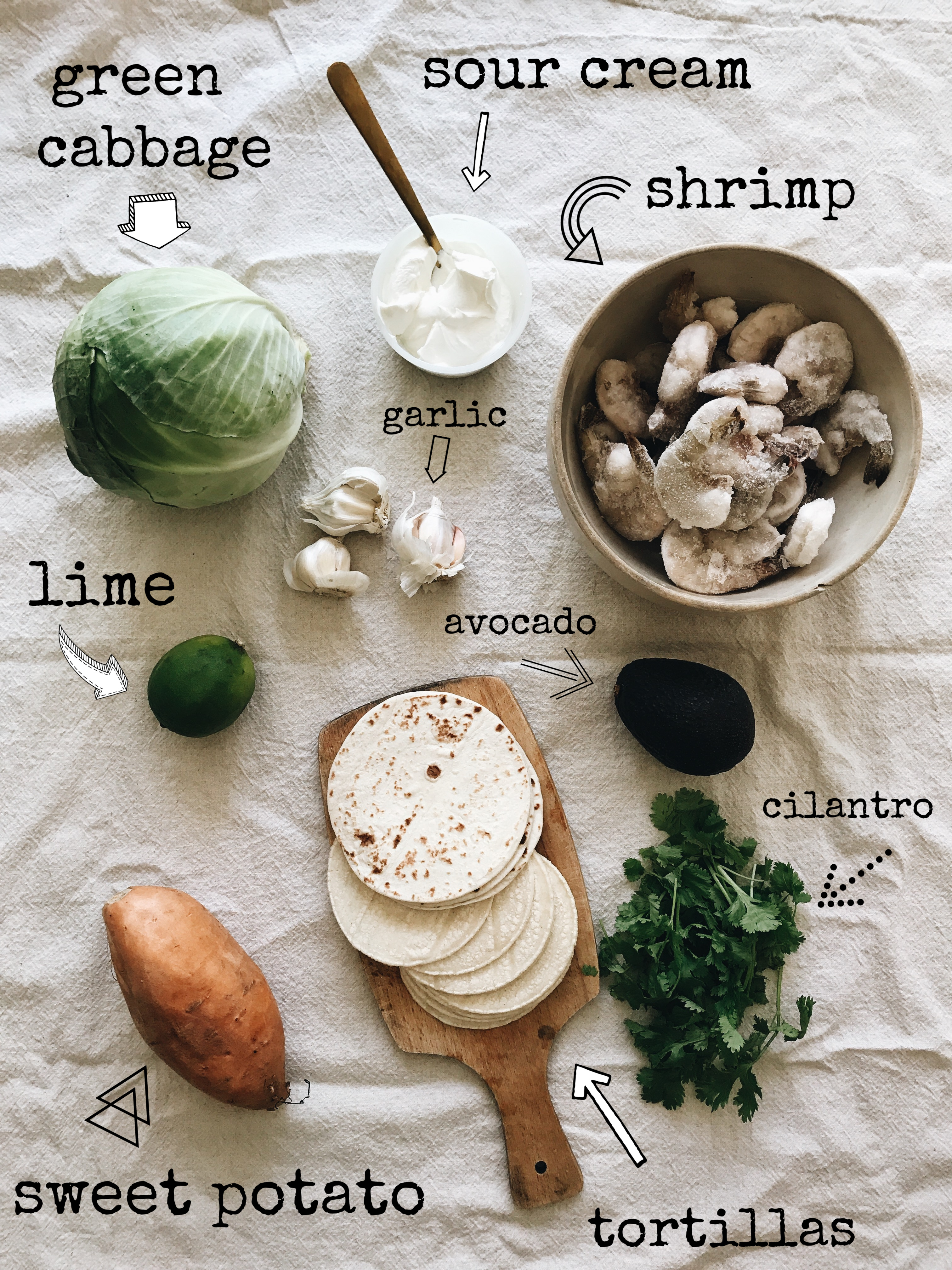 This is SO not an ad, but have you seen those little street tortillas at the store? They're like, TINY TORTILLAS. Especially the corn ones. Super teenz. I just discovered them a few weeks ago and I can't quit them. The size makes me feel comfortable about my life. (You know how I don't like overly big things. Like giant letters off a building on the side of the road. We cannot have that.)
Street tortillas to the mental health rescue!
I'm fine.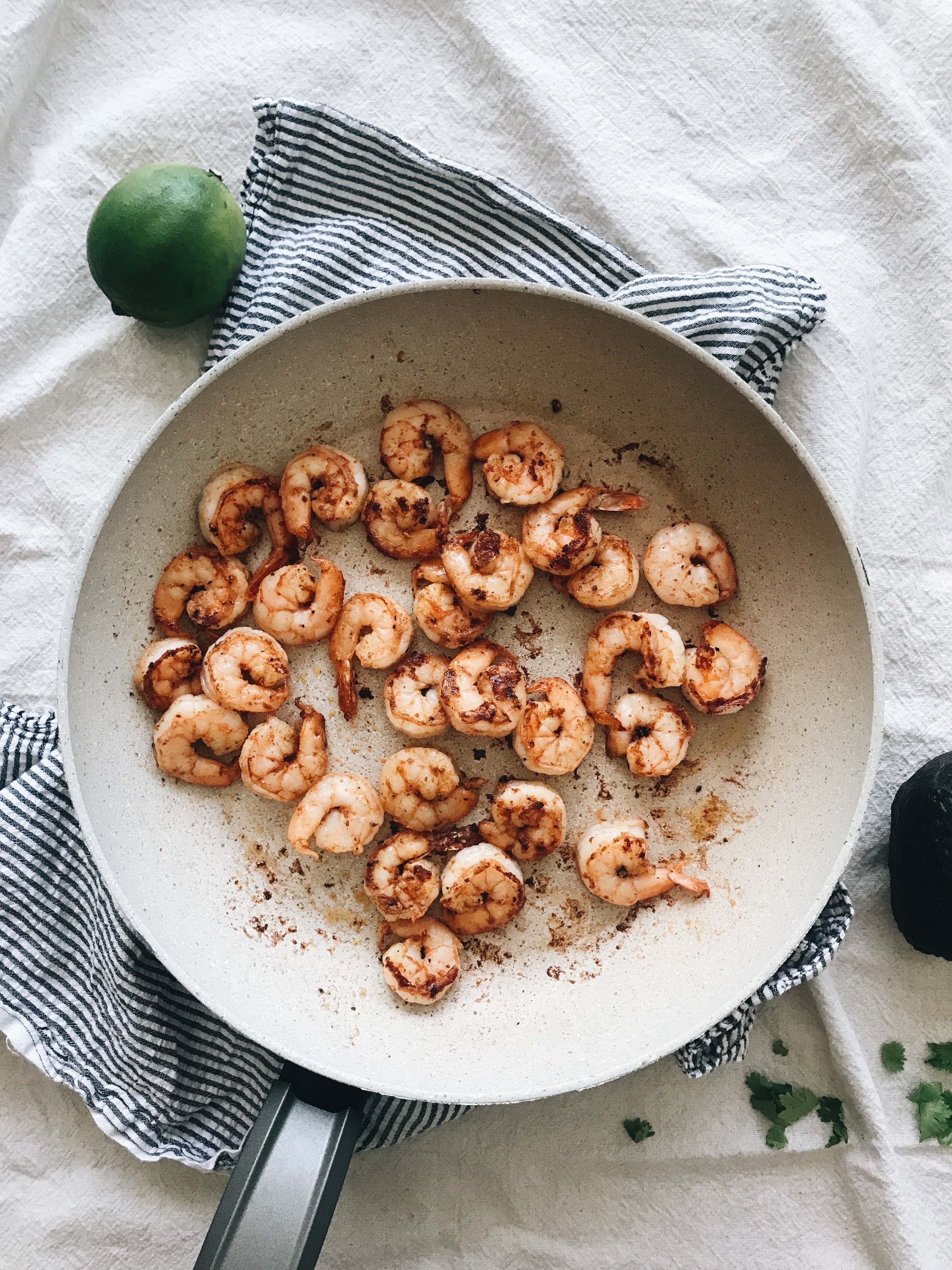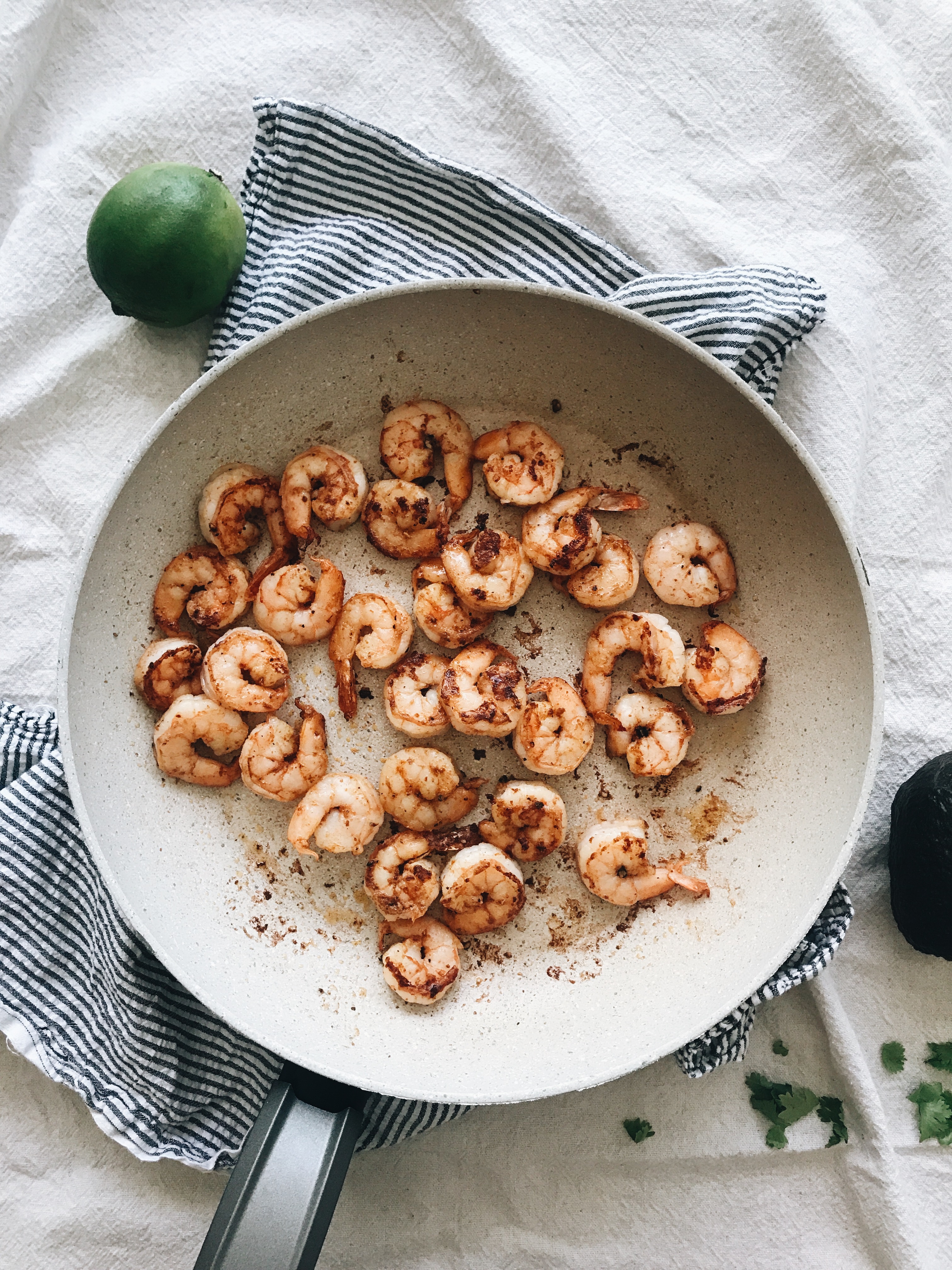 So for the shrimp, I barely dusted the (thawed and shelled!) buggers with cumin, salt and pepper. I forgot to photograph the cumin part because I was contemplating some horror movie all up in my psyche lurkin' around.
But just sear them up. Boom.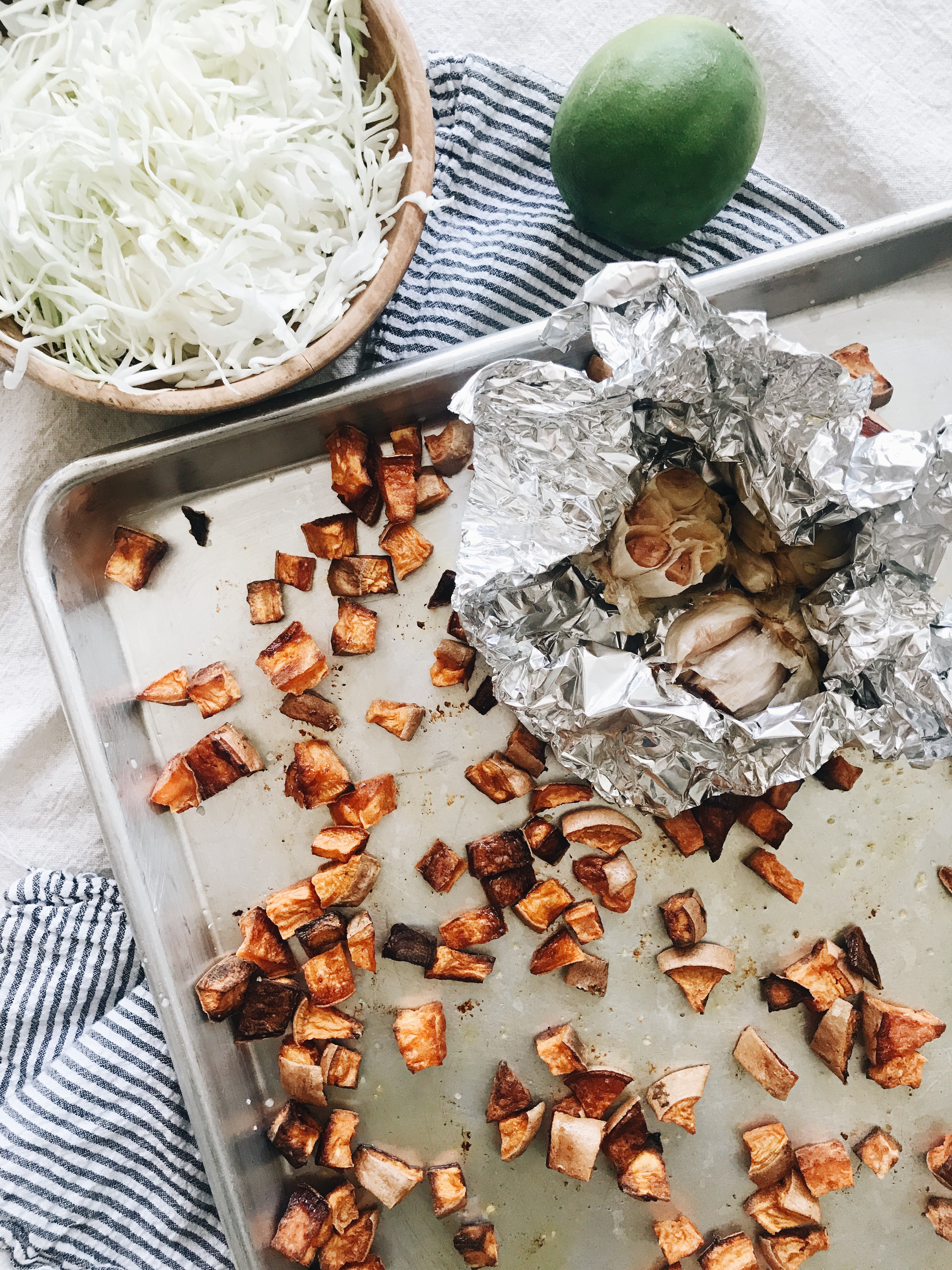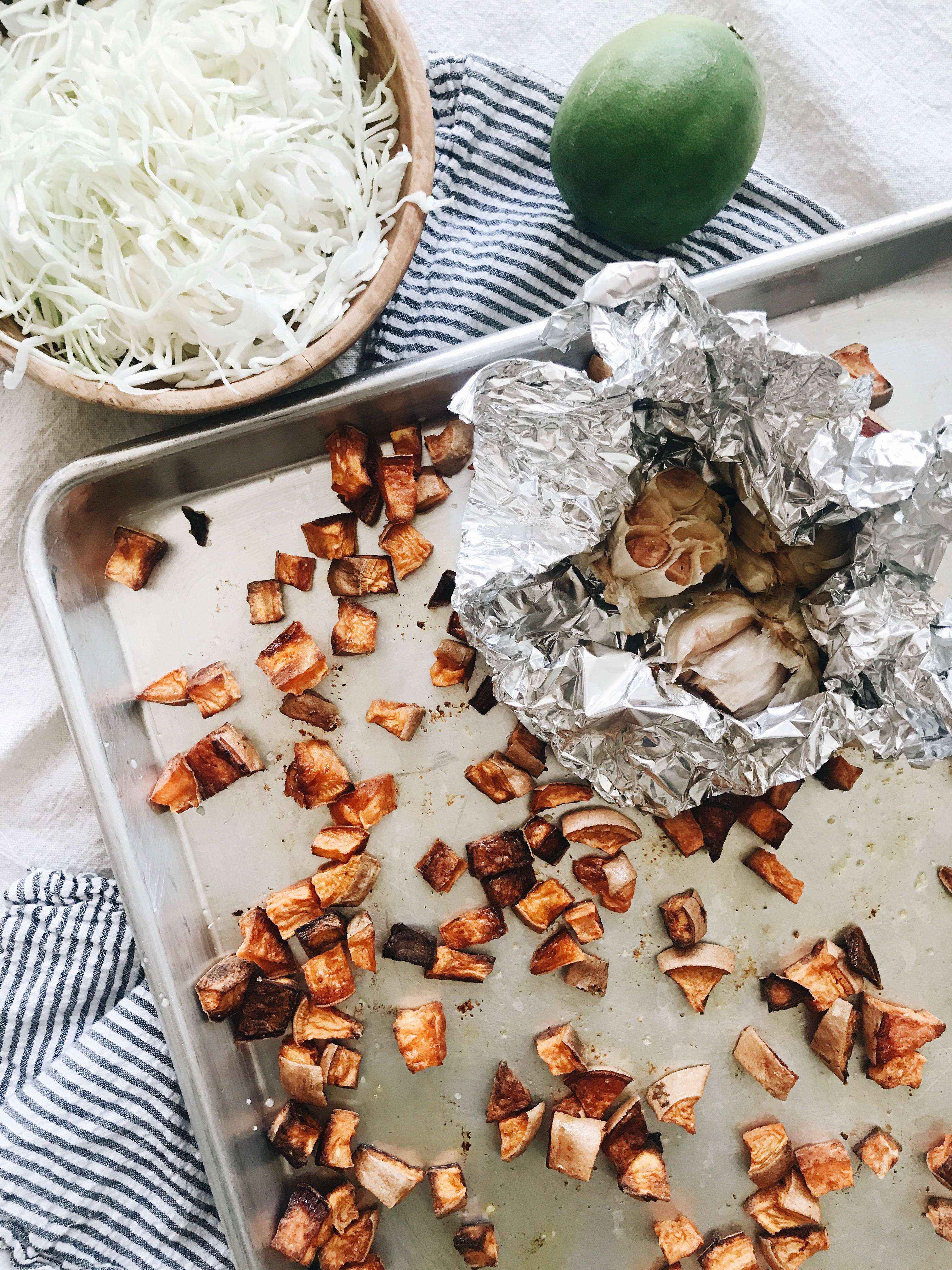 In the meantime, you'll have cubed up a sweet potato and roasted it along side a couple heads of whole garlic. This is a really good thing happening in your life right now.
And for that cabbage? Shred it suuuuper finely, like with a mandolin if you have one. Otherwise, take a sharp knife and thinly shave it. Like street tacos! You know.
And for that crema? Dear heavenly face holes. Take that roasted garlic and pinch it out of its skins. Then in a small food processor, combine the sour cream, softened roasted garlic, a bit of lime juice, and a pinch of salt. Whiiiiiiiizzzzzzzzzaaaaa until it's a luscious crema and your life falls apart before your very eyes.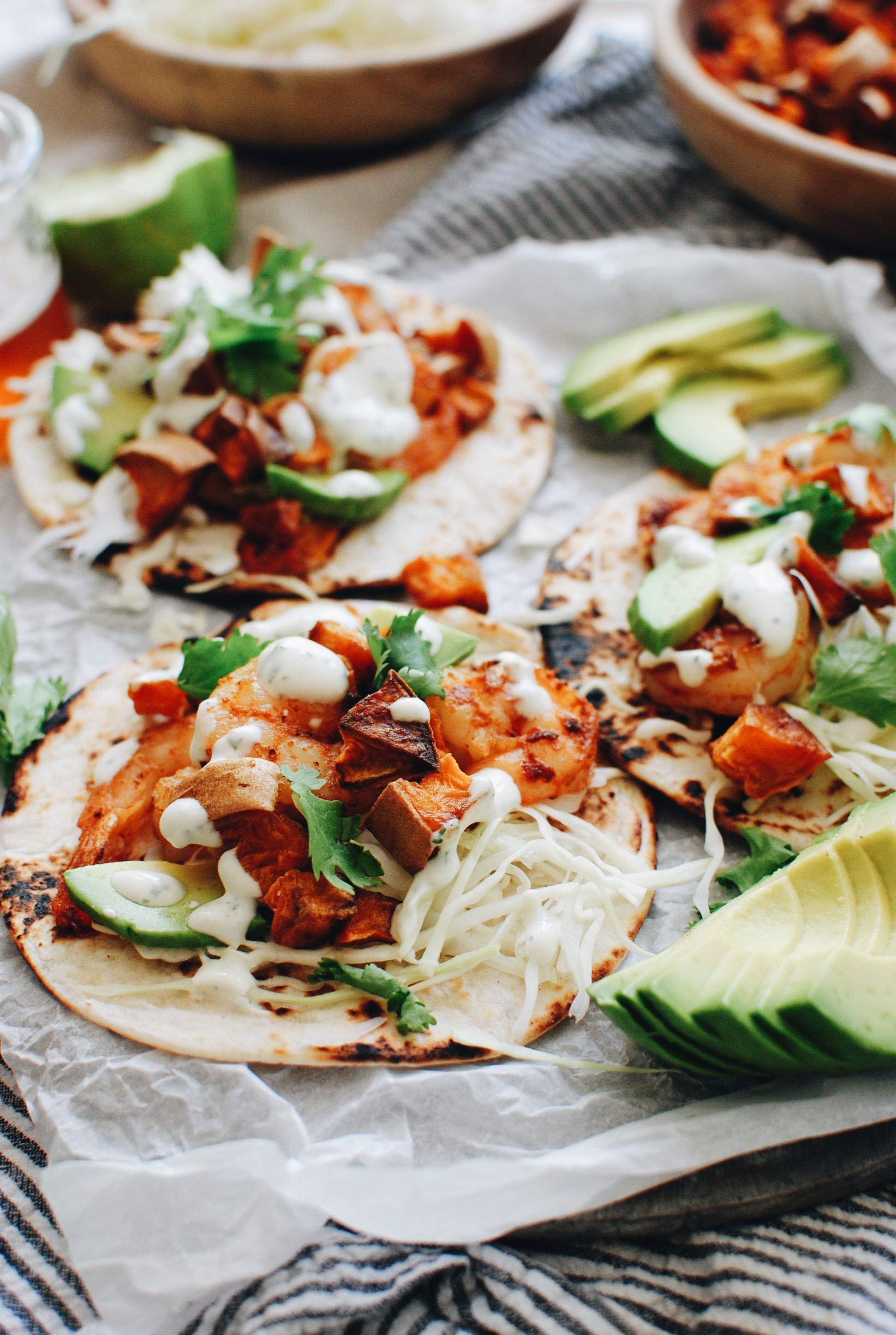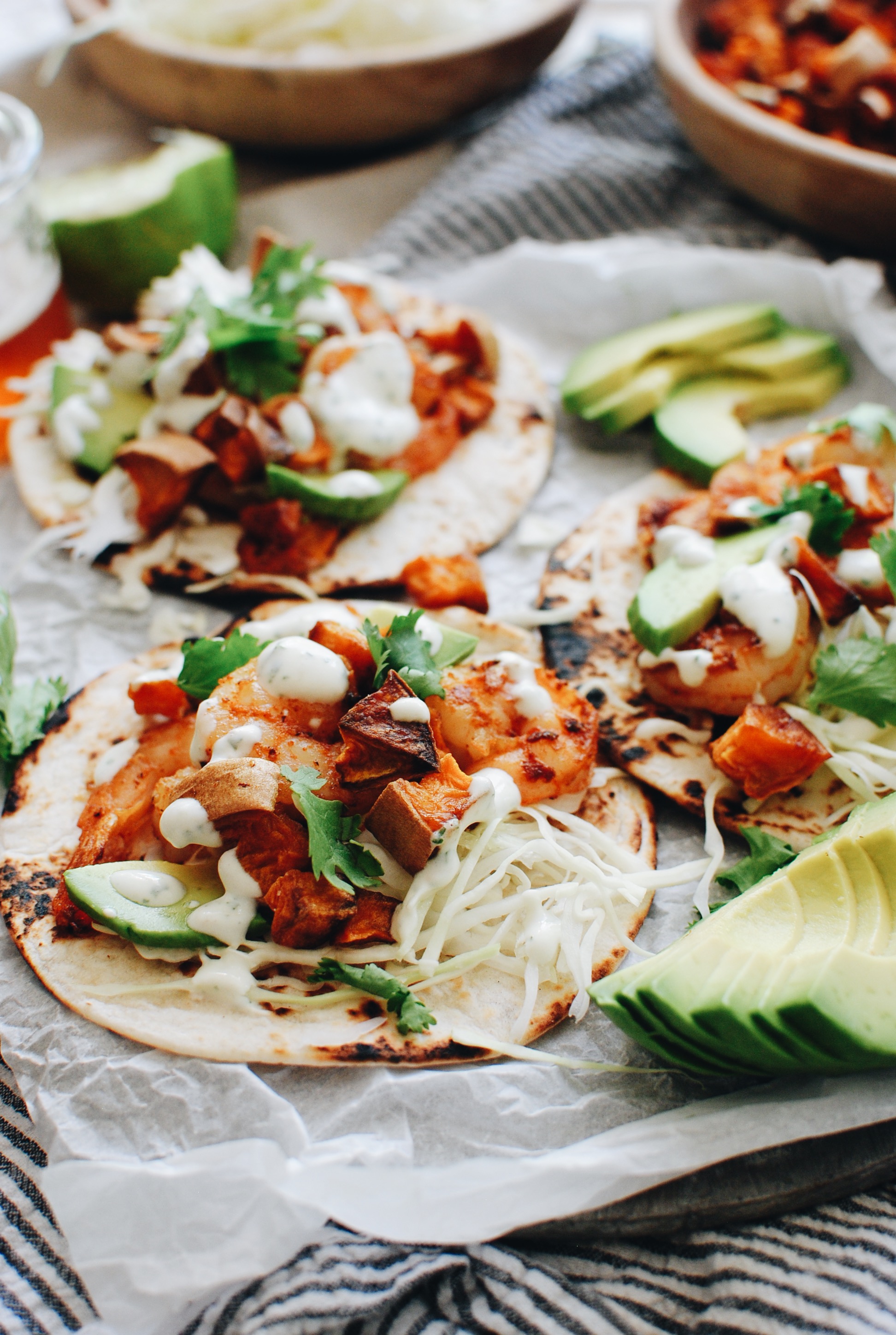 And there you have it.
BUT! There's a trick to all of this. A super simple, often-overlooked trick that WAKES these tacos up. And that is…to blister your tortillas! CHAR 'EM UP. Turn your gas flame on, and get the tortillas slightly blackened in places on both sides of the tortillas.
Listen, I don't know nothing 'bout birthin' babies . . . – wait, that's something else.
I don't know nothing 'bout tortilla chemistry, but this MAKES THE TACOS. Completely changes the flavor and texture of the tortillas, once they've slightly steamed themselves and gotten blistered on the flame. DO THIS.
DO THIS.
DEWWWW EEEEEET.
I'm fine.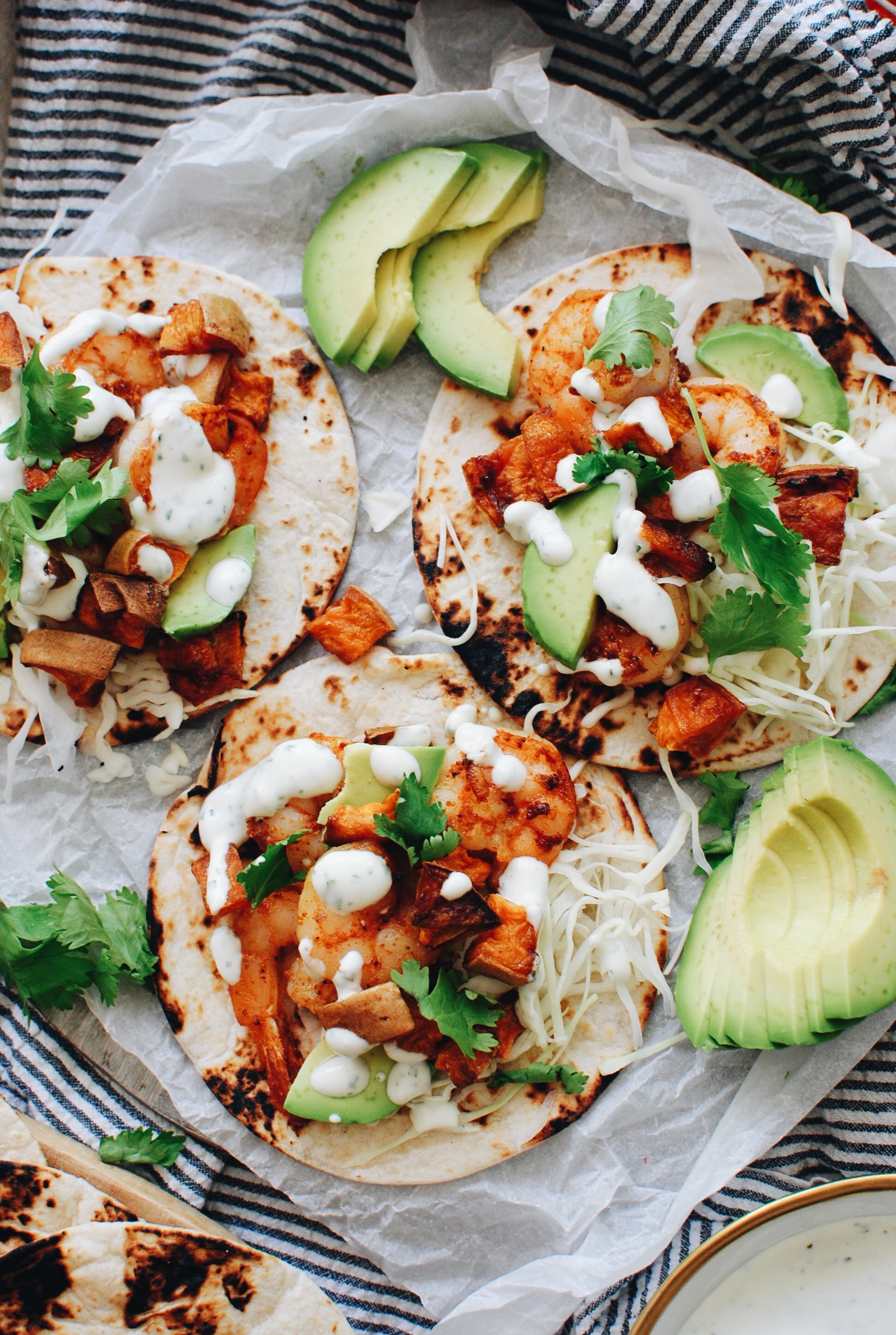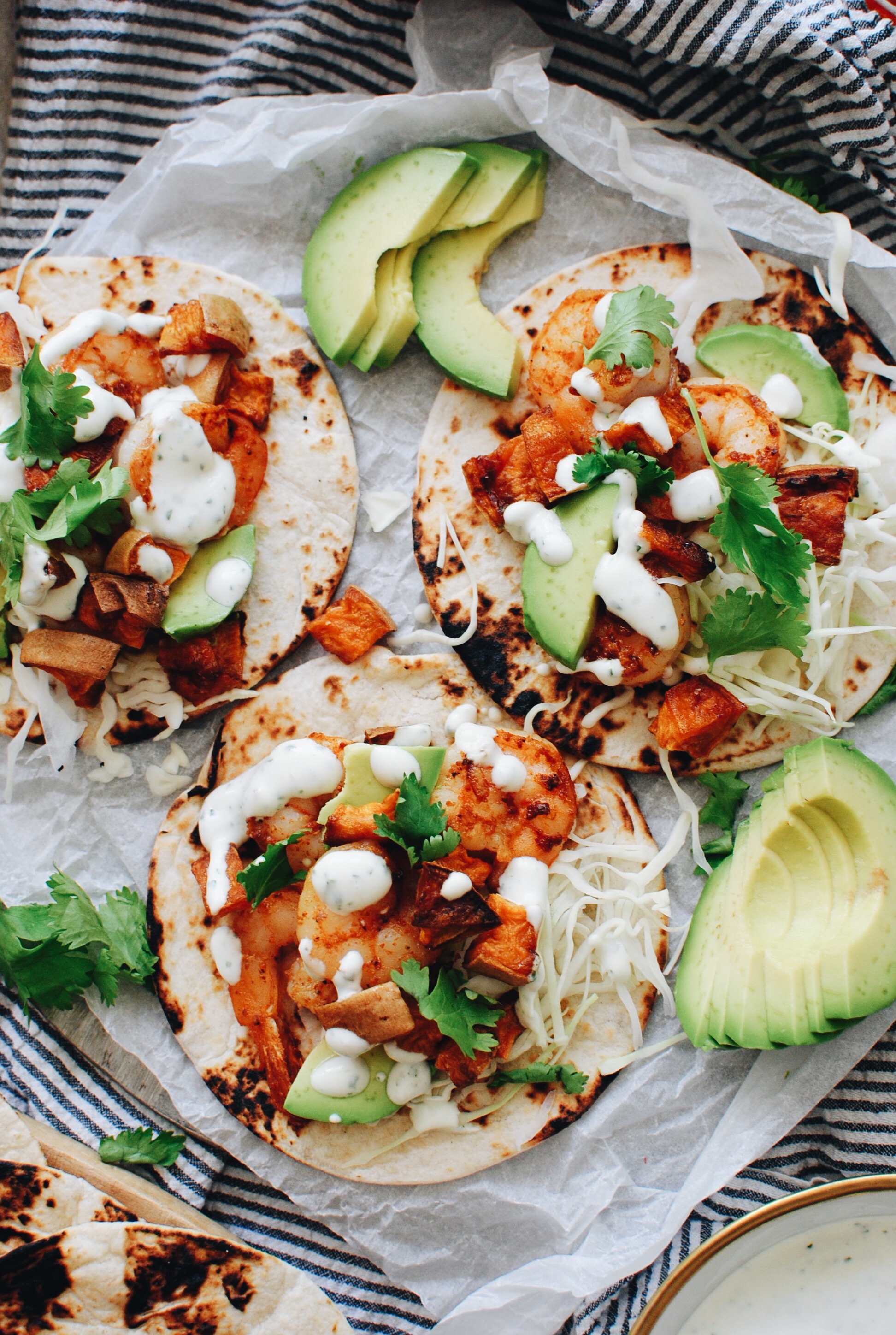 Layer up. Garnish up. Squirt up. Drizzle up.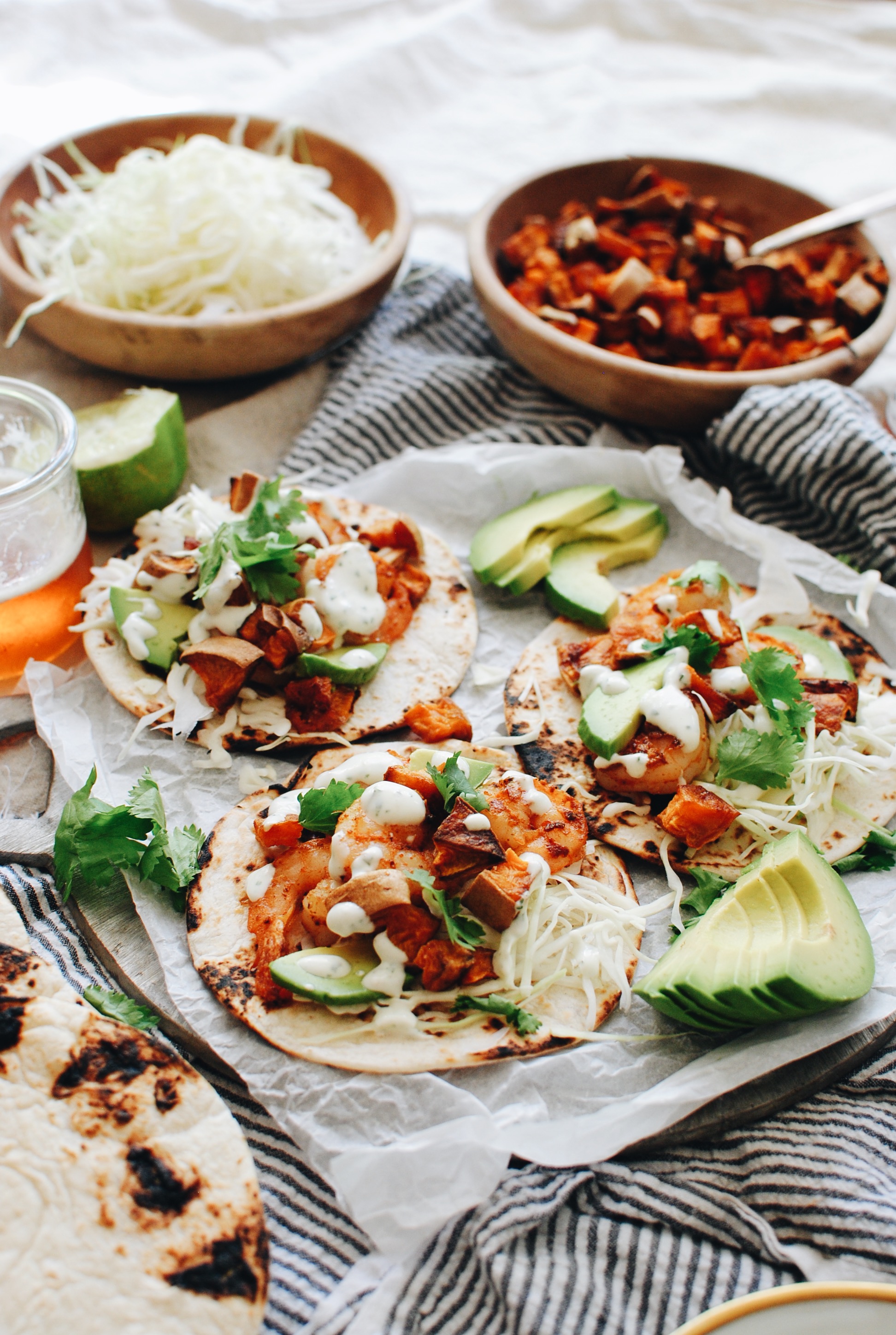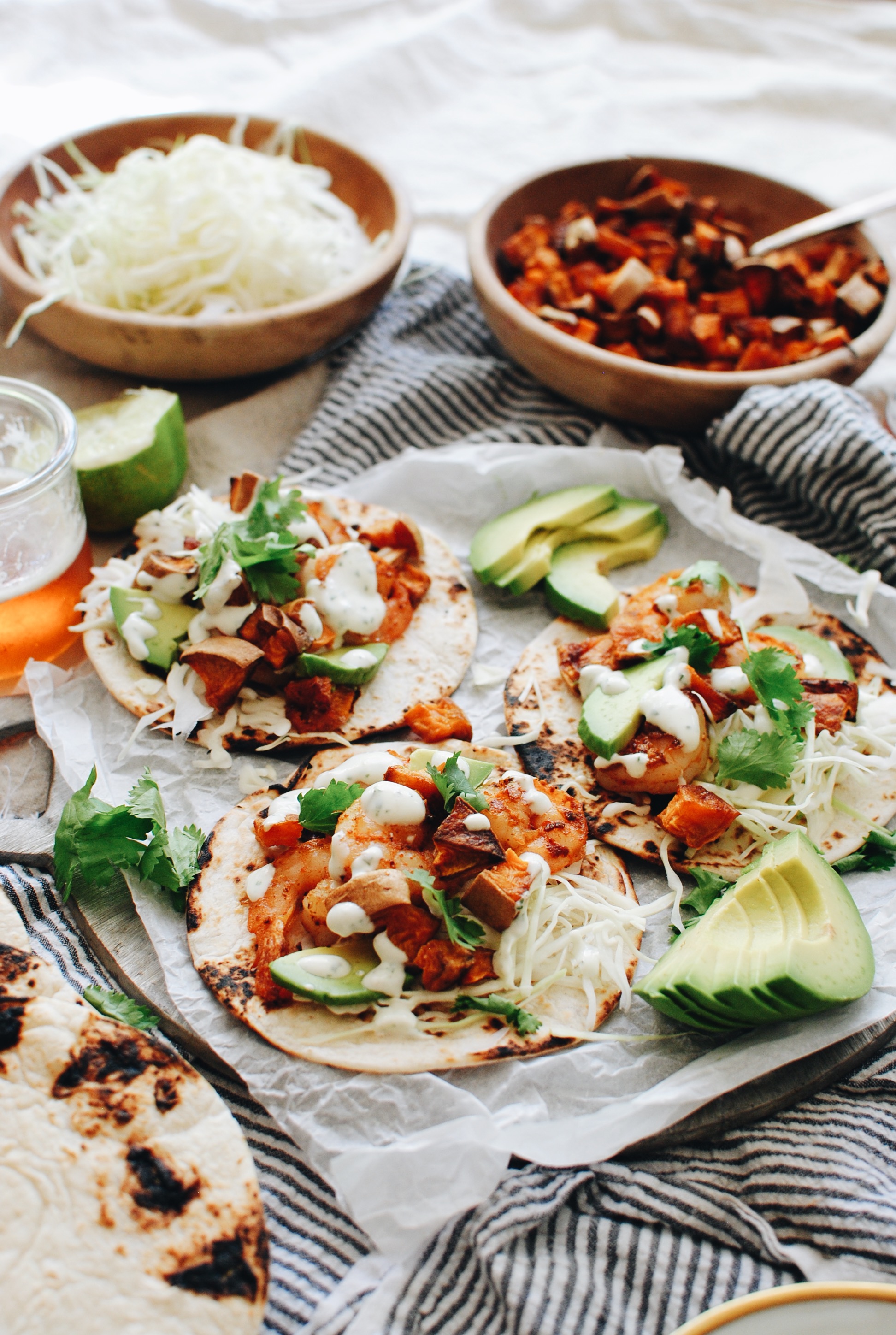 Eat up.
Shrimp and Cabbage Tacos with a Roasted Garlic Crema
Ingredients
1 sweet potato, cut into bite-sized cubes
2 heads of garlic, tops sliced off
4 Tbs. extra virgin olive oil, divided
1 pound shrimp, thawed and deveined
1 tsp ground cumin
1 green cabbage, finely shredded until you get 2-3 cups
1 lime
1 cup sour cream
1 avocado, sliced for garnish
Cilantro leaves for garnish
Street flour or corn tortillas (or a mix!)
Coarse salt
Instructions
Preheat oven to 400.
Place the cubed potatoes on a large baking sheet, and drizzle with a Tbs. of oil, along with a big pinch of salt. Place the garlic heads in a small piece of aluminum foil and drizzle with a Tbs. oil, then wrap. Roast for one hour. Let the garlic cool outside the foil before you squeeze the cloves out.
Season the shrimp with the cumin, and a pinch of salt and pepper. Heat the oil in a skillet, and sear the shrimp on both sides, about 90 seconds per side. Maybe a touch more. You want good sear marks!
Keep the stovetop flame on, and using tongs, lightly char both sides of the tortillas. This will enhance the flavor so much you will WEEP for a month.
In a small food processor, add the sour cream, the cooled garlic cloves, 2 Tbs. lime juice, and a pinch of salt. Whiz until smooth and slightly on the thin side.
Layer up! Blistered tortilla, shredded cabbage, seared shrimp, roasted sweet potatoes, and a good drizzle of the roasted garlic crema.
Garnish with cilantro leaves, sliced avocado and extra lime.
Get so happy right now.
Makes about 8 tacos.
7.8.1.2
185
https://bevcooks.com/2018/10/shrimp-and-cabbage-tacos-with-a-roasted-garlic-crema/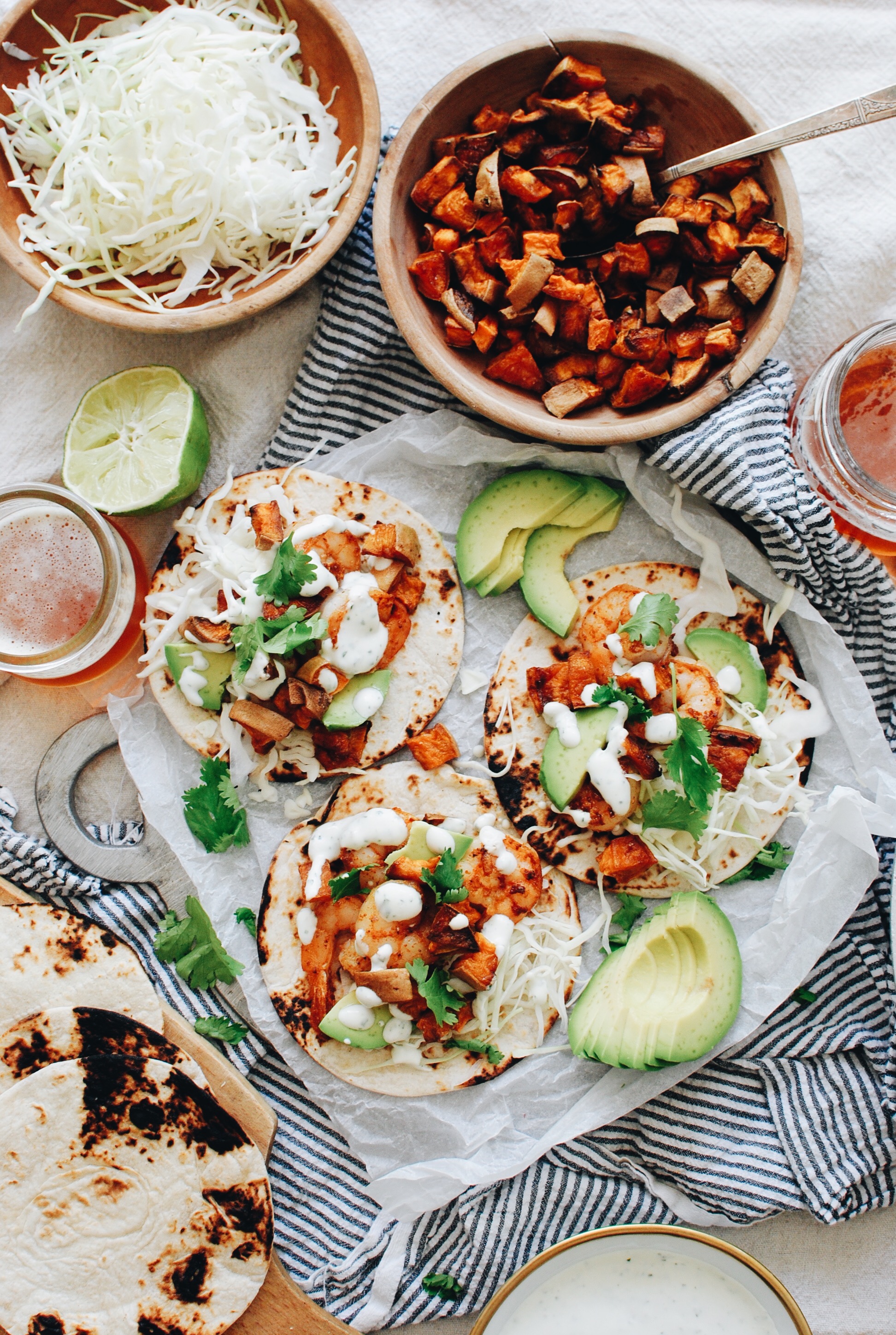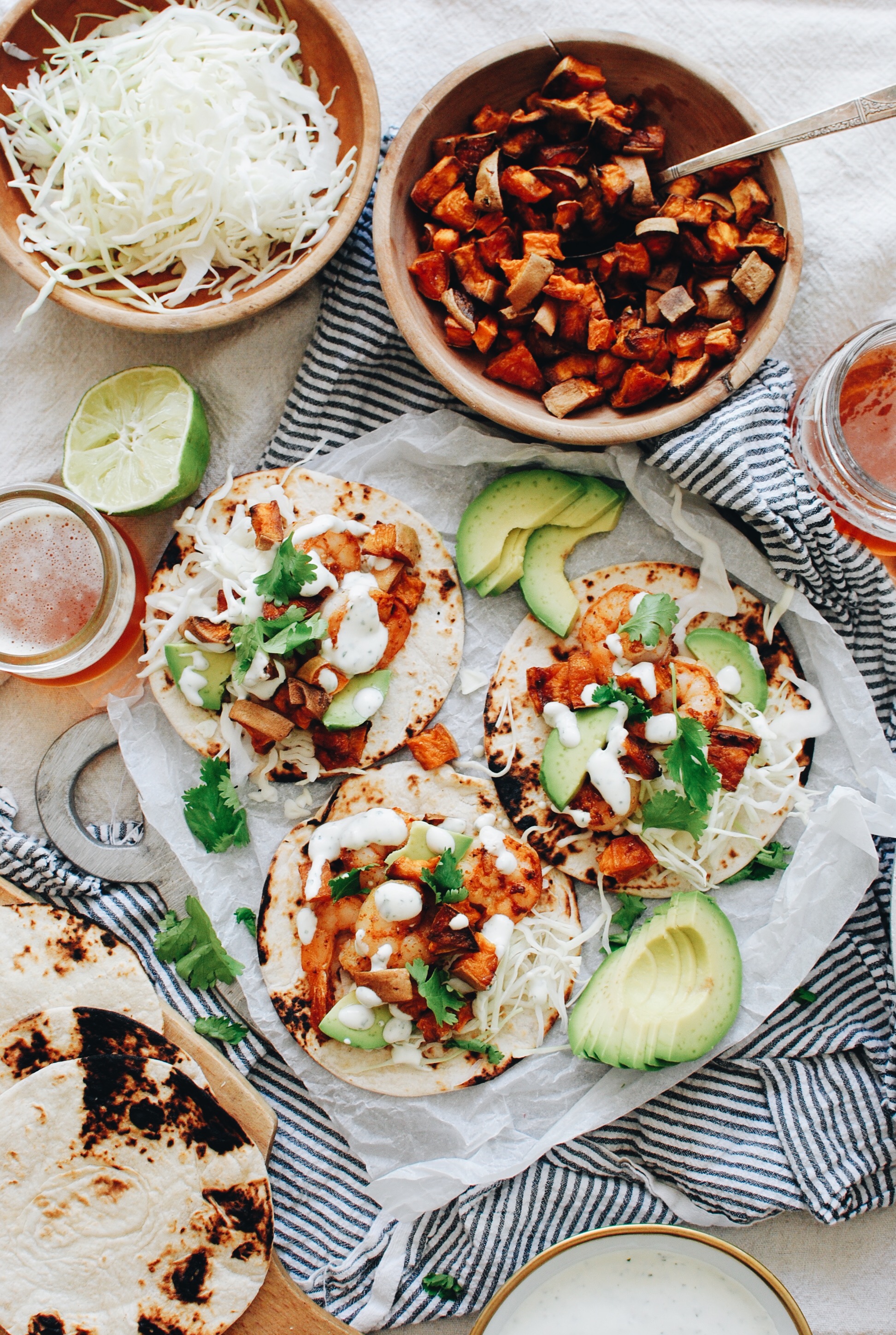 Look how tiny! Obsessed.