Also known as, salad night just got awesome.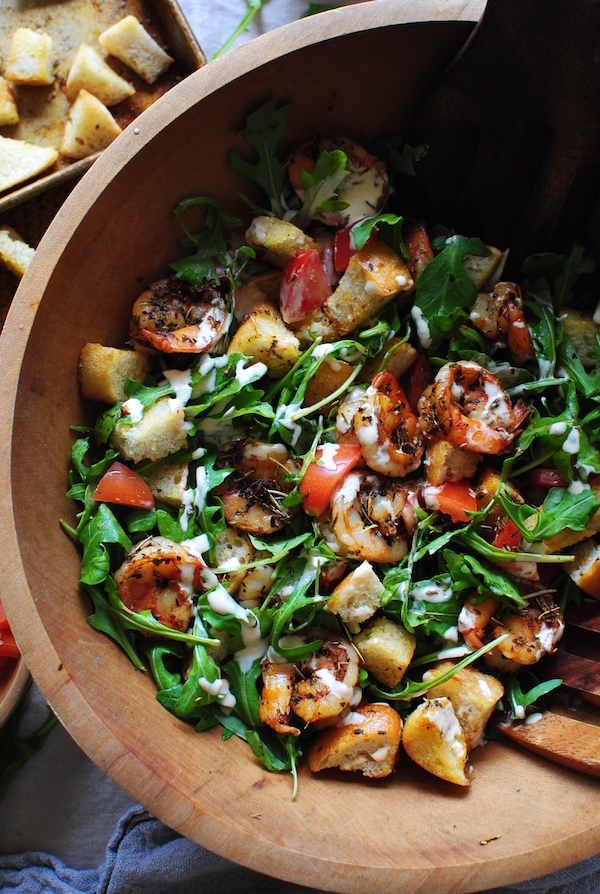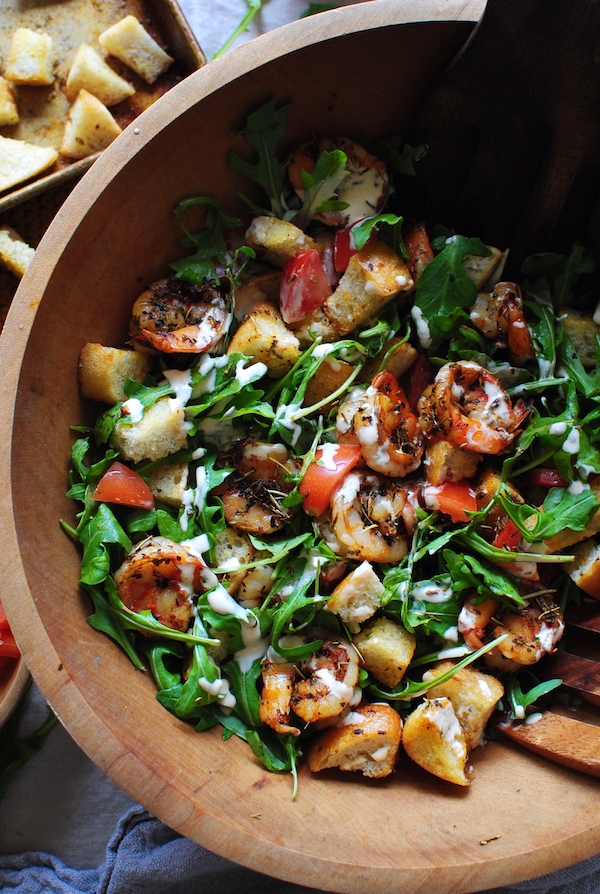 Do you salad night? I say it like it's a verb. But it is.
Salad night. It's an action!
We salad night once or twice a week, normally on Monday nights. I've been trying to jazz it up lately (don't tell anyone I just said jazz it up), as we usually make a few variations of Chicken Caesars from scratch. And they're great and all! But I just need moooooreeaaaaa.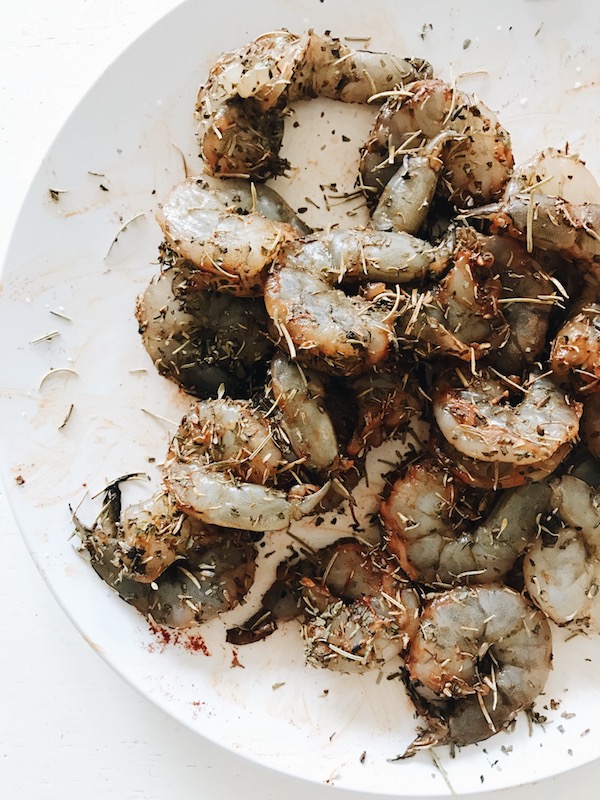 Remember that one episode in Felicity when Sean was trying to invent Shrimp yogurt? And Megan was like, "THAT'S A HORRIBLE IDEA. SHRIMP IS HIGH IN CHOLESTEROL AND IS THE DUCK OF THE SEA."
And Sean's like, "THAT'S NOT TRUE. SHRIMP HAS BOTH KINDS OF CHOLESTEROL, THE GOOD AND THE BAD." Only he didn't yell it like I am right now.
My point is, aren't you so glad this isn't shrimp yogurt?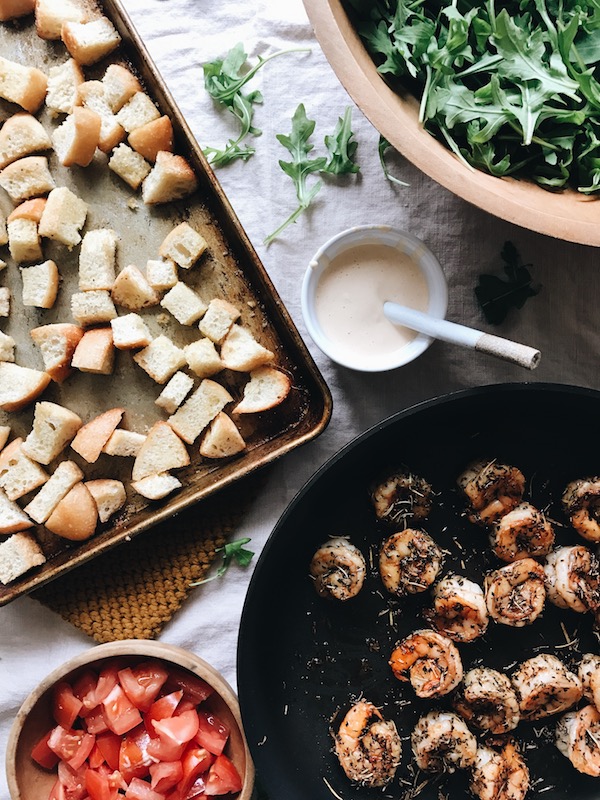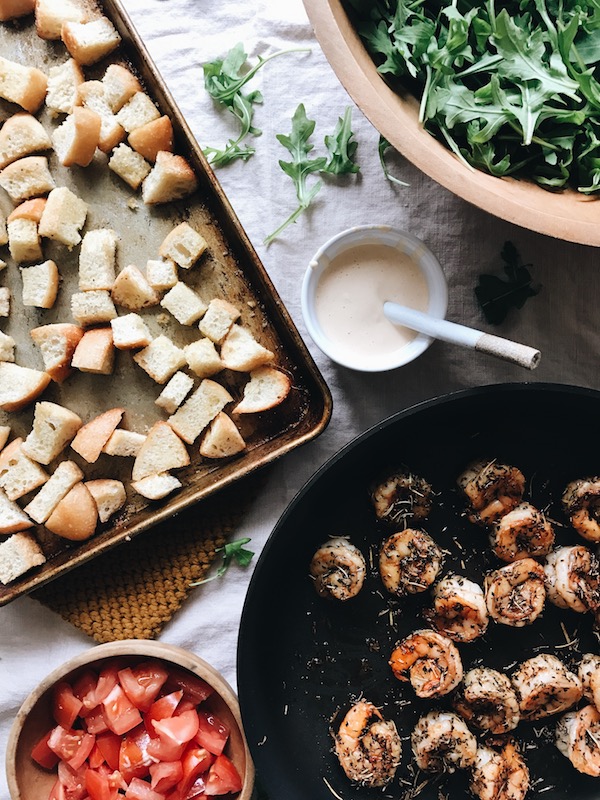 This salad. It's basically a rip off of the Shrimp Po' Boy recipe I posted 19453425 years ago. Only it's slightly more stripped-down and deconstructed, which should make your faces happy.
AND – you can control your carb intake a little more with this salad version, instead of shoving an entire sandwich in your head. Which is what I personally prefer, but that's neither hither nor nither.
You'll season and toast some crusty bread. (yay!)
You'll season and sear some shrimp. (extra yays!)
You'll make a crazy-easy spicy dressing to drizzle on the salad and your entire body. (all the yays!)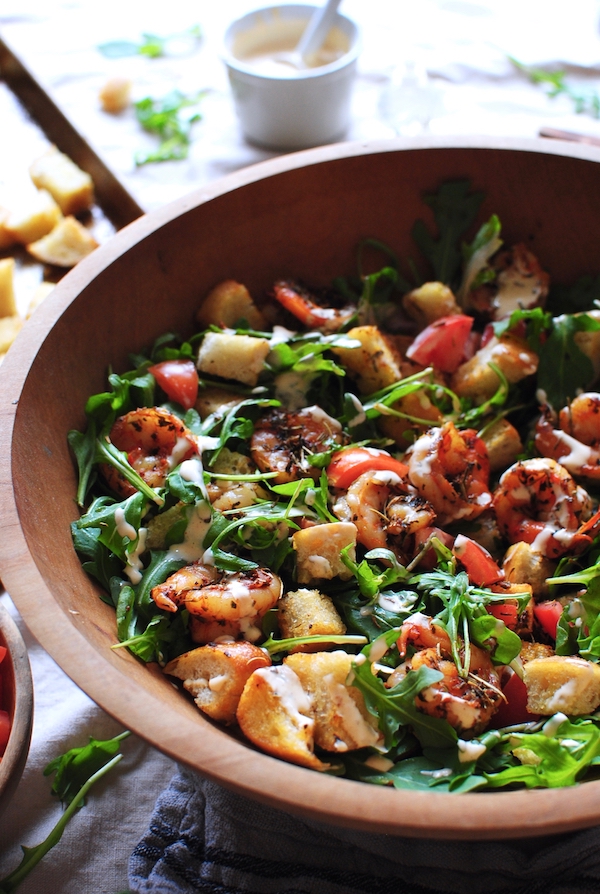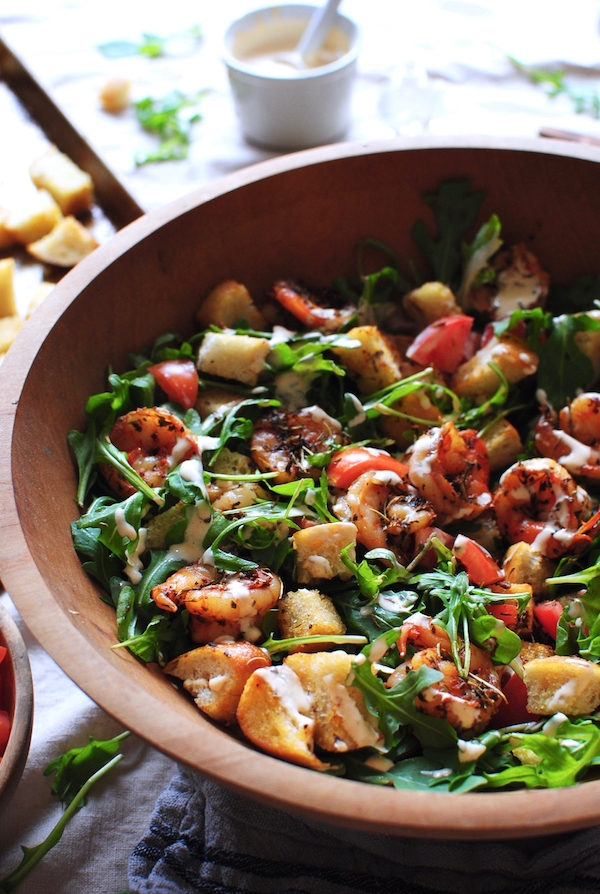 And then you'll toss it all with a bunk ton of arugula. If you're not into the peppery essence of arugula, you're still a good person. Just swap in some crunchy romaine or even some tender baby spinach.
And freshly chopped tomato! Don't skimp, pigeons. It makes a difference.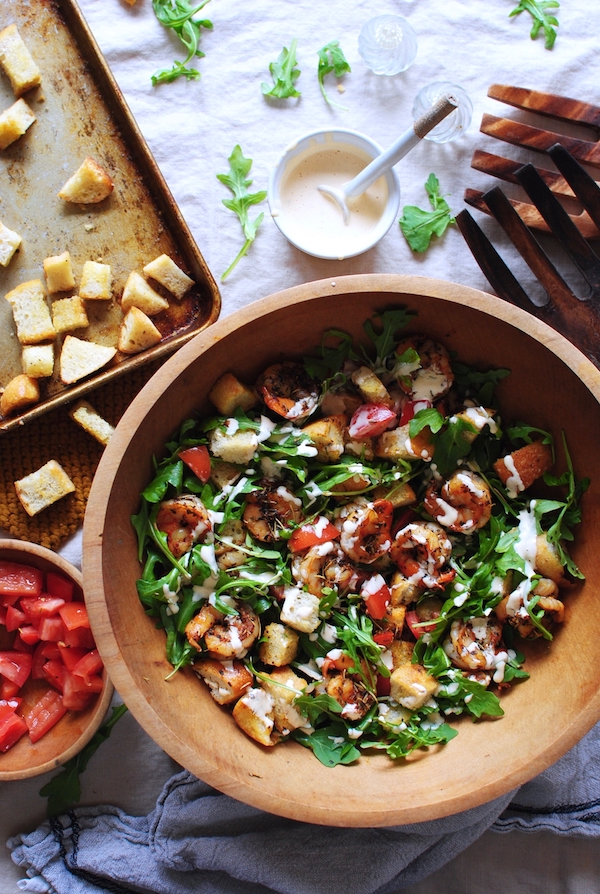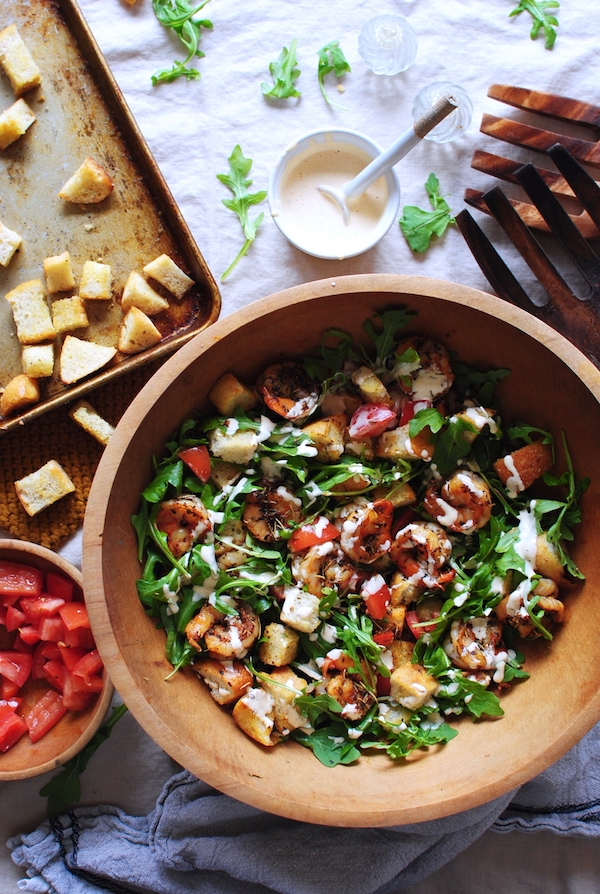 The dressing is soooooososososo good. It's mayo + hot sauce + a little bit of lemon juice. Just whisk it together until you can taste your tears.
The flavors of this salad are going to straight freak you out. There's that little hint of bright heat that's just so glorious drizzled on the toasted crusty bread. And the shrimp, almost blackened with Herbes de Provence, youuuuuuuu guyz.
Doesn't your salad night need a po' boy makeover?
Me thinks so.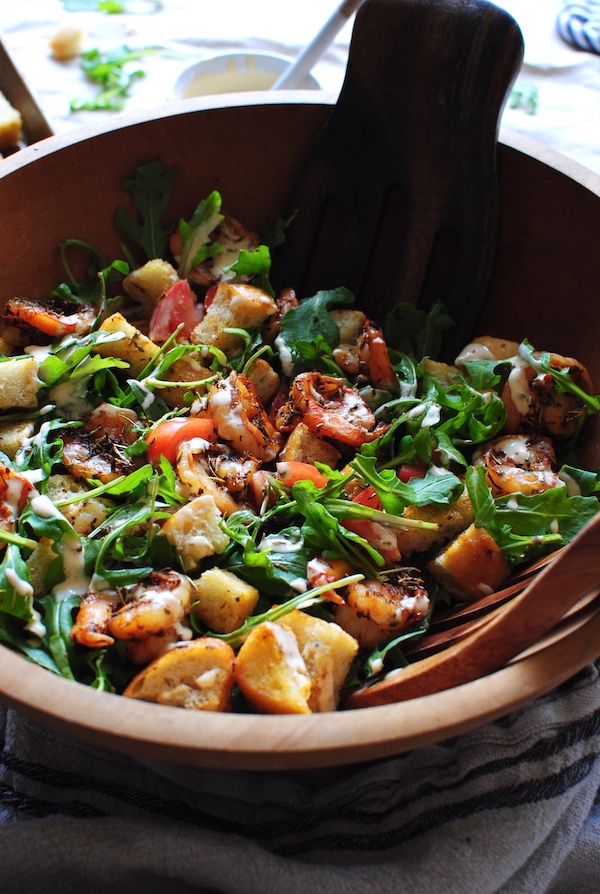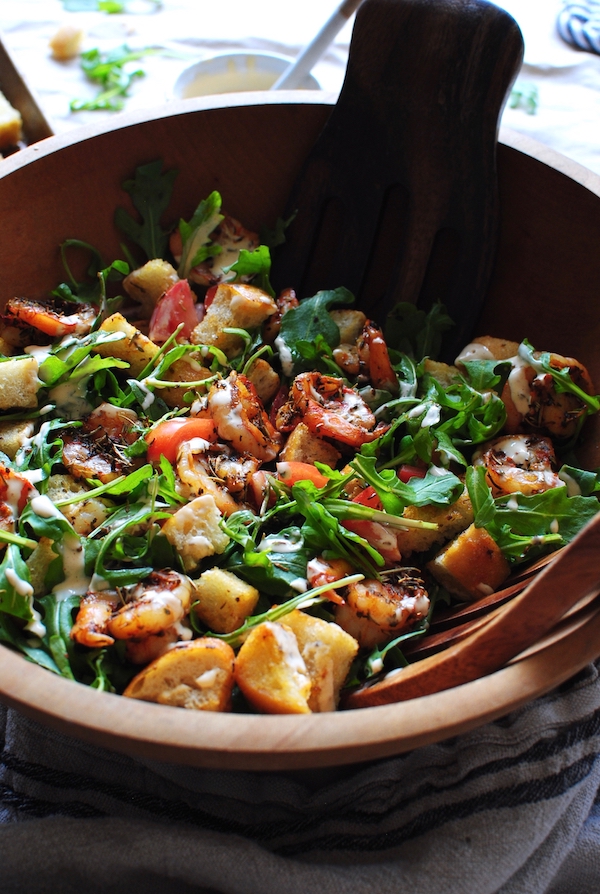 SO glad this isn't shrimp yogurt.
Shrimp Po' Boy Panzanella
Ingredients
3 cups crusty bread cubes (cut from any bread you like! I chose ciabatta)
1 tsp garlic powder
1 tsp onion powder
1 pinch of salt and pepper
1 Tbs. extra-virgin olive oil
1 pound shrimp, thawed and deveined
2 Tbs. Herbes de Provence
1 tsp smoked paprika
1 pinch salt and pepper
4 Tbs. mayonnaise
Juice from half a lemon
1 tsp hot sauce
1 (5 oz) tub arugula
1 1/2 cups chopped roma tomatoes
Instructions
Preheat oven to 350.
In a medium bowl, sprinkle the shrimp with the Herbes de Provence, smoked paprika and a small pinch of salt and pepper. Let sit about 15 minutes. (You'll prepare the bread in the next step now!)
Heat a drizzle of oil in a medium skillet, and sear the shrimp on both sides until you get some good charring. About five minutes tops.
In a small bowl, combine the garlic powder, onion powder, a pinch of salt and pepper. Place the cubed bread on a large baking sheet, and evenly sprinkle the seasonings over it. Drizzle with a Tbs. of oil, and bake 10-15 minutes, until golden brown and slightly crunchy.
In another small bowl, whisk together the mayo, lemon juice and hot sauce. Add more hot sauce if you like the heat!
In a large salad bowl, combine the baby arugula, chopped tomato, seared shrimp and toasted bread. Toss together and drizzle the creamy dressing over the top. Serve immediately! You'll flip out.
Serves four. Or two, if you want B I G salads.
7.8.1.2
76
https://bevcooks.com/2017/03/shrimp-po-boy-panzanella/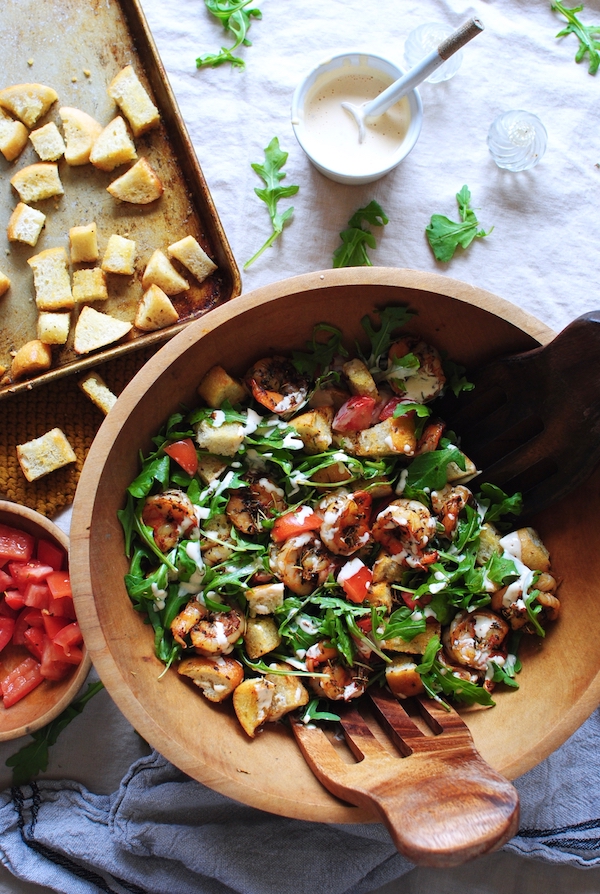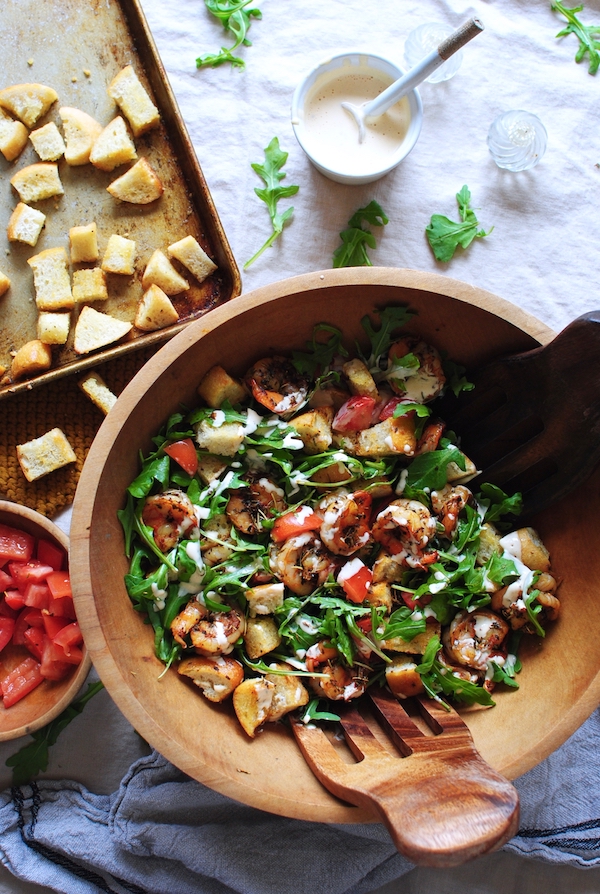 Now I want to po' boy everything.