Um, enter at your own delicious, delicious risk.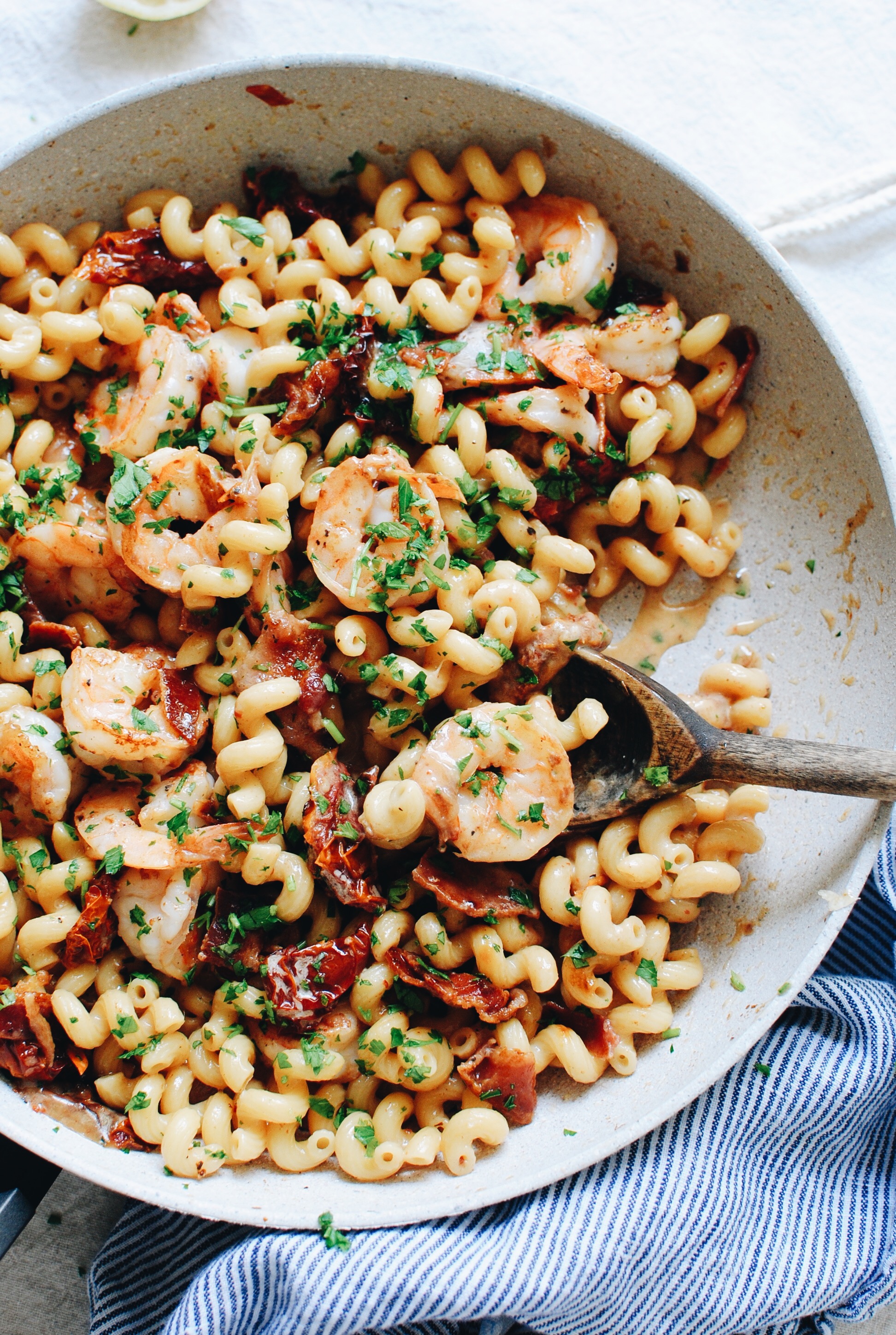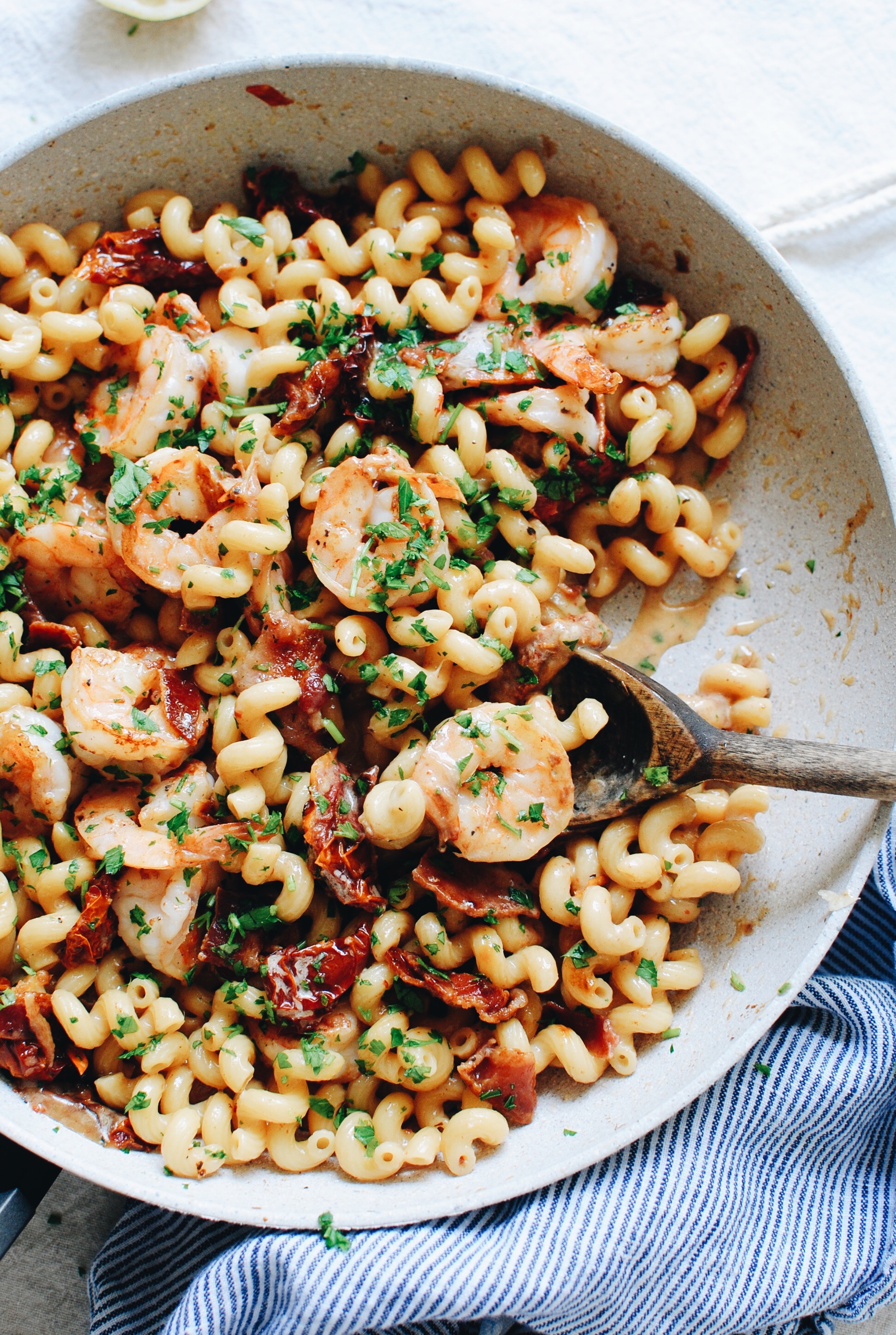 BECAUSE THIS IS ILLEGALLY GOOD.
It's one of those recipes with that total booming umami combo, ya know. Bacon, sun-dried tomatoes, REAL BUTTER (not the fake alien stuff in the tub. go real. always real.), shrimp, fresh lemon, cheddar cheese and the curliest pasta ya ever did see.
There's just no way you're not going to want to punch this meal square in the face over and over. With your mouth.
Let's look at this.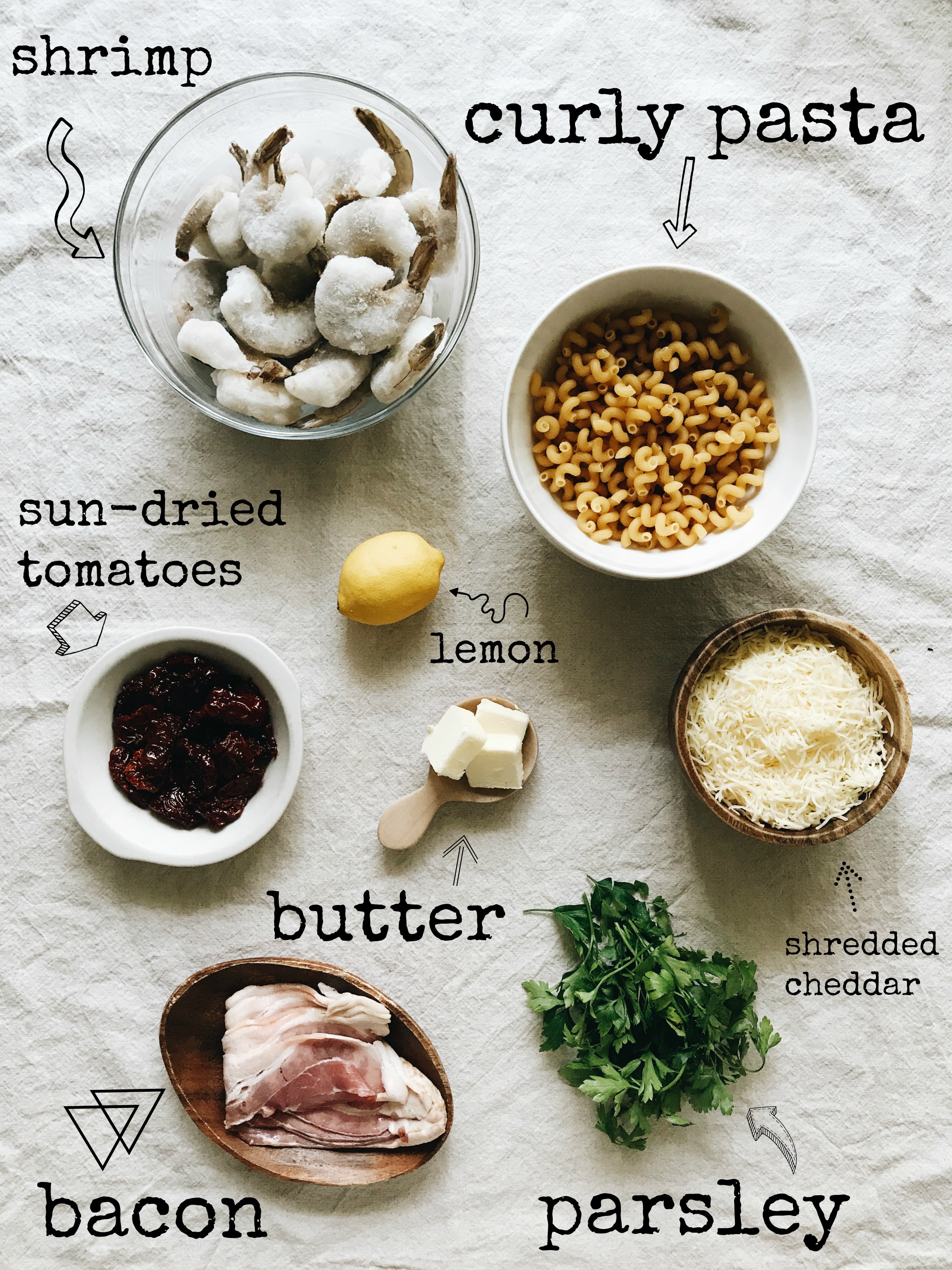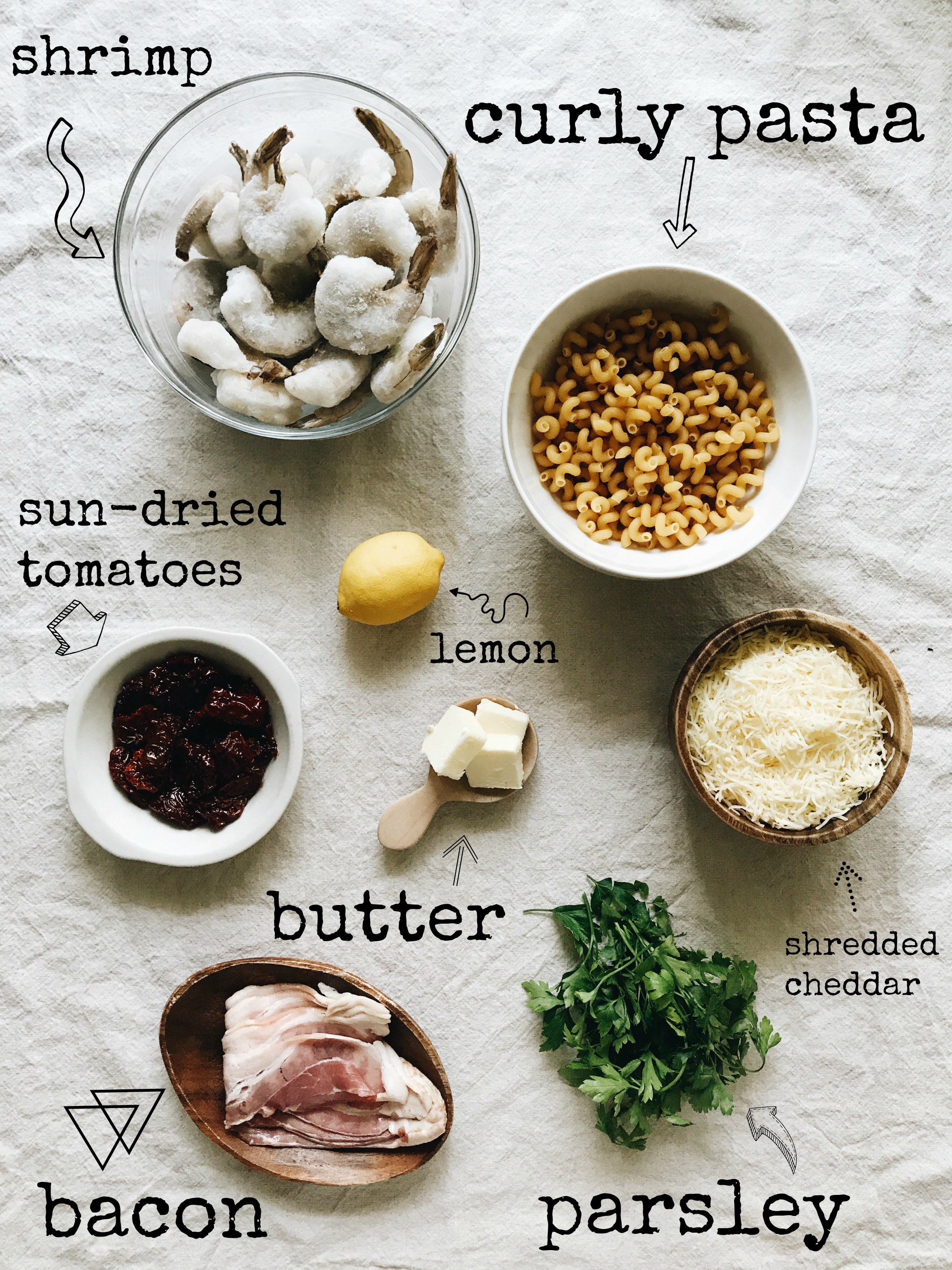 The amazing thing IS, it's also one of those kitchen sink meals. That Sunday night-style dinner when you violently rip everything out of your fridge and pantry in an unruly fit of tears, slop it together all willy nilly, and end up with the most incredible concoction you've ever made in your entire life. It's that! You always have this stuff on hand.
But if you don't you're still a good person.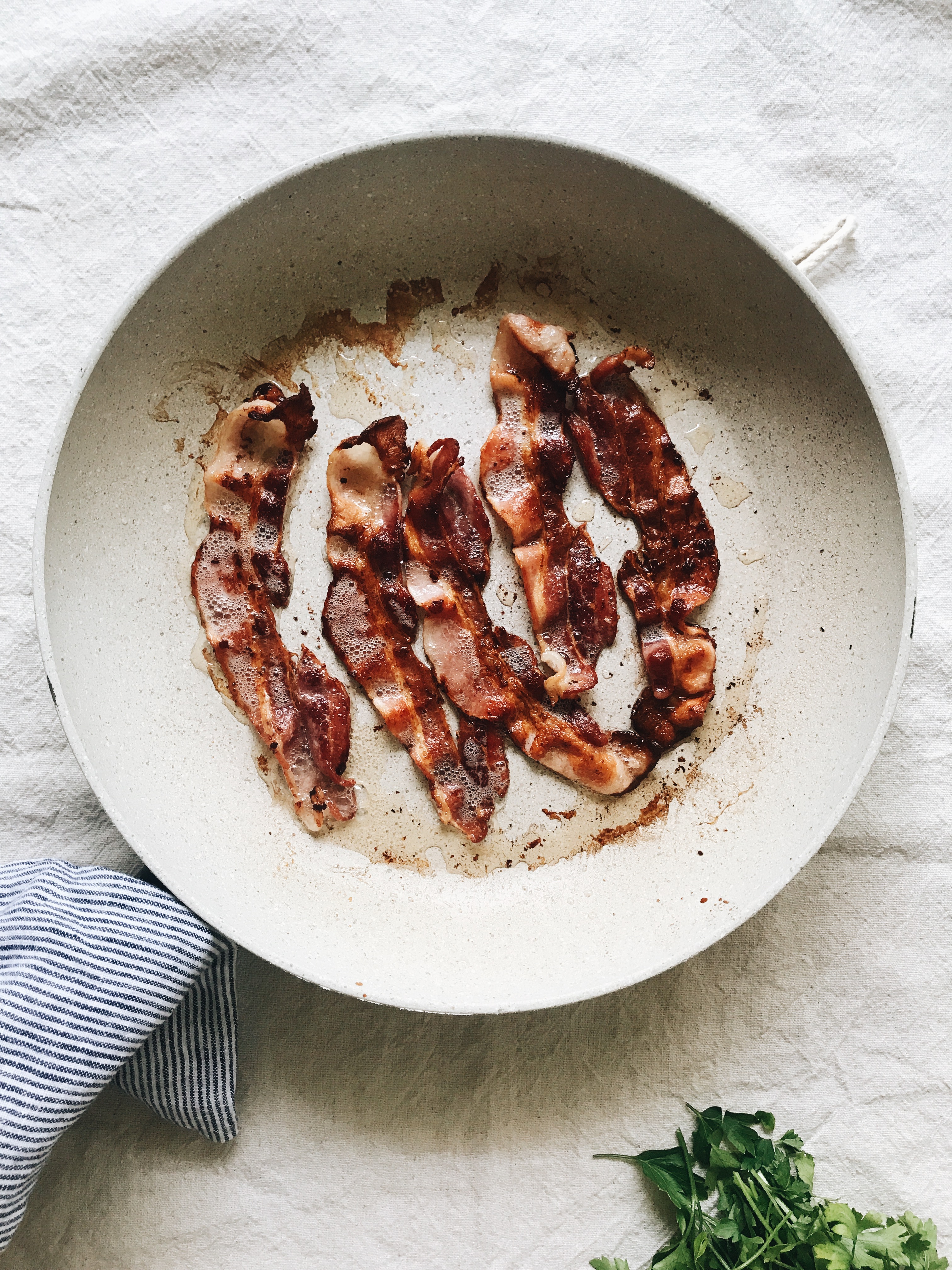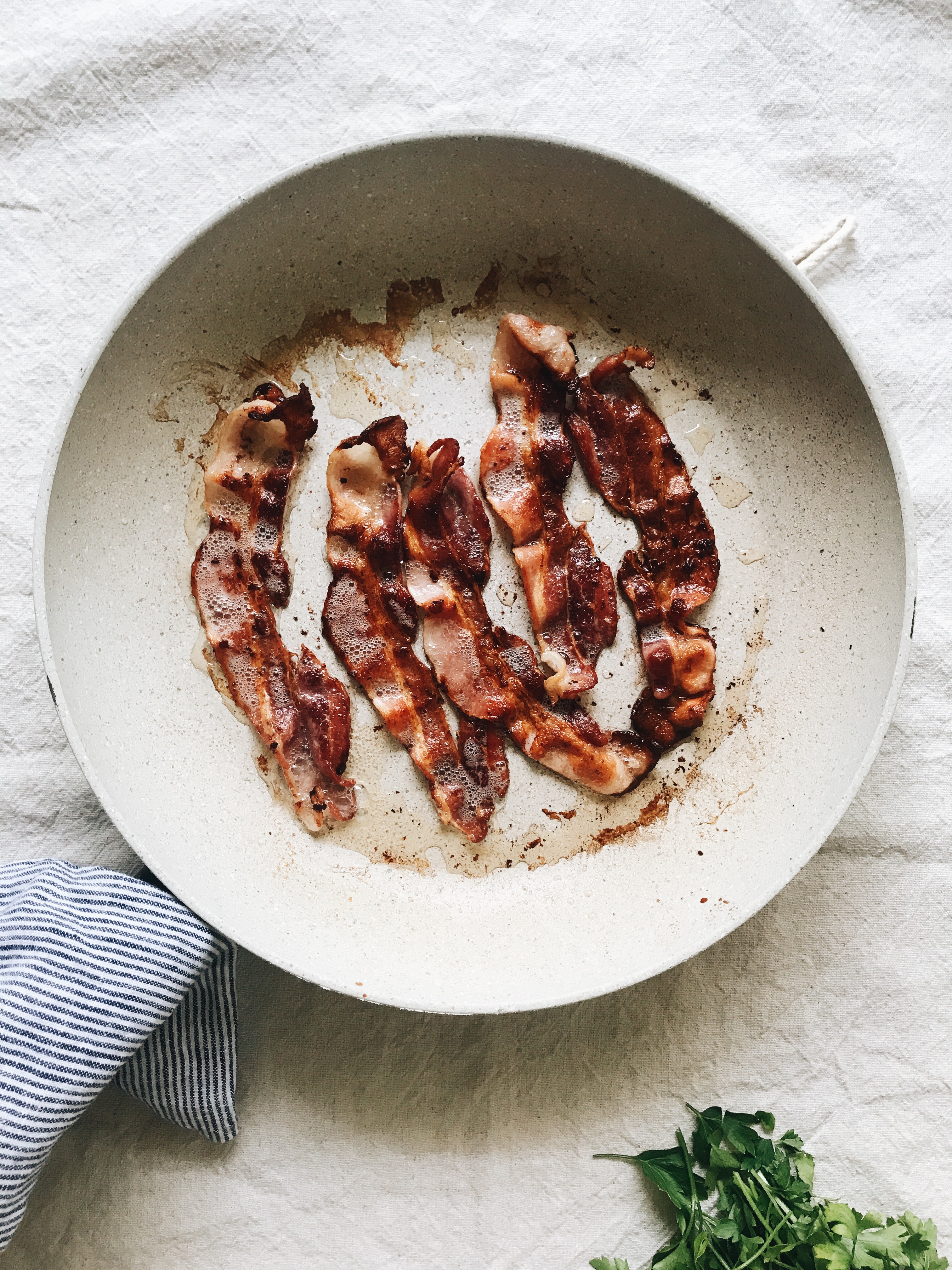 Fry that bacon, man!
This is why commas are important. Fry that bacon man! That bacon man? What's a bacon man? That poor man. I hope he feels better.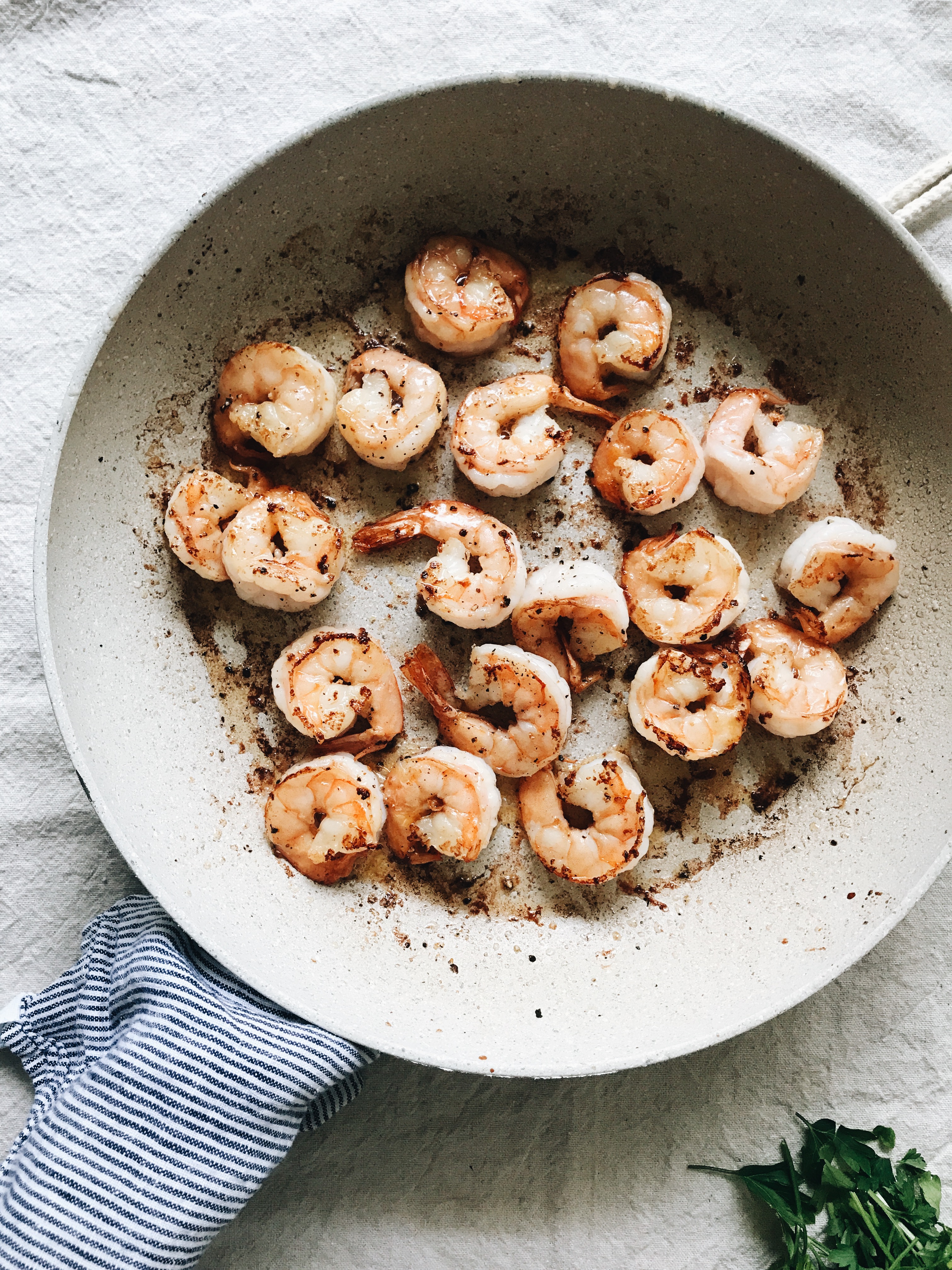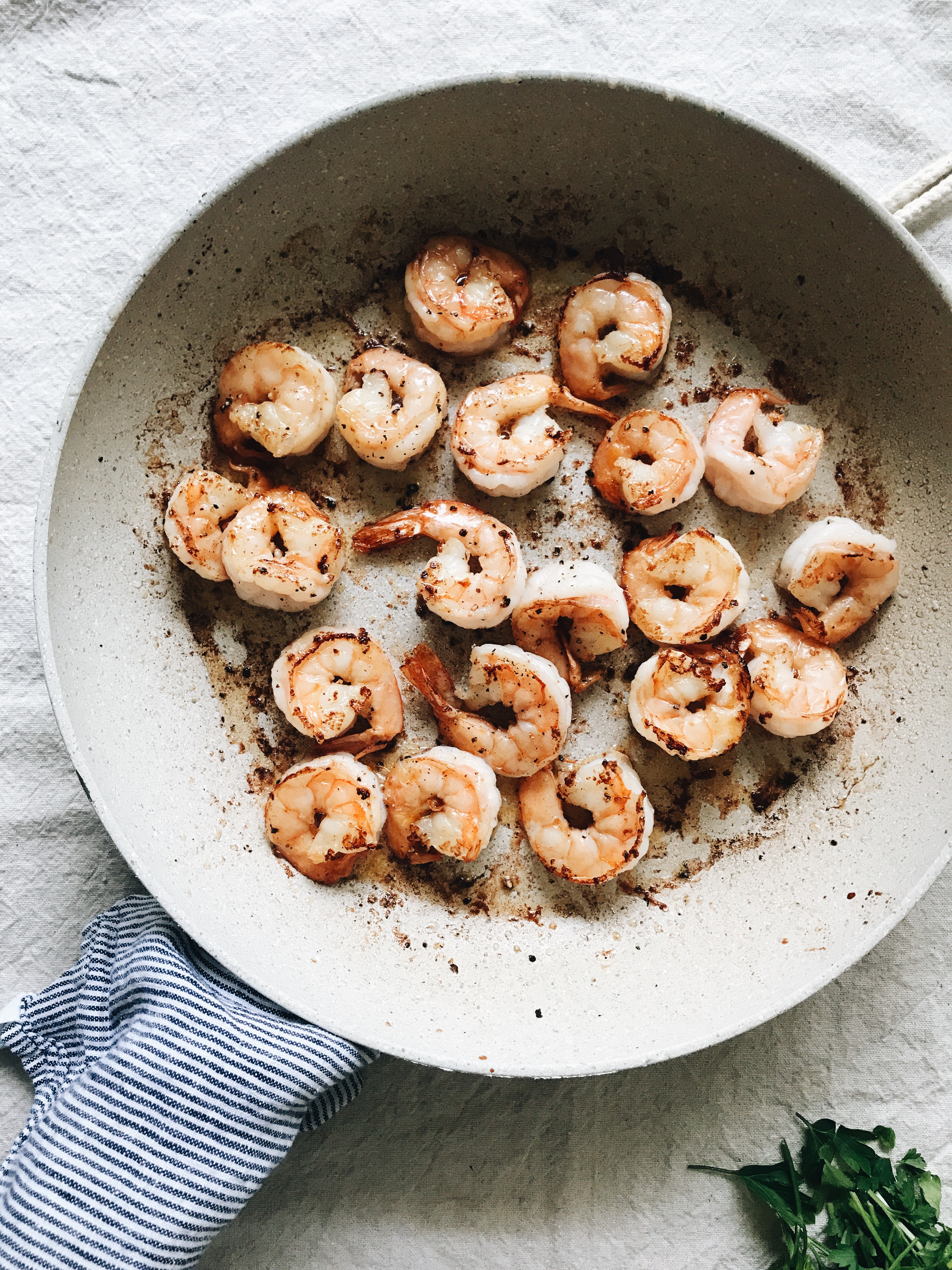 So now you're at this point in your life where you make a decision. And this decision is what brings complete fulfillment to your soul. You'll pour out just enough bacon grease where you have a light coating in your pan, and then you'll add 2 Tbs. of real butter. You may be asking yourself, "Wow, Bev. Bacon grease AND butter? How are you not president of this country?"
Guys, I know.
Sear that shrimp, brah. (not to be confused with, "sear that shrimp brah.")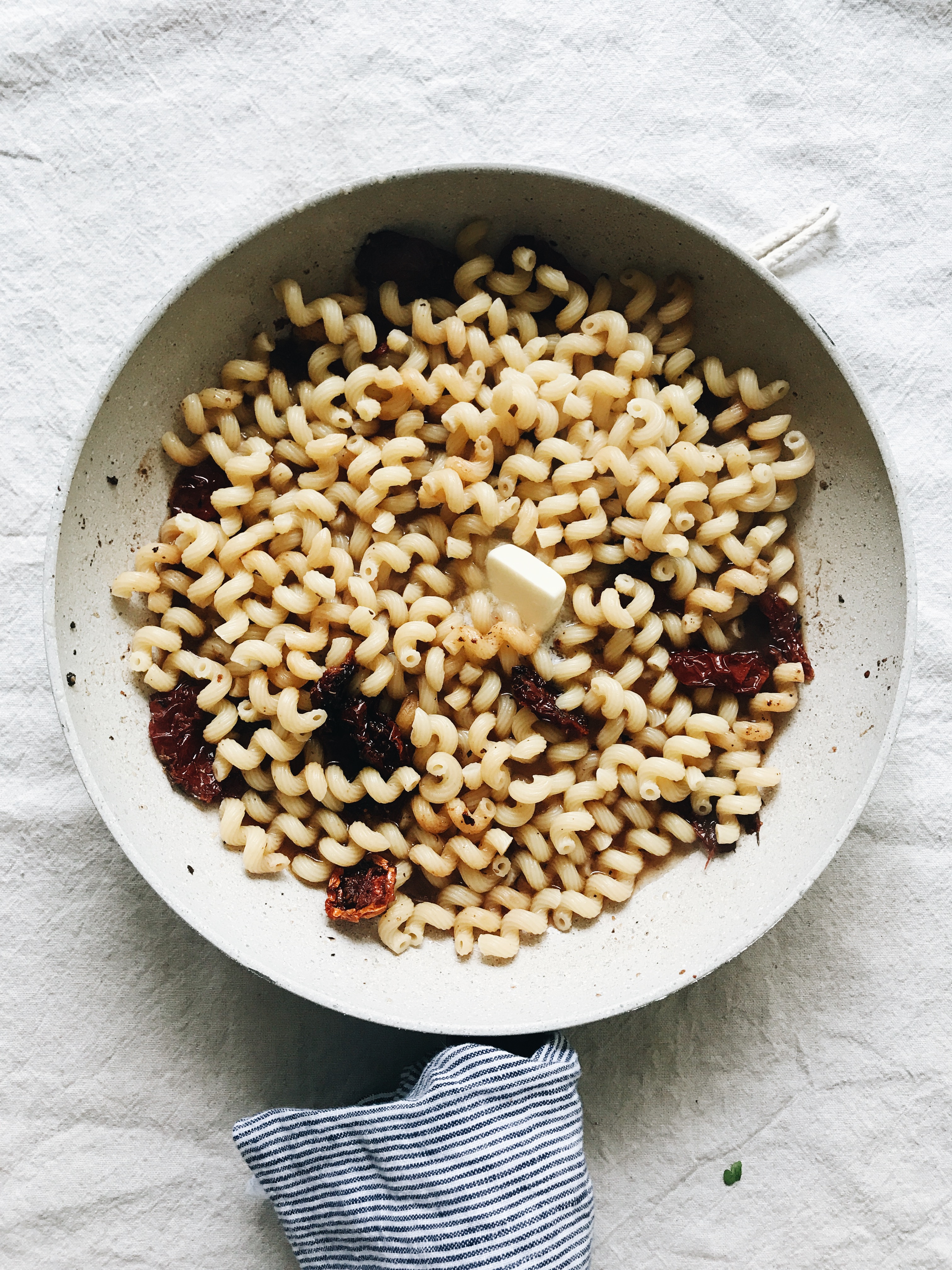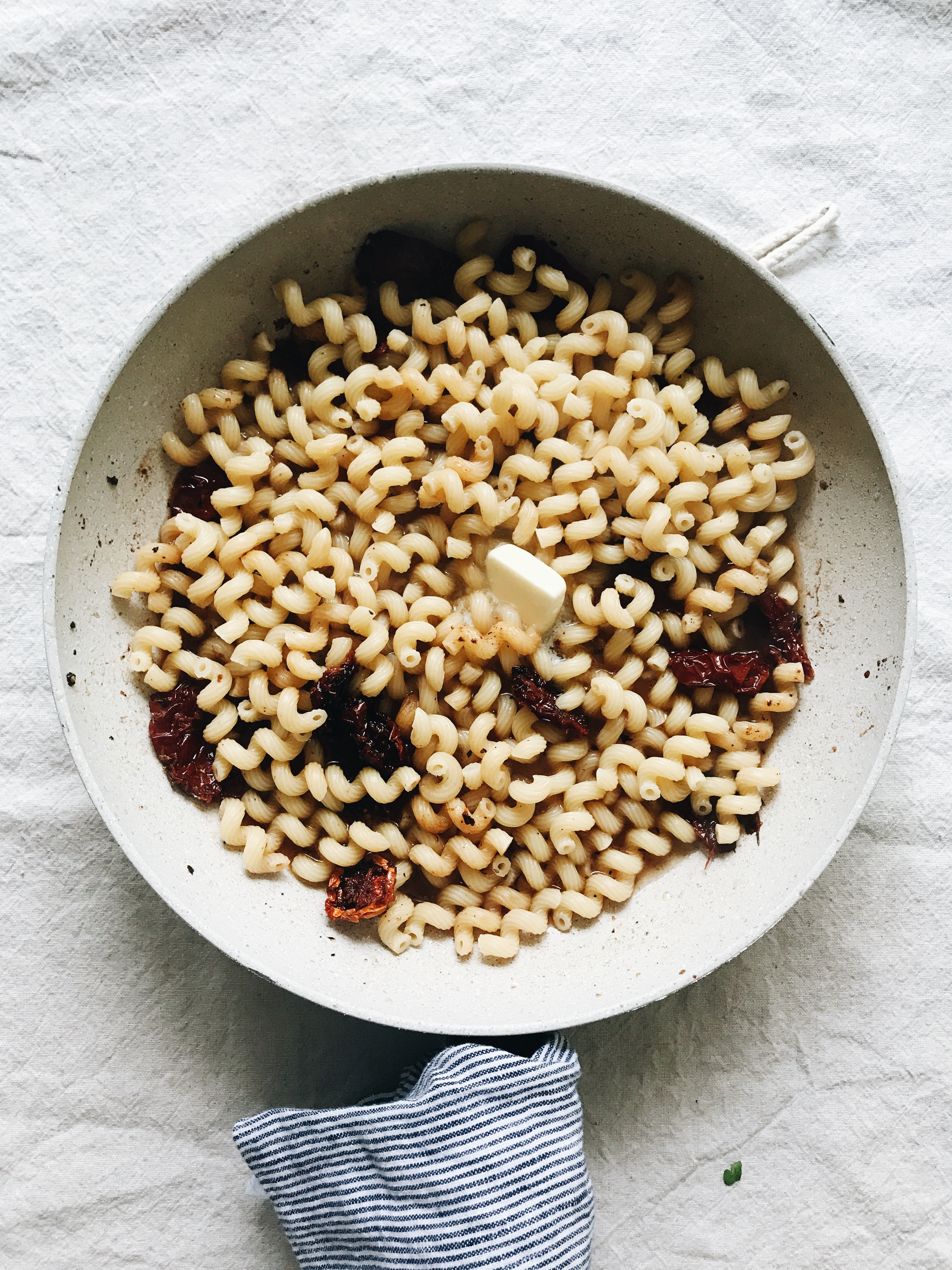 Take the shrimpies out and add in the sun-dried tomatoes! These are the kind that are IN THE OIL, so if a little bit of the flavored oil gets poured into the pan, this is not a bad thing. Yes, bacon grease + butter + a smidge of flavored oil. Angels are spreading their wings.
Then you'll add in the cooked curly sue pasta.
AND THEN ANOTHER TABLESPOON OF REAL BUTTER because I want only good things for you.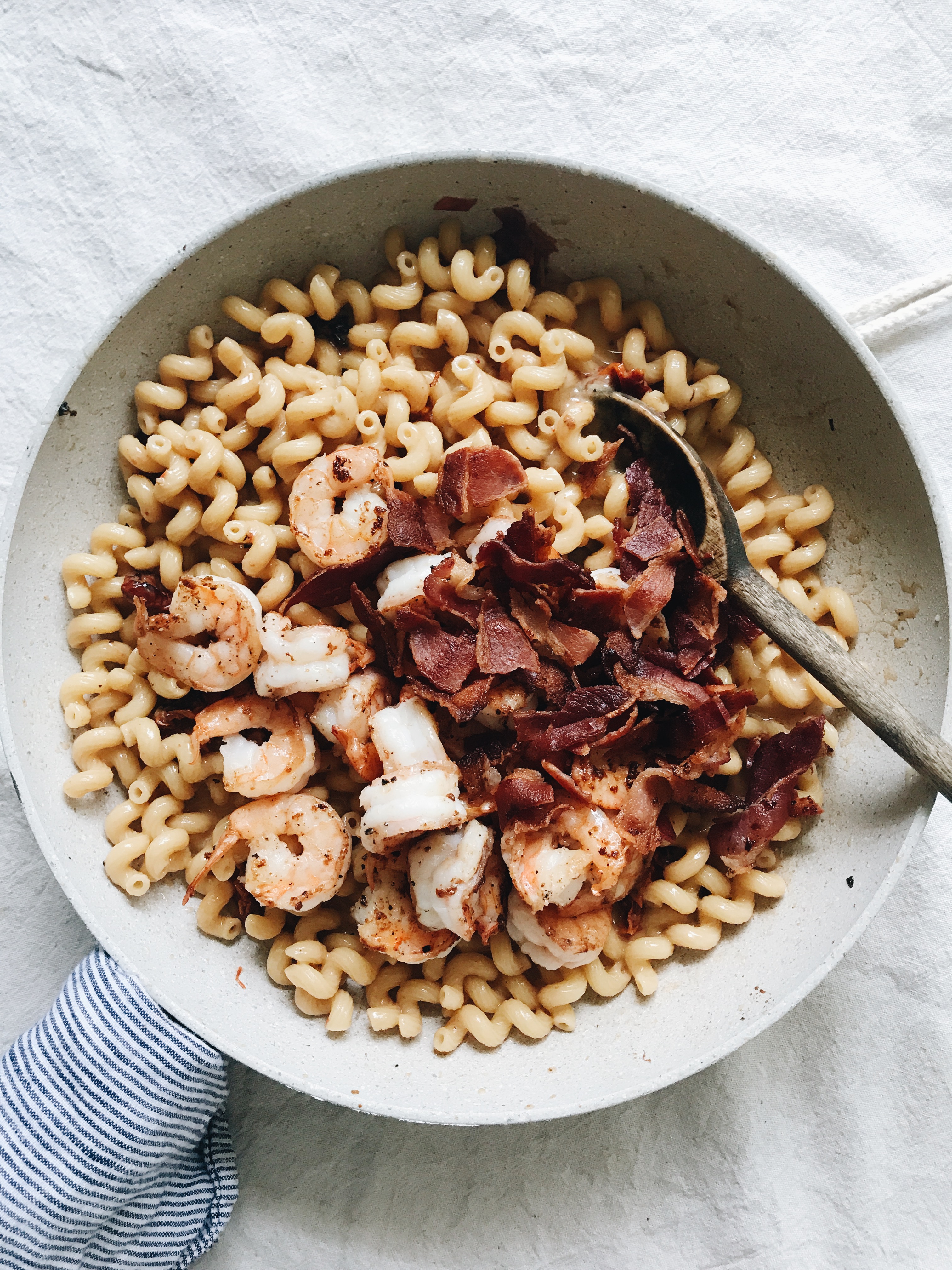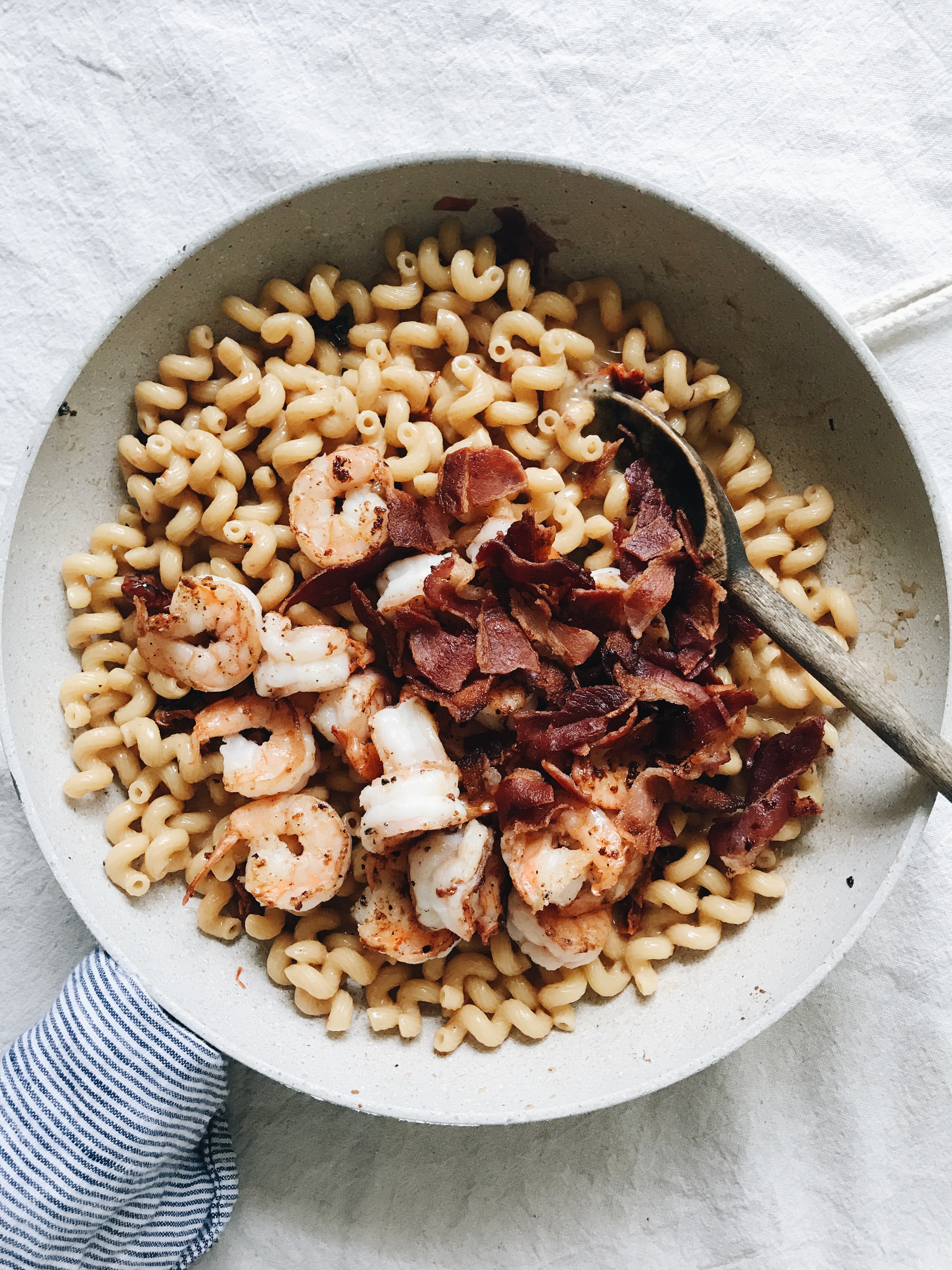 Theeeeen you'll add in a cup and a half of shredded cheddar cheese. Yes ma'am. Things are really taking a turn for you about now. I will say, my cheese was from a bag, and it was thinly shredded white cheddar. But throw in whatever makes you sob like a baby.
And then add that shrimp and bacon back.
And watch that cheese melt and become ooey gooey one with the pasta, omg.
Then add the juice of half a lemon! HEY-OHHHHHH.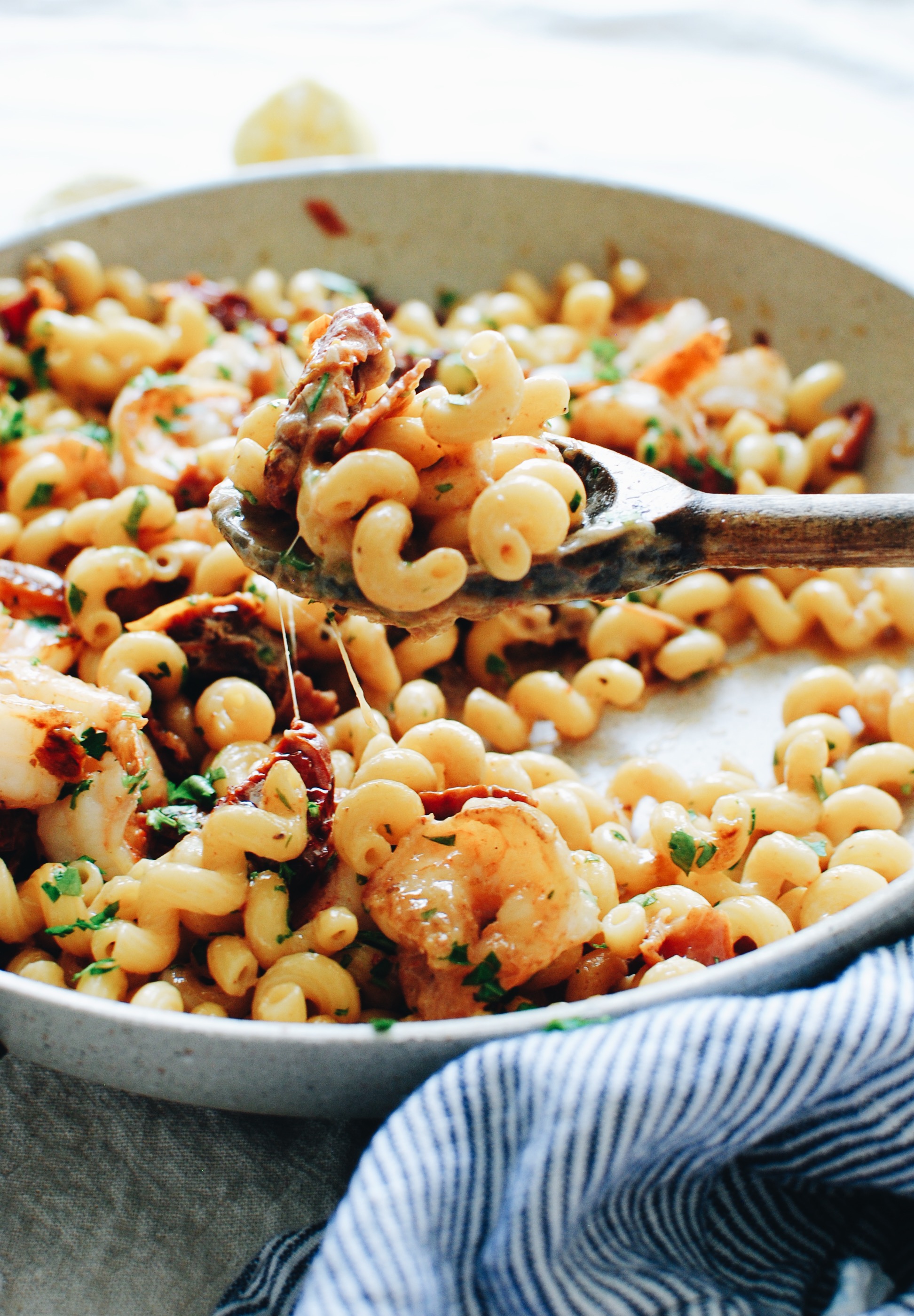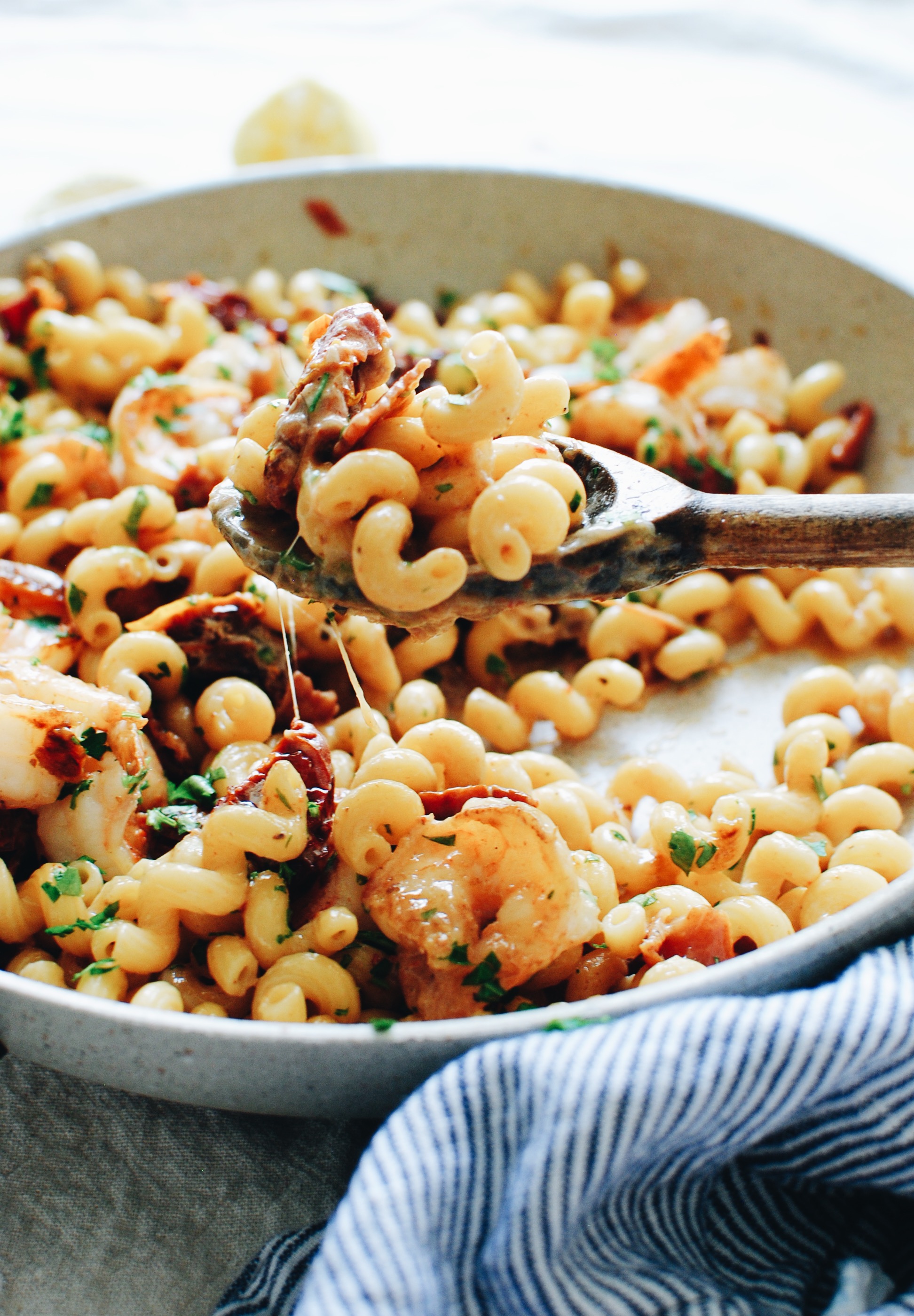 Holy mother of mothers.
Indulgent? Totally.
Calorie-loaded? Absolutely.
Completely and utterly fantastic and face punchingly wonderful? YUH.
A new life path that your mouth will thank you for the rest of your time on this earth? OBVIOUSLY.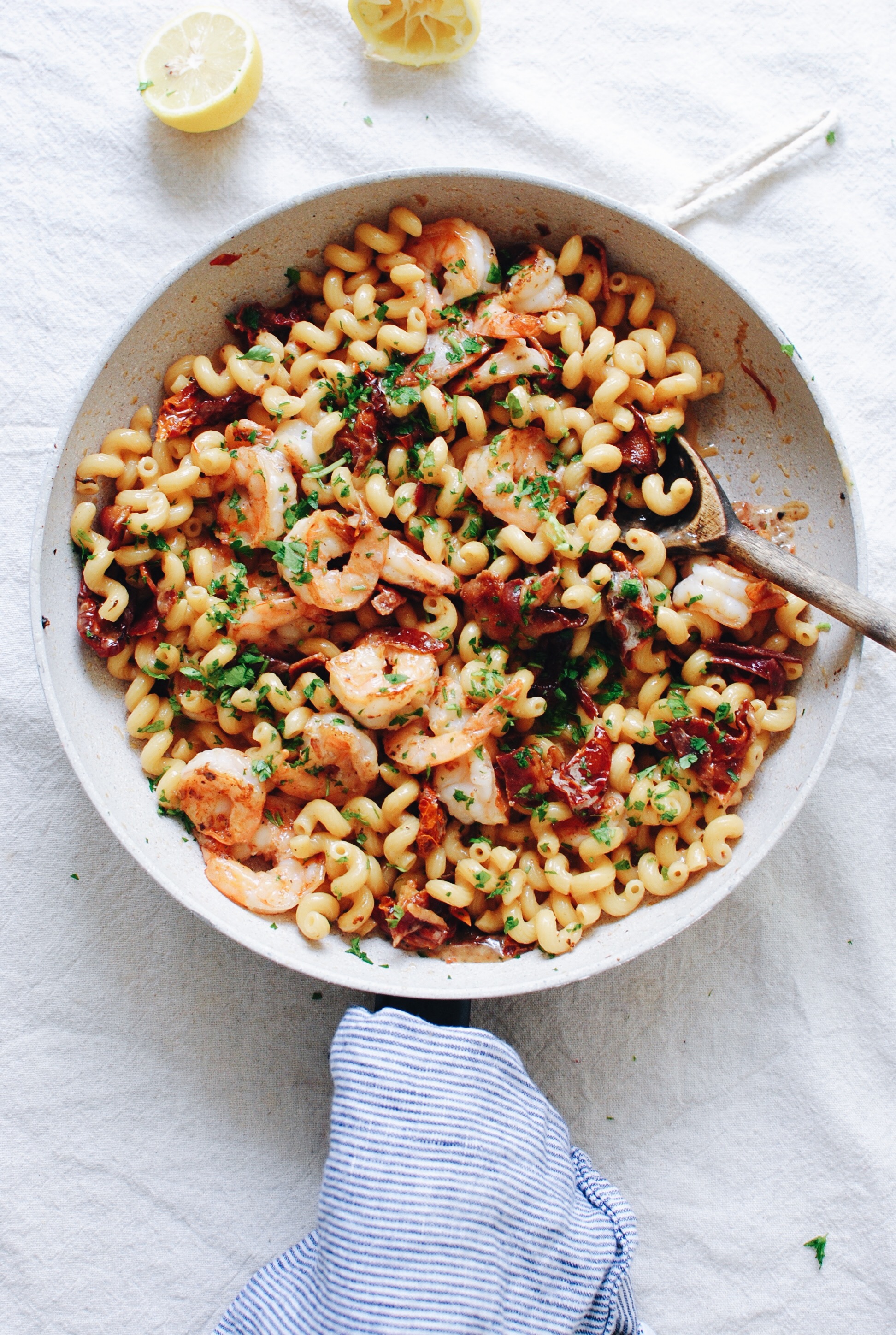 You're welcome.
Cheesy Shrimp Pasta with Sun-Dried Tomatoes and Bacon
Ingredients
5 slices bacon
3 Tbs. butter, divided
1 pound frozen shrimp, thawed, peeled and deveined
1/2 cup sun-dried tomatoes (in oil)
2 cups curly pasta (anything works!)
1/2 cup chicken stock
6 oz shredded cheddar cheese
1 lemon
Freshly chopped parsley, for garnish
Coarse salt
Instructions
Bring a large pot of salted water to a boil. Cook the pasta until al dente, reserving 1/2 cup of pasta water.
In the meantime, render the bacon until crispy. Let the bacon drain on paper towels, and pour out most of the bacon grease, leaving about a tsp in the pan. Add 2 Tbs. of butter, letting it sizzle and melt. Then add the shrimp in a single layer, along with a pinch of coarse salt. Sear for two minutes on a medium-high heat, then flip, salt and sear another minute. You want those pretty sear marks on both sides. Remove the shrimp from the pan.
To the pan, add the sun-dried tomatoes, and let them sauté about 30 seconds, until fragrant. Then add in the cooked pasta, along with 1/2 cup reserved pasta water and the chicken stock. It will feel soupy at first, but the pasta will soon absorb the liquid. Add the shredded cheese and stir until the sauce thickens and becomes totally luscious. Oh and, add that last Tbs. of butter. YES YOU DID.
Add back the shrimp and bacon (that you've broken into pieces), and give it all a good stir. Add the juice from half the lemon and give it a taste. Have you gone numb? I know.
Garnish with parsley and inhale immediately.
Serves four happy, happy people.
7.8.1.2
174
https://bevcooks.com/2018/08/cheesy-shrimp-pasta-with-sun-dried-tomatoes-and-bacon/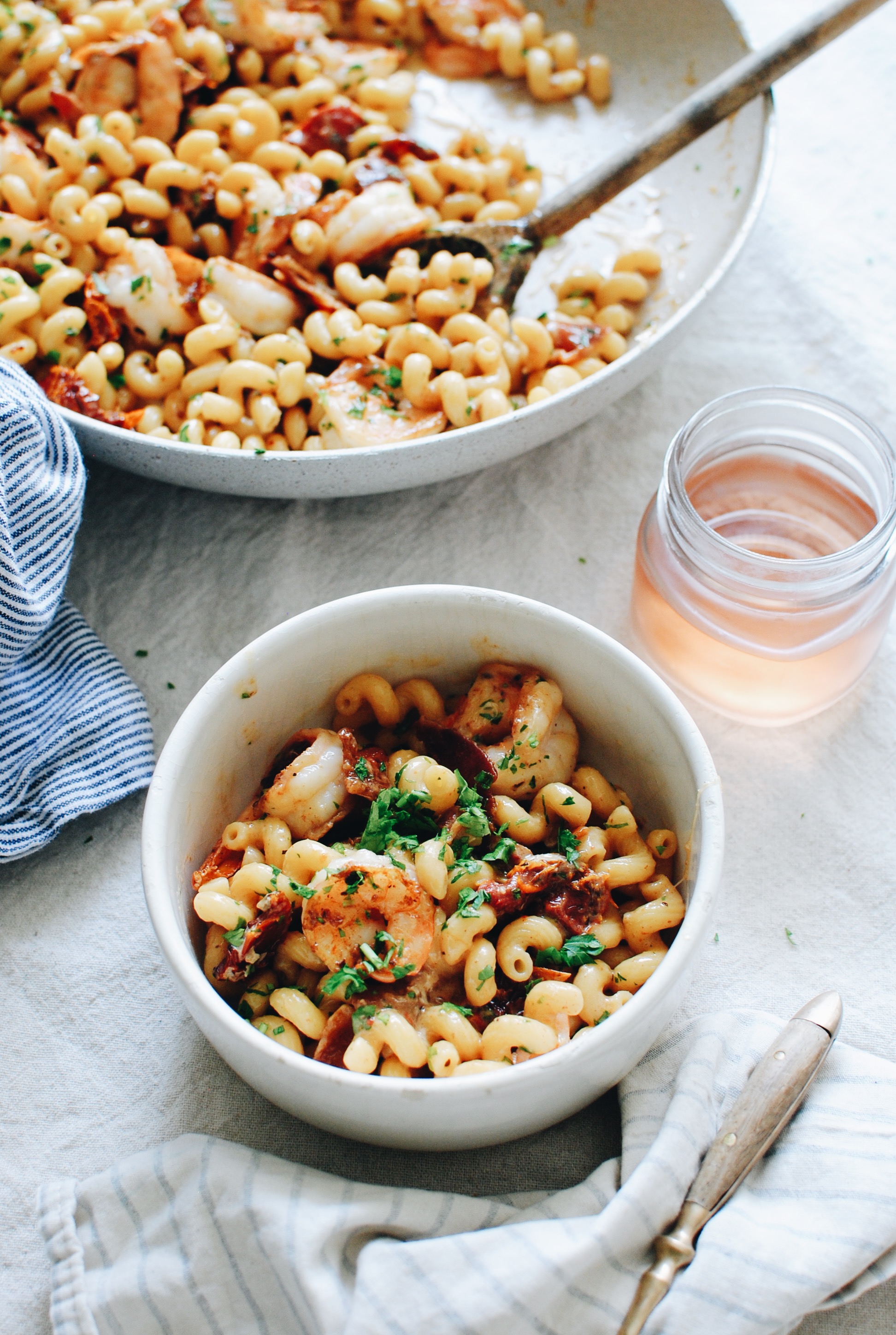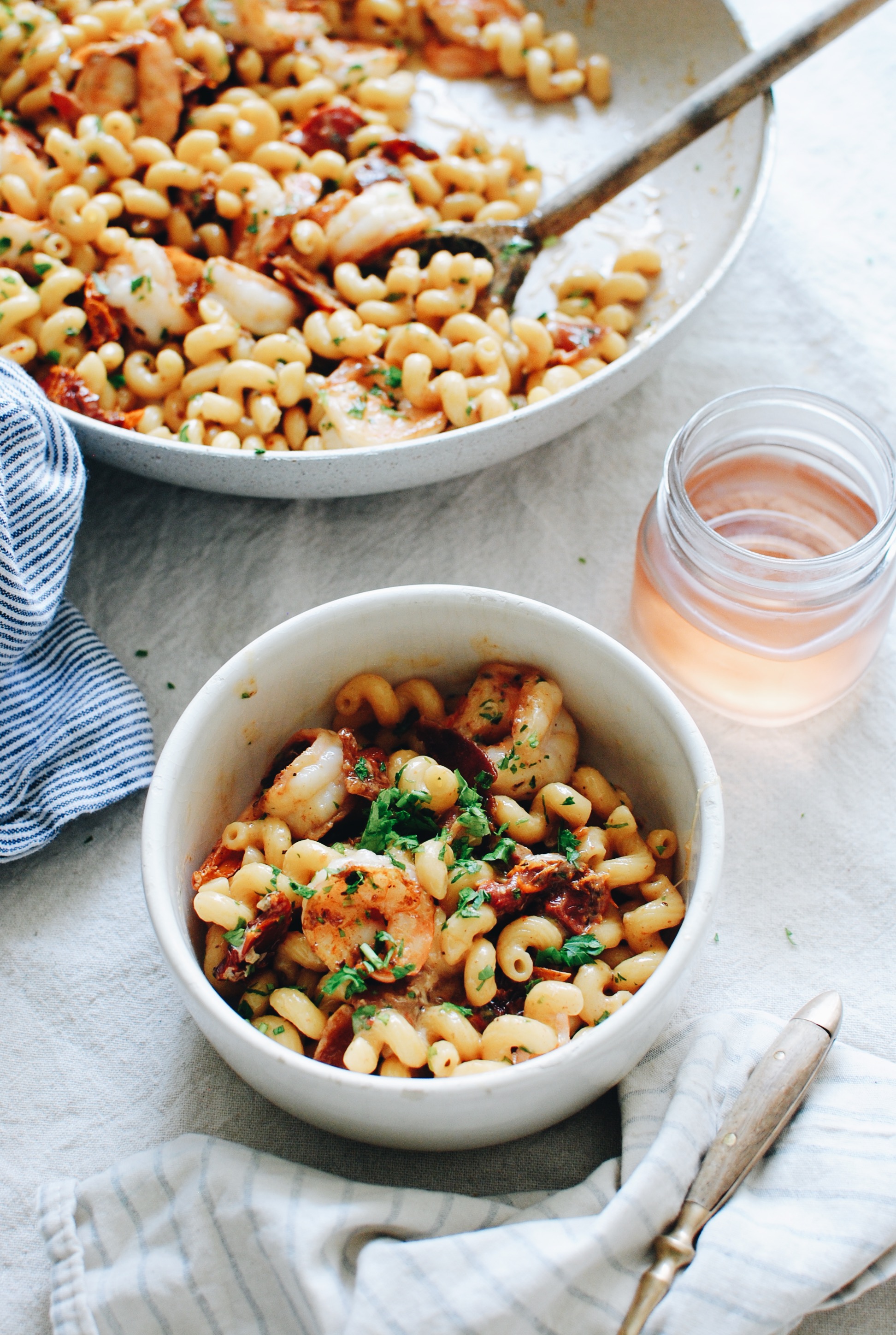 I'm basically begging you. ^^
(This post is definitely in partnership with my lover, Real Butter. But all opinions and butter slurpings are totally my own. We coo?)