JUST look at that crunch.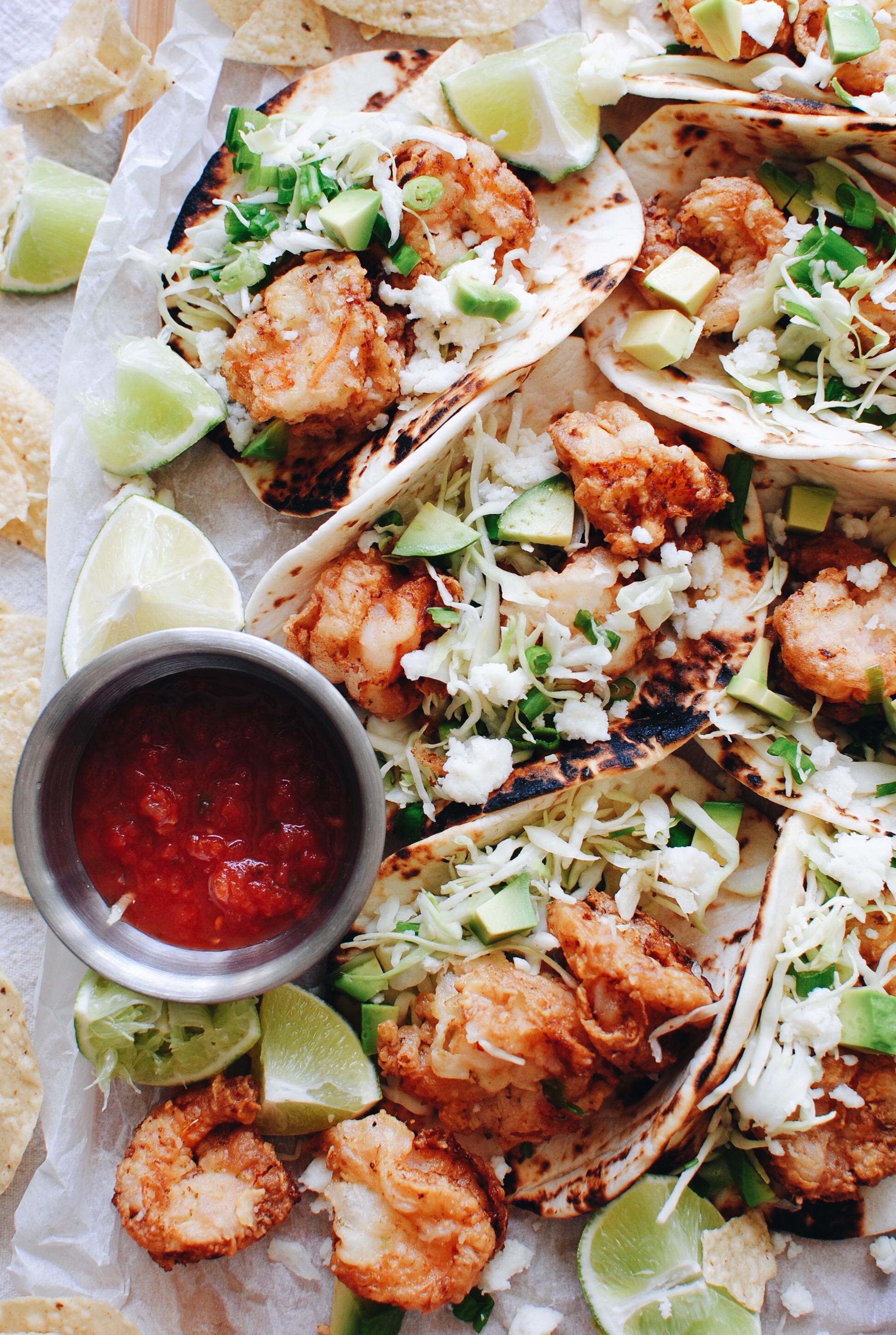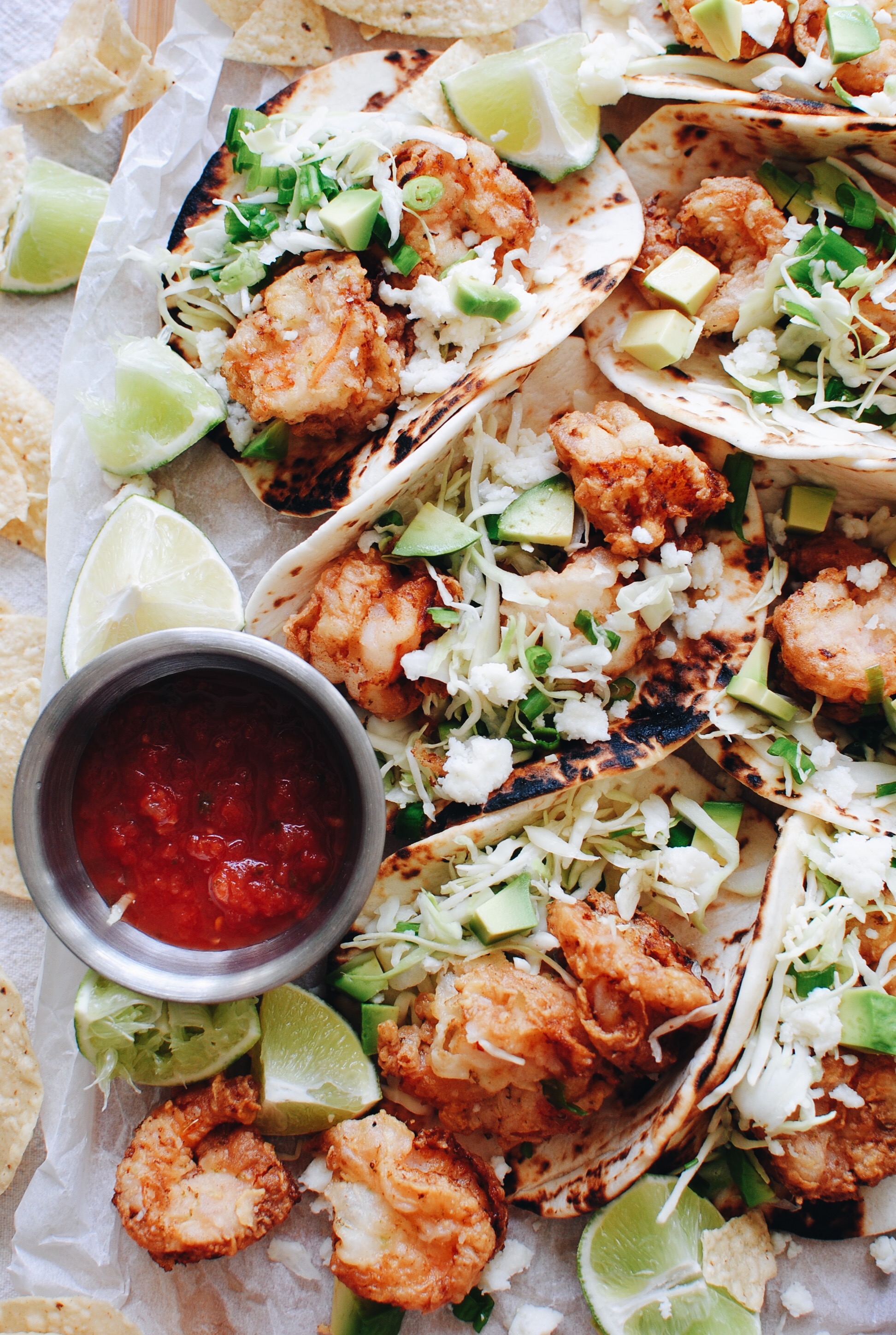 Because yeah, we're frying. (!) Flash frying. (!!) And I don't think anyone can get upset about it.
Unless you hate life.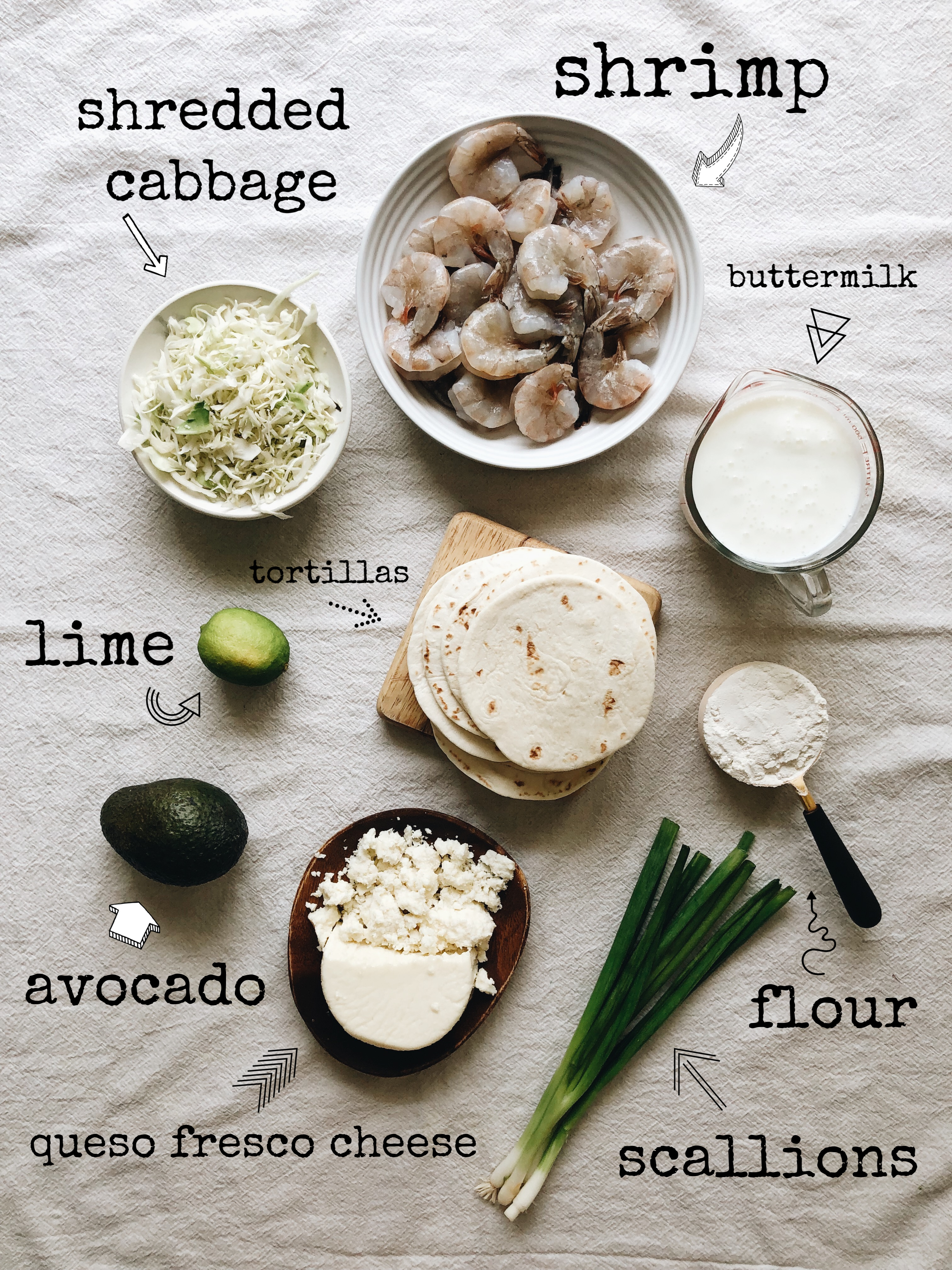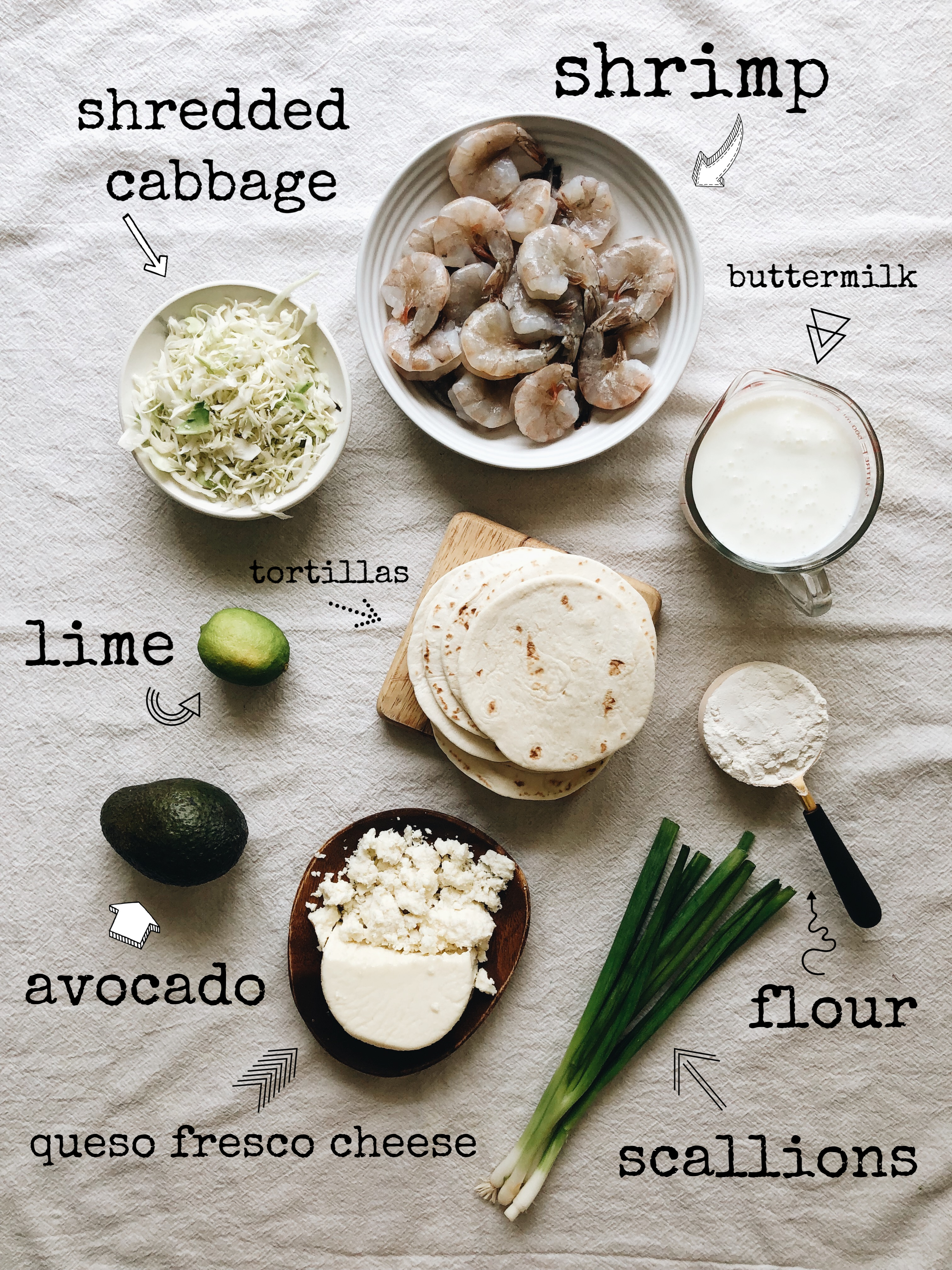 Beyond THAT plot twist, listen to what we're doing with the shrimp. We're marinating in buttermilk. Buttermilk! Remember my Buttermilk Cornish Game Hens from back in January? It's like that, but with shrimp. And flash fried. Glory frickin' be.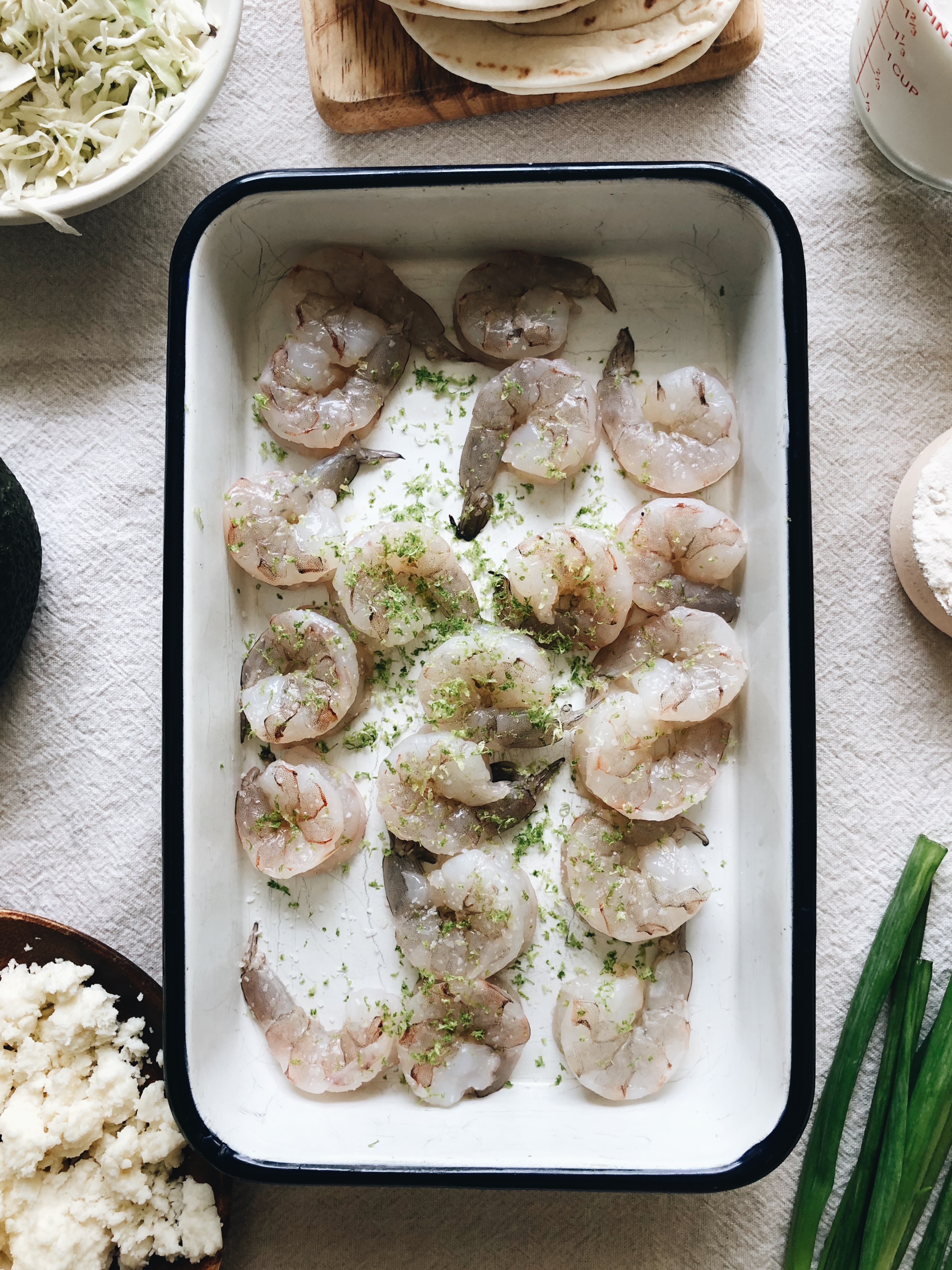 The marinade is simple – you'll salt some shraymp and grate some lime zest right on top. Then just toss with your fayngers to coat. The zayste and the shraymp.
I can chill.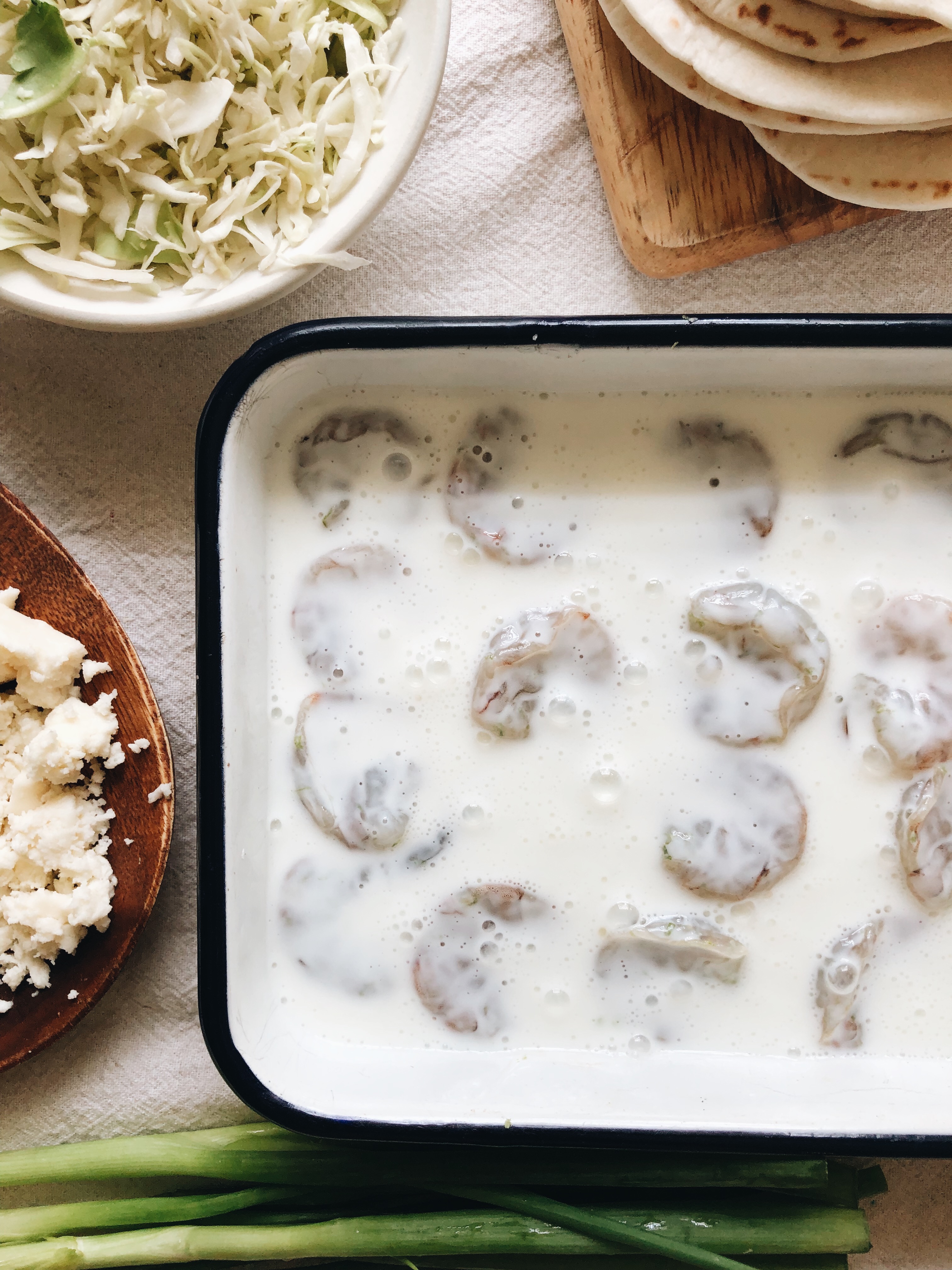 Then just soak the shrimp in buttermilk! But not too long, because it IS an acid, and we don't want soggy ceviche. Which happened to me long, long ago when I was hosting a blasted dinner party, and I didn't know any better and I marinated shrimp in lime juice for hours. But then I pretended in the heat of the moment that I did it on purpose, and announced, "Yeah we're having grilled ceviche shrimp tacos, didn't you know?! It's totally a thing."
They've not come back over since.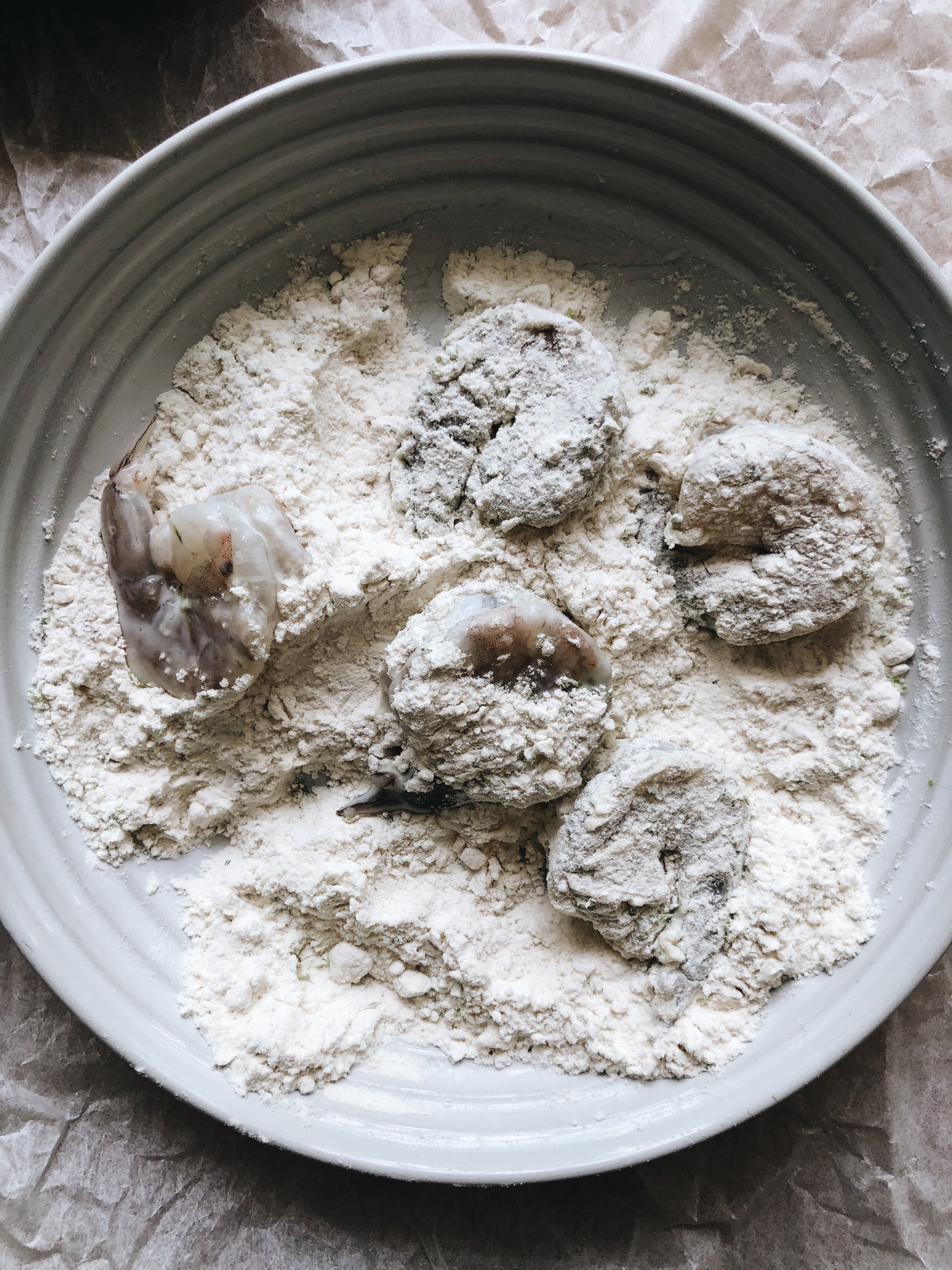 After thirty minutes, dredge those suckers in some all purpose flour (that you've salted and added a little more lime zest because you're a star) and pop them into some hot oil! Seriously only takes about a minute to two in the oil. Turn the shrimp so that it gets golden brown and crunchy as hayell all over, and that's it.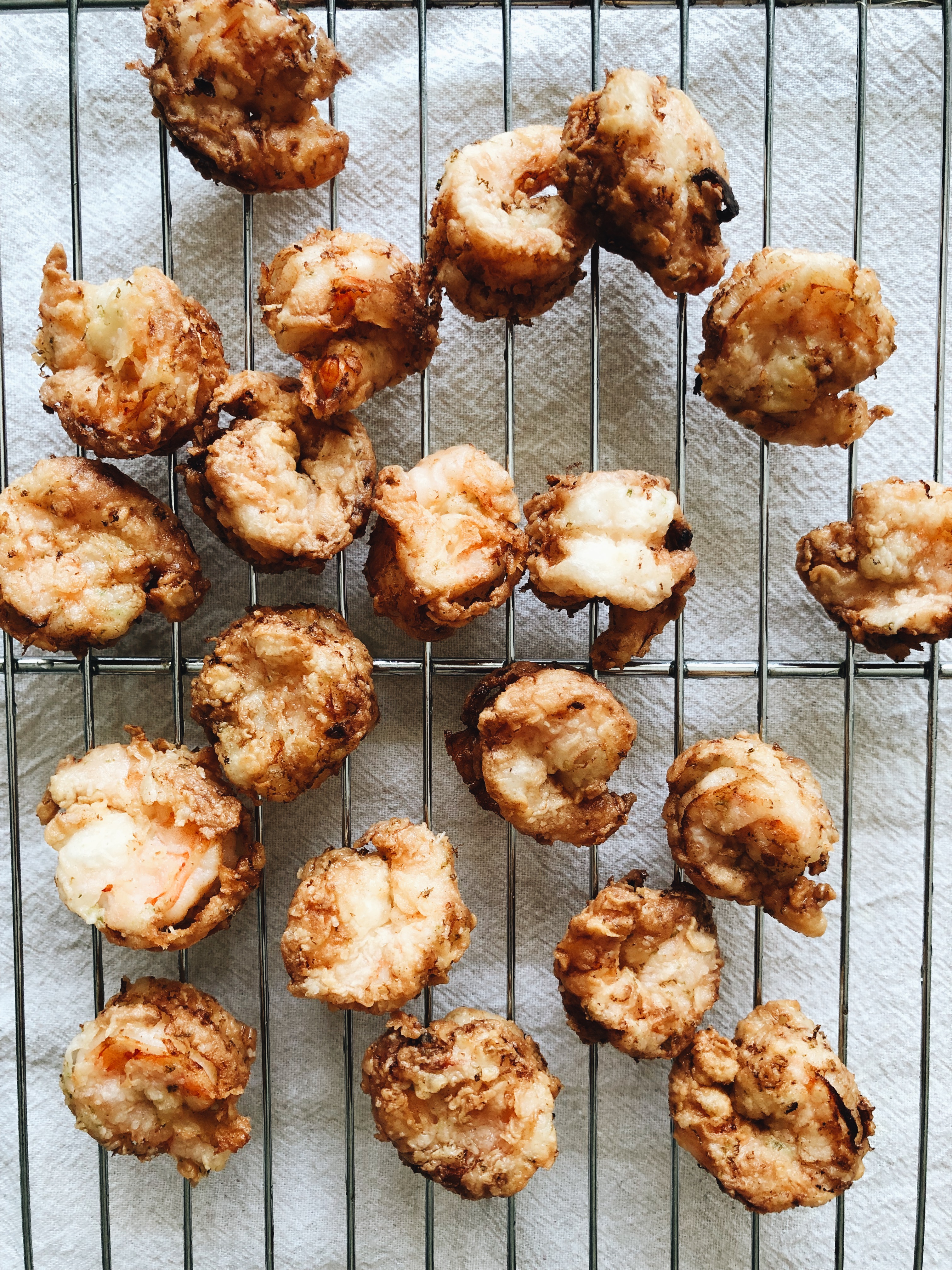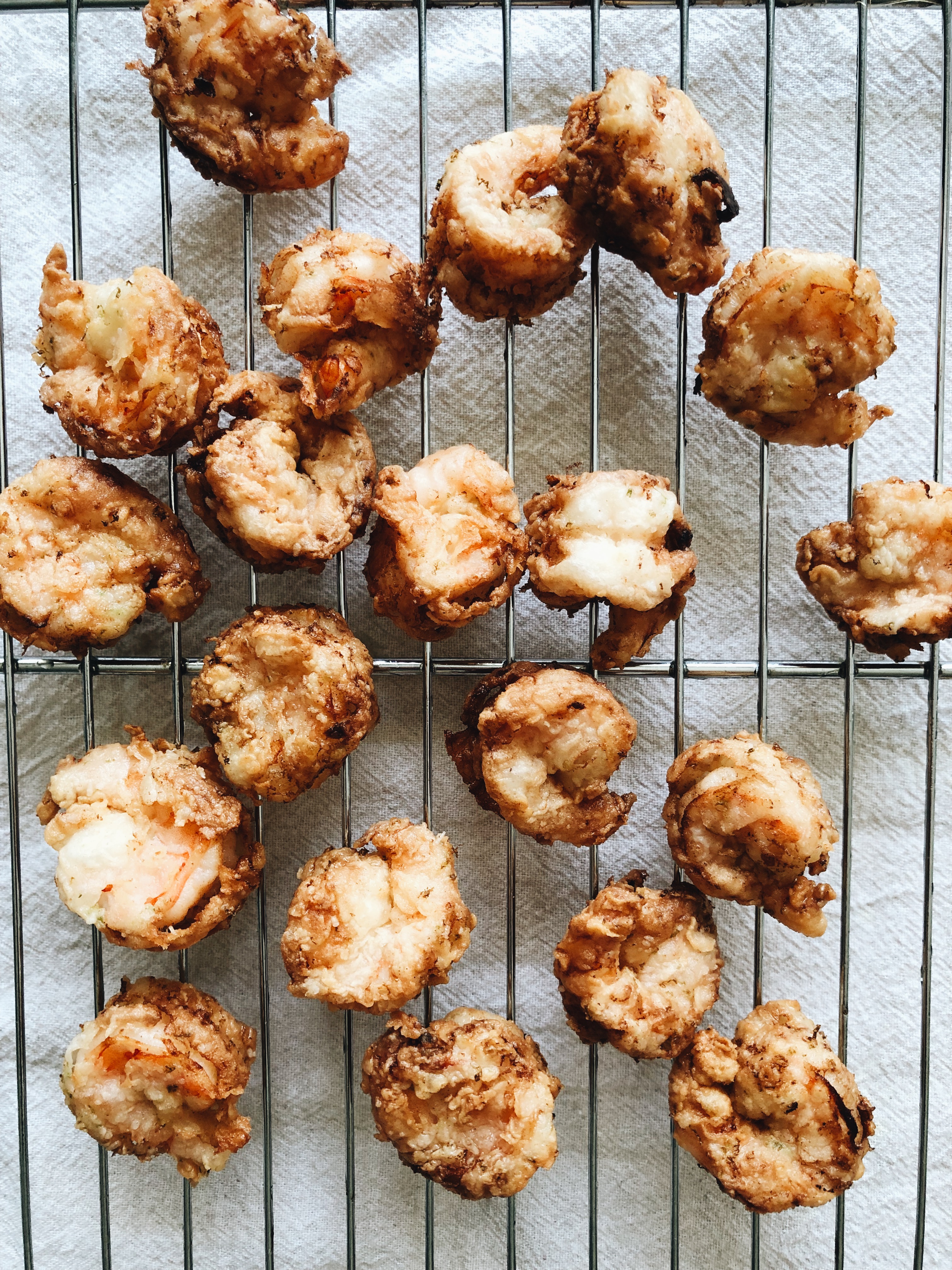 Yeah, yep, yes, yas, yuz, yeppers.
I have no idea what magical wizardry is going on with the buttermilk on that shrimp, but it's HEAVEN. The breading is light, with a zesty crispy crunchy cruncher crunch. And the shrimp is left with a subtle tang and almost a VELVETY nature to it. I don't know, but buttermilk can govern my every move.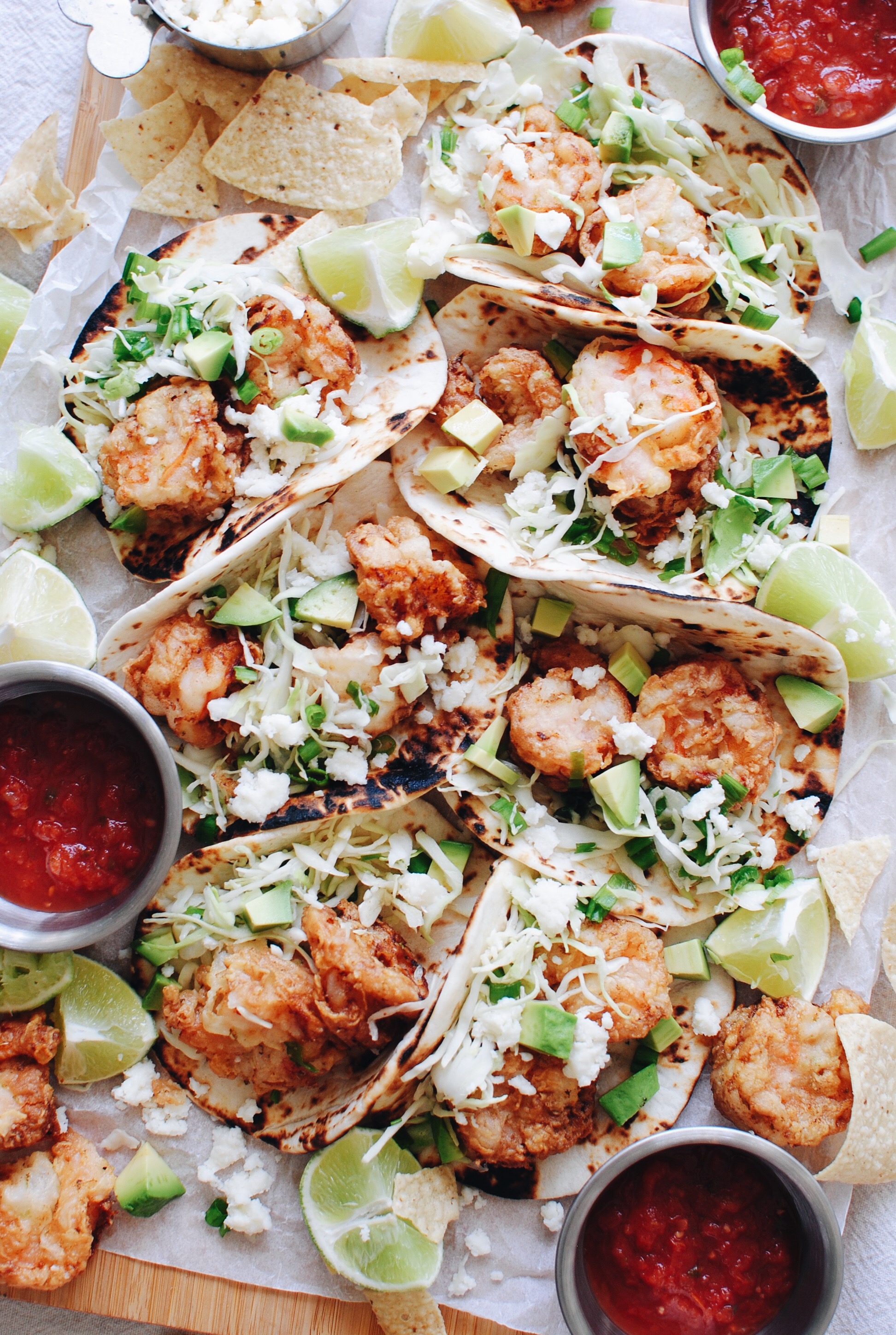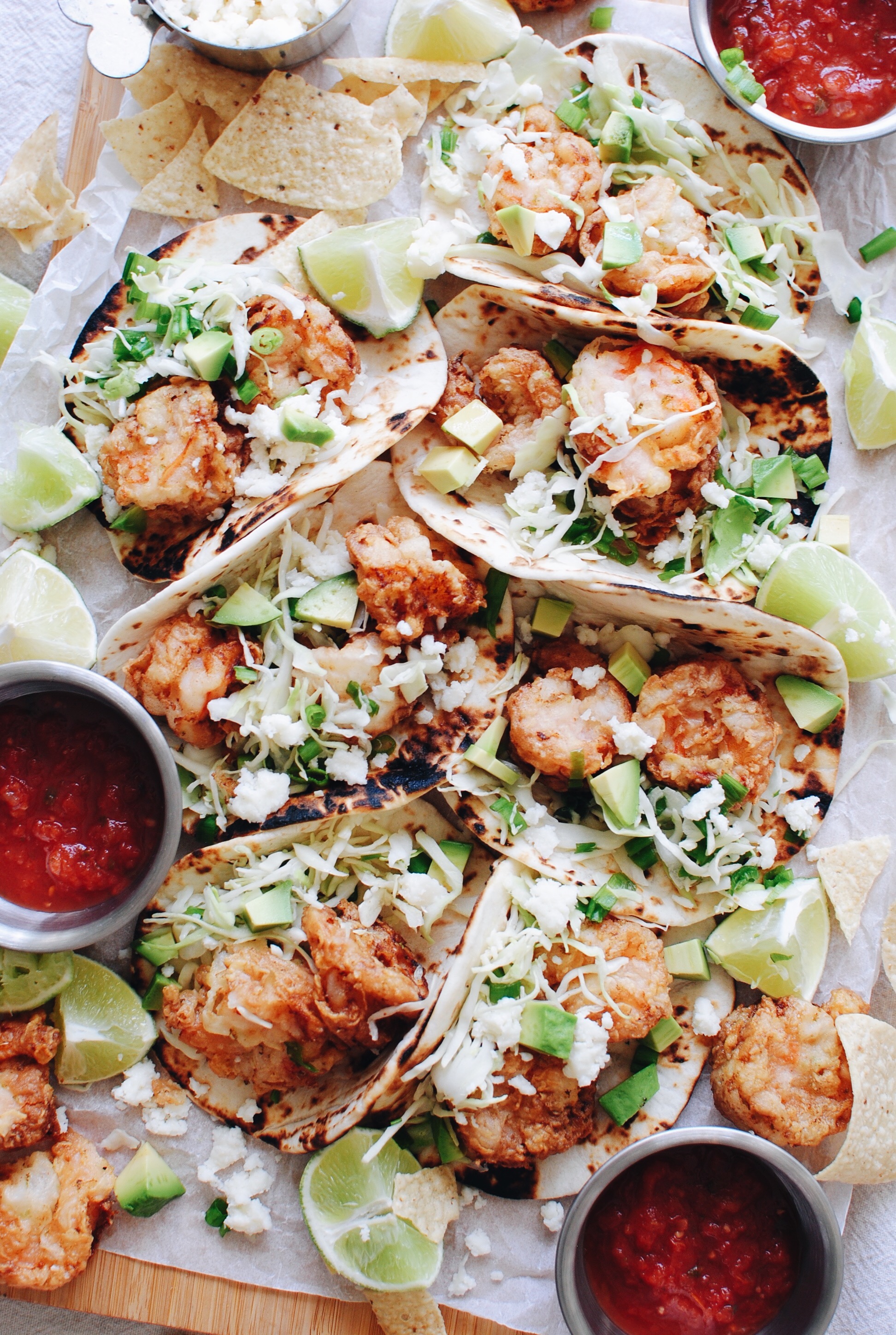 Then pile it into torched tortillas! And by torched I just mean grill the tortillas over an open flame and until they char and puff slightly. These are the good things in life.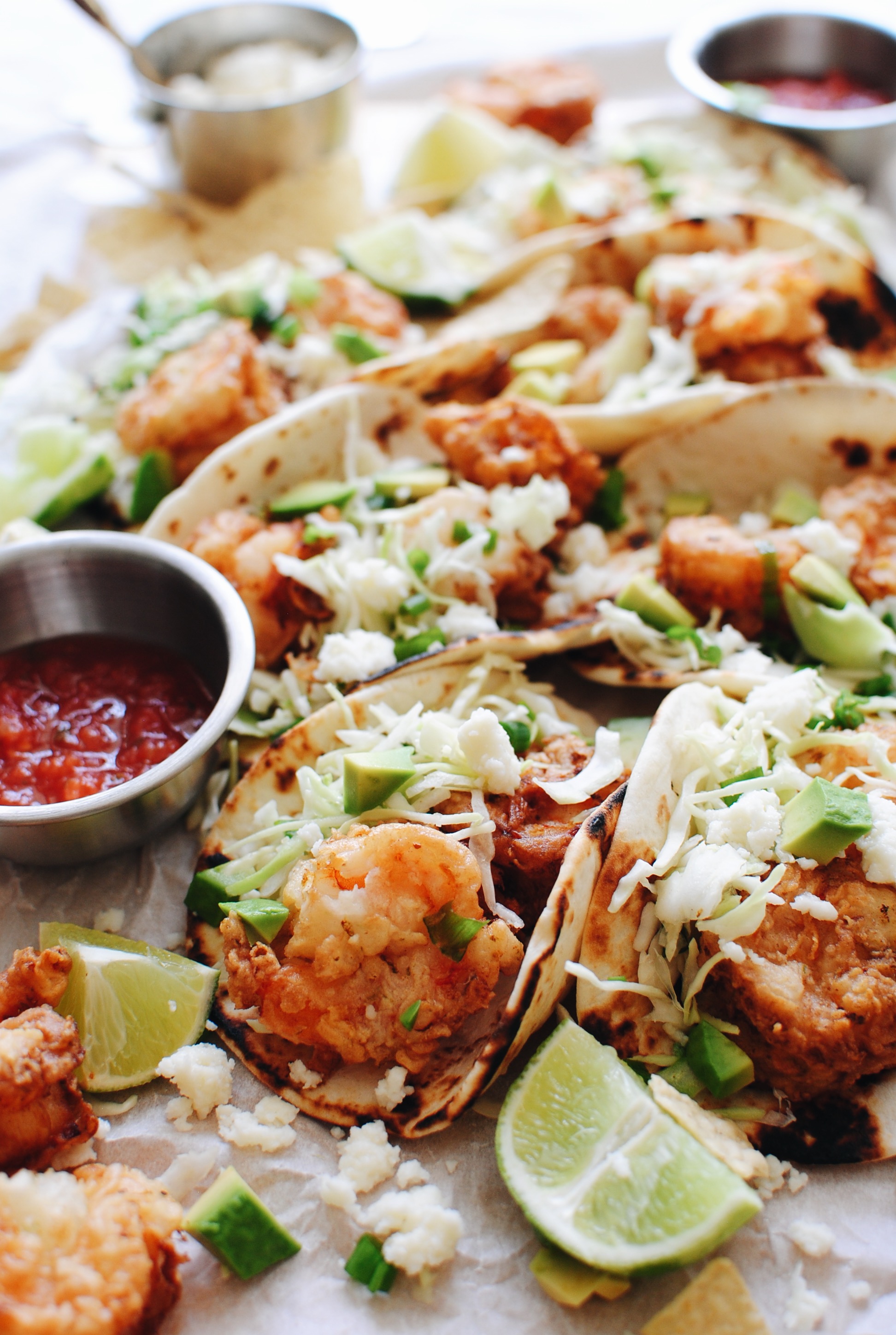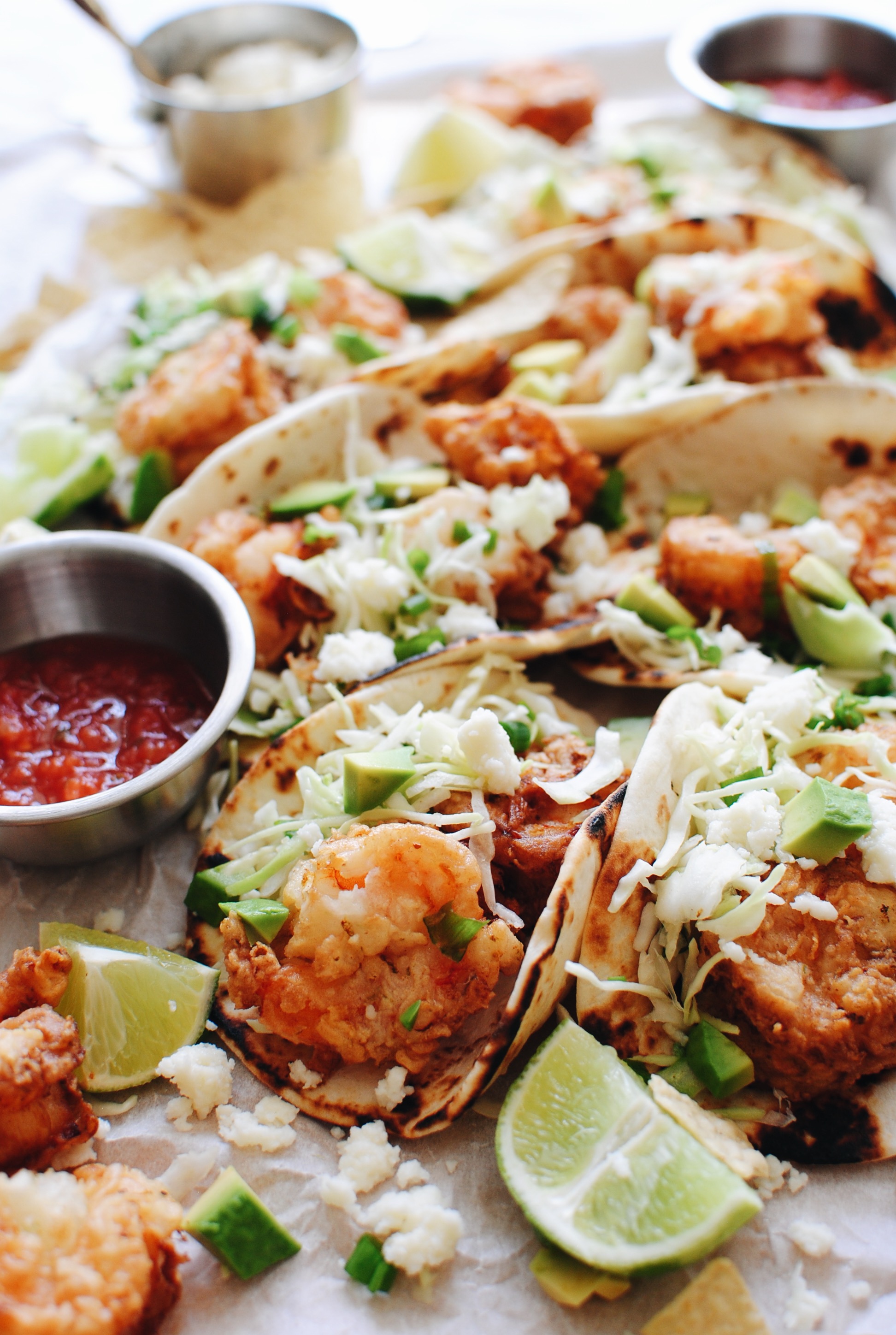 And the cabbage slaw – it's just shredded cabbage (hi you can buy this in a bag) + lime juice + diced scallions. Tiny pinch of salt if you fancy.
Are you so on board yet because I'm feeling the shift.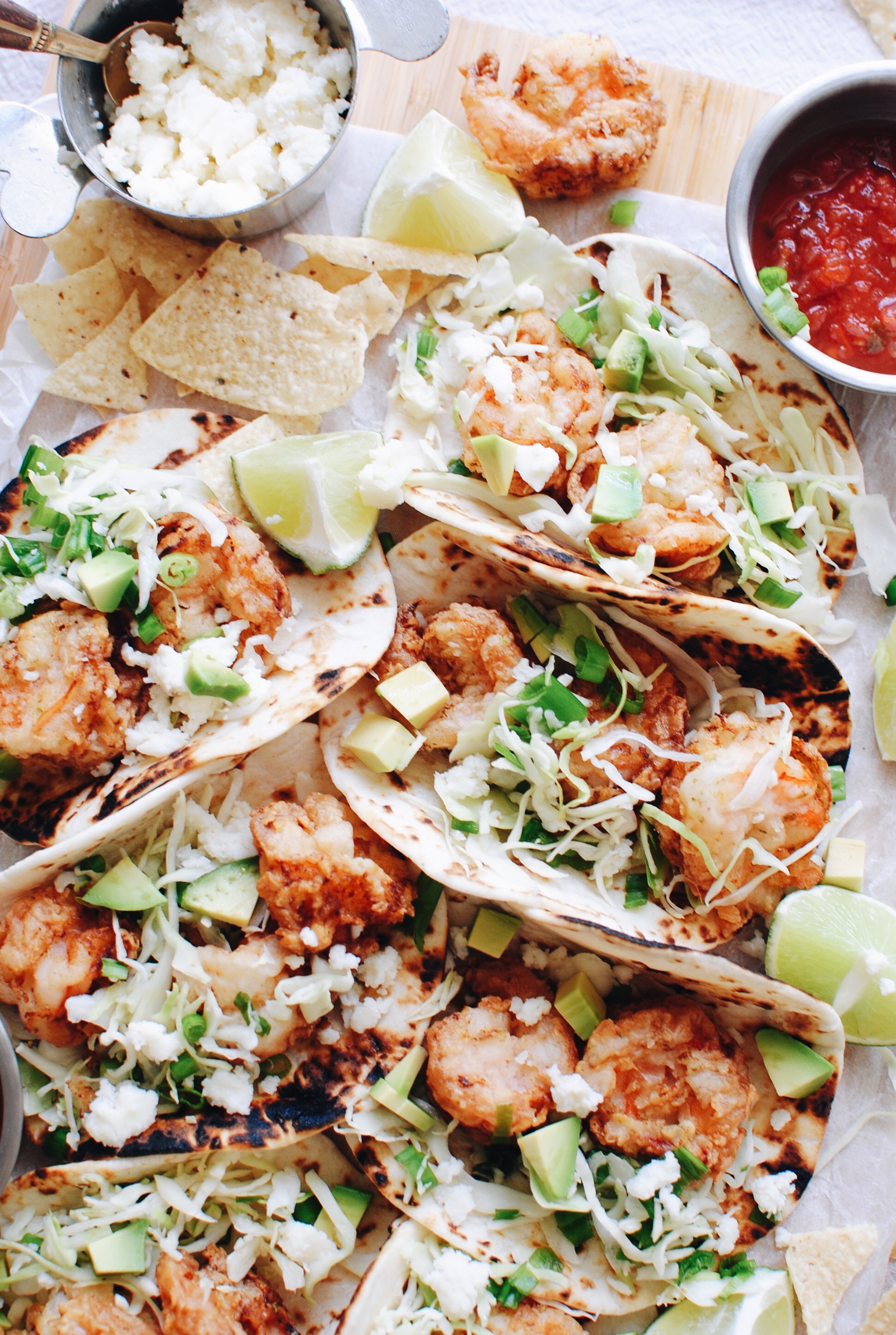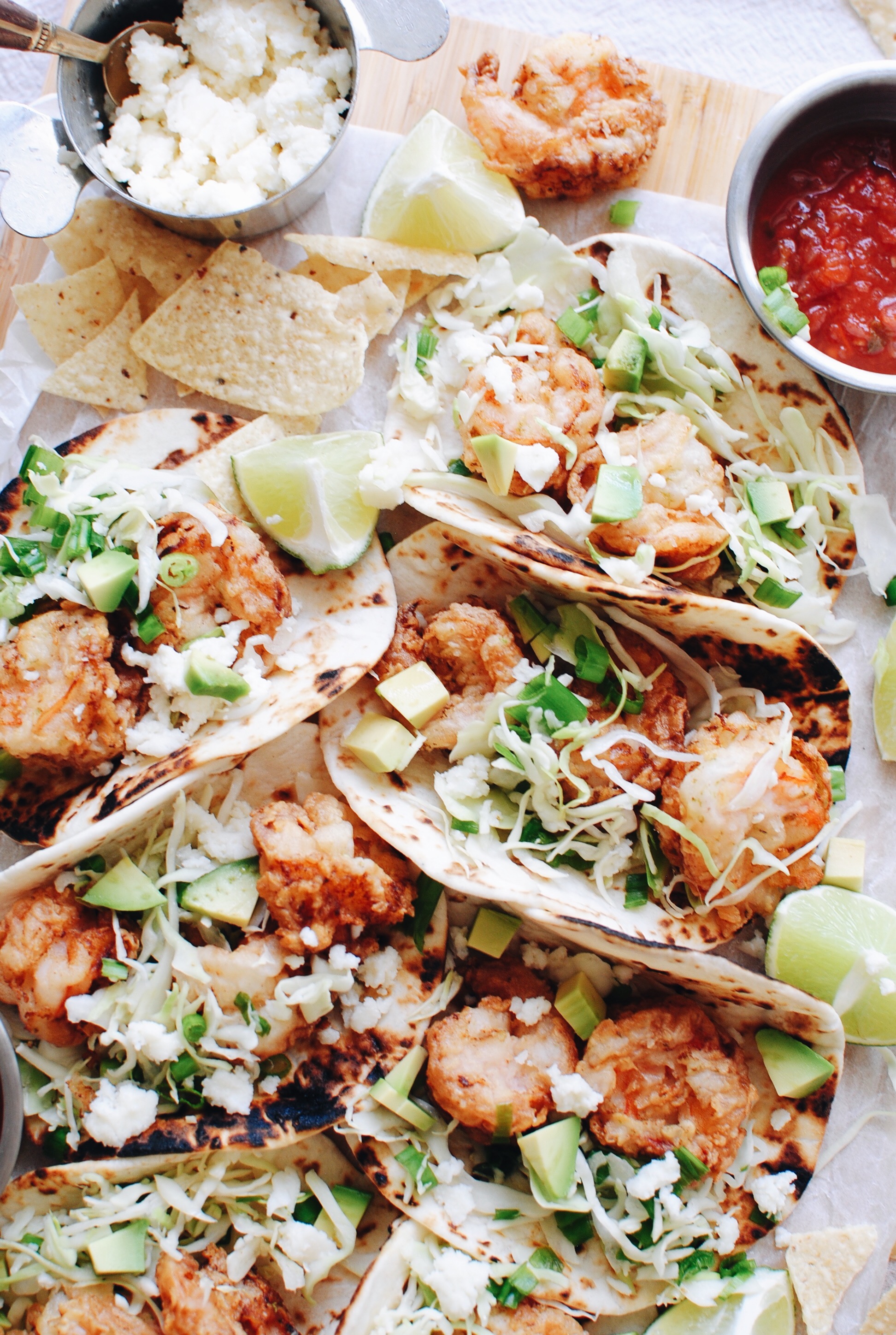 Add some creamy cubed avocado. Just do it. And crumbled queso fresco. Please, for the love. And an extra squirt of lime juice! If you know what's good for you.
And any hot sauces or salsas you dig, slap it on a tray and summer taco party your dang face off.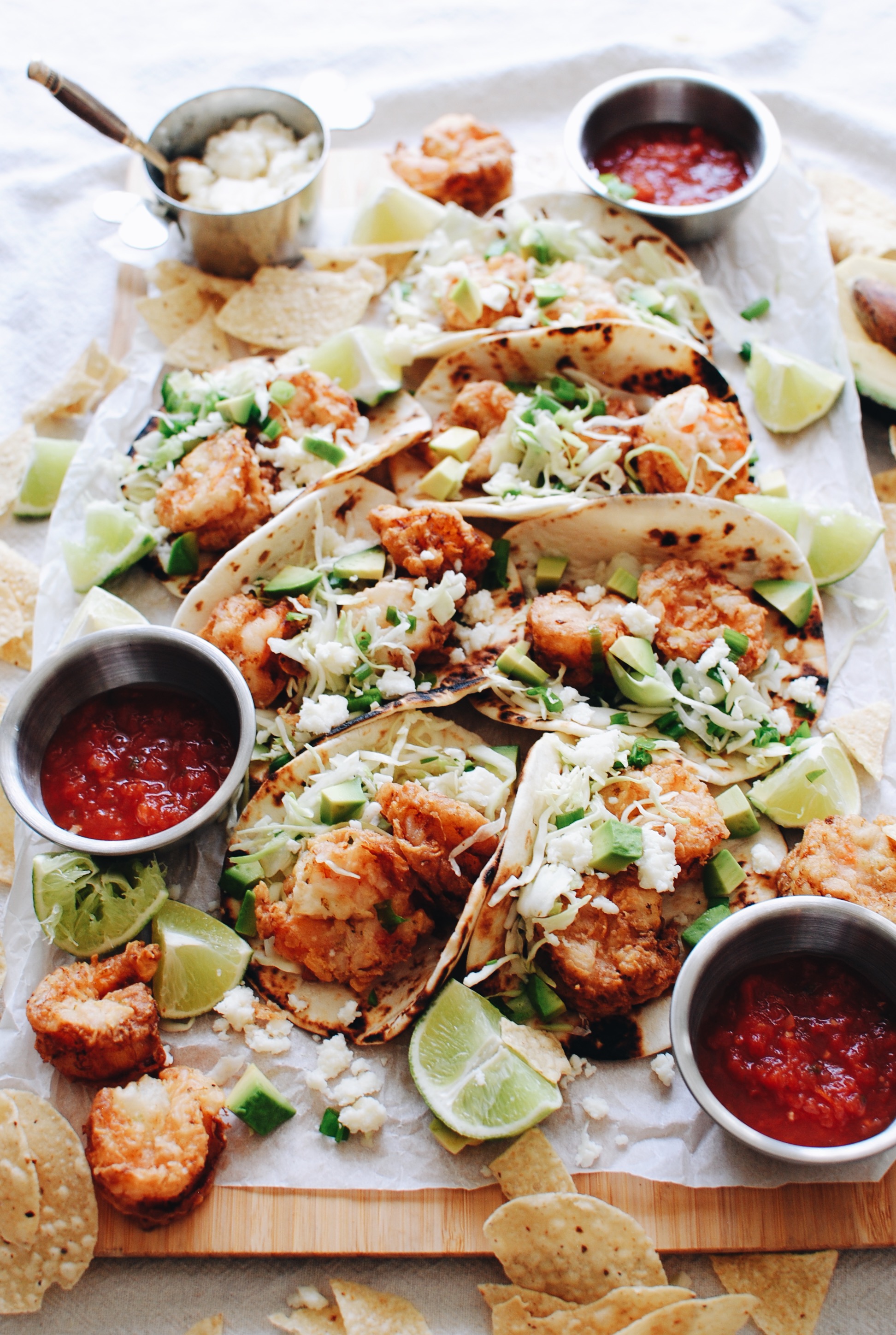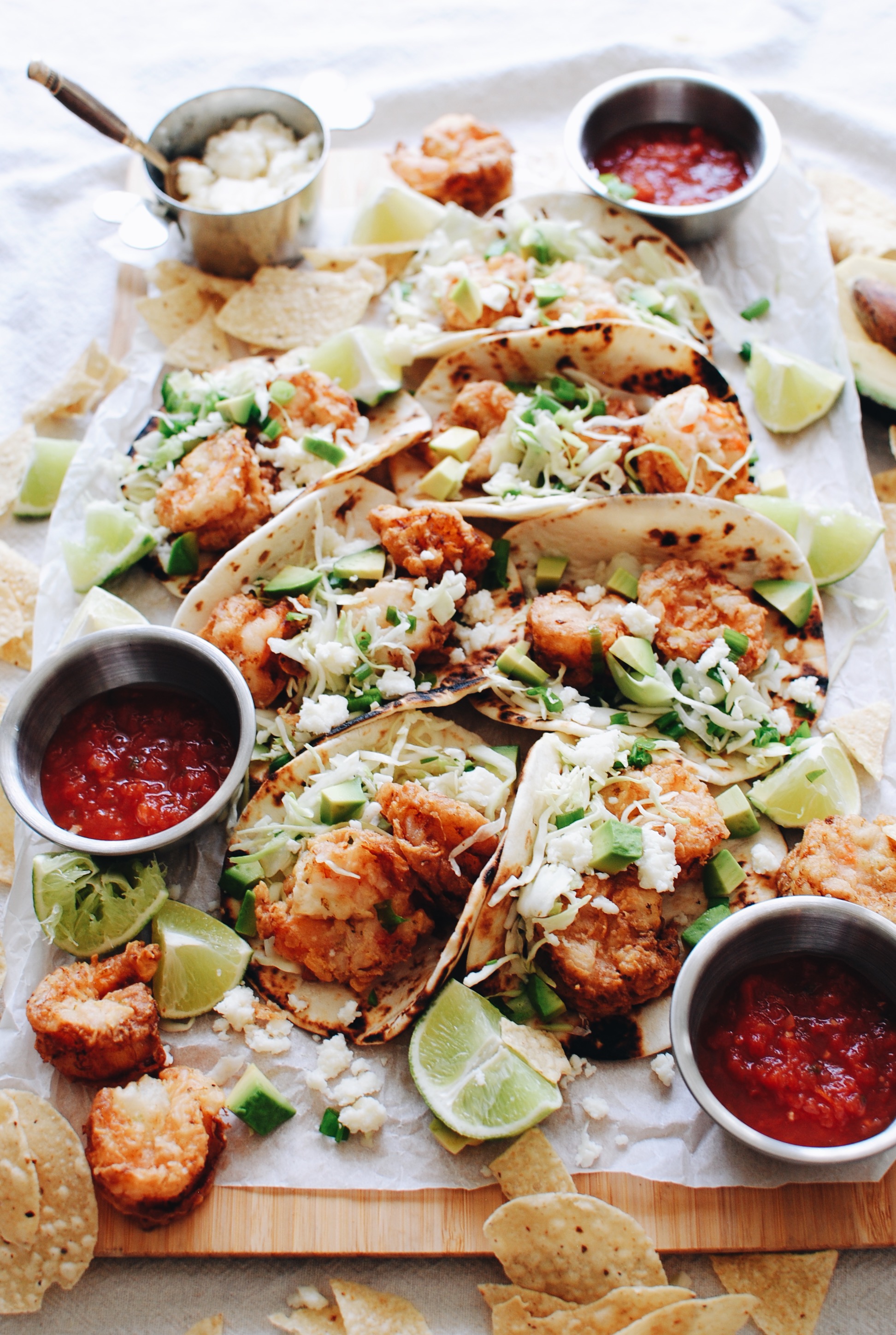 Can I come over?
Ingredients
1 pound shrimp, peeled and deveined
2 limes, 1 zested
2 cups buttermilk
2 cups shredded green cabbage
3 scallions, diced
1/2 cup all-purpose flour
10 small tortillas, charred and warmed over a flame
Crumbed queso fresco
1 avocado, cubed
2-3 cups canola oil, for frying
Salt
Instructions
In a shallow bowl, season the shrimp with salt. Zest a lime into the shrimp and toss with your fingers. Add the buttermilk, and let rest on the counter for 30 minutes. 45 is even fine.
Heat the oil in a large, straight-sided pan. While the oil is heating, place the flour in a shallow bowl and season with a pinch of salt. Add a little lime zest to the flour, too. Just a pinch. Doesn't matter. Shake the access buttermilk off the shrimp, and lightly dredge through the flour. Fry the shrimp in the hot oil for a minute to two minutes. Turn the shrimp so that it's completely coated in oil and gets golden brown and crispy all over. Transfer to paper towels and let drain. Do this in batches if needed!
In a small bowl, combine the cabbage, scallions and juice from the zested lime. There's your slaw.
Pile the shrimp into charred tortillas, and add the cabbage slaw, along with cubed avocado and crumbled queso fresco. Squirt the remaining lime over the tacos and serve immediately!
Hot sauce and salsas on hand are totally recommended.
Makes about 10 small tacos. (Or 6-8 bigger ones - depending on the size of your tortillas.)
7.8.1.2
359
https://bevcooks.com/2019/07/buttermilk-shrimp-tacos/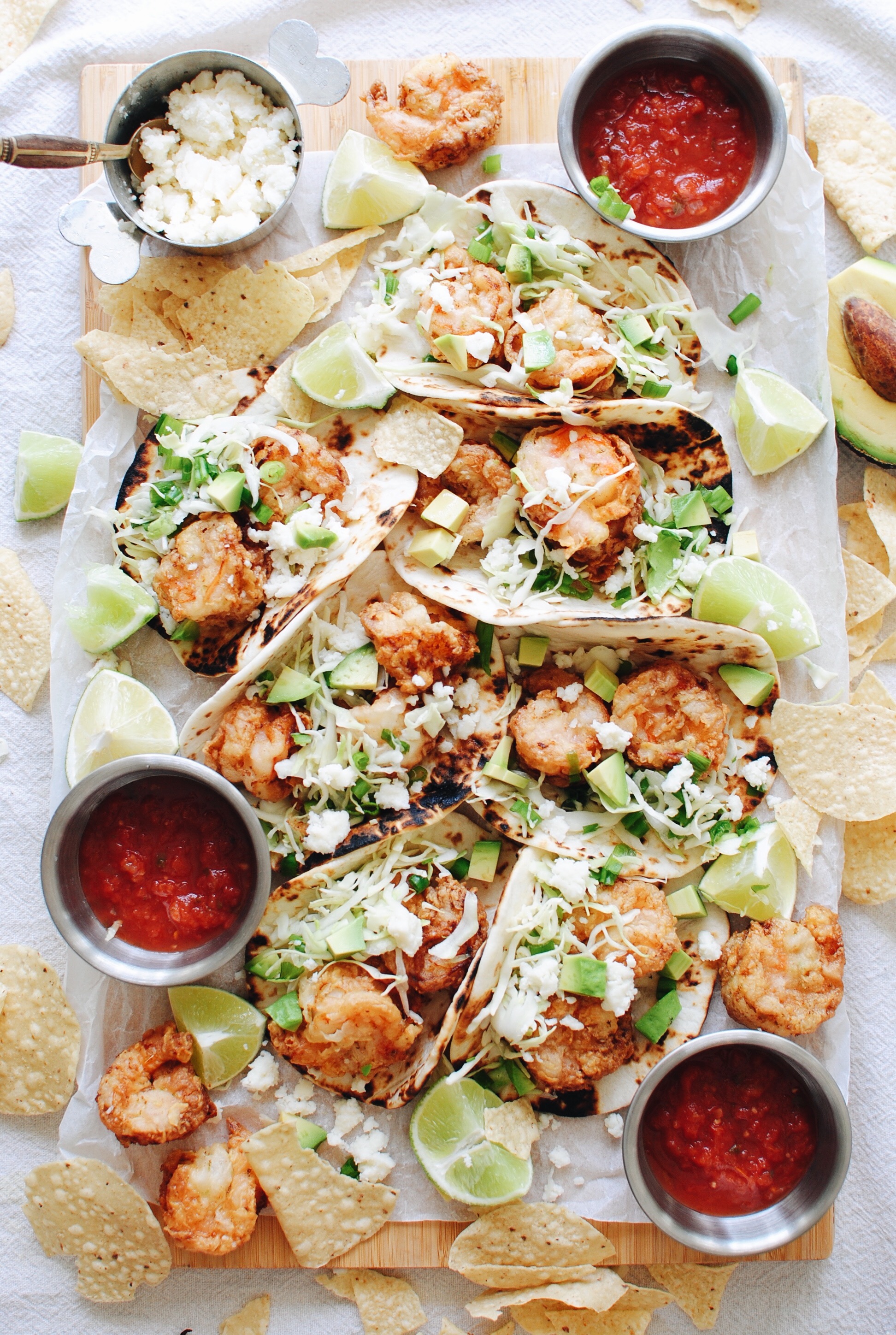 You're summering so hard right now.