Let's have pasta! But like, with bacon. (I felt the collective perk-up.)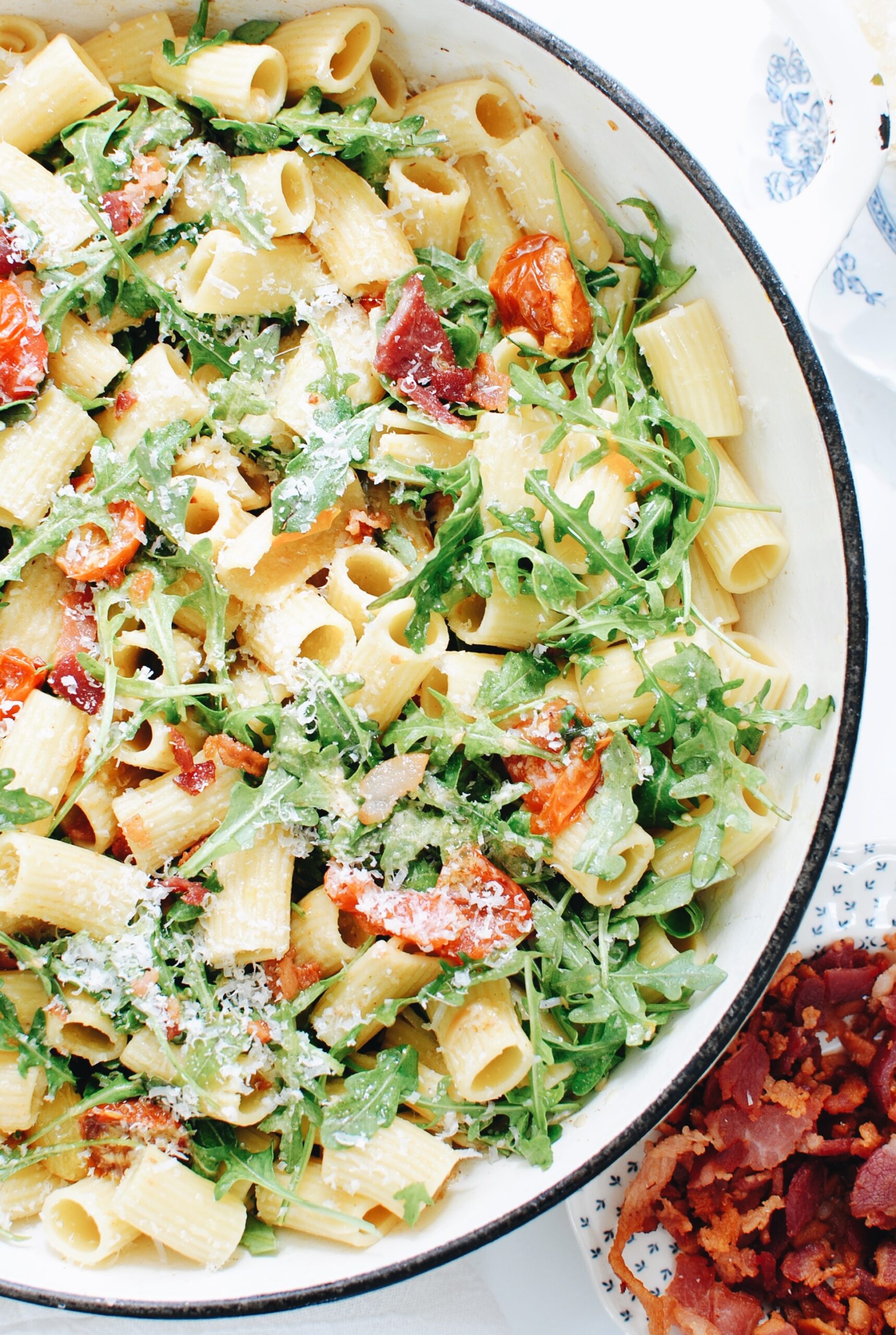 But listen, we're also violently throwing in some arugula so it could really pass for a salad.
Don't quote me on that.
This is one of those meals that falls under whatever theme I came up with at the beginning of the year. What did I even call it? Short Cut Meals? Whip It Up? THROW TOGETHER!
Throw Togetheeeeer!
I called it Throw Together Meals and that level of freak-out is pure evidence that I severely need a life.
Let us peepeth.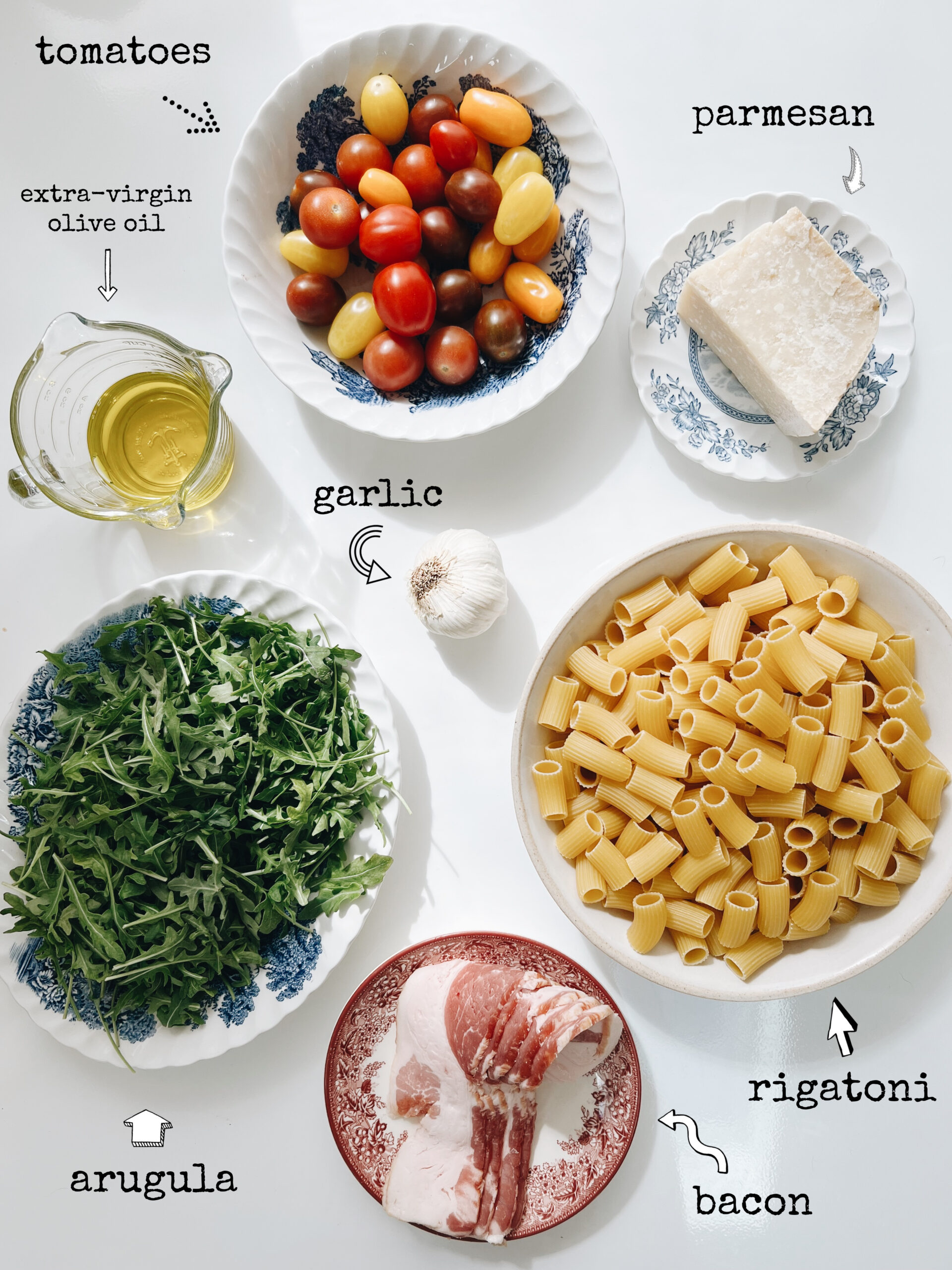 I'm all for simple. And this is that. We'll roast tomatoes with garlic. We'll render some bacon. We'll cook some pasta and toss it all together with cheese. If this doesn't knock you down with weeknight wonder, what is even happening?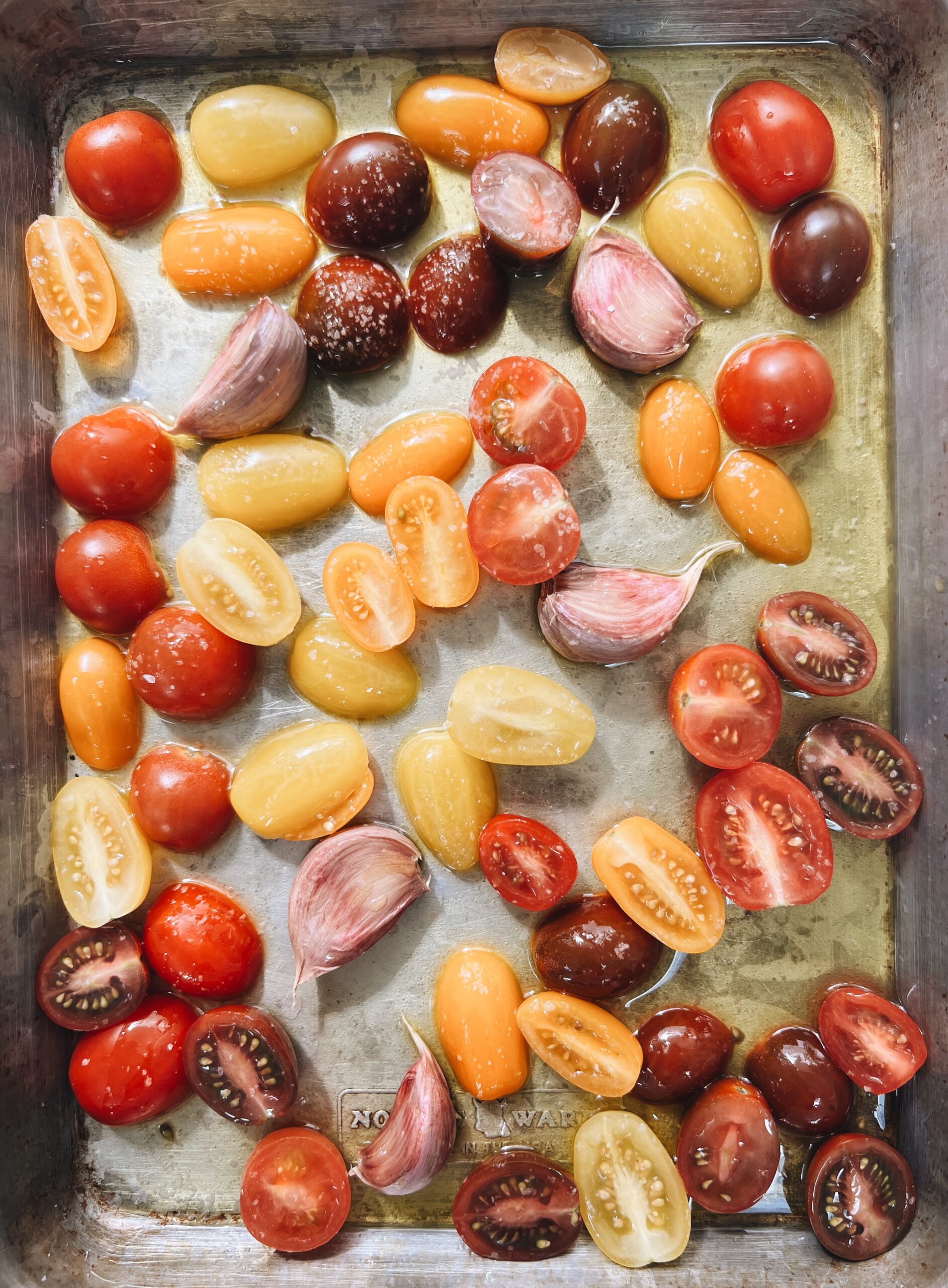 Let's half the tomatoes and get them on a roasting sheet with huge garlic cloves right in their skins. A good glug of olive oil and a sprinkle of coarse salt. Into a 300 degree oven for 40 minutes. That's IT, bruh.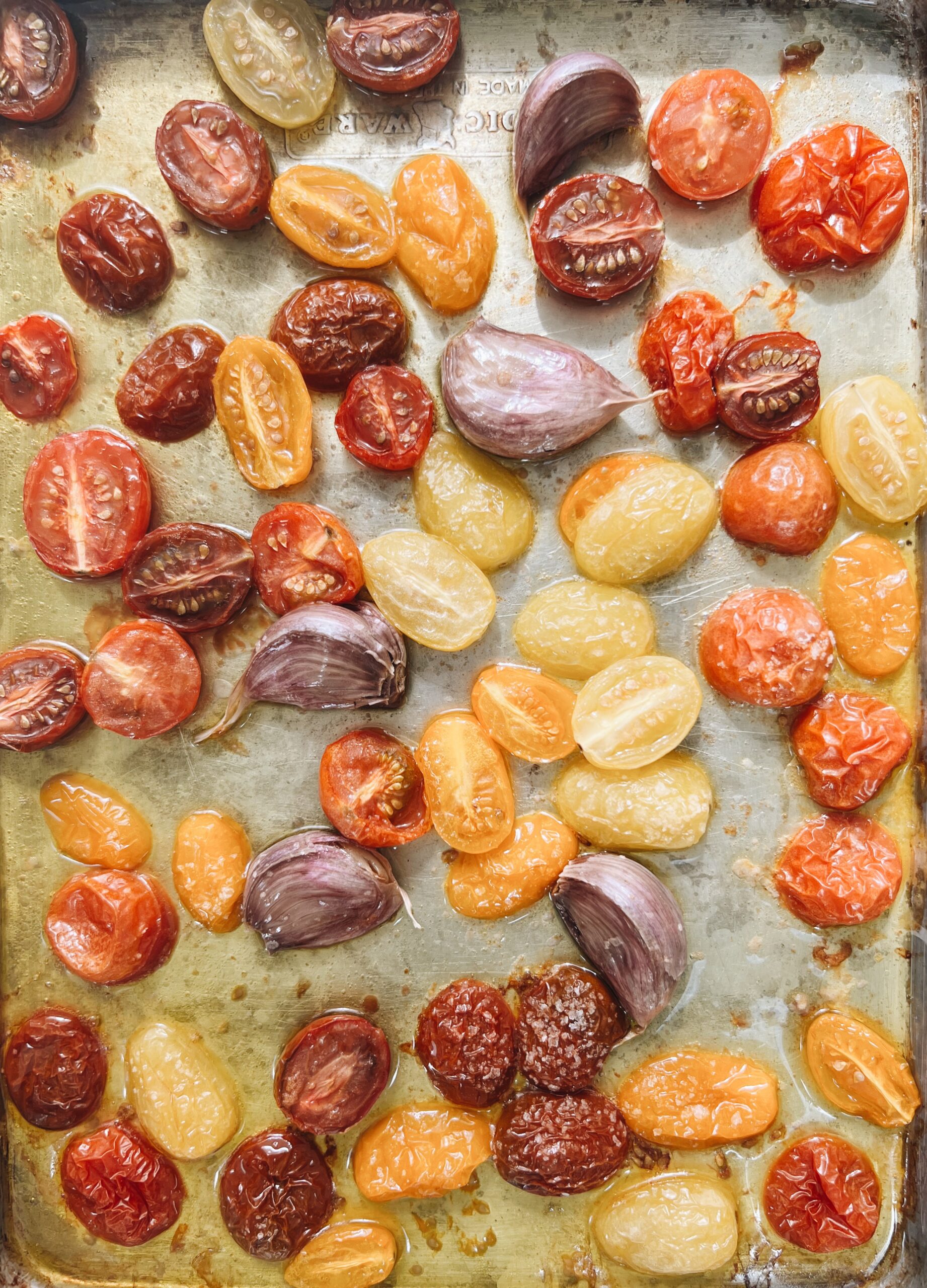 Okay, gorgeous. But the thing about this roast is that it's quick. Higher temp, less time, quick to pull together. A longer roast at a loooow temp will give you deeper flavors, but I had zero patience on this particular day. (shocker!)
Also we'll squeeze those cloves out of the skins and mash the roasted garlic into a paste, hellooooo. You'll see it in the reel!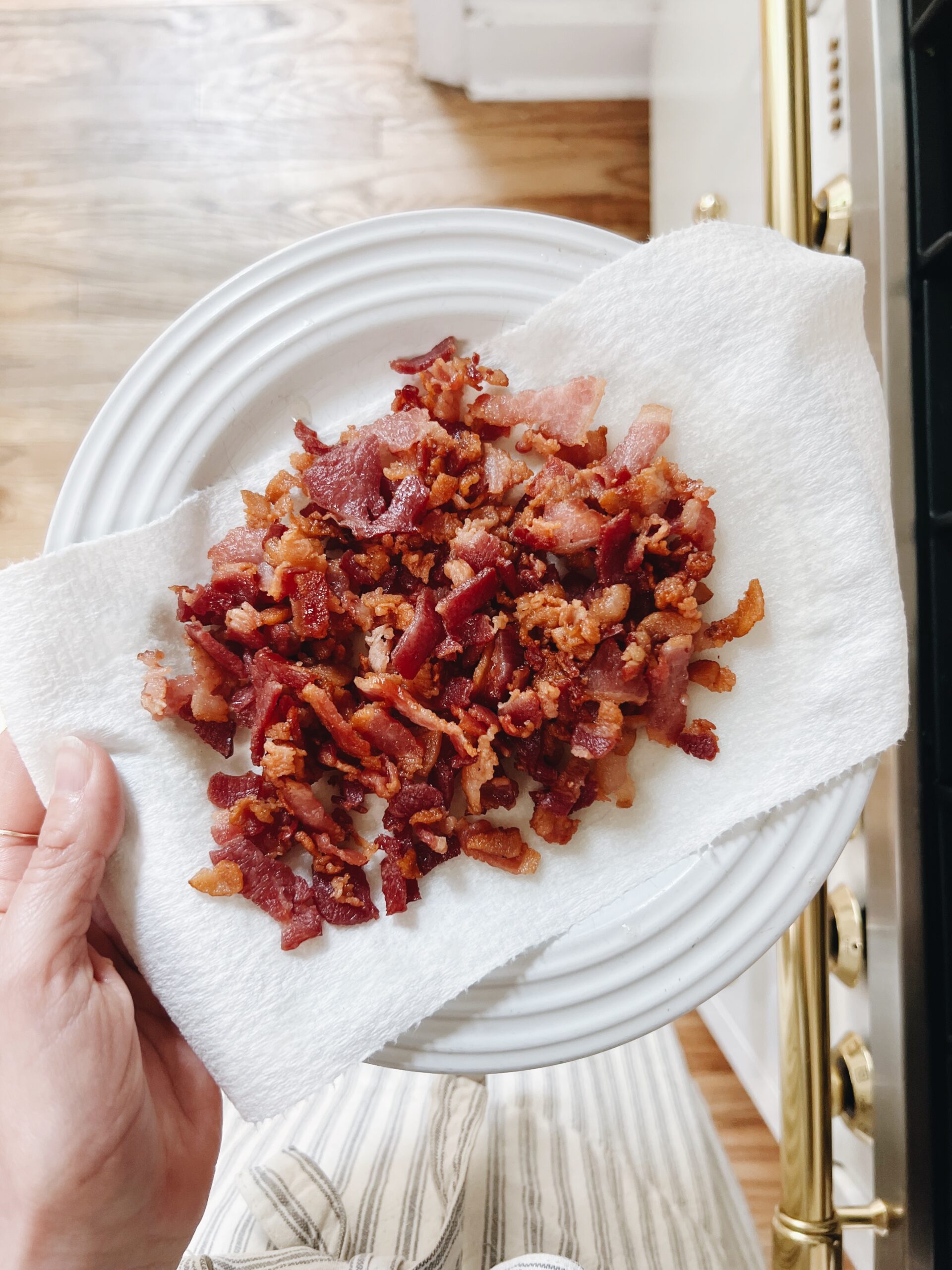 I won't tell a soul if you need to nibble fiercely on this.
That's it!
The pasta is cooked, the pasta water is reserved (do not skip that! Save 1-2 cups), the sauce is garlicky and glossy, the arugula is pungent and peppery, the bacon is rich and salty, the tomatoes are loaded with umami and give off the perfect hit of acidity. It's outrageous.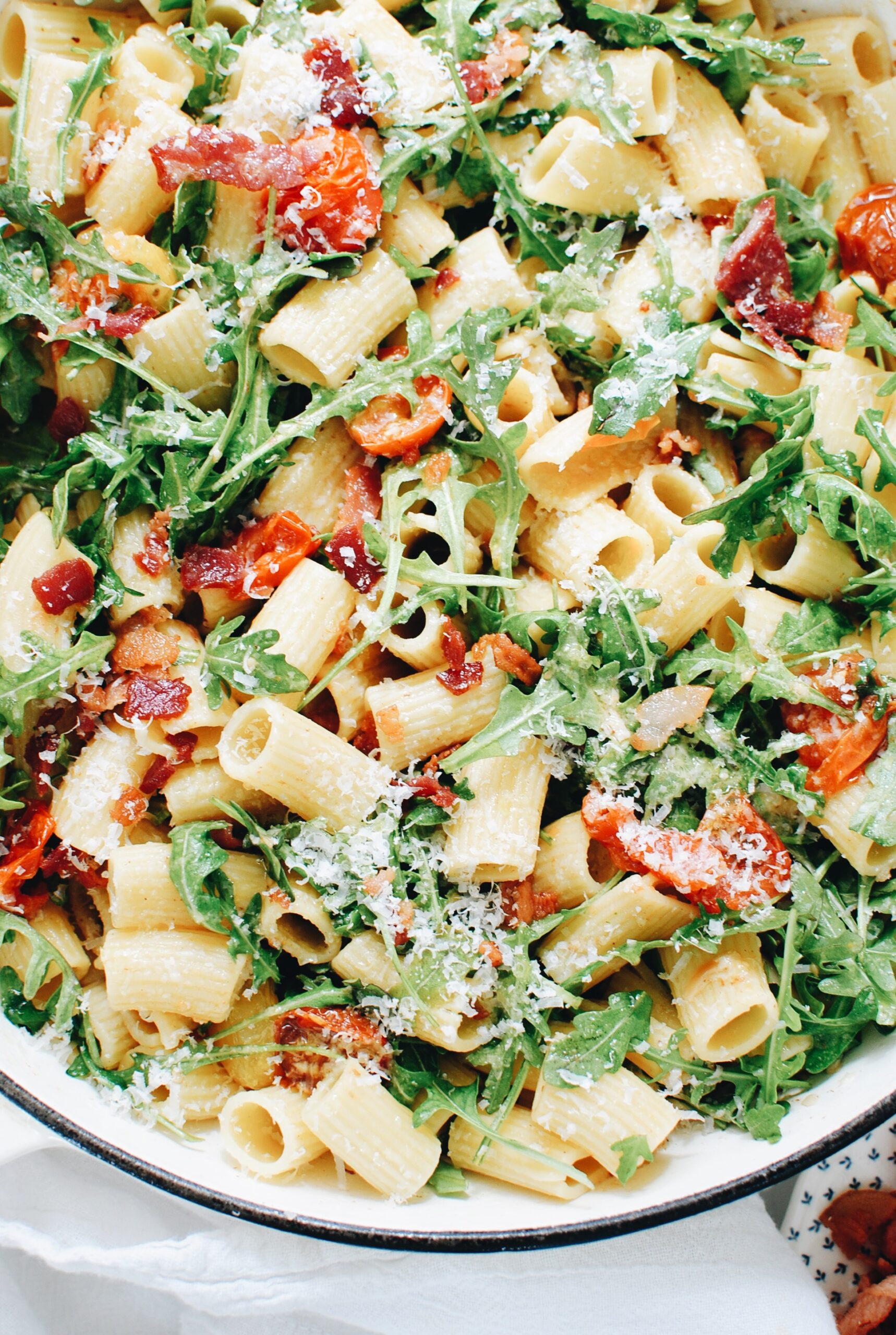 Grate as much good parmesan over the top as you possibly can. This is your one life.
Black pepper to top? Yeah yeah. One more drizzle of your best oil? Oh, get on that.
It's meant for weeknights, but even if you whip this up after some yard work on Saturday, you'll still doing it right.
Your kids will fall over, you will crumble. Get on in that!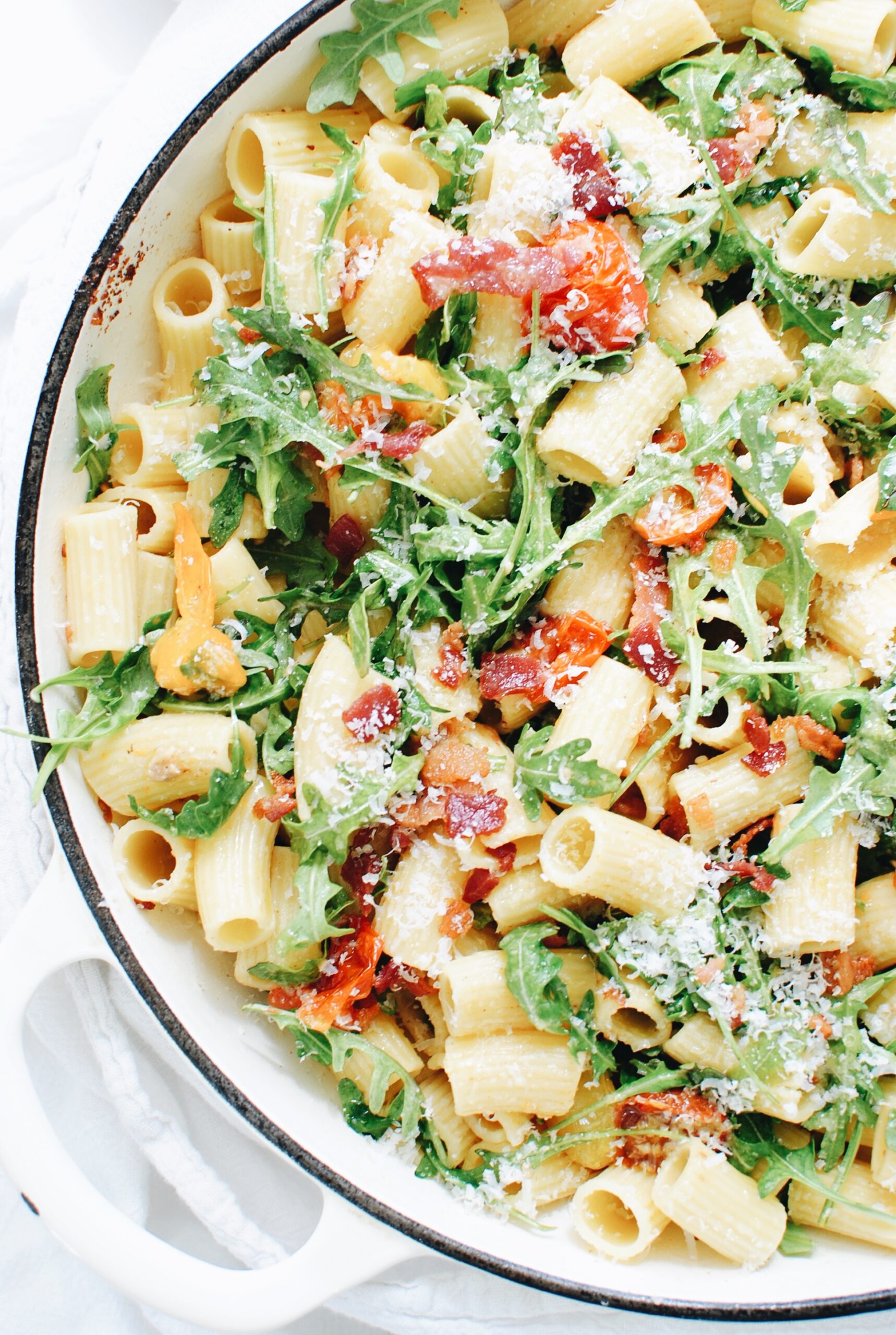 See you at the bottom.
Rigatoni with Roasted Tomatoes, Arugula and Bacon
Ingredients
1 pound rigatoni
10 oz cherry tomatoes, halved
5 cloves garlic, in their skins
1/3 cup extra-virgin olive oil
1/2 pound bacon (about five slices), cut into chunks
2 oz arugula
Parmesan cheese, for garnish
Coarse salt
Instructions
Preheat your oven to 300.
Arrange the halved tomatoes and garlic cloves on a rimmed baking sheet. Drizzle the oil over the top and sprinkle with a pinch of salt. Roast for 40 minutes, or until the tomatoes are tender and starting to slightly burst. Squeeze the garlic out of the skins and mash with a knife, becoming a paste.
In a large skillet over medium heat, cook the bacon until bright red and crispy, just a few minutes. Transfer the bacon to a plate with paper towels to drain. Wipe out the majority of the bacon fat, if there's a lot. Leave a little though! You're not an animal.
In the meantime, bring a large pot of salted water to a boil. Add the rigatoni and cook to al dente, according to package directions. Reserve at least a cup of pasta water before draining the rest. Go for two cups!
To the skillet, add the garlic paste, cooked pasta, a cup of pasta water, the roasted tomatoes and arugula. Toss to combine. Garnish with crispy bacon and parmesan cheese. Just so good. Get it on the table!
Serves four.
7.8.1.2
628
https://bevcooks.com/2023/03/rigatoni-with-roasted-tomatoes-arugula-and-bacon/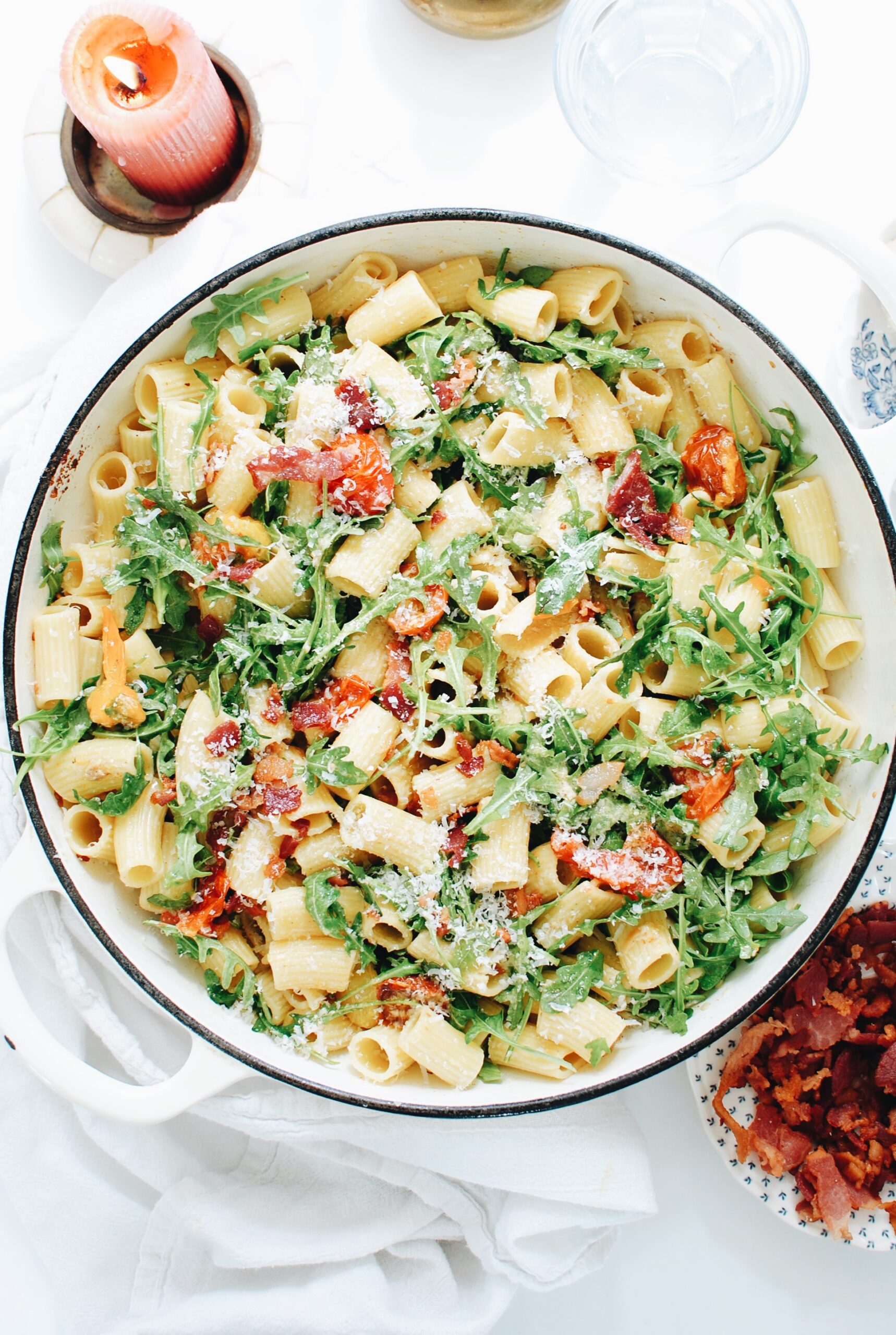 Tonight begs.