I went to Israel! Which is probably obvious based on the title of the blog post and just how often I blabbed about it over the last thirty days. I told myself, "Keep it to twenty photos, Bev!" I'm hilarious. Let's take a look at the first two days of the trip! This whole adventure was in partnership with Vibe Israel, an Influencer Agency that's been hosting tours since 2011. So many tours! And they don't always focus on food. Some are adventure oriented, party oriented, it's a whole thing. And I got to be a part of the food tour. I'll never recover.
Let's look!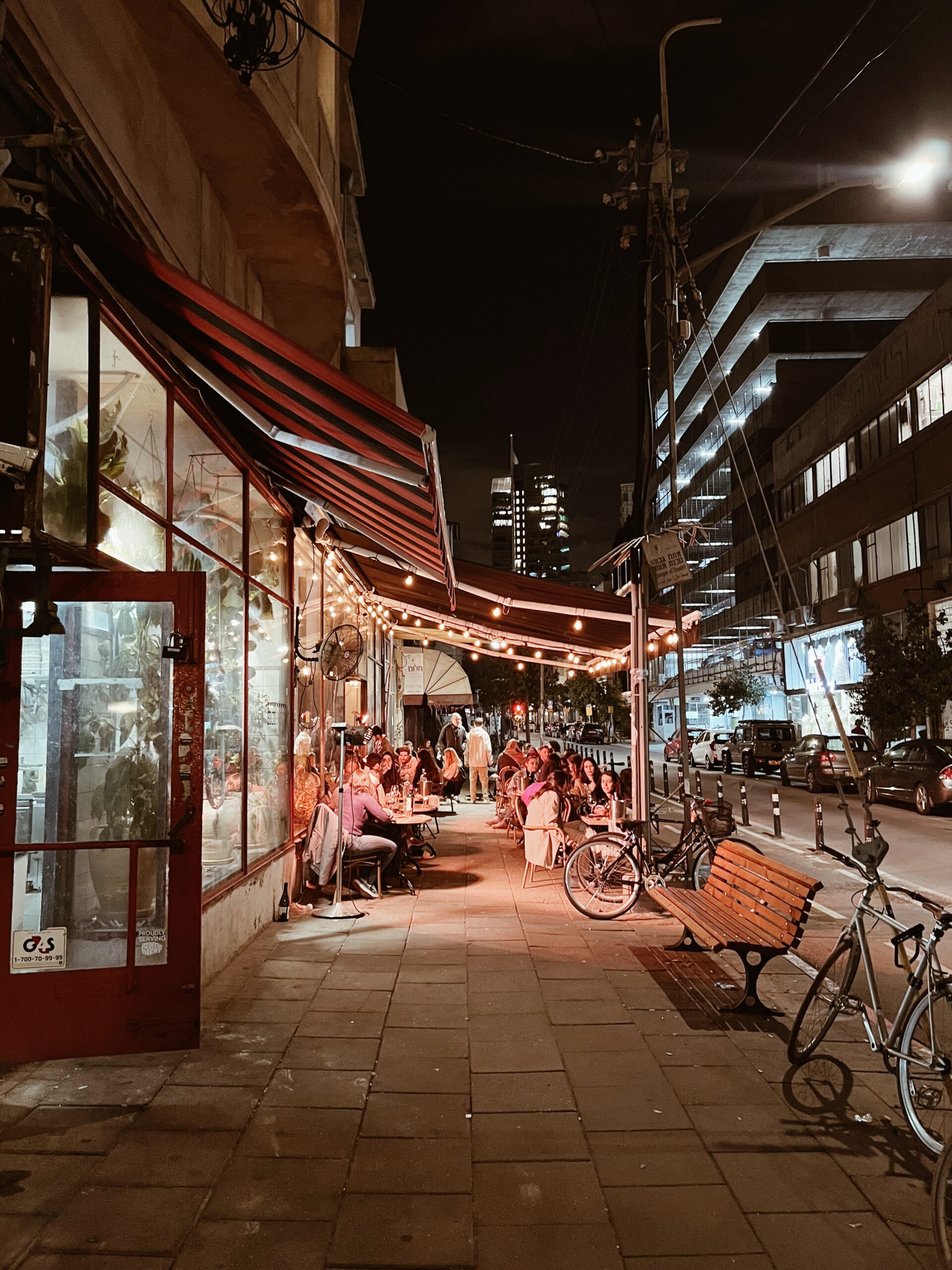 We landed in Tel Aviv at the weirdest time for us Americans. What felt like morning (like, we'd just eaten eggs and potatoes on the plane) was actually evening in Israel. To get off the plane after breakfast to see the sun going down was bananas. But we were wide awake (sort of?) so off we went! We settled into our hotel rooms to find a very delicious welcome package (more food!) and I changed into a blazer, not knowing that blazers would be an internal (not really, I talked about it constantly) focus for me all week long as I took notice of the fashion in Tel Aviv. Relaxed, natural, chic, so many blazers and turtlenecks! I do have a photo of me actually. Maybe I'll add it the very end of this post. If you're lucky. (just kidding) (I think)
Our host for the week, Bar, was as adorable and sweet as one could possibly be. She's all over my reels. And she wears fantastic blazers.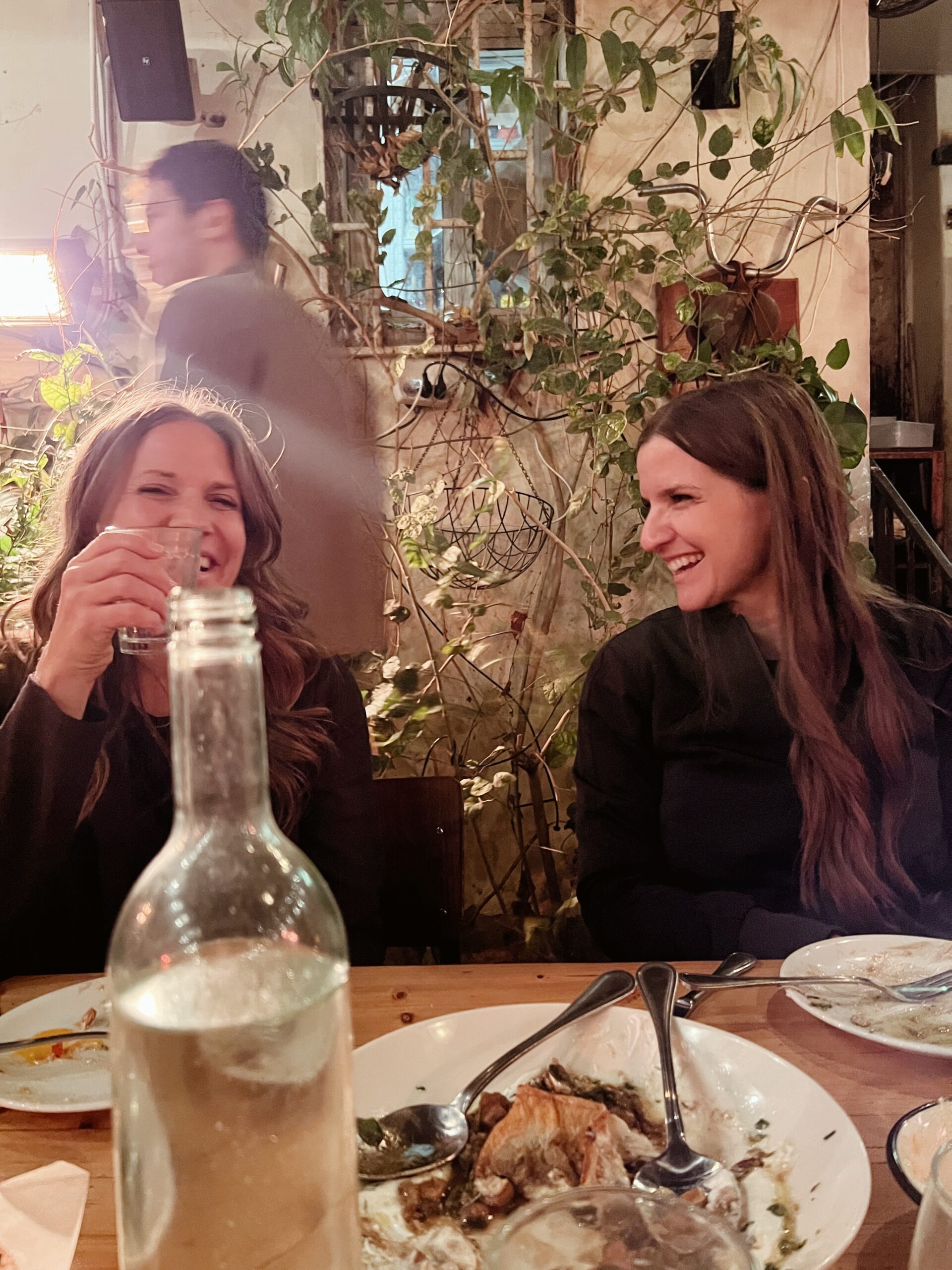 The restaurant was called Bicicletta and it was DARLING. I died and gushed and completely freaked out. It wasn't annoying at all for the women I JUST MET. Plants climbing the walls, dangling from the beams and tucked into the corners, it was heaven for me. And the food was insane. There's no way I can recap what we ate because I was delusional with giddiness, but it was perfect. Lots of breads, dips, seafood, spices. Unreal.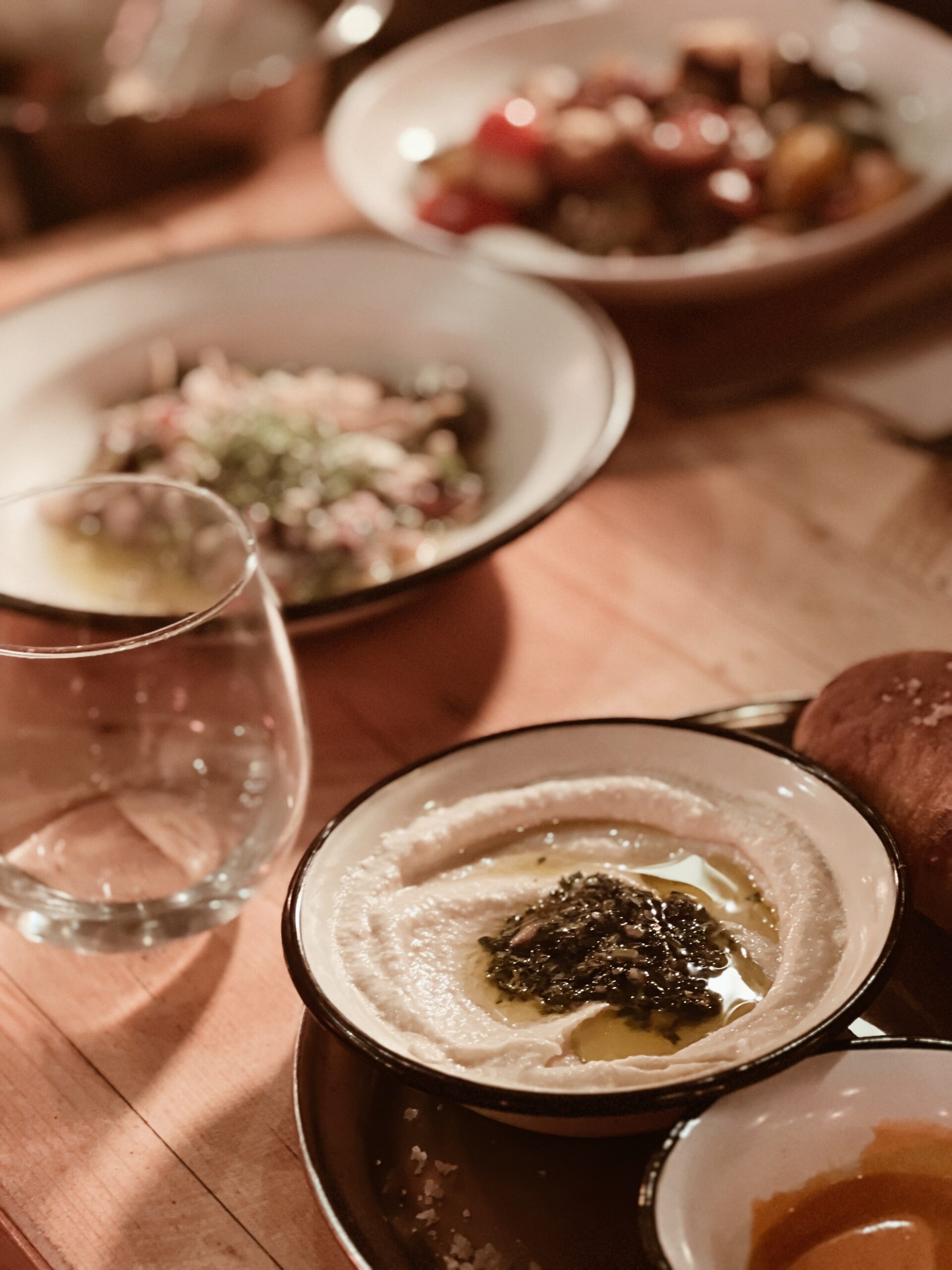 We refilled our wine glasses, taking in the scenery (I was sending Aaron stealth photos of an Israeli Elaine Benes and it was giving me such joy), but as jet lag settled in, we walked the quaint (but very lively!) streets back to our hotel for the night. I was shocked at just how many people were out and about on a Wednesday night. What a (young) life!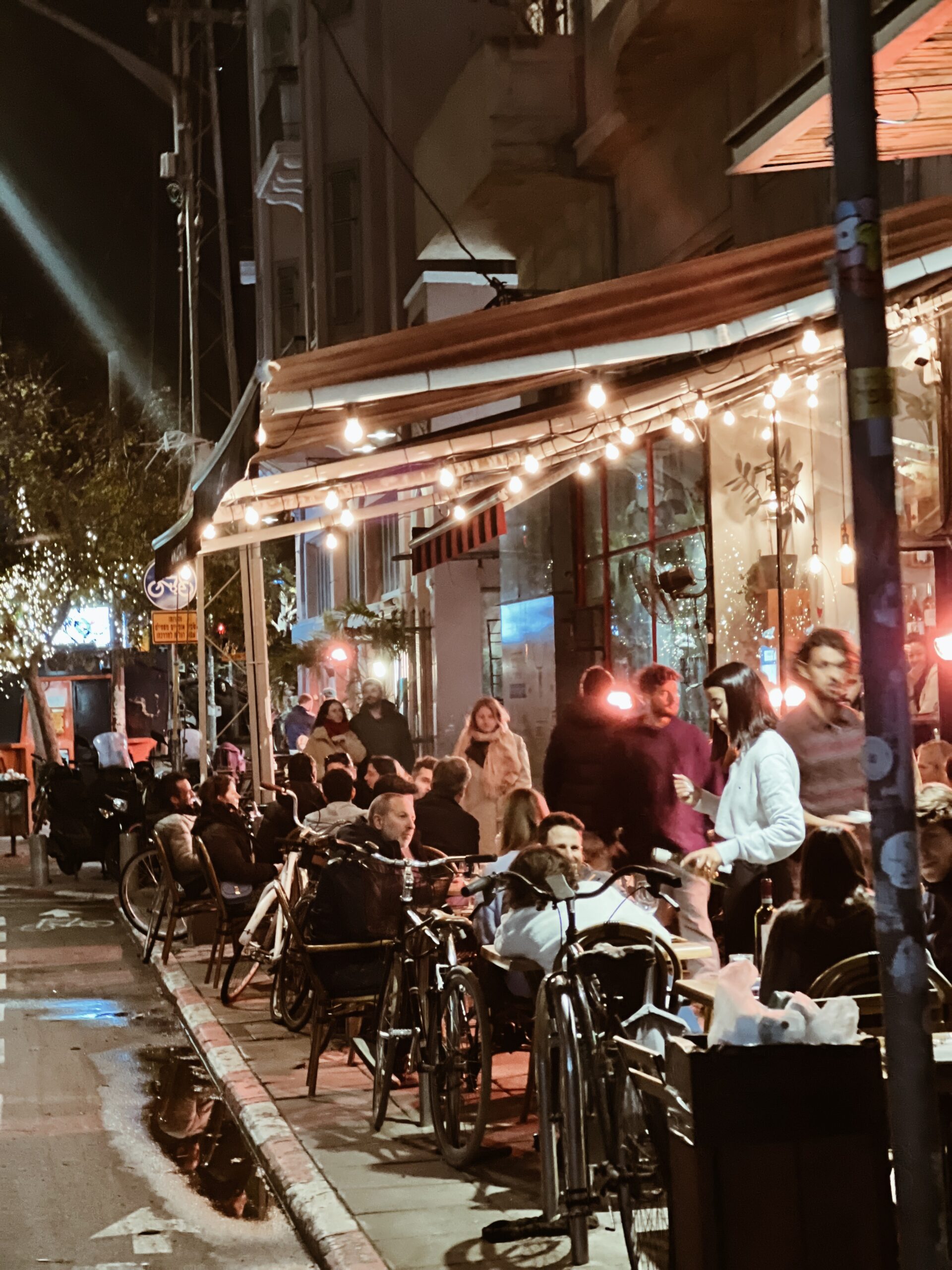 Like, cafés everywhere. We need more of this in America. Every square block had bustling sidewalk action under sparkling twinkle lights, it was glorious.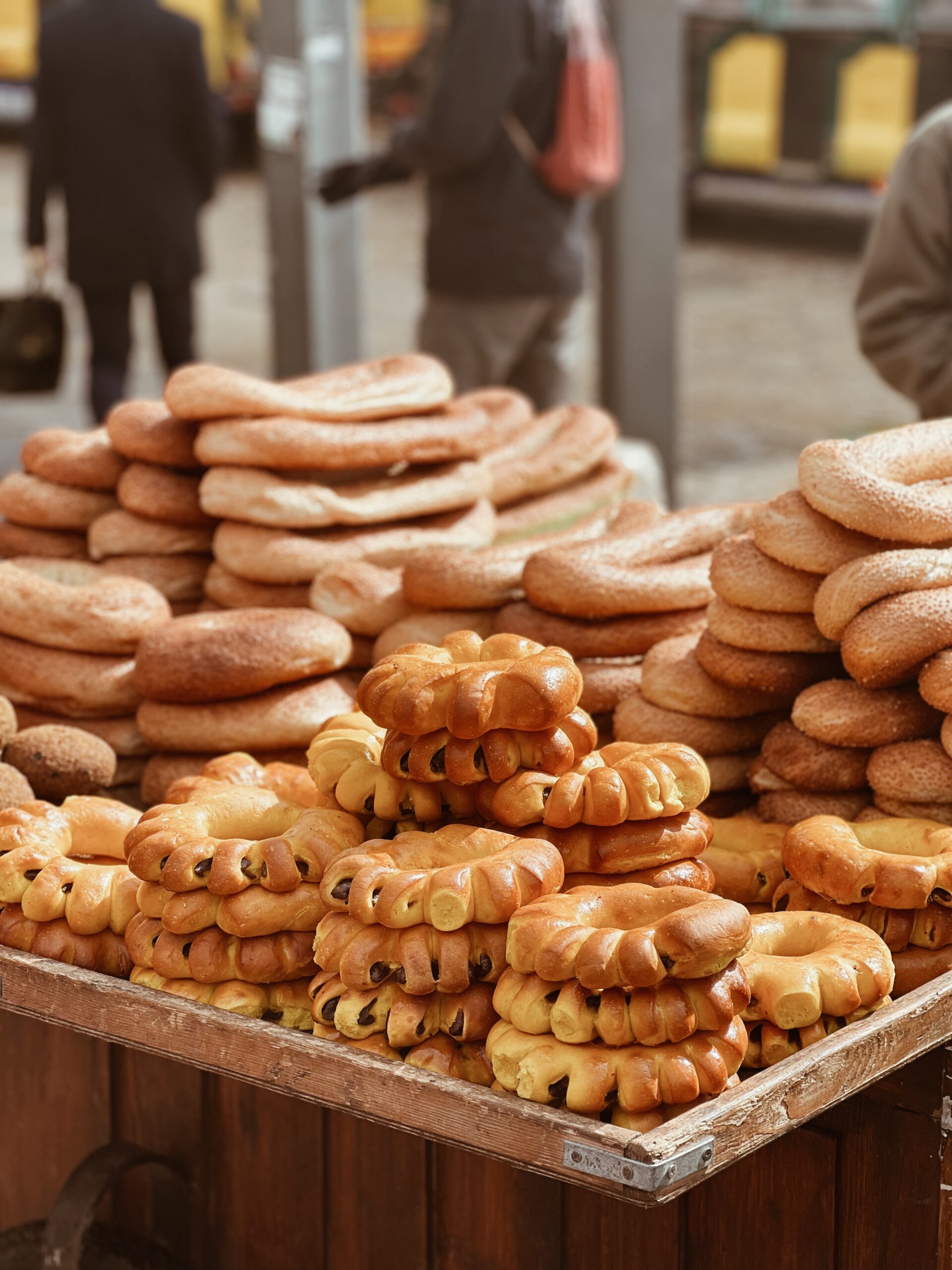 Next day! Jerusalem. It was so beautiful, so ancient, so historic, it was like stepping back in time. We were under the hand of our fabulous tour guide Hagit with Tourist Israel, and she did us right. We walked the stone streets of the Old City, taking in the different religious sites, and nibbling all along the way. I'm still full from that day. Truly.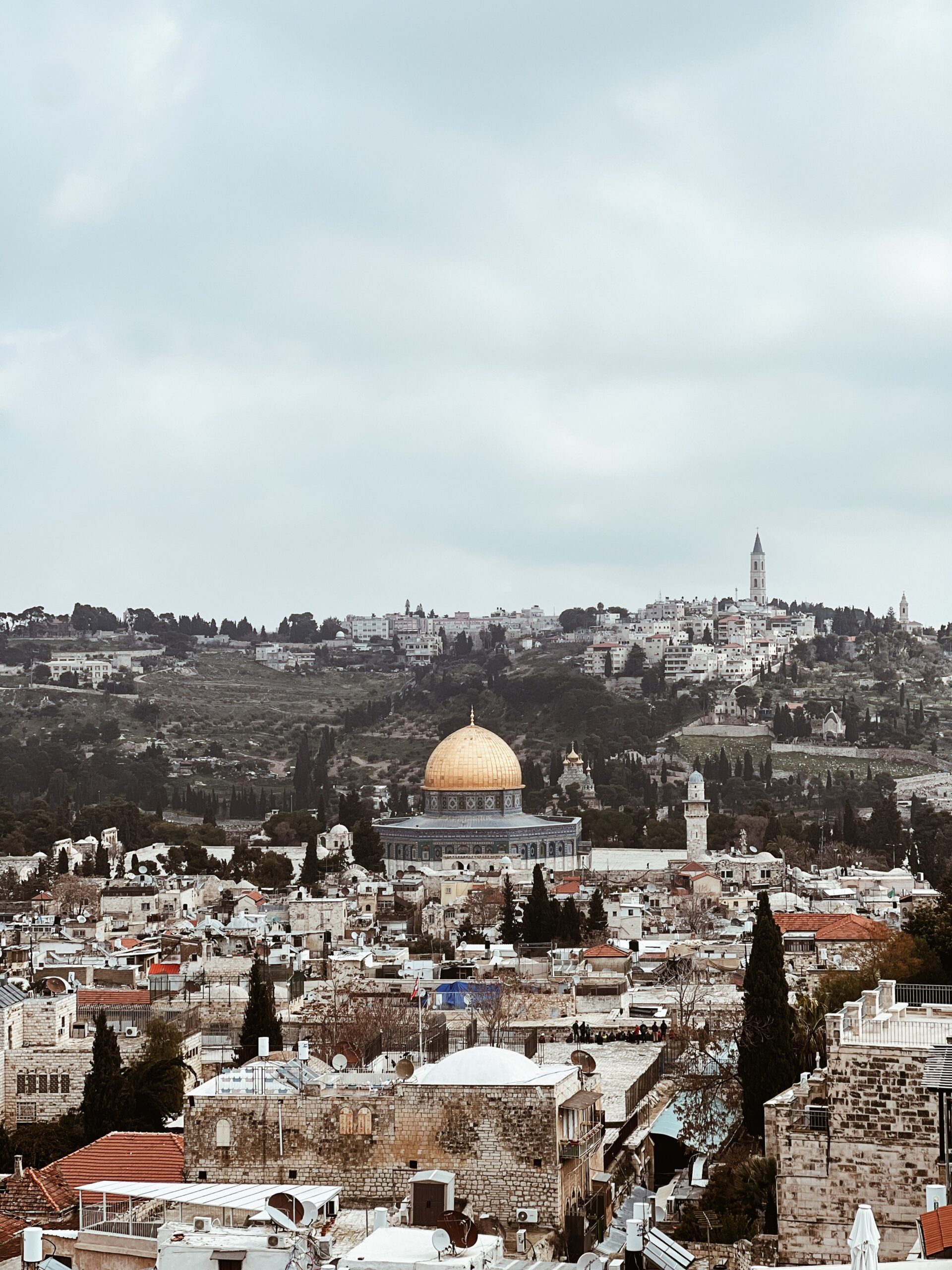 What on earth. The eyes just can't take it all in, ya know? Many biblical things happened in these streets, so it was bonkers to watch Hagit show us photos of those times, compared to the now times.
Also can we please put a gold dome on my house? Cool.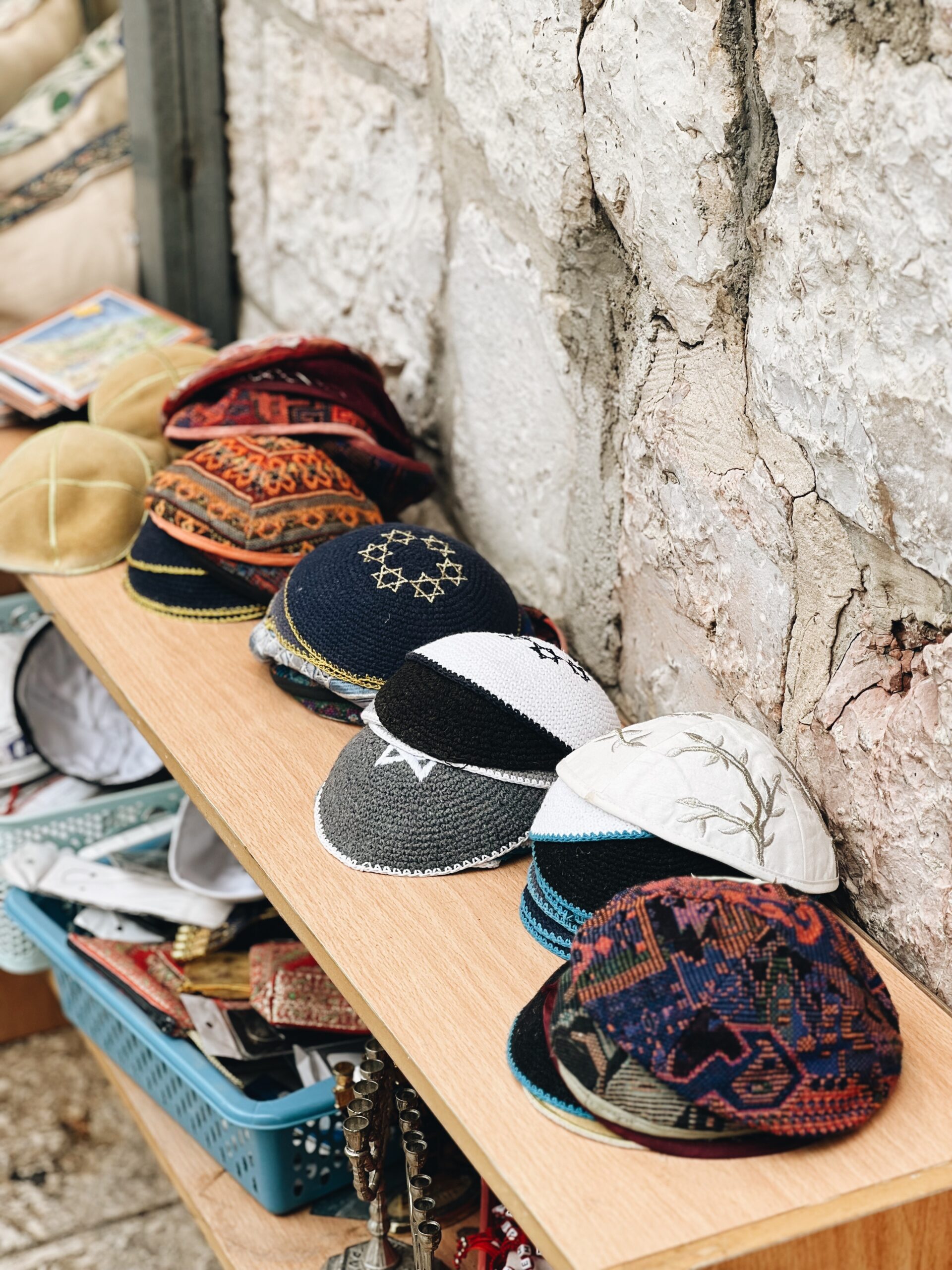 Yarmulkes were everywhere. I was surprised at how so many are colorful like this!
My favorite part of the day was strolling through the Machane Yehuda Market. It was BUMPIN', you guys. People everywhere. Bread everywhere. Incense and vegetables and color and brass everywhere!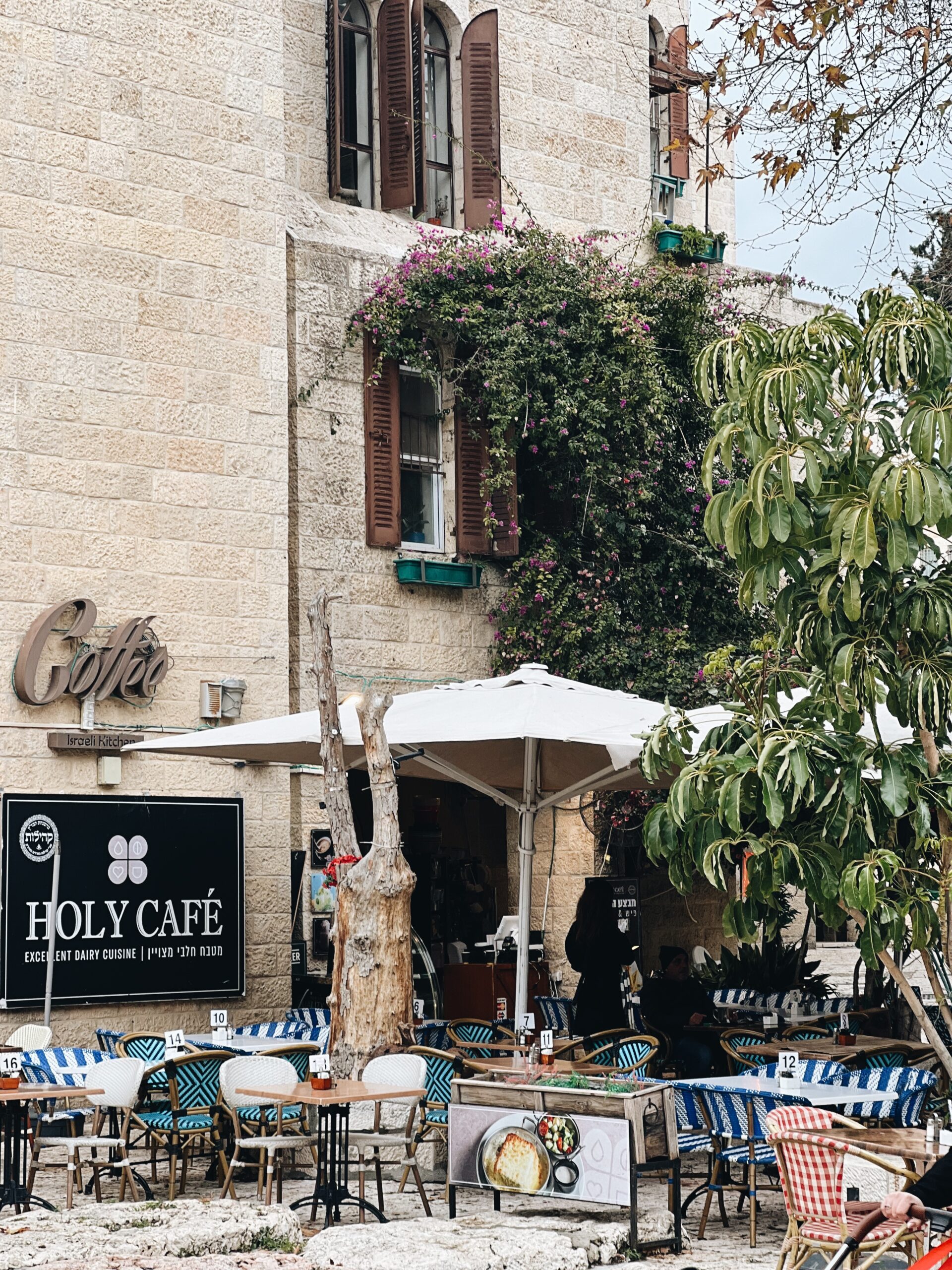 I have more photos of the market but I need to show you this adorable café. Holy Café. It made me giggle and I wanted to stop and kick it there all day.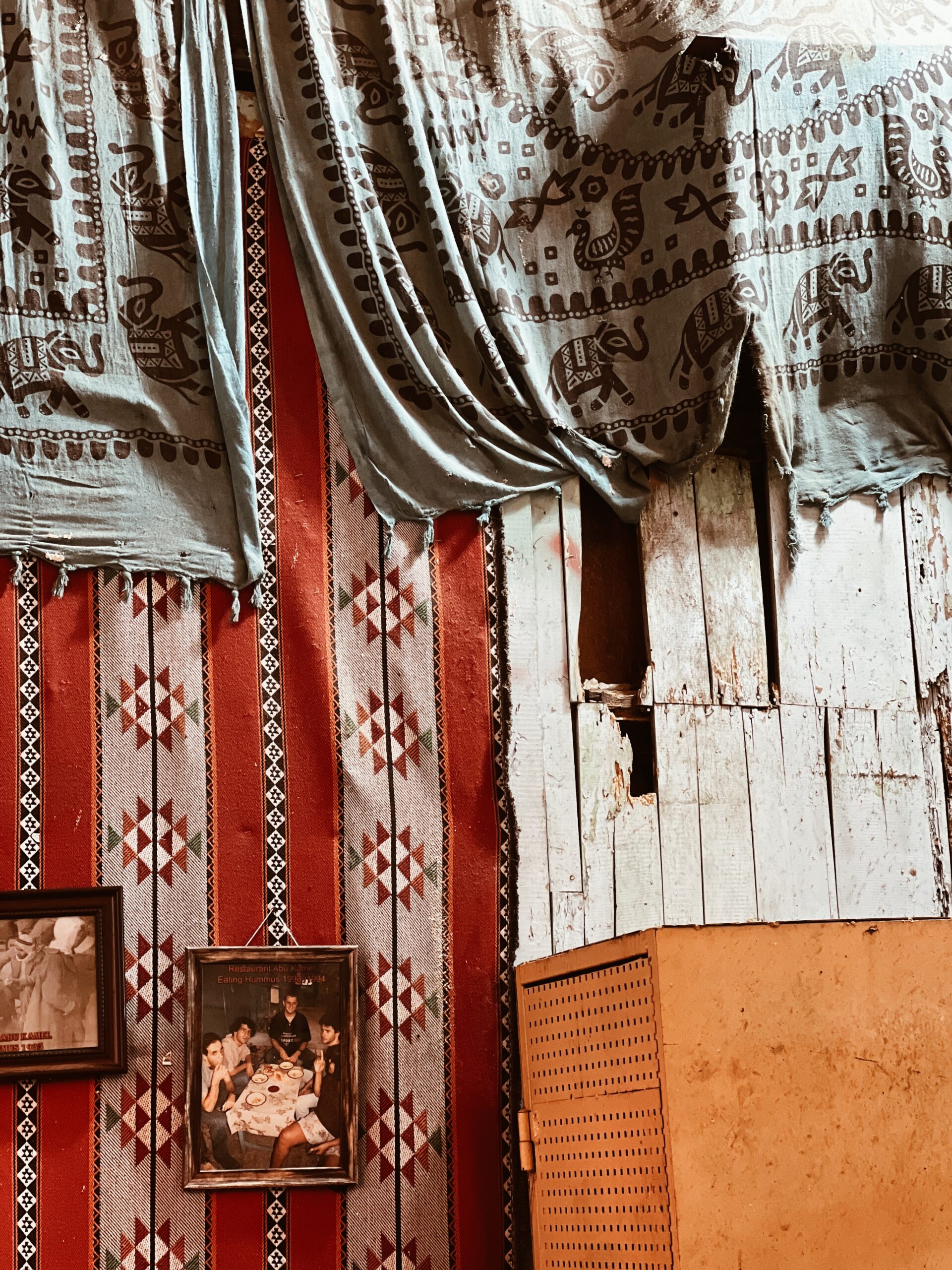 Yes please.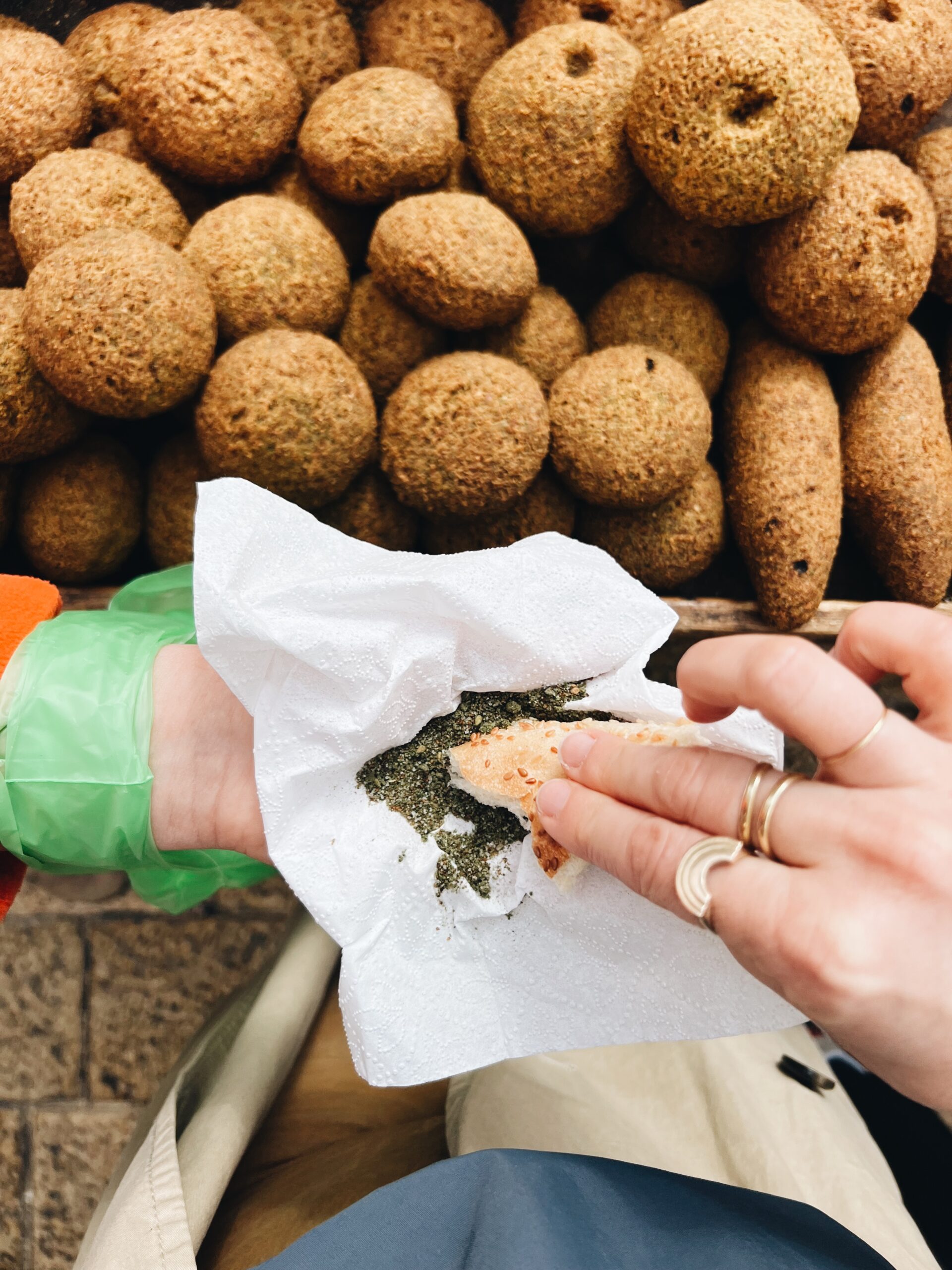 Oh! This moment was right as we entered the Old City. Hagit lead us up these big ancient steps (this was right after Aubrey thought she lost her phone but that's another story) and we went straight to a morning bread stand, ripped up some (still warm!) sesame bread and dipped it into these spices. I can't remember what they were and I know that's annoying. But I fainted and came to so that we could continue the tour.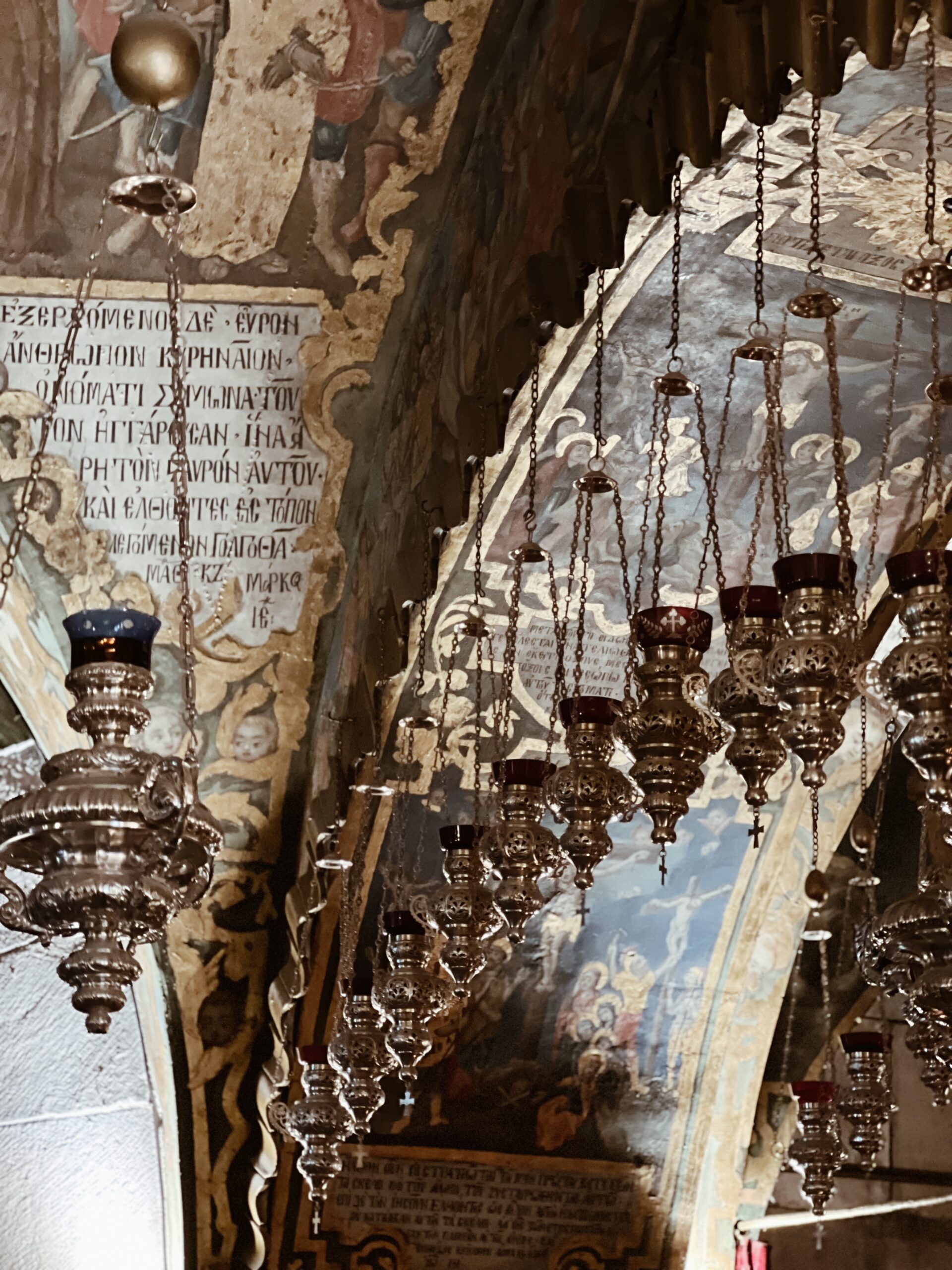 HARD 1996 Romeo and Juliet vibes. I was in.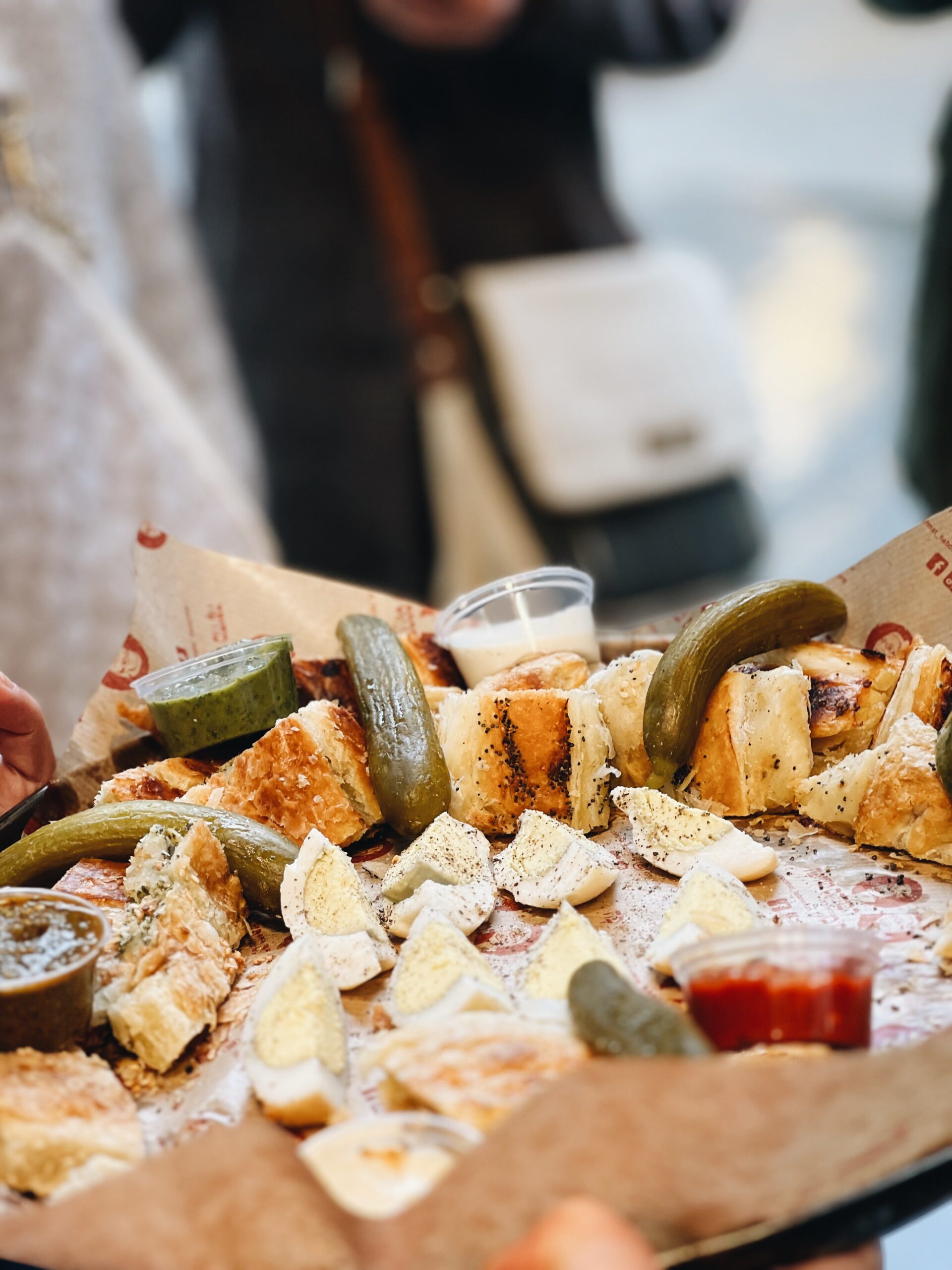 After we saw some fascinating historical religious sites, we perused the market and snarfed everything in sight. Don't ask me what this is (besides the obvious hard-boiled eggs), but I'll tell you now it was ridiculous and I never wanted it to end.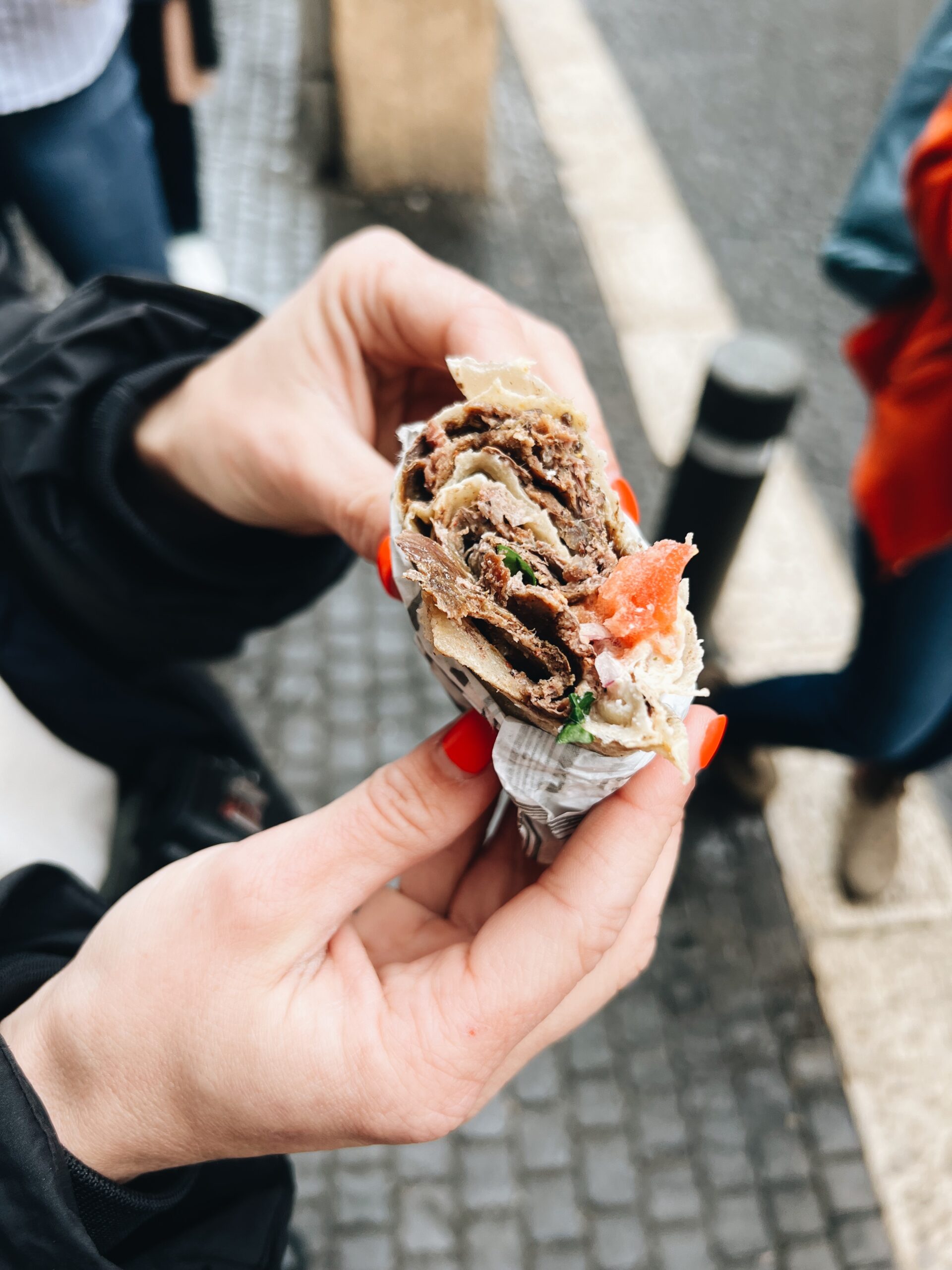 Okay THIIIIIIS what what I flew 15 hours one way for. (those aren't my hands) It's lamb shawarma and it was so tender and so flavorful, I wept. (<–little religious humor for ya)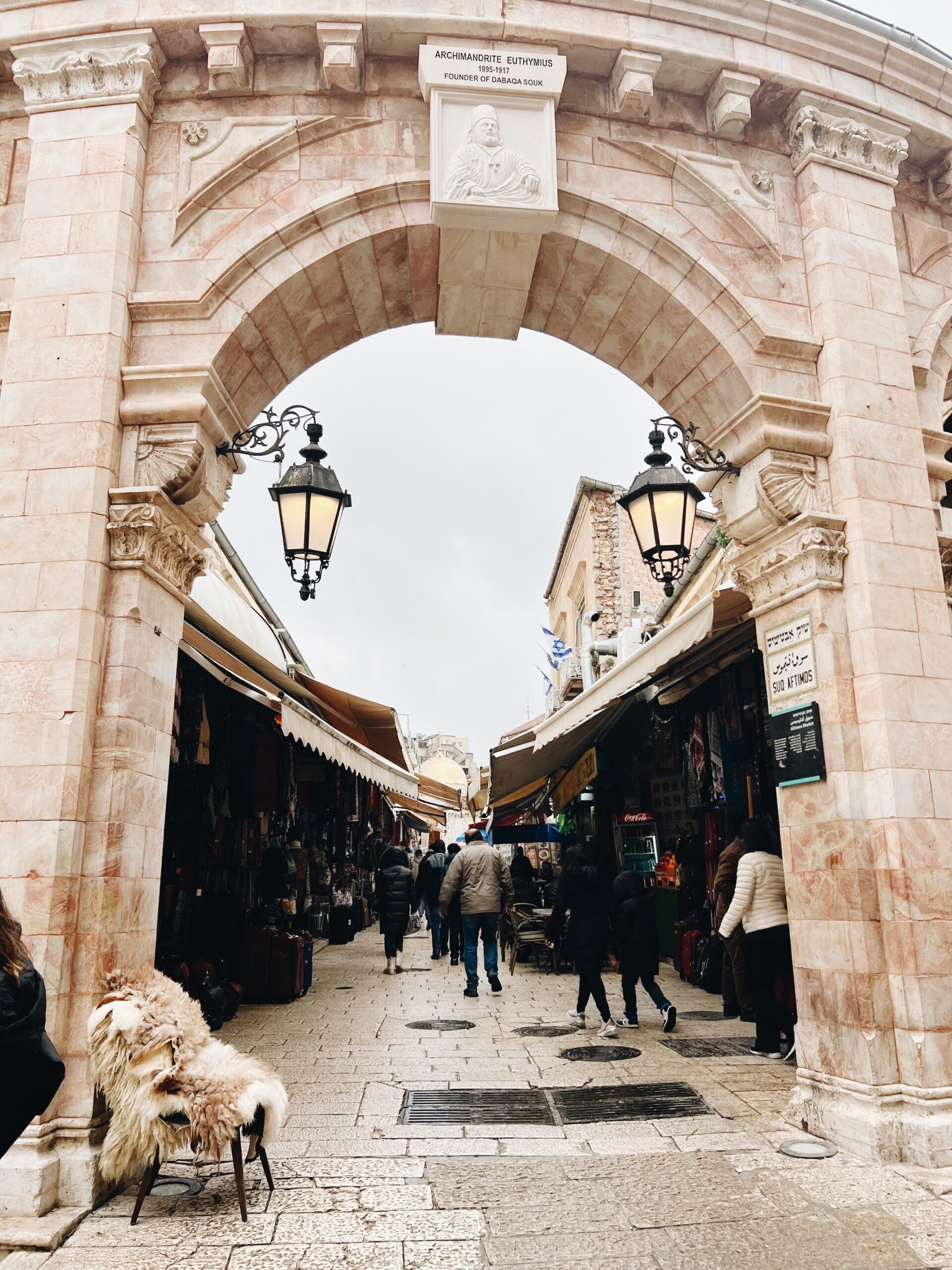 Scenes like this were everywhere. Again, your eyes just couldn't take it all in.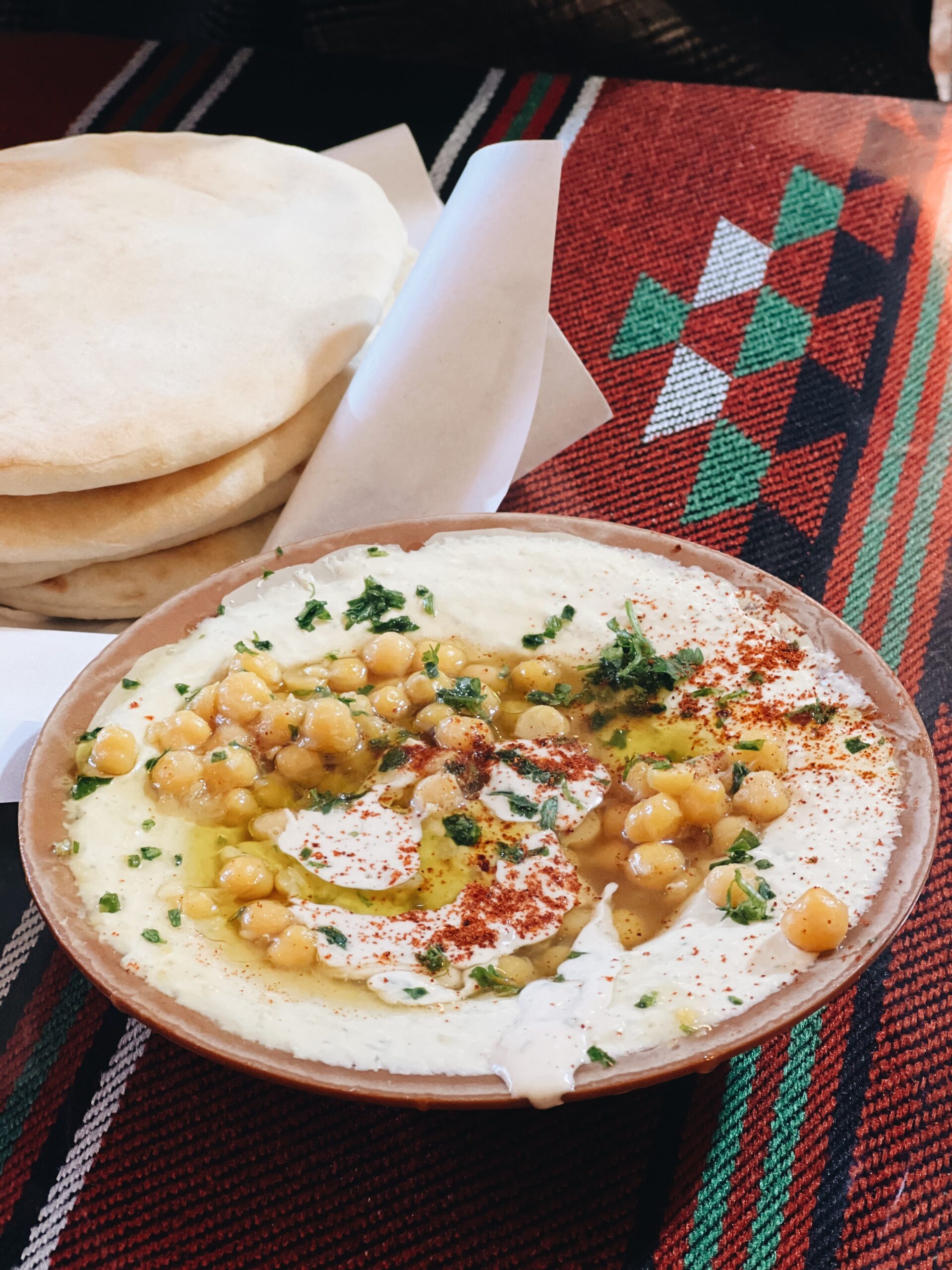 At one stop in Jerusalem we had the BEST hummus in the entire world. And I feel legit making that claim. WE WERE IN JERUSALEM. Creamy, light, dippable, vibrant, a little spicy.
Oh! I did buy tahini from the (literal) first press, so maybe I'll try to make hummus soon and show you. Maybe.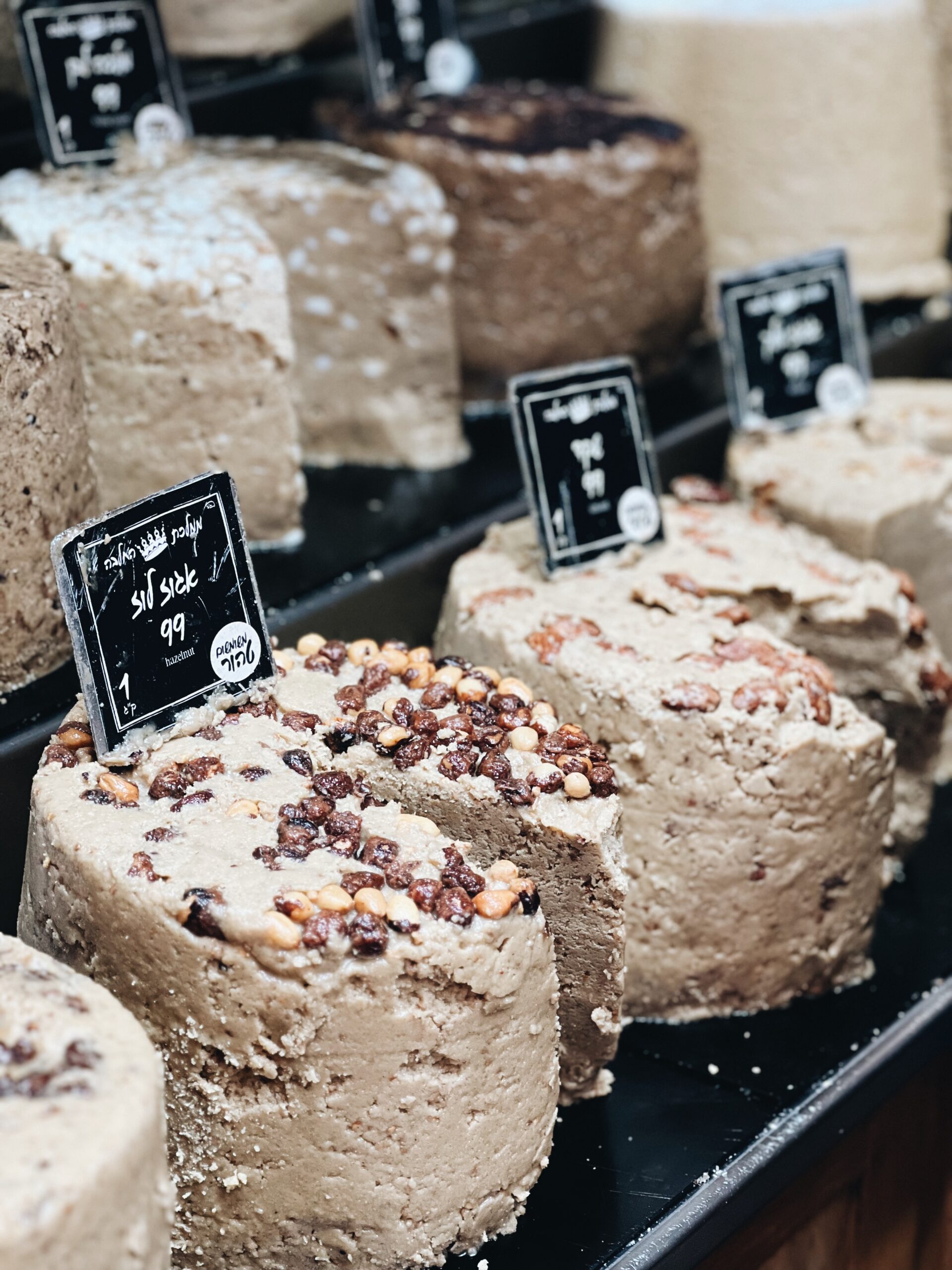 These cake things were also at the tahini shop. They're MADE of tahini. Don't ask me what they're called, I was in a coma.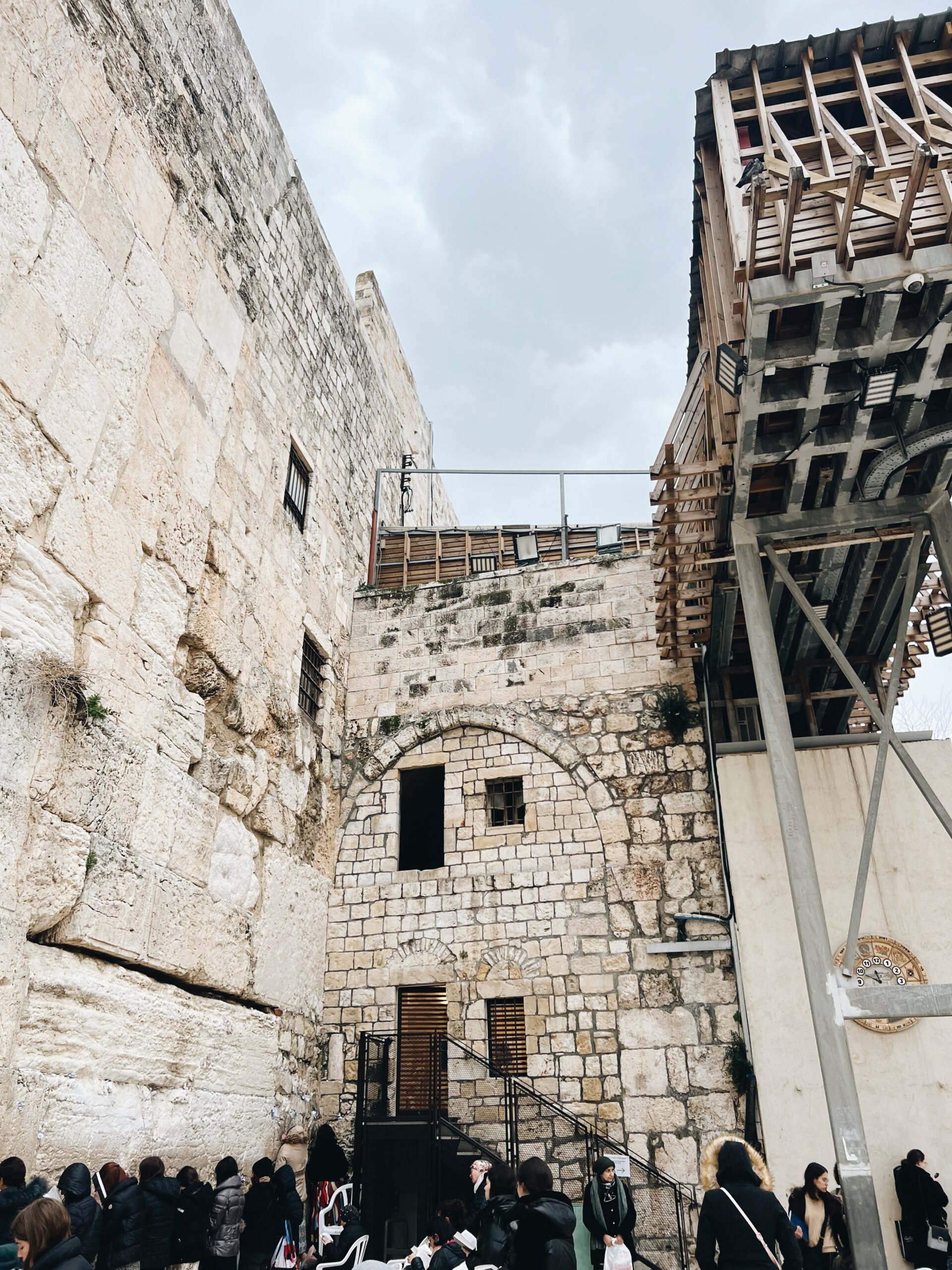 Something else we did was visit the Western Wall. According to tradition, it's the last standing wall from the Temple in biblical times. So these days, people tuck little prayer notes in the crevices and pray. It was overcast and barely drizzling and the birds were hovering above. Such a mood!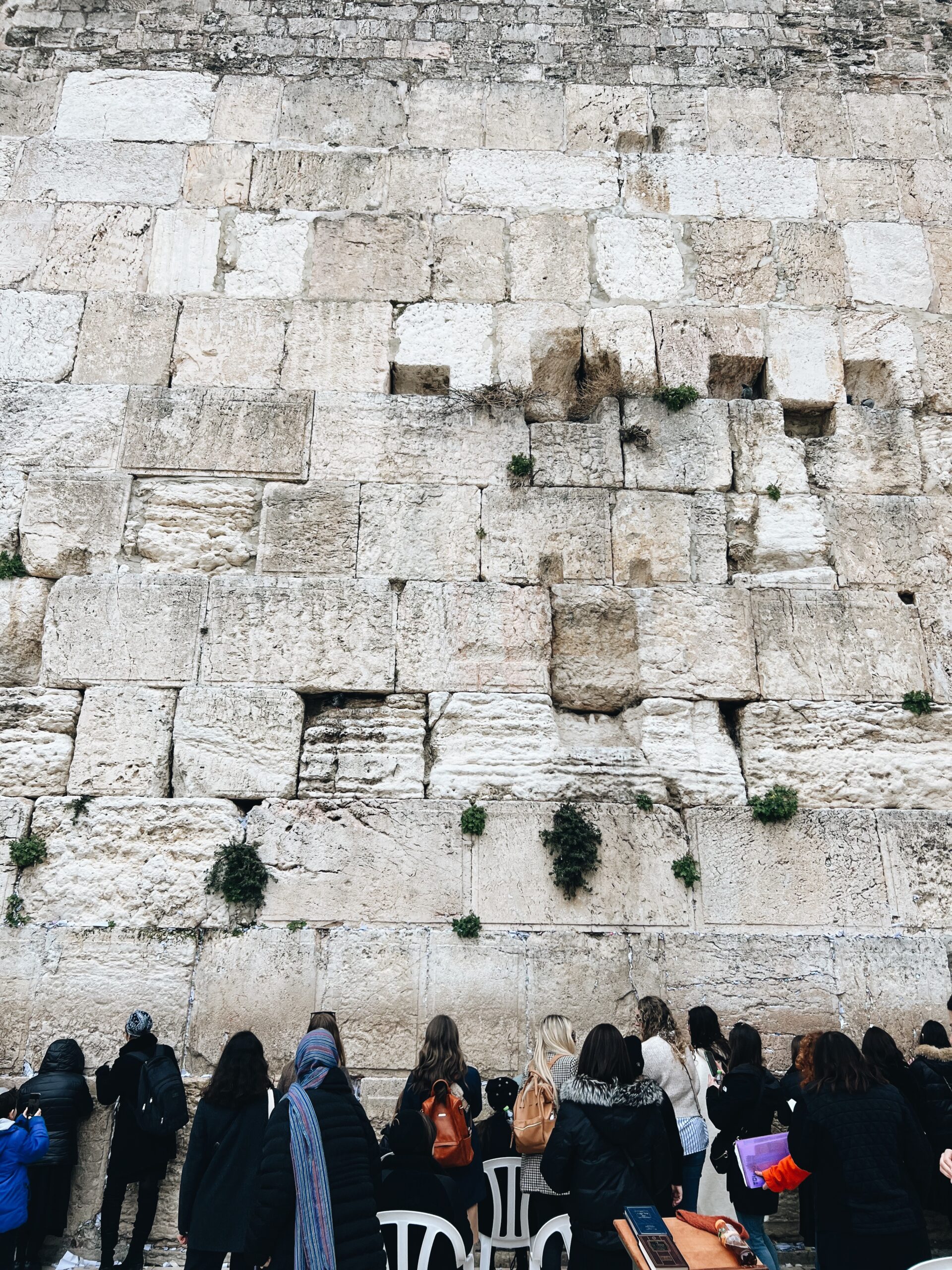 Let's play a game called Spot the Americans.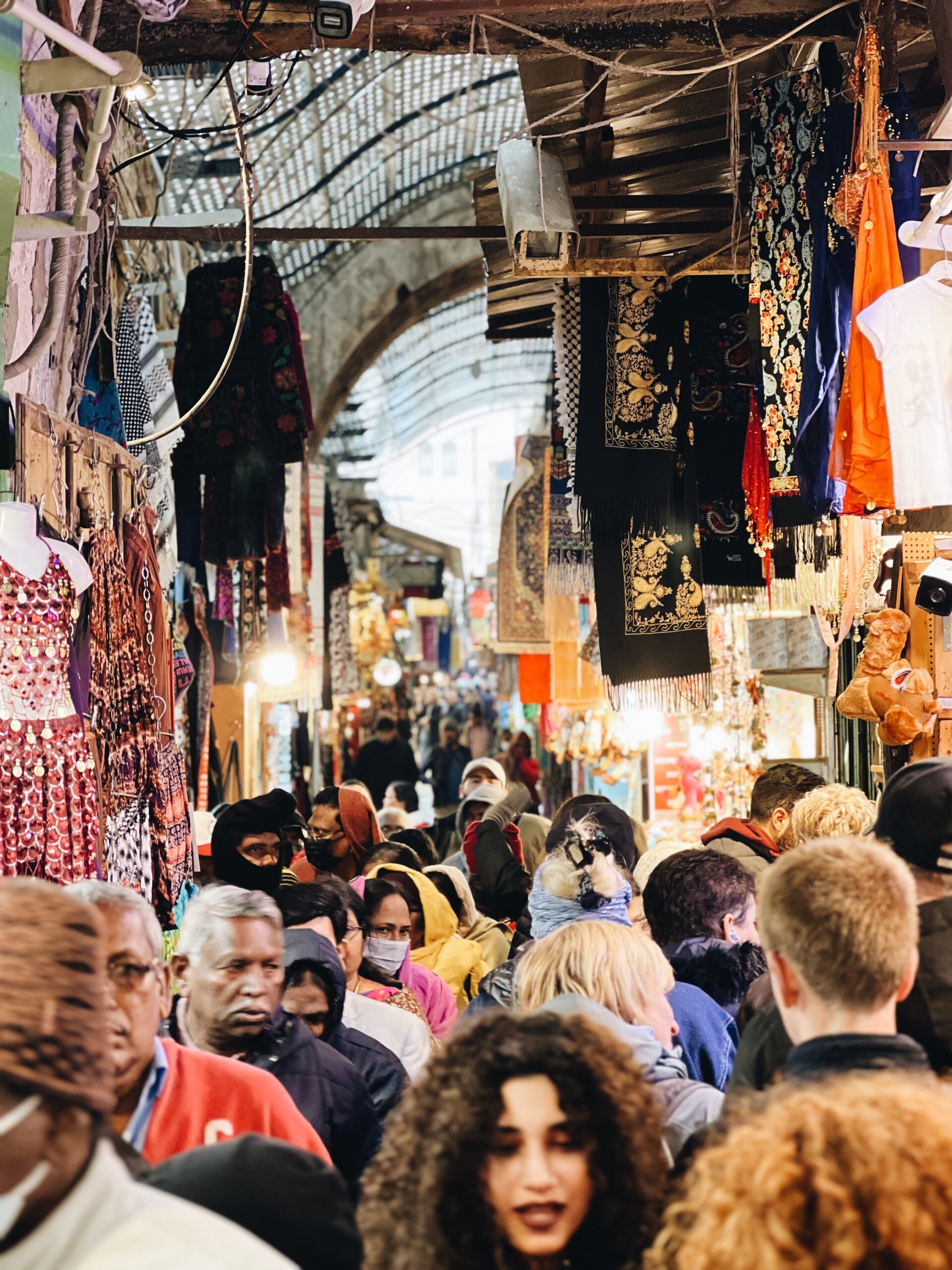 Did I already post this photo? If I did, here it is again. I love it.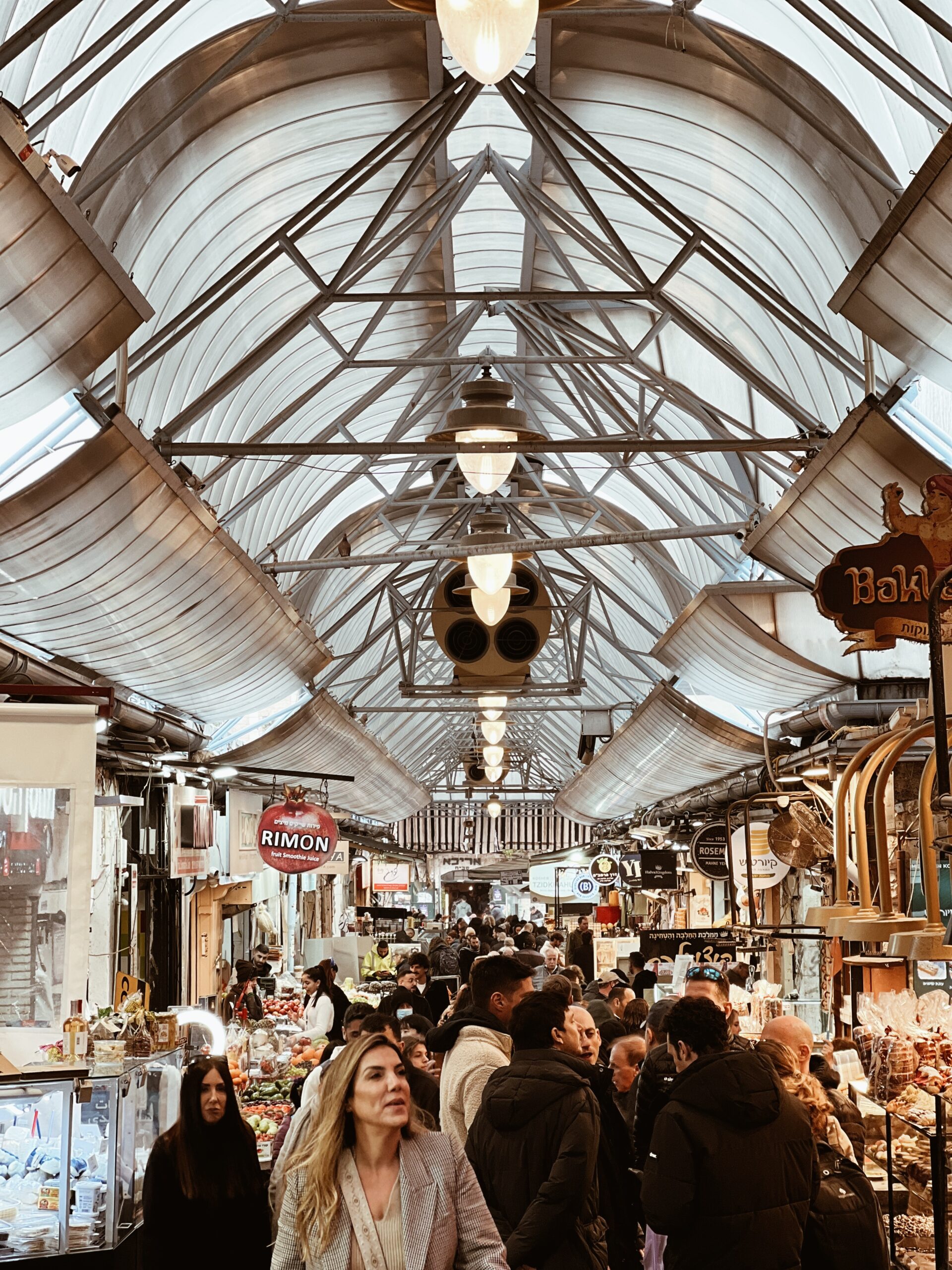 Look at that energy! This woman up front has such a good vibe. She's not messing around, I'll tell you that. Those arched eyebrows are making all the decisions.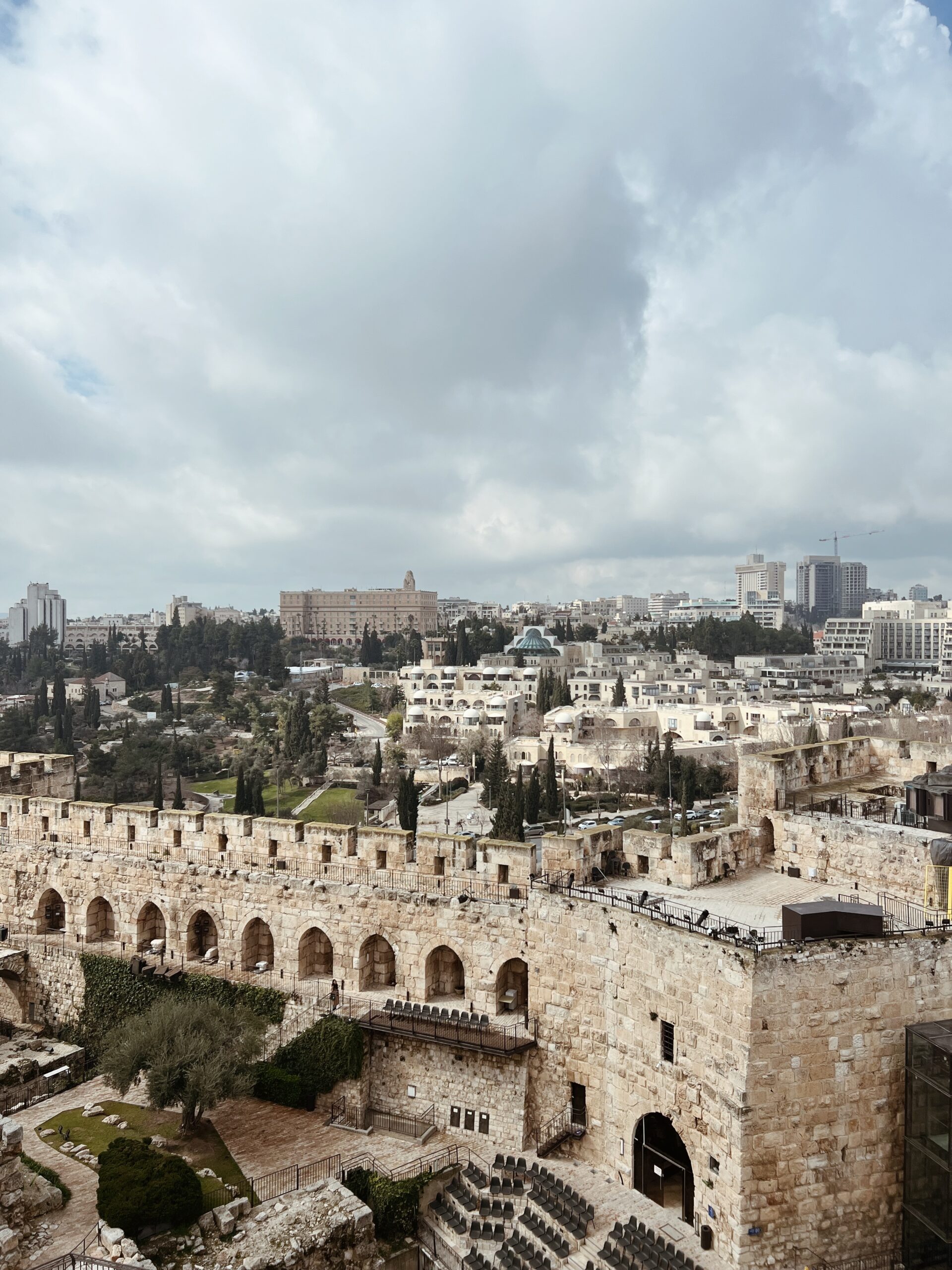 One more photo of Jerusalem before we head home. Honestly, I could have posted 50 more photos of this place, but I like having human friends so I restrained. (spoiler: they'll appear in Friday Flotsam over the next 57 years.)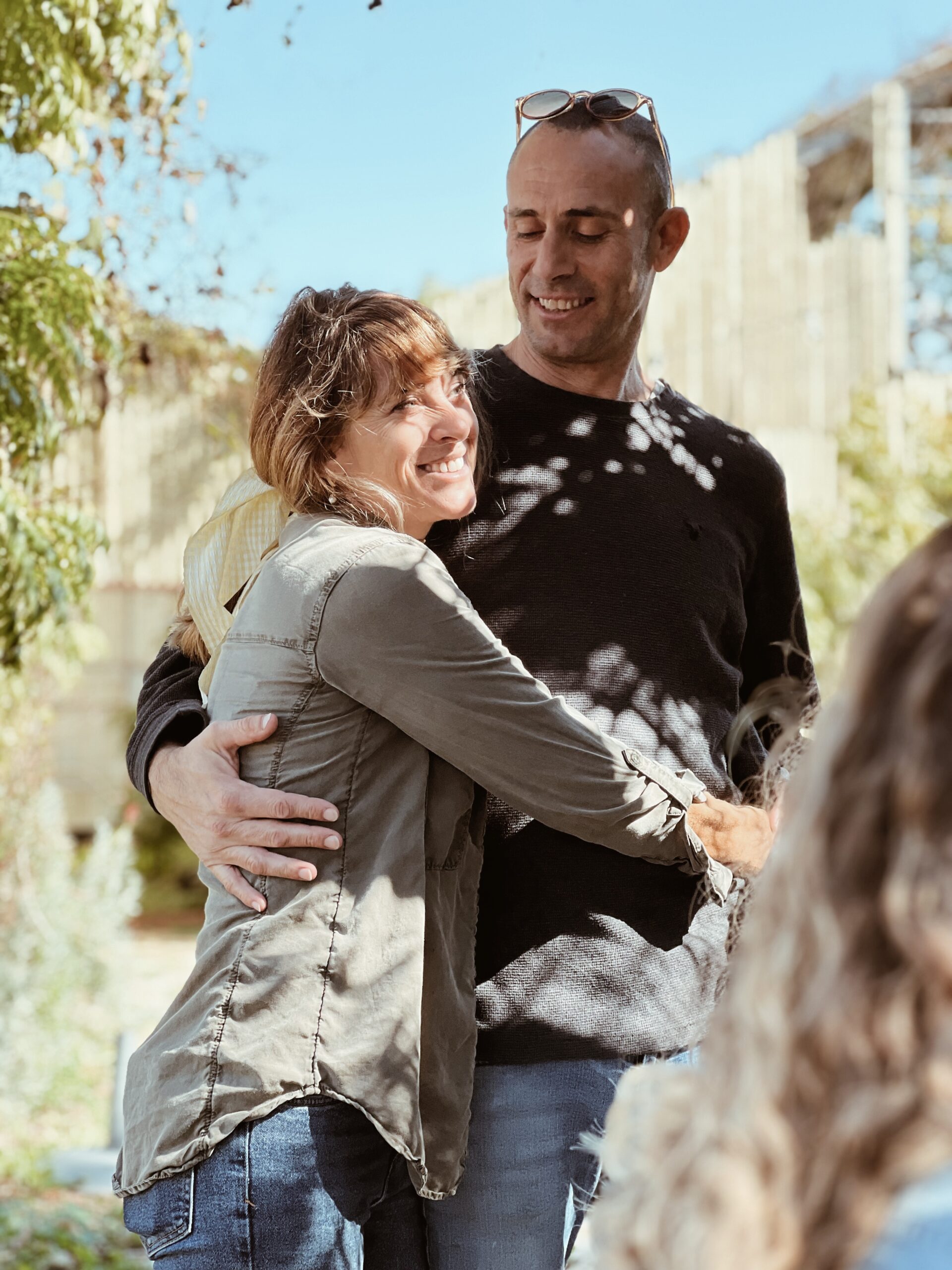 Next day! Oh, it was so, so lovely.
We spent a good portion of the day at the charming Farma Cultura, where we drank strong coffee in the sun, perused the rows of the budding flowers and vegetables, felt the tiny seeds with our fingertips and tasted the fresh herbs, took in the warmth of the day and enjoyed the adorable couple, Gil and Nadav. Also yes, her messy bangs gave me life, how on earth did you know.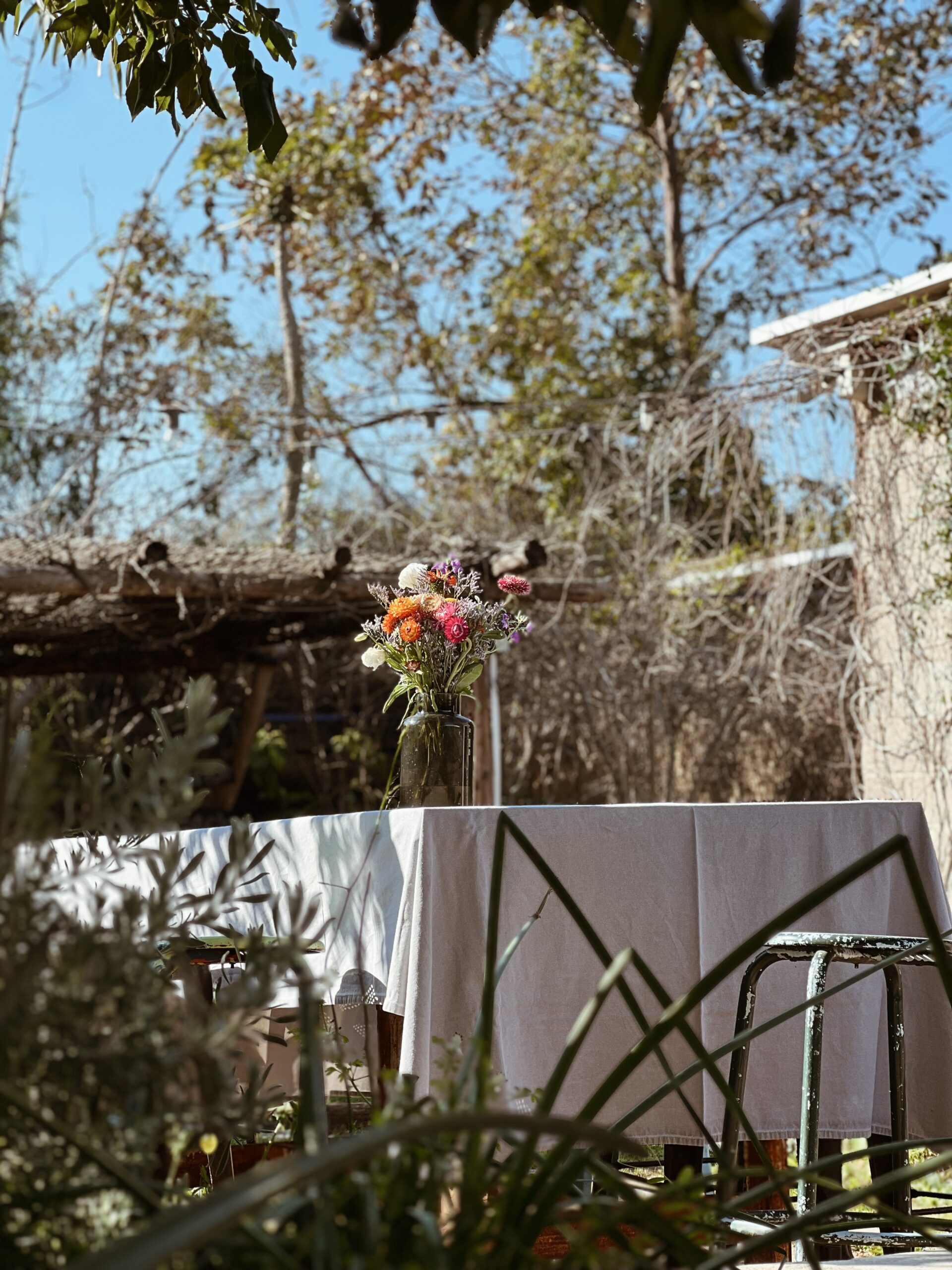 I tell you, coming from frigid Kansas, this was a balm to the soul.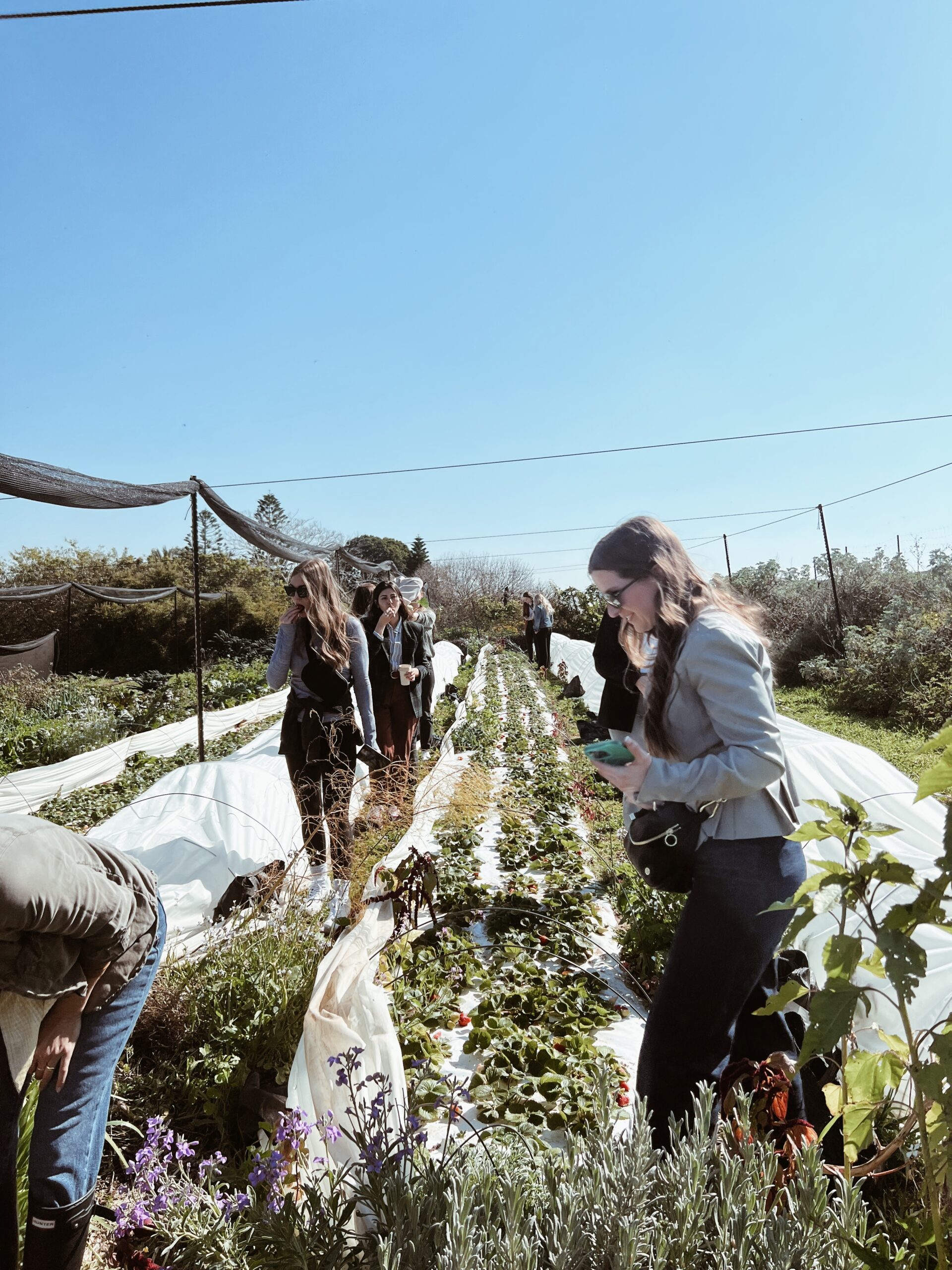 They had something like 87 different types of strawberries (guys I'm kidding! it was more like 86) and we made it our business to taste every single kind. (don't tell them I told you that.)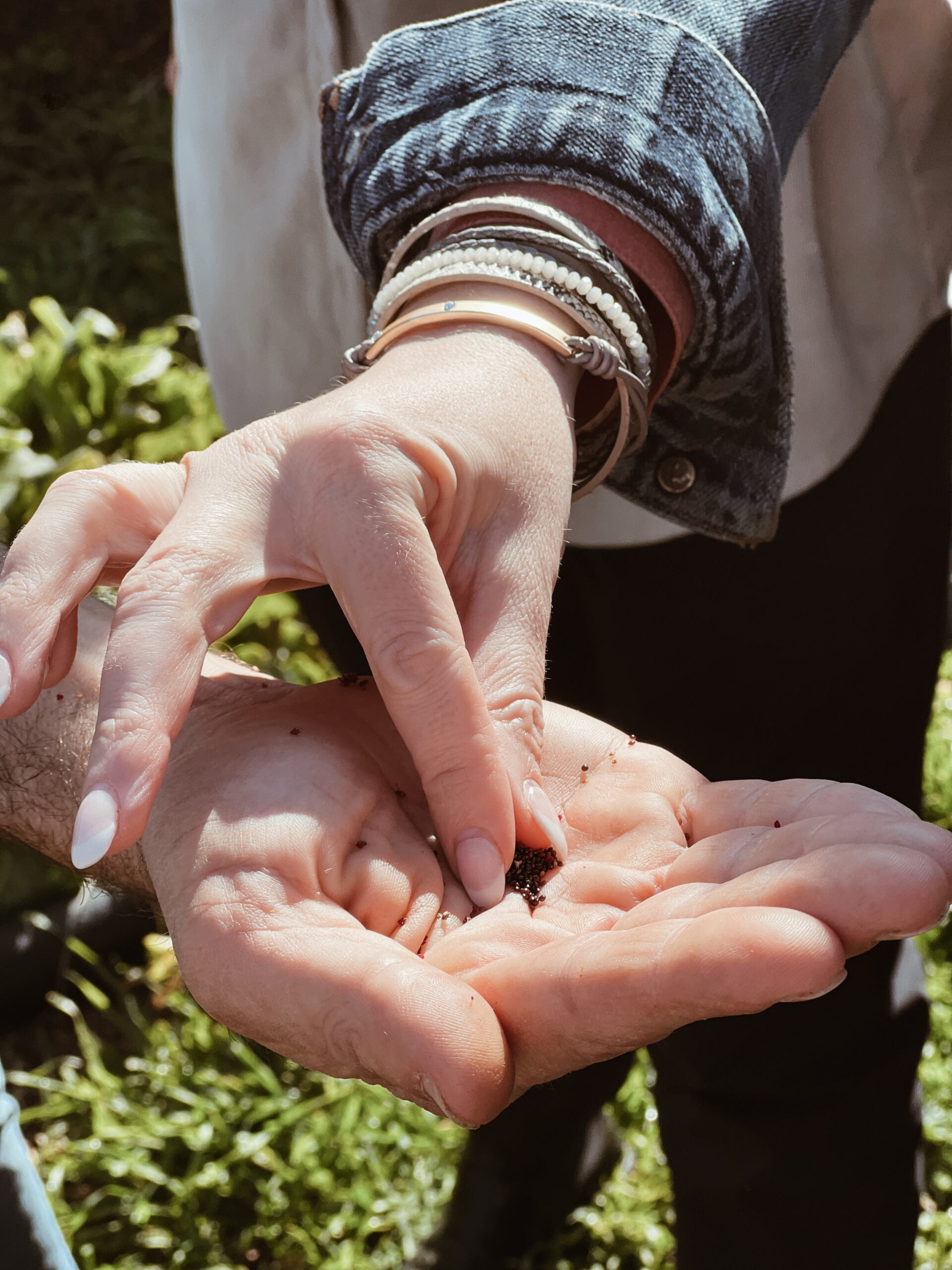 One funny thing Nadav said to us when we asked him how many kids they had: he said, "Yes, we have two girls and a daughter. The daughter's easier."
We're collectively still trying to figure that one out.
Obsessed with this, naturally.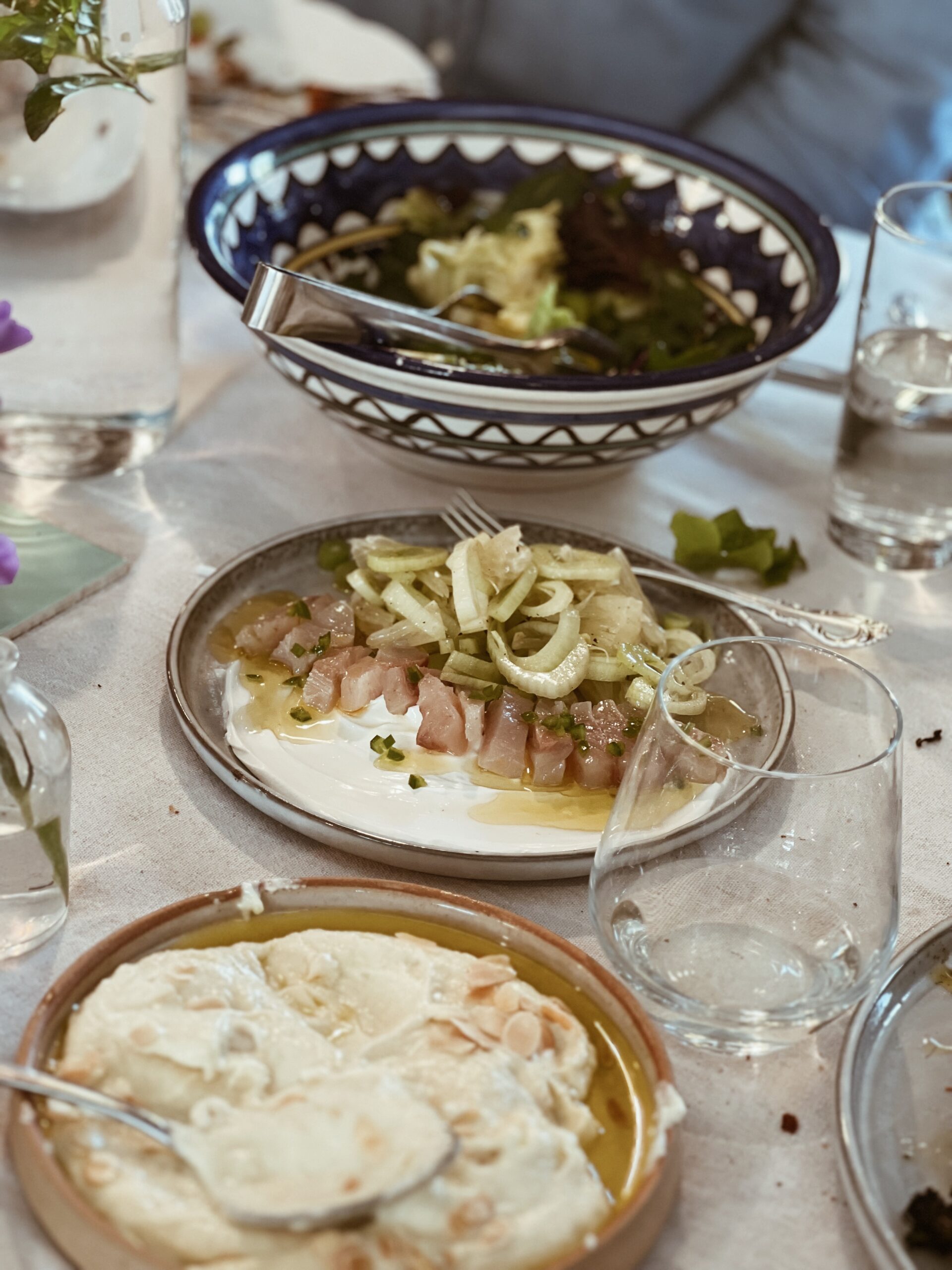 Then we had one of the best meals of my life, and I truly mean that. Everything was so fresh, from their gardens (minus the fish), and could not have been more beautiful. The salads, the fresh breads, the creamy dips, the FISH, the exquisitely roasted vegetables, the crispest white wine I've ever had. (I tried to find it in Kansas. It was a no-go.) The music was light, the food was aromatic, the wine was flowing. It was just one of those experiences that leaves you nearly breathless.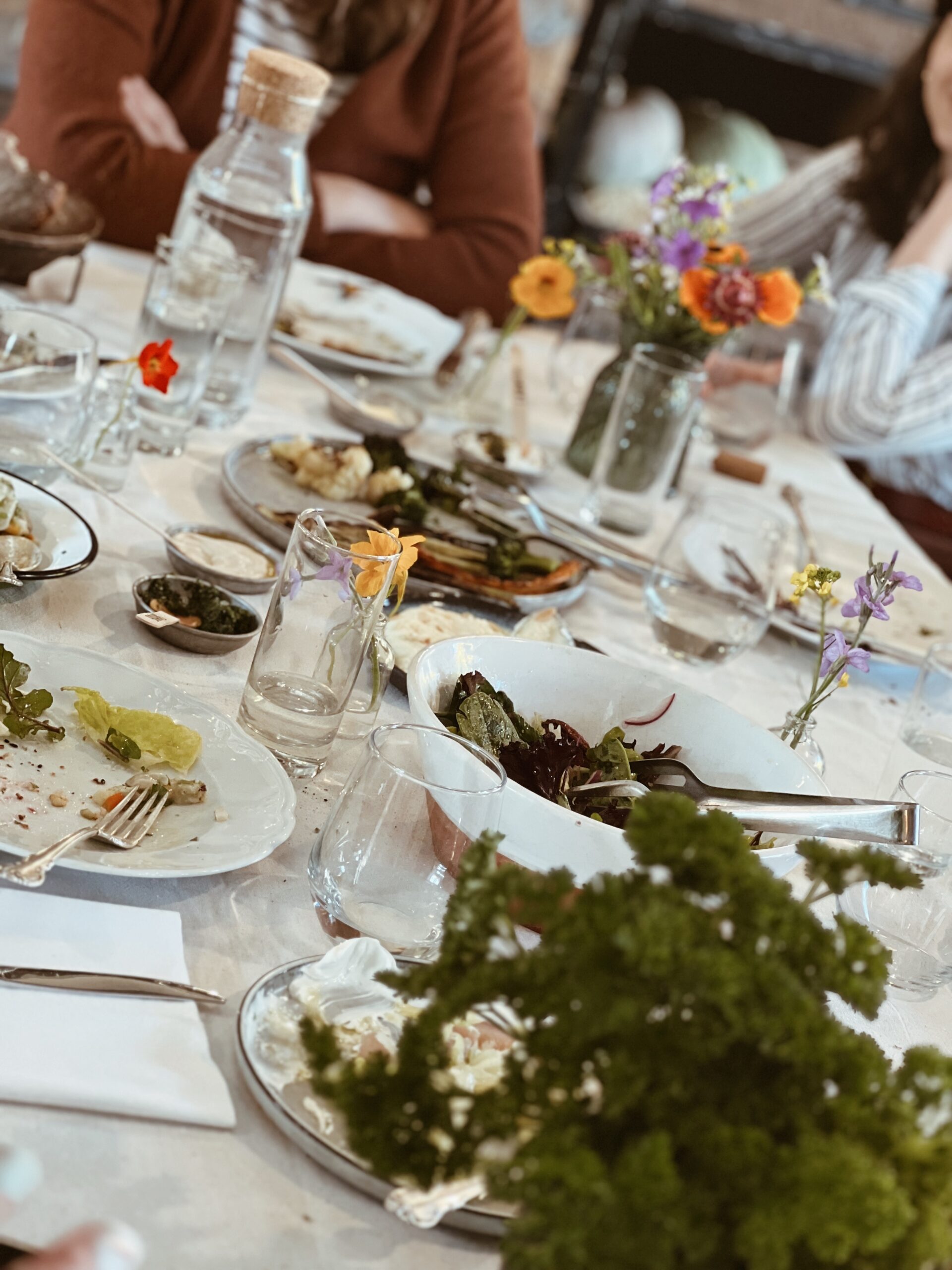 I mean come on.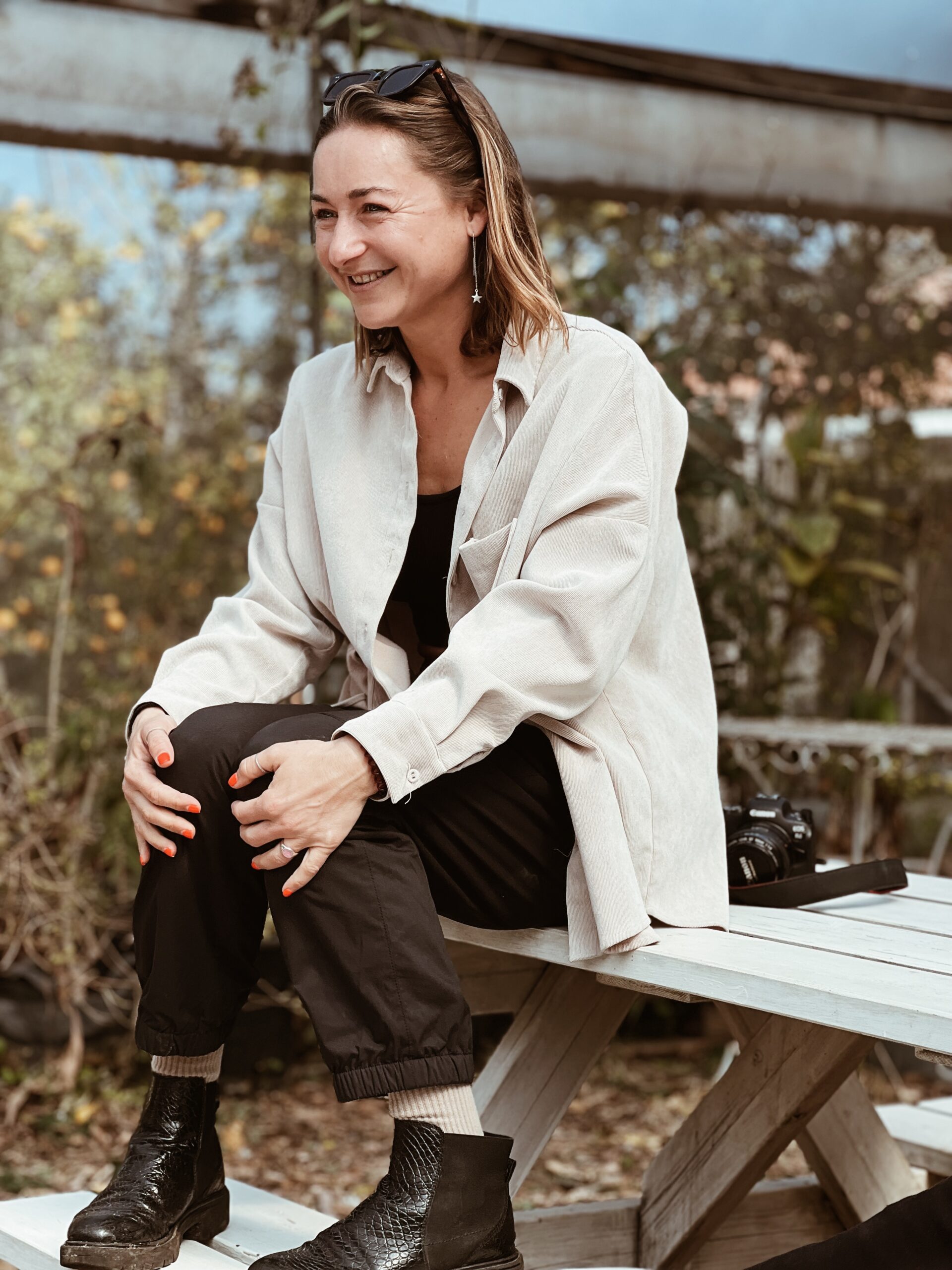 After lunch we took our wine glasses out on the patio and sat leisurely in the sun. Our fabulous and fun photographer, Gala, talked us through some tips for having our photo taken. Aaaand then she took photos of us! WHICH REMINDS ME, I need to go find mine. I'm nervous.
She had such a natural spirit and was such a darling to work with (and hang out with). She also wore crop tops a lot and the jealousy of her flat stomach was unhinged.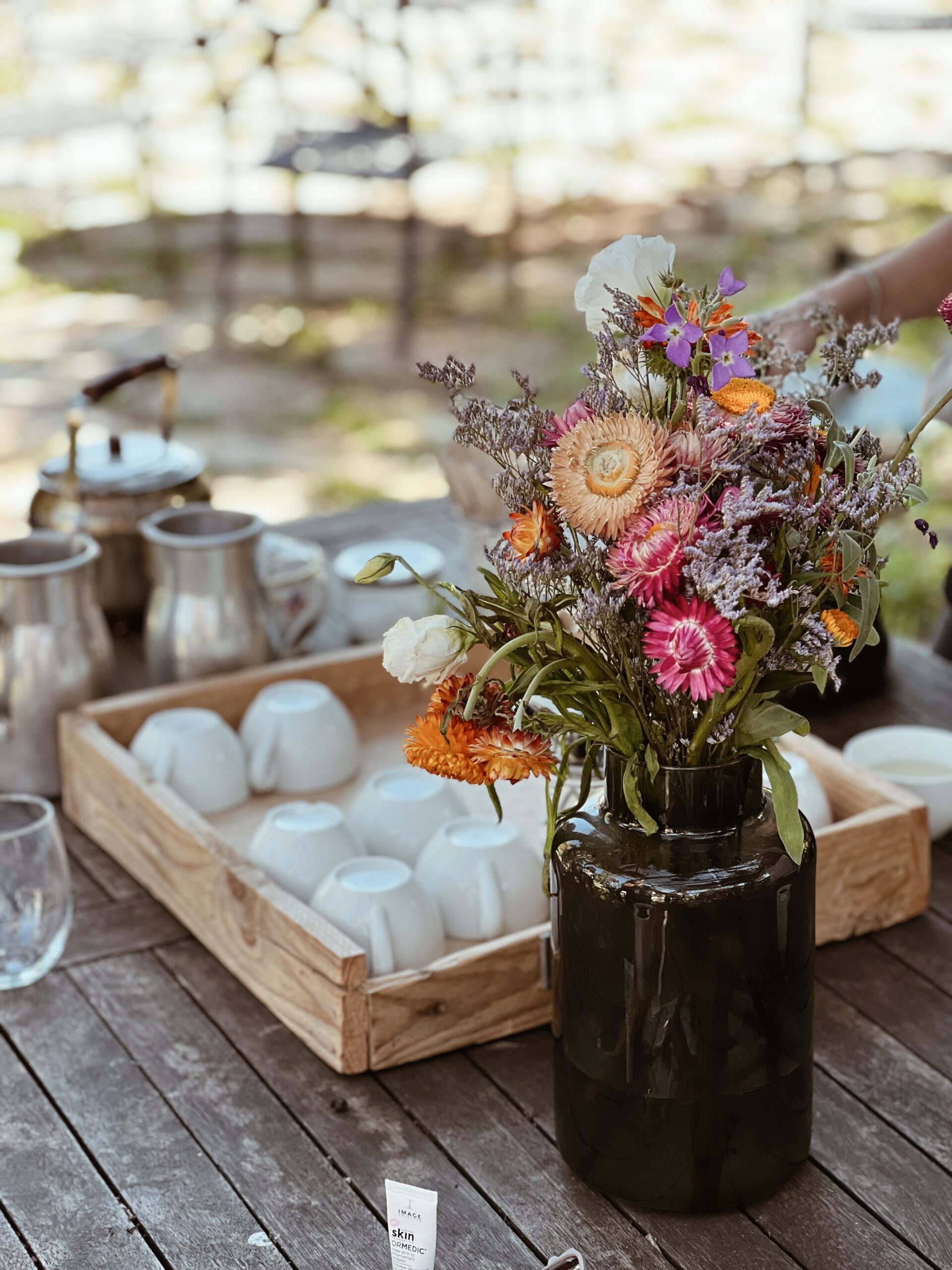 After our glamour shots we switched (back) to coffee, tea and nibbled on babka under a pretty canopy of to-be greenery. It was just so perfect.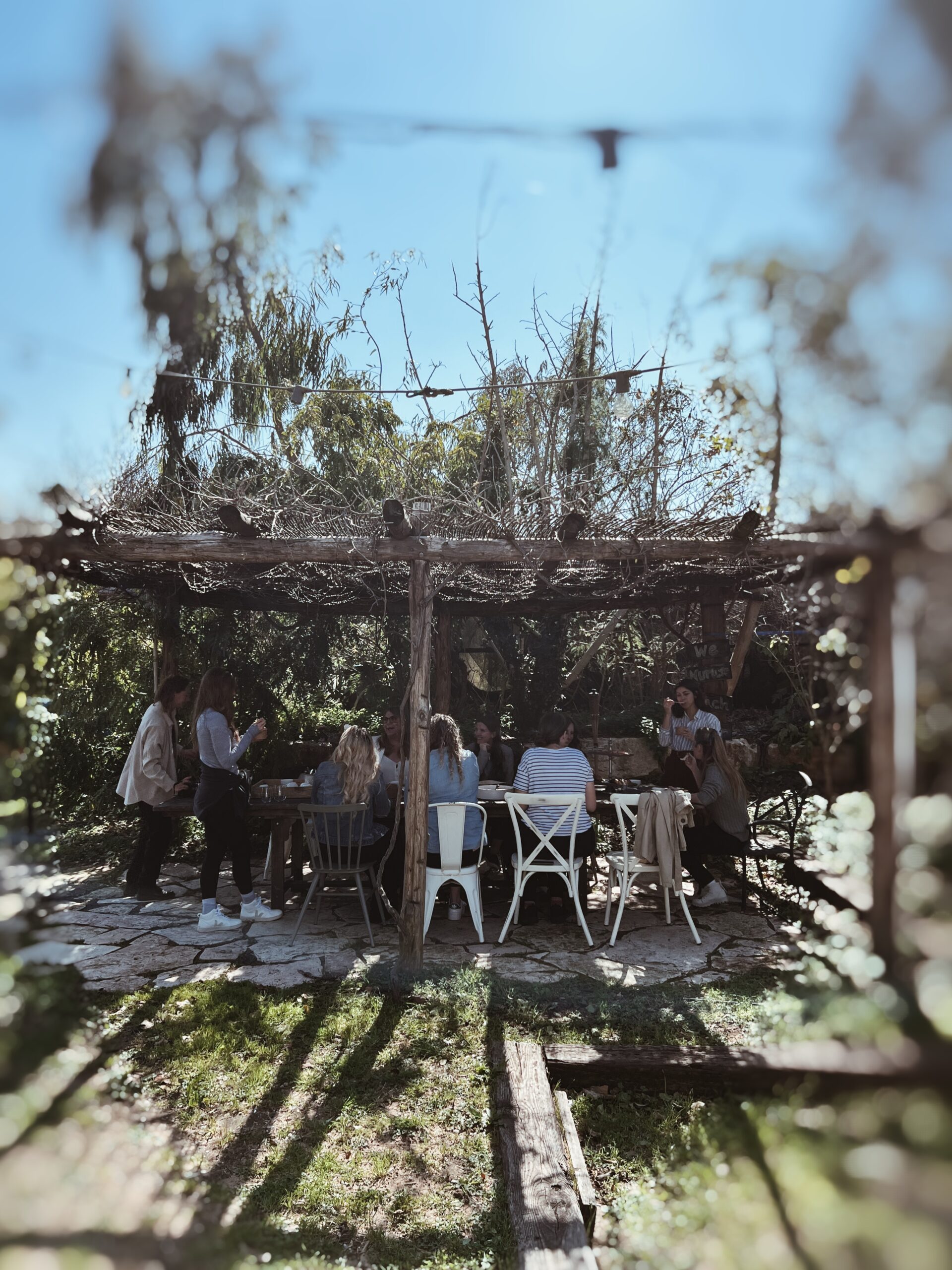 Poll: just how annoyed are you with this blurry effect?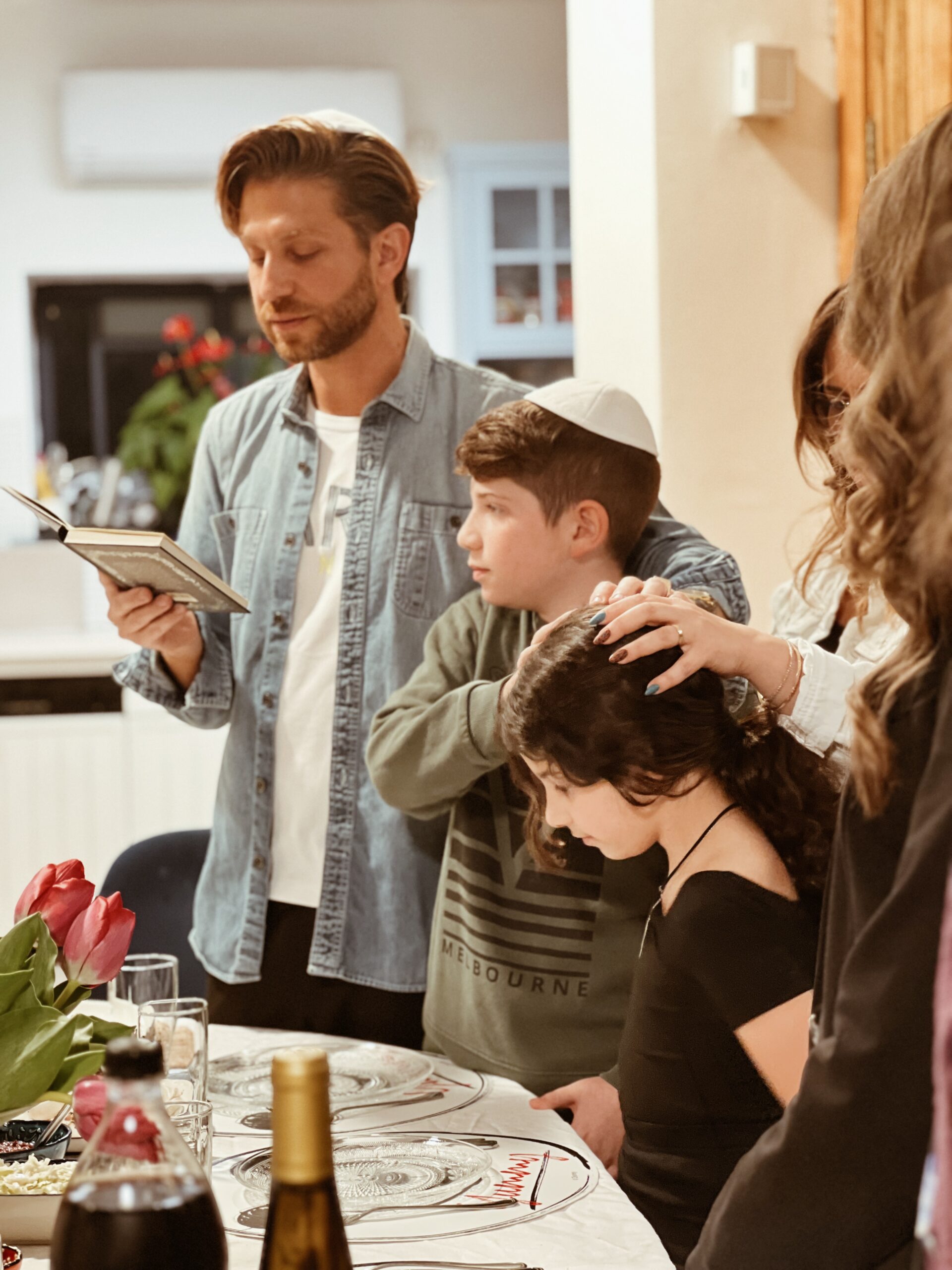 That evening we got to partake in something really special. Get this, the Alon family invited our ENTIRE CREW to come have Friday Night dinner at their house. Also known as Shabbat Dinner. In Jewish culture, Friday nights are a big deal to families. It's like, a ritual. There's a reading, then a blessing of the children, of the food, of the everything. It was so sweet! (I wore a blazer to this, too)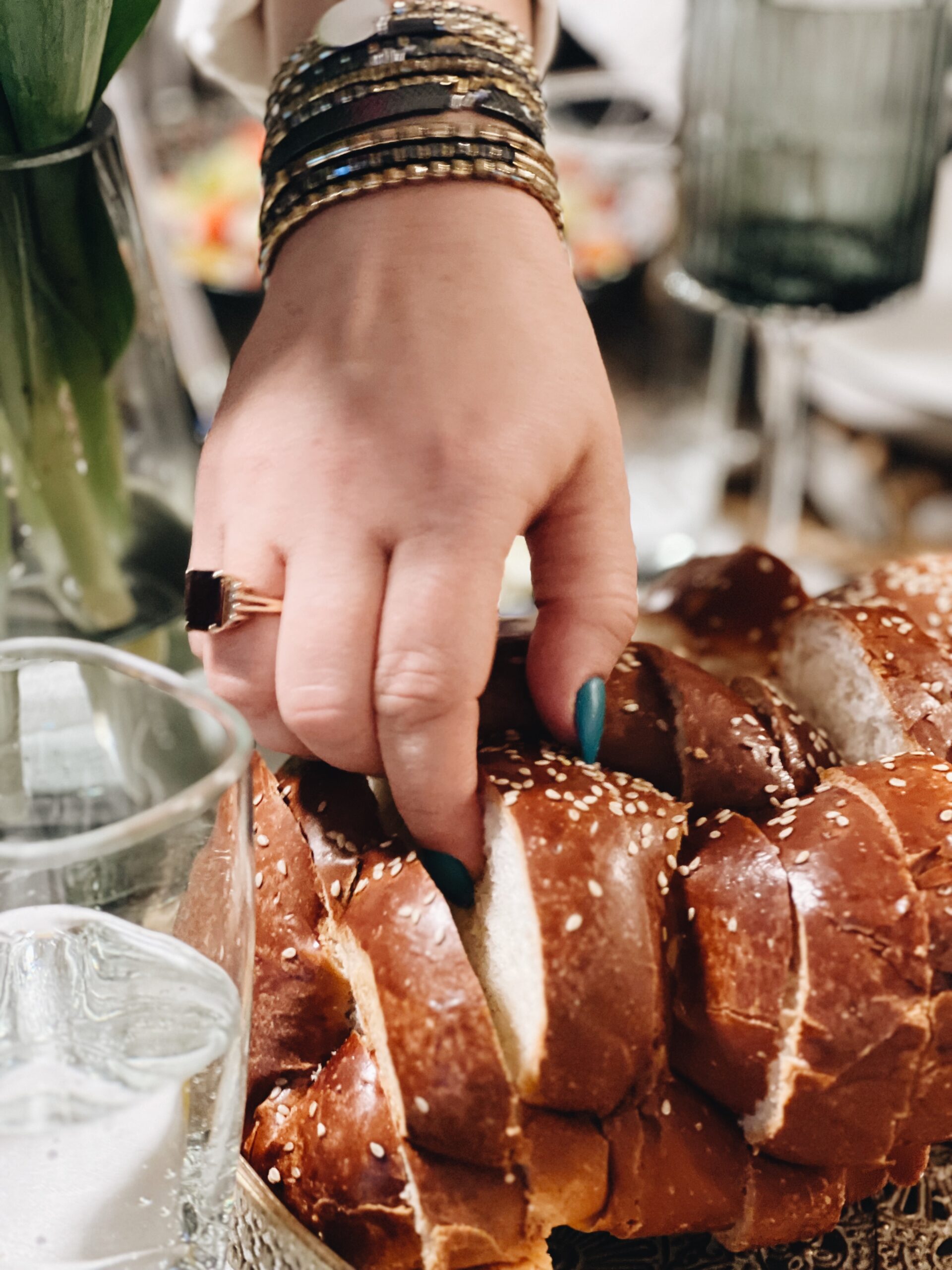 Homemade challah. I about died. It was the base for a very traditional sandwich they make often, called a chicken schnitzel. I hope I got that right. I have a photo! Look.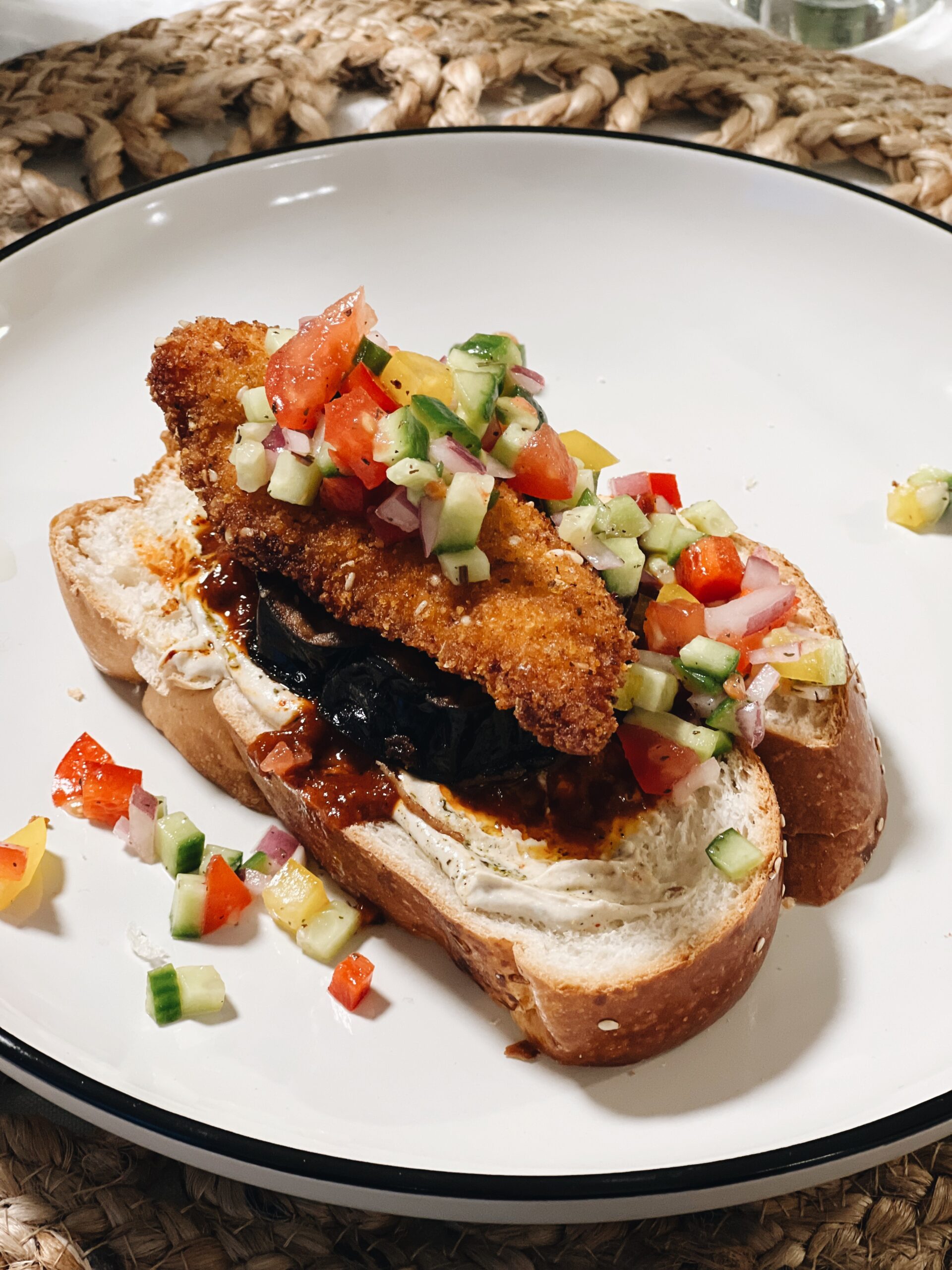 Outrageous. It's the bread, hummus, eggplant, crispy chicken, all topped with a chopped tomato/cucumber salad. All the textures in one, I'll never recover.
(also side story: Chelsea and Julie had a second schnitzel serving only to realize there were 45 more courses to come, and it stressed the little kids out so much, I died laughing.)
What a family. What a night!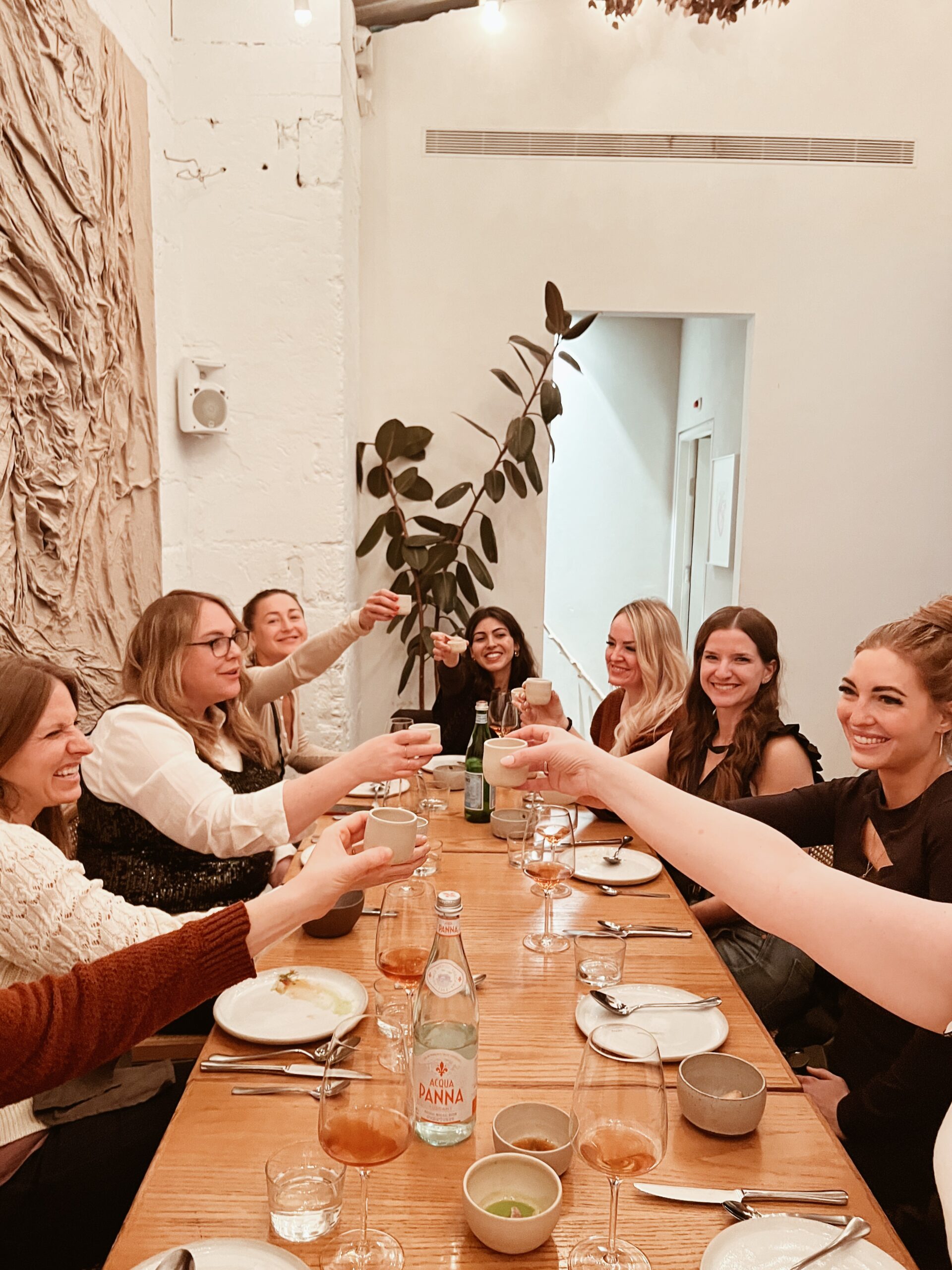 Here's one final photo for the post because I know you're worn out. This is from dinner at a beautiful, experimental vegan restaurant called Opa. All the servings were creative, inspiring and honestly a little bit entertaining. (wouldn't you like to know.)
All these tours that I'm taking about – you can definitely do them! I've linked all the IG pages, so reach out to them (or me and I can connect you directly) if you're at all interested. I have two more posts on the rest of the trip, so stay tuned for those.
Also, I have four reels so far on the trip, if you missed those! The Jerusalem Day, the Farm Day, Nazareth Day and Jaffa Day! (full posts coming on those last two.)
And yes, I've thrifted two more blazers since being home, duh.