Like winter bruschetta! Like the WINTER PIE. But toast. I'm trying to capitalize on winter right now, can you tell?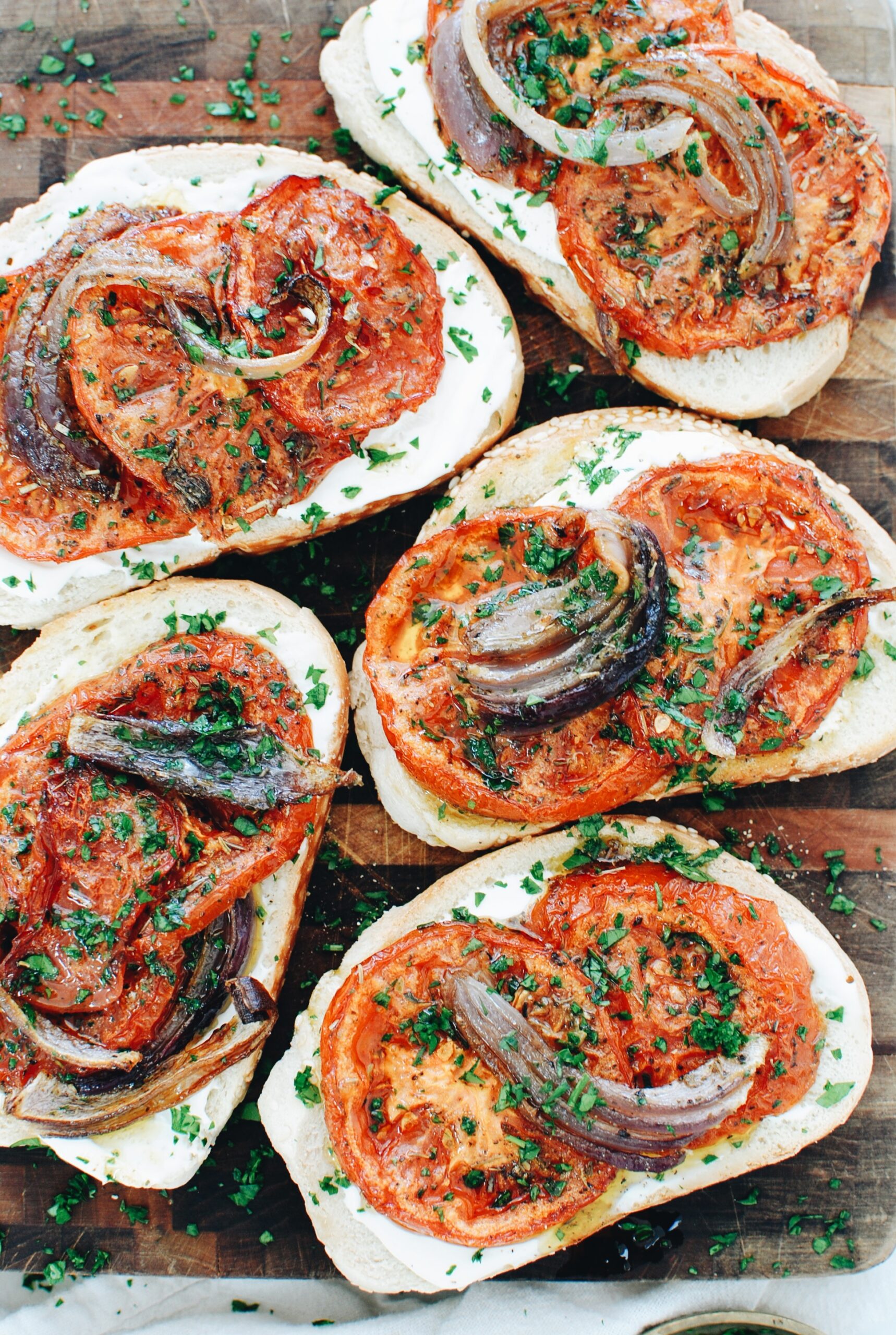 This is what I imagine for your Valentine's Day.
Besides this playlist. And these gifts.
This bruschetta! It's a snack, but make it fashion. Roasted tomatoes and onions slathered in umami, over tangy but sweet crème fraîche, on top of toasted rustic bread. Simple, but exquisite.
Let us peepeth.
If you can, look at the bakery section of your grocery store and see if they have Vienna bread. It should come both sliced and whole, but I prefer sliced with sesame seeds on top! You can also buy it with poppy seeds on it but make sure you don't have a drug test in your immediate future before you eat it. Ha! Just kidding.
Tomatoes on the vine, snag some.
Crème fraîche: I found mine at Trader Joe's, but if you can't find it, sour cream (or even mascarpone!) is totally fine.
Let's get this going.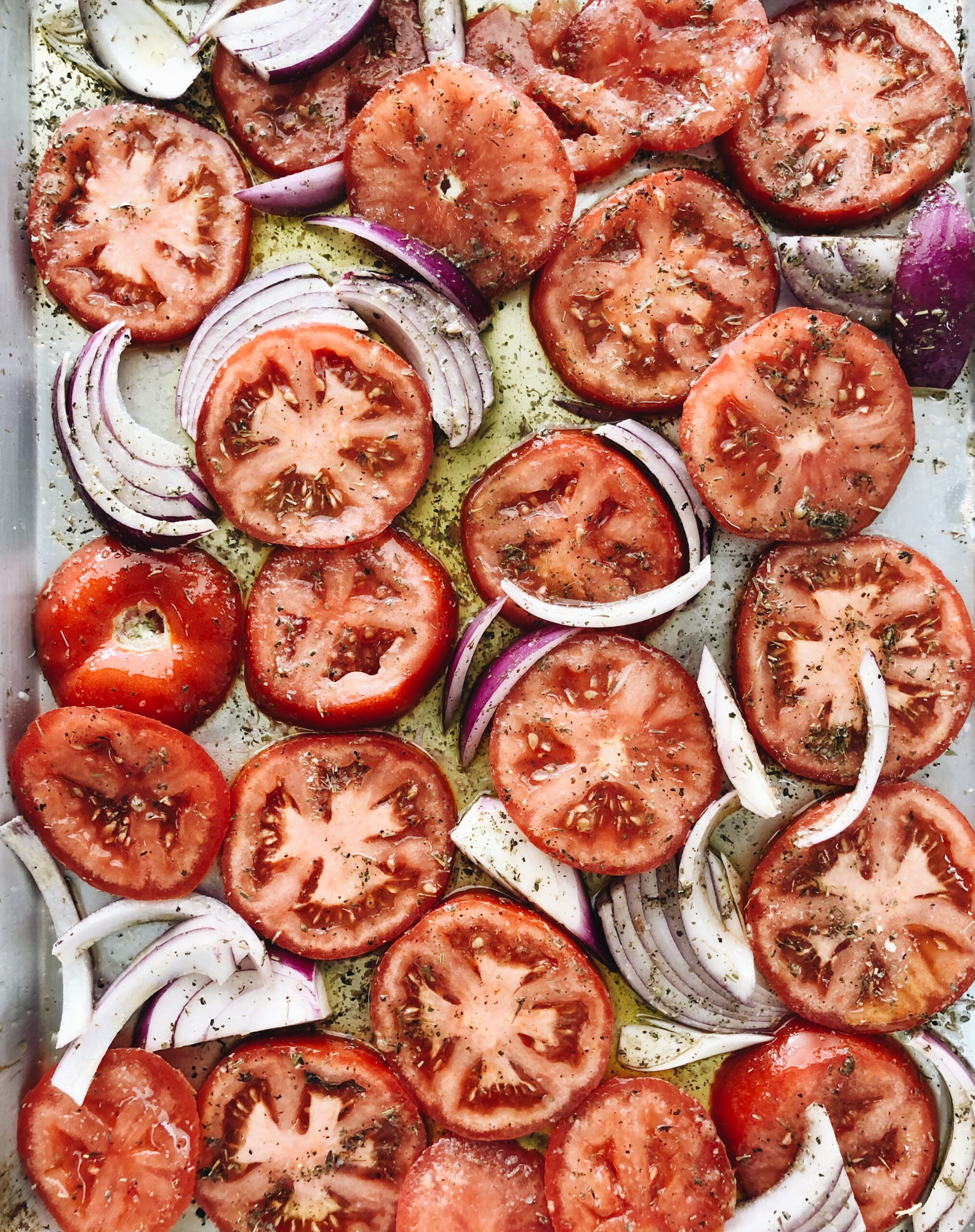 We'll evenly slice the tomatoes and half a red onion. Arrange them on a rimmed baking sheet and season it all with some dried Italian seasoning, garlic powder and a good pinch of salt. Now we'll pour a half cup (needed, don't bug out, man!) of extra-virgin olive oil all over it. Get it coated with your fingers and lookin' gu-uuuuud. (Cousin Eddie style.)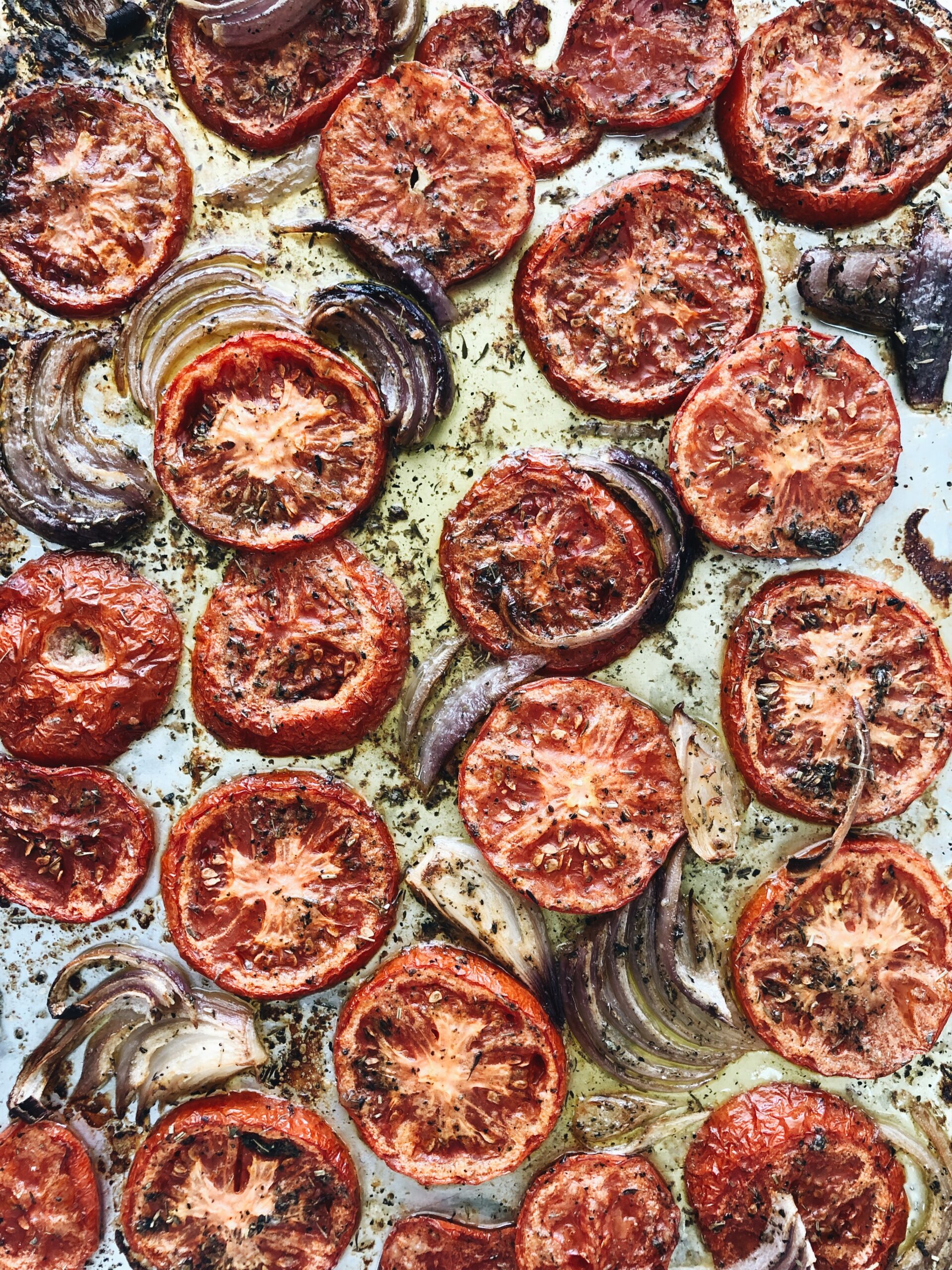 Get this – this is less than two hours in the oven at 300. Slightly higher temp, slightly less time. And it's complete divinity.
Honestly, I could stop the post right here and feel completely satisfied. I'm halfway tempted to do this and create a rustic lasagna of some sort with those tomatoes. It's just too much. So much flavor. Such a perfect balance of acidity and aromatic depth and sweet tang. You will scream at me.
But we're not done.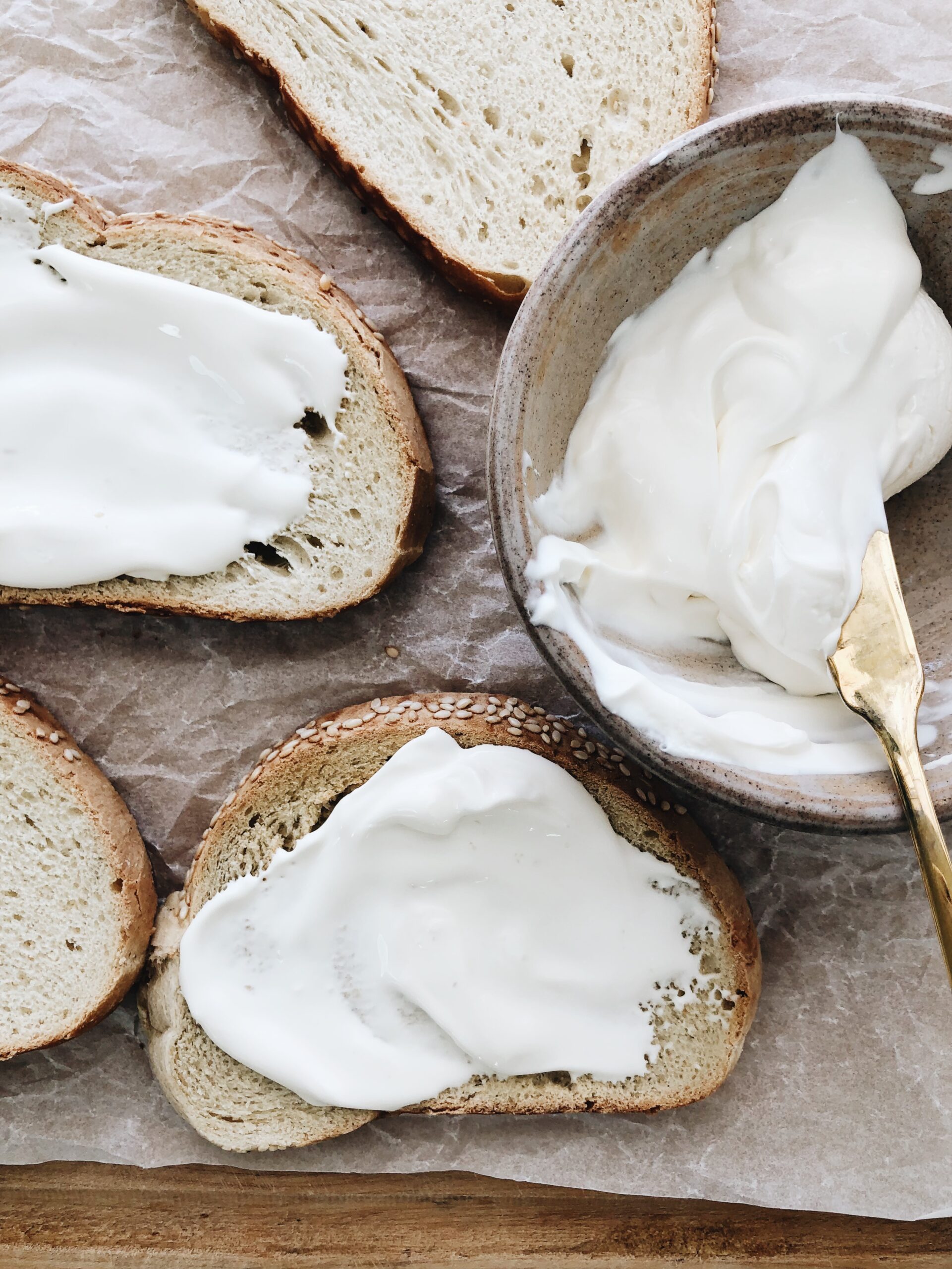 Toast your sliced crusty bread (Vienna if you can find it!), and then slather some of that fantastic crème fraîche on it. (yes I'm copy and pasting the spelling of this with the accents over and over.)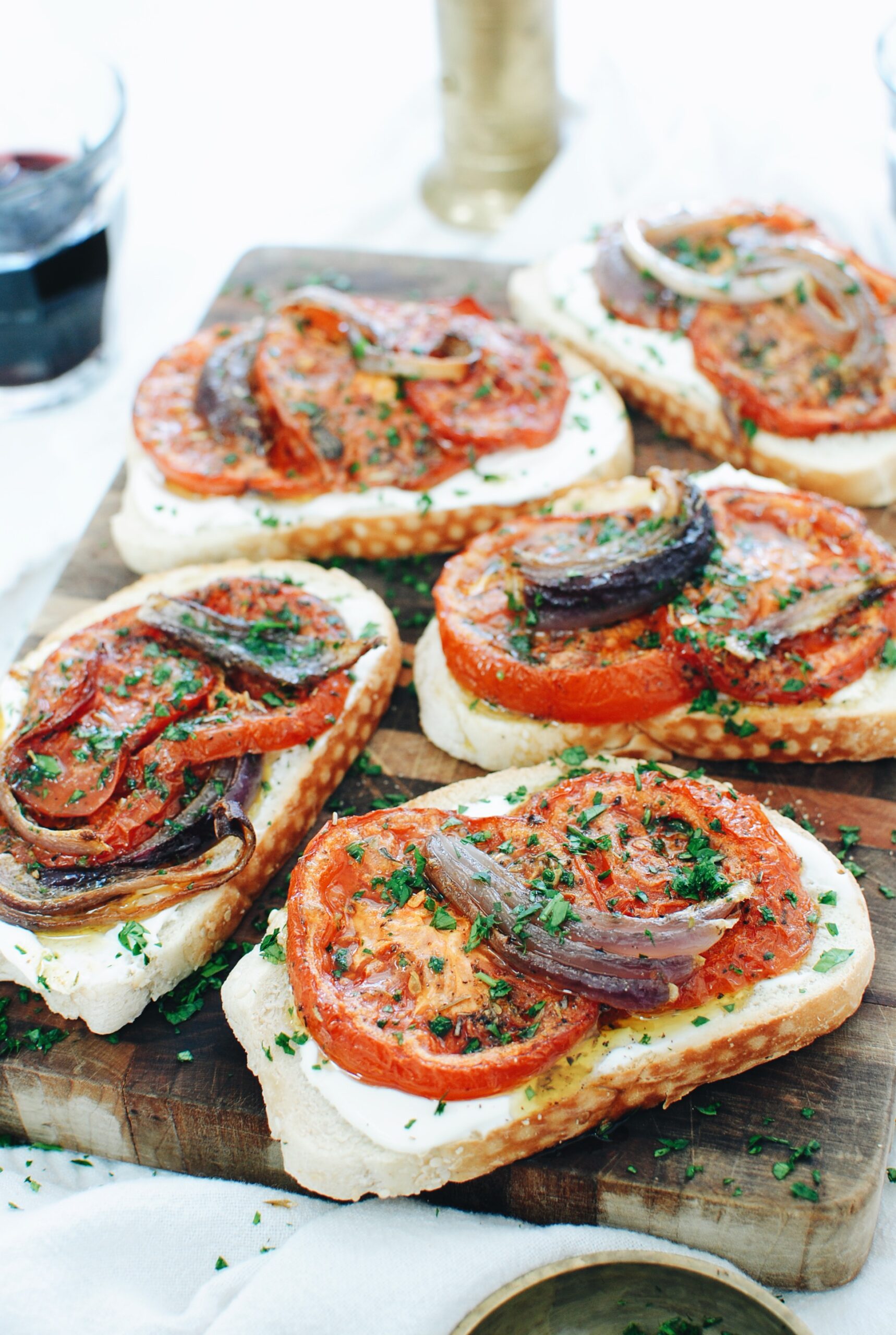 Oh my ever loving word. This is plain ridiculous. The tomatoes and onions are so tender and pungent yet delicate. The layer of crème fraîche underneath adds a subtle creamy tang that human words will never come close to conveying its glory. It's all just perfect.
Really, just perfect.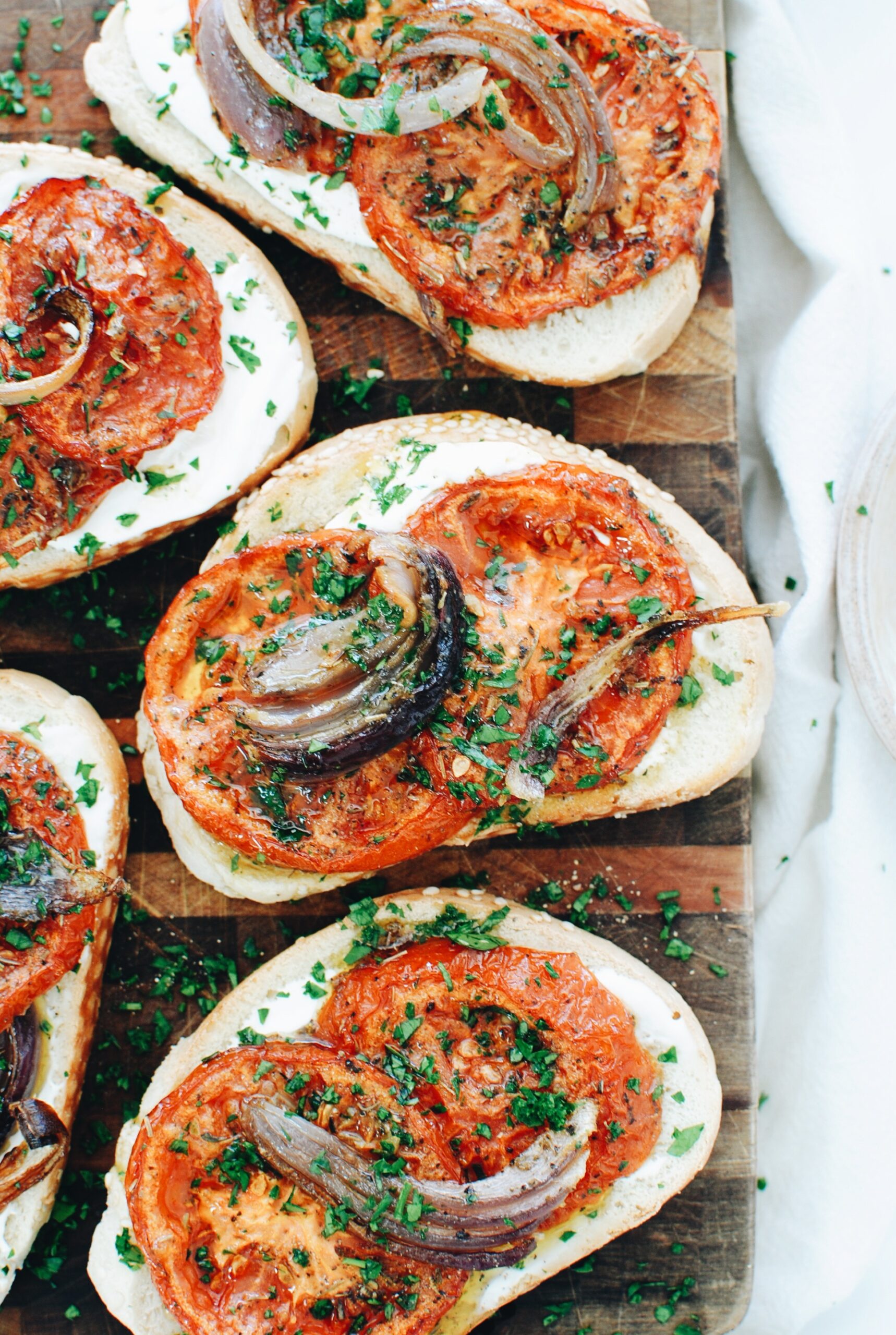 Make sure you drizzle the residual tomato oil over the top because that right there is living your best life.
And some finely chopped parsley. Make it happen.
If you like living on the edge, maybe some crushed red pepper flakes? Never a bad idea.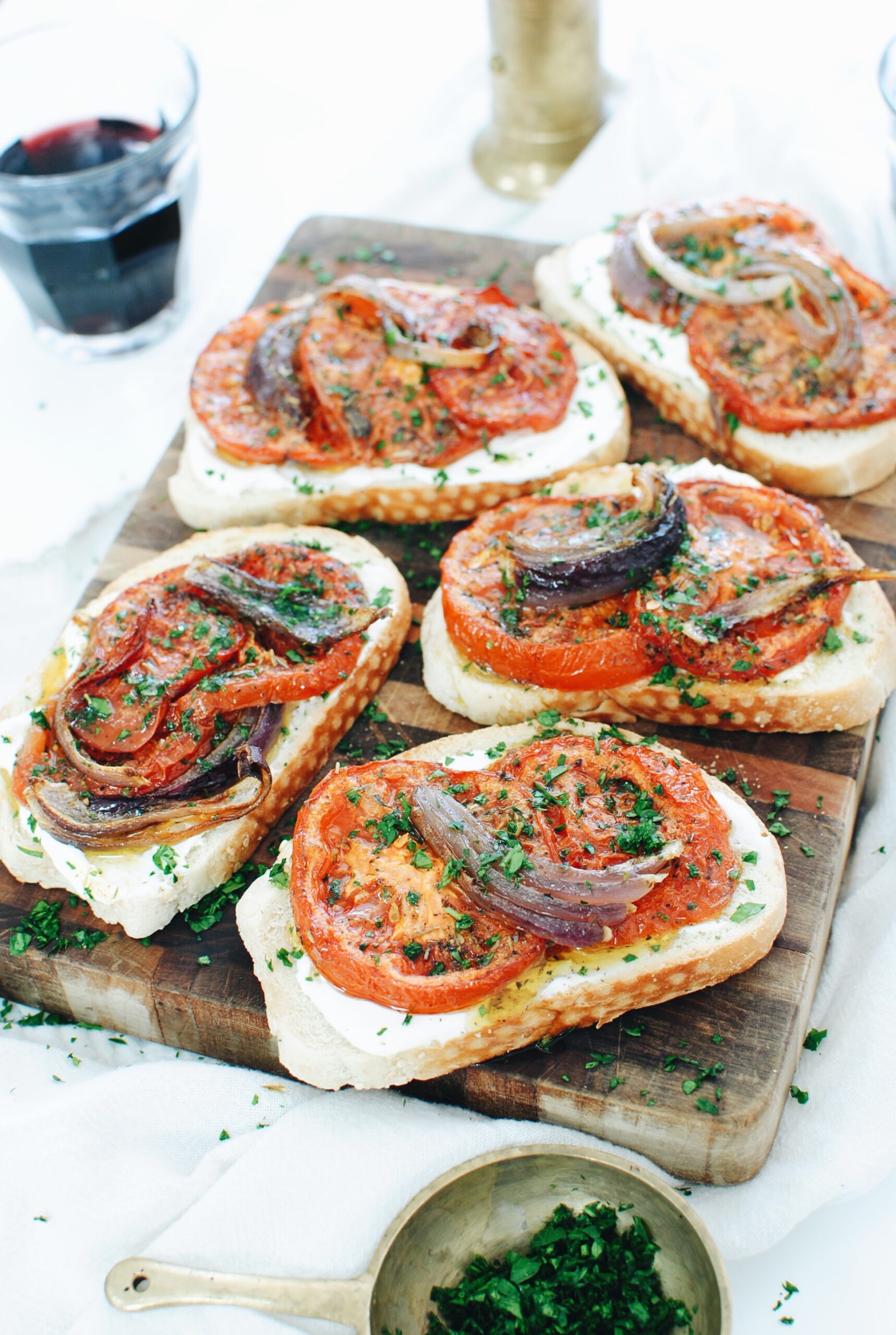 Save the rest of the tomatoes for your morning eggs, or swirling into pasta. Or just roast one or two for this winter bruschetta! It's all good, no matter what.
And even if it's not meant to be for Valentine's Day (ludicrous), make it happen for an anytime appetizer! The delicious factor will blow ya down, Sally.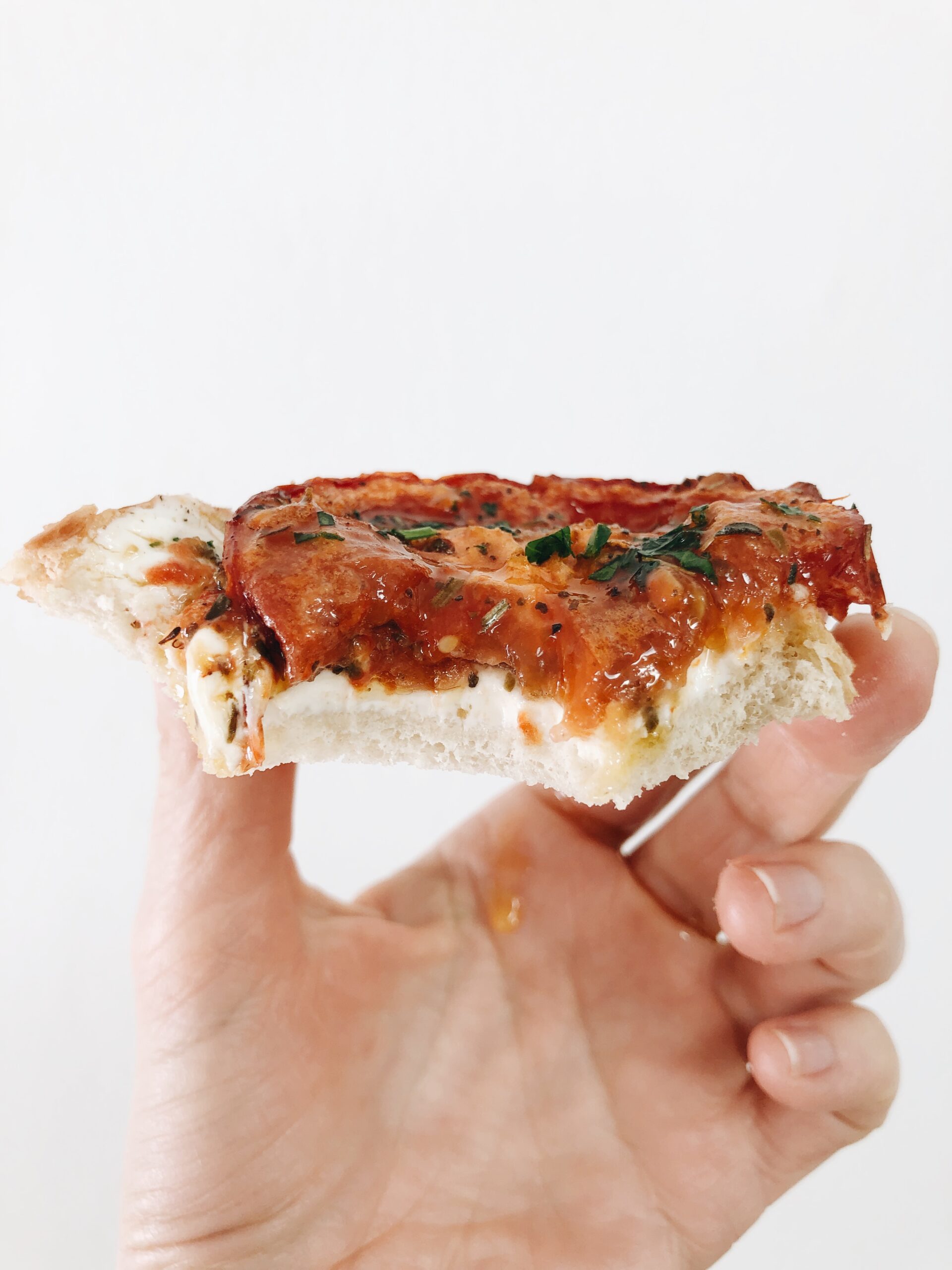 And if the oil's not running down your hand mid nosh, you've done it wrong.
Roasted Tomato Bruschetta
Ingredients
4 vine-ripe tomatoes, sliced
1/2 red onion, cut into medium slices
1 Tbs. dried Italian seasoning
1 tsp garlic powder
1/2 cup extra virgin olive oil
1/2 cup crème fraîche
6-8 slices crusty bread, toasted
Coarse salt
Chopped parsley, for garnish
Instructions
Preheat your oven to 300.
Arrange the tomato and onion slices on a rimmed baking sheet. Sprinkle the Italian seasoning, garlic powder and a good pinch of coarse salt over everything. Pour the oil over it and use your fingers to get everything nice and coated with oil and seasoning. Roast for an hour and a half! Check on it. If you want to go another twenty to thirty minutes, that's fine.
Spread the crème fraîche over the toast, and top with roasted tomatoes and onions. Drizzle the oil over the top and garnish with chopped parsley. That's it!
Serve immediately and devour.
Makes 6-8.
7.8.1.2
554
https://bevcooks.com/2022/02/roasted-tomato-bruschetta/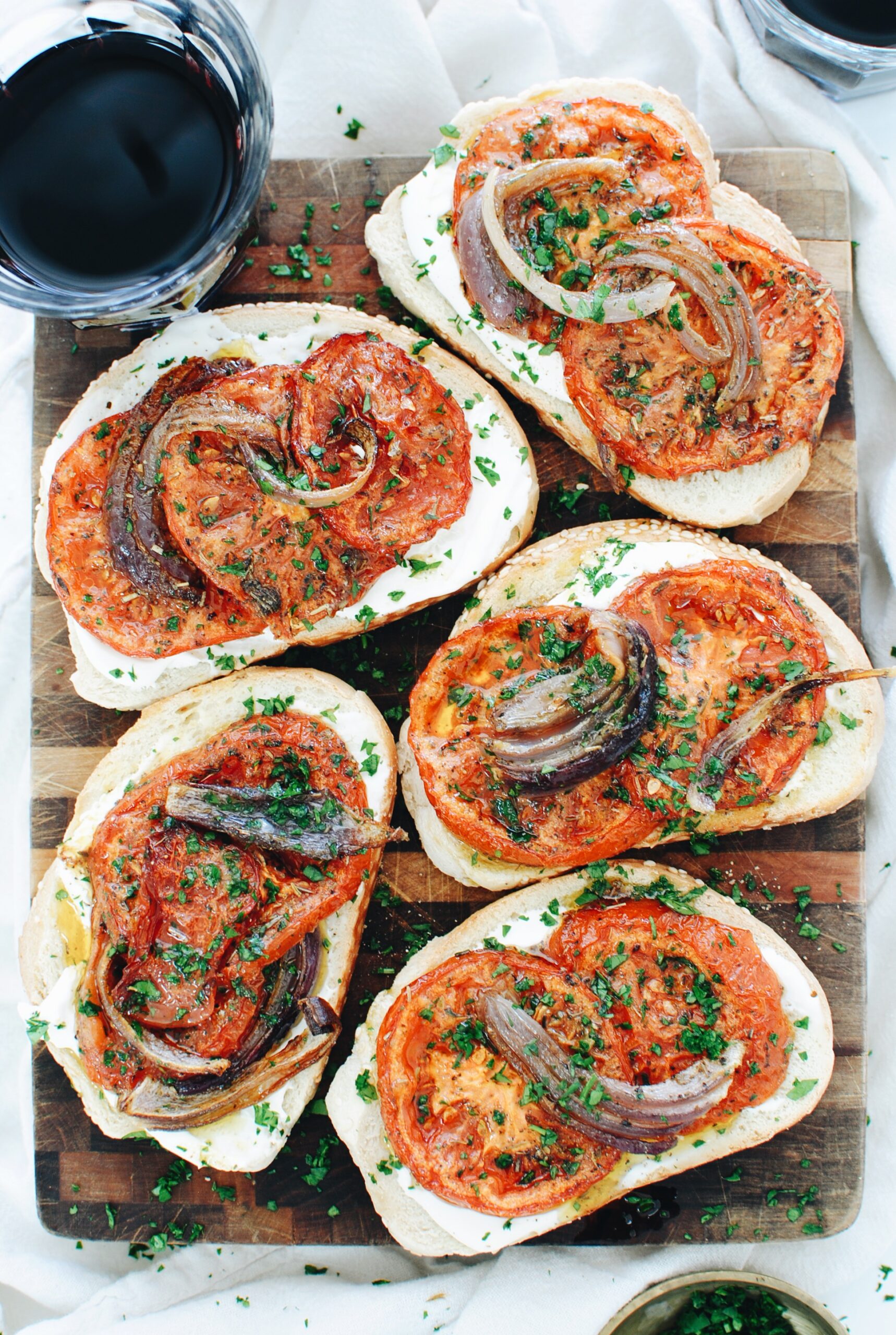 Unbelievable flavor, get in that!