We're looking at summer brunch for the rest of time, we are.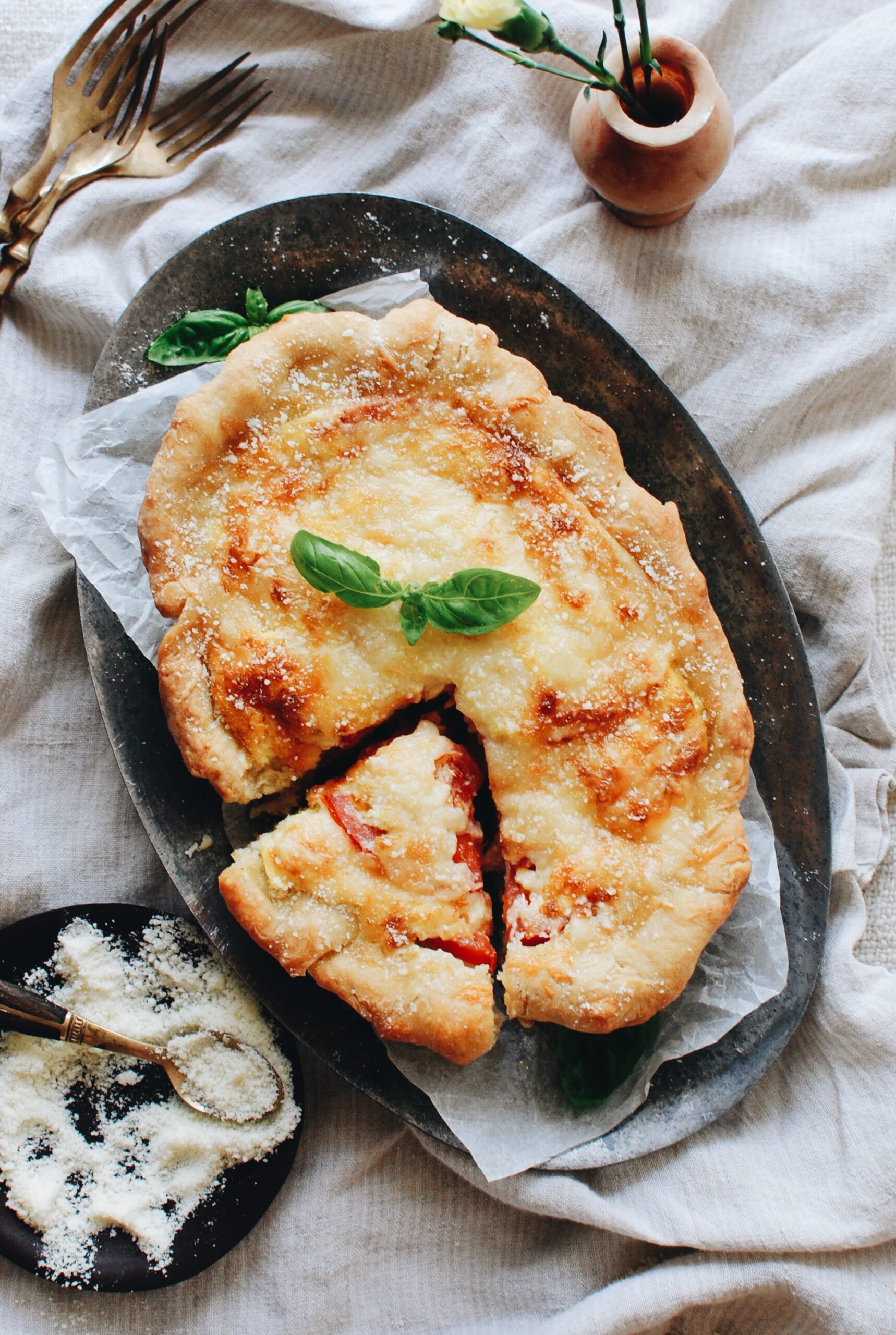 I have a thing for tomatoes and cheese in and on a PIE. Matter of fact, I have versions of this very thing on the blog over and over. I keep coming back to it. Tweaking it this way and that. But this time I added eggs and made it into a freaking QUICHE. But on a pizza crust. In a pie. With tomatoes. And it is bonkers.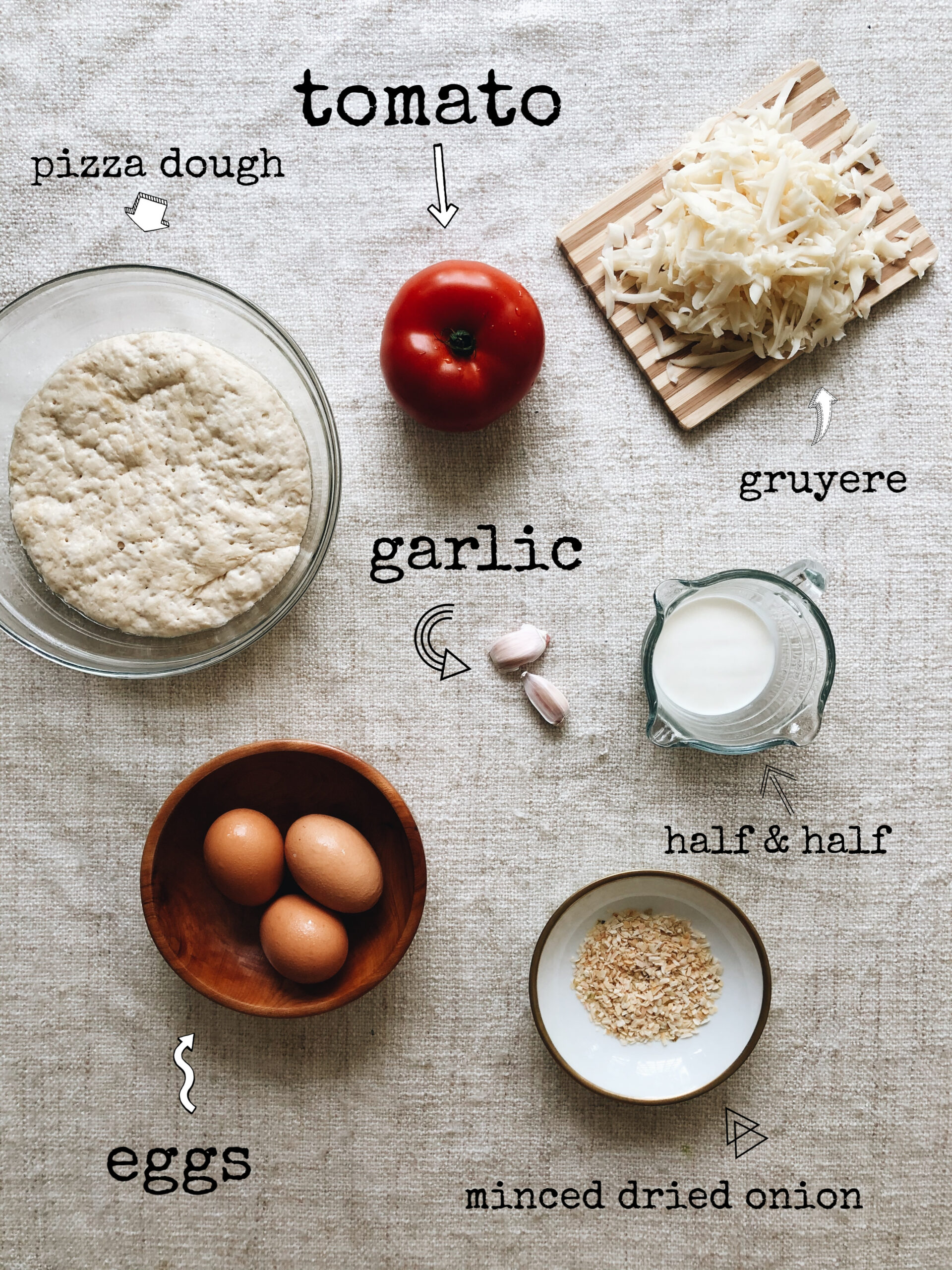 It kind of has a strata feel to it, with more eggs than not. But instead of pouring an eggy milky mix over torn English muffin, I made a quick pizza dough and pressed it into an oval cast-iron skillet and my heart did the Macarena for 33 months.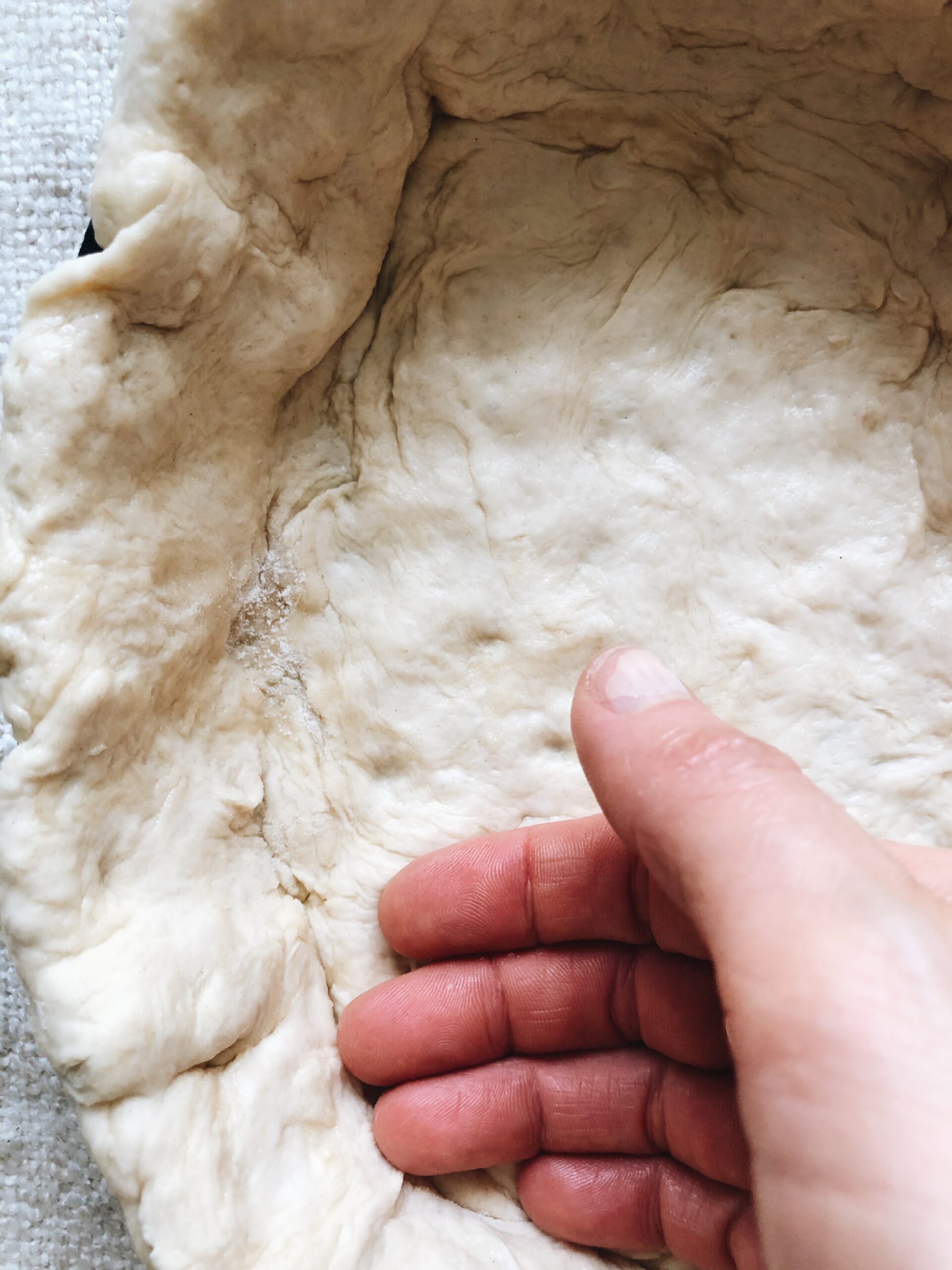 Matter of fact, I'll tell you – this is on the small batch side. I only used a cup of flour + half cup of water + pinch of yeast/sugar/salt and let her sit for less than an hour. Be sure and have chipped nail polish though, otherwise the whole thing is a bust.
And if you don't have a cast-iron skillet like this, you're still a good person. Any smallish casserole pan works faaaaahn.
Just press it in. Try and get the bottom as thin as you can. The sides can be thicker, especially toward the top, but we don't want an overly billowed bottom. I already have that, ha! Oh.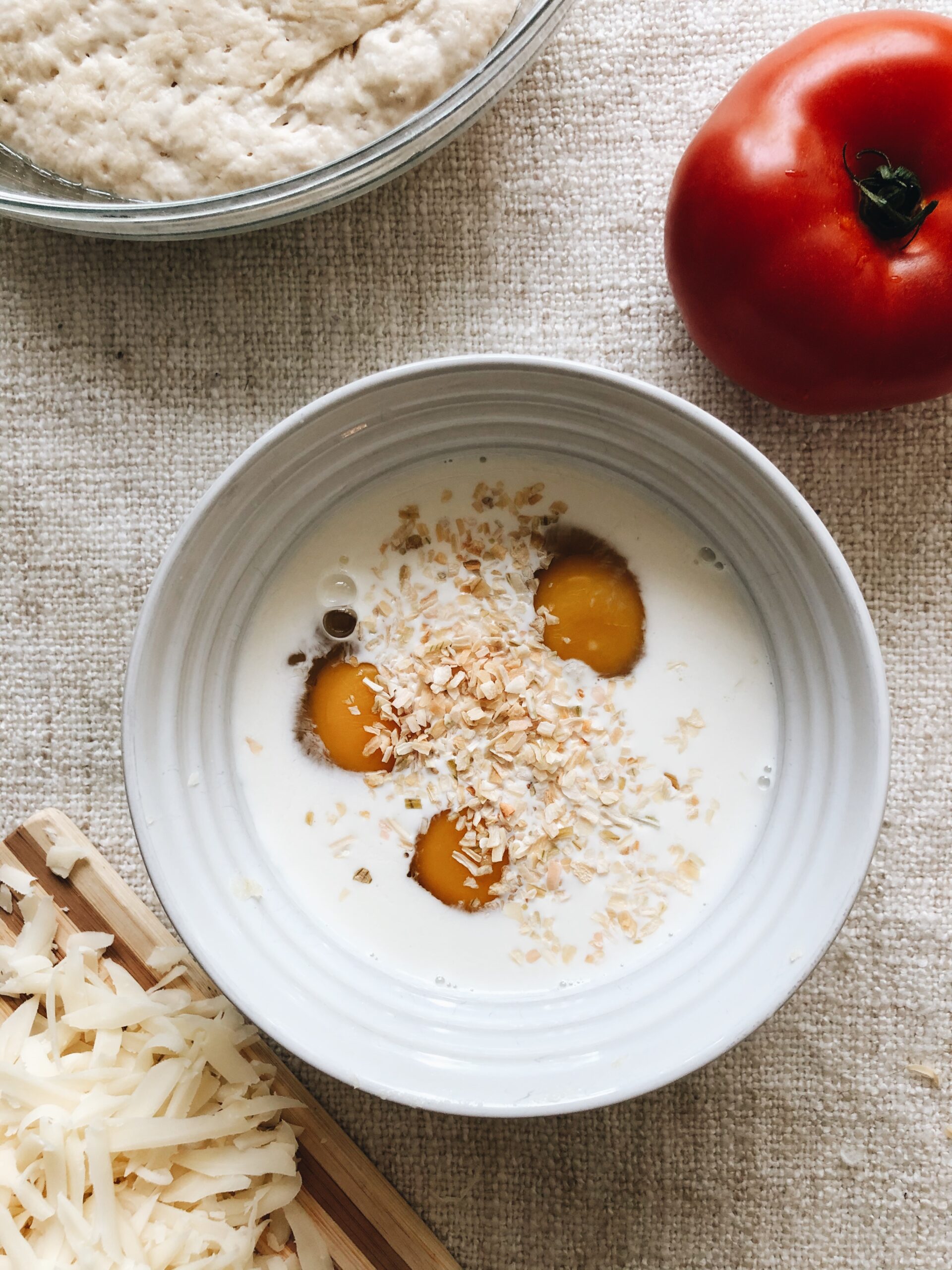 Eggs + half & half (cream or milk totally works) + grated garlic (chopped is fine) + a good pinch of coarse salt + minced dried onion. Honestly if you don't have the dehydrated onion like this, totally okay. A tsp of onion powder subs brilliantly. Or you can dice up some fresh if that's your jam. It's my jam most of the time, but not in this. Not in this, you guys.
Whisk her up!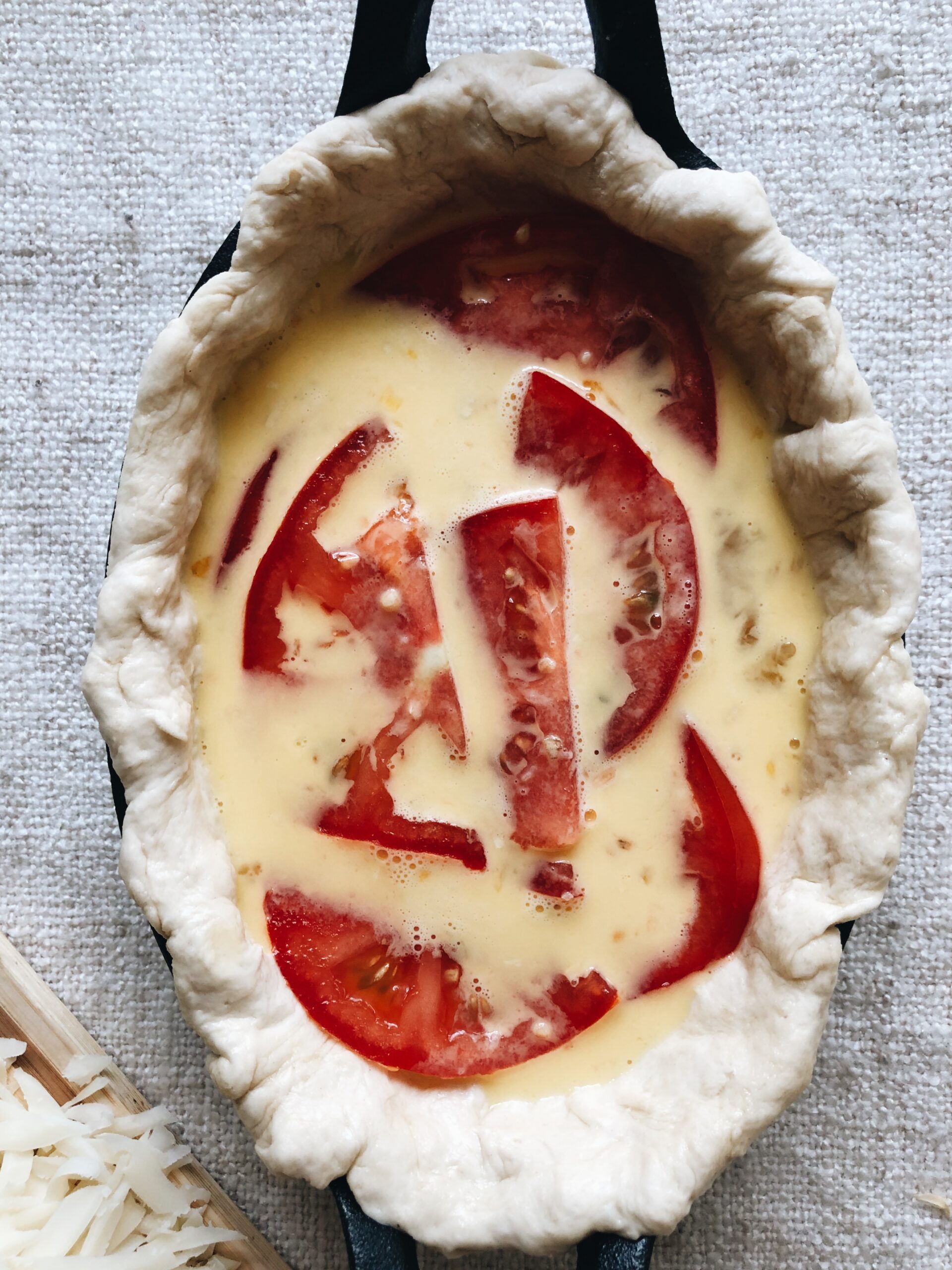 Pour the egg mix into the pizza dough, then nestle the sliced tomato right in, sort of overlapping in any way you want. I'm already so excited, are you?
Hello?
. . . hello?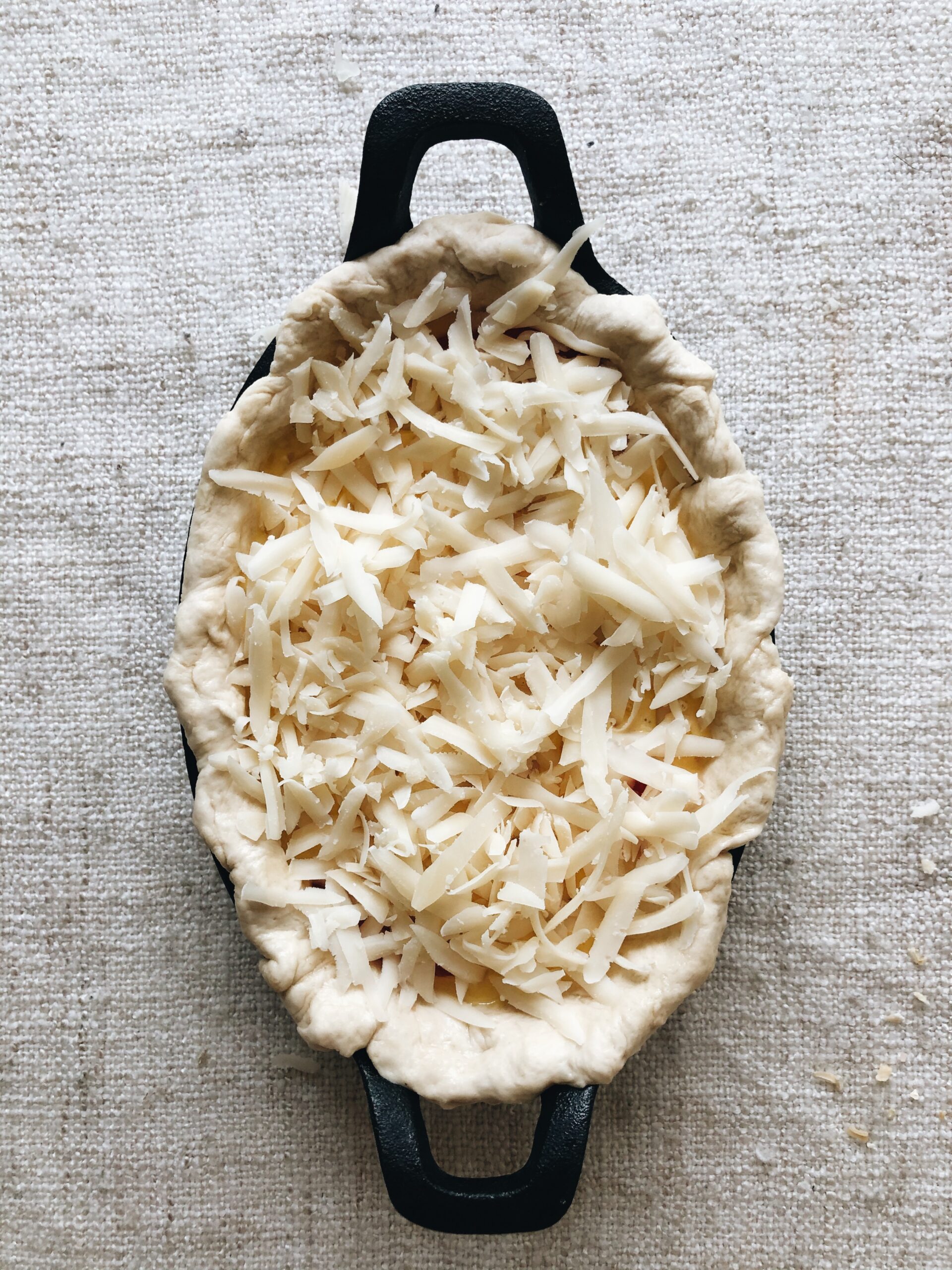 Grated gruyere to top! You can use cheddar or mozzarella, but if you go the gruyere route, you'll be transformed. It has a nutty, salty depth that's incomparable, and I beg you to try it.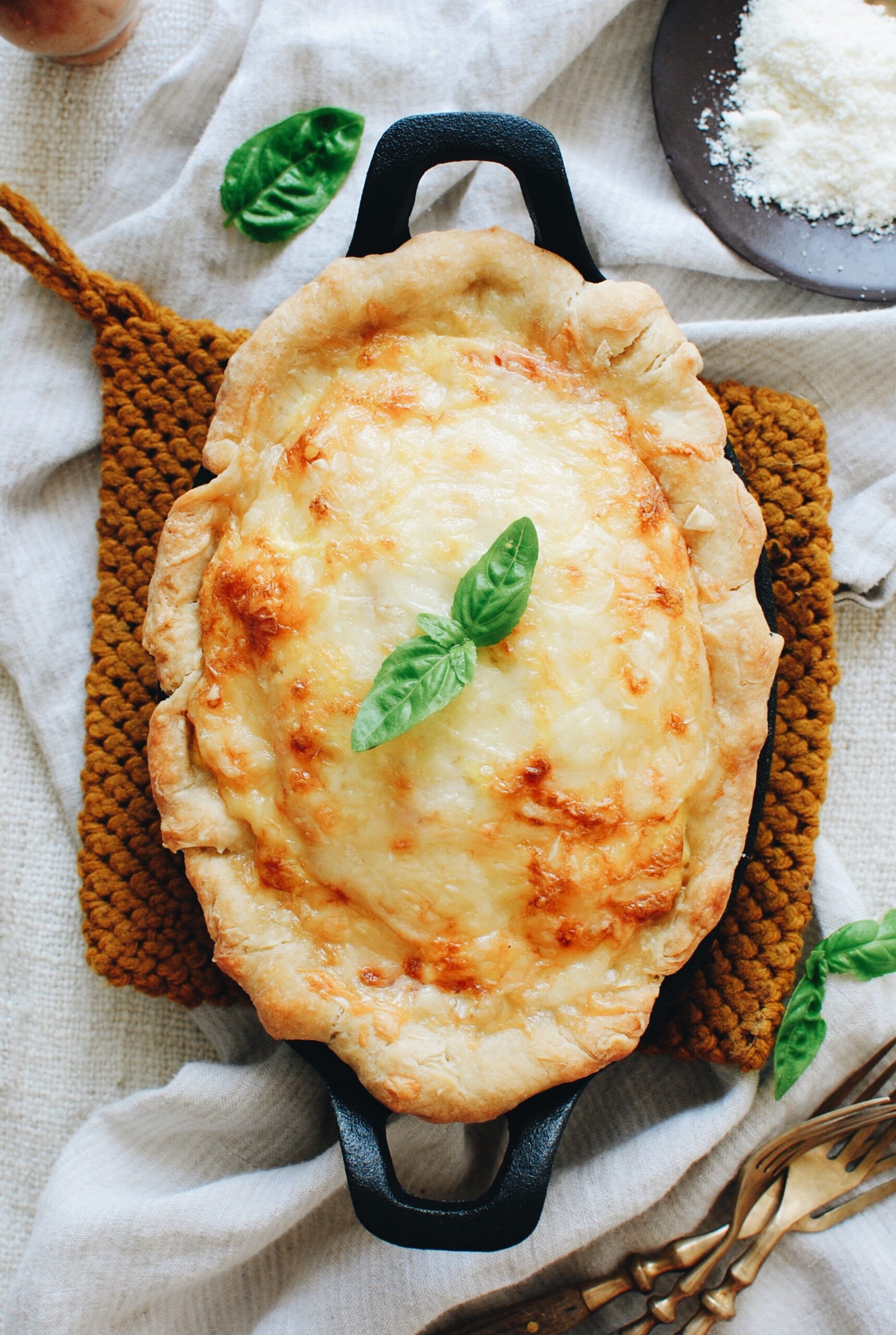 Oh well hi there, lover.
You'll want to cry when you bring this out of the oven. Like anything eggy, it poofs up a little in the center, and that cheese browns and bubbles up like a boss, shattering all existing life goals and creating a new path for you.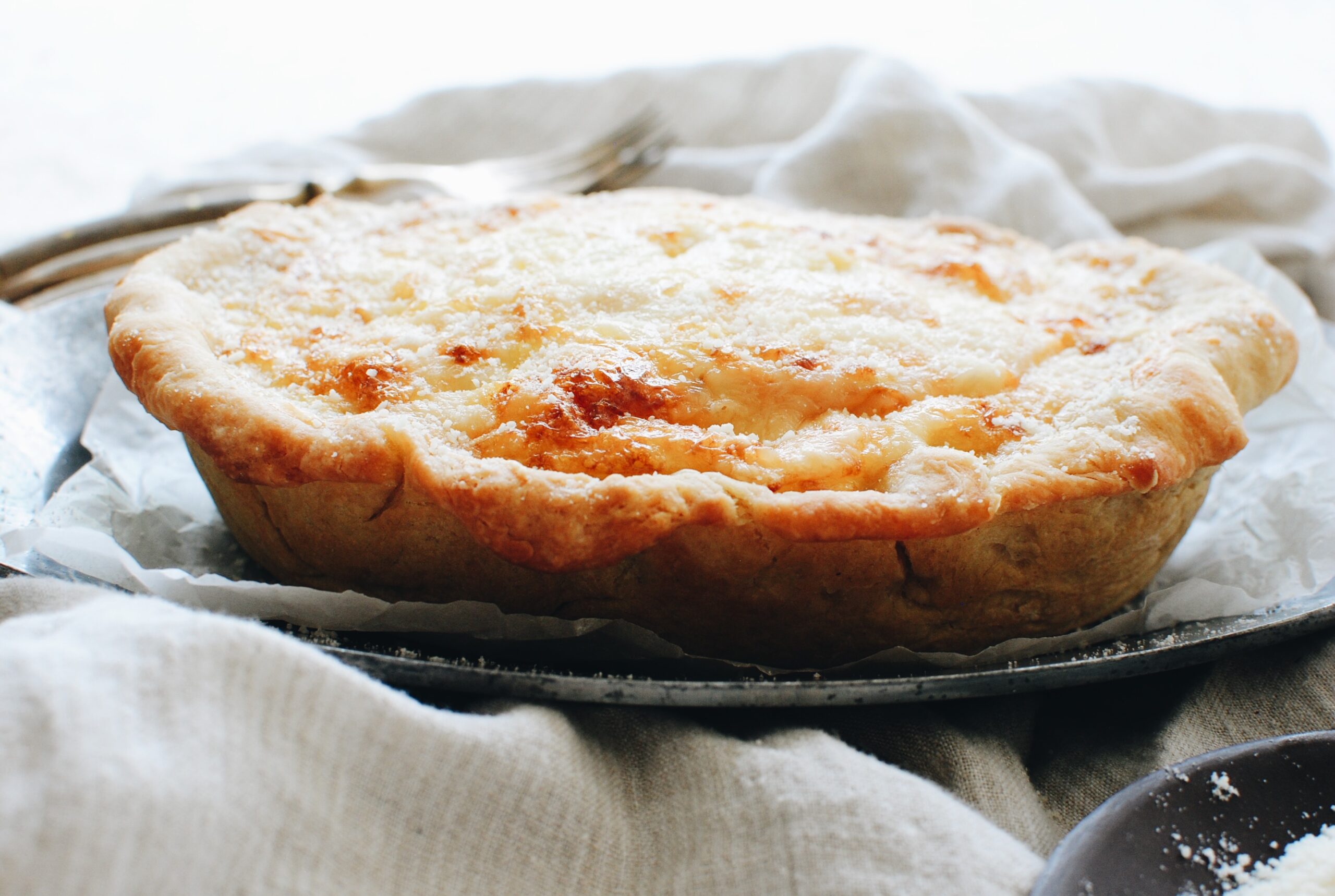 This is the side view, popped out of the dish in case you needed it in your life.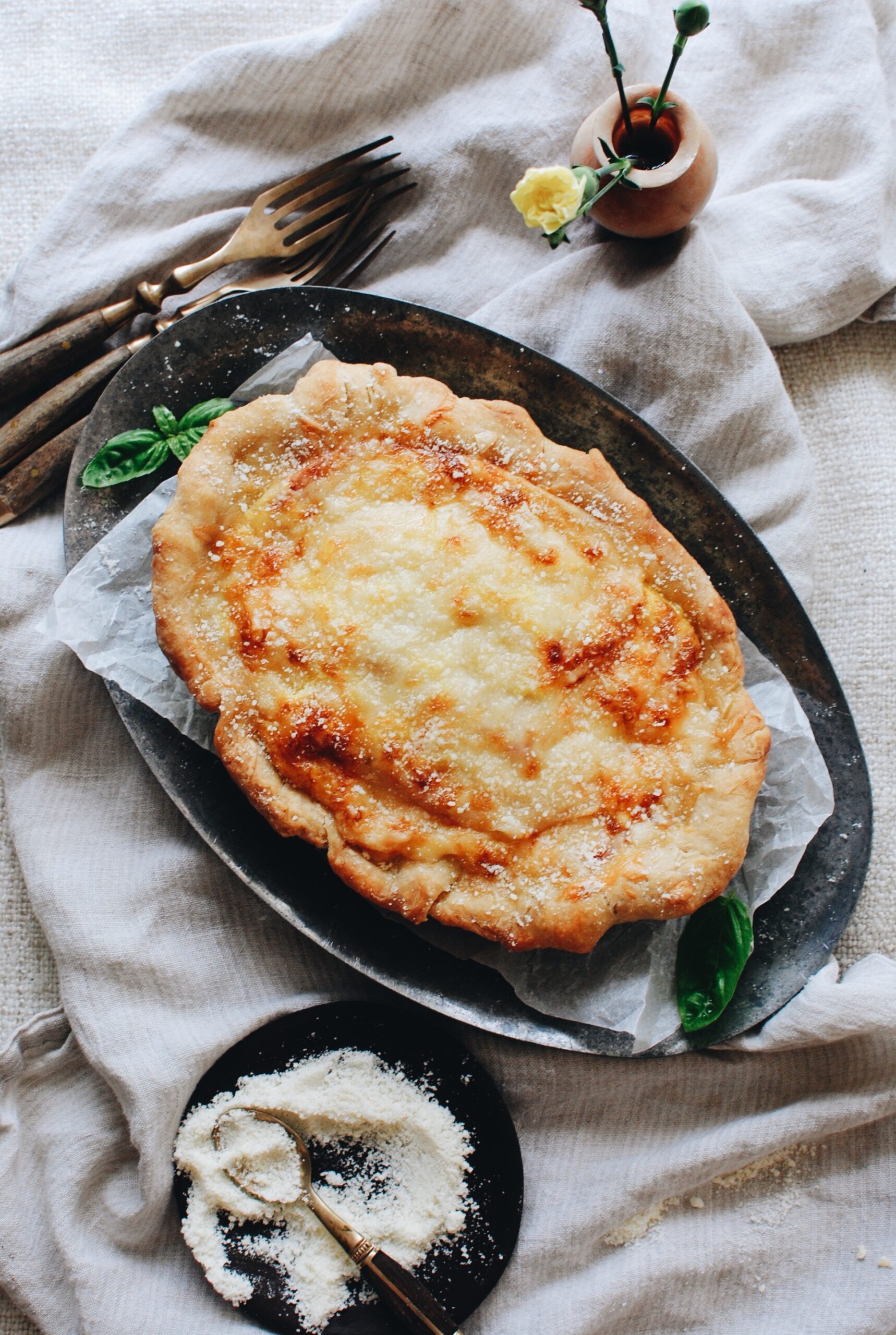 And then you serve, if you're even able to move your legs at this point.
Grated parm for the top. Fresh basil leaves scattered. It has such a homey, rustic nature to it, I'll never not want this.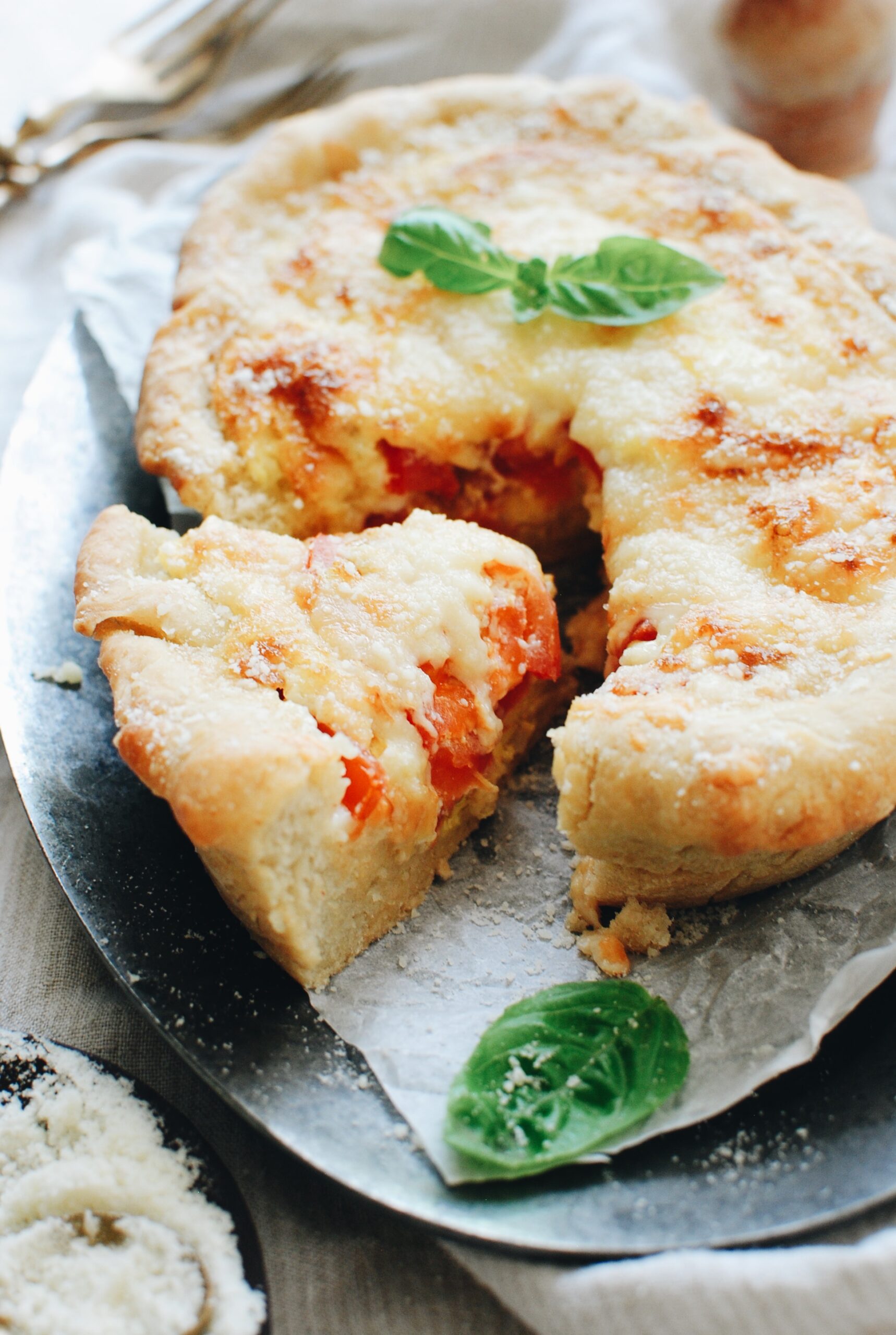 Oh and then there's the inside uuuuuuuuugh. Look at those tomatoes! This is the perfect weekend brunch food, I'm telling you. The main event. The star of the show. You can have bacon and sautéed greens to go along with it, or even a crisp, crunchy salad on the side. Plenty of coffee, a bowl of fruit and you're absolutely set.
I'm basically planning your Memorial Day. You get that, right?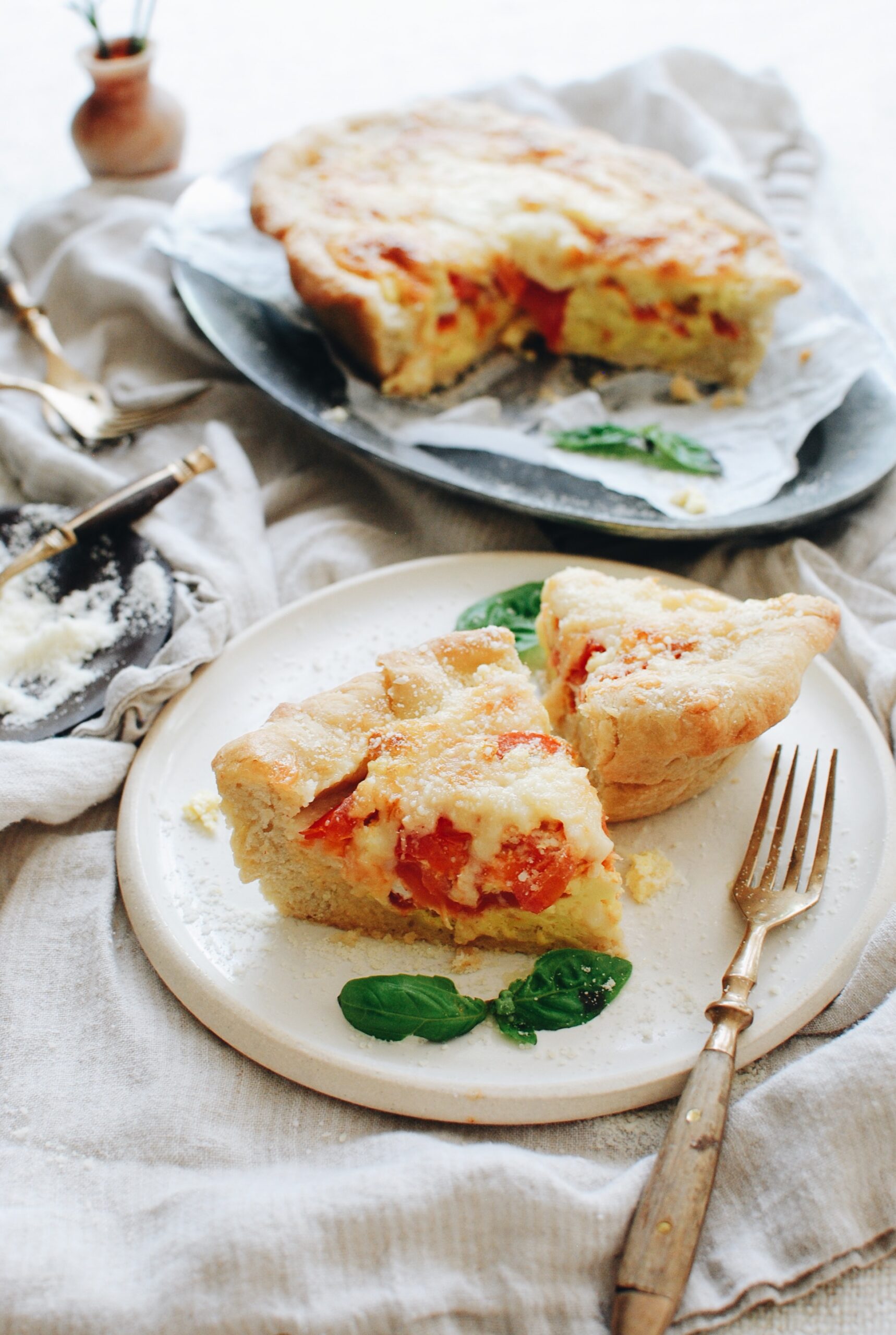 Glad we're on the same page.
Ingredients
1 cup all-purpose flour
1 tsp dry active yeast
1/2 tsp sugar
1/2 tsp coarse salt
1/2 cup water
3 eggs
1/4 cup half and half (cream or milk is fine)
2 cloves garlic, grated
1 Tbs. minced onion
1 tomato, thinly sliced
1 1/2 cup grated gruyere
Parmesan and basil, for garnish
Instructions
In a medium bowl, whisk together the flour, yeast, sugar and salt. Add the water and stir to combine. Transfer to a floured work surface and knead until it forms a smooth ball. Place it back in the (lightly-oiled) bowl and let it sit for an hour. (You can make this the night before and leave the bowl on the counter overnight.)
Preheat the oven to 350.
Roll out the dough and press it into a small-to-medium (lightly-oiled) casserole dish. I used an oval-shaped cast iron skillet, but anything works. In a small bowl, whisk together the eggs, cream, garlic, onion and pinch of salt. Pour the egg mixture into the pressed pizza dough. Nestle the tomato slices into the egg mix. Top with the grated gruyere, and slide into the oven for 40 minutes, or until the cheese is browning and bubbly, and the eggs are cooked.
Let it sit for about five minutes, then gently pop the pie out of the casserole dish and place it on a serving tray. Sprinkle with parmesan and fresh basil. Slice and serve!
Serves 4!
7.8.1.2
426
https://bevcooks.com/2020/05/breakfast-pizza-quiche/
I'm showing you two more photos because it's just necessary, okay?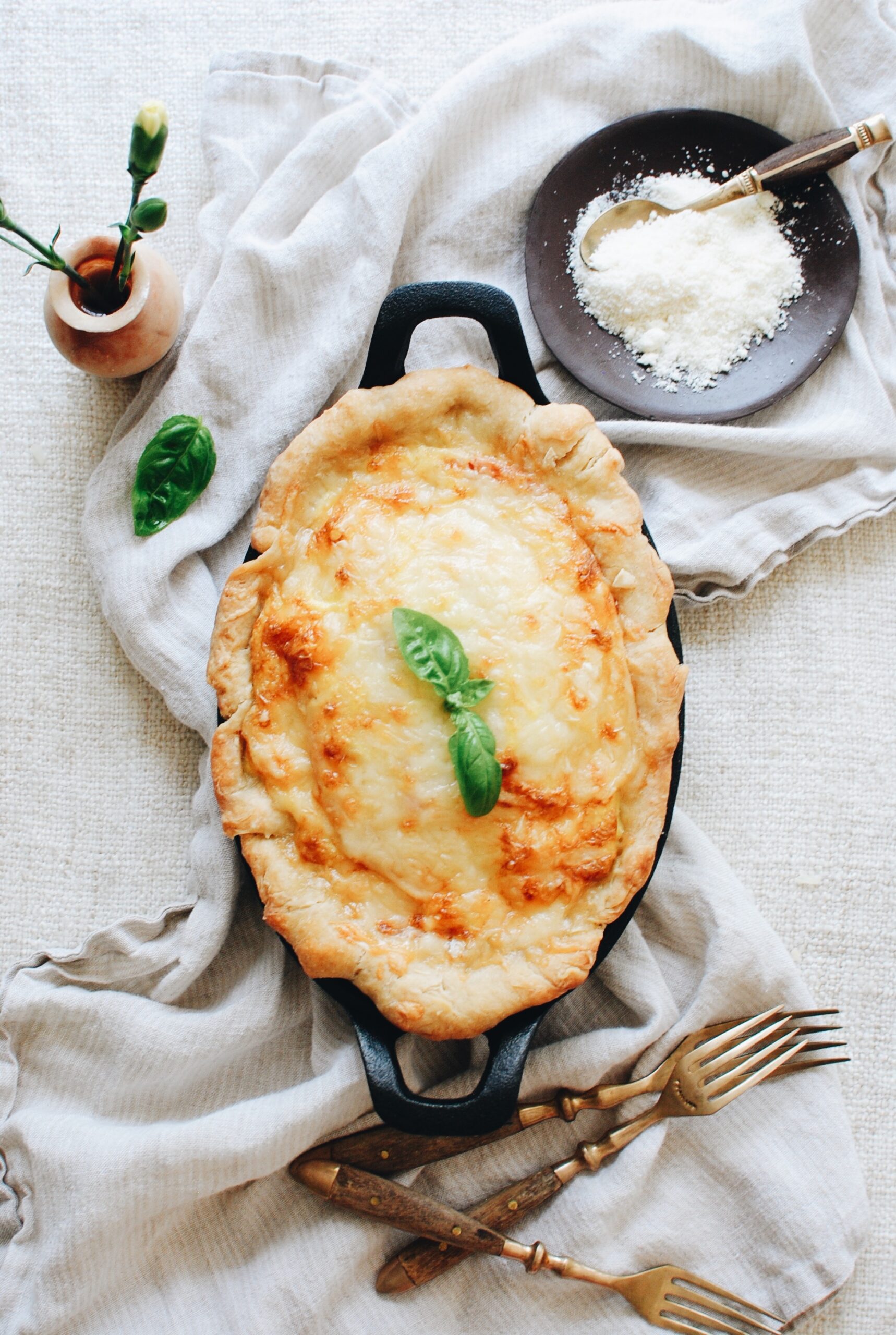 See you in the middle of that.