Because BLT + SHRIMP + SUB SANDWICHES = yuuuz.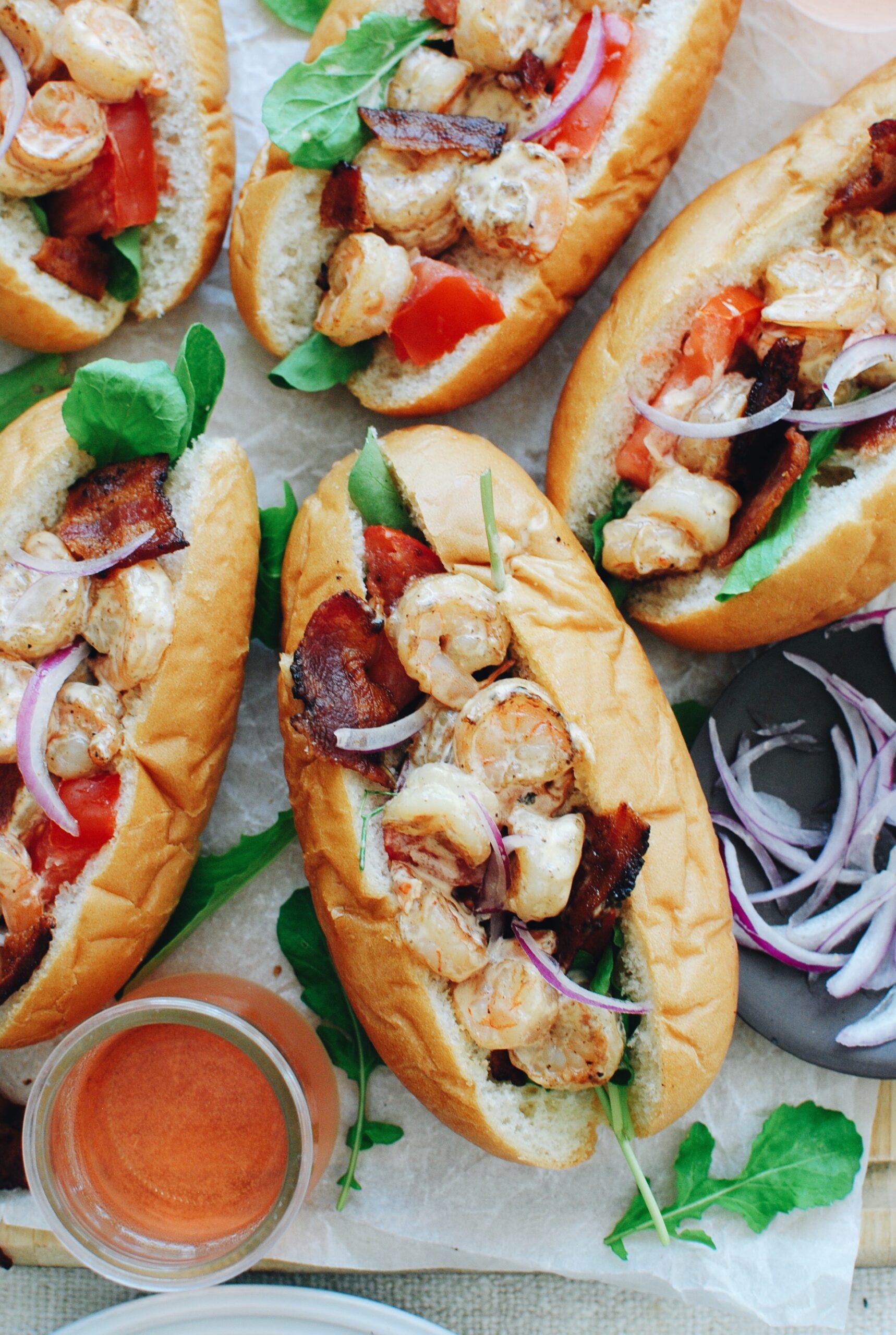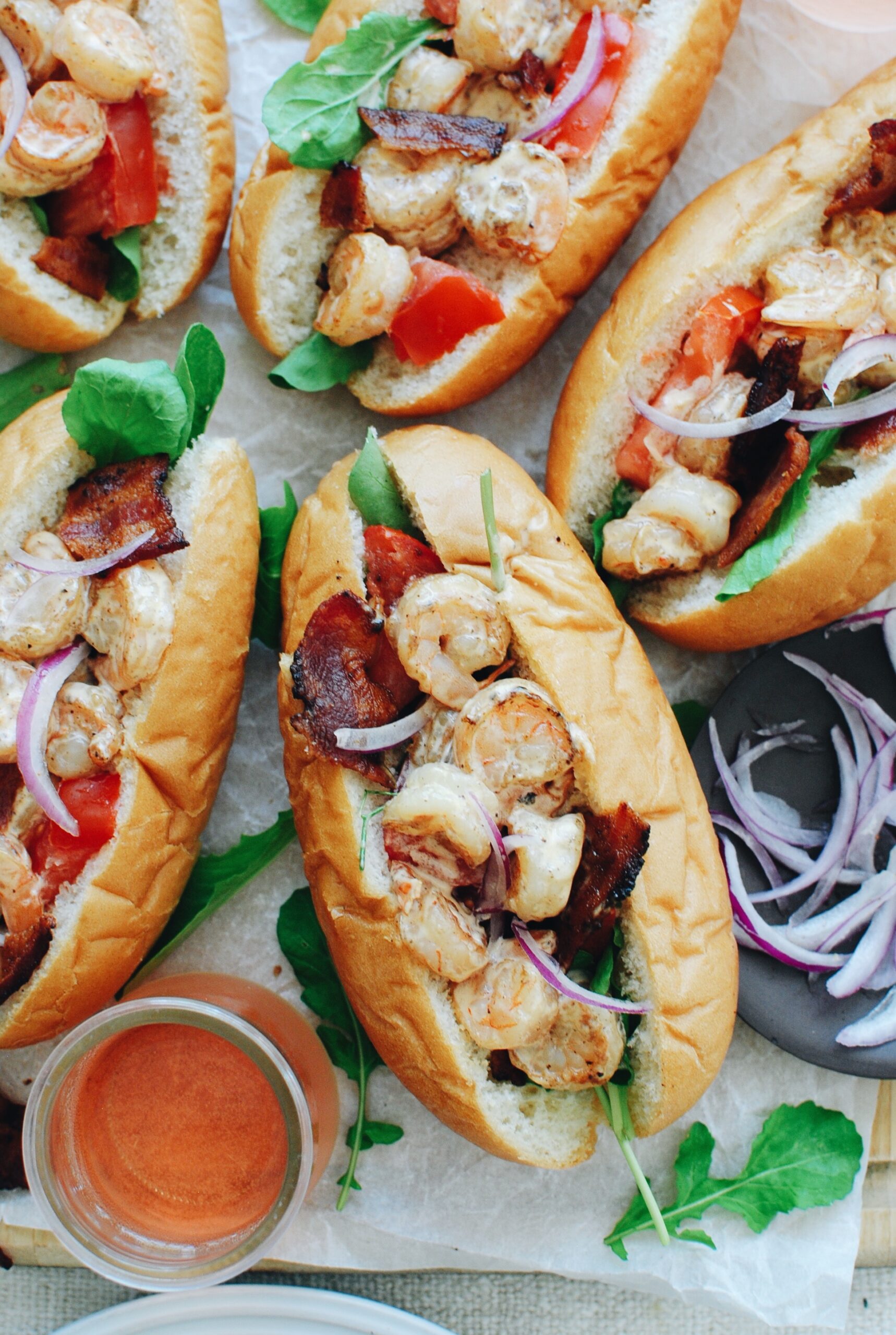 It's like, the most perfect summer food. You know better than to argue this.
BLTs are an absolute staple for us during the warmer months. Honestly though, I crave tomatoes all year round. I even BUY tomatoes year round (yeah I felt that collective gasp), even though it's a total gamble on juicy vs. mealy. I know the risks! And yet I continue to take them. But it's May now and the 'maters are getting good.
Not that I've been to a farmer's market. Are they even open? Gosh I miss that whole experience so much. That makes me sad to think about. Never mind.
Let's talk about hoagies.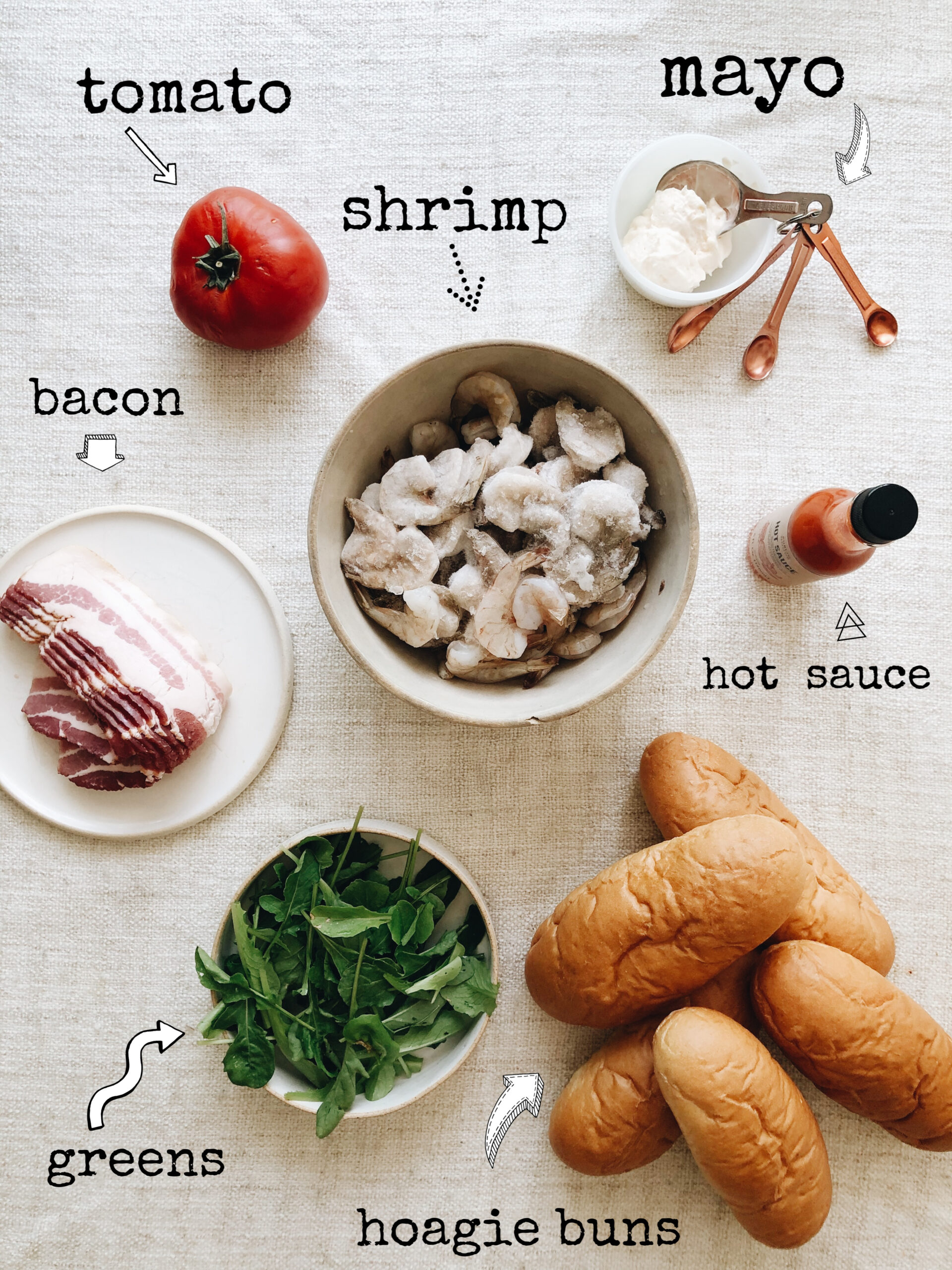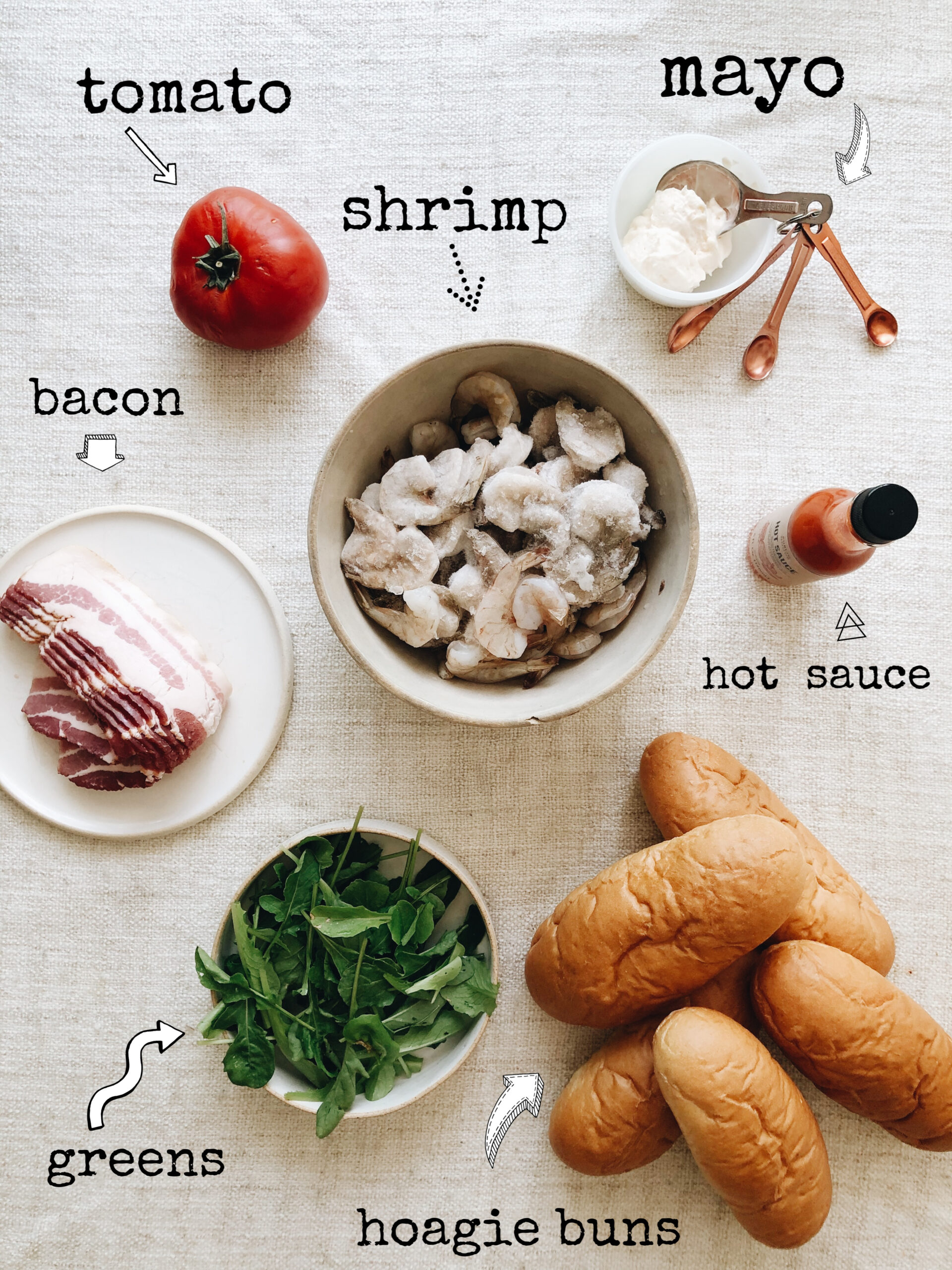 So listen, I kept this simple. No fancy weird ingredient that you have to track down or figure out the pronunciation. A BLT is special because of its tried-and-true classic build. Bacon, lettuce, tomato.
Plus shrimp and mayo and hot sauce all in a hoagie!
Are you okay?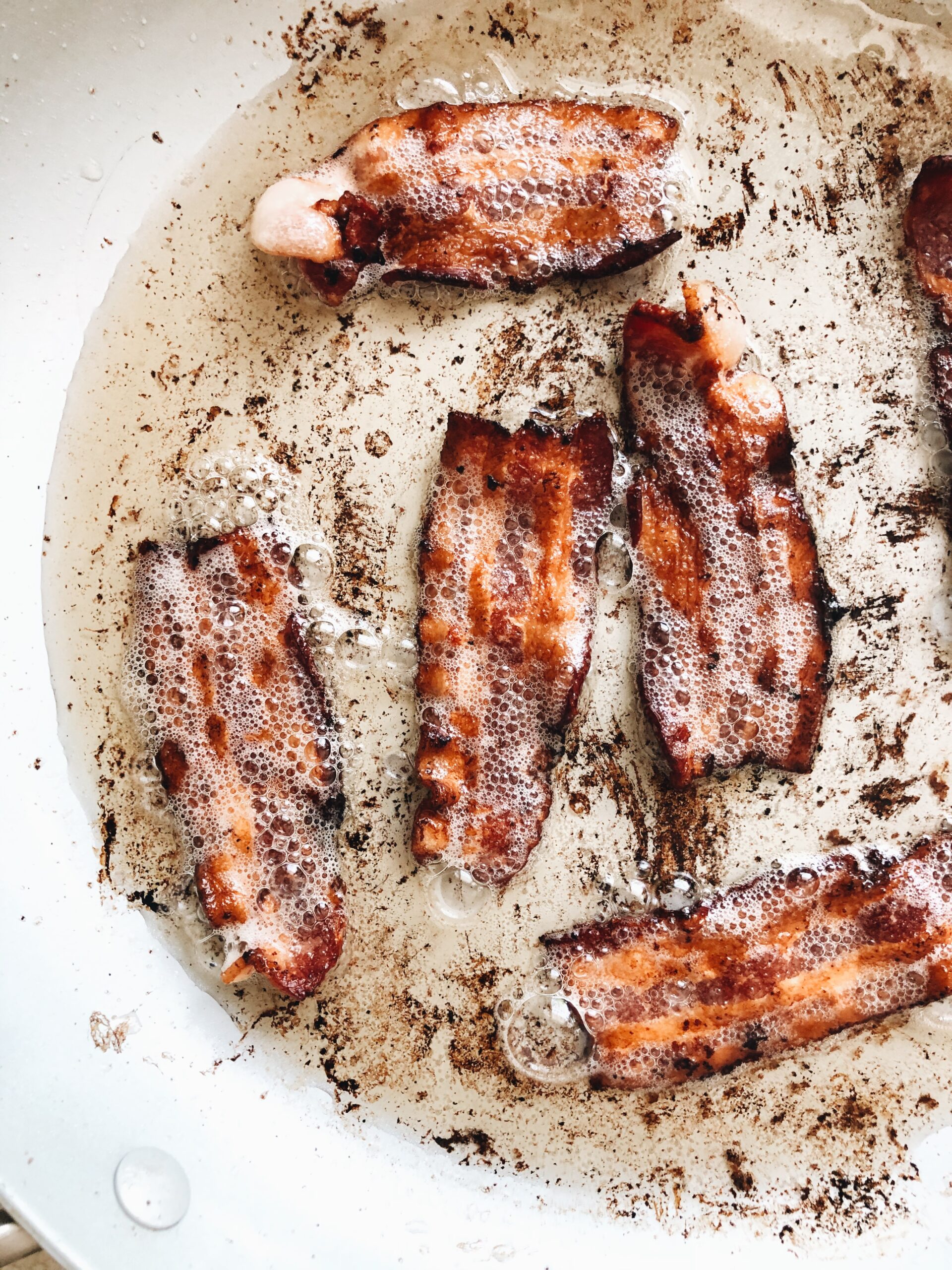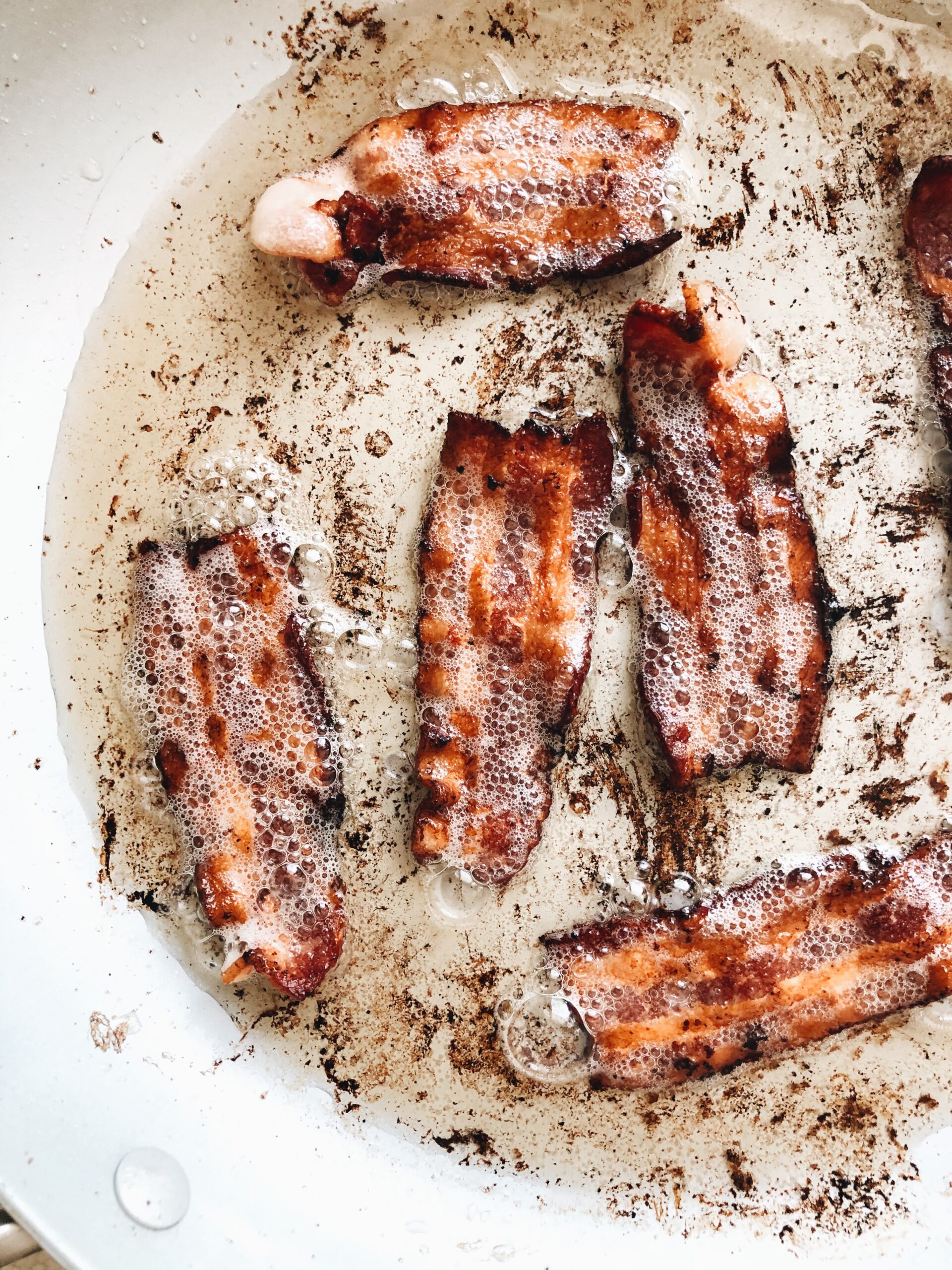 First up, render that bacon. Get it nice and almost-crispy. That brilliant red that's not ash and not slop. You know exactly what I'm talking about.
Drain most of the bacon fat away, but keep about a Tbs. in the pan for the shrimpies. (<–not even sorry)
The shrimp will get coated in the fat as they sear, and that beautiful speckling all over that screams I TASTE LIKE BACON. Nothing better.
But you will need to season the shrimp with salt. You're no animal.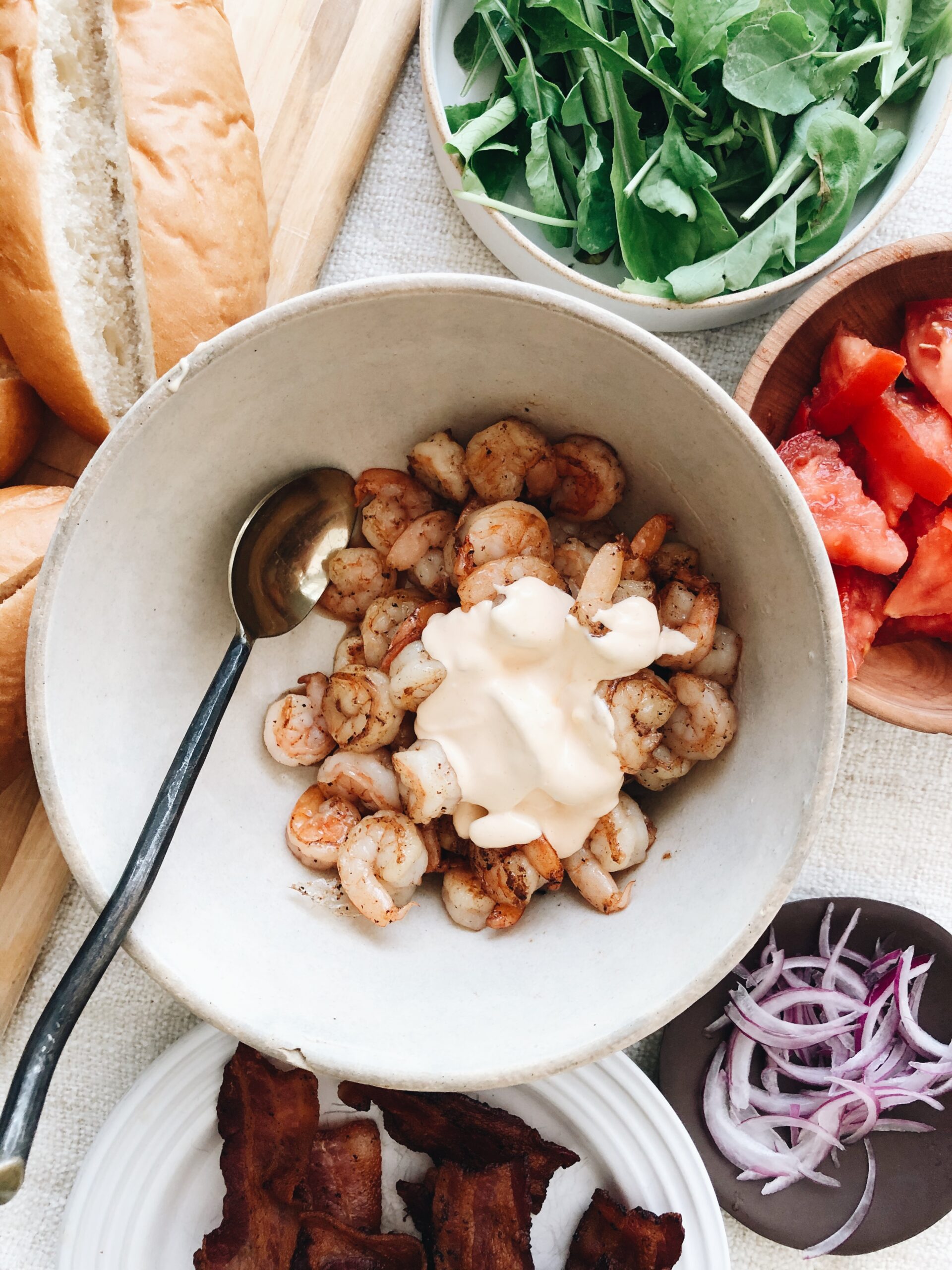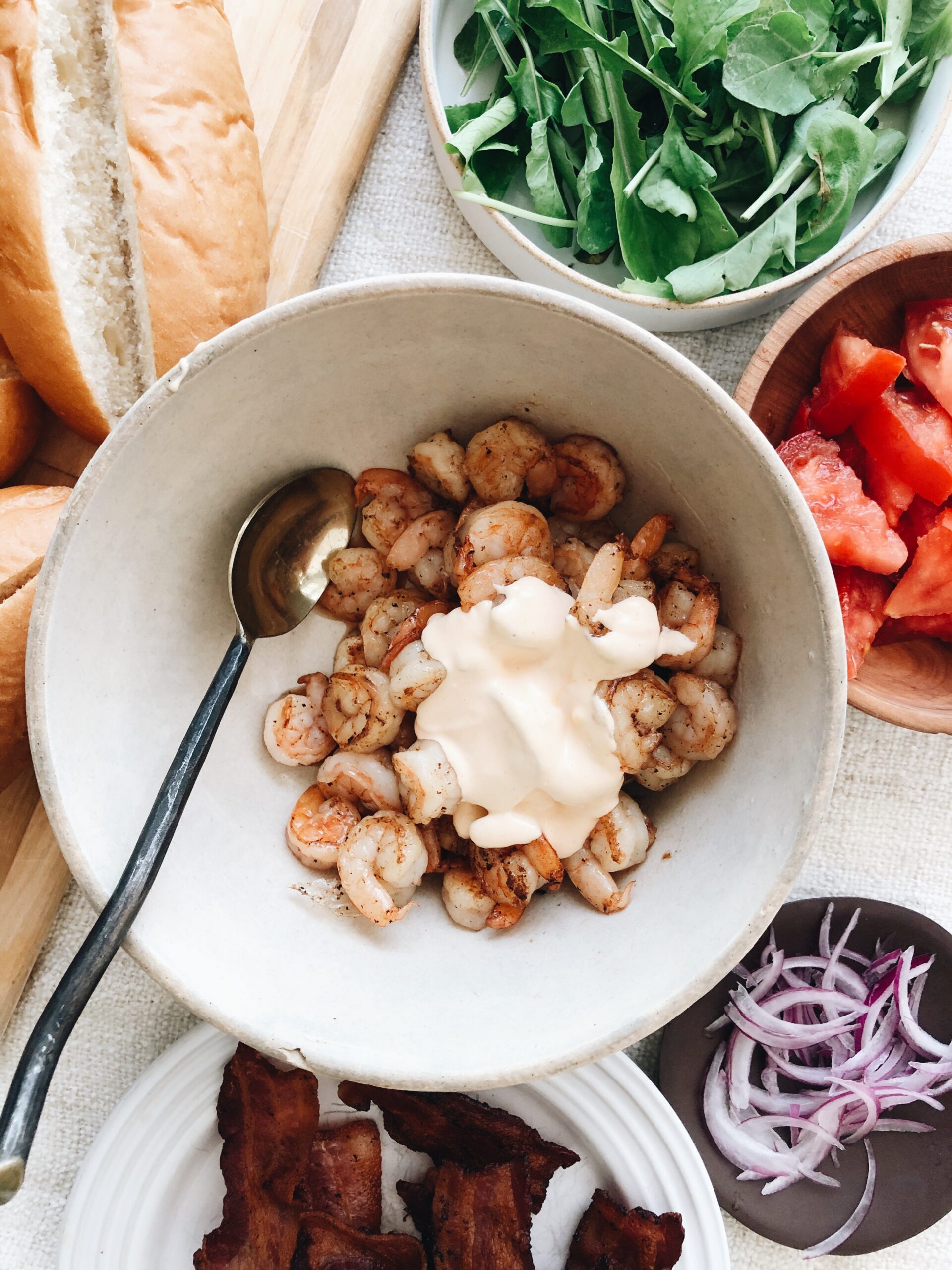 You've also mixed a bit of mayo with your favorite hot sauce. Get it a nice shade of barely pink, then add the shrimp and toss it all to coat. This is when things start to get good.
Besides the bacon in the beginning and the shrimp right behind it.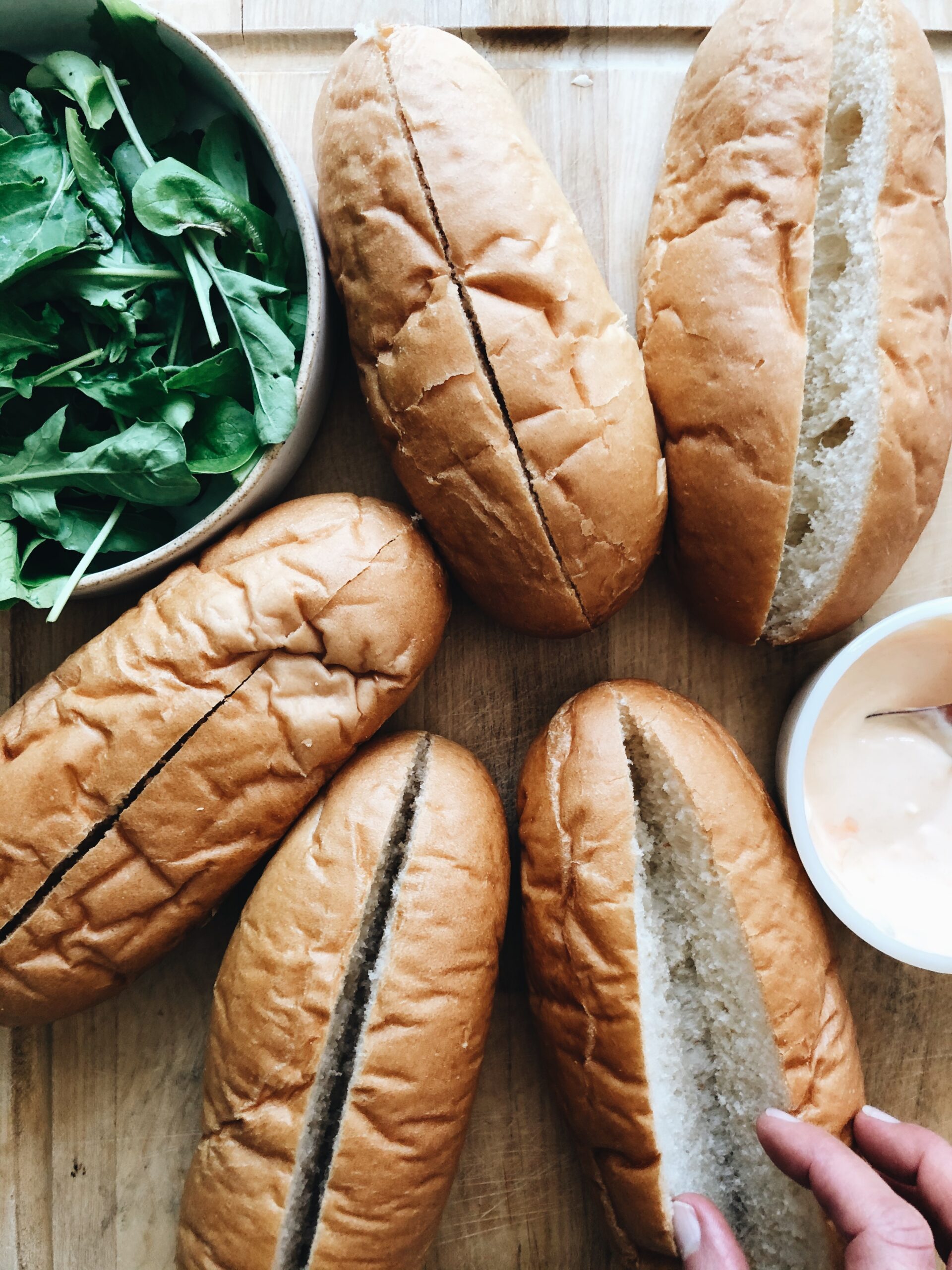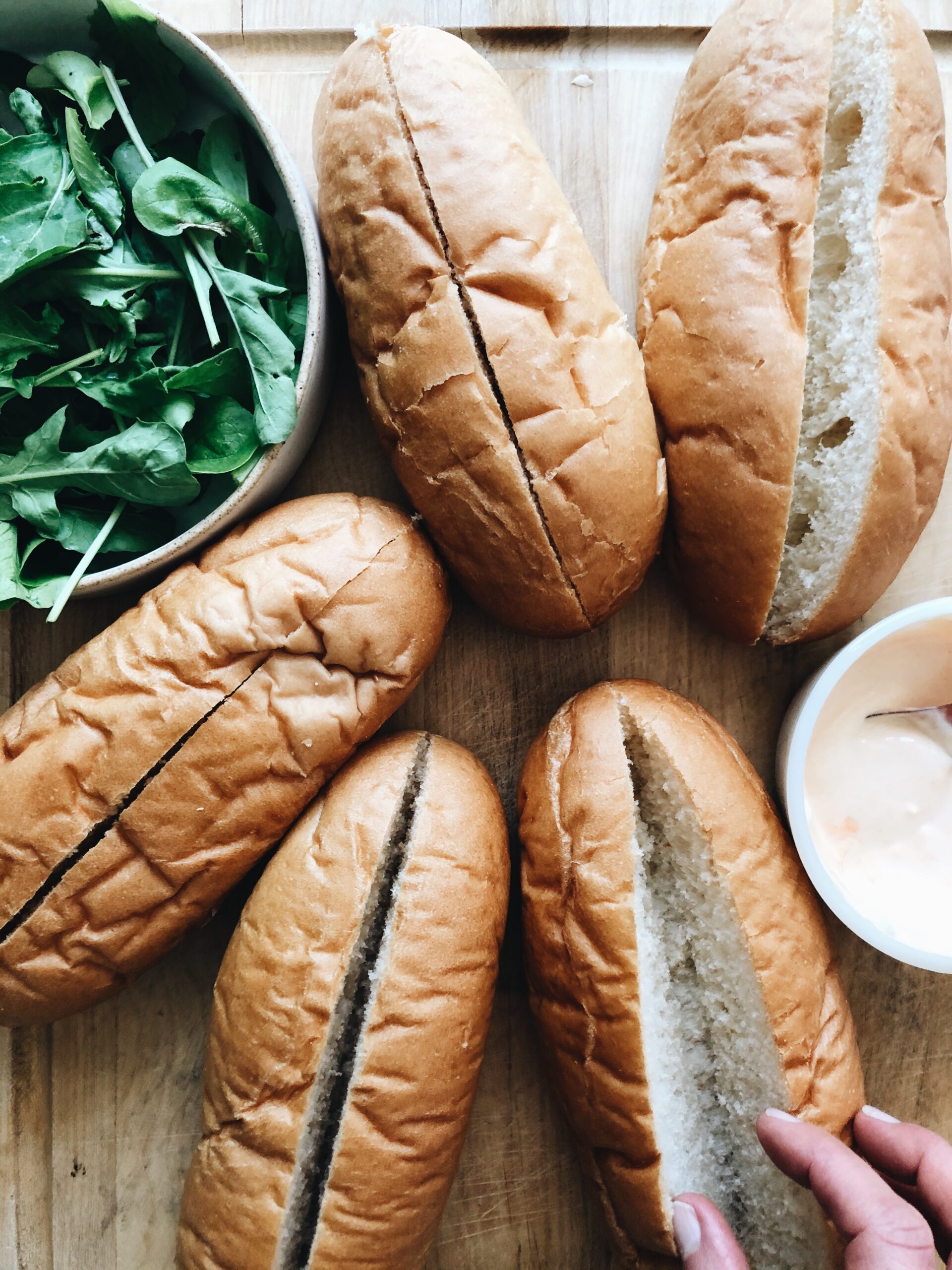 So, I cut the hoagie rolls (sub rolls, whatever you call them in your zip code) down the top center, to look more New Englandy. But if yours come pre-slit on the sides, you're still a good person.
You can absolutely toast these. Matter of fact, toast these. Just a quick trip to the toaster. I like this direction.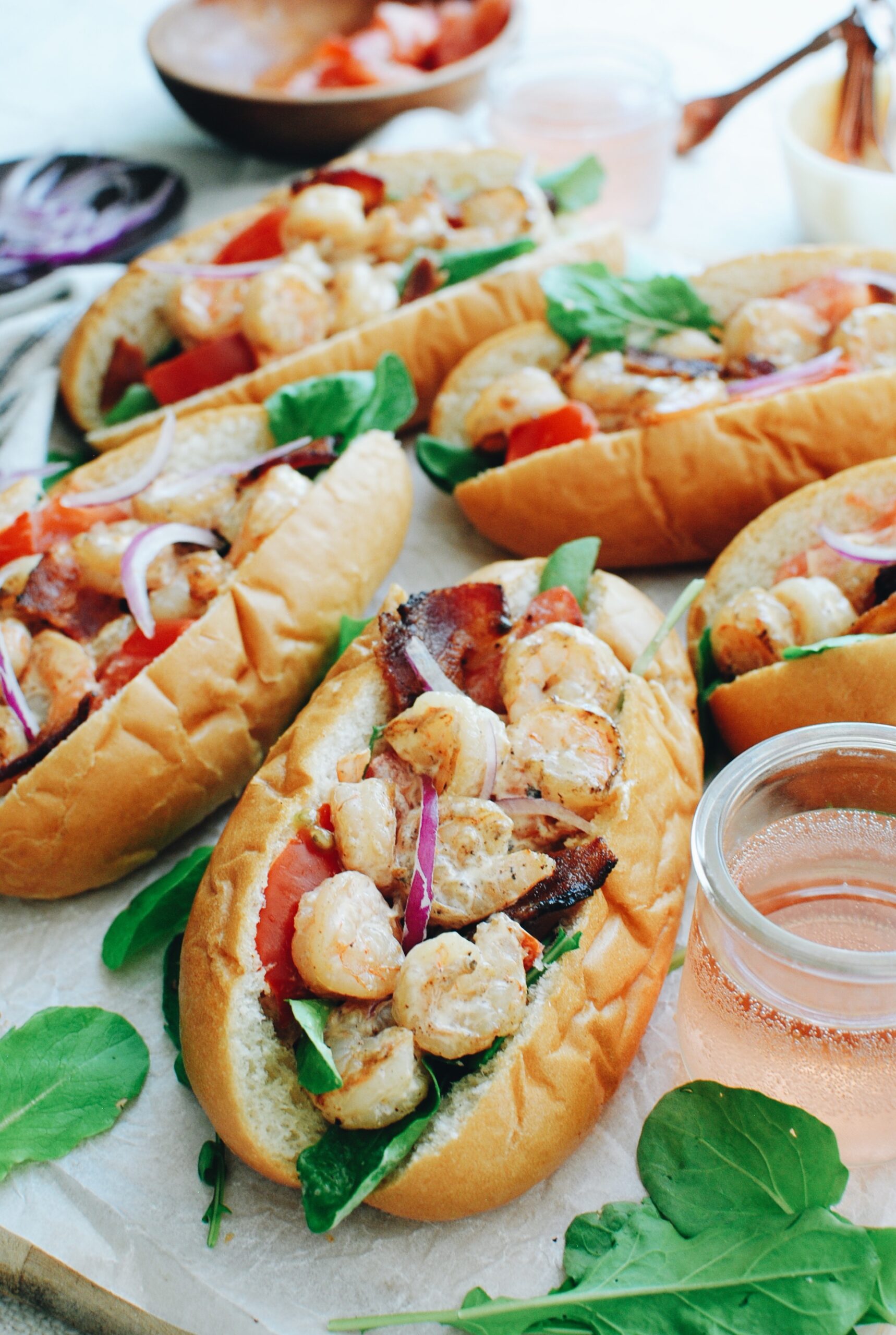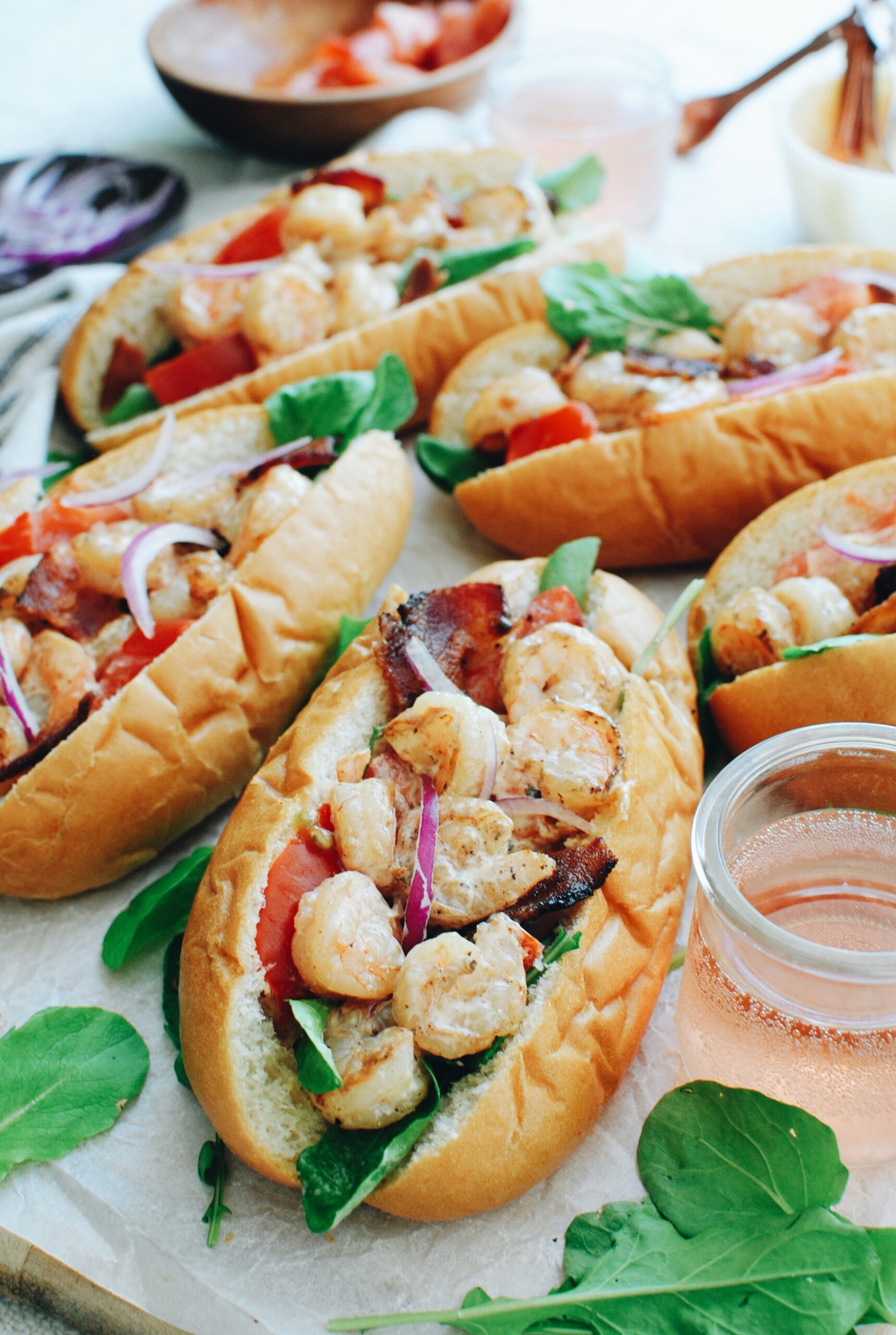 Then you just pile it all in like a complete lunatic. You can even spread the spicy mayo on the bread before adding the lettuce leaves and heaping piles of shrimp, bacon pieces and sliced tomato. Anything goes here.
I added thinly sliced red onion because truly it is one of my favorite foods. I think it enhances E V E R Y T H I N G. If you watch my Food Network classes on the app, you're probably sick of me adding thinly sliced red onion to every single meal I make but it's who I am, just love.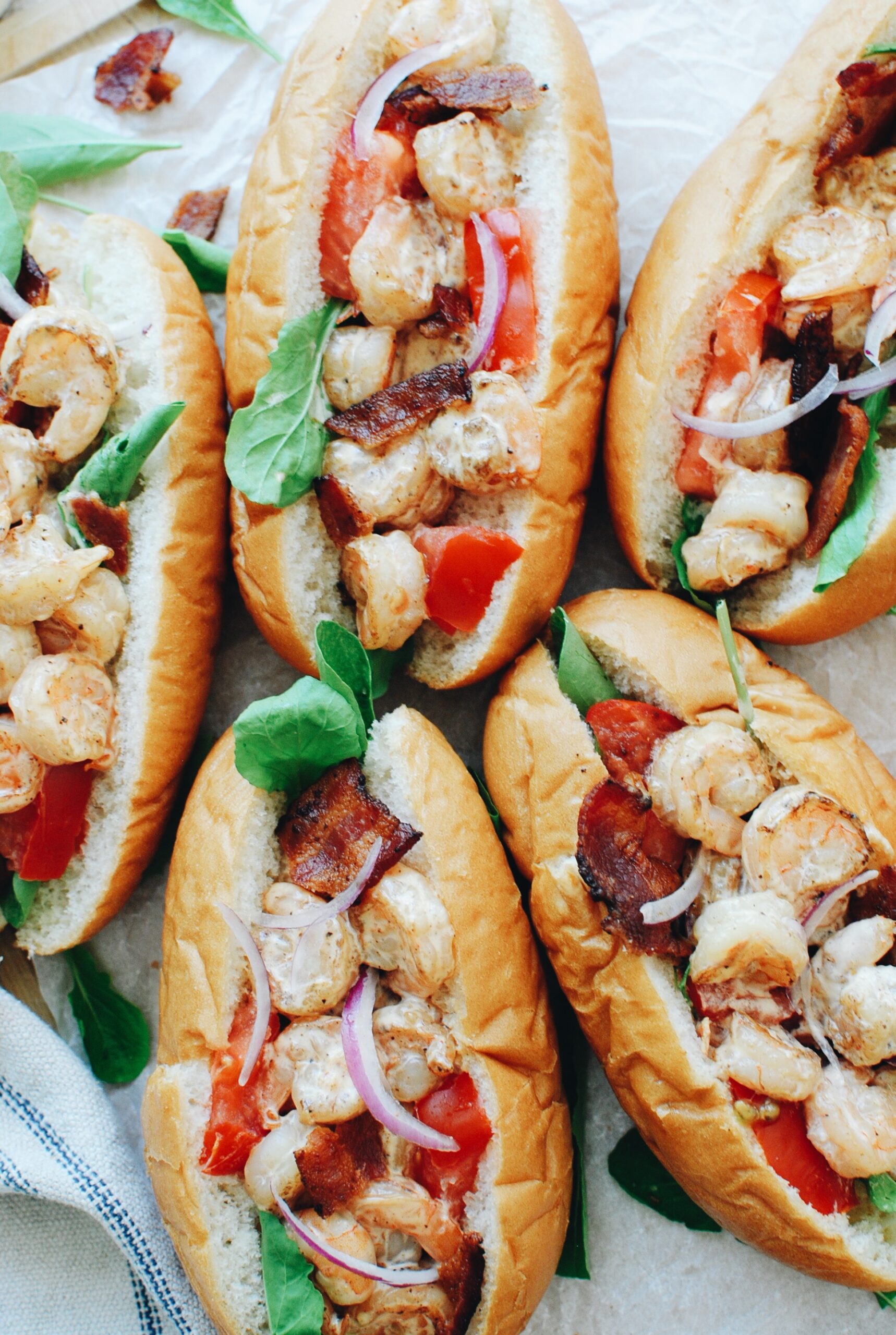 Can't you just imagine a cute little backyard picnic with these? Little lunch of hoagies and then a quick run through the sprinkler like it's 1982? No? Yes? No? A huge no?
My kids snarfed them. Took 'em down with one breath.
And the greens, go with anything you have. Our salad section of the garden is on steroids and I can't cut greens fast enough. This is a blend of arugula, spinach and baby romaine. Anything works, though.
AND, you could honestly throw all this in a regular burger bun. Make it yours, if y'awnt.
Just make it.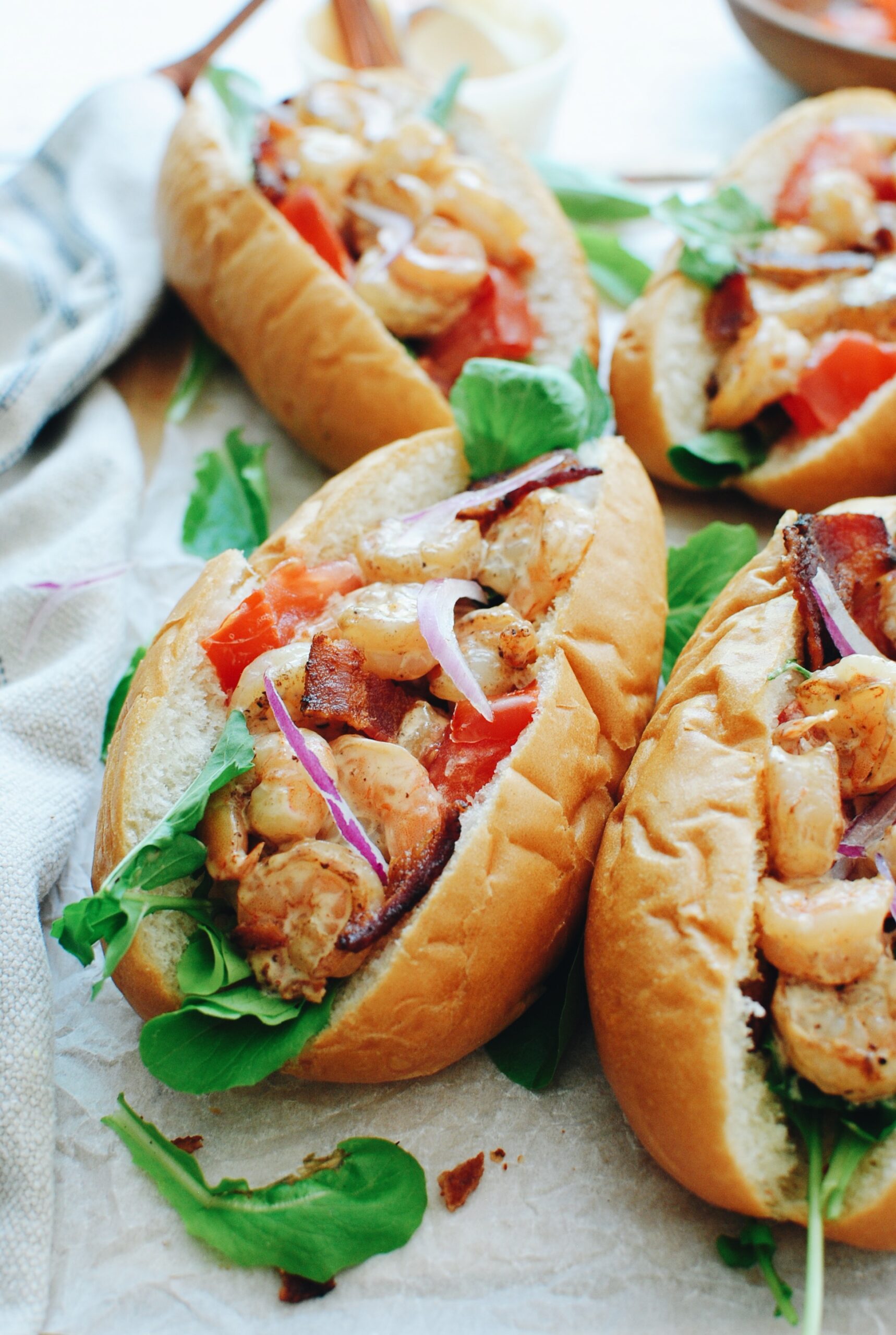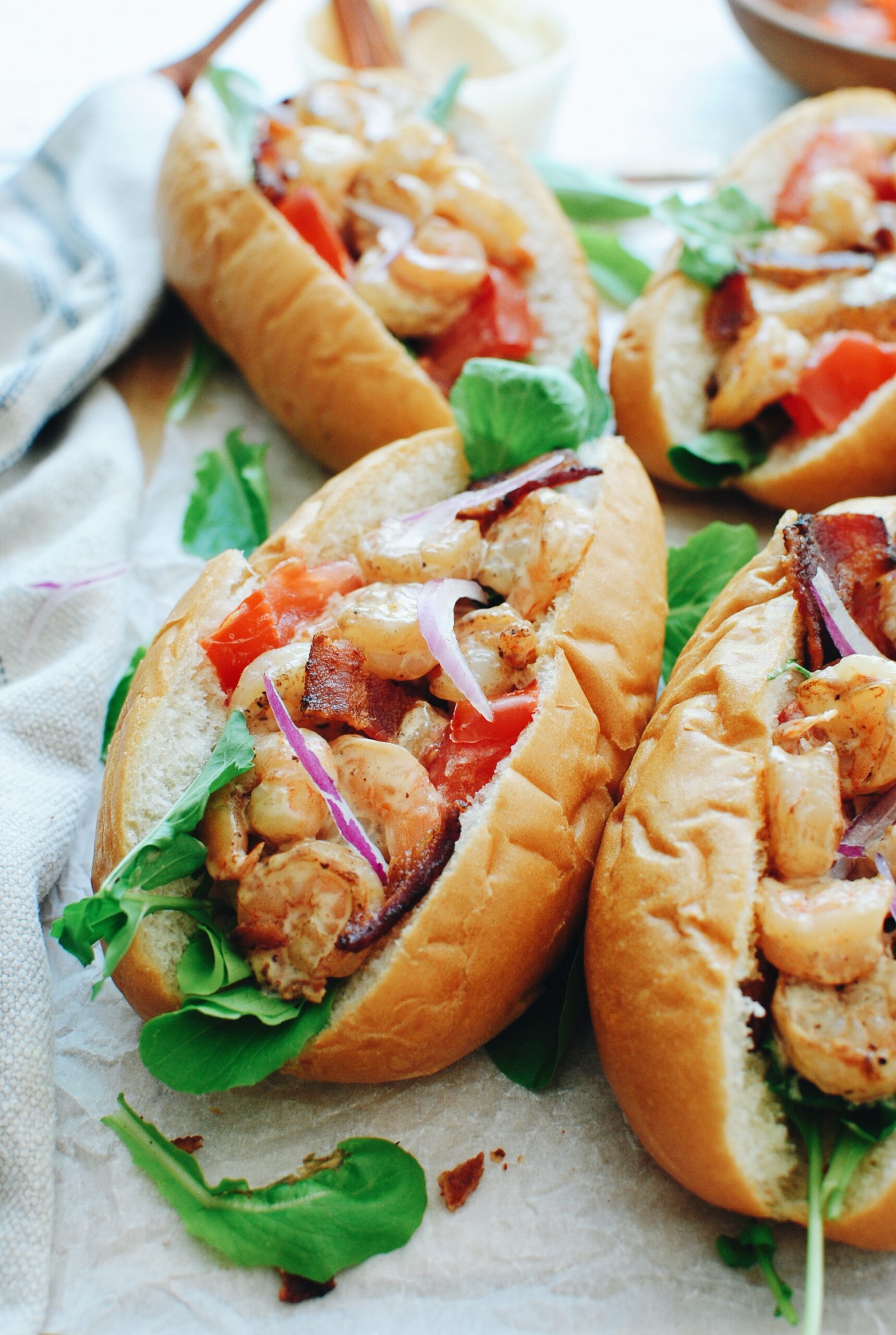 This weekend!
Ingredients
6 strips bacon, cut in half
24 oz (or even two pounds) shrimp (the smaller size), thawed, peeled and deveined
3 Tbs. Mayo
2-3 tsp hot sauce (your favorite)
1 tomato, sliced
2 cups baby lettuce greens
Hoagie buns, split and toasted
Thinly sliced red onion (optional)
Coarse salt
Instructions
Heat a large skillet over medium heat. Add the bacon slices and render until they're bright red and starting to crisp. (Or whatever bacon doneness you prefer.) Remove from the pan, let cool, then break into medium pieces.
Keep about a Tbs. of bacon fat (maybe a little more) and add the shrimp to the pan in a single layer. Season with salt and crank up the heat; sear for a minute and a half. Toss the pan so that the shrimp turn, searing another minute, until they're opaque and have nice browning here and there. Transfer the cooked shrimp to a medium bowl.
In a small bowl, mix together the mayo and hot sauce. Add enough sauce to coat the shrimp. (You might have leftover sauce, so you can spread it on your toasted buns. Ha! Oh.)
To the toasted hoagie buns, layer in the baby greens, followed by a heaping pile of shrimp, bacon pieces, sliced tomato and red onion slices.
Serve immediately!
Makes five subs. Or six depending on how you spread the shrimp out. Or one if you're obnoxious like me.
7.8.1.2
425
https://bevcooks.com/2020/05/blt-shrimp-hoagies/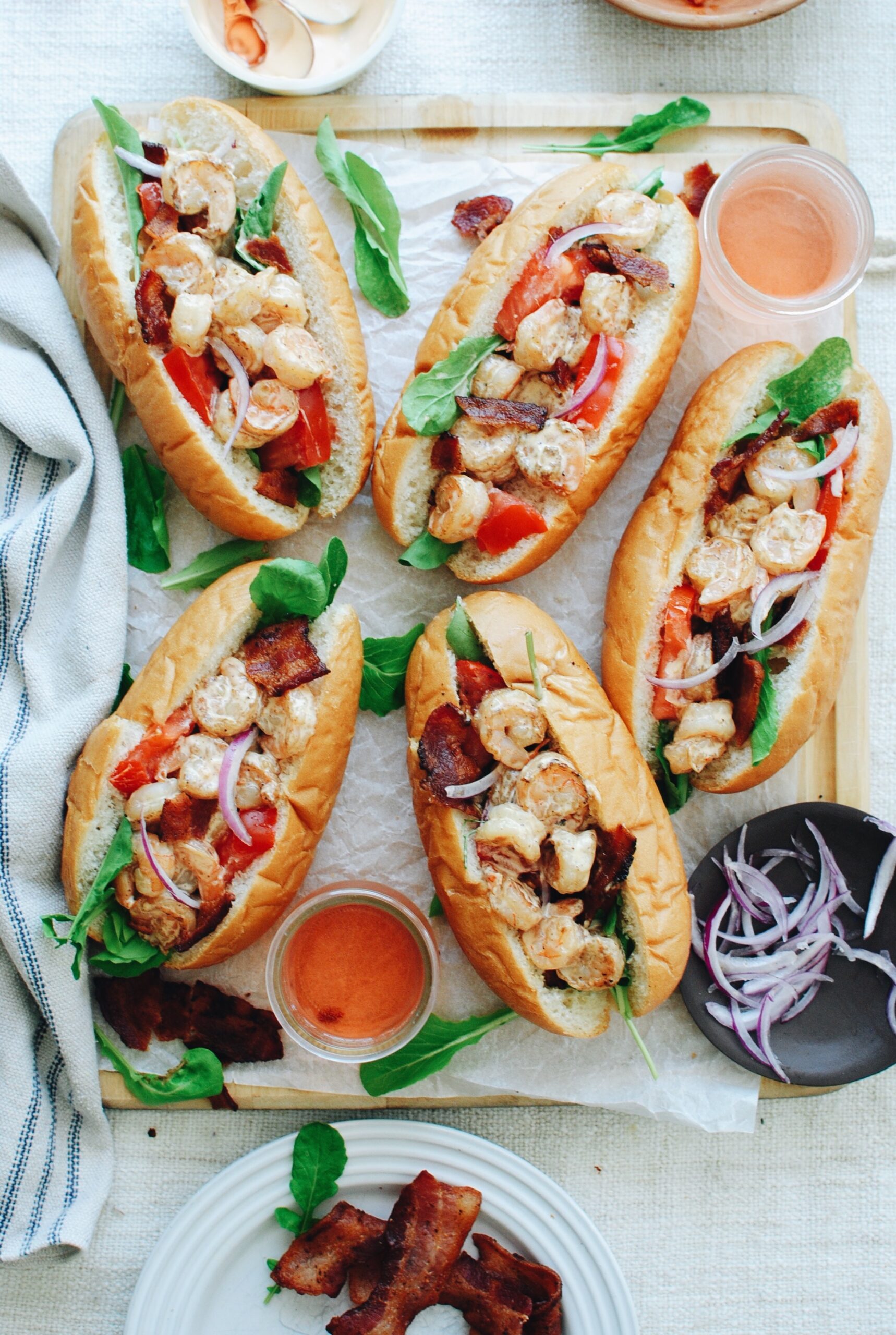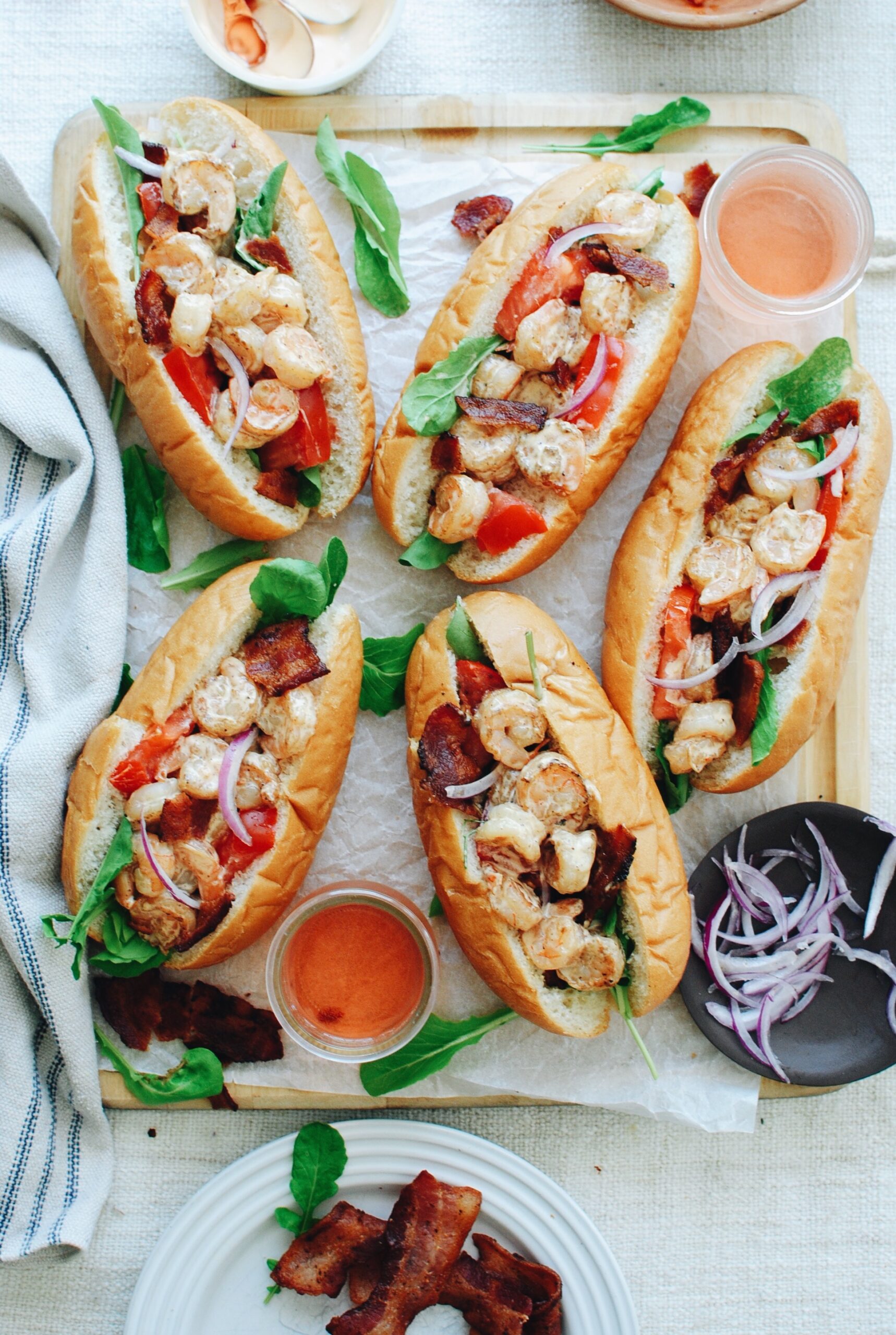 The more stuffed, the better.