I've been waiting over 1,814,467 seconds to show you this recipe! Which is really around three weeks, but who's counting?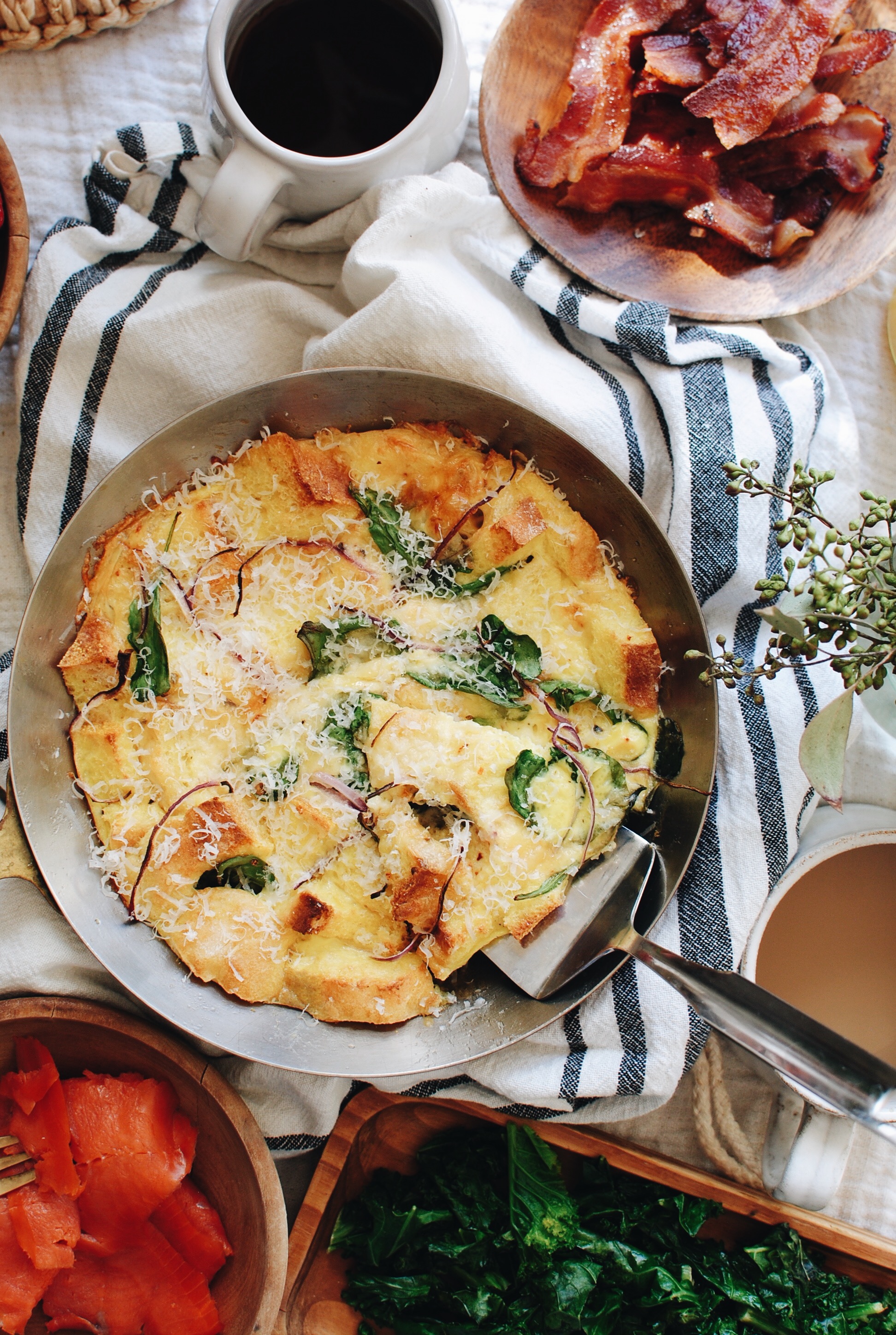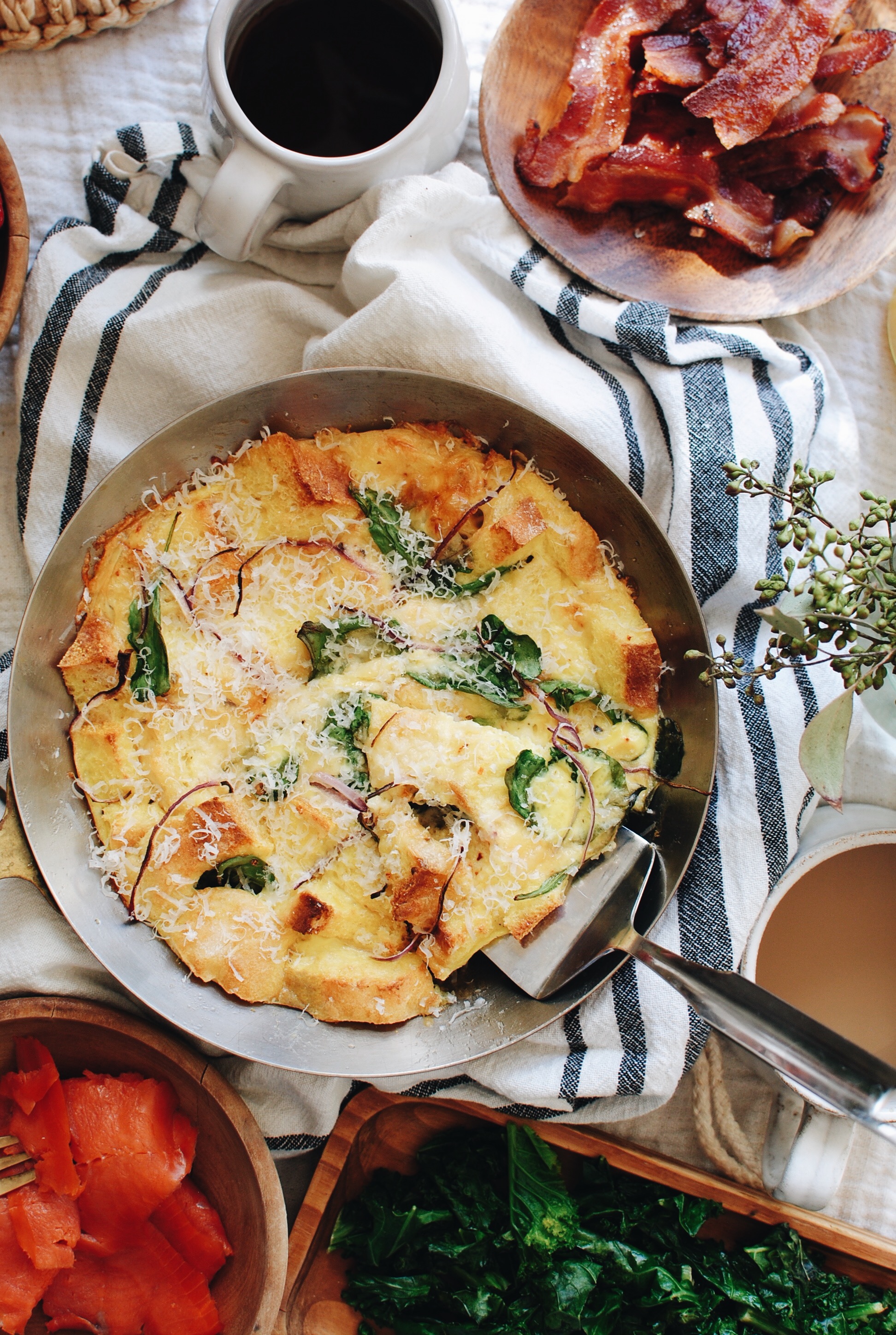 I call it, the LAZY LADY STRATA.
Because:
A) Nothing happens overnight. Zero waiting. Zero soaking. It all happens the morning of, and you'll thank me on your gaping jaw in a minute.
B) It's not some GIANT pan with all the strata. It's in a small skillet! Just for you! Actually, it makes four dainty servings, but if you're like me, you can nibble at it (what am I a mouse?) for like, two or three days.
C) You only need a small amount of ingredients. And they're not WEIRD, you know? It's stuff you have already. You just throw it together in a matter of minutes, and in the oven it goes.
D) IT ONLY BAKES FOR THIRTY MINUTES. And it comes out beyond perfect and luscious and sexy and you'll want to pet it and call it Frank.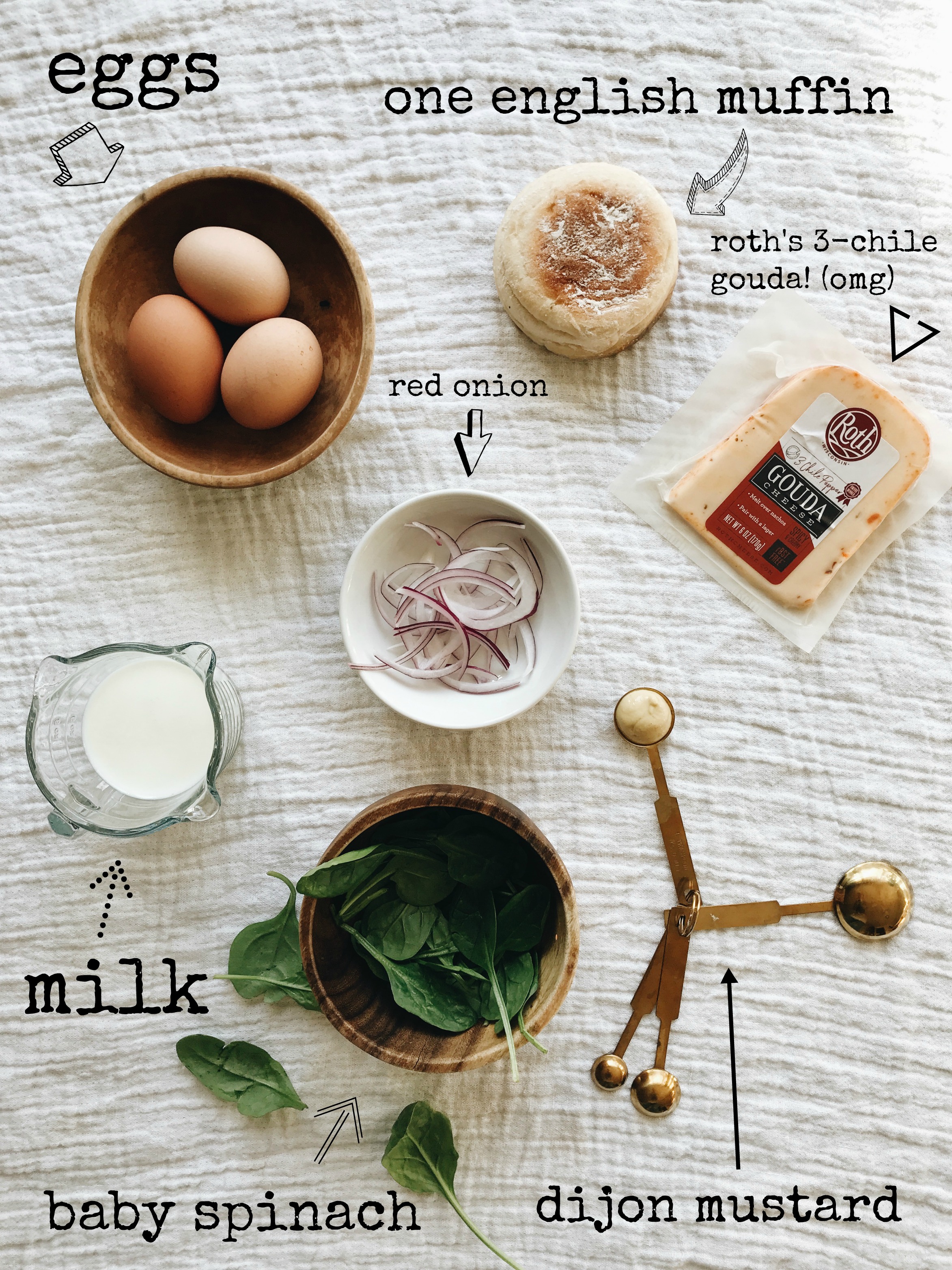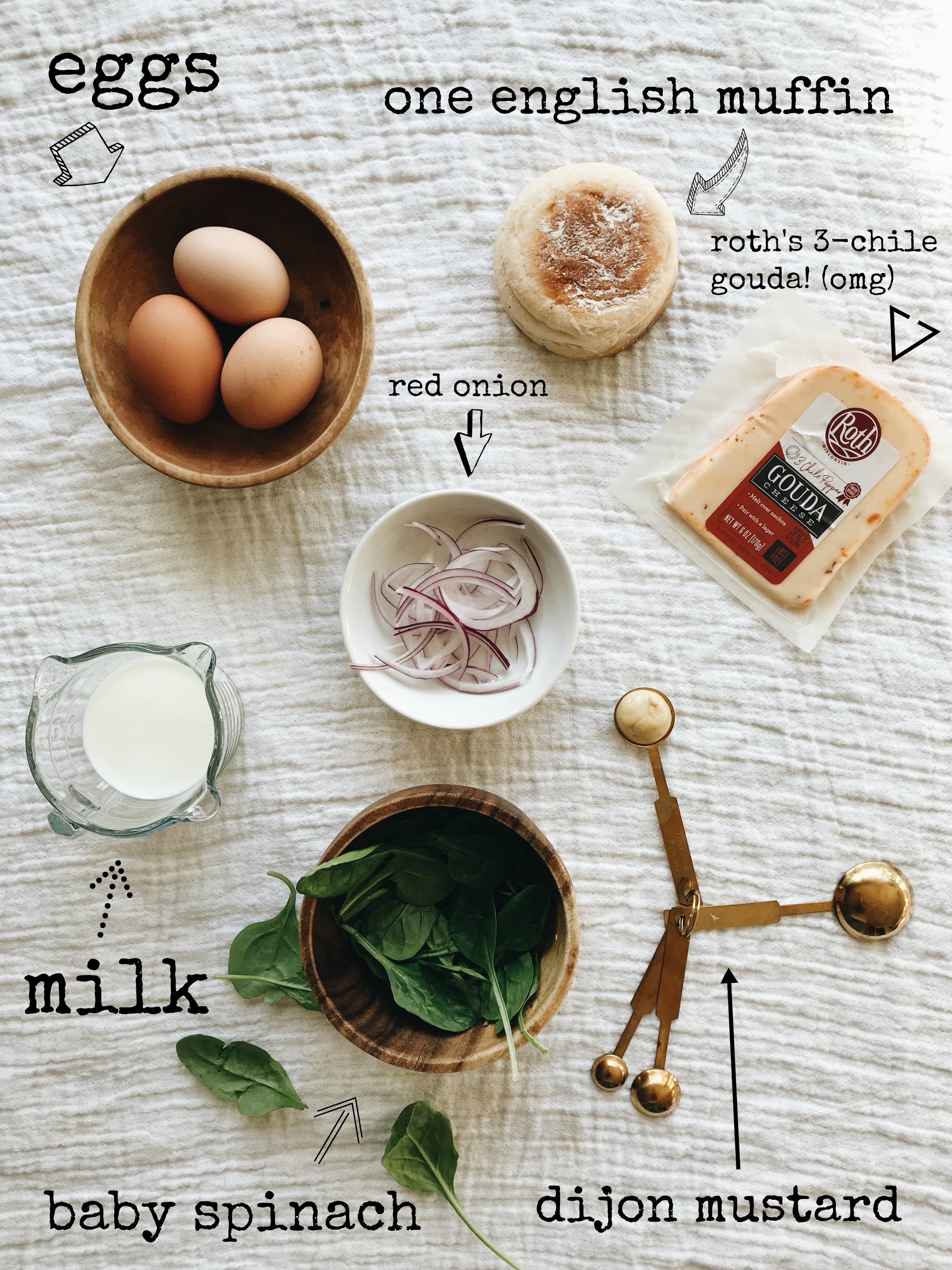 So check it! ONE English muffin. Here in a sec you'll just cut that mess into chunks with a knife.
What makes this strata is the cheese. It's Roth's fabulously creamy and perfectly spicy 3-Chile Pepper Gouda! And oh my faces sakes a frickin' live. It is a wondrous thing in this simple strata. It's got HEAT, but won't ruin your life. It's a beautiful balance of chipotle, habanero, and jalapeno. And the texture? Almost BUTTERY. Super creamy and melty and flat out exquisite with eggs and milk.
Which is a basic golden rule of life. Cheese, eggs and milk.
The end forever.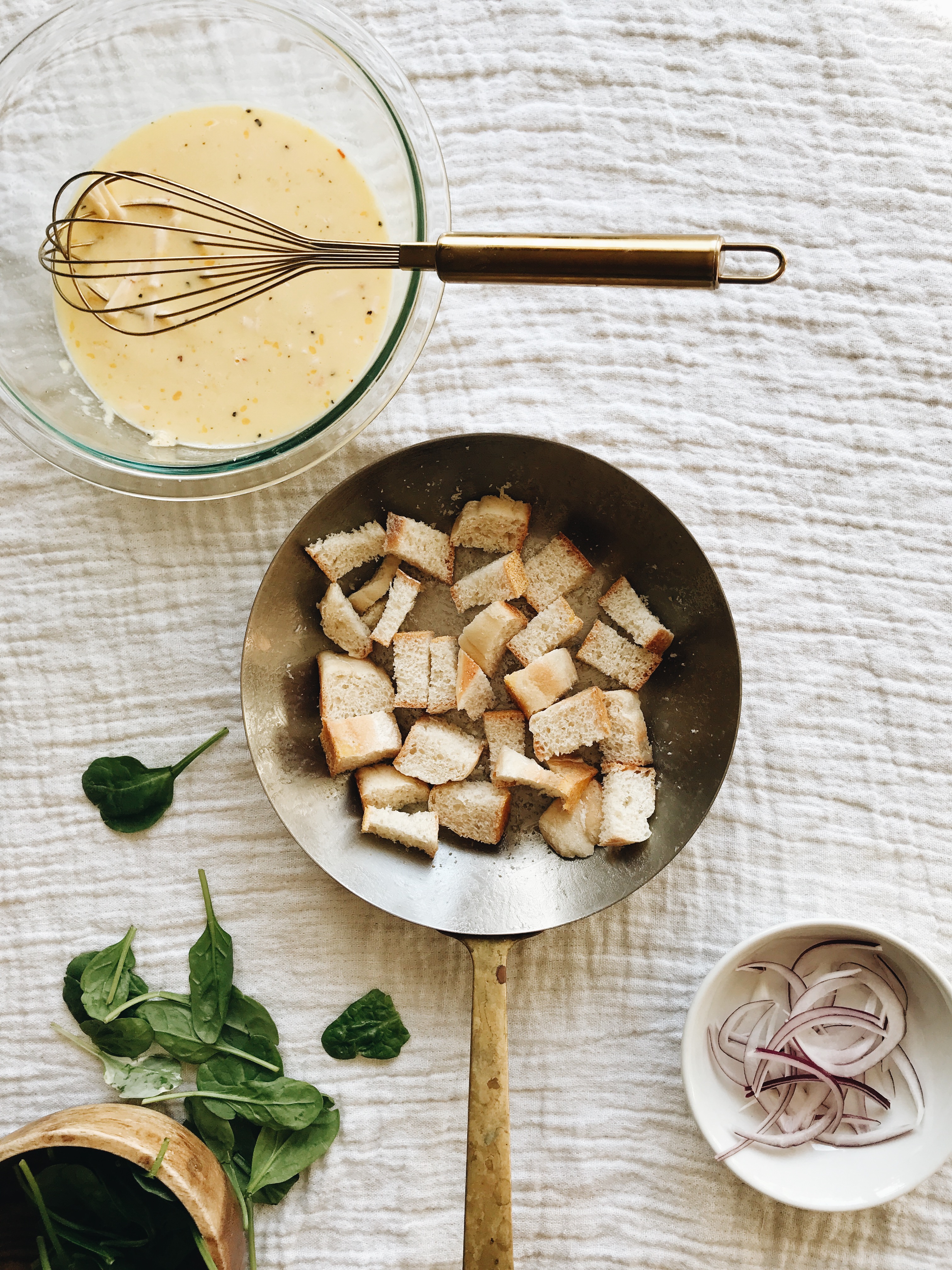 So, spray your lil' skillet with some cooking spray. Then dump those muffin chunks right on in. (We shouldn't start a band called Muffin Chunks, should we? I THINK SO, TOO.)
Then in another small bowl, whisk together the three eggs, half cup of milk, the 3-chile pepper gouda, and mustard! The mustard adds a certain tarty depth that is a must in stratas.
I know you feel me.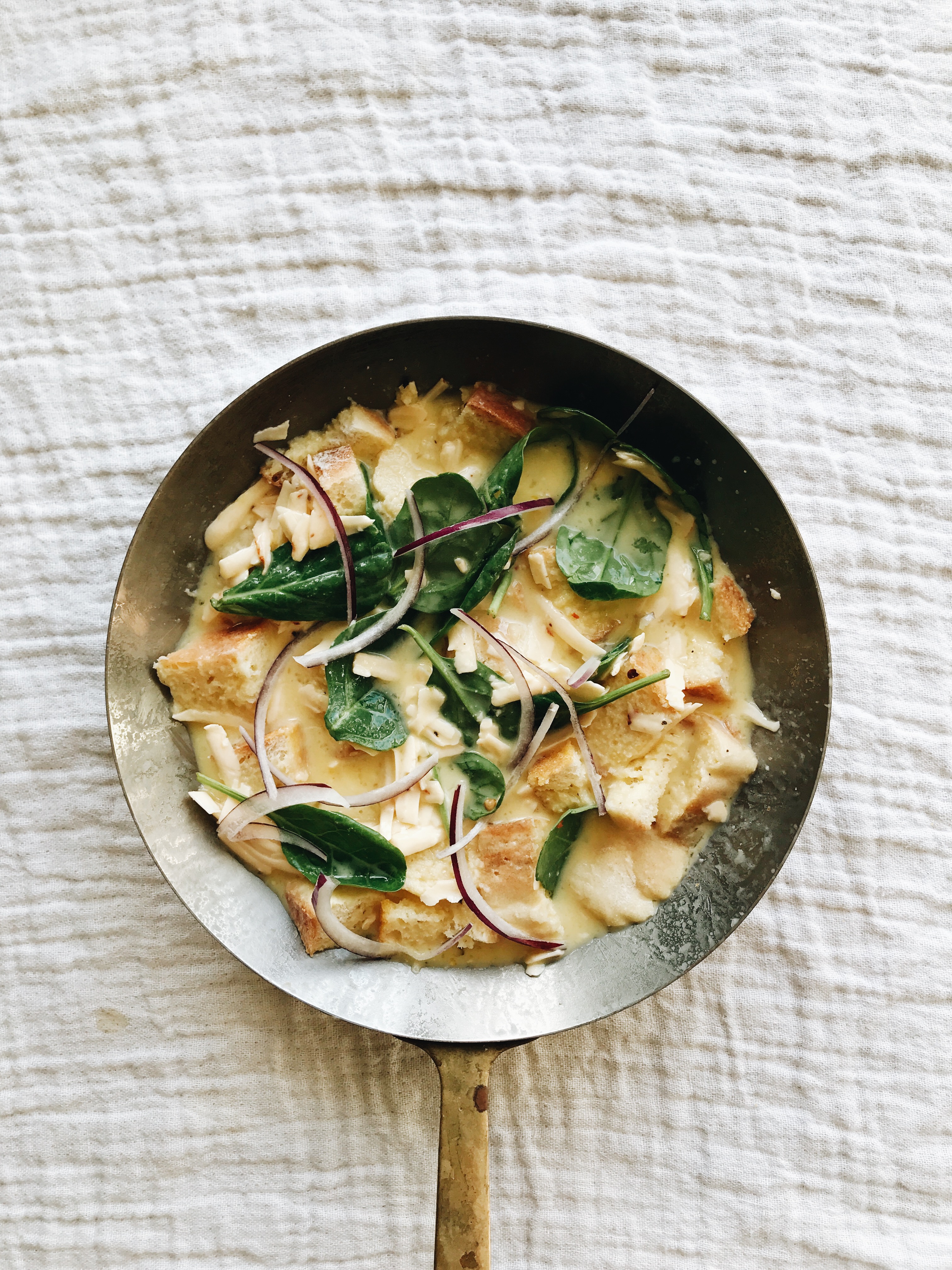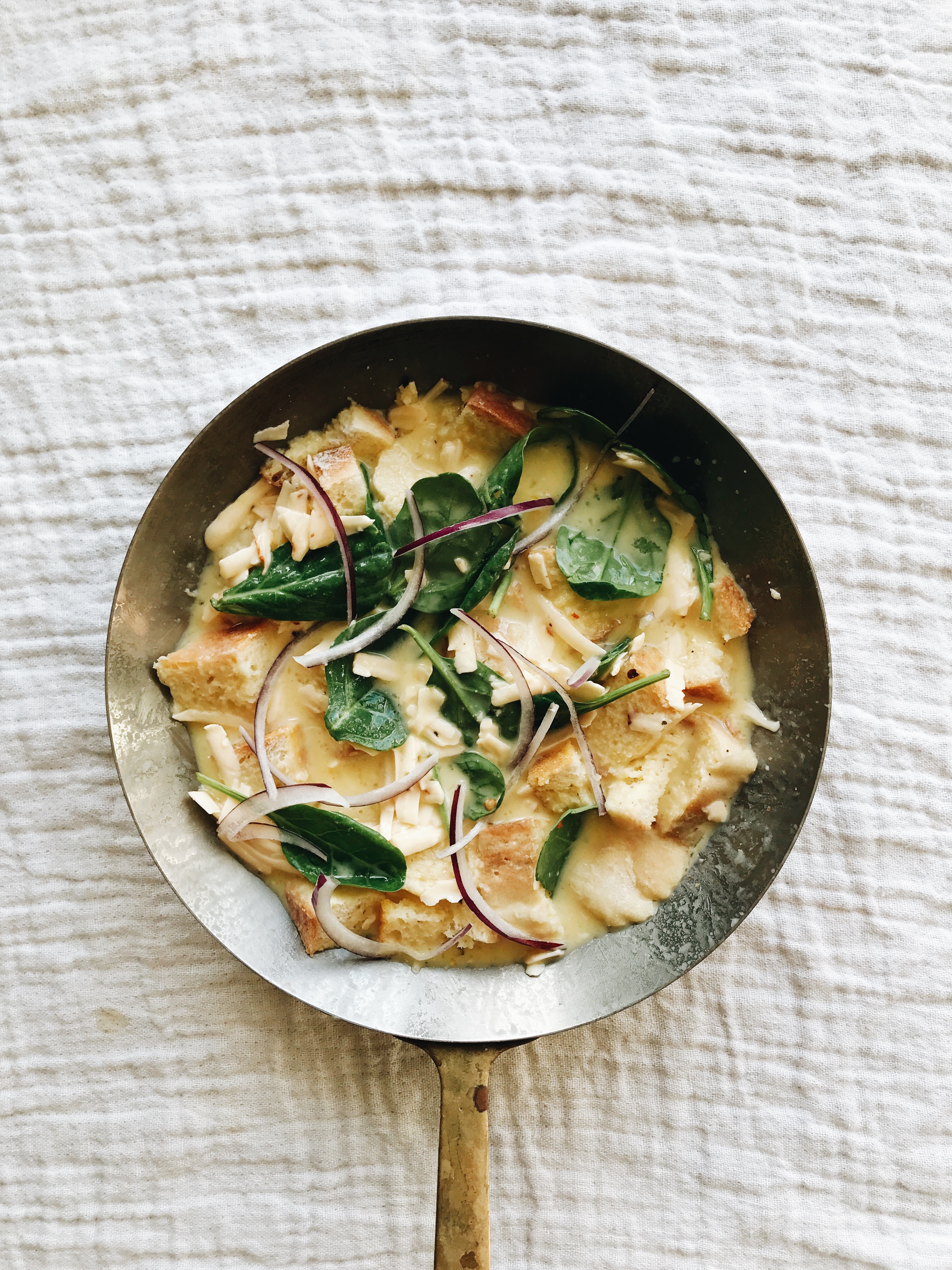 Pour the mix all over the English muffin pieces. And be sure to submerge each chunk of bread in the strata mix. You want it all covered with strata moisture. (<–none of those words were good.)
Then tuck the spinach leaves in the egg mix, and sprinkle the thinly sliced onion right on top. Things are turning around for you, I can feel it.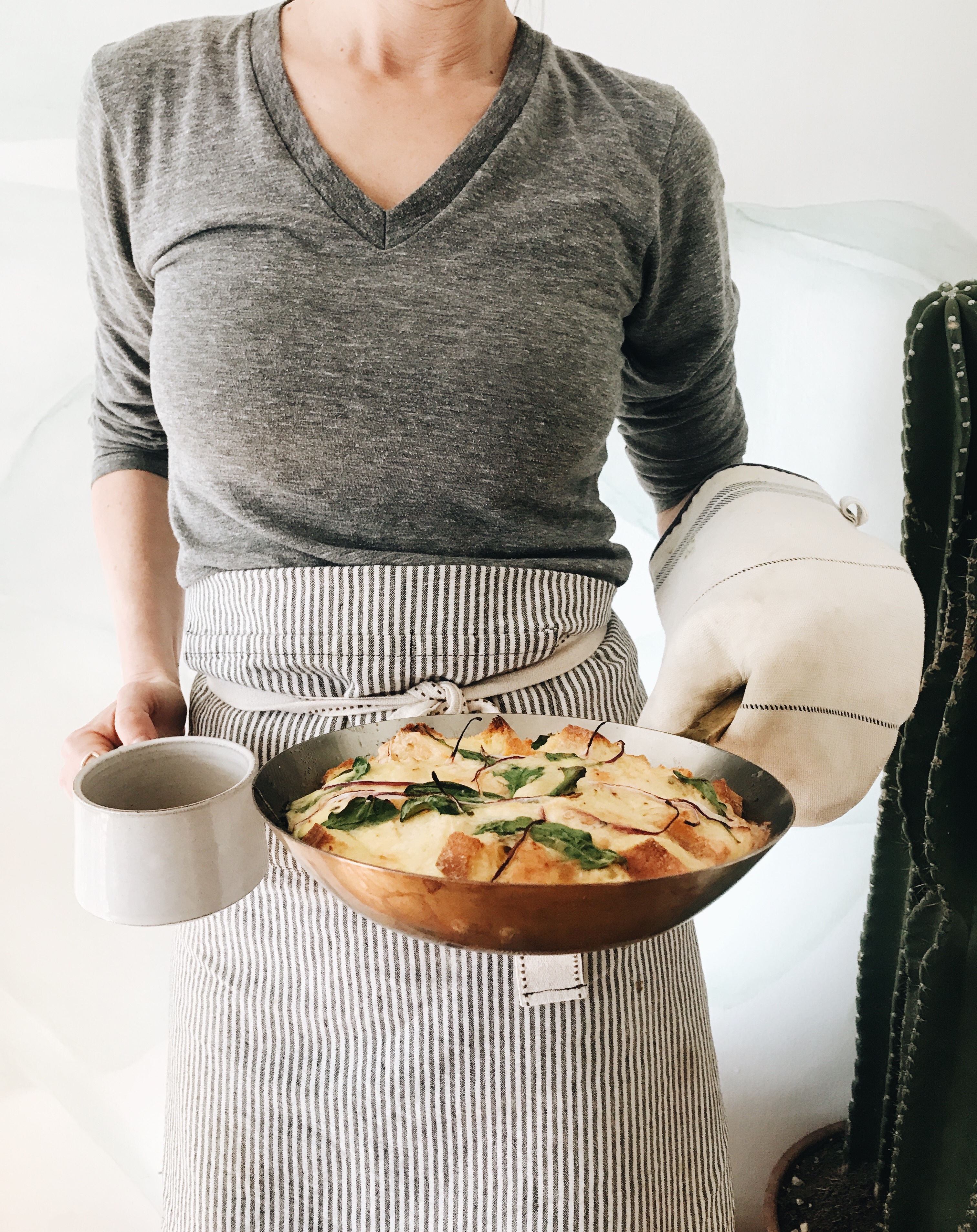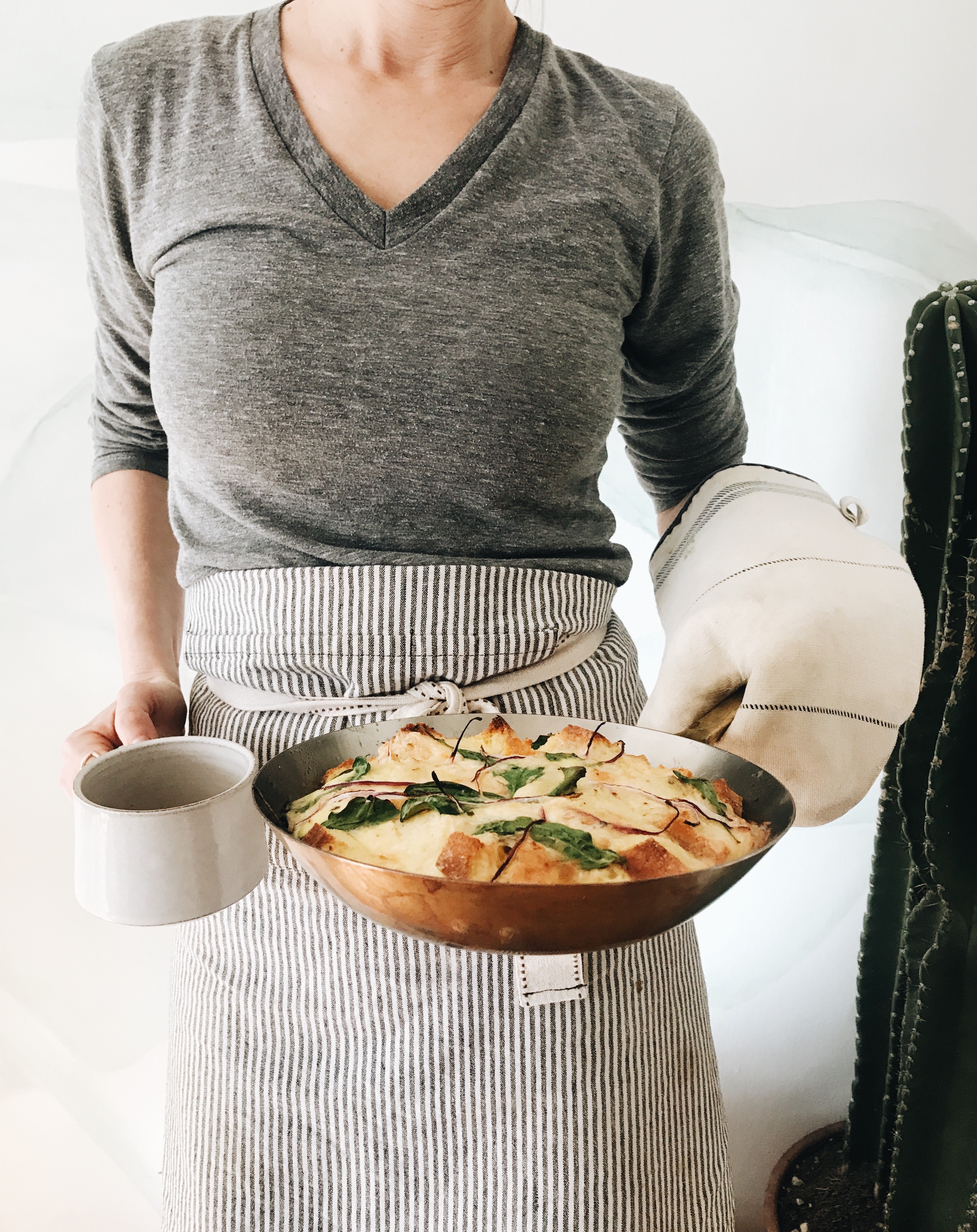 Thirty minutes later aaaaaand YOU JUST GOT STRATA'D.
I wanted to show this right-out-of-the-oven shot, as it's gloriously giant and poofy. Over a minute or so, all things eggy sort of deflate on you. And it hurts. I know.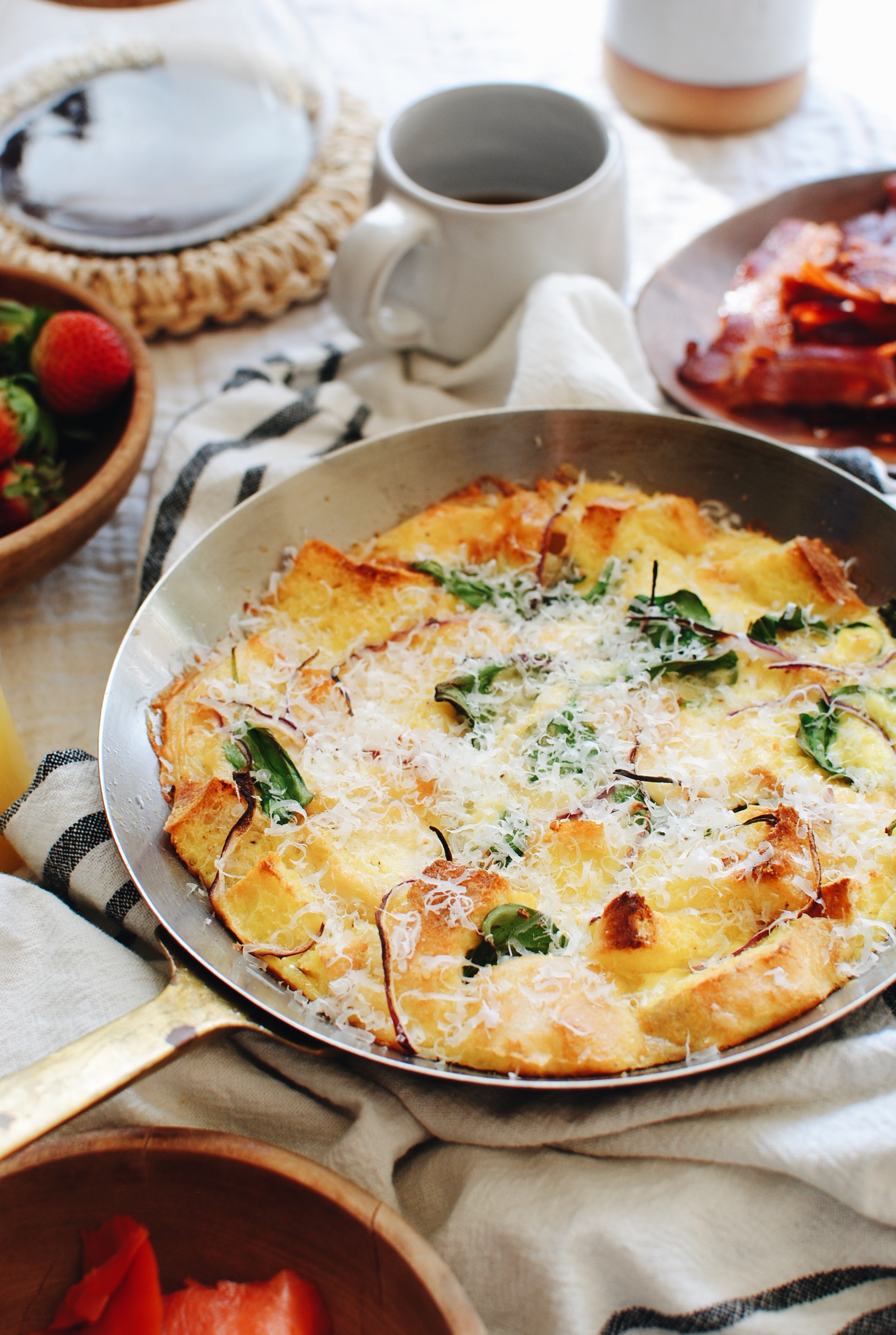 Look at those crispy muffin tops. (ha.) And believe it or not, they're not dry! The bread absorbs just enough of the egg mix to be this almost-custard like texture, that you will straight up slap ya mama. So have her nearby.
Your mama, that is.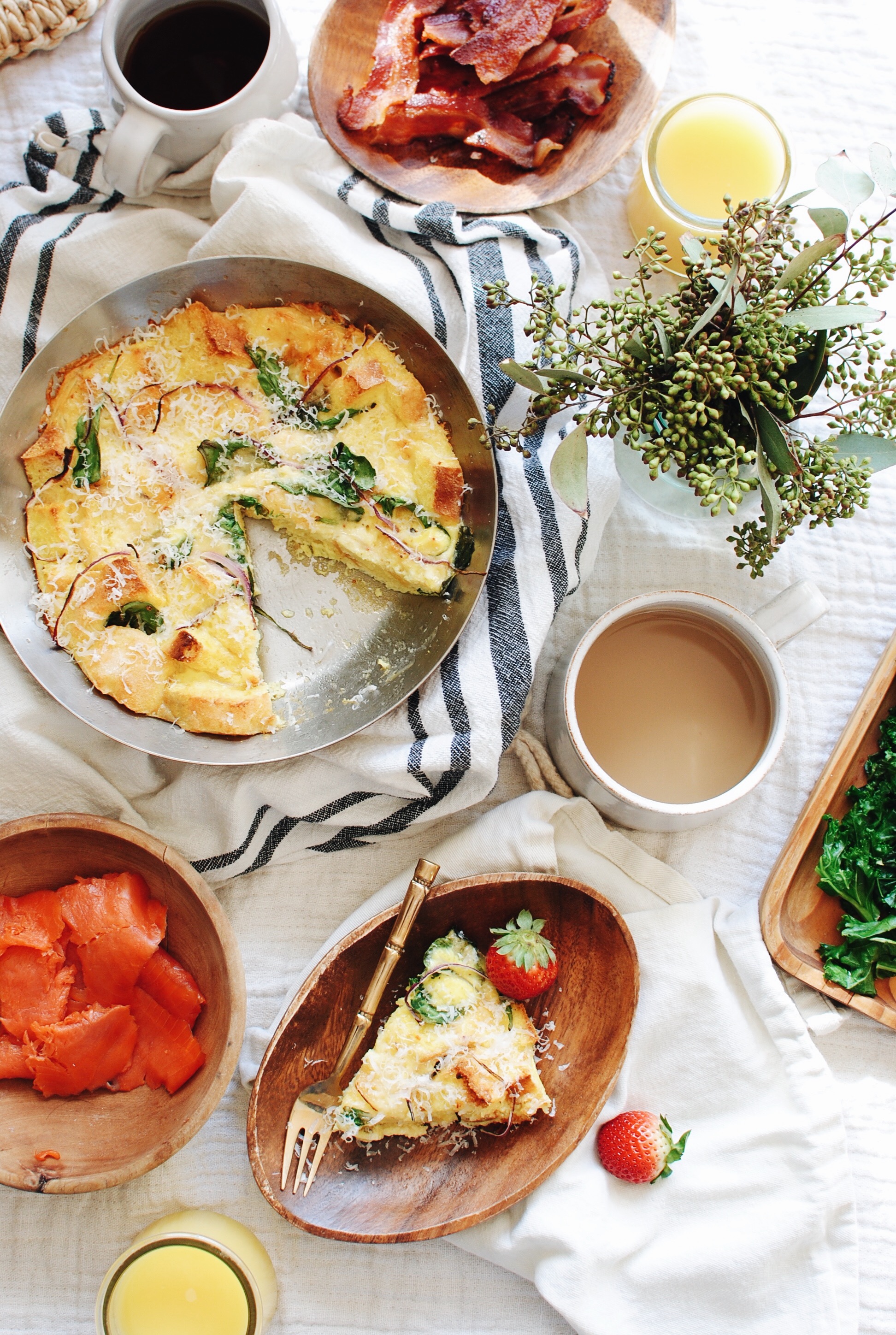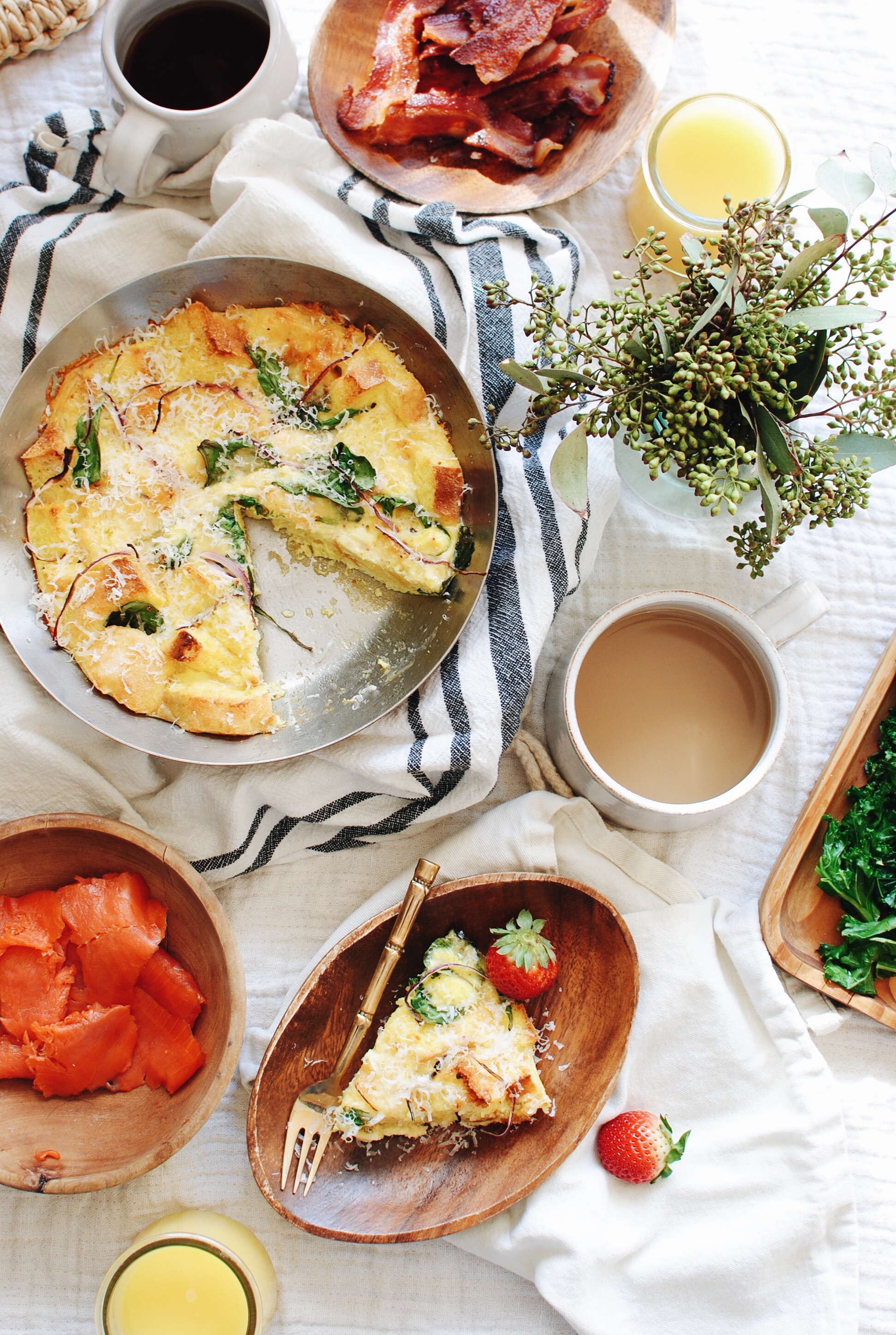 This makes the most insane brunch dish. Especially for a small crowd. A small female crowd. A small female crowd who loves spice and spinach and onion and cheese and life happiness.
Because this is it. It is IT, I swear it. I've made this dang strata three times and every single time I flip out on an even more obnoxious level.
Serve it with bacon, sautéed kale, smoked salmon slices, an array of berries and all the mimosas and coffee.
Wait, your mom didn't leave yet, did she? Because you're going to want to slap her again.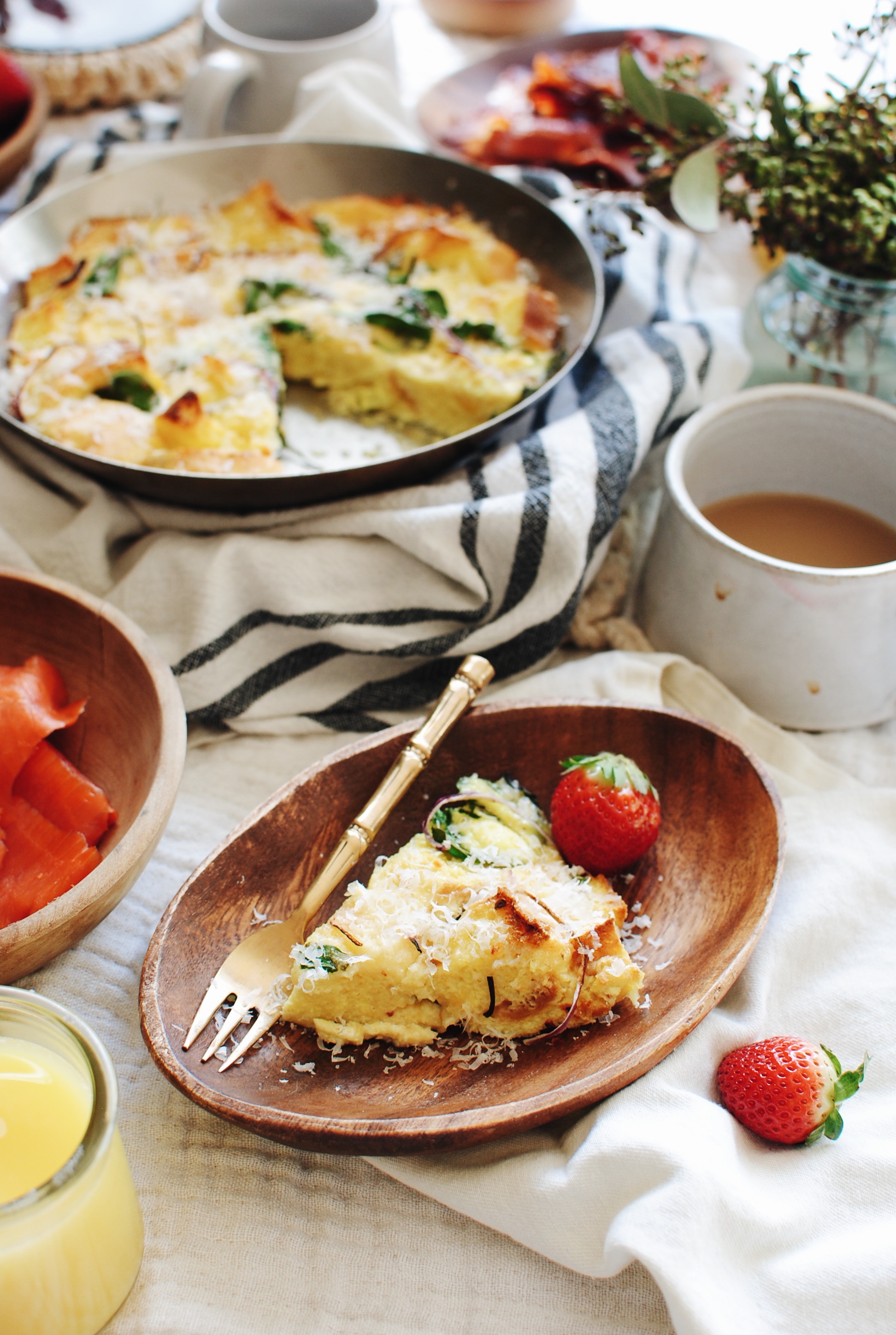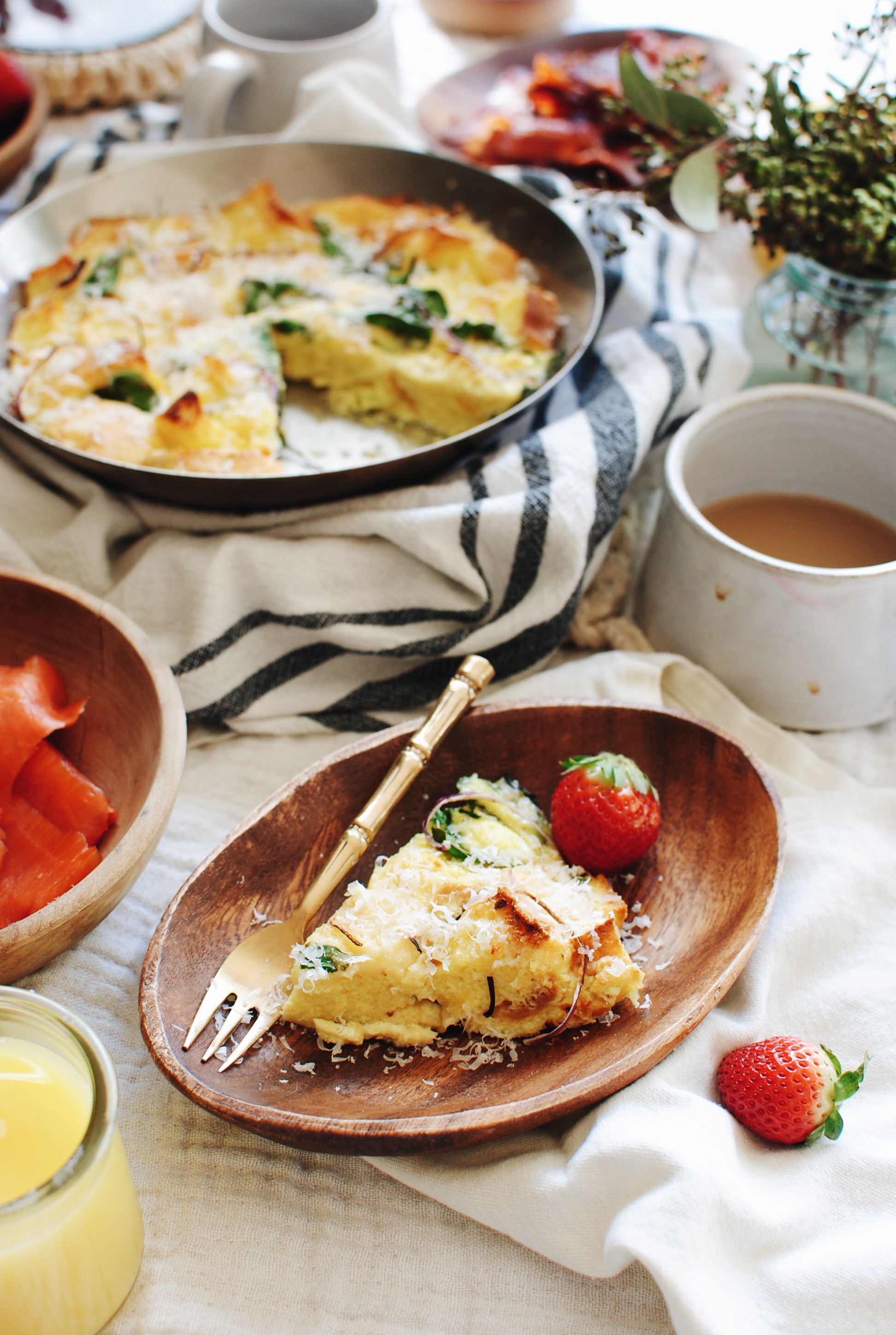 3-CHILE PEPPER GOUDA FOR PRESIDENT.
Ingredients
1 English muffin, cut into chunks
3 eggs
1/2 cup milk
1 cup Roth's 3-Chile Pepper Gouda, shredded or grated
1 tsp dijon mustard
1/2 cup baby spinach leaves
1/4 cup thinly sliced red onion
Salt and pepper
Instructions
Preheat your oven to 400.
Spray a small skillet with cooking spray. Arrange the English muffin chunks in the skillet.
In another medium bowl, whisk together the eggs, milk, cheese and mustard. Season with a pinch of salt and pepper. Pour the mixture right over the muffin pieces, submerging each piece in the egg mixture.
Tuck the spinach leaves in the egg mix, and sprinkle the red onion right on top.
Bake for 30 minutes, until the eggs are set and the cheese is starting to bubble on top.
Grate some parmesan on top for extra amazingness, and serve it up!
Makes four small servings. Or two bigger ones. Or one obnoxious one. YOU DO YOU.
7.8.1.2
138
https://bevcooks.com/2018/02/lazy-lady-strata/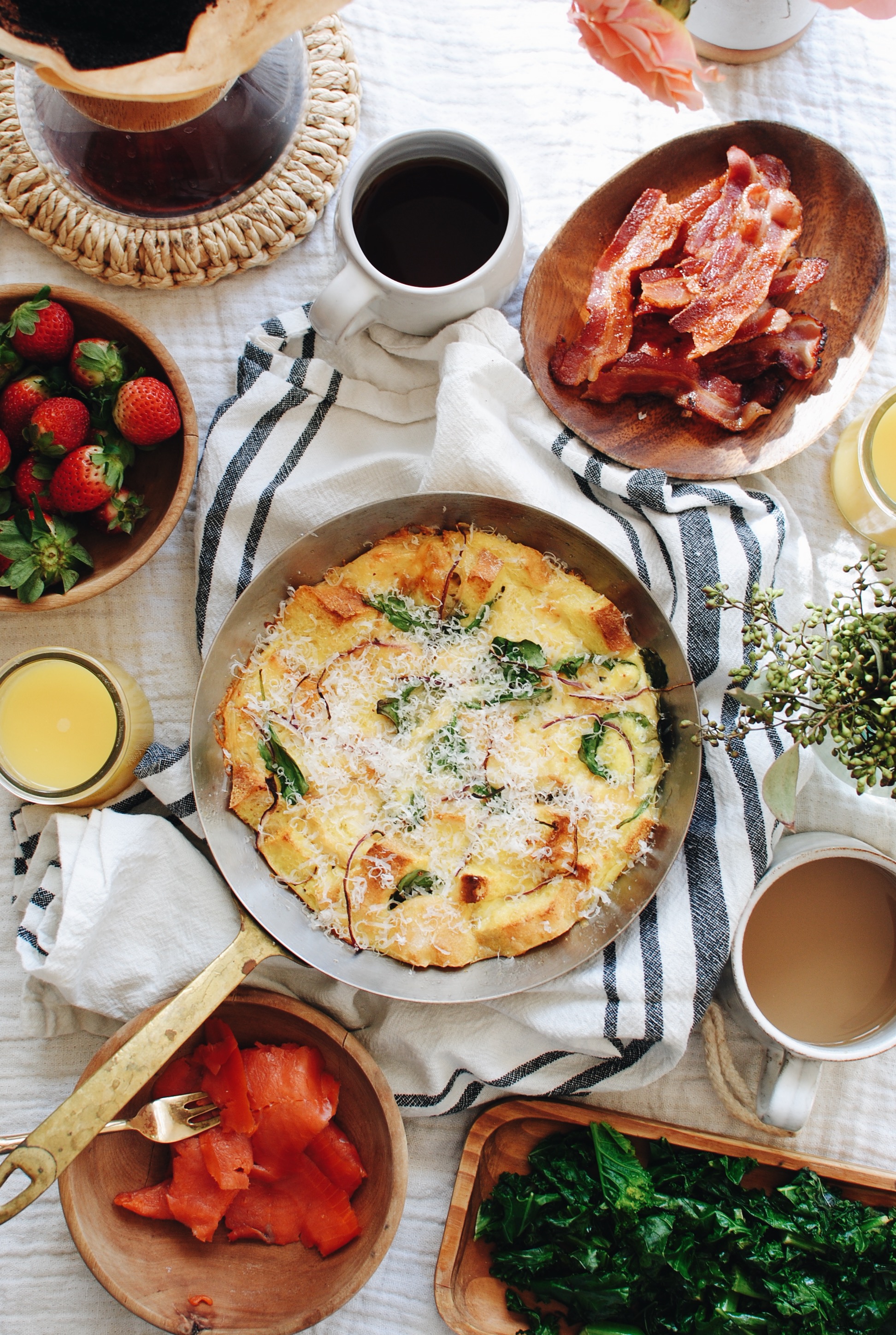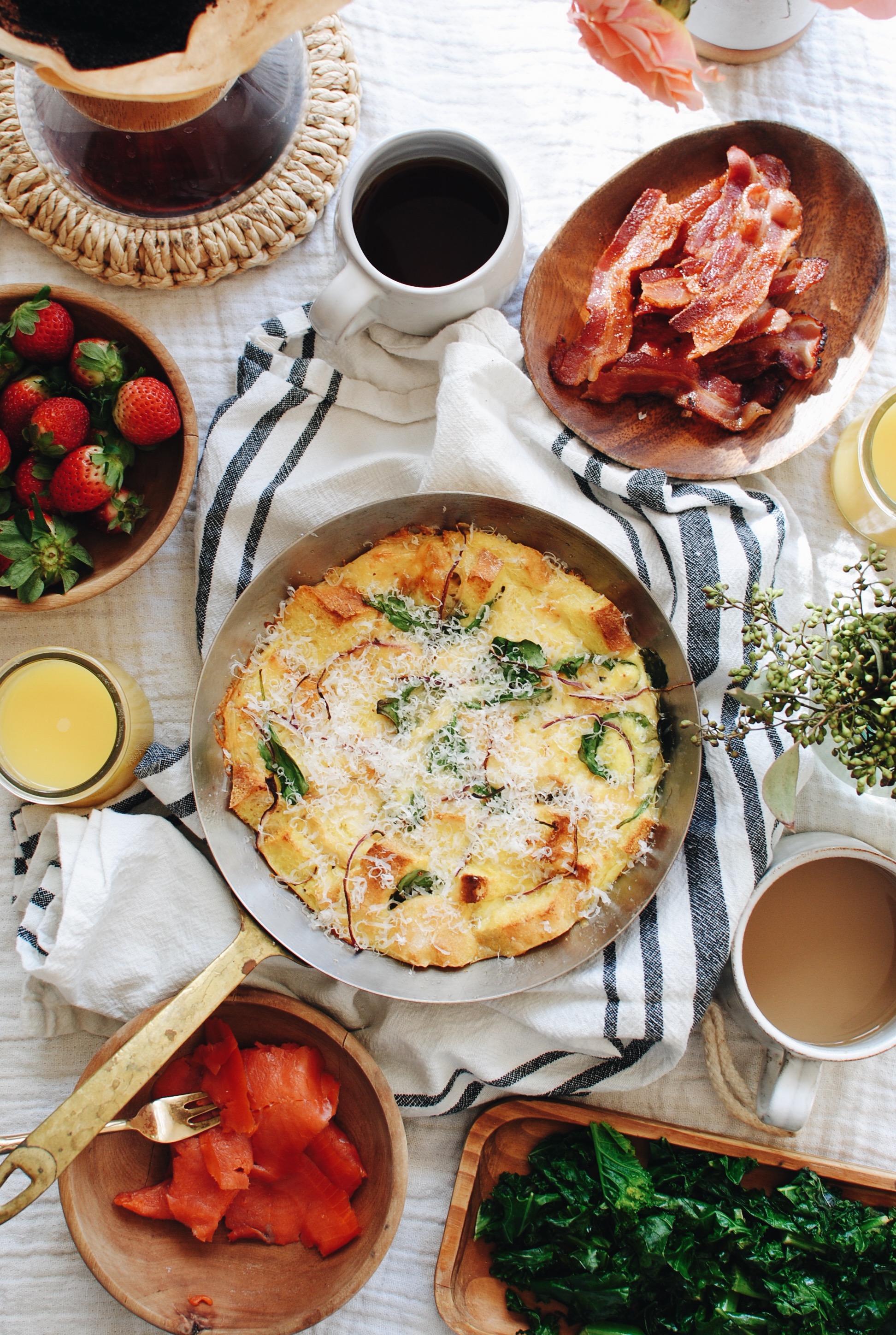 Being lazy never tasted so good.
(This post is definitely in partnership with Roth Cheese, but all ramblings and cheese inhalings are totally my own. We coo?)