Yeah, this is me begging.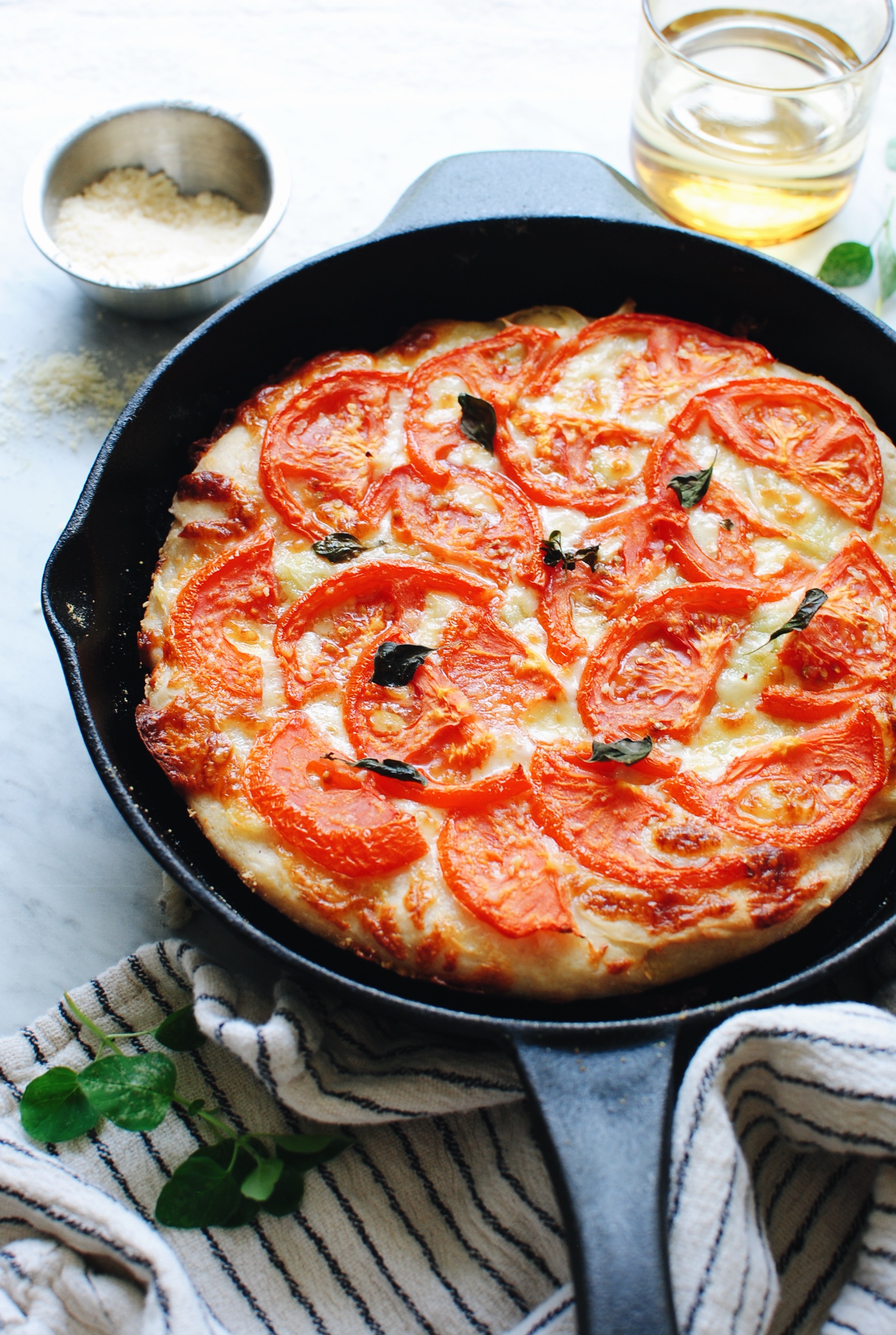 Straight up P L E A D I N G. Because I'm going to attempt to get you to want to make this wildly simple and ludicrously delicious skillet tomato pie, via the words and photographs in this blog post. But I feel like there's no real ACTUAL WAY for you to understand my heart without just making this. But I'll still try. You do know me, right?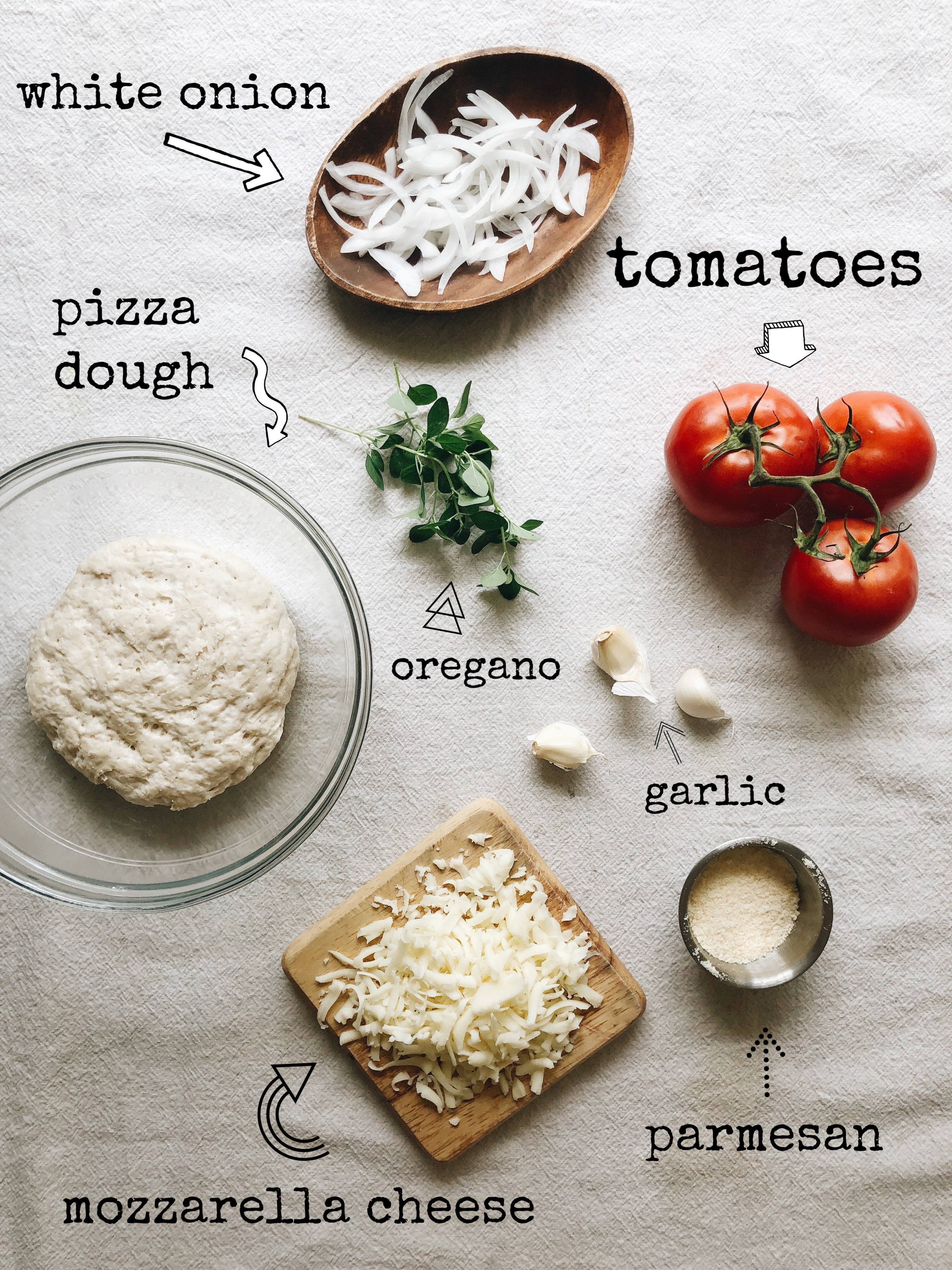 The dough – let's start there. I wanted something SIMPLE for you to remember without having to angrily scour your flour-crusted cookbooks or searching the messy Internet every time you want something resembling a pizza. But I also wanted it fast. So there's not much rising time here! Only an hour.
PLUS it's small batch. Yep.
And all it is is flour + yeast + sugar + salt + water. And when you scroll down the see the measurements, you'll be like, "Oh I can remember that. Thanks, Bev! I like that top on you, by the way."
(you don't have to say that last part.)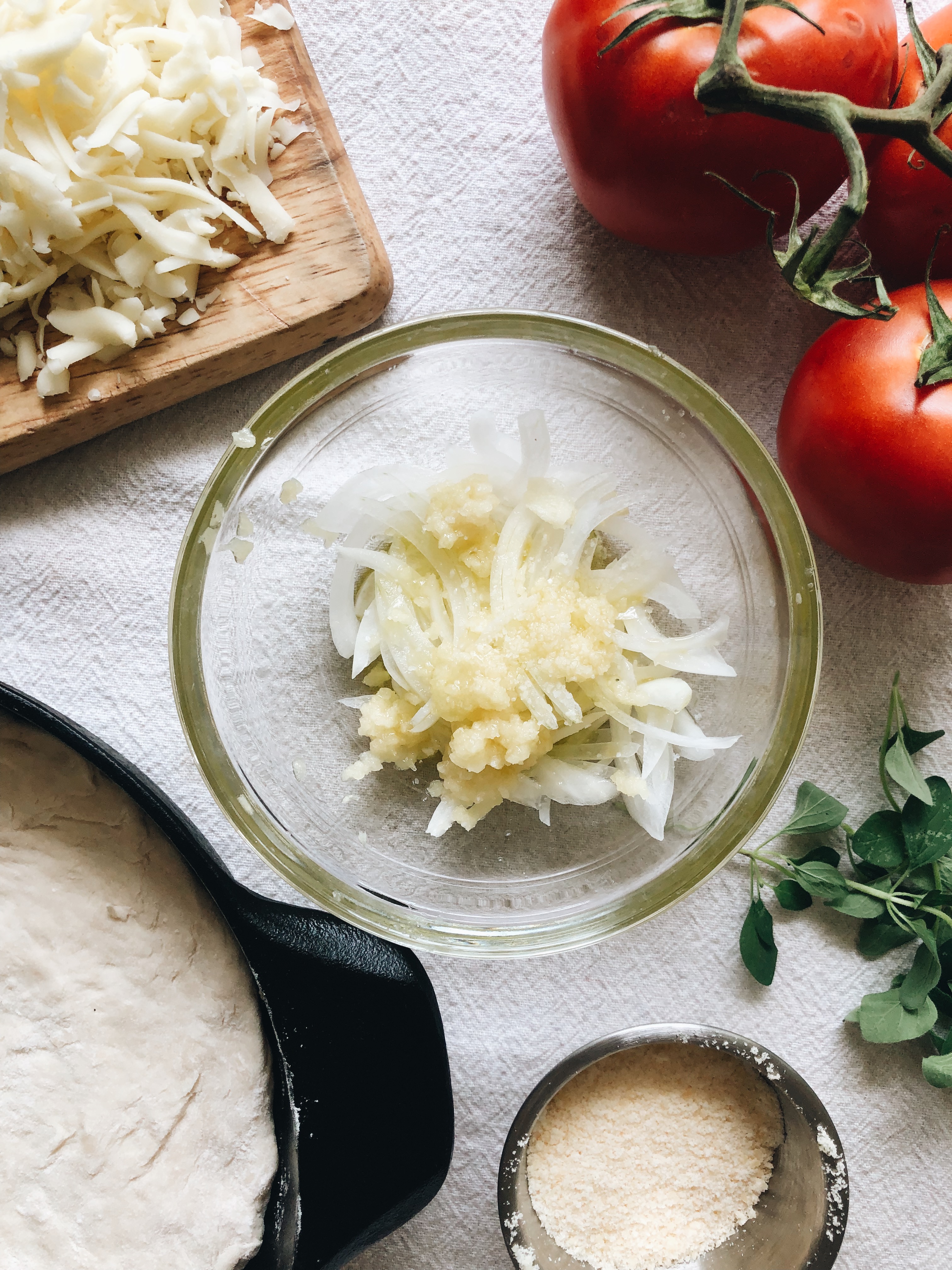 This right here is magic: part one. This beautiful mess lives UNDER the sliced tomatoes, and will transform the pie in a way that you can't ever understand.
The reason I toss the grated garlic with the thinly sliced white onion is because, when you grate garlic on a microplane, it pretty much turns the garlic into a paste. So you can't really sprinkle the garlic over the onions without it sticking to your fingers and you cursing my name to high heaven. Nu uh. Just grate it right into the onions and toss it together until the onions are coated with garlic glory. And just sprinkle it in your easy peasy (I'll never say lemon squeezy. this is a safe space, guys.) pizza dough.
Done.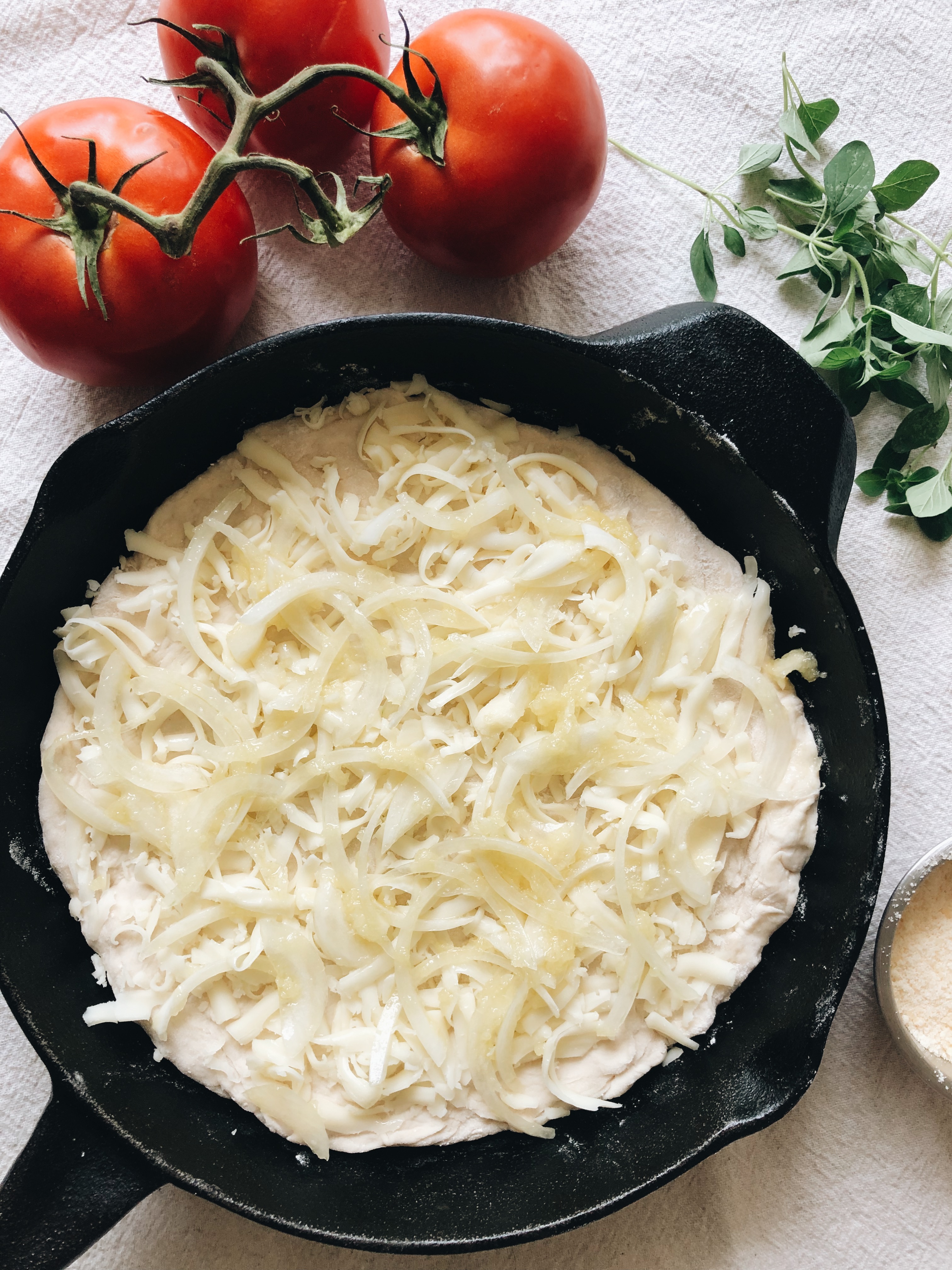 I should also mention that you don't even have to roll out the dough! Once it sits for an hour, you can honestly gently pull and barely stretch it out to fit your cast iron (baking sheet's fine, too) and that's that. On goes the mozzarella cheese (from a block! fresh is too watery.) and then your garlicky onions. Bless bless.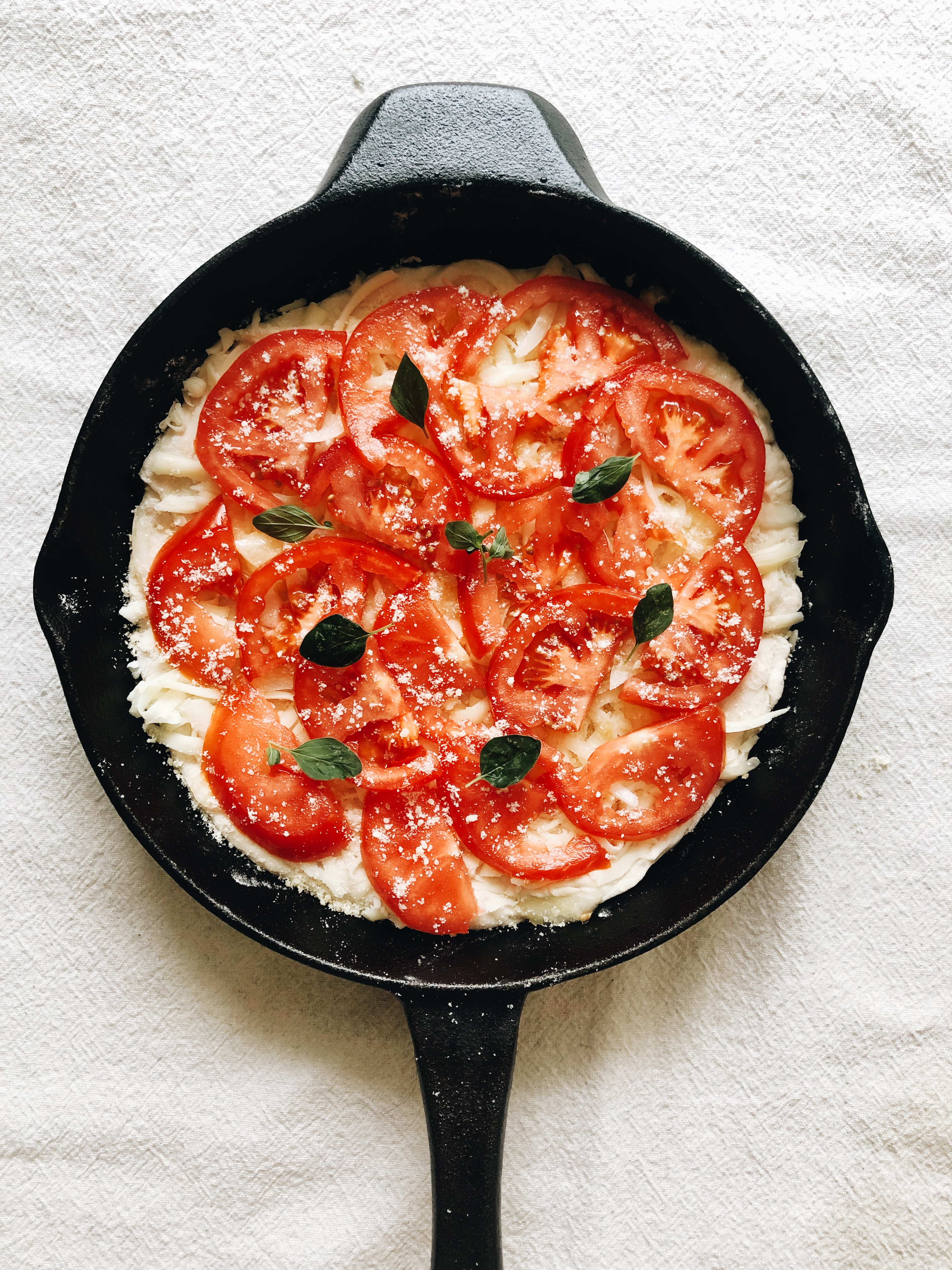 Now for magic: part deux.
The tomatoes. IT IS FARMER'S MARKET TOMATO SEASON – do not skimp on the good ones. Go get you some gorgeous summer beefsteak tomatoes (bigger than these, but that's totally fine), or some right on the vines, like mine. Just make sure they're bright red, tender to the squeeze, with no bruising. You'll know it when you see it. And you will look up to the sky with pools of tears in your eyes and foam will form at the corners of your mouth and people will stare. This is when you know you've done it right.
The tomatoes are the star of this pie, so we want them on the very top. Not buried below all the cheese, like in a traditional pizza. This is a tomato PIE. Let them shine, bunny.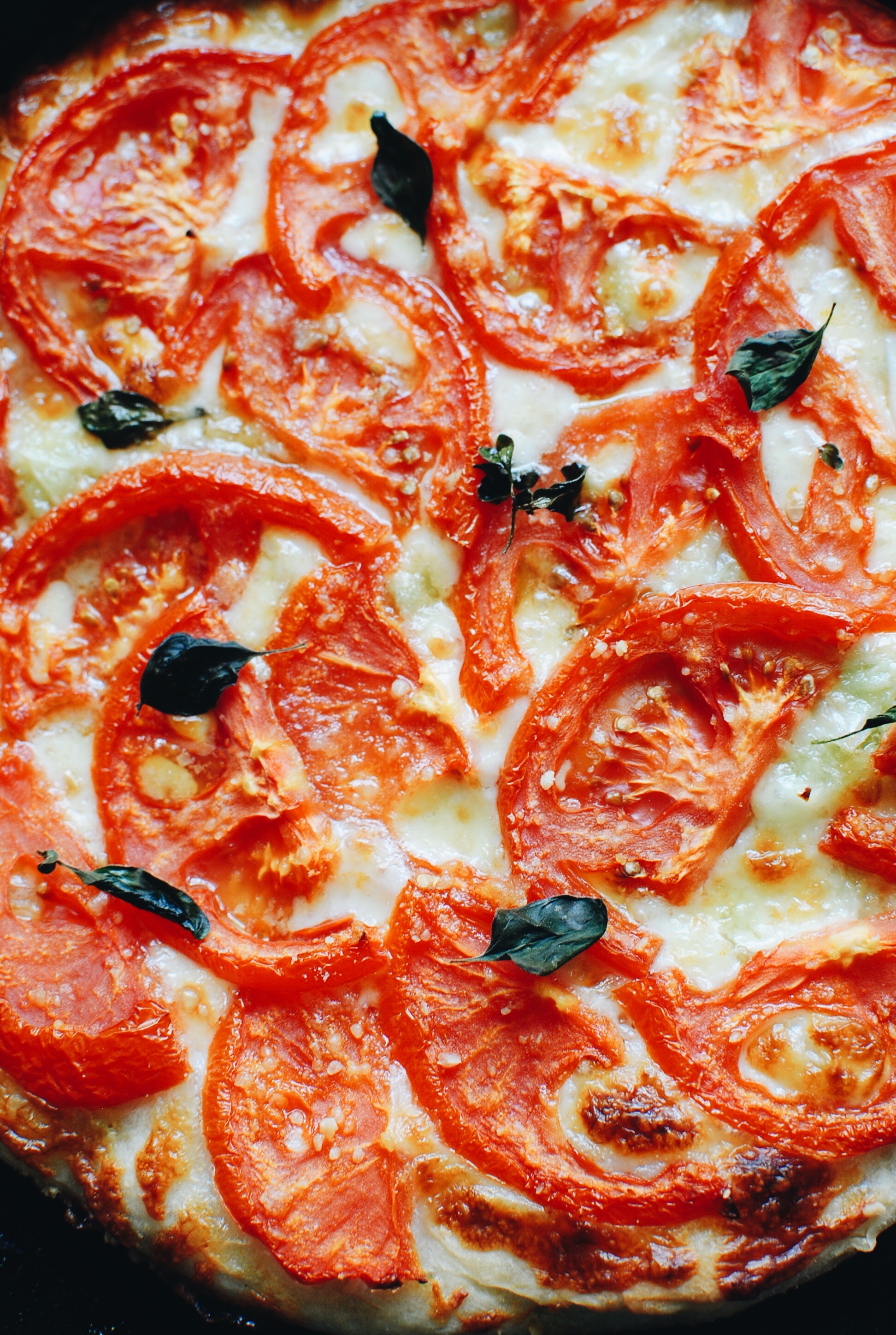 BOOM.
Just kidding. Too close! A little too close. (<–name that movie.)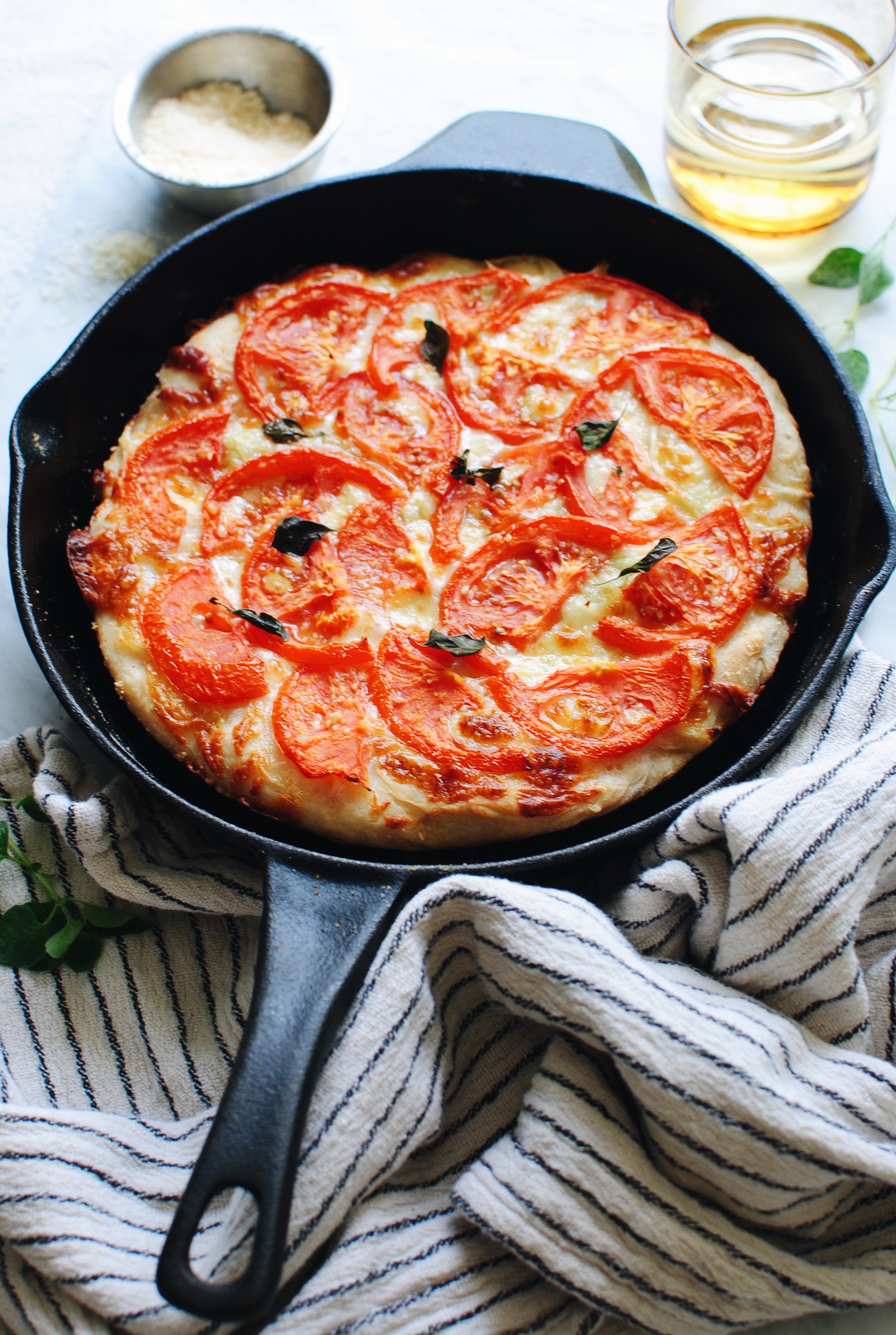 Hi. 30 minutes in the oven at 400 and she's exquisite.
I did throw on a few leaves of fresh oregano from my garden, so do that if you have access! But don't stress it. Make sure to dust the tomatoes, pre bake, with some parmesan cheese. Like, on the tiny grater side, that makes it dust. (or from the green tub, I won't tell!)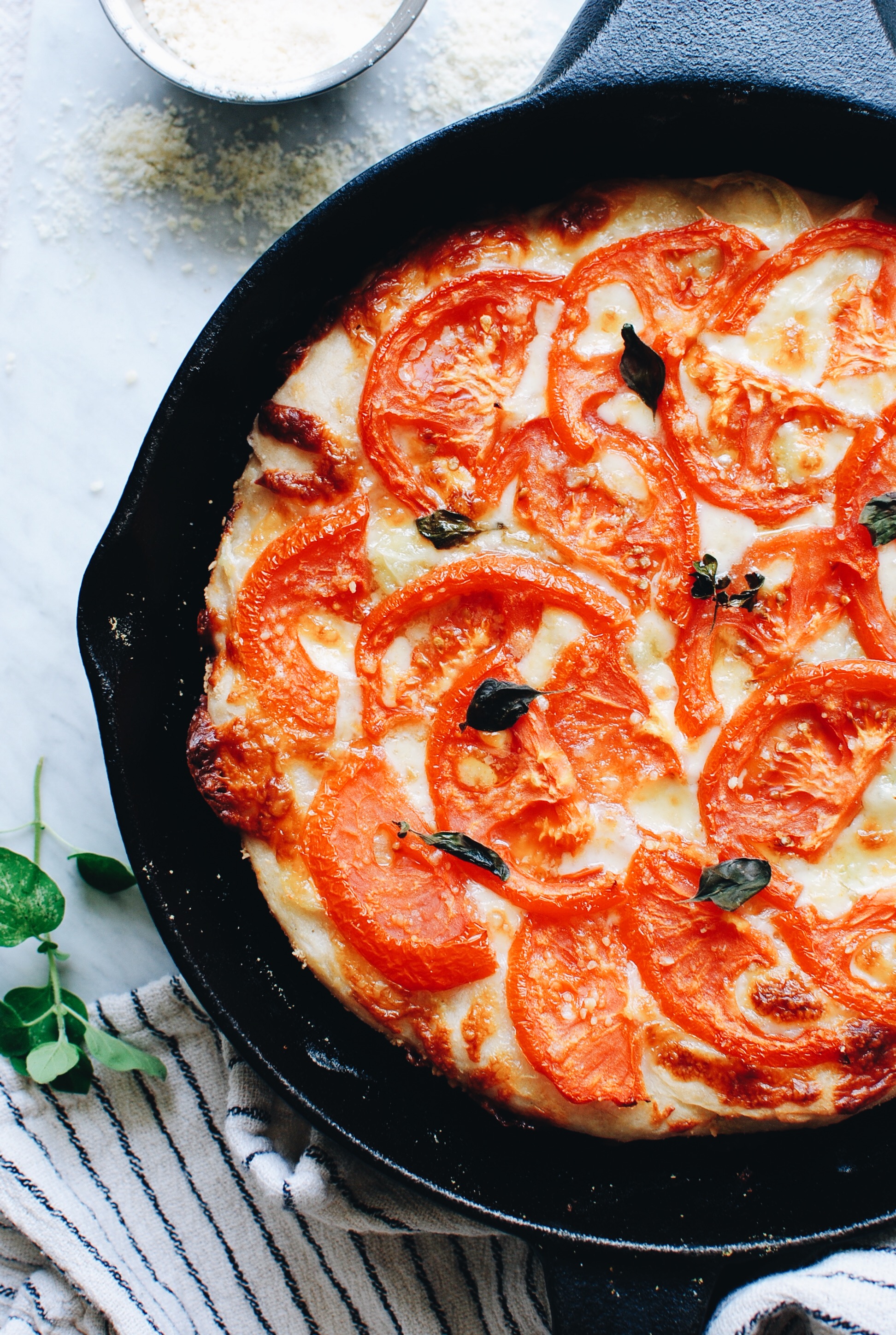 It's absolutely the best ever in the world and universe. THE BEST flavors omg. The pizza crust gets so perfectly crispy in the cast iron skillet, and has a slight puffiness to its center that makes you WEEP. Not too thick. Definitely not thin. Small batch, remember?!
The onions and garlic are completely divine, nestled between melted mozzarella and bright, acidic tomatoes. It's just insane.
It makes a perfect two-person dinner, paired with a crisp green salad.
Or just one person if that's the beautiful direction your life has taken you.
It's the end of the summer, so MAKE IT! Makeitmakeitmakeitmakeitmakeit.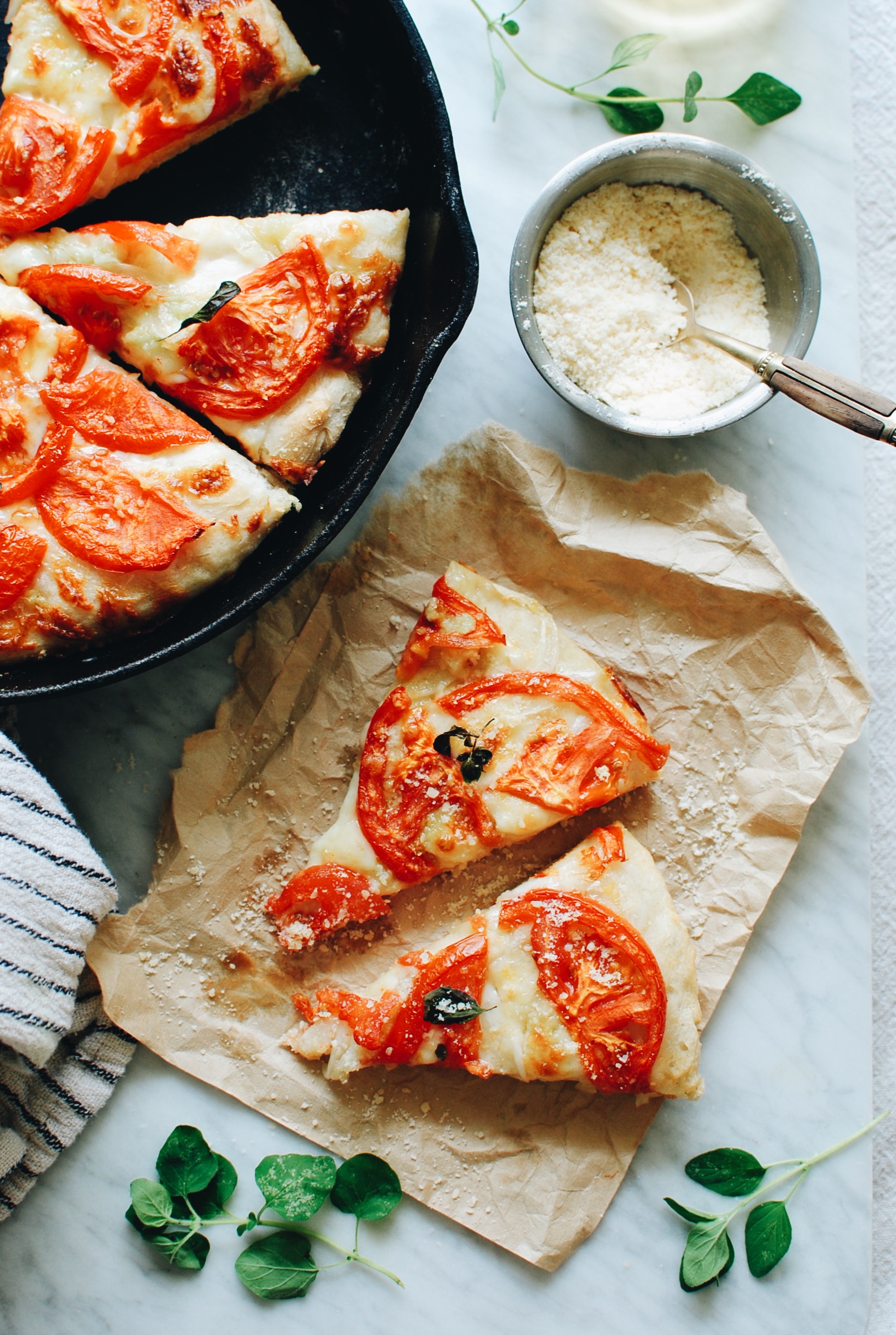 Make.
Ingredients
1 cup all-purpose flour
1 tsp dry active yeast
1 tsp sugar
1 tsp coarse salt
1/2 cup warm water
1 cup freshly grated mozzarella
1/3 cup thinly sliced white onion
3 garlic cloves
2 medium tomatoes
a few leaves fresh oregano
parmesan cheese
Instructions
In a medium bowl, whisk together the flour, yeast, sugar and salt. Add the warm water and stir with a wooden spoon. Once sticky, transfer the dough onto a lightly floured work surface and knead a few times, until it forms a smooth ball. Place it back into the (now cleaned) bowl, cover and let it rest for an hour. It should rise just a tad! Not a ton ton, but enough to call it good.
Now preheat your oven to 400.
While the dough is rising, place the thinly sliced onions in small bowl. Using a microplane, grate the garlic right into the onions, and throw in the tiniest pinch of salt. Toss the mix with your fingers until the onions are coated.
Thinly slice the tomatoes and place them on a paper towel, to soak up some of the extra juice. Slice the tomatoes in half, if desired.
Pull the risen dough back onto a floured surface, and gently stretch it to fit a 10-inch cast iron skillet. Place the dough in the skillet, and top with the grated mozzarella cheese. Then arrange the garlicky onions over the cheese, followed by the tomato slices. Just arrange it any way you like. Give the tomatoes a light parmesan dusting, along with a few oregano leaves, and slide it into the oven for 30 minutes.
LOOK AT THAT. Slice and serve. Extra parmesan? Obviously.
Serves 1-2.
7.8.1.2
367
https://bevcooks.com/2019/08/skillet-tomato-pie/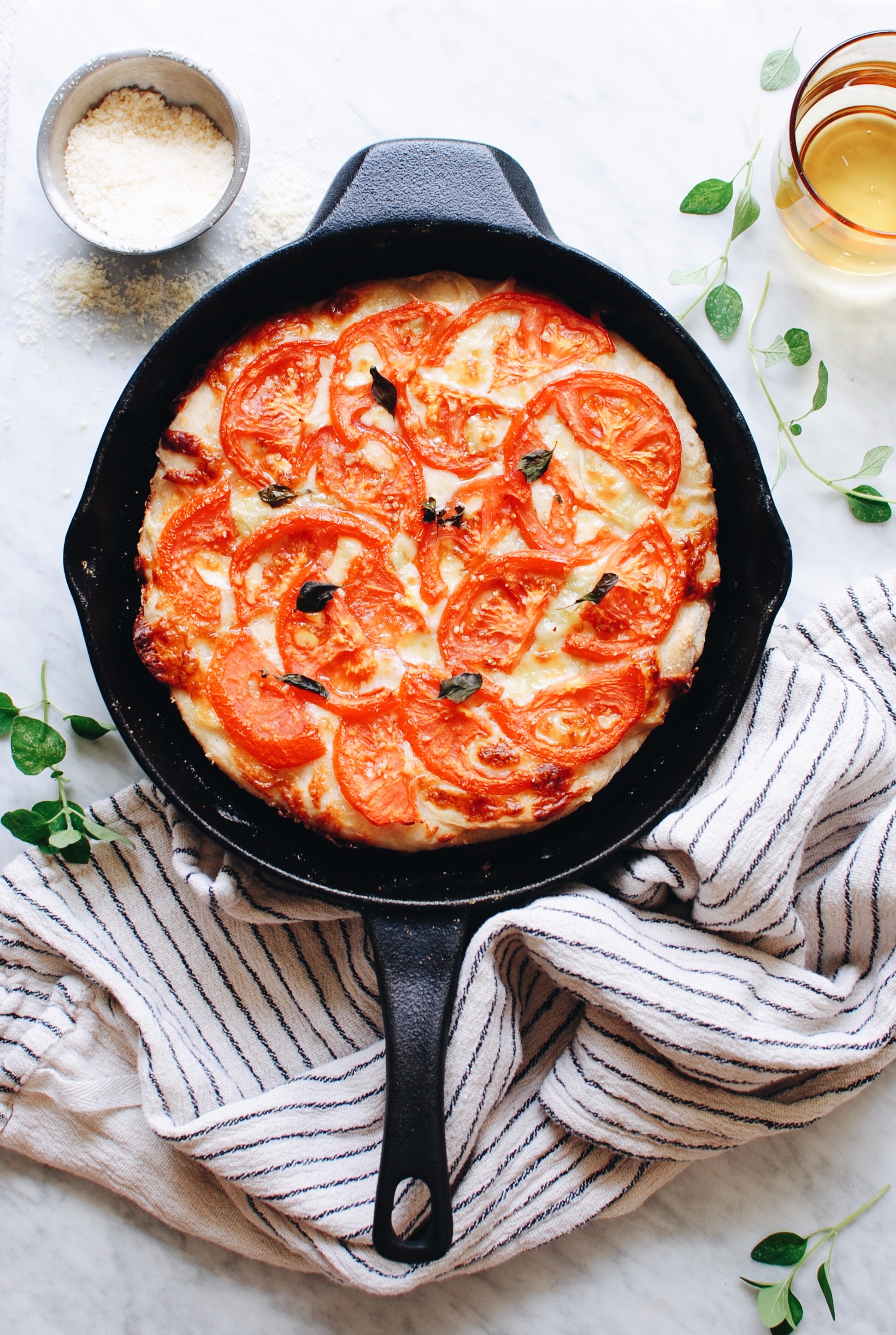 Unruly weeping sold separately.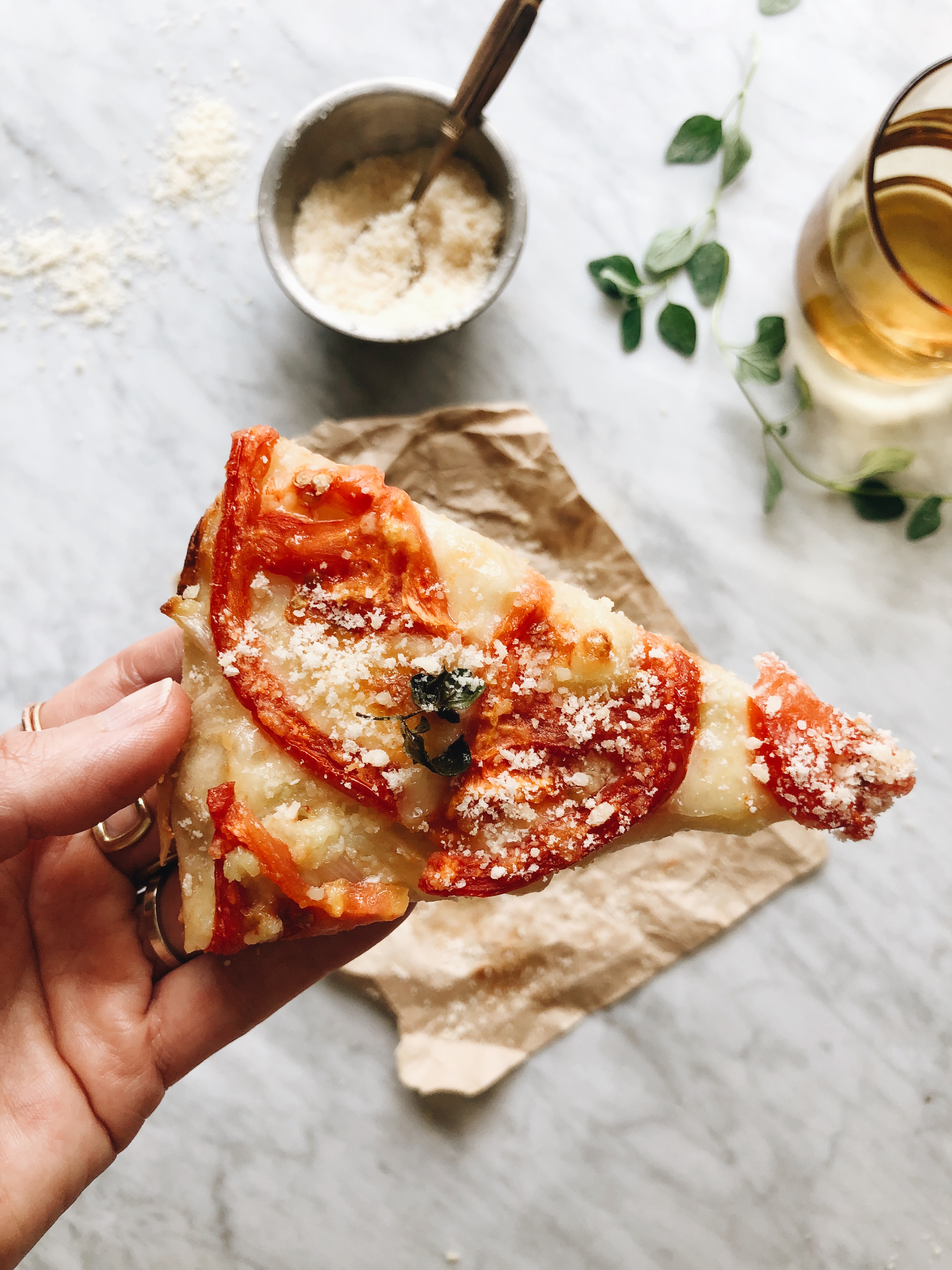 Convinced yet?