Oh hi! This is a day late. Aaron got home Monday night and we stayed up until MIDNIGHT (like complete idiots) watching Avett Brothers videos and listening to new-to-me hip hop that he learned about on his dude's trip. So this is a day late.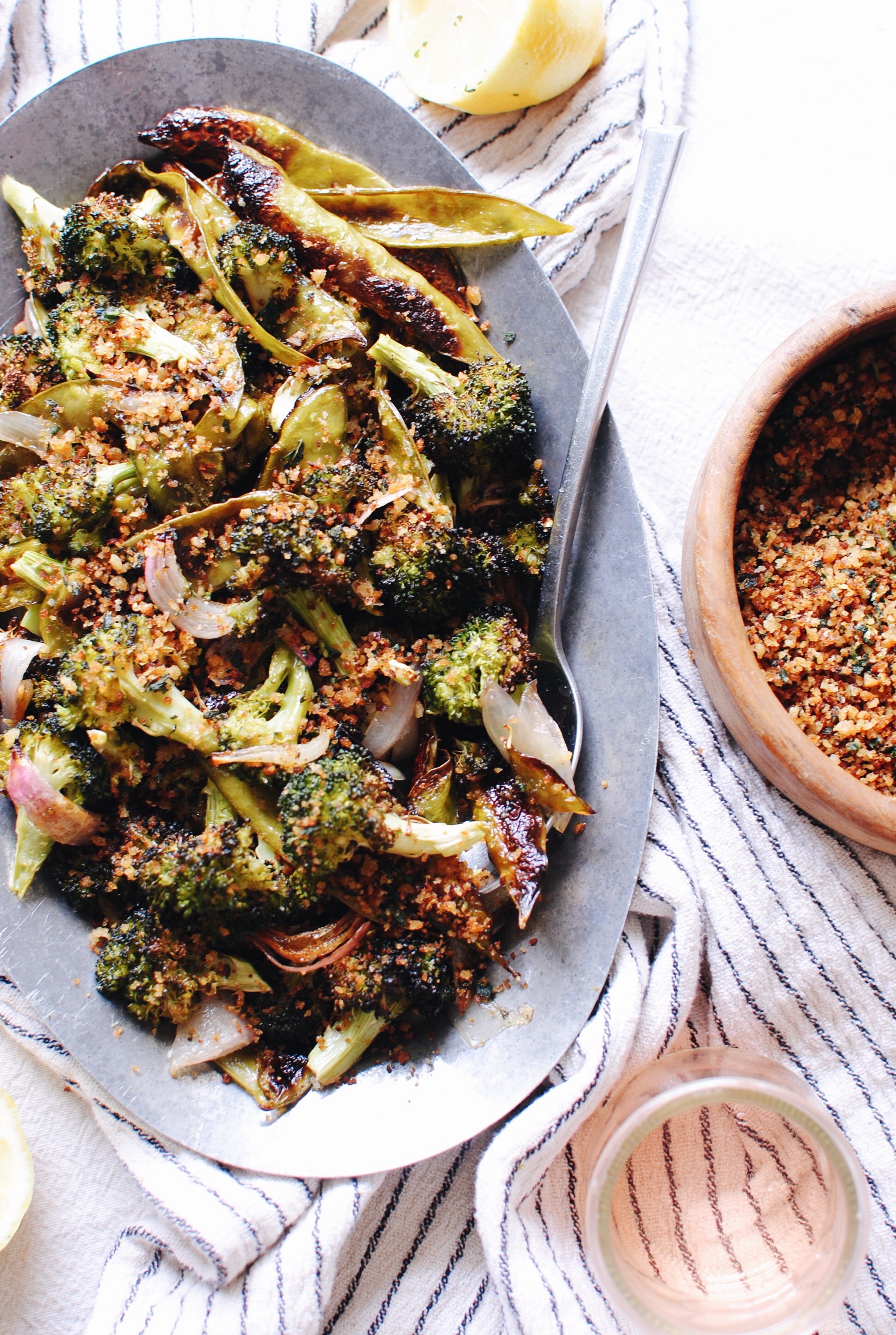 But so worth it. Because everything is green and light and roasted to oblivion and topped with herby breadcrumbs and a splash of lemon.
See? I knew you'd come around.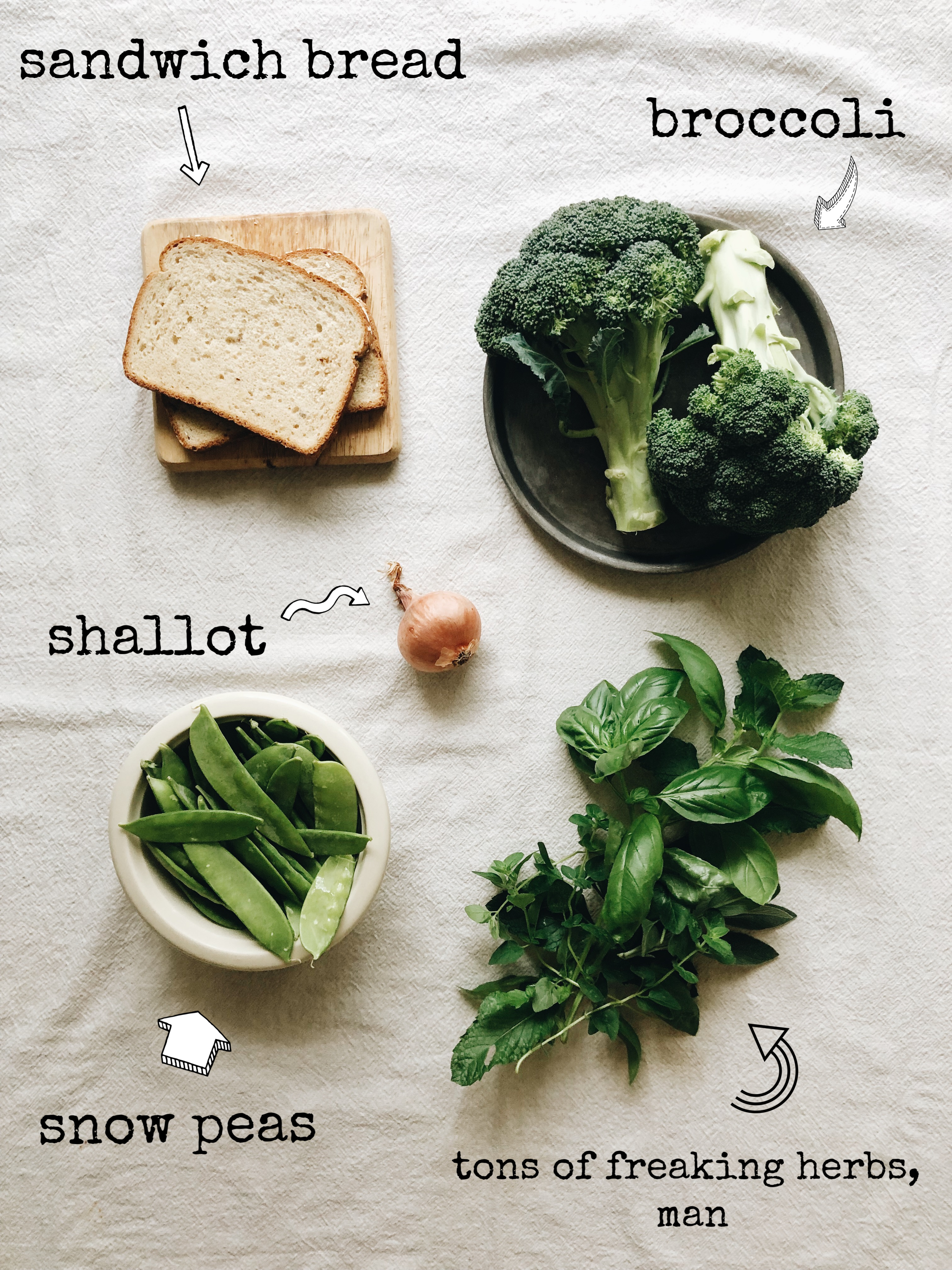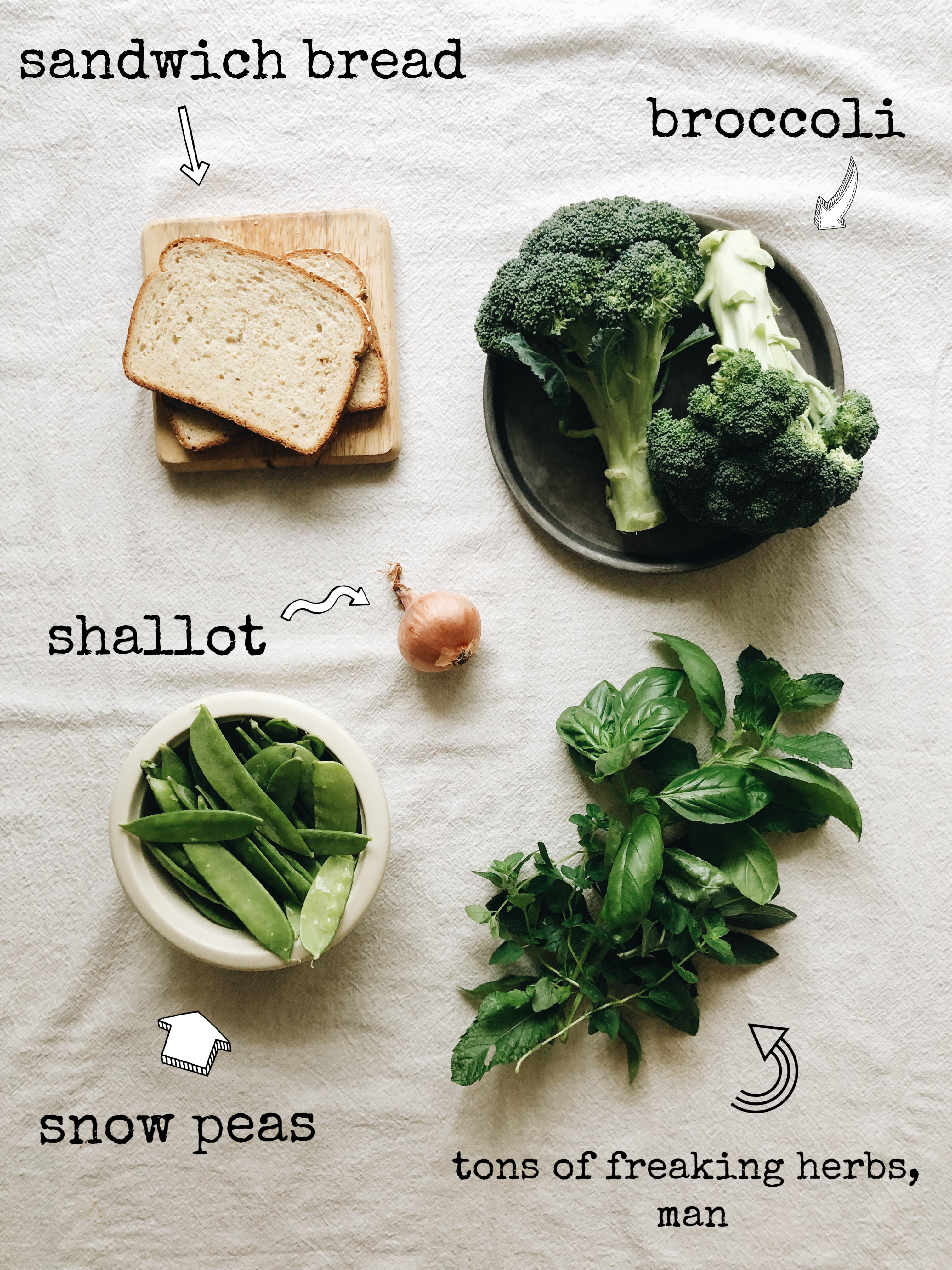 It's a side dish. But lately I'm way more into the side rather than the main, because some days call for a rotisserie chicken from the market, so a smidge more love can be put into the side. And this one is beyond easy. And so flavorful. Get ready to weep your face off.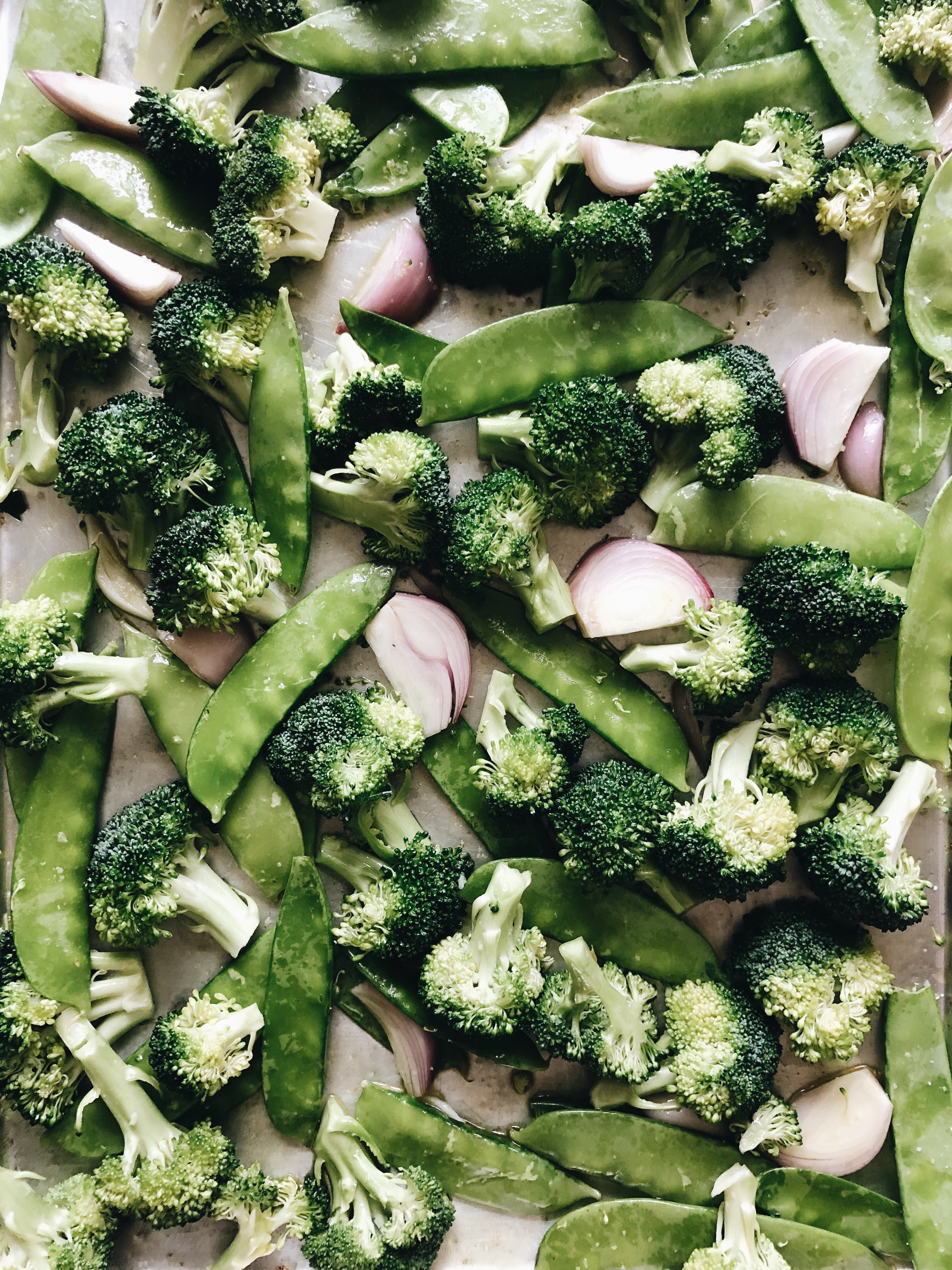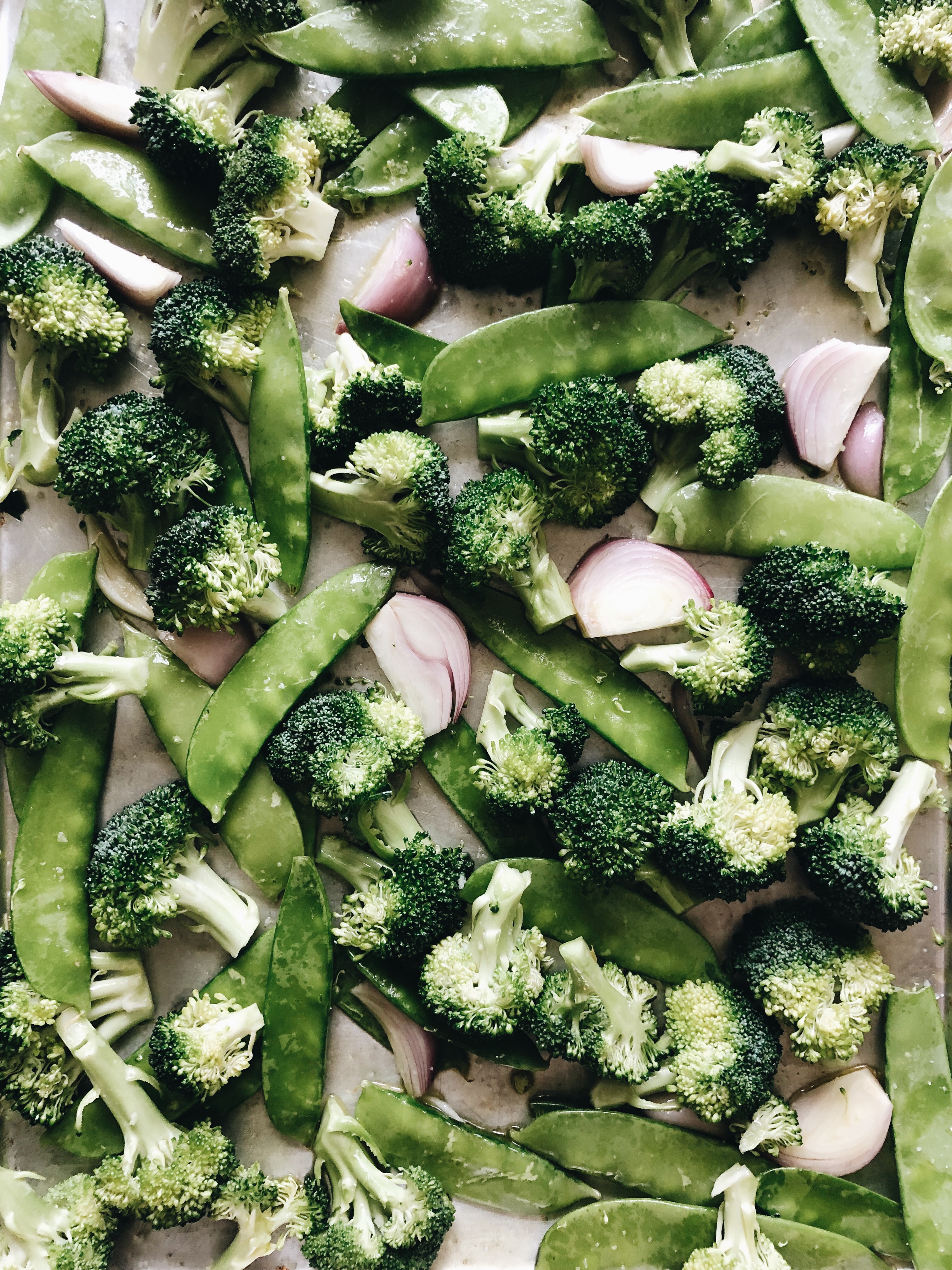 On a baking sheet goes some broccoli florets, snow peas (you can even use sugar snap here!) and a shallot, sliced up into thin-ish wedges. Olive oil, salt, you know this game. Violently shove the pan into the oven for 30-40 mins.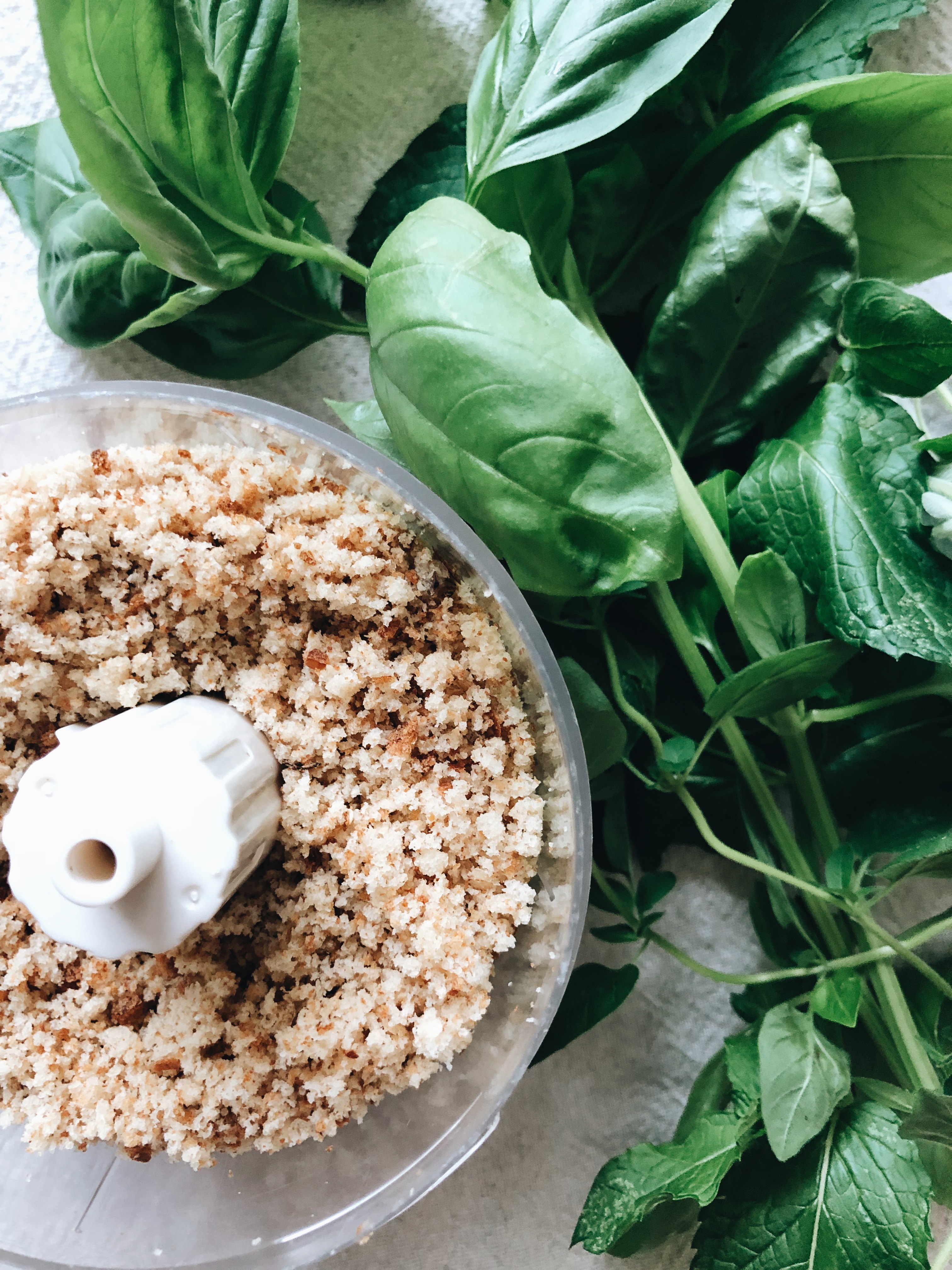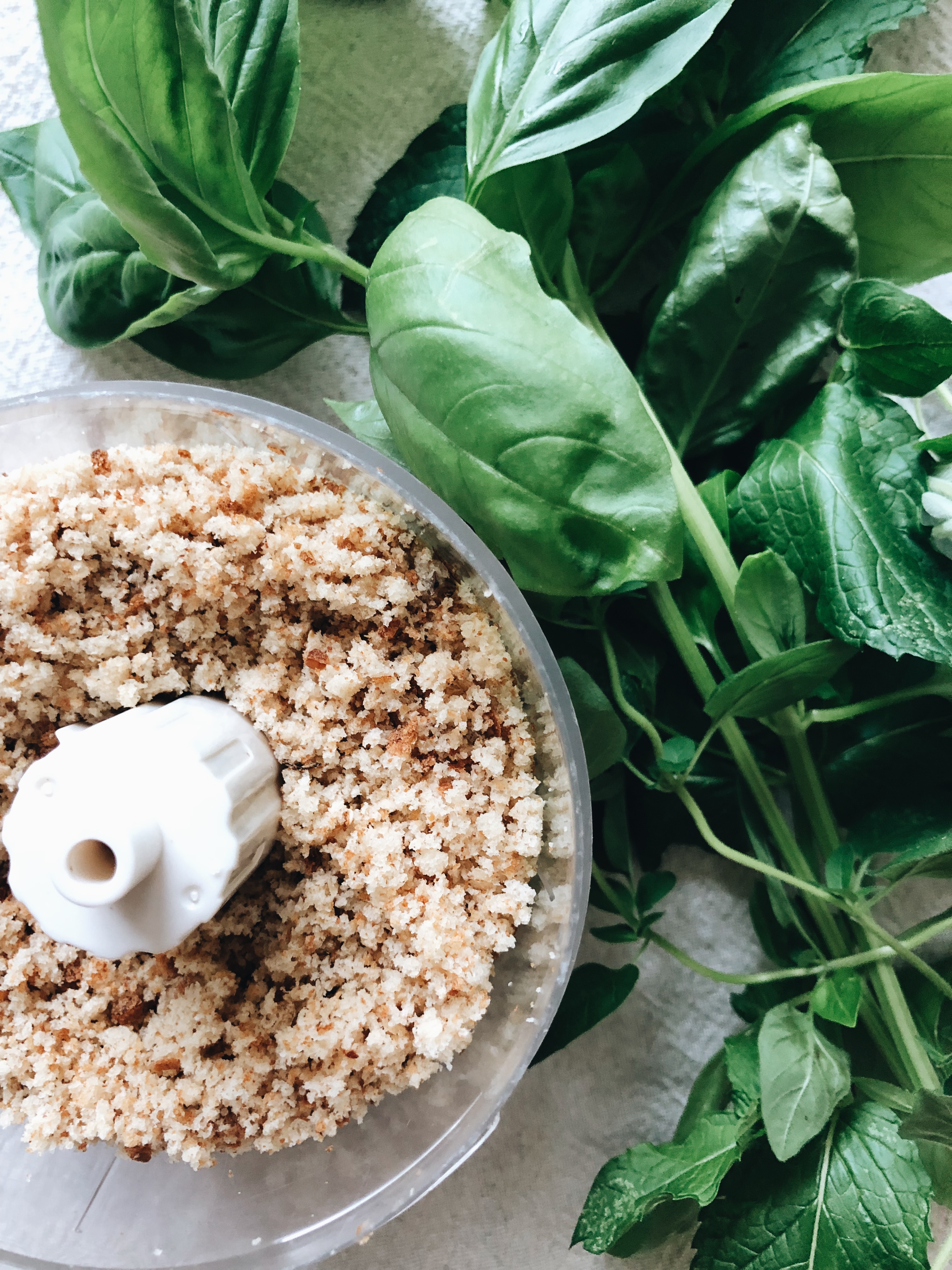 Let's make some simple garden breadcrumbs! I call them garden breadcrumbs because I'm a tool. You can call them herby breadcrumbs, if you want. I just feel like garden has more of a ring to it, but you can live your life how you see fit.
(it's garden)
Pulse a couple of slices of wheat bread in a food processor until you get a breadcrumb size. Then viciously chop the herbs way down. For this I used everything – basil, mint, thyme, oregano, sage, and a touch of rosemary. My parsley bolted, so that didn't go in. But honestly, if all you have access to is parsley, it's still brilliant. Chop it up, man.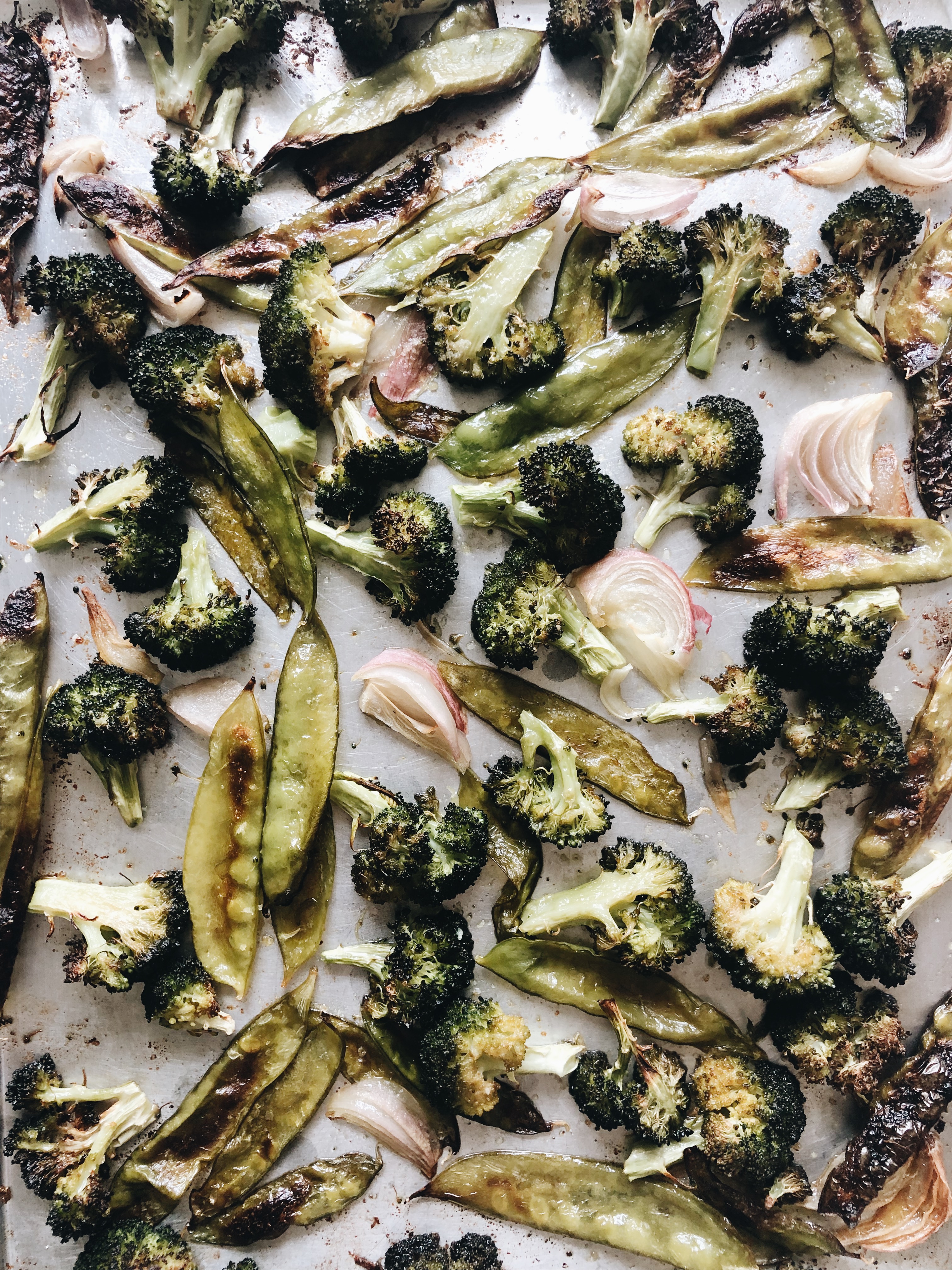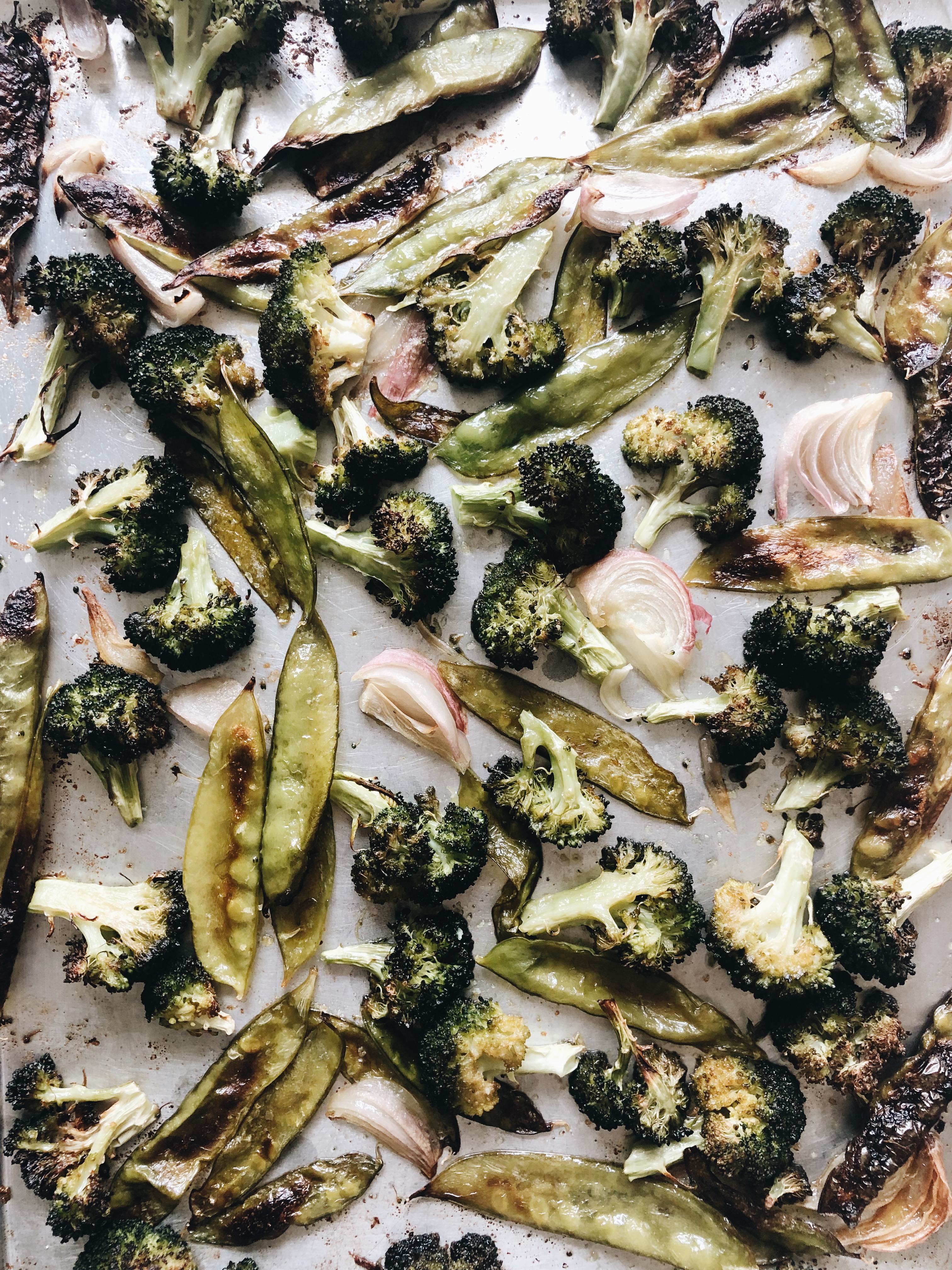 Nothing is better than a pan of roasted anything, do not argue with me.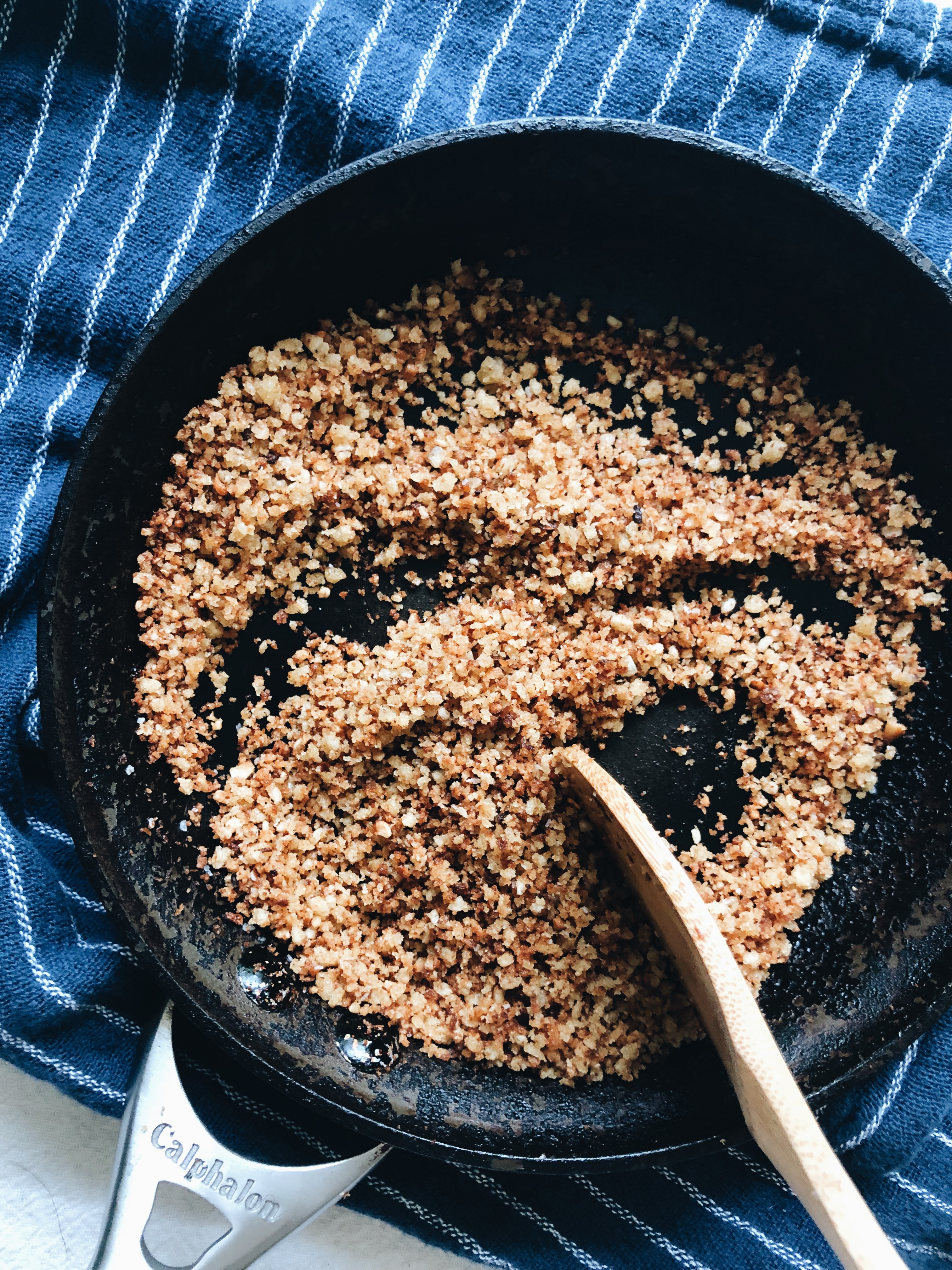 So these have been crisping up in olive oil for about five minutes. I forgot to photograph the herbs IN THE CRUMBS because I'm a ding dong. But after you get them nice and golden brown and crispy, take the pan off the heat and add in the chopped herbs. And salt. Just a pinch. It's so, so, so good.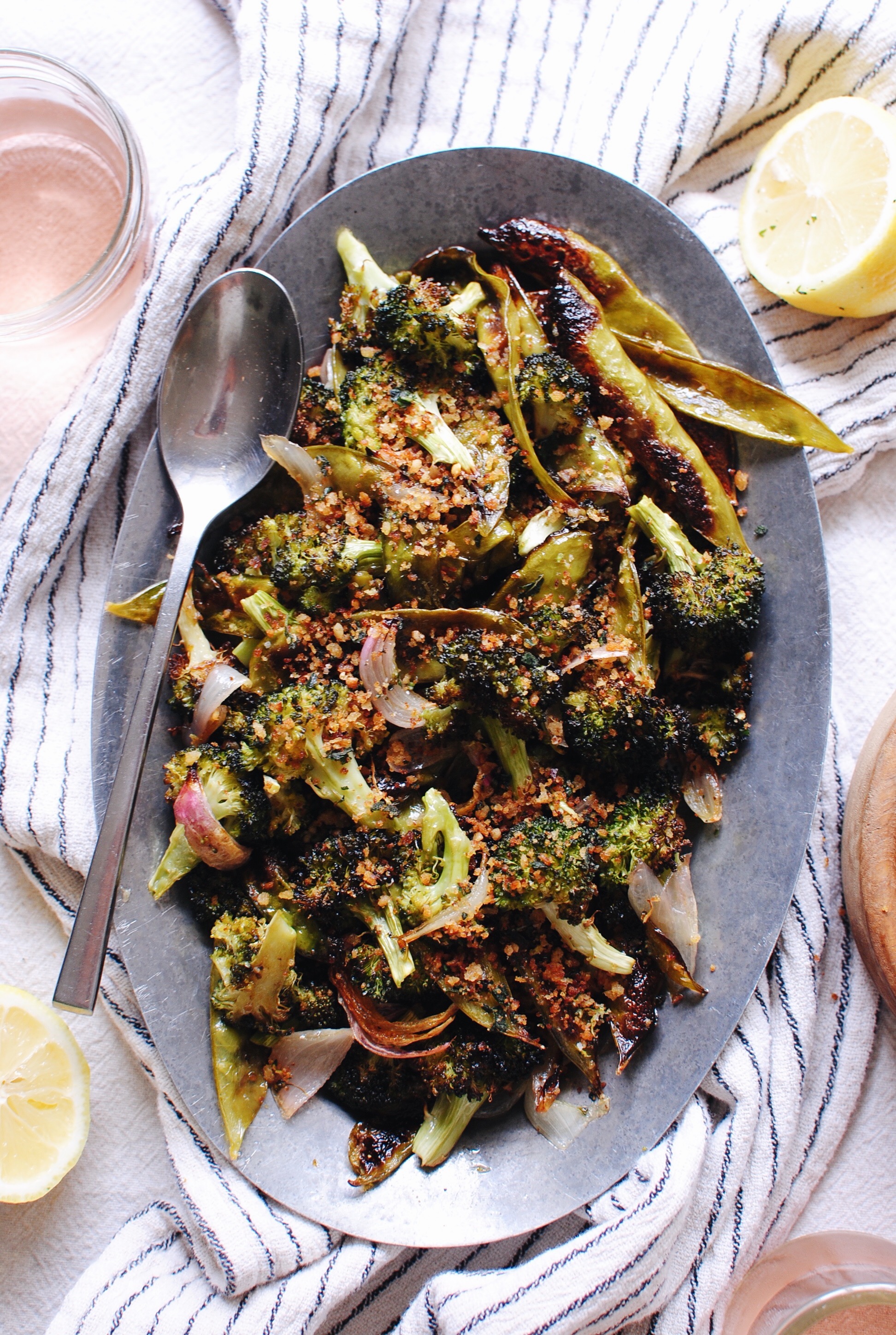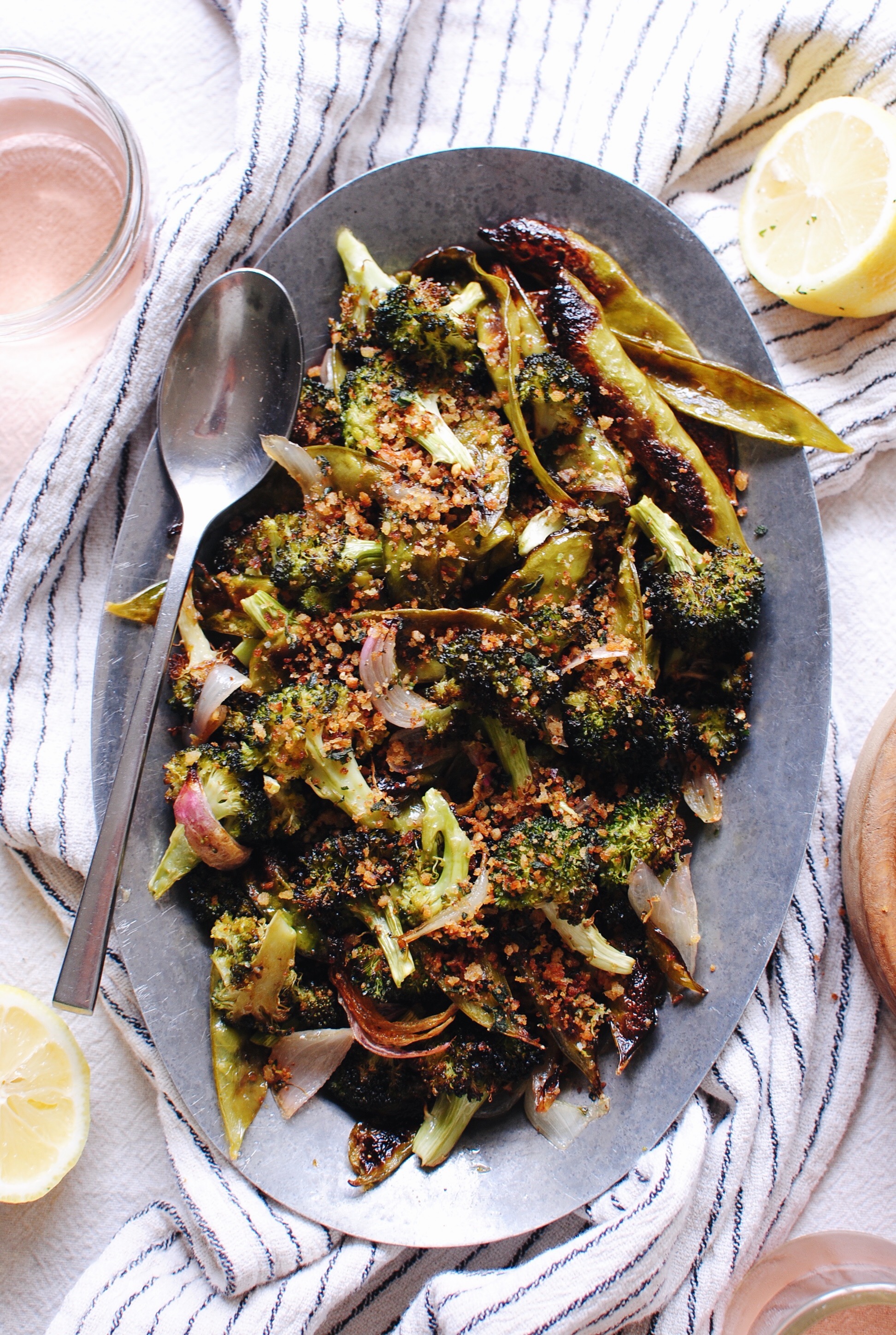 And that's it, y'all! Just transfer the roasted veggies to a little platter, top with a hefty sprinkling of crispy crunchy vibrant garden breadcrumbs, along with a final scattering of lemon zest and a squirt of lemon juice to wake it all up. It's ready! You're ready. We're ready. Are you ready?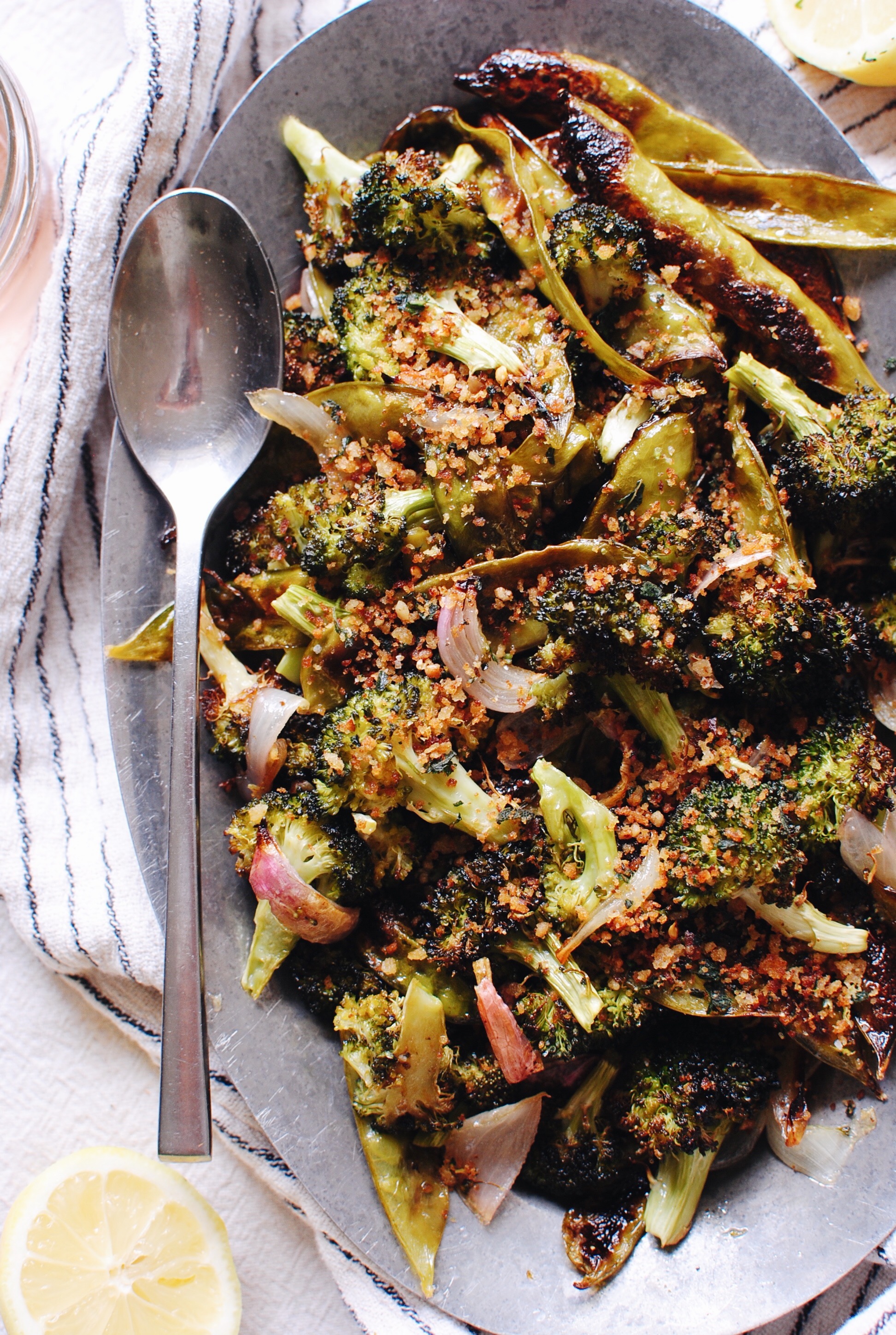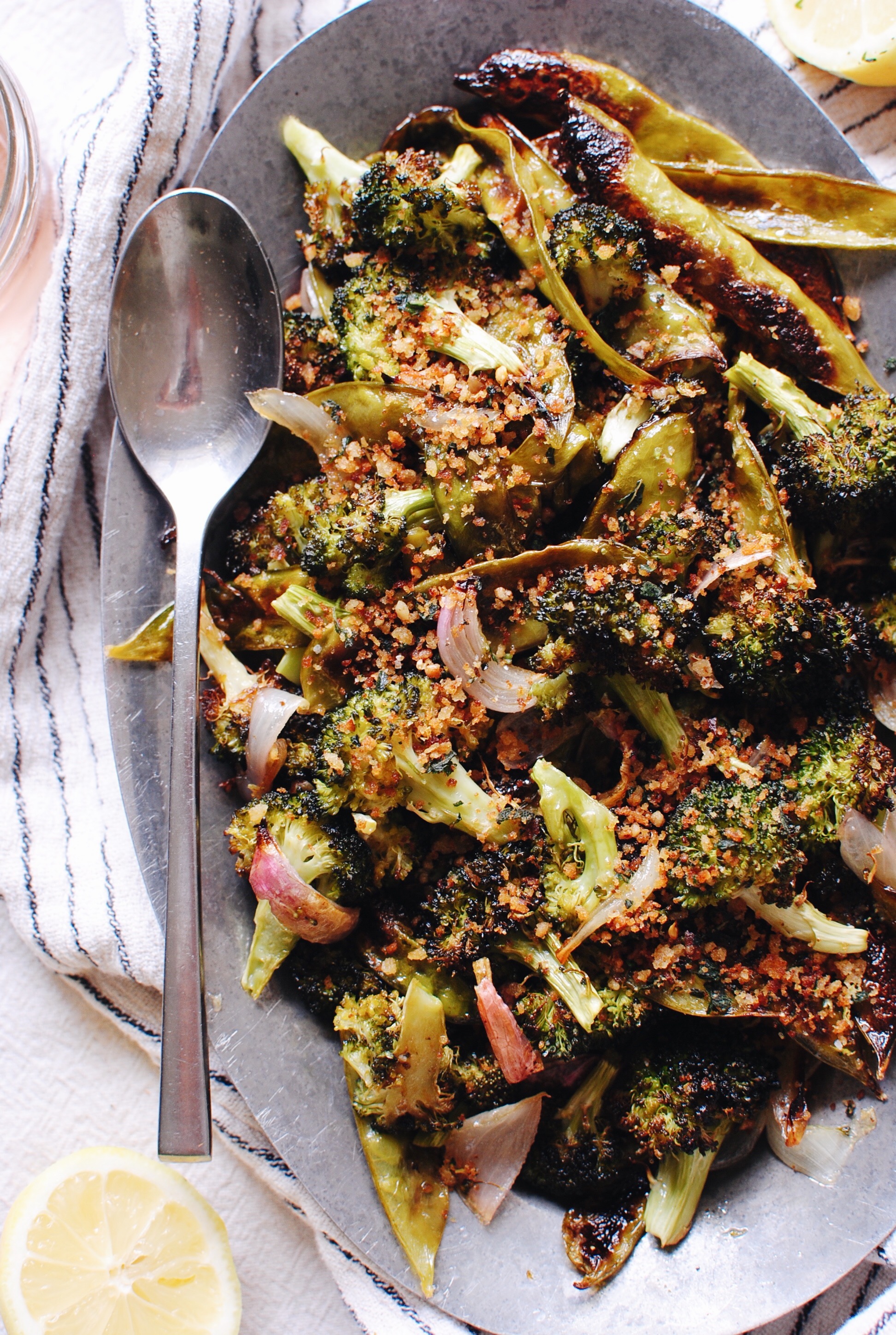 I can't even tell you RIDICULOUS the texture is. First of all, have you ever roasted snow peas? A surprising tongue-al delight. Complete joy. And you already know how fantastic broccoli is with a bit of char.
And shallots? Stop. Except don't.
But it honestly comes together with the crispy earthy breadcrumbs. That texture on top of the tender charred veggies is mouth bliss. A total party.
And remember, you're serving with a rotis because they are rustic, delicious, homey life savers and this is the time to make MEMORIES.
No idea what that meant.
But make this.
Tonight.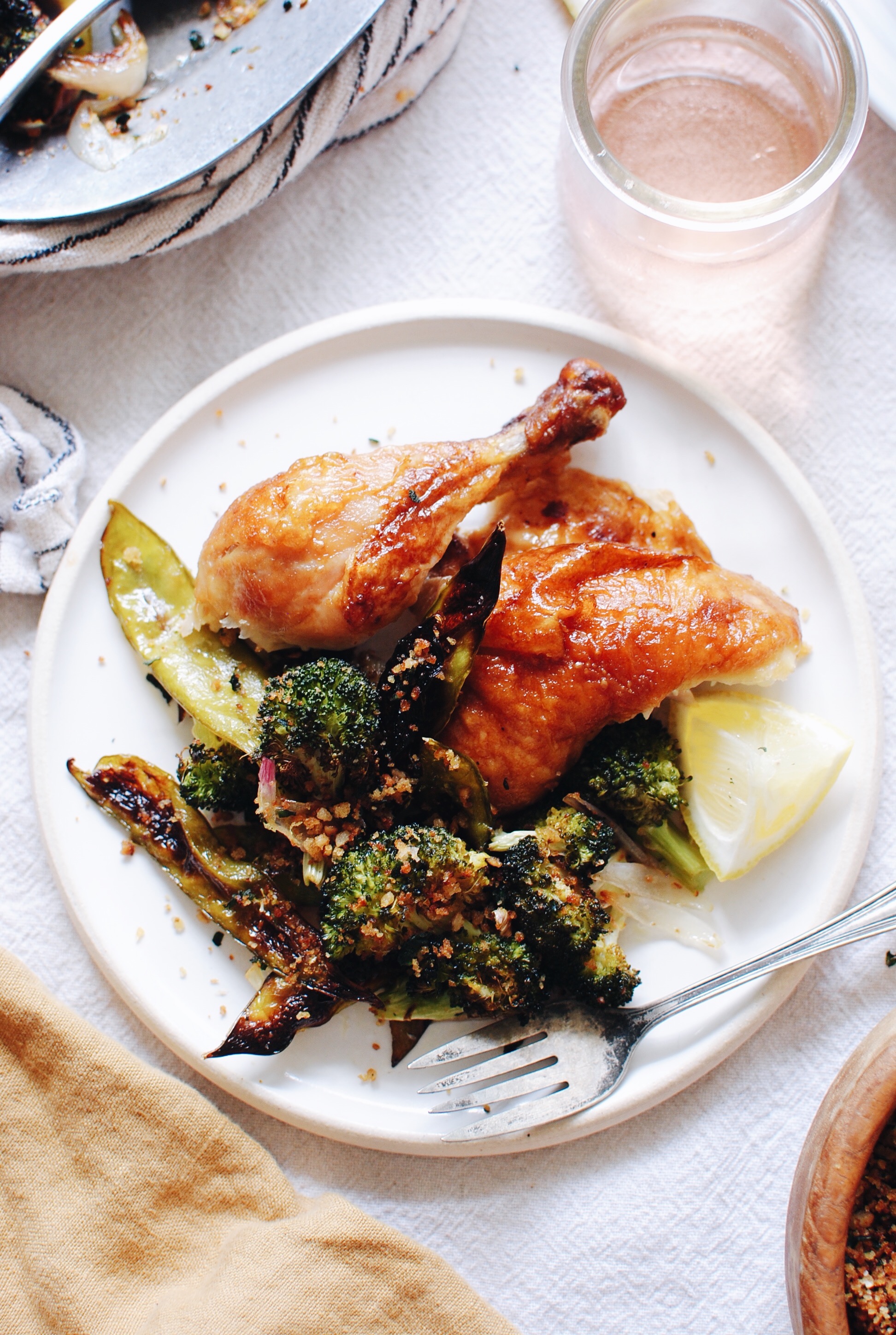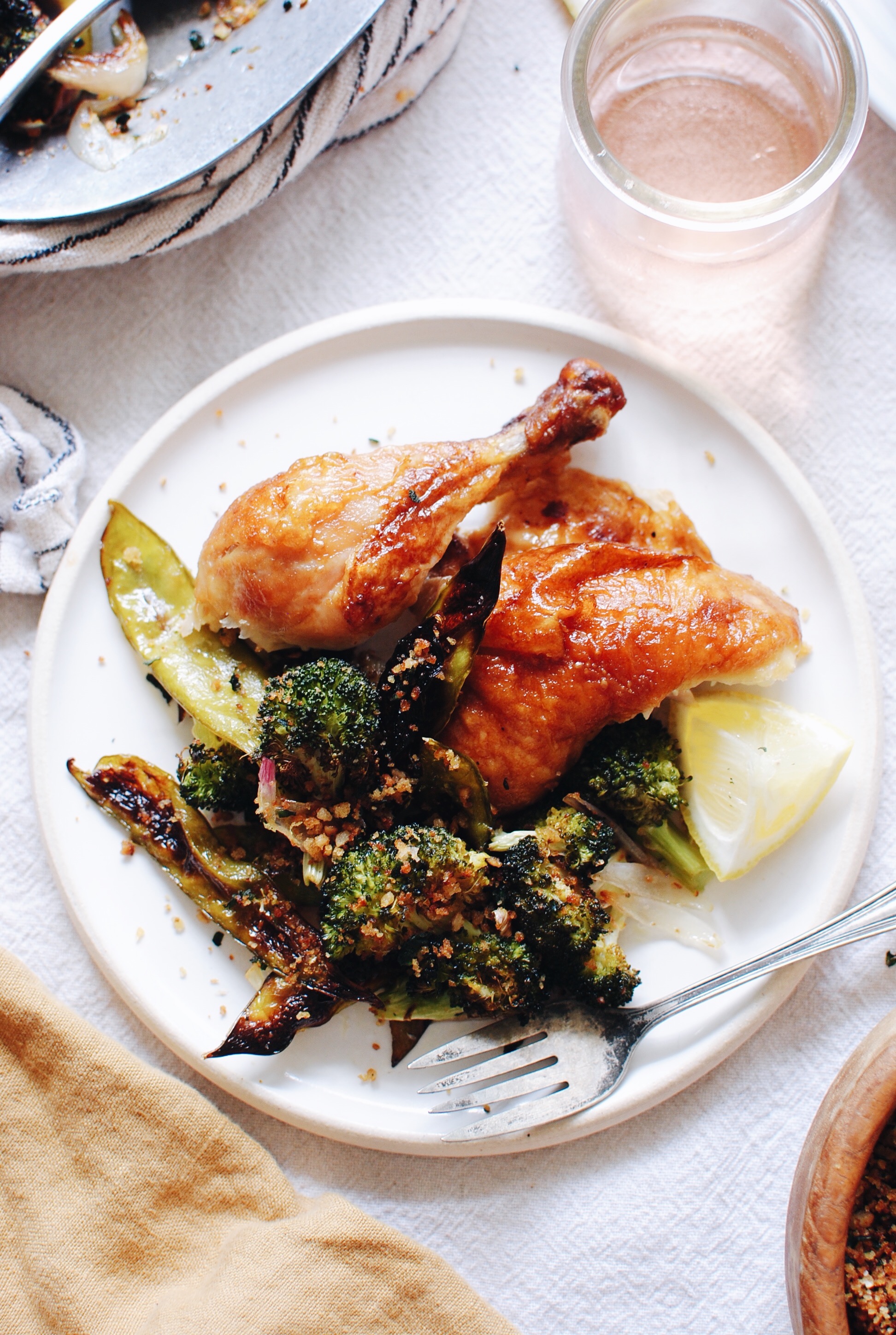 Bonus track – kids will flip out. You just watch them.
Roasted Broccoli and Snow Peas with Garden Breadcrumbs
Ingredients
2 heads of broccoli, broken into florets
1 (8 oz) bag snow peas
1 shallot, cut into thin wedges
2 slices whole wheat sandwich bread
A good handful of herbs, finely chopped
4 Tbs. olive oil, divided
1 lemon
Coarse salt
Instructions
Preheat your oven to 400.
On a large rimmed baking sheet, arrange the broccoli florets, snow peas and sliced shallots. Drizzle with 2 Tbs oil with a large pinch of salt. Toss with your fingers to coat. Roast for 30-40 minutes, until tender, wilted and roasted all over.
Tear the bread into chunks and pulse them in a mini food processor until you get breadcrumbs. Heat the remaining 2 Tbs. oil in a small skillet and sauté the breadcrumbs until they darken in color and crisp up. This takes about five minutes total. Off the heat, add in the finely chopped herbs with a small pinch of salt. Toss to combine.
Transfer the roasted veggies to a serving platter and top with the garden breadcrumbs. Zest a little bit of the lemon over the top and squeeze lemon juice as the final touch. Delish!
Serve four, as a side.
*serve with a rotisserie chicken, for maximum awesomeness
7.8.1.2
363
https://bevcooks.com/2019/08/roasted-broccoli-and-snow-peas-with-garden-breadcrumbs/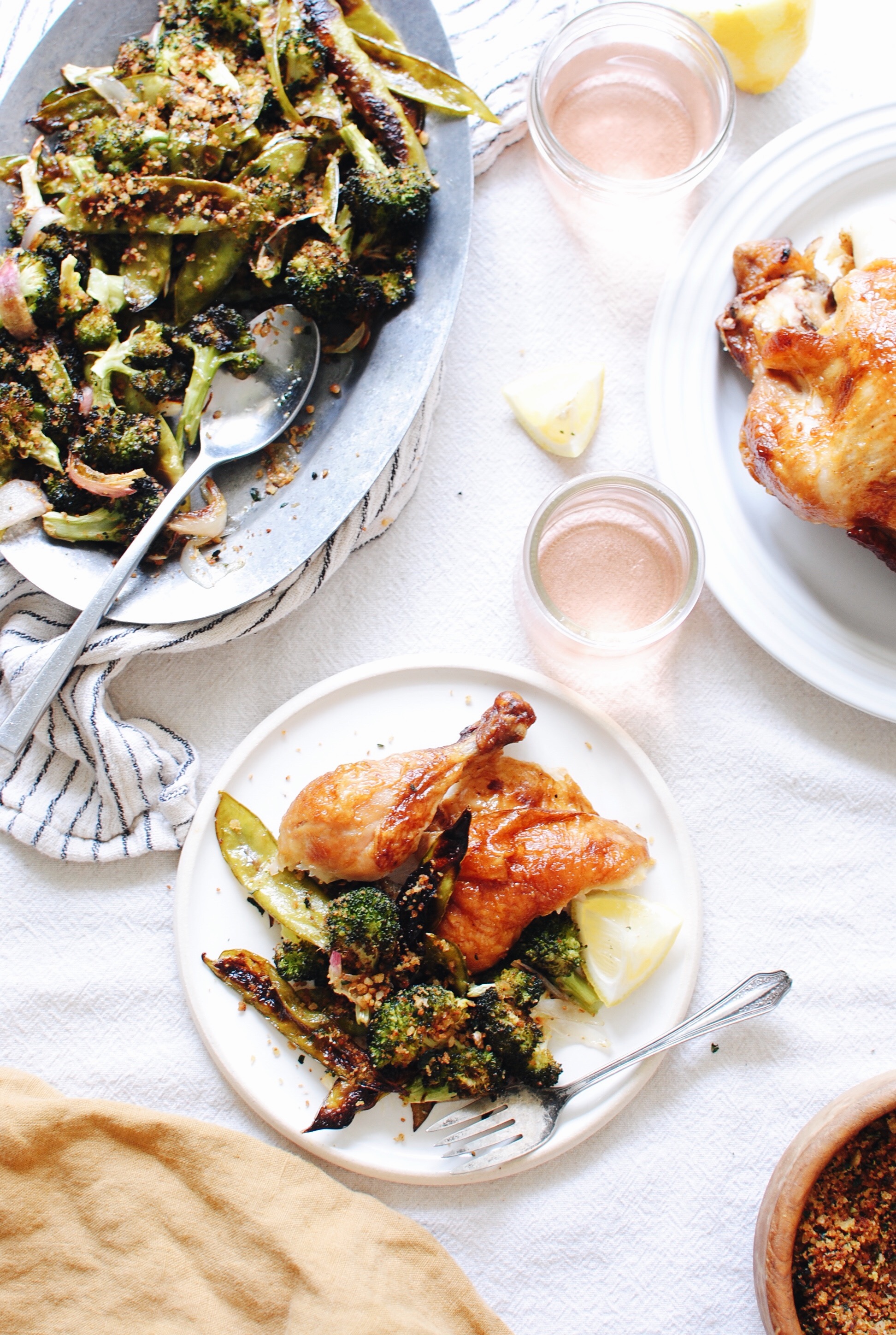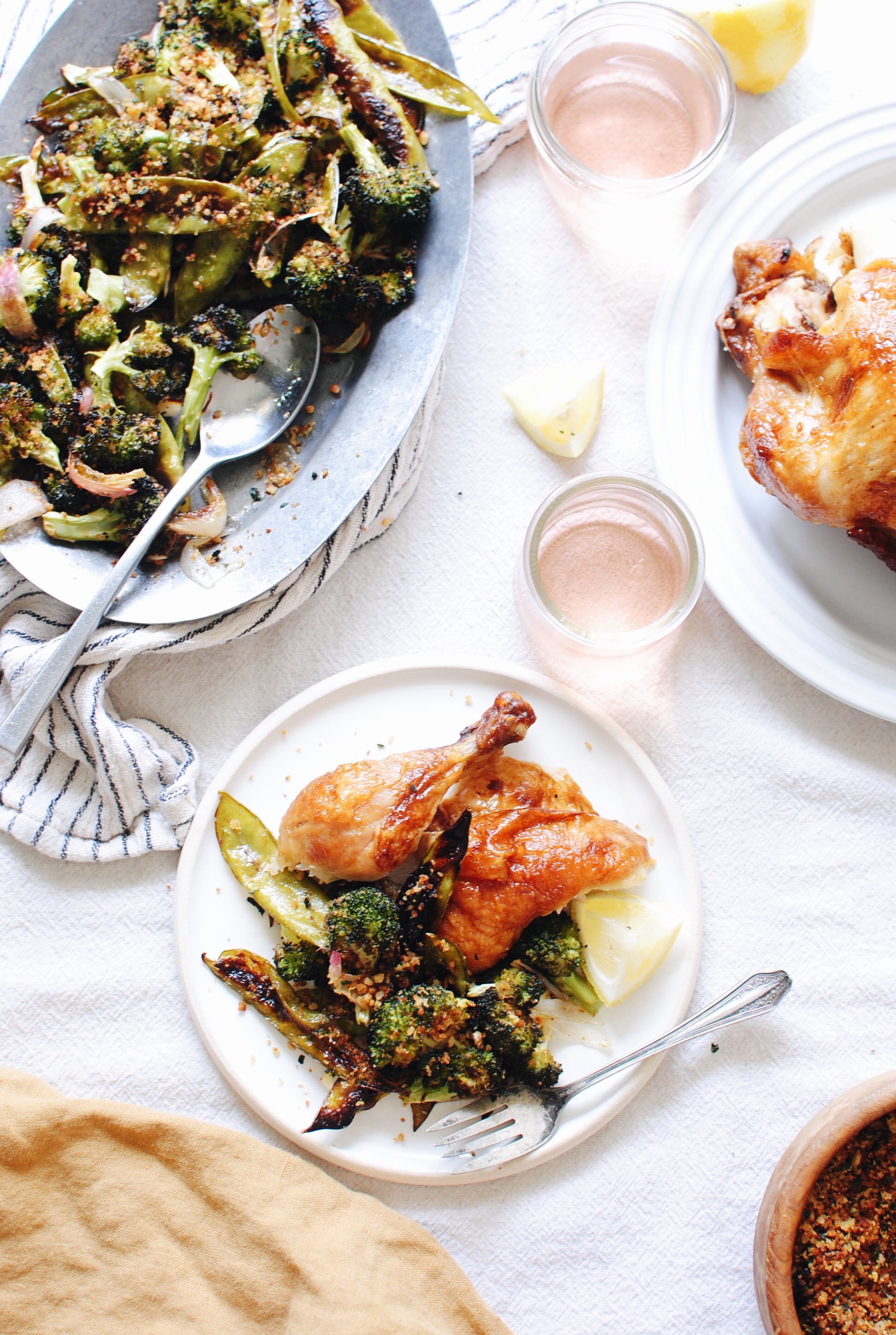 A day late, but totally made it up to you! Right? Did I?
Hello?
. . . hello?