Your eeeeeyes do not deceive you.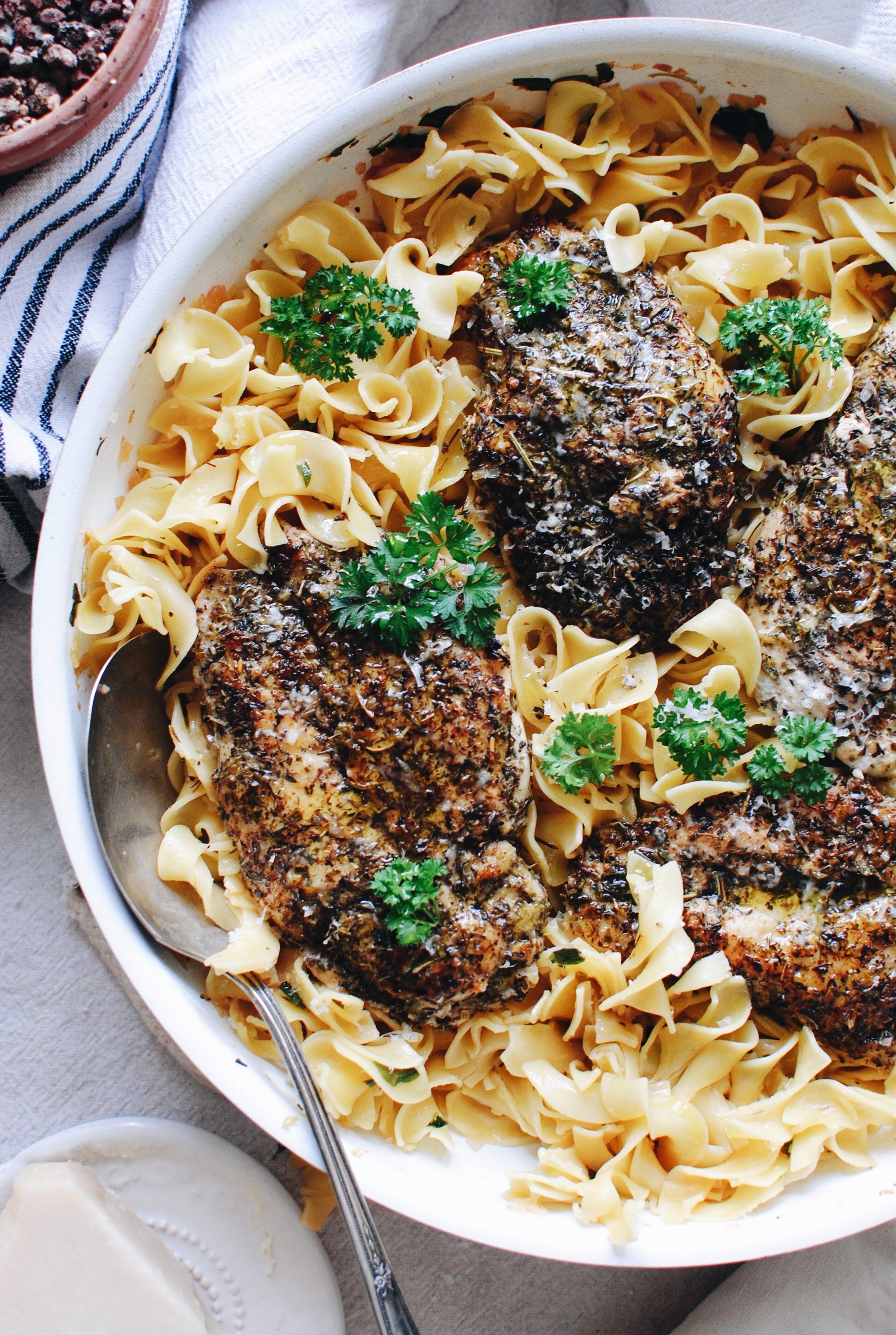 Because did you see the words butter and wine sauce? I couldn't decide if it should be wine butter sauce. Wine and butter sauce. Butter wine sauce. Butter and wine sauce. So I went with butter and wine sauce.
So glad we had this talk.
Okay, this meal. It's definitely the kind that when you bite into it for the first time, you're immediately and furiously barraging your calendar to decide when you'll be making it again. Shoving salads to the side, scratching bakes off the rotation, nixing the tacos, it's this. This is going to ruin you so good.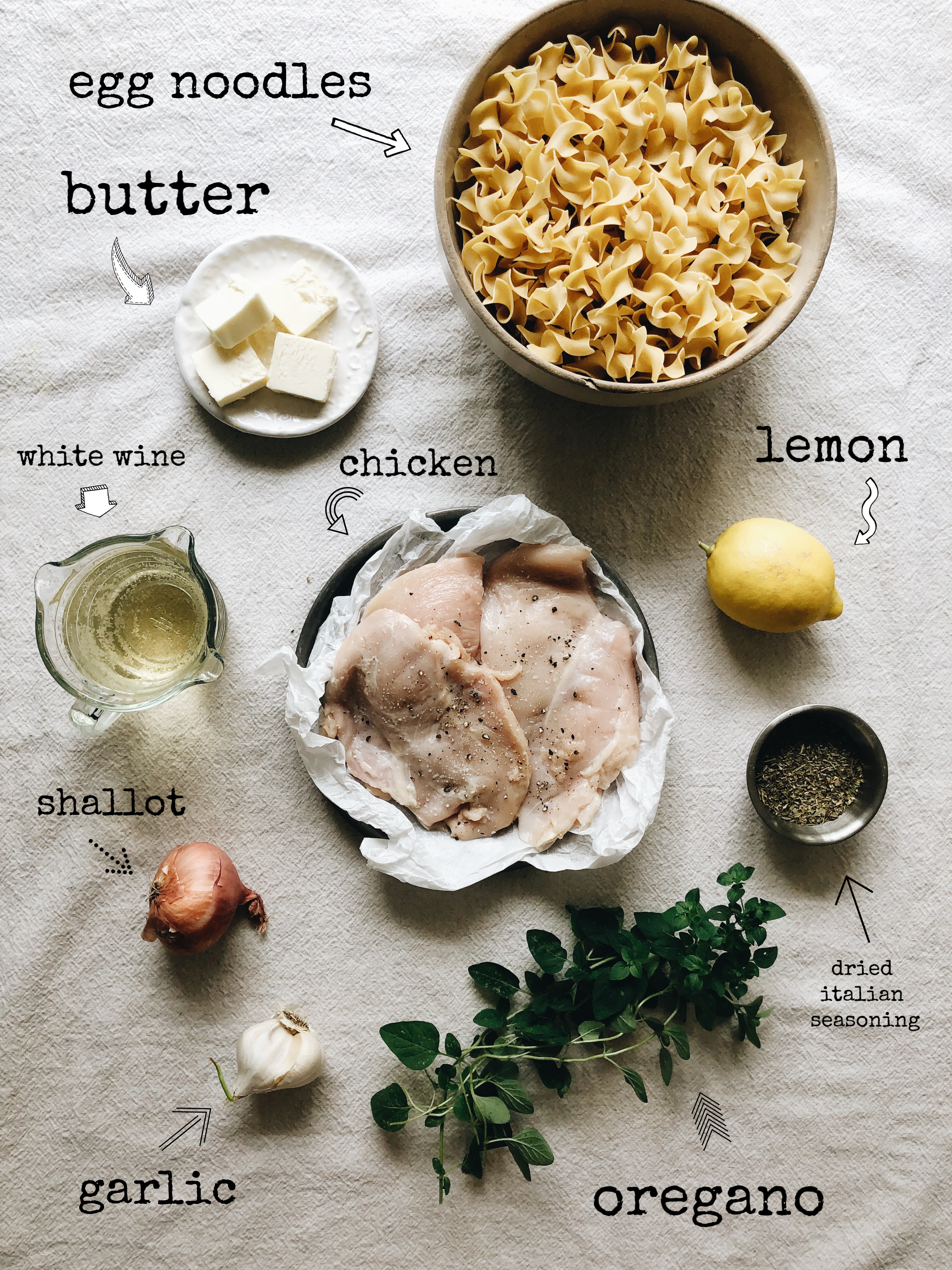 Because a) it's all stuff you have. B) it's all stuff you LOVE. You can't look at that list of ingredients and tell me ewwww. NO. This is your childhood, dialed up.
C) I forgot chicken stock in this photo because my children (said like Julie Andrews as Maria von Trapp) start Kindergarten next week and I can't see straight, think straight, remember anything or make any big or small decisions. Who are you? Just kidding.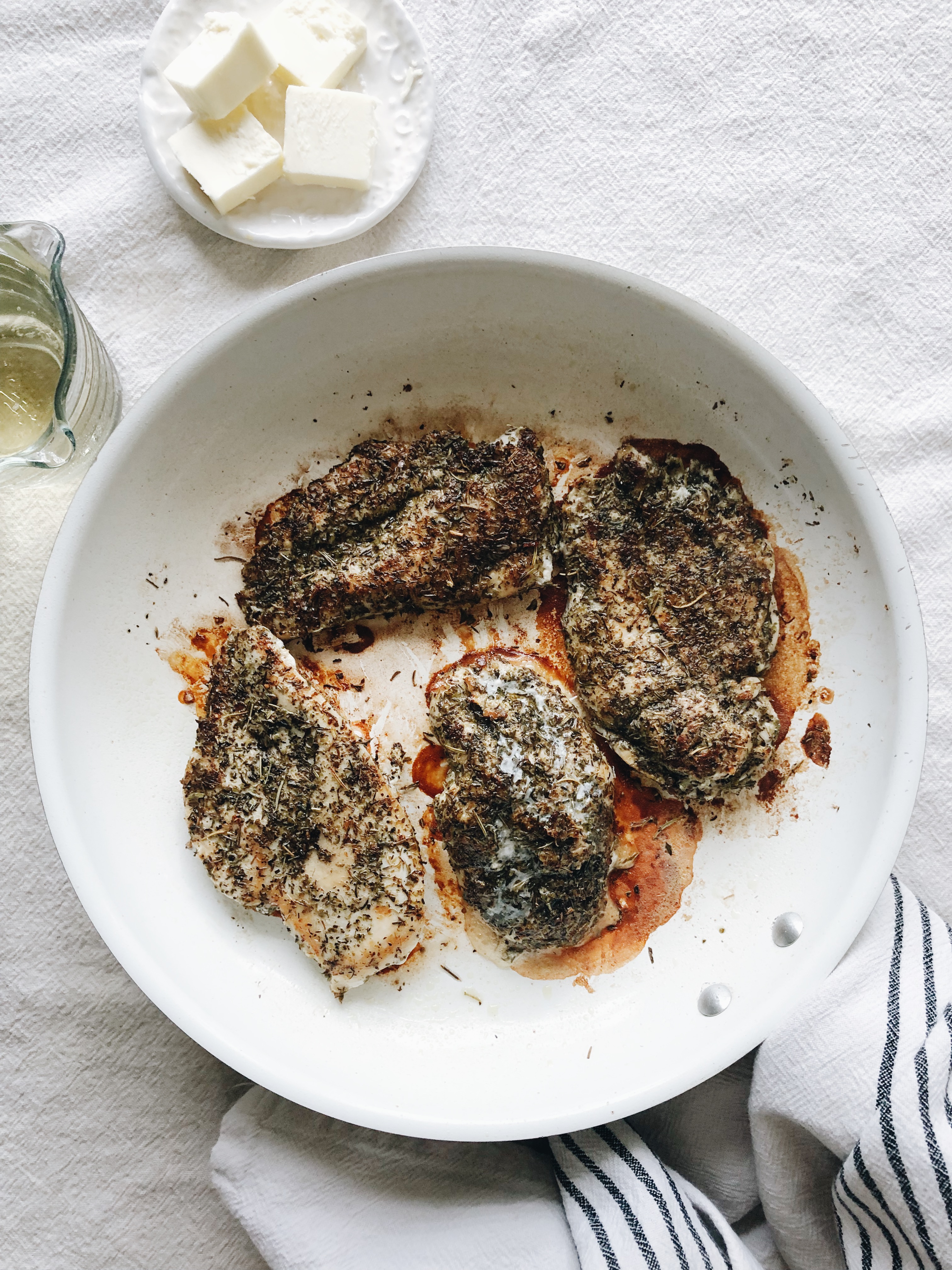 Let's staaart at the very beginning, a very good place to staaaart. (now she's just with me.)
The chicken. It's blackened, but only with dried Italian seasoning! And salt. You can do it. Just sprinkle it on with a heavy hand and sear it in oil. Both sides, five minutes per side. Then move 'em on out!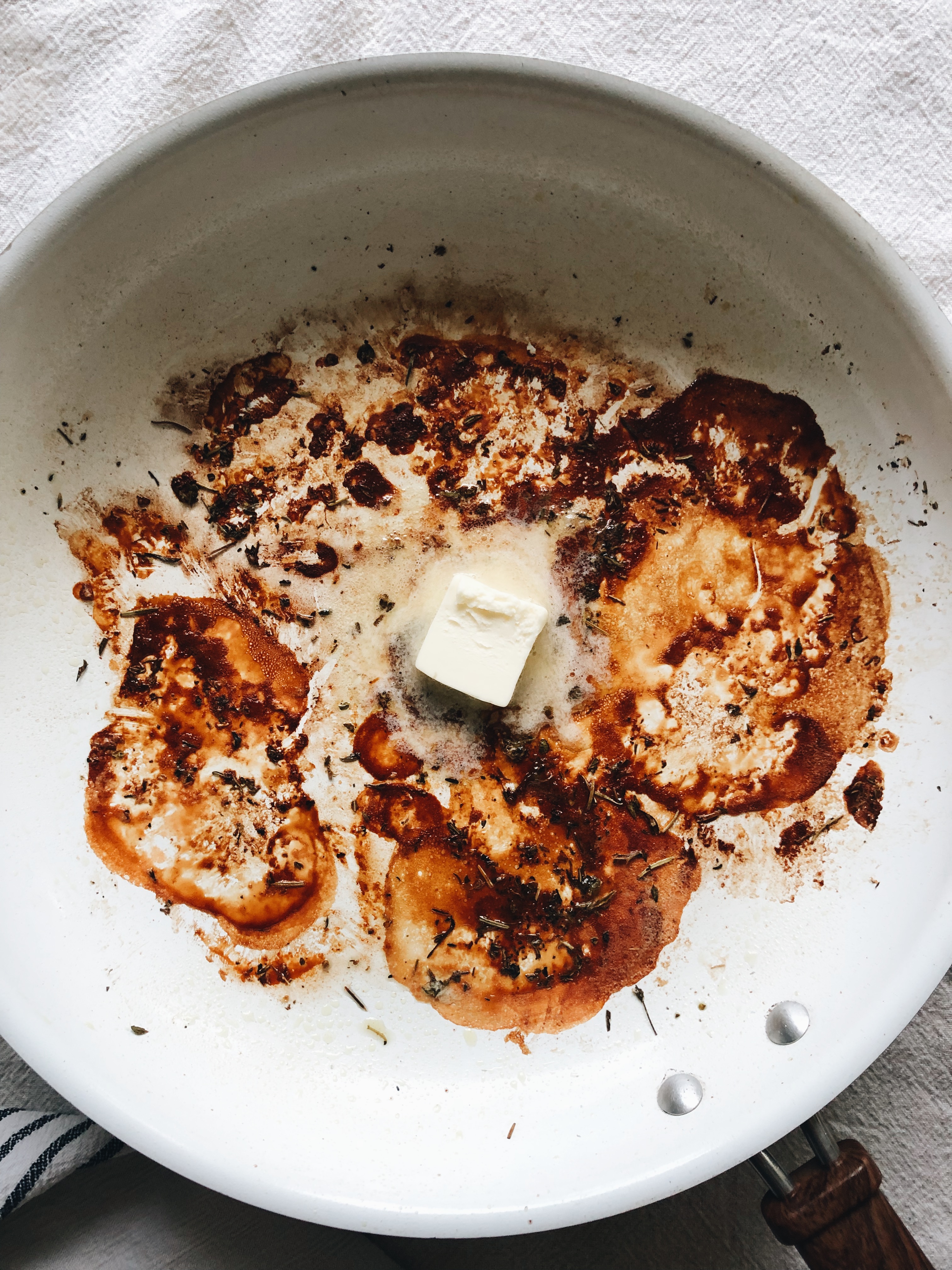 Now we have this glorious canvas of a pan with browned bits, looking up at us with the promise of a new day.
THIS IS WHERE THE BUTTER COMES IN. I've said it a million times before, and I'll say it a million times again, use real. Nothing fake. No alien nonsense in the tubs.
So I love butter twice in this recipe. You're using 4 Tbs. total, which isn't a ton ton, but enough to transform this sauce into a velvet dream come true.
First, add a Tbs. to the pan to start melting into the browned bits. Once it's foaming, add your minced garlic and shallots. Sauté the aromatics for about 30 seconds. The scent that's hanging out in your nose right is nothing but ecstasy.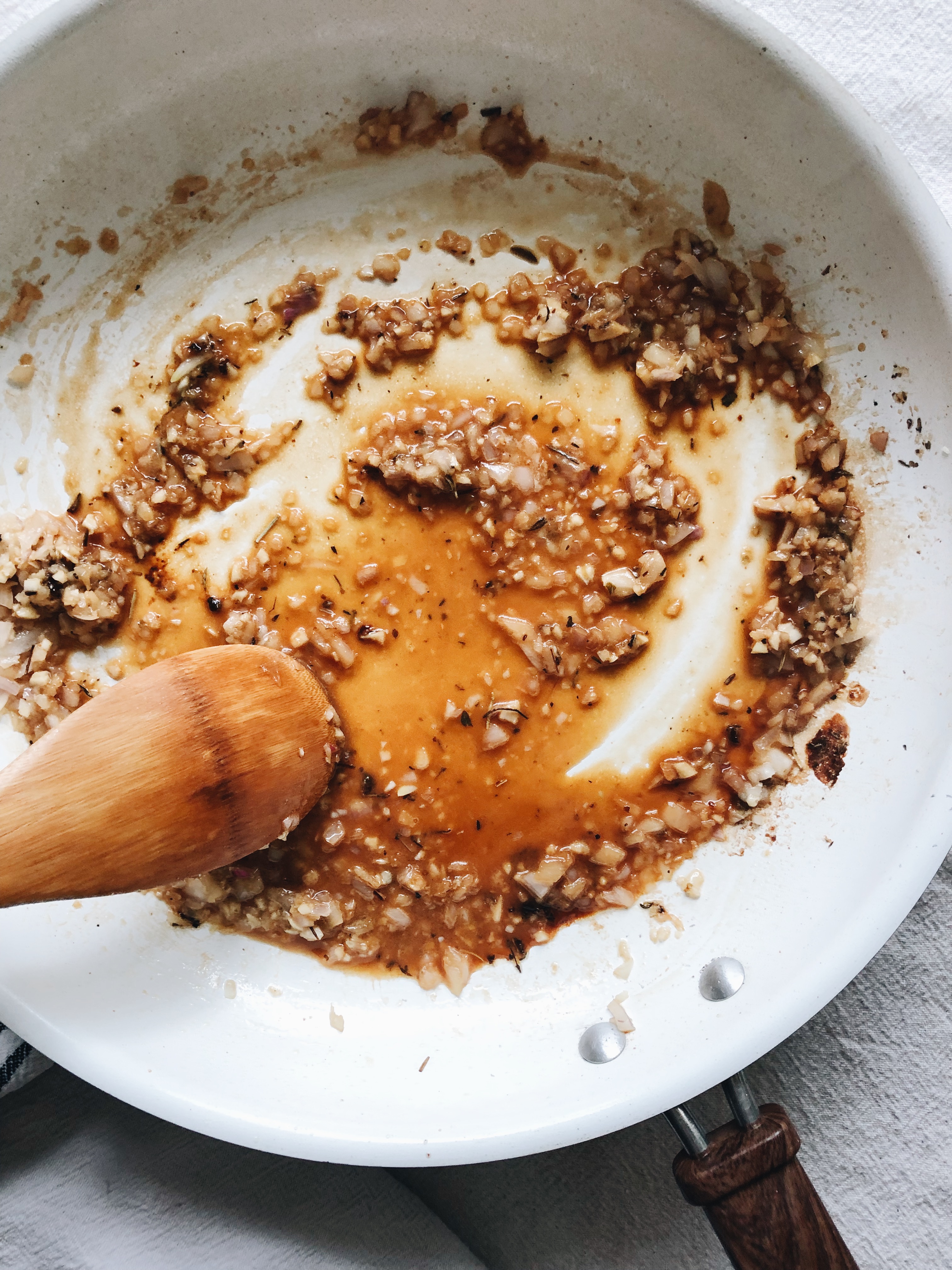 Now we deglaze! Add just a couple Tbs. of the white wine, and watch it bubble up and disappear faster than you can say, "Actually, pour me a glass of that." Use your wooden spoon to scoot the aromatics around in the pan, while scraping up the browned bits.
Look at you making a pan sauce!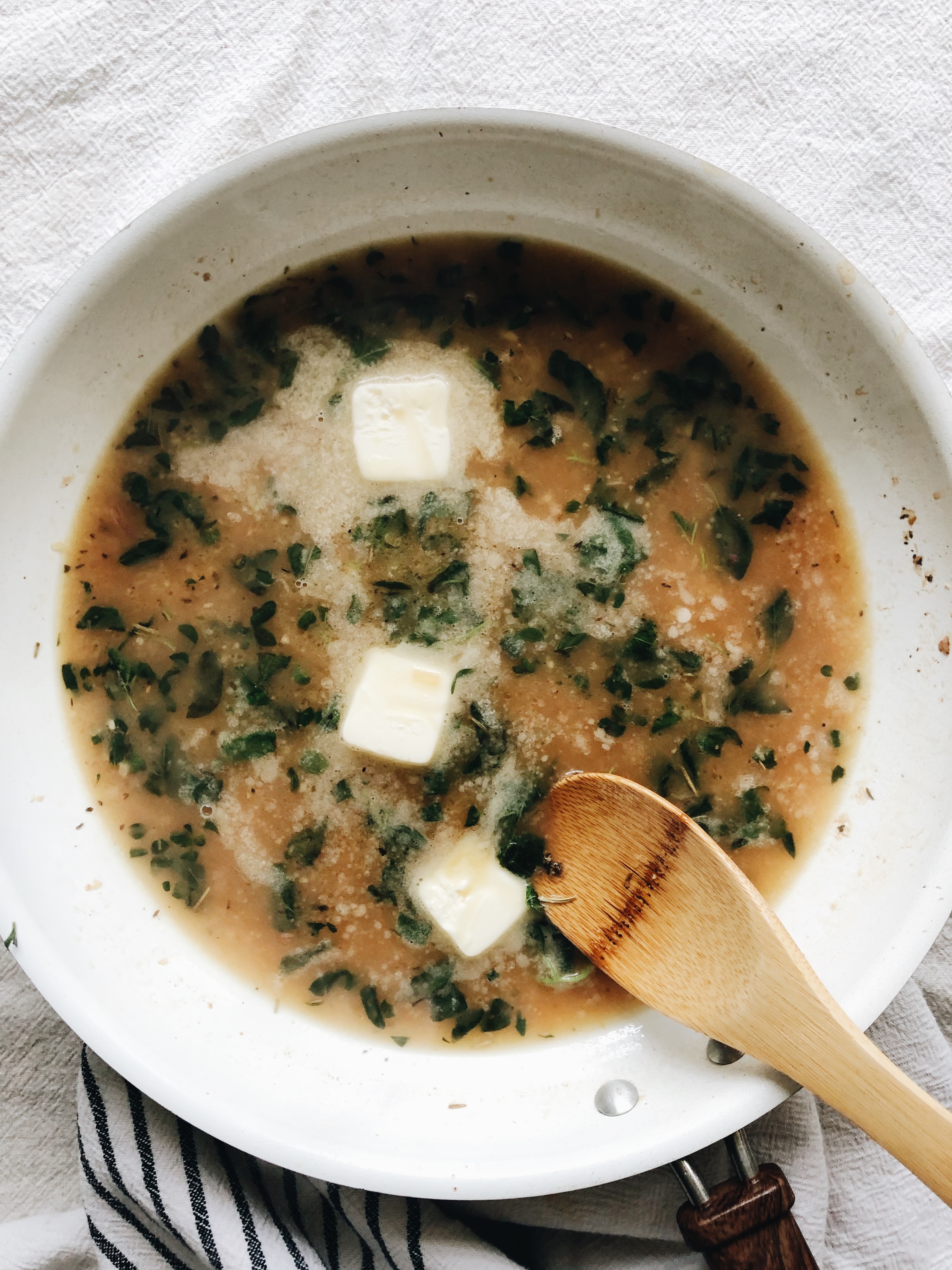 NOOOOOW, you're going to add the rest of the wine + a cup of chicken stock. At this point it feels really soupy, and you're thinking, "Bev, is this even right? It's very loose." Hush, little bunny, we're getting there.
Let the sauce simmer like, five minutes. THEN add in the remaining 3 Tbs. butter and the chopped oregano. Bring the heat up just a tad, to the point that the sauce has little baby bubbles dancing around on the edges and toward the center. What happens is the butter melts into the wine and stock and turns the sauce into – well, heaven. A little thickening occurs. The butter mellows out the wine flavor and adds a creamy, velvety richness that nothing else can do.
It's perfect. Butter + wine = ALL THE JEAH. (<–sorry I said it like a teenager.)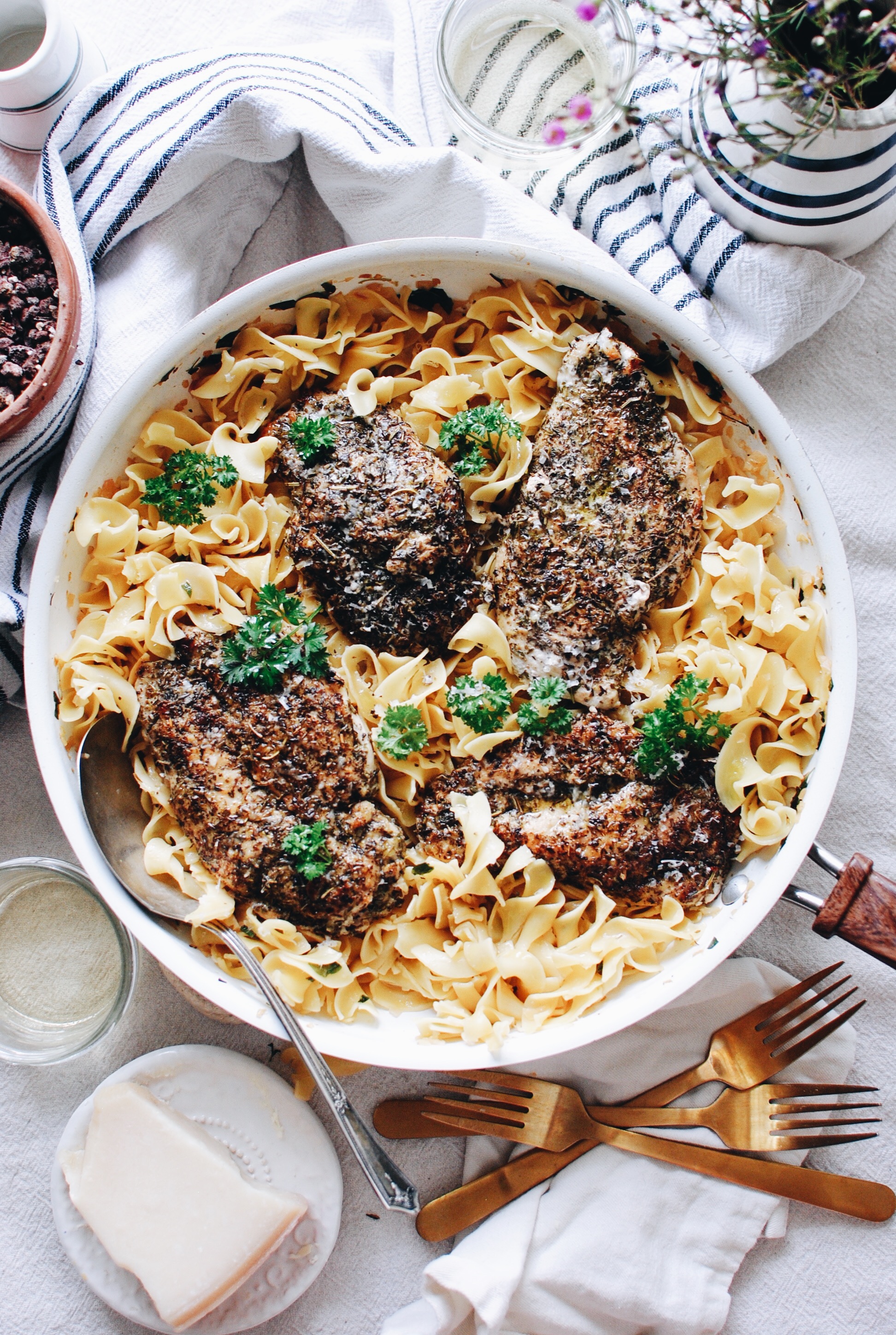 Also, you've boiled up some egg noodles on the side (which don't take long at ALL), so right before they're al dente, transfer them into the butter pan sauce to let the pasta start absorbing the liquid. You just watch as everything gets coated and beautiful and you've lost all feeling in your torso. This will happen.
AND YOU KNOW WHAT, I wouldn't be mad at ya if you wanted to throw in one more Tbs. of butter. If this is where your soul fairies have guided you, listen to them.
Nestle the chicken back on top, sliced or whole. Anything goes.
Add some fresh parsley as a garnish (um, the little parsley I have left in my garden transformed from flat leaf to curly. What kind of witchcraft is happening out there?!), along with some freshly grated parmesan cheese and lemon juice. Because you know what's up.
Silky, luxurious, vibrant – guys that butter and wine pan sauce is CRAZY. Make it before I completely flip out on you.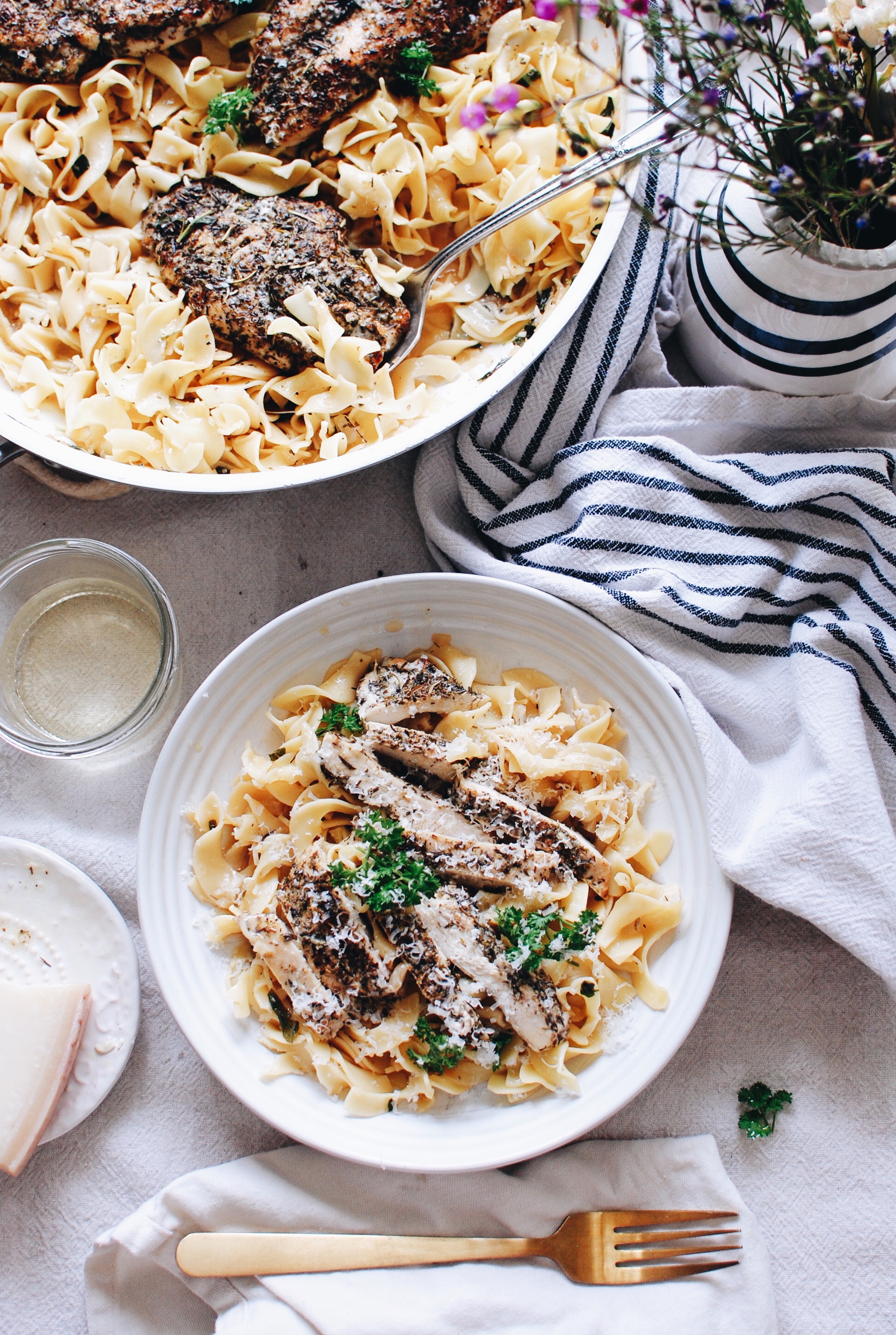 Like now.
Blackened Chicken Pasta with a Butter and Wine Pan Sauce
Ingredients
2 chicken breasts, sliced in half (lengthwise) and pounded out thinly
2 Tbs. dried Italian seasoning
2 Tbs. olive oil
4 Tbs. real butter
1 shallot, minced
3 garlic cloves, minced
1 cup dry white wine
1 cup chicken stock
A handful of oregano, chopped
12 oz egg noodles
1 lemon
Coarse salt and black pepper
Instructions
Heat the oil in a medium pan over medium high heat. Sprinkle both sides of the chicken with a pinch of coarse salt and freshly ground black pepper. Evenly rub the Italian seasoning all over the chicken, then sear in the pan, covered, for five minutes per side. Remove from the pan and let rest on a plate.
Back in the pan with the browned bits, add 1 Tbs. of butter. Once melted and foaming, add the minced garlic and shallot. Sauté the aromatics for about 30 seconds, letting them get coated in the butter. Add 2 Tbs. white wine to the pan to deglaze. Using a wooden spoon, scoot the garlic and shallots around the pan, while scraping up the browned bits. Sauté another 30 seconds. Then add the rest of the wine and the chicken stock. Let the sauce simmer for five minutes, before adding the remaining 3 Tbs. of butter and the chopped oregano. Add a small pinch of salt to the sauce, too. Let it simmer another five minutes or so, allowing the sauce to bubble and reduce just a tad.
In the meantime, bring a pot of salted water to a boil, and cook the egg noodles until they're just shy of al dente. Transfer the noodles to the pan sauce and let them finish cooking there, absorbing the liquid. Now nestle the chicken (sliced or whole!) back in the pan, and squeeze the juice from a lemon right over everything. Garnish with fresh parmesan and parsley!
Also, if you want to stir in one last Tbs. of butter at the end, this would not be a bad decision.
Serves four!
7.8.1.2
364
https://bevcooks.com/2019/08/blackened-chicken-pasta-with-a-butter-and-wine-pan-sauce/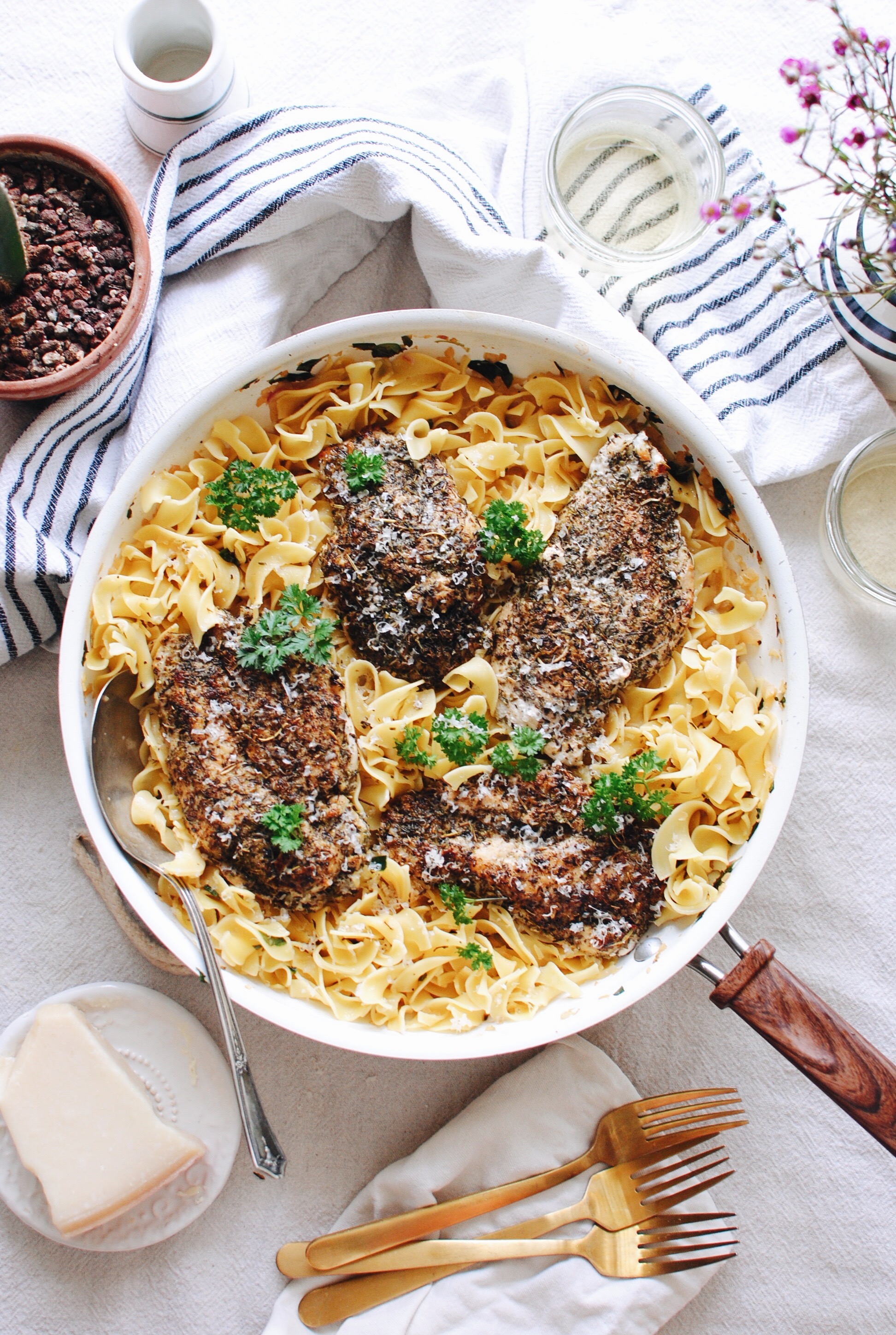 Hi, bye.
(This post is definitely in partnership with my lover Real Butter, but all ramblings and butter meltage and inhalings are totally my own. We coo?)