Hellooooo, slowcookerfrenchoinionpotroastovercreamypolenta lovah.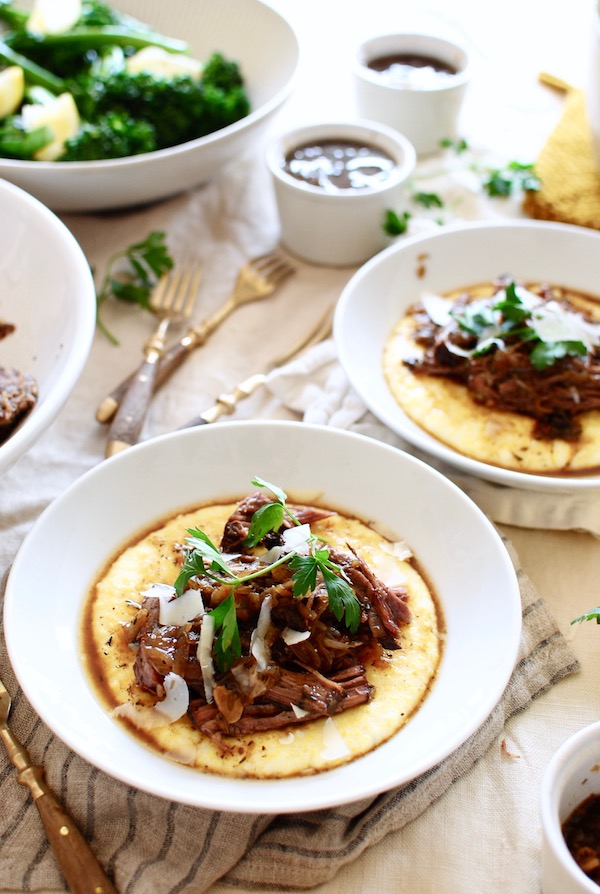 Um, this meal is going to be your winter mouth canoe grub game changer. And I mean it.
First of all, it's slow cooker. Commence simultaneous clapping and sobbing.
Second of all, it's a giant slab of meato. Isn't that neato? (sorry)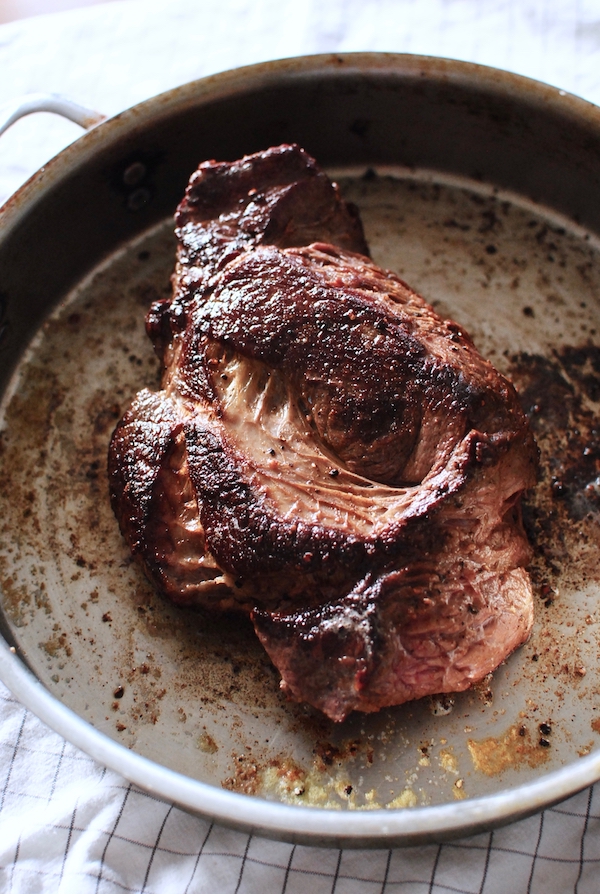 Third of all, the words "French" and "onion" are involved, so you can bet your French onion bottom dollar that your home is going to smell absurdly delicious for hours and hours and hours. (and hours)
Fourth of all, soft, buttery parmesan polenta is later brought into the mix, thus resulting in a mental breakdown of bliss and euphoria in your life and mouth.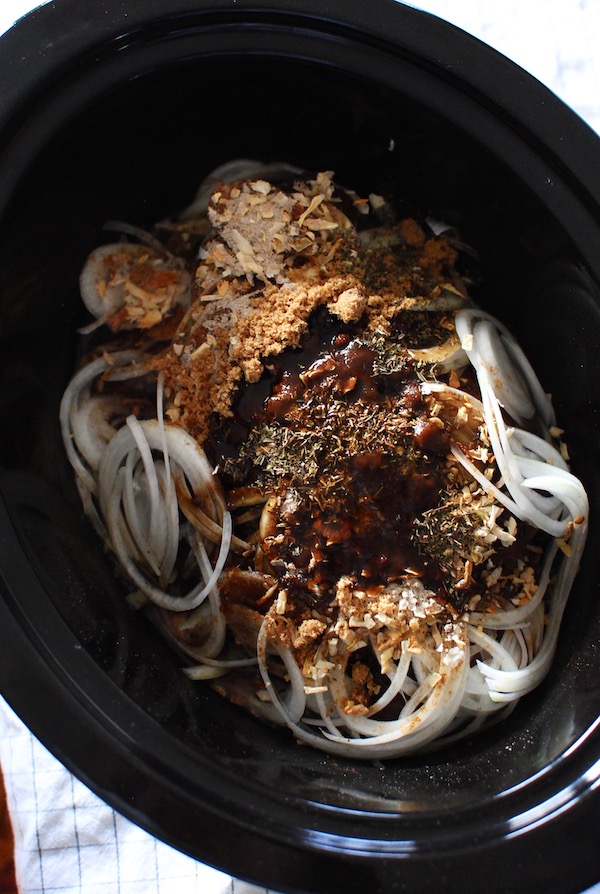 Are you seeing what's happening in that slow cooker? Dudes, we're double onioning this b. First, with actual onions. Two of them, sliced crazy thin. And then again with one of those life-hack packets of dried onion soup mix. This is when you start to feel a rumbling in your soul, like a dormant tornado. Or shingles.
After hours and hours of beef softening (huh?), you'll pile a few thick shredded slabs of pot roast over the creamy polenta. And you're like, "oh this is pretty good." NO, KITTENS.
Because THEN.
Then.
Then.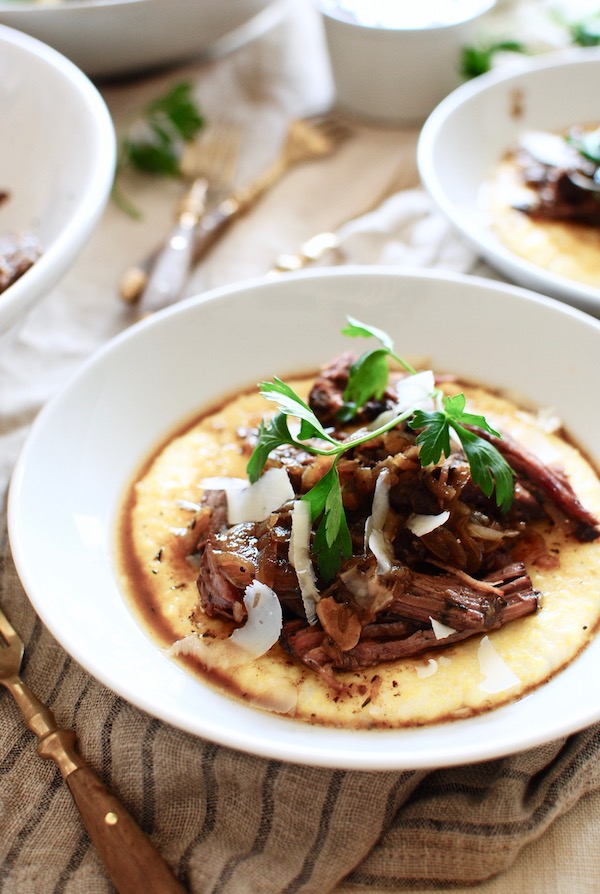 You'll drizzle that ridiculousness with the onions and juices. Just go completely nuts. Pour, throw, or dump it on if you have to. No one is looking. Do it.
You have to try this. Most of it's hands off, so you're already ahead of the game. And the polenta takes no time at all, and should seriously be a staple on your table a few times a month. Think: topped with peppers and sausages, or sausage meatballs and kale, or even a pie! – you guys.
It's straight stupid fabulous. Get it in your face!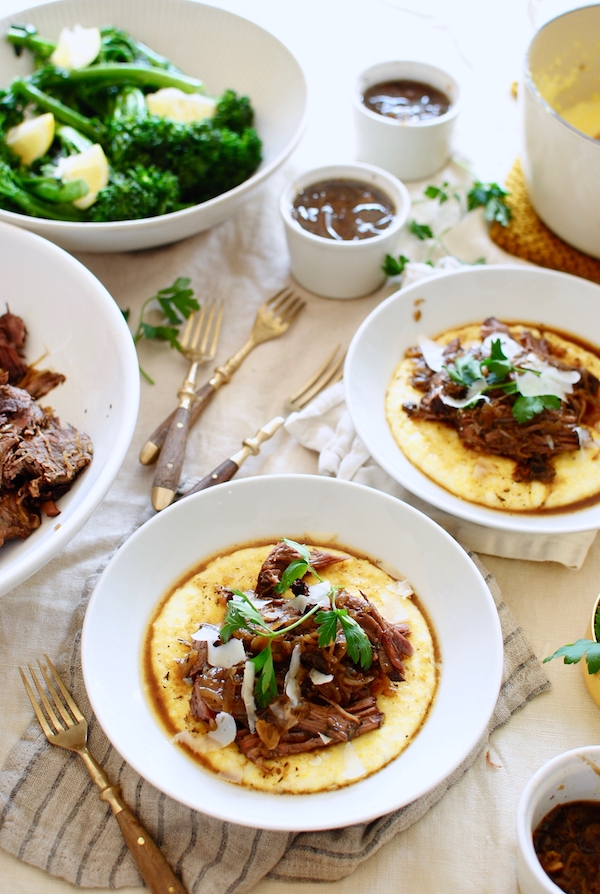 OR ELSE. (just kidding, I'm not being bossy. But really, or else.)
Slow Cooker French Onion Pot Roast over Soft Polenta
Ingredients
2 Tbs. extra-virgin olive oil
2 1/2 pounds beef chuck roast (excess fat trimmed)
2 white onions, thinly sliced
4 cloves garlic, sliced
1 (1 oz) packet dried onion soup mix
1 Tbs. dried thyme
2 Tbs. brown sugar
2 Tbs. Worcestershire sauce
2 cups beef stock
2 cups milk
1 cup water
1 cup polenta
2 Tbs. butter
1/3 cup parmesan
Salt and pepper
Instructions
Heat the oil in a large skillet. Season the beef all over with salt and pepper. Sear the beef in the pan until you get some good browning all over, about 10 minutes. Transfer the beef to a slow cooker.
To the slow cooker, add the sliced onions, garlic, onion mix, thyme, brown sugar, Worcestershire sauce, and beef stock. Season with a good pinch of salt and pepper, and cook on low for 8 hours.
Bring the milk and water to a light simmer in a small saucepan. Add the polenta and stir on medium, until it begins to slightly thicken and become creamy. This takes about 10 minutes. Off the heat, stir in the butter and parmesan. Season (a bit liberally) with salt and pepper.
Ladle the onions and juices into small bowls, and place a few thick shreds of beef on top of the polenta. Pour the onions and juices over the beef. Garnish with parsley and extra parmesan. Cry for like, ever.
Serves 6. (Or 4, with leftovers. Boom.)
7.8.1.2
67
https://bevcooks.com/2017/02/slow-cooker-french-onion-pot-roast-creamy-polenta/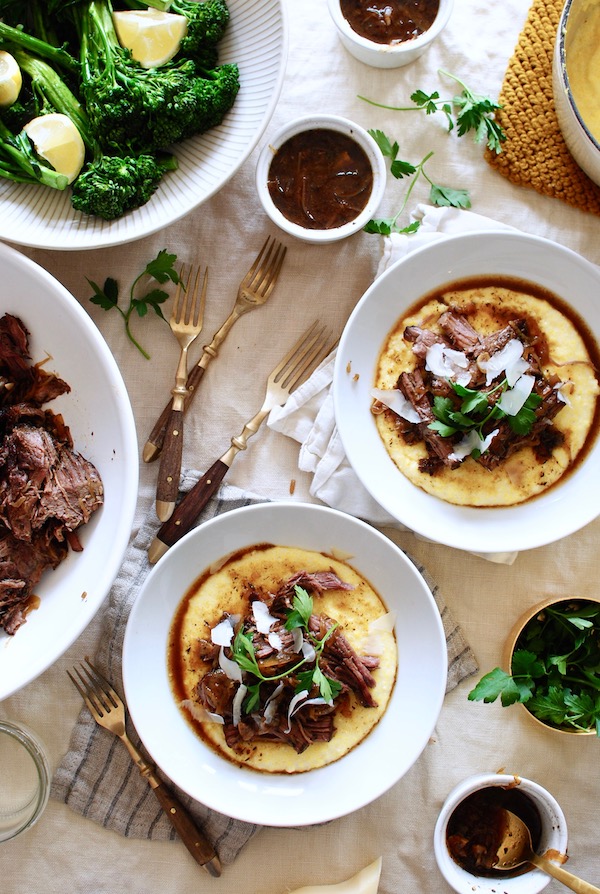 I mean…