This is your second chance in life. And it involves carbs and bacon.
And brussels sprouts, which is green, so it's basically a salad.
Meals like this govern my life. Approachable enough for a weeknight, but disguised as a pretentious, laborious weekend undertaking that makes you stabby.
It's quite simple really!
And you can juggle it all (I say juggle like it's bad, but it's not. I'm sure juggling is fun, if you know how. Which I don't. But I can imagine that it's fun. Something about control meets unpredictability meets technique. Sort of like cooking! Never mind.) at the same time – roasting here, rendering there, boiling water here. Bing bang boom.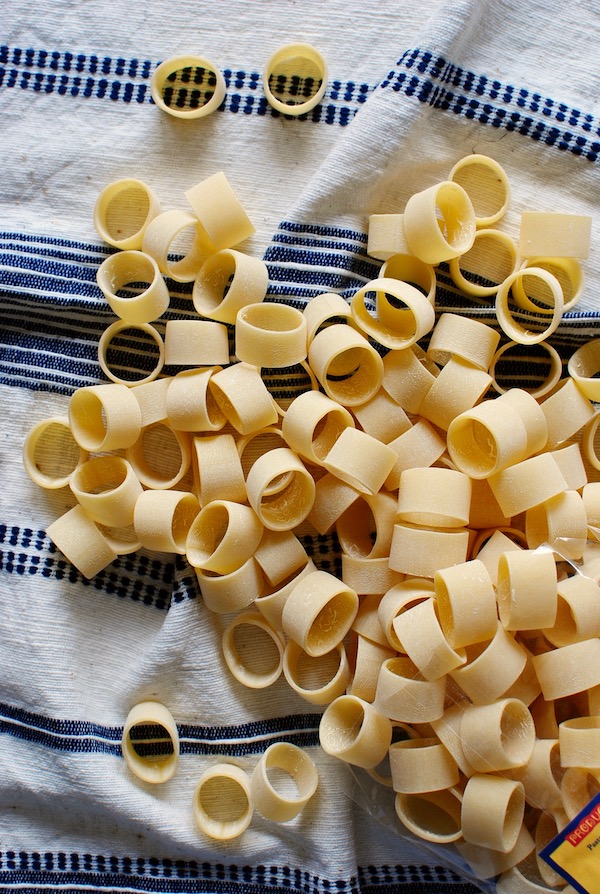 Let's discuss this pasta. This is how psycho I am. I saw some dude's photo on Instagram with these large pasta rings in it, and I fell into such an unjustifiable obsession, that I called nearly every single grocery store in town, in a fit of tears, because NO ONE CARRIES THEM. So Amazon it was. I feel like if you order food on Amazon, you've reached a new low.
Or a new awesome?
I'll make t-shirts.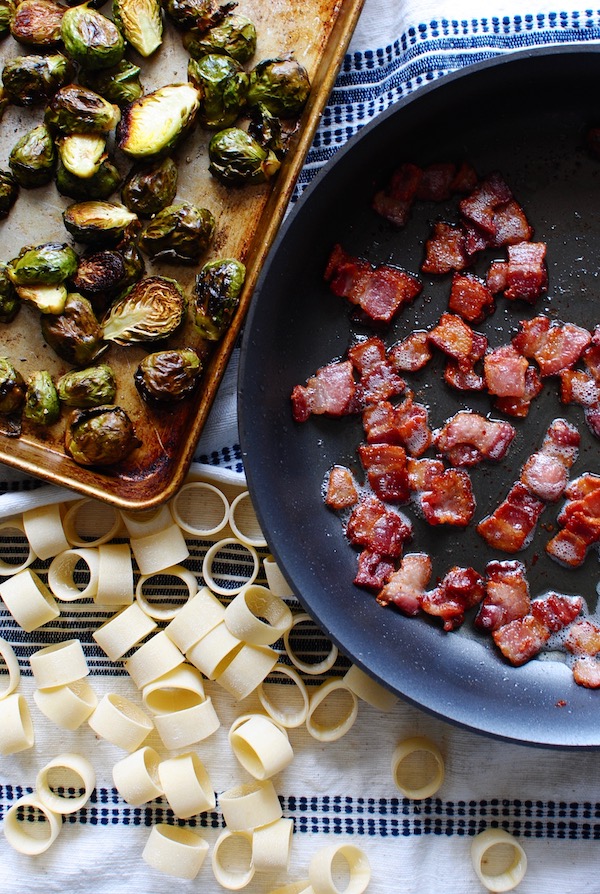 It's no mystery that bacon and brussels sprouts are like milk and honey. Peanut butter and jelly. Sony and Cher. Brad and Angeli- wait.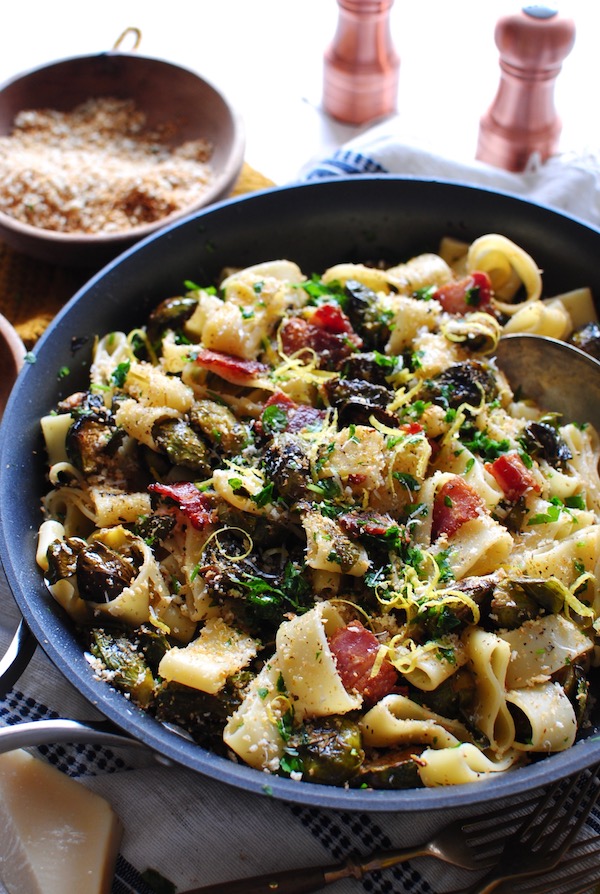 Then it all gets tossed together with a bit of reserved pasta water, lemon juice, B U T T E R (you remember the whole second chance at life thing, right?), lemon zest (hi, acidity), parsmesan (hi, nuttiness) and toasted panko (hi, crunchiness.)
You know that one dancing lady emoji in the red dress? That's you right now. That is you with this pasta in your face.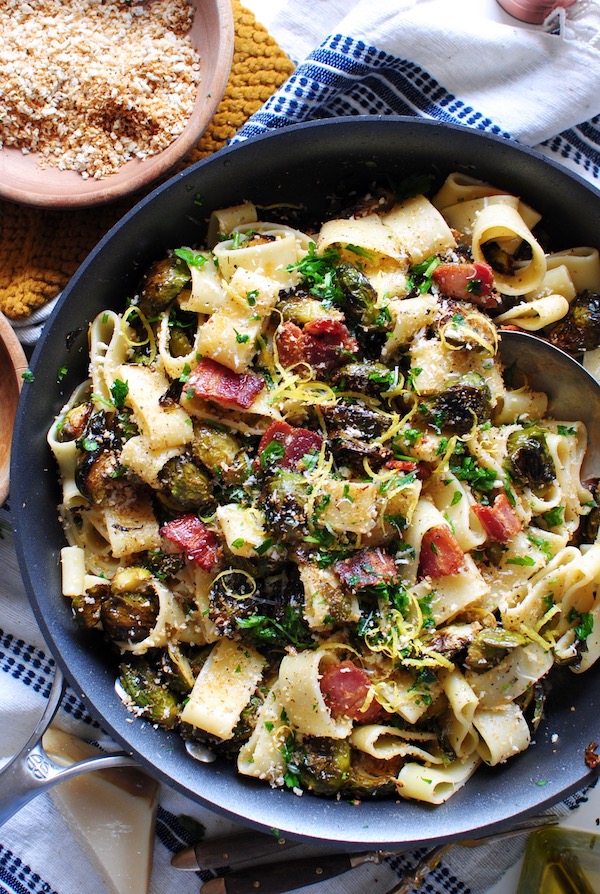 Heaven help us.
Pasta Rings with Roasted Brussels Sprouts and Bacon
Ingredients
3 cups brussels sprouts, halved
1 -2 Tbs. extra virgin olive oil
1/2 pound large pasta rings
6 strips thick bacon, cut into 1-inch pieces
1 Tbs. butter
1/4 cup freshly grated parmesan cheese, plus more for garnish
1/2 cup panko breadcrumbs, lightly toasted
1 lemon, zested and juiced
Salt and pepper
Minced fresh parsley for garnish
Instructions
Preheat the oven to 400.
Place the brussels sprouts on a large rimmed baking sheet. Drizzle with the oil and sprinkle with salt and pepper. Roast for about 40 minutes, checking to make sure you're getting some good browning. Set aside.
Render the bacon until slightly crispy, and set aside on paper towels to drain. Pour out all but about 2 tsp of bacon fat. Add the brussels sprouts to the pan.
In the meantime, bring a large pot of salted water to a boil. Cook the pasta according to package directions, until al dente. Reserve about a cup of pasta water. This will help create a sauce in a second!
Transfer the pasta to the pan with the brussels sprouts, and toss to coat. Add the butter, tossing to melt. Slowly add the pasta water and lemon juice, tossing to create a thin sauce. There's a lot of tossing right now if you couldn't tell.
Off the heat, stir in the cheese and give it a another toss. Lightly season with salt and pepper.
Garnish with the lemon zest, toasted panko and bacon crumbles. And more cheese! And the parsley. And your face.
Serves 4.
7.8.1.2
66
https://bevcooks.com/2017/02/pasta-rings-roasted-brussels-sprouts-bacon/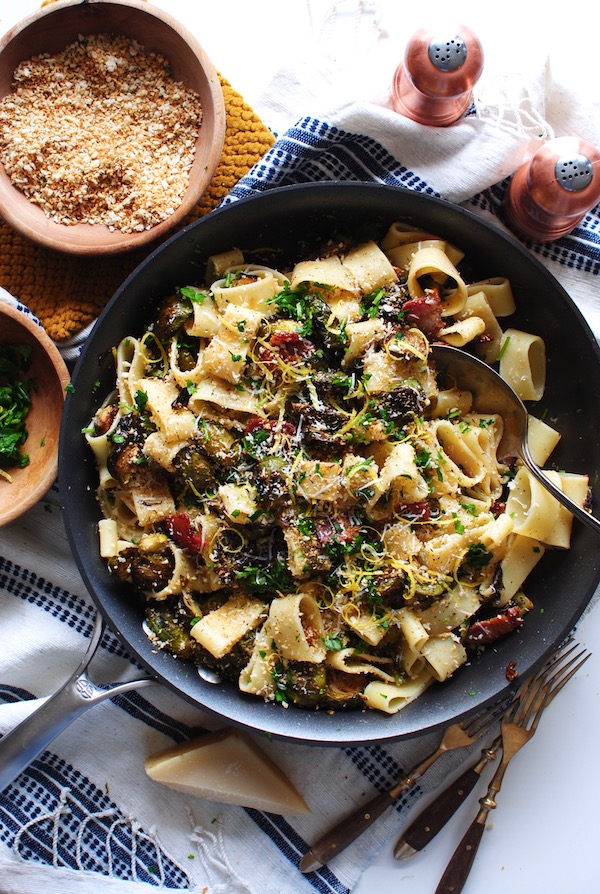 Maybe more bacon?