Siiiiimple simple simple. (also it's simple.)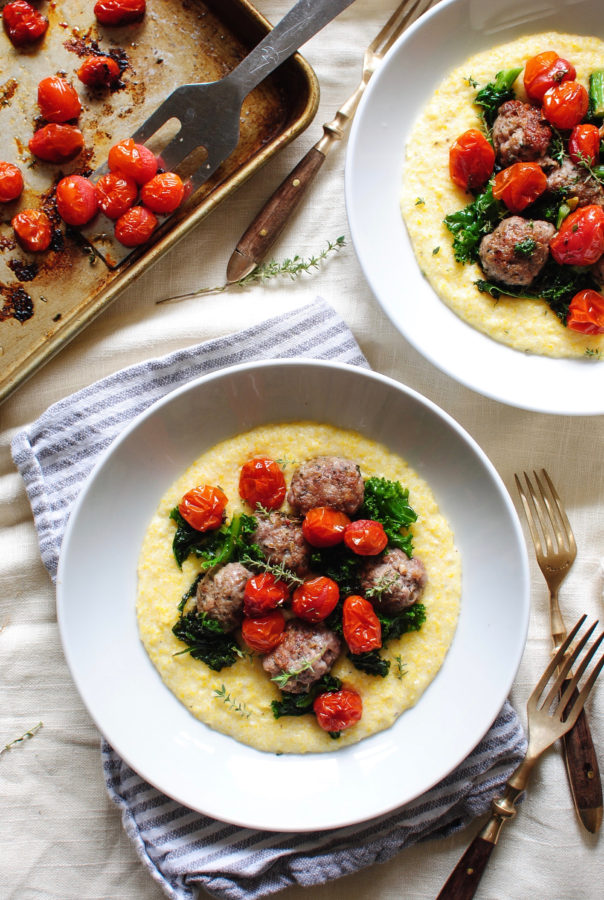 This is my brand new all-time favorite meal of all time today right now.
It may look all fancy face, but in reality, it's just a plain ol', delicious cinch to pull together.
Three things happen. Let's discuss.
You're excited, I can tell.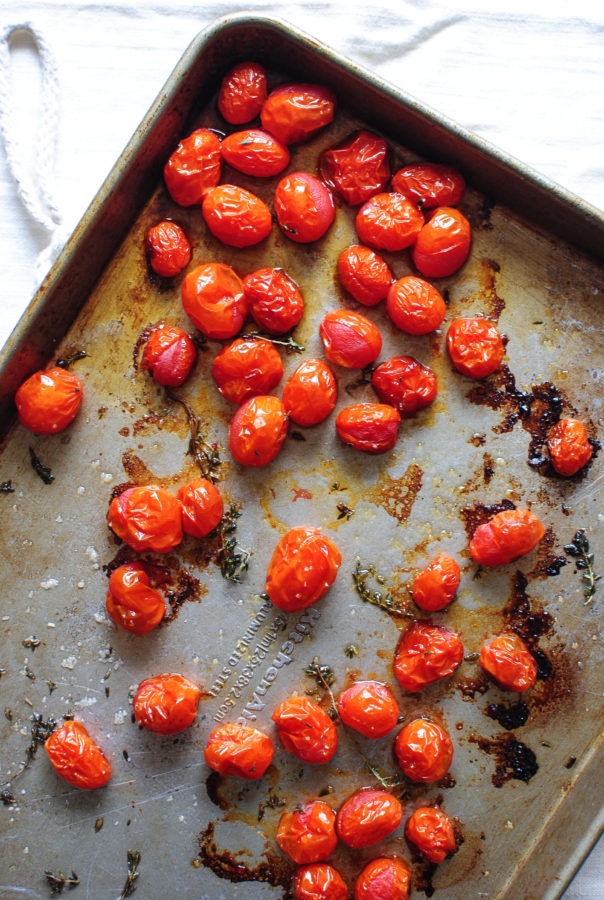 You roast tomatoes. Cherry tomatoes. If you can find small grape tomatoes still on the vine, your fancy meter automatically goes up to 11. (<–name that joke.)
If you can't find small grape tomatoes on the vine, you're still a good person.
Just roast a cup or two with a few sprigs of fresh thyme leaves and a small glug of oil. And say glug a lot, because you're overdue for a good face punching.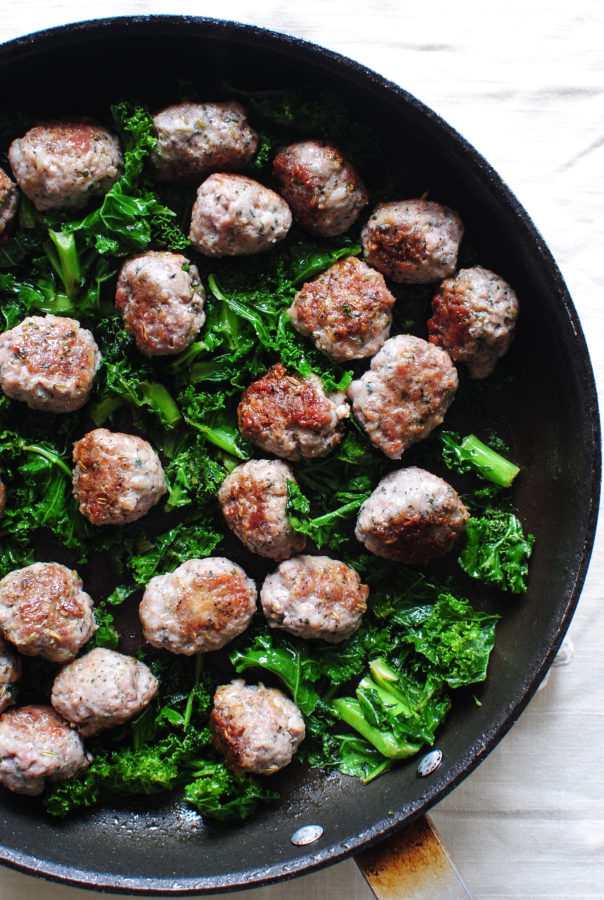 You take some Italian sausage links and roll them into meatballs. You could also just brown the sausage like a normal person, but I thought making them into meatballs seemed a bit more festive! It's festive, right? It's totally festive.
Brown the balls, remove the balls, add a bunch of kale to the pan and wilt. Add the balls back. Take a photo. (You don't have to take a photo.)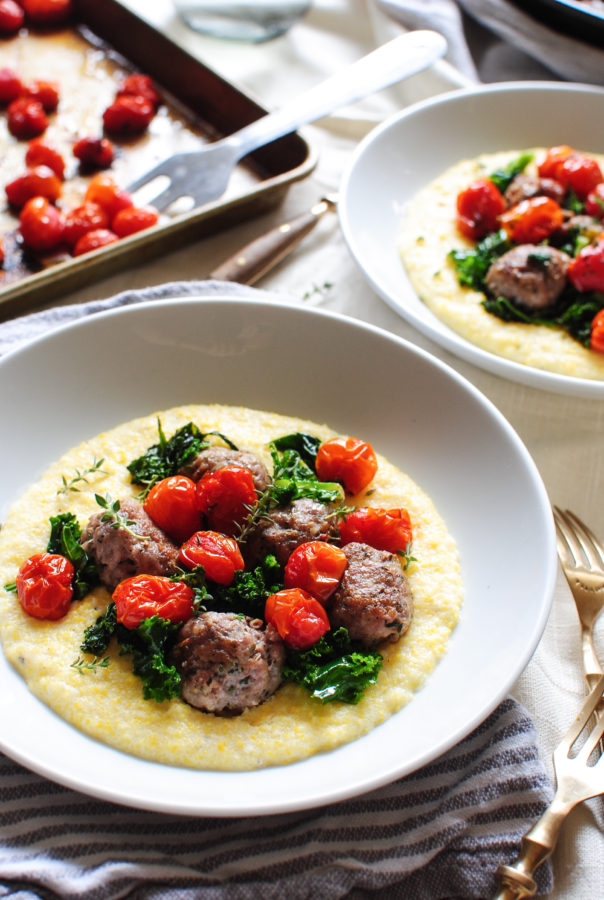 In the meantime, make some creamy polenta.
Contrary to popular belief, making polenta isn't at all laborious! Even the slow-cook kind. I just keep the pot on medium low-ish and stir every couple of minutes, until the polenta doesn't drip off the back of a wooden spoon. Takes maybe 15 minutes. 10 even. Not long. Then you stir in butter and parmesan, and the soul fairies in your heart unleash and do the Macarena.
Now just ladle a good ol' plop of polenta down in a bowl, and take the back of the ladle and sort of spread it out all nice like, as you pretend you're a chef named FWALAWALOUSEZ.
Then just arrange a few meatballs on it, some kale, a few roasted turmaters, and that's life, you guys. Life.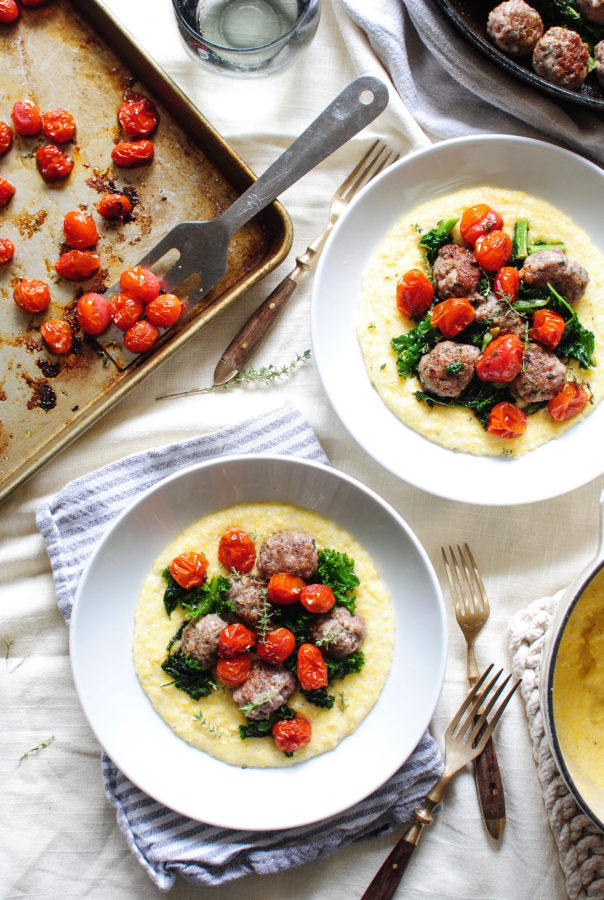 Extra thyme leaves for garnish? Yeshhh.
More grated parmesan (also known as "cheese rain" for the kiddies) on the ready? Obviously.
Absolute ridiculous creamy, savory, deliciousness to the max? Duh.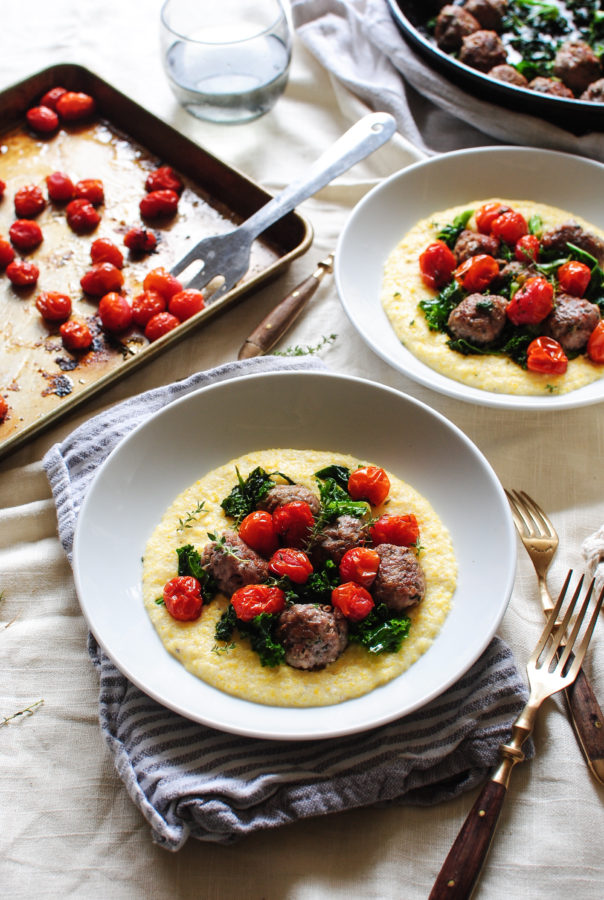 You may now inhale.
Sausage Meatballs with Kale and Creamy Polenta
Ingredients
1 1/2 cup cherry tomatoes
1 Tbs. extra-virgin olive oil
a few sprigs of fresh thyme, plus more for garnish
1 pound Italian sausage (casings removed), rolled into 1-inch meatballs
4-5 cups of chopped kale
2 cups milk
1 cup water
1 cup polenta
1/3 cup freshly grated parmesan
2 Tbs. butter
coarse salt and freshly ground pepper
Instructions
Preheat your oven to 400.
On a baking sheet, arrange the tomatoes and drizzle with the oil. Sprinkle with thyme leaves and season with a pinch of salt. Roast for 20 minutes, until the tomatoes are blistered and wilting.
In a large skillet, brown the meatballs on medium, until you get good searing all over, and the meatballs are cooked through, about 8 minutes. Remove the meatballs from the pan.
Add the kale to the pan and stir to wilt. (add a tiny bit of water to help in the wilting, if needed.)
In the meantime, add the milk, water and polenta to a medium saucepan. Stir and simmer over medium, until the polenta is no longer dripping off the back of a wooden spoon, about 15 minutes. Off the heat, stir in the butter, parmesan, a good pinch of salt and pepper. Stir to combine. It should be good and creamy by now. Are tears falling? I knew it.
Ladle the polenta into bowls, and top with the sausage meatballs, kale, and a few of the blistered tomatoes. Garnish with more thyme and parmesan if ya want. You should want.
Makes about four good dinner servings.
7.8.1.2
42
https://bevcooks.com/2016/09/sausage-meatballs-kale-creamy-polenta/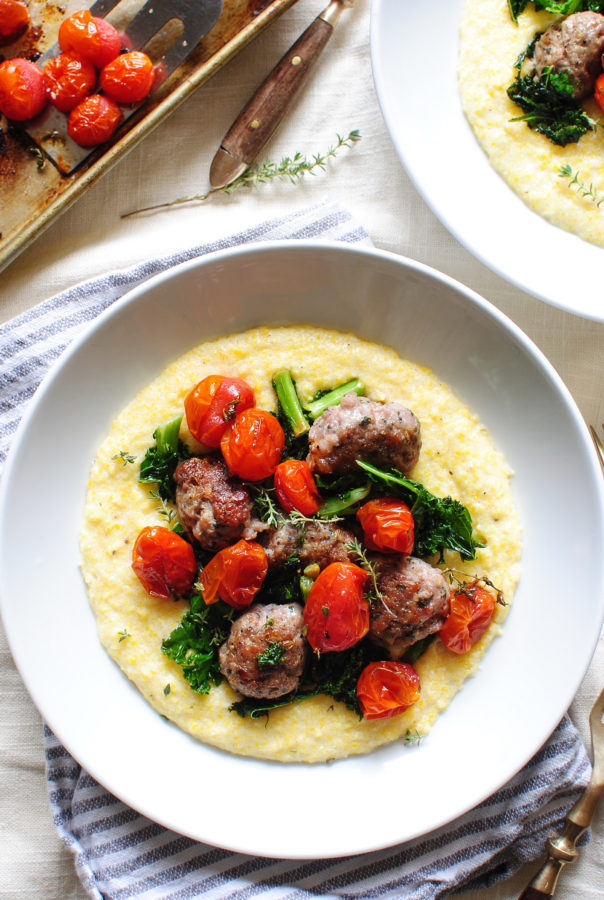 Fall eating is so hot right now.
(p.s. I'm taking the rest of this week off, as we're traveling to the Dominican Republic AT LIKE THREE AM TOMORROW. But I shall return, bright eyed and bushy tailed next Tuesday. So no Flotsam this Friday. We cool? I'll make it up to you, swearsies. <–gross.)
Save
Save
Save