I'm basically giving us the green light to get our slurp on. You good with that? (duh, you are.)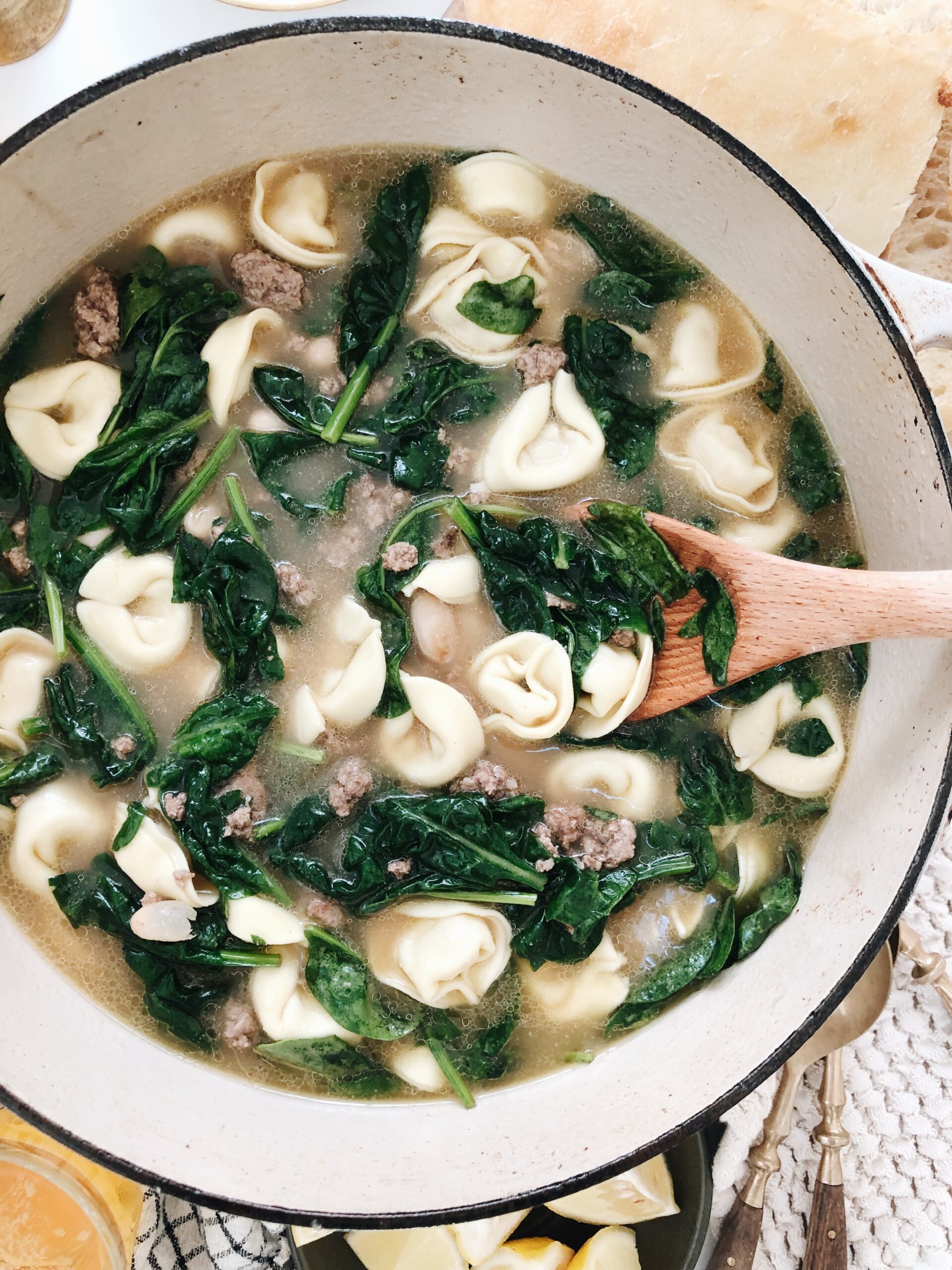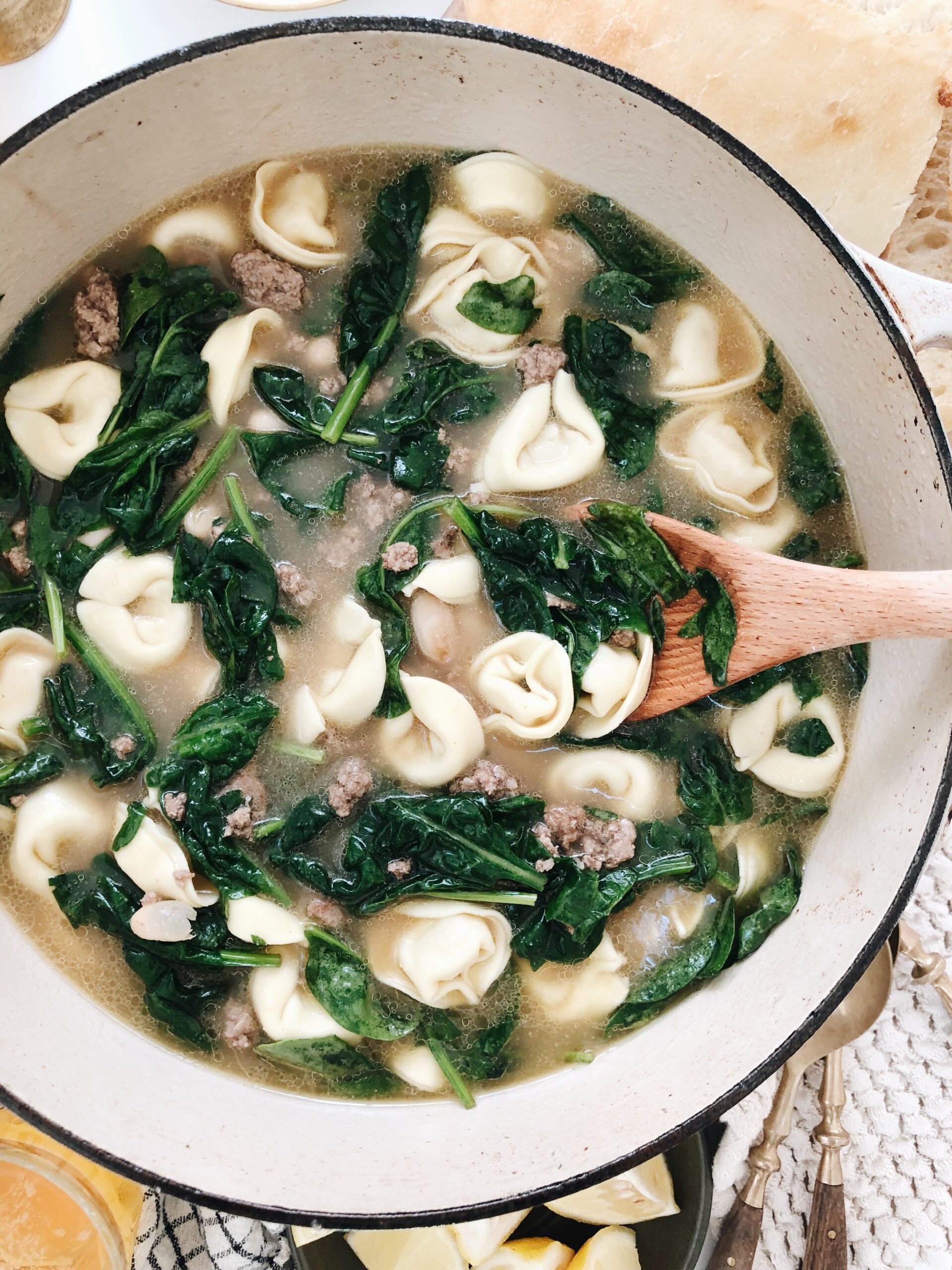 Today's kick-off to soup season is a simple, rustic, delicious doozy. I went to ALDI not long ago, completely salivating over the idea of a beefy soup, but with tortellini in it. Cheese tortellini. Had to be cheese. And spinach! I added baby spinach which basically makes it a salad.
Wait, why are you looking at me like that?
Let me show you what we have here, because you're going to want to skippidy skip pronto and make this happen for your face.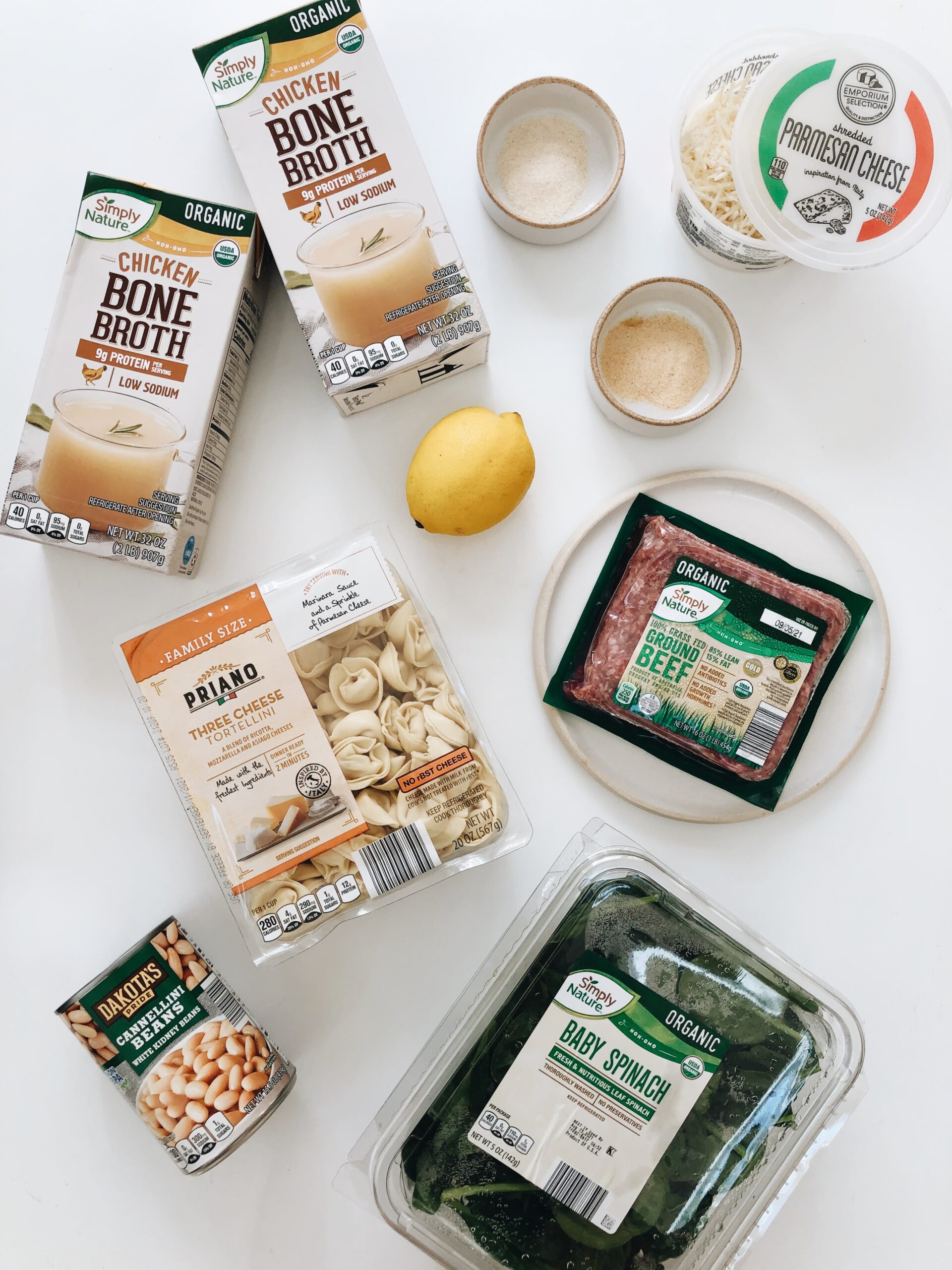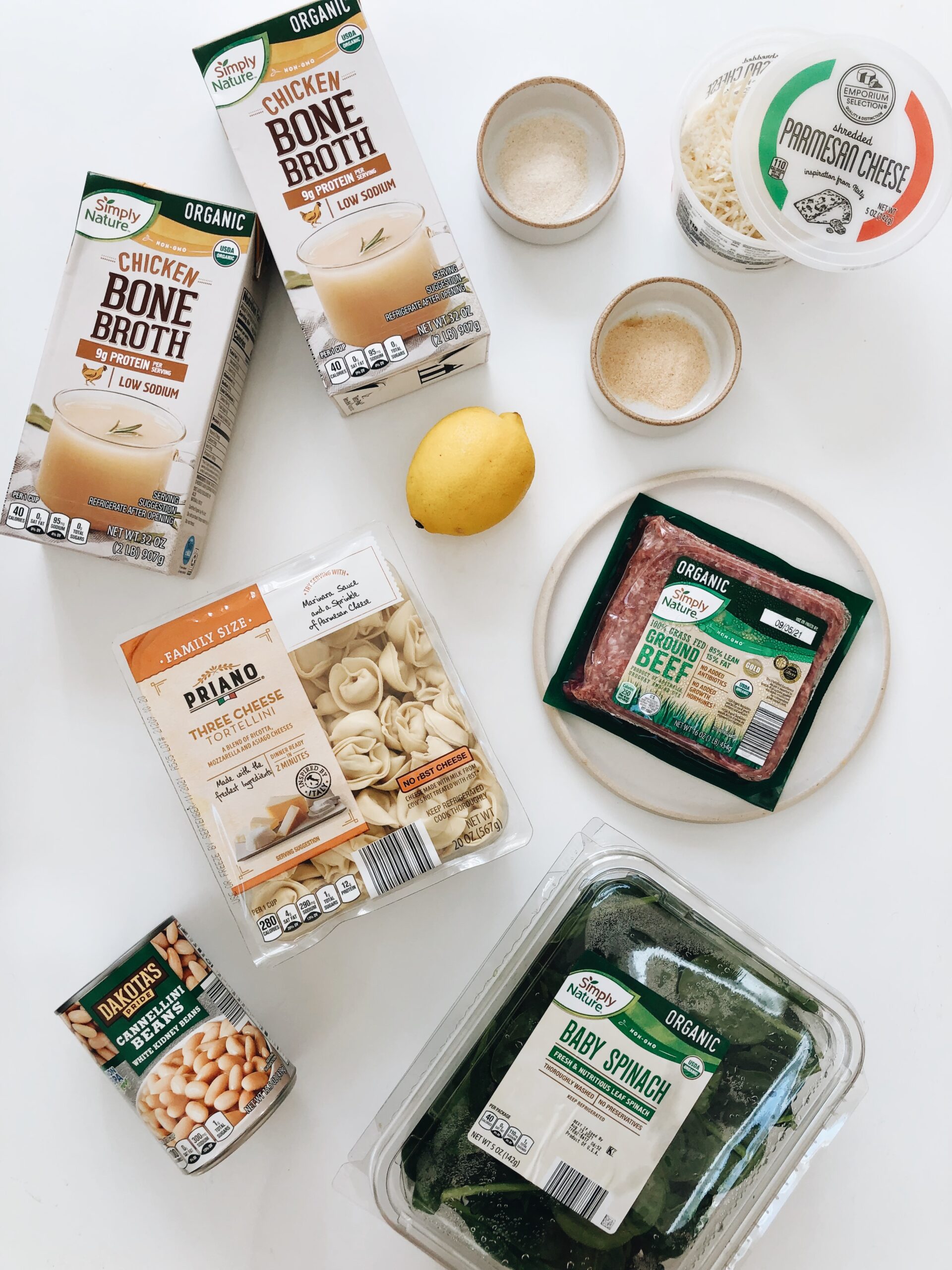 Look at that, would ya? Just a few ingredients and things are about to turn AROUND for us.
I wanted easy, but with a TON of flavor. Creaminess, without adding milk or cream. Savory, but with a zinginess to it!
Don't try to double check the spelling on zinginess, by the way. I think the internet is down.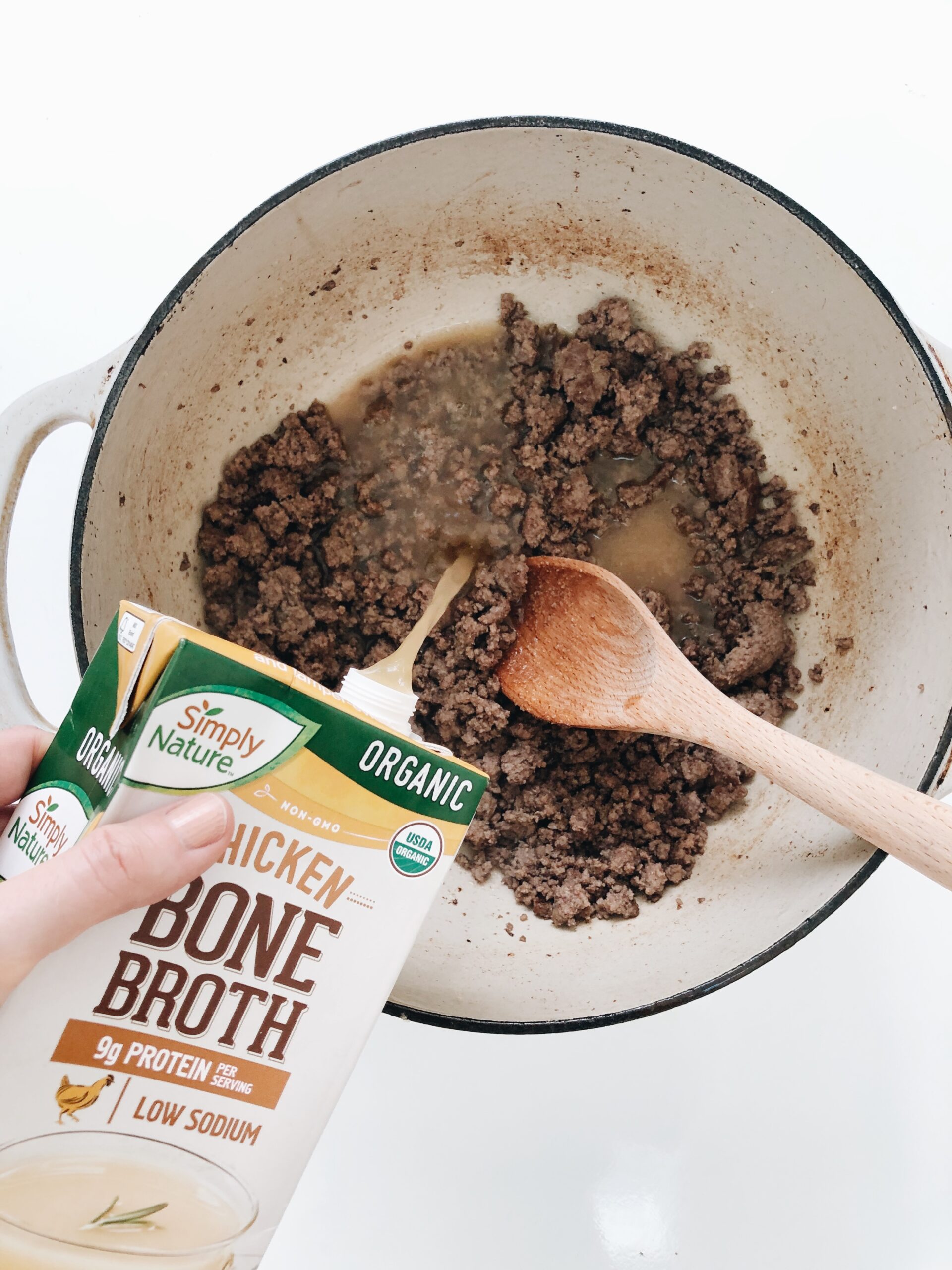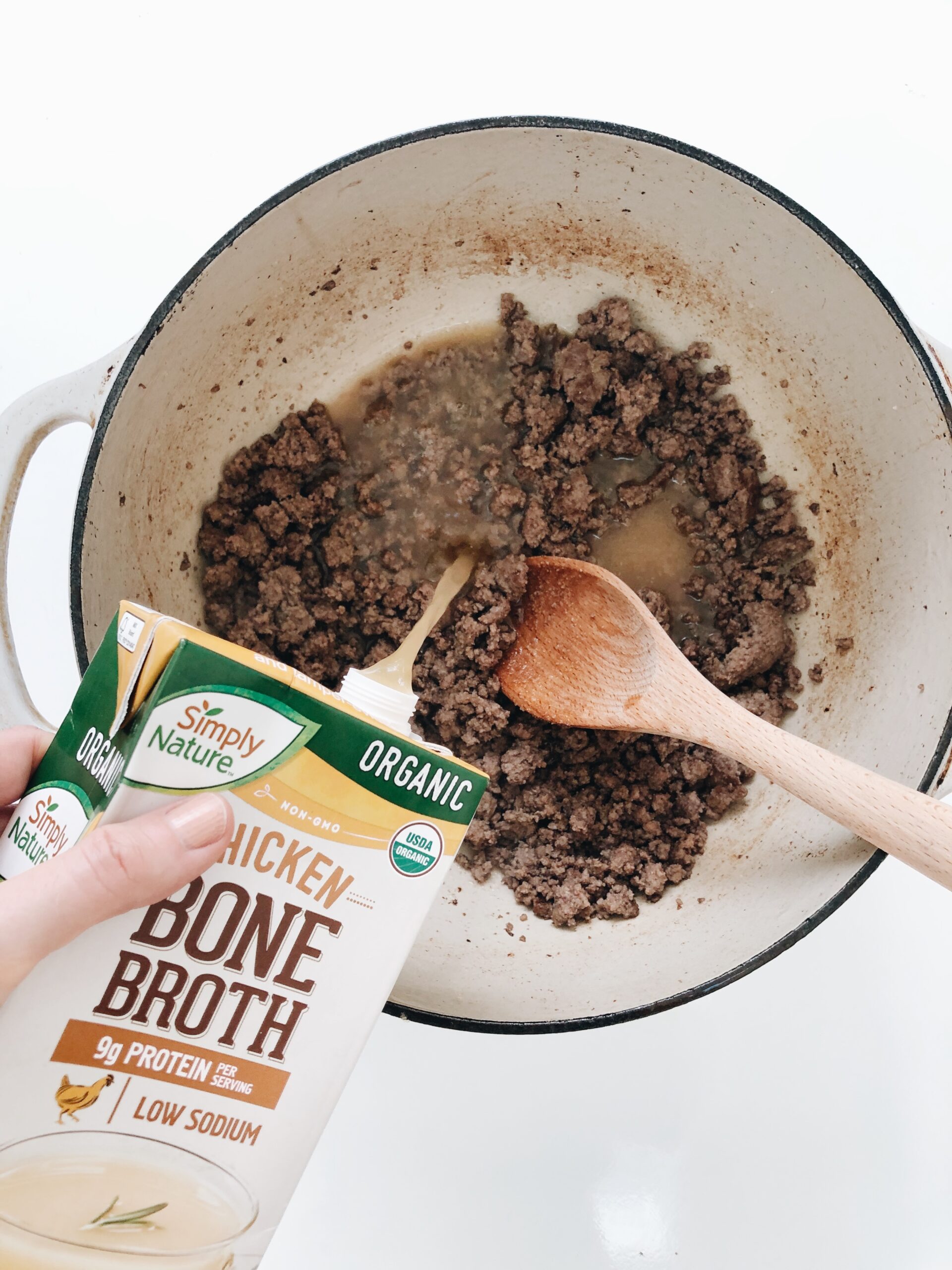 Let's sear our organic ground beef. And while we're at it, in goes garlic and onion powders because depth. You know I like the depth.
Once it's seasoned well (add salt!), let's add in a full eight cups of chicken bone broth. Look, it's a big soup, and we're hungry. Add it all.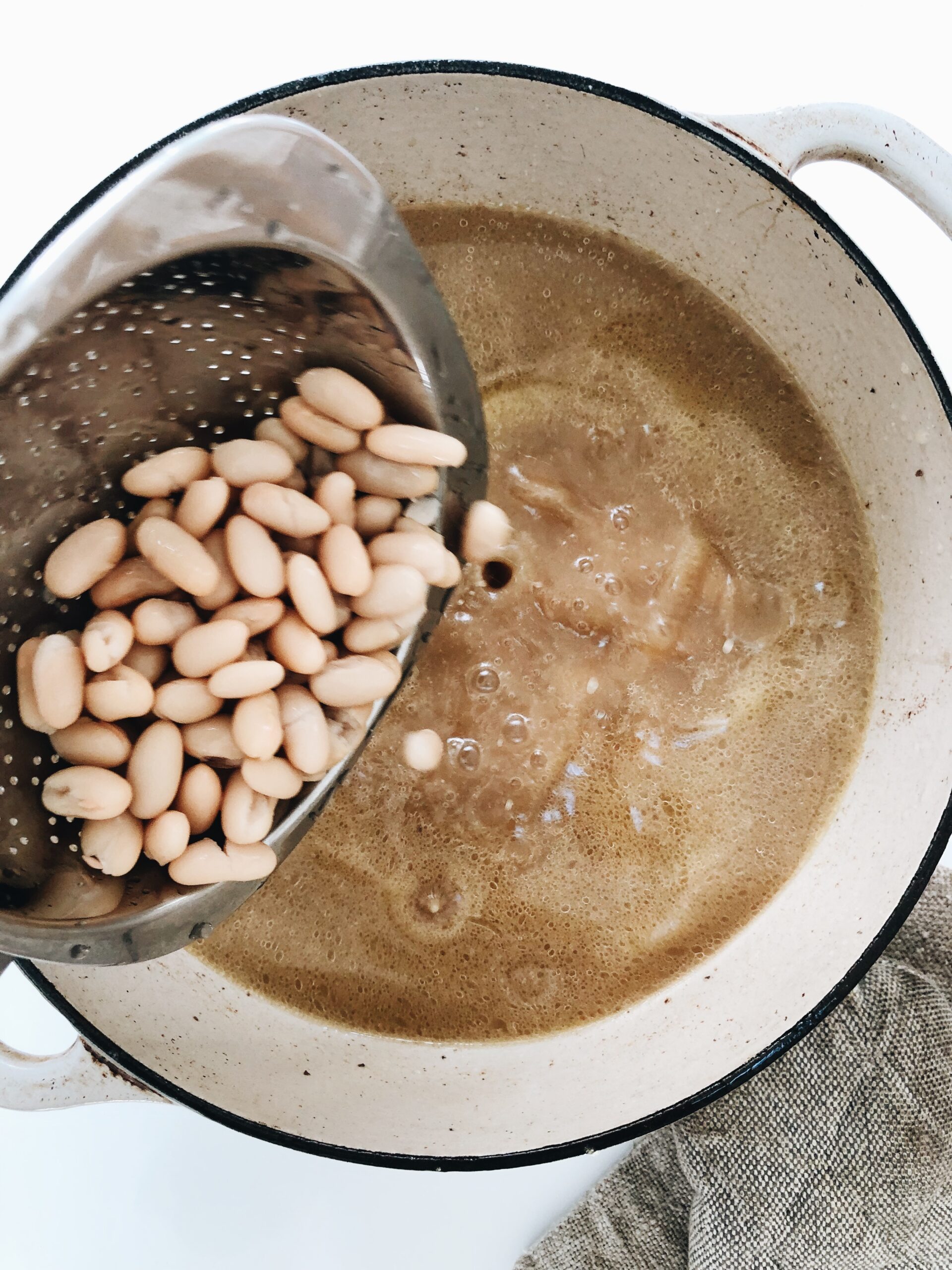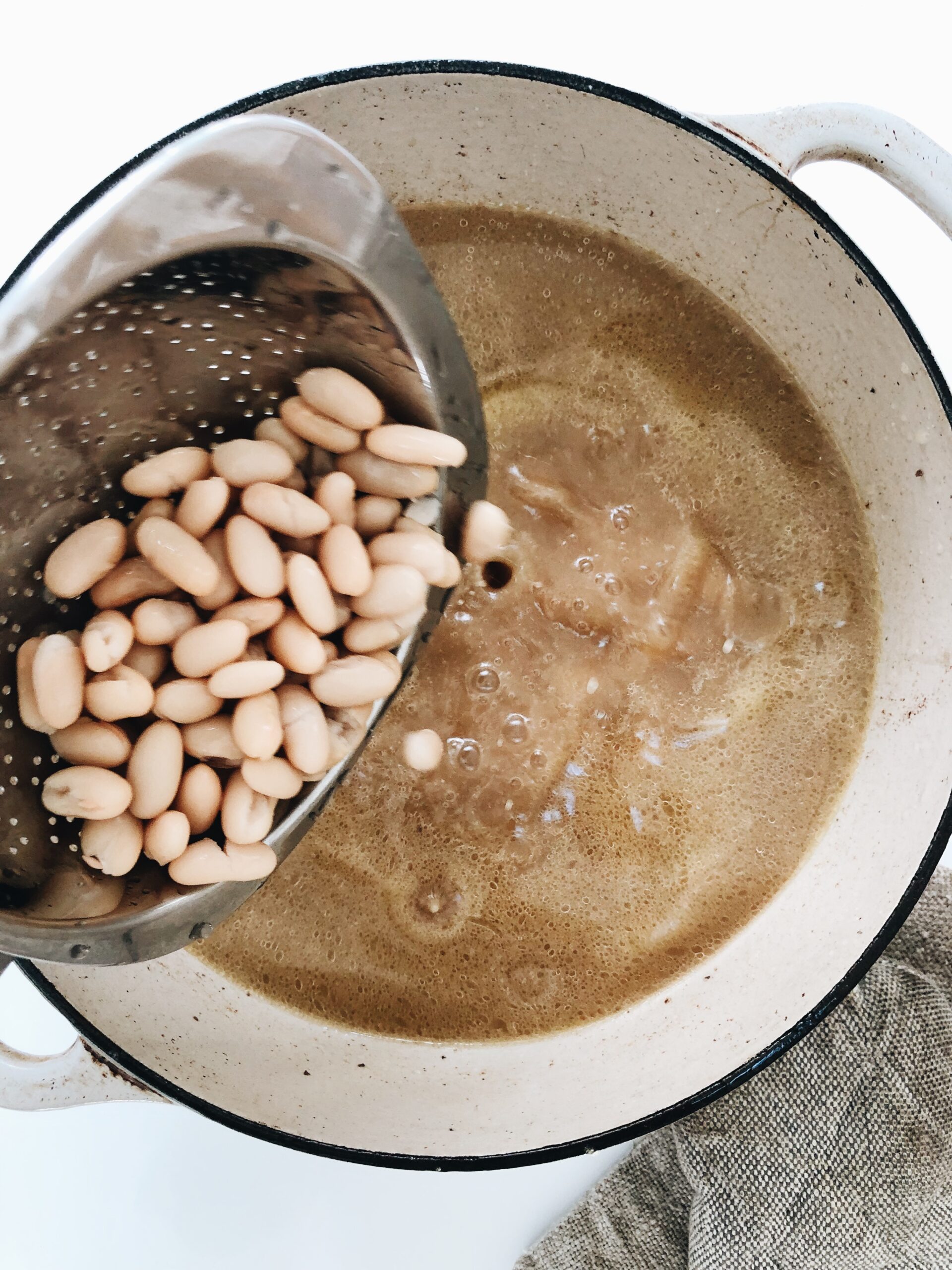 Let's just add the creamy cannellini beans while we're rolling here. After you add it, bring the whole pot to a light boil. You know how the little bubbles appear around the sides first? RIGHT, when you see those side bubbles start to rumble, you're good.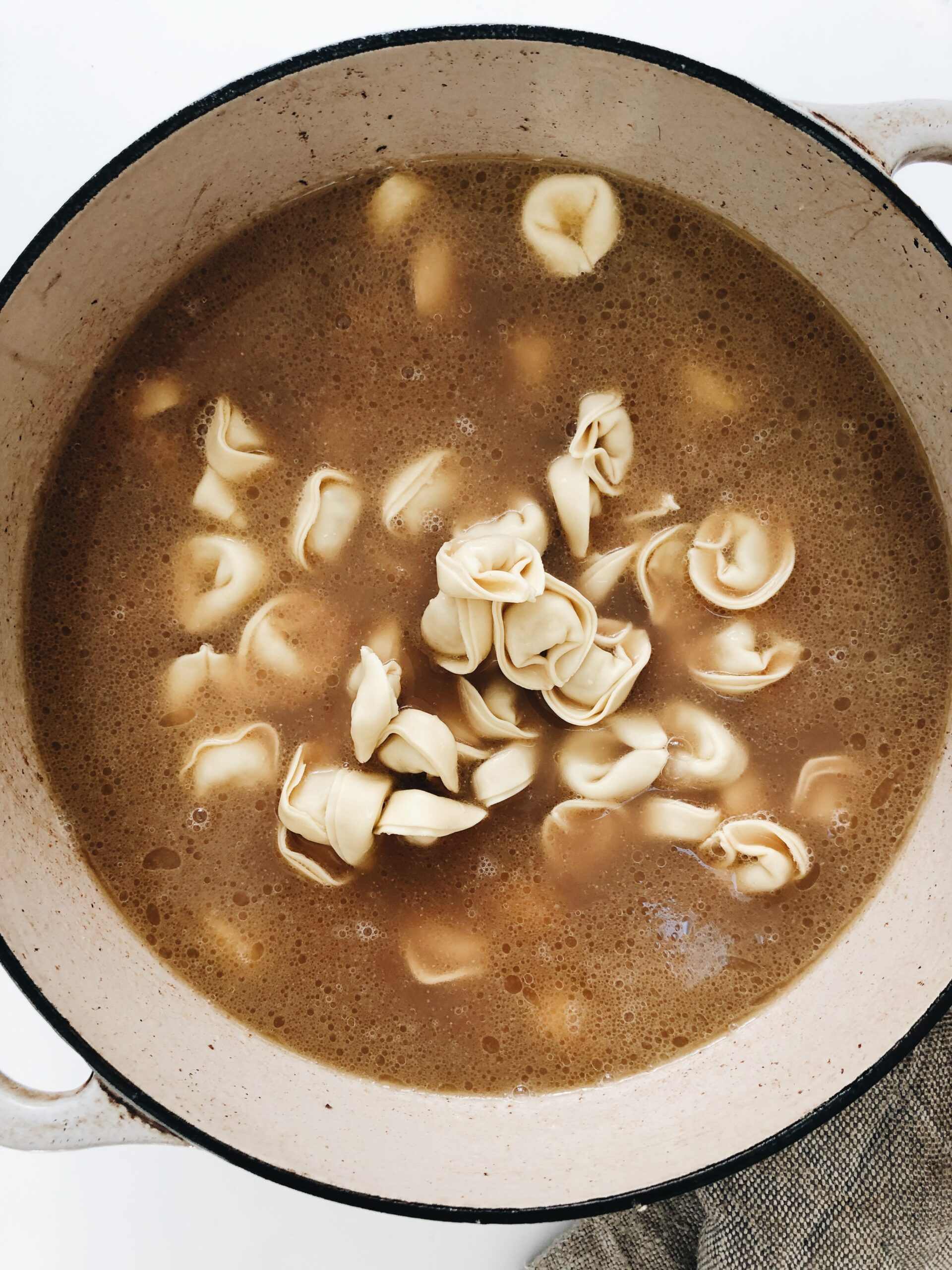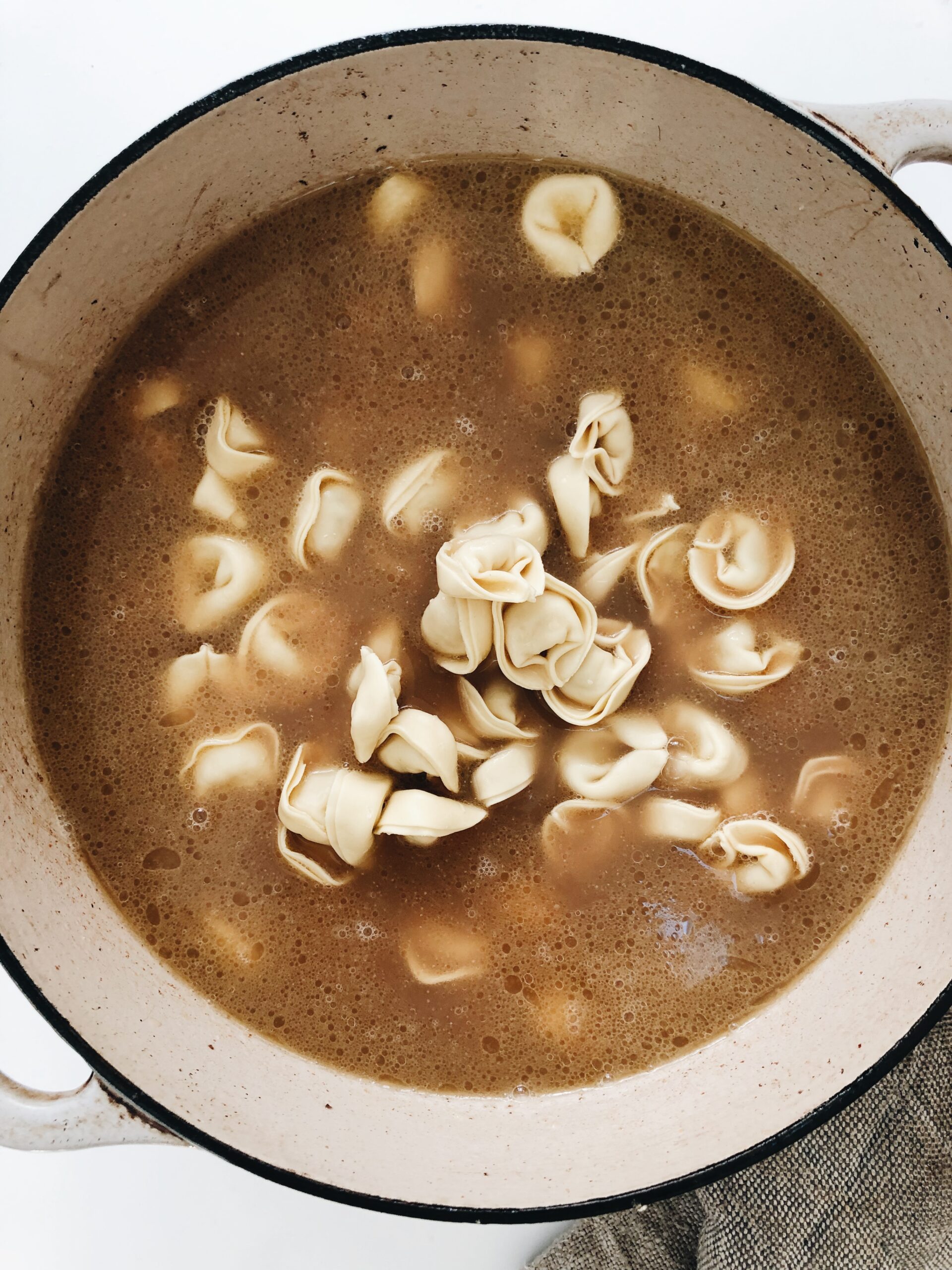 Then add your cheese tortellini! Hi, more creaminess and luxuriousness. And honestly, I love the texture of these. I tell the kids they're pasta purses with a fancy cheese treat inside. Works every time.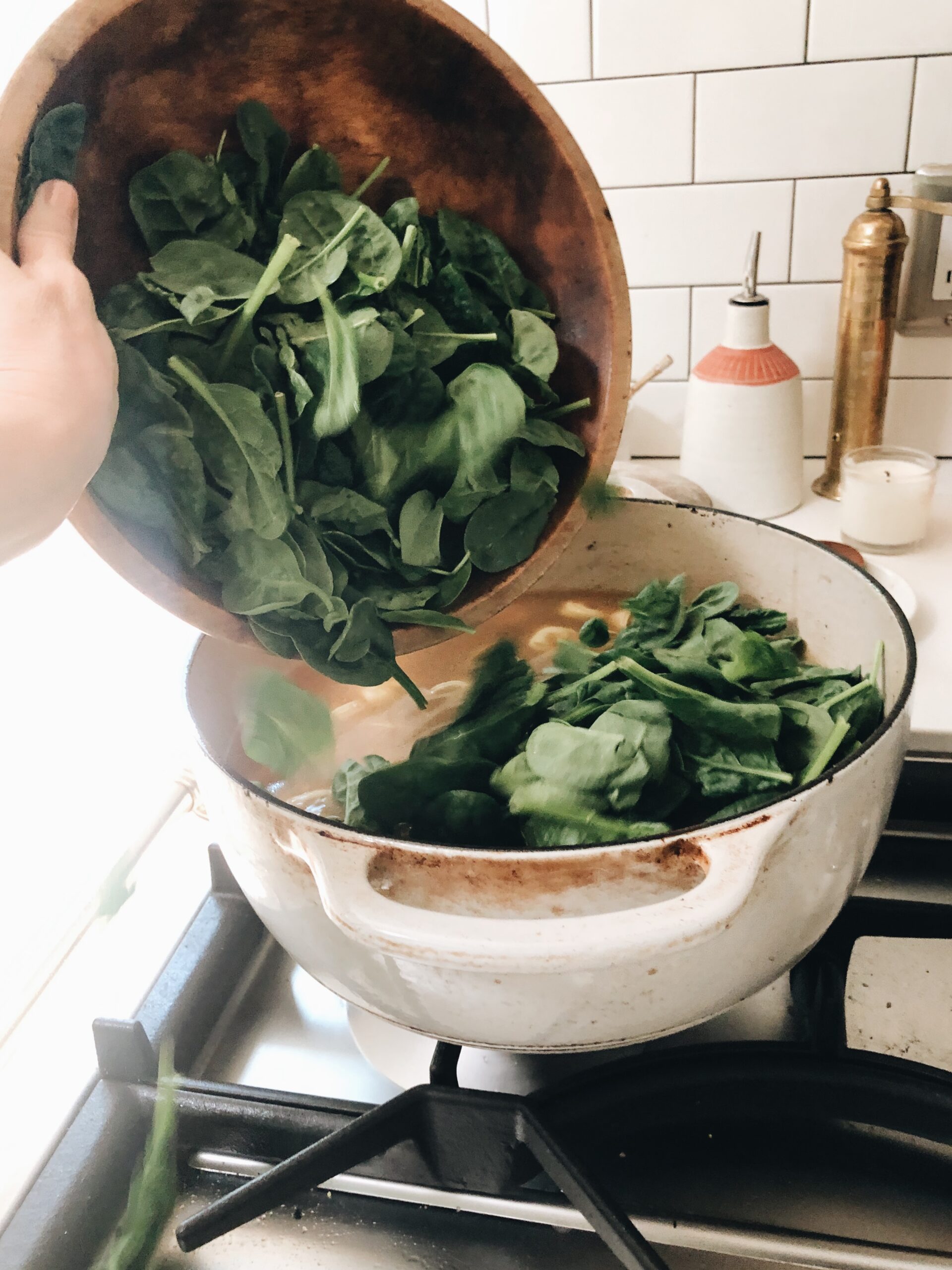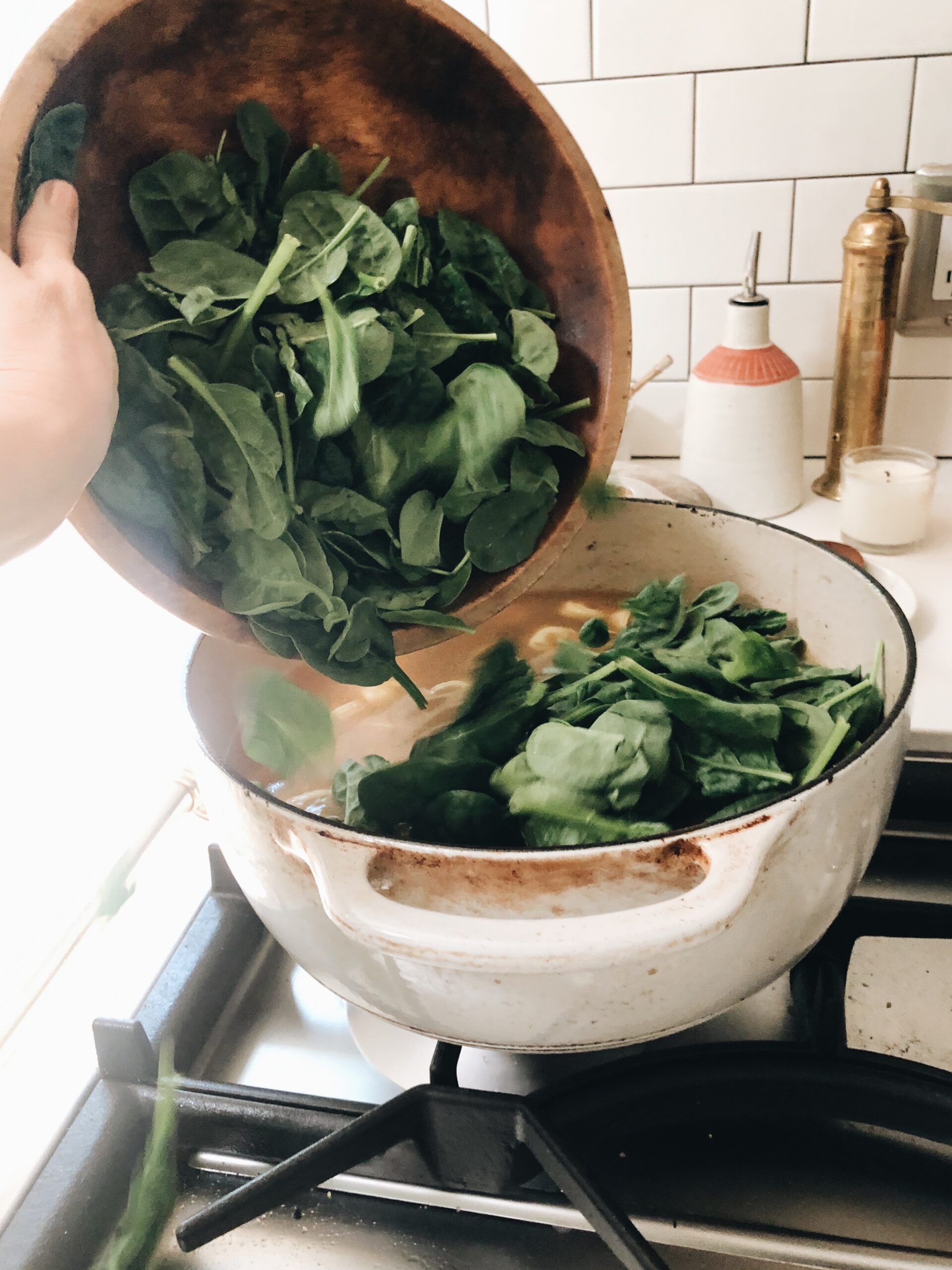 Now we'll add our salad! I mean our spinach. Toss it in.
What you CAN do is add it little by little, and watch it wilt in stages. Or just violently dump it all in at once and laugh at the spinach mountain upon you.
This takes less than five minutes to wilt, and the tortellini will plump and soften at the same time, so you're seriously set in no time.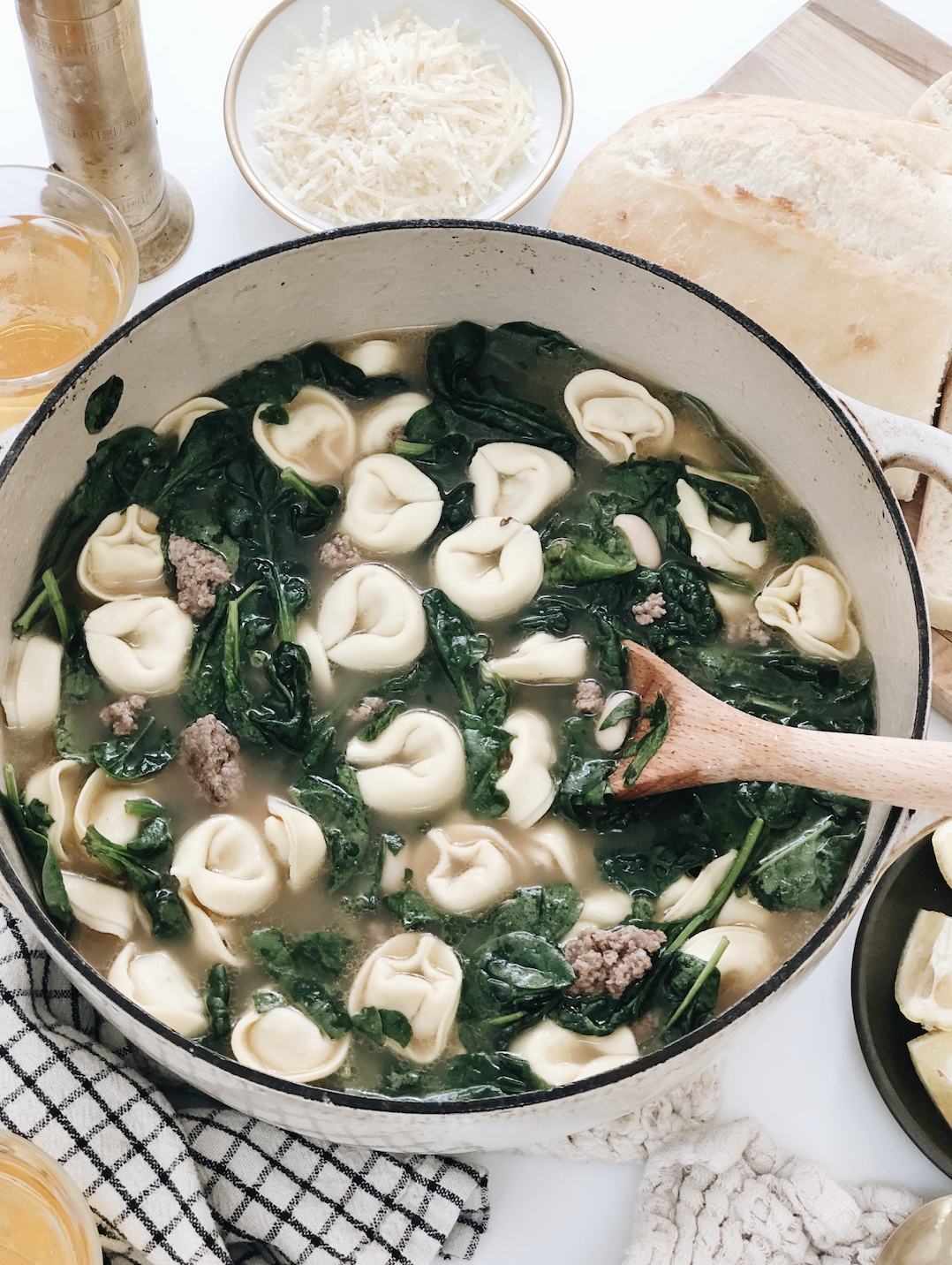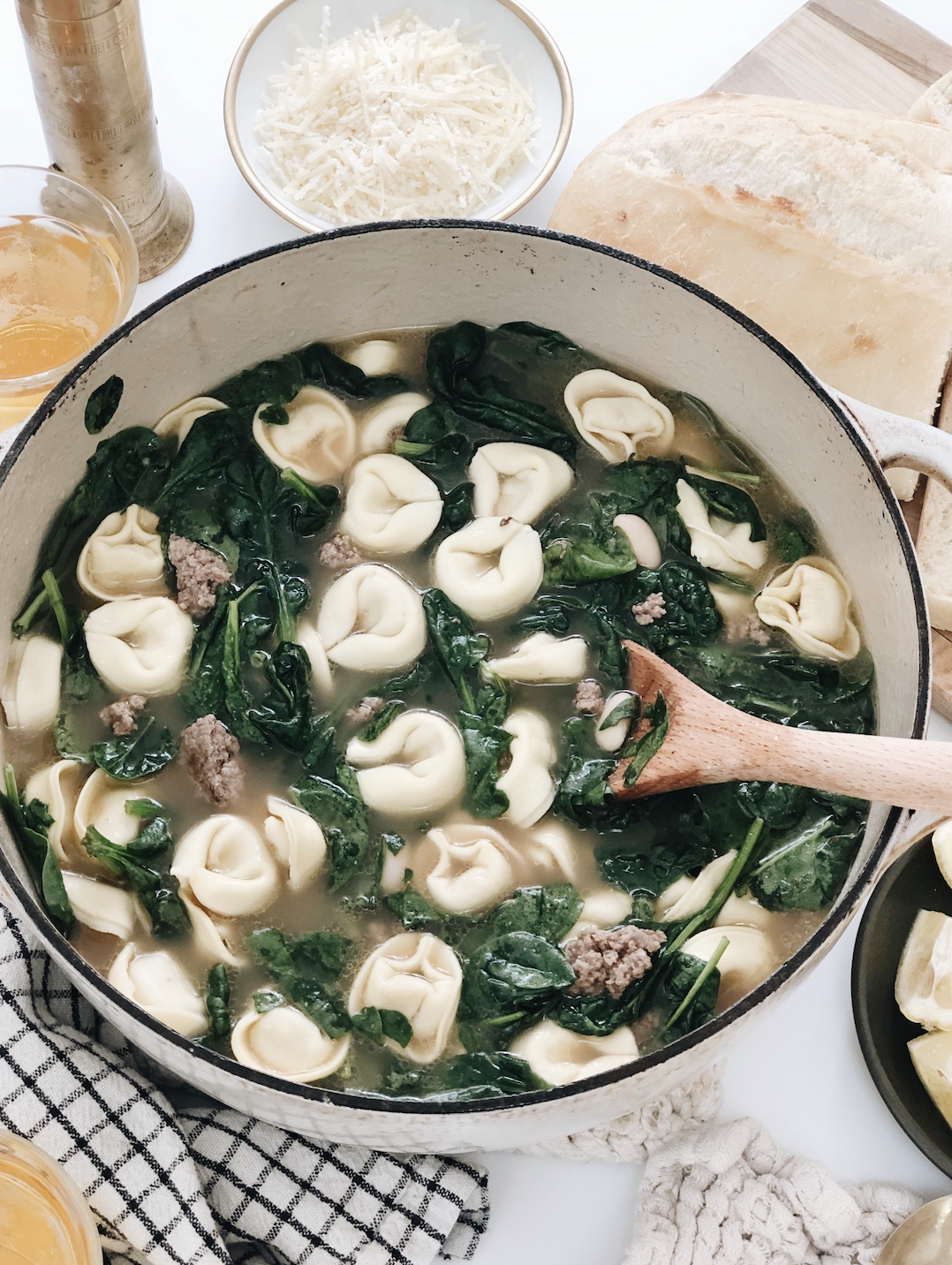 And voila, our beautiful slurp session awaits.
It's absolutely scrumptious, but listen to what you have to do! Taste it. ADD THE LEMON. Add half now and then serve the wedges at the table. And salt a little as you go. Build the flavor in stages and get it tweaked just right before you ladle and serve.
So good! Has a lot going on, considering how little we did. Bravo, ALDI. You made us stars!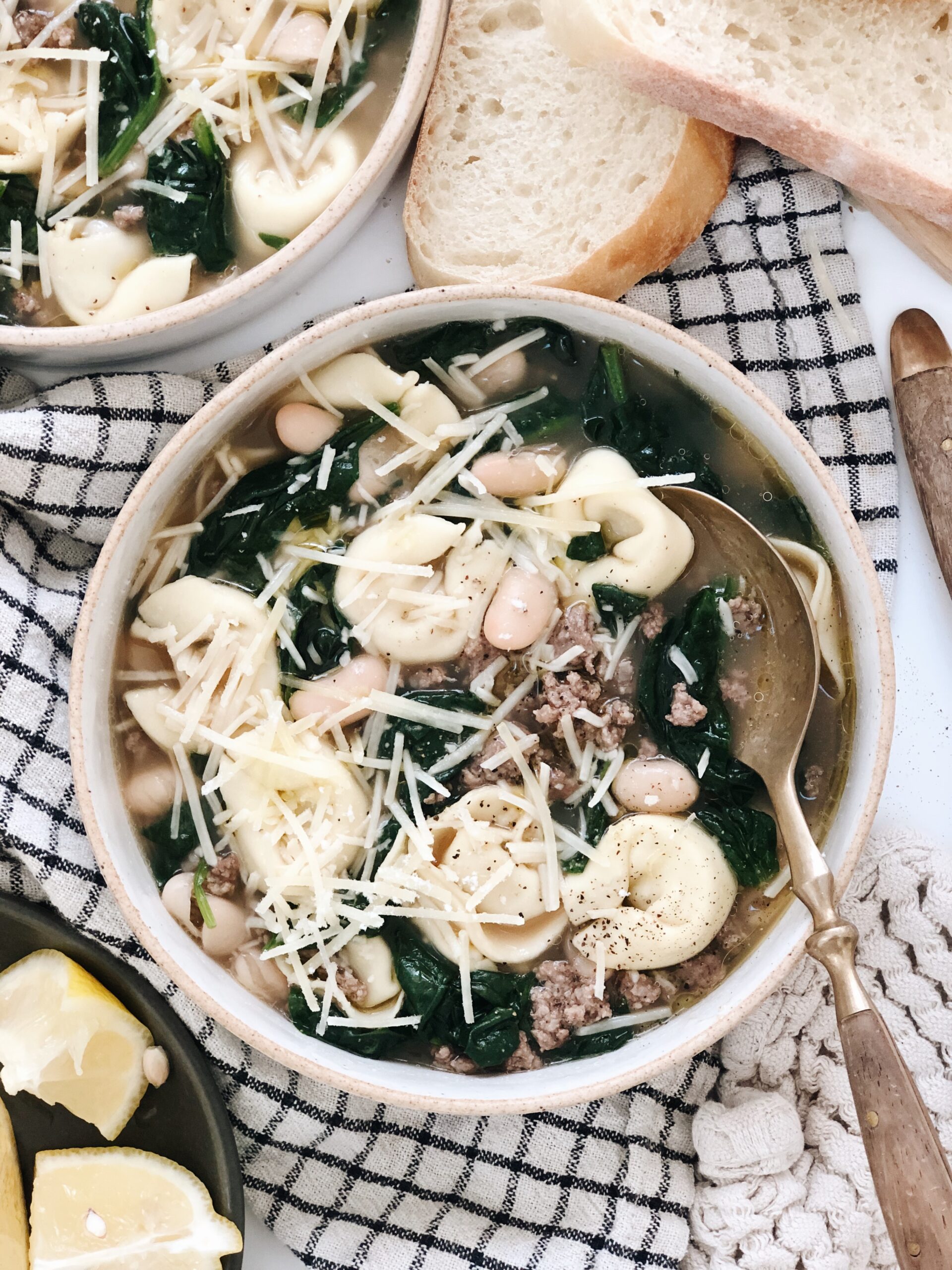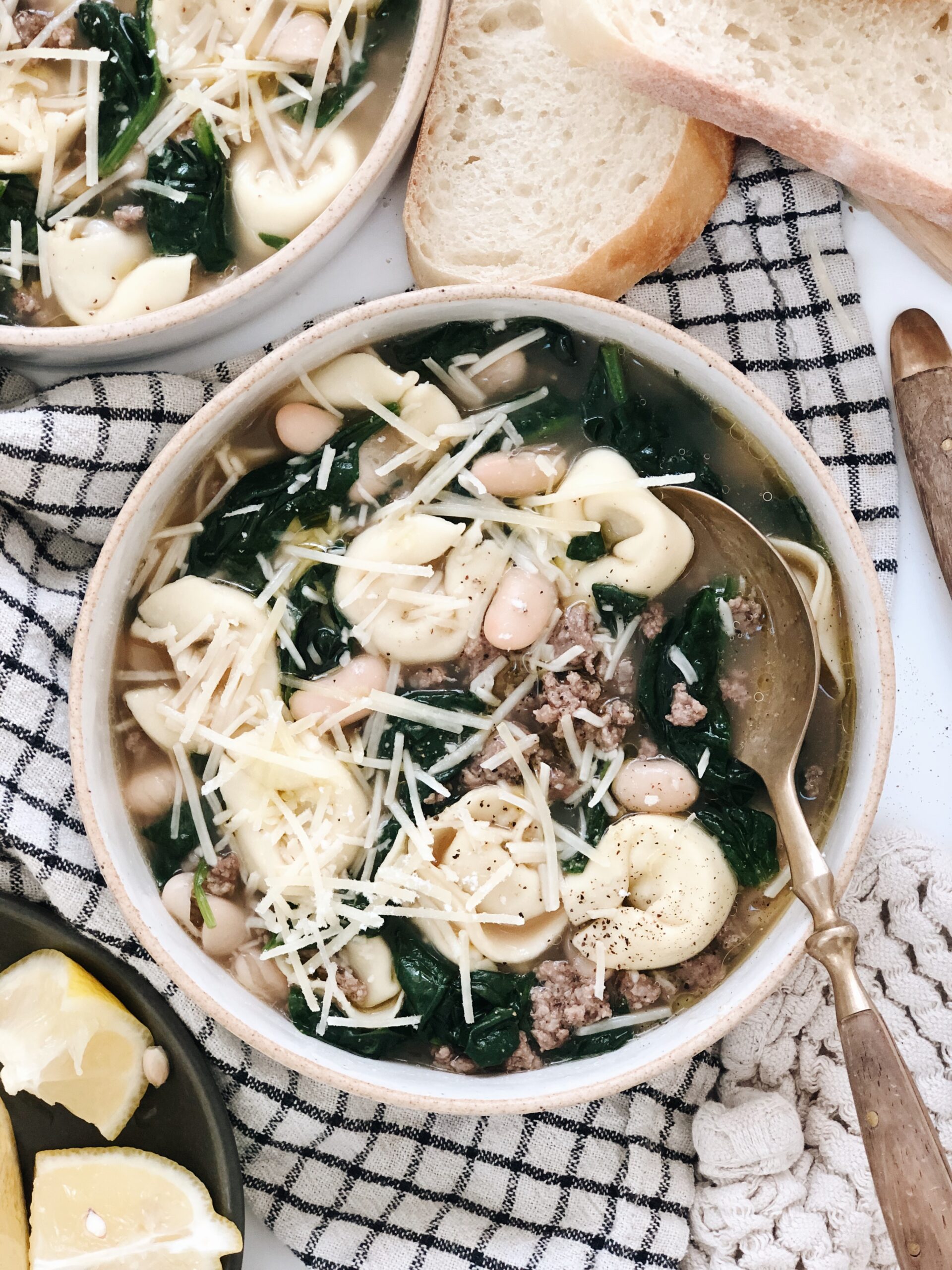 Remember the cheese, omg. The parmesan for garnish. And the crusty bread! Toast it and dunk it.
And squeeze a little lemon as you go. It's divine. I'm already obsessed and I've only had it thrice.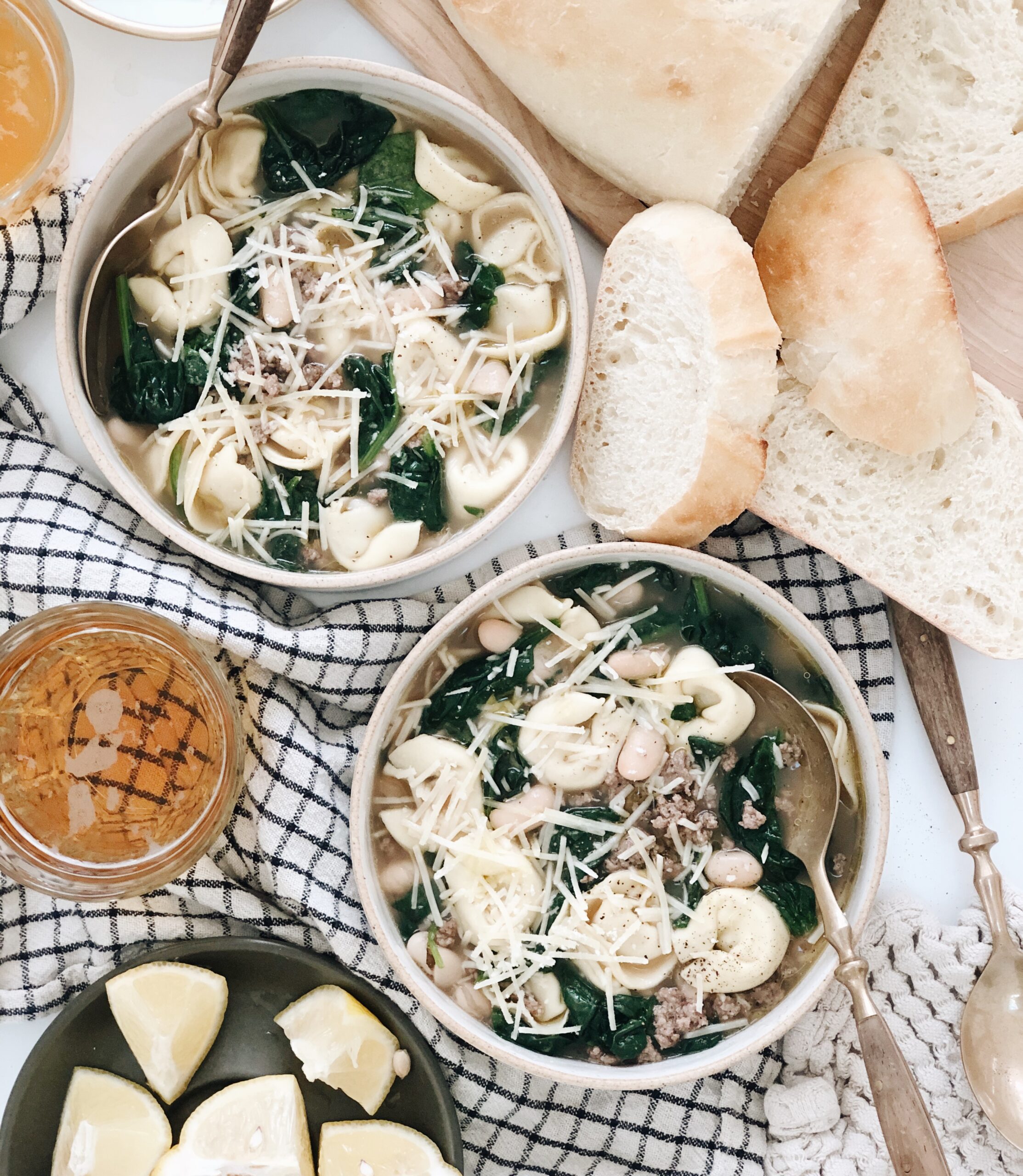 Beefy, cheesy, beany, pops of lemon, earthy spinach, beautifully brothy. The kids will go bonkers for it.
AND, the thing is – it's great for a weeknight, but comforting enough to serve if you have some friends over on a weekend.
Whatever you do, just make it!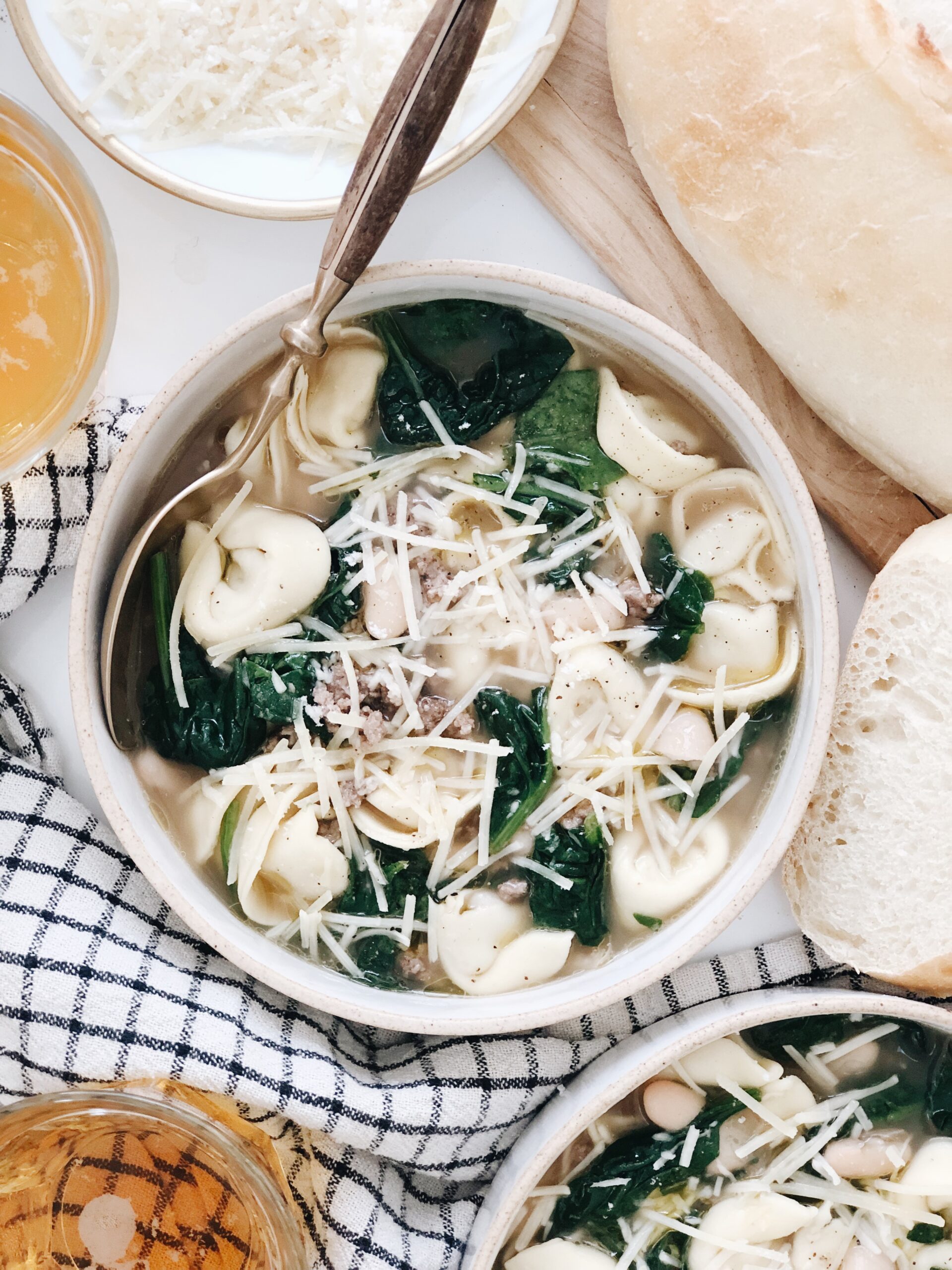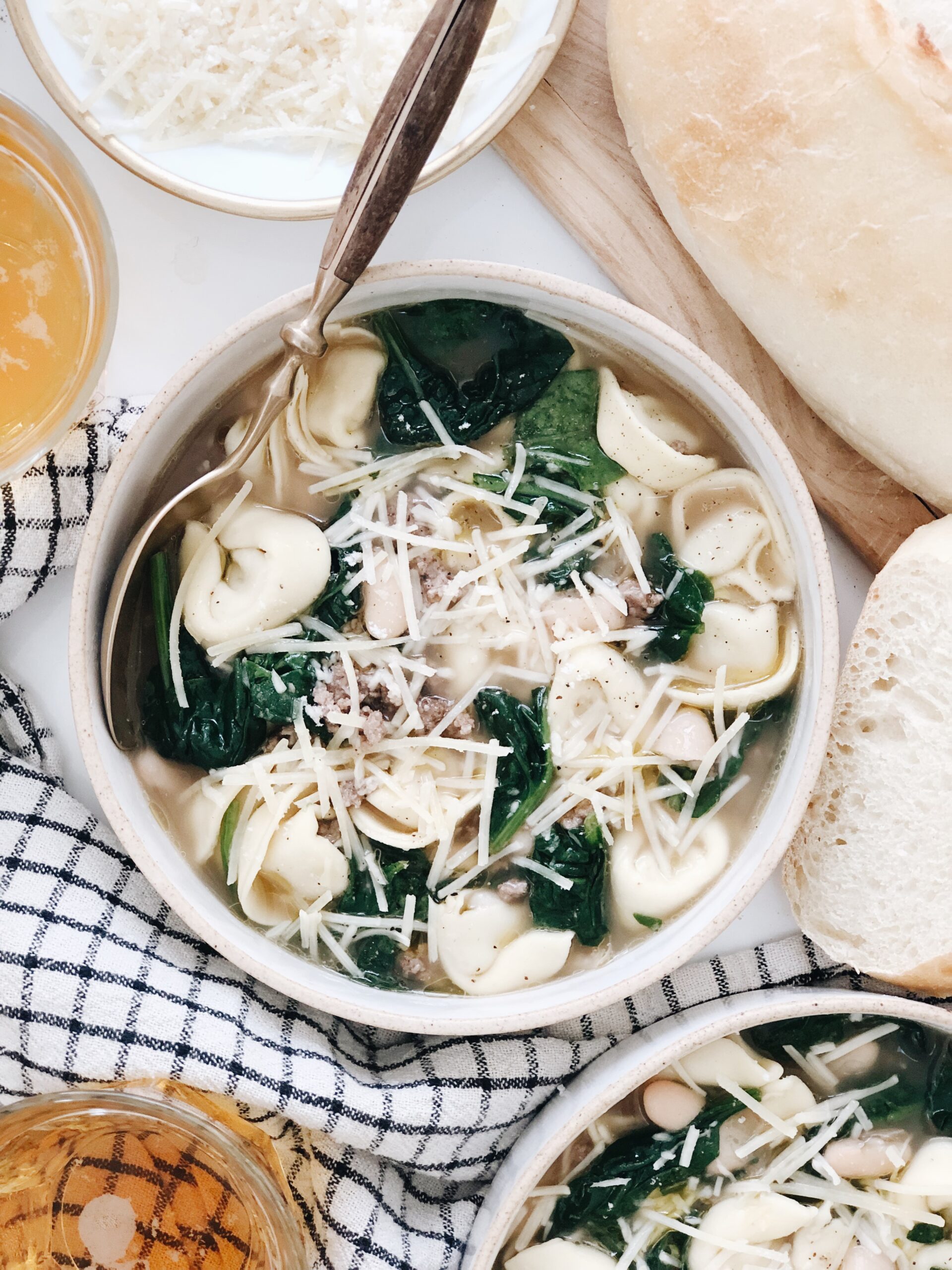 Slurp season is now upon us.
Cheese Tortellini Soup with Beef and Spinach
Ingredients
1 pound Simply Nature Organic 100% Grass Fed Ground Beef
2 tsp garlic powder
2 tsp onion powder
8 cups (2 quarts) Simply Nature Chicken Bone Broth
1 (15.5 oz) can Dakota's Pride Cannellini Beans, drained and rinsed
1 (20 oz) Priano Three Cheese Tortellini
1 (5 oz) Simply Nature Organic Baby Spinach
1 lemon
Emporium Selection Parmesan Cheese, for garnish
Coarse salt
Toasted crusty bread, for serving
Instructions
Heat a large soup pot to a medium-high heat. Add the ground beef and cook, breaking up with a wooden spoon, until no longer pink, just a few minutes. Add the garlic and onion powder, along with a good pinch of salt. Stir to blend the seasonings in. Add the chicken stock and beans. Give the soup another pinch of salt, and bring this to a light boil. Once it's boiling, reduce the heat and add the cheese tortellini and spinach. Simmer for three to five minutes, letting the tortellini plump up and the spinach wilt.
Taste it. Need more salt? Flip the heat off and squeeze half the lemon in. That should wake it up!
Ladle the soup into shallow bowls, garnish with parmesan cheese, extra lemon wedges and maybe a drizzle of extra-virgin olive oil.
Serve with crusty bread!
Serves 6-8.
Prep time: 5 minutes
Cooking time: 20 minutes
Cooling time: really as long as you need!
7.8.1.2
526
https://bevcooks.com/2021/09/cheese-tortellini-soup-with-beef-and-spinach/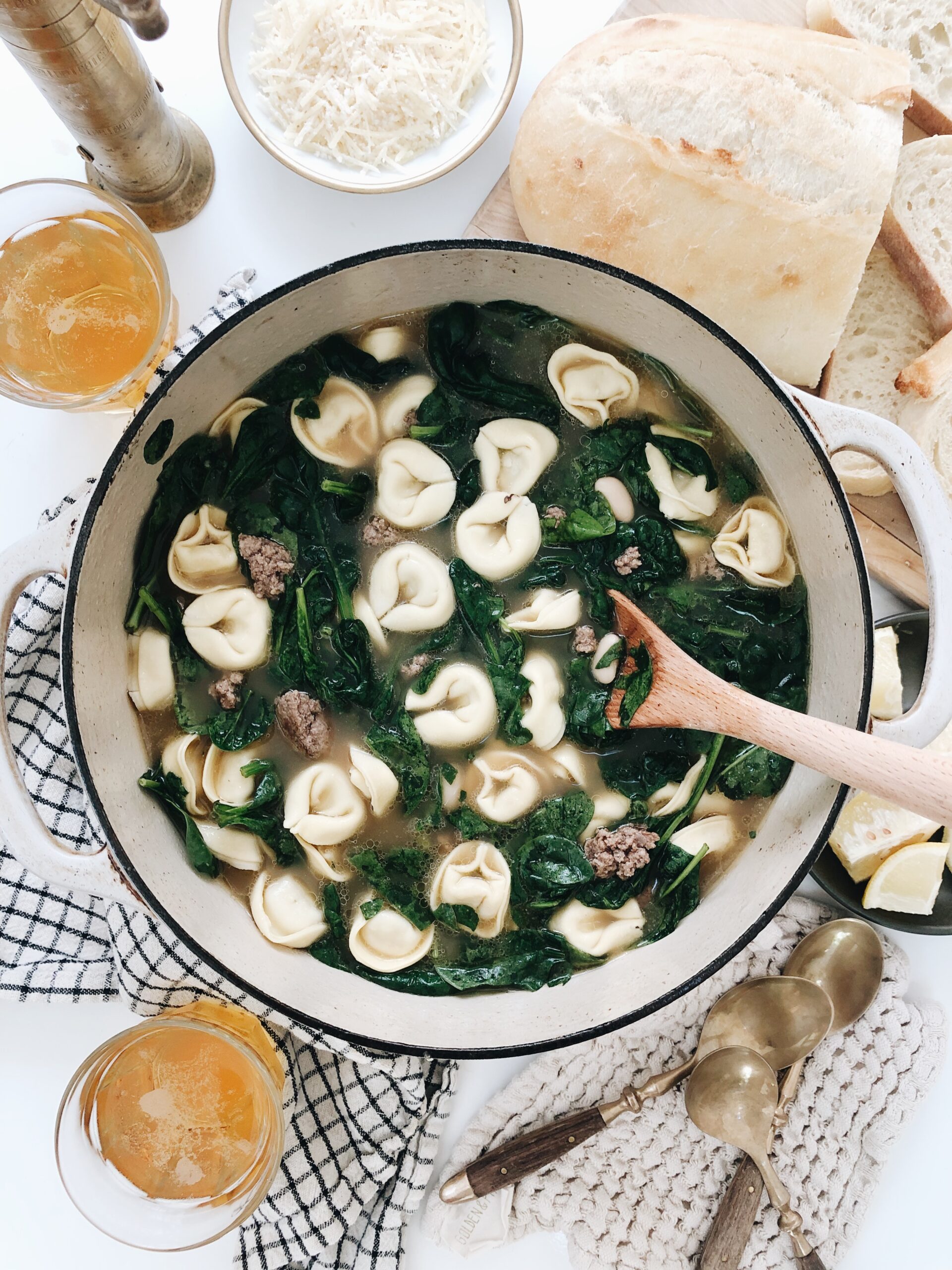 Slurp slurp.
(This post is definitely in partnership with my lover ALDI. But all opinions and inhalings are my own. We coo?)