Sweet babies that drink the morning dew this is it.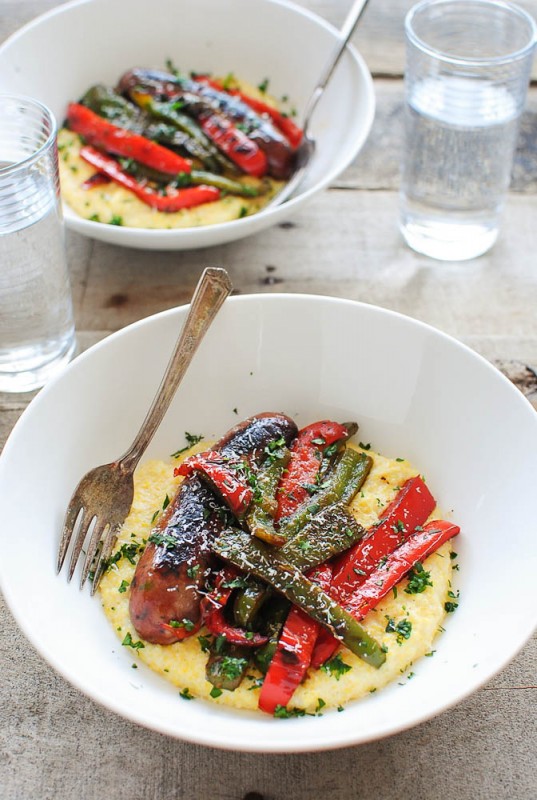 I have now officially decided that I would like creamy parmesan polenta to coat the inside of my mouth, body, mind and soul, forever and ever.
Oh and, that whole babies that drink the morning dew thing? Would you believe me if I told you that I was like 22 years old when that image first struck my brain hole? It was an early spring morning back in 1999 (hence the morning dew part), and I was lying in bed in a little apartment in Fayetteville, Arkansas, when suddenly and randomly I imagined tiny little diapered babies swinging from tree limb to tree limb, tipping dark green leaves with huge droplets of morning dew into their little heads. Happy, gleeful, nourished. I'm not sure why I had that vision that morning. Maybe to remind me to seize each day? Maybe to help me stop and smell all of the roses? Maybe to instill in me the desire to lead a well balanced life with an even ratio of adventures vs. safety, and to be okay with my unfortunate mane of insane hai – OH CRAP we were talking about polenta.
I love, love, love, love, love meals like this. With a capital S. Why? Mostly because I'm lazy and am a real stickler to a schedule and if I'm not on the couch by 6pm watching Friends I get a little cranktankerous.
But listen, if you're looking for a meal that will have you singing The Hills Are Alive in fluent Bengali, look no further. I have just the meal for you. (said like Stefon on SNL. I even have my hands over my mouth right now.) Yes yes yes yes yes yes. This meal has everything. Polenta so soft you can form a 10-foot slip 'n slide out of it and belly flop naked down a mountain in Peru; chicken sausages so packed with flavor you'll want to attach them to a hook in the ceiling and hurl your body at them like punching bags; sautéed bell peppers so colorful and seared you'll throw them above your head and let them gently fall all over you, in slow motion, just like that crazy roses/bed scene in American Beauty. (hands back over mouth.)
Less than 30 minutes to make, cheelahs.
Comforting, creamy, EASY.
I like it.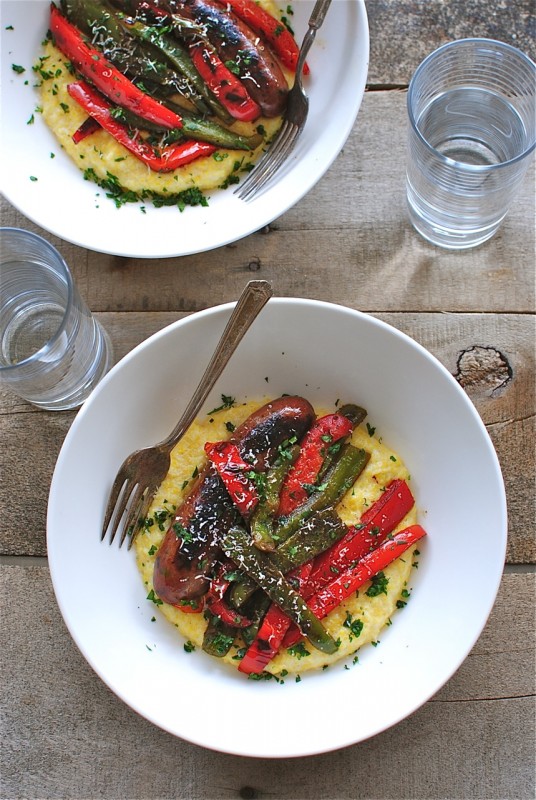 Oh yeah I do.
Creamy Polenta with Chicken Sausages and Peppers:
What it took for 4:
* 1 cup polenta (ground cornmeal)
* 2 cups milk
* 1 cup water
* 1/3 cup freshly grated parmesan, plus more for garnish
* 2 Tbs. butter
* 1 pinch coarse salt and freshly ground pepper
* 4 chicken sausages (your favorite flavor!)
* 1 Tbs. extra-virgin olive oil
* 1 red bell pepper, cut into thin strips
* 1 green bell pepper, cut into thin strips
* cilantro leaves for garnish
In a medium saucepan, add the milk and water. Bring to a medium heat and add the polenta. Whisk continually until it becomes thick and creamy, pulling away from the sides of the pan. Off the heat, add the cheese, butter, a pinch of salt and pepper. Whisk to melt and combine.
In the meantime, add the chicken sausages (they'll be fully cooked) to a medium skillet over medium-high heat. Brown all over, about 8 minutes total. Remove sausages from pan and cover to keep warm.
Back in the pan add the oil and sliced peppers. Sauté until the peppers have softened and are slightly charred all over. Toss in a pinch of salt and pepper.
Ladle the creamy polenta into bowls and top with a mound of peppers, a sausage, some fresh cilantro leaves and another dusting of parmesan. OMG.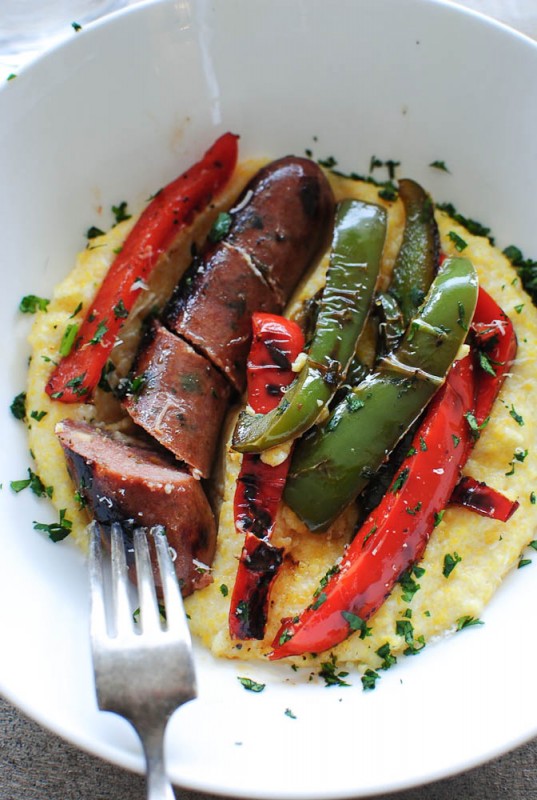 The babies that drink the morning dew told me they want you to eat this.