This is going to send you into a tailspin.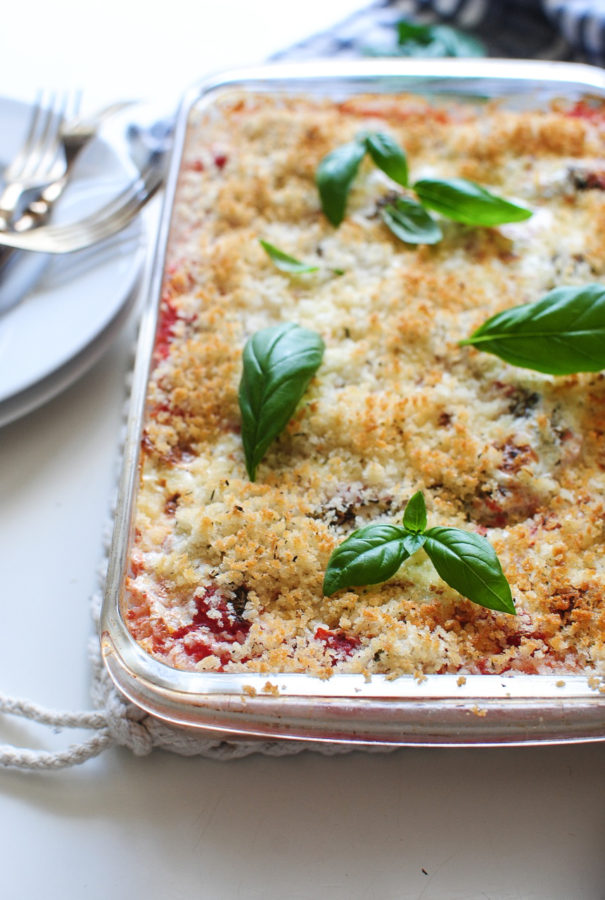 The cheesiest, chicken-iest, tomato-iest casserole HACK tailspin of yo' life.
I'm totally ripping myself in this recipe. But it's okay because before I came up with this dish, I told myself I was going to rip myself, and myself responded to myself and said, "Dude, totally fine. Just give me credit."
You know my obsession with throwing a bunch of raw and dried ish into a casserole dish, slidin' it into the oven and letting it all fall in love, get married and have casserole babies? Yep yep.  Just like this Greek chicken and rice version. 'Memba that?
Right. This is that, but the Italian version! Boomidy boom.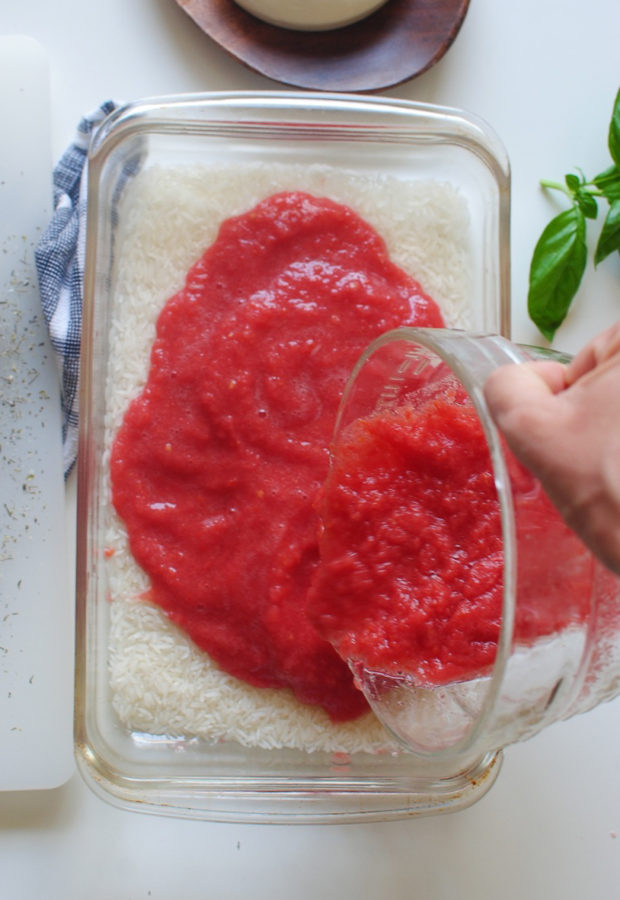 Plus, that tomato pulp heaven is straight from our backyard garden, so the flavor be like uuuuuuh.
So this is what you'll do. It's ludicrously simple, so prepare to want to punch your computer screen.
A cup of rice goes in the bottom of a casserole dish. About three cups of freshly pureed tomatoes will be poured right over the top, all over the rice. Just all in it. All in dat. (<–sorry)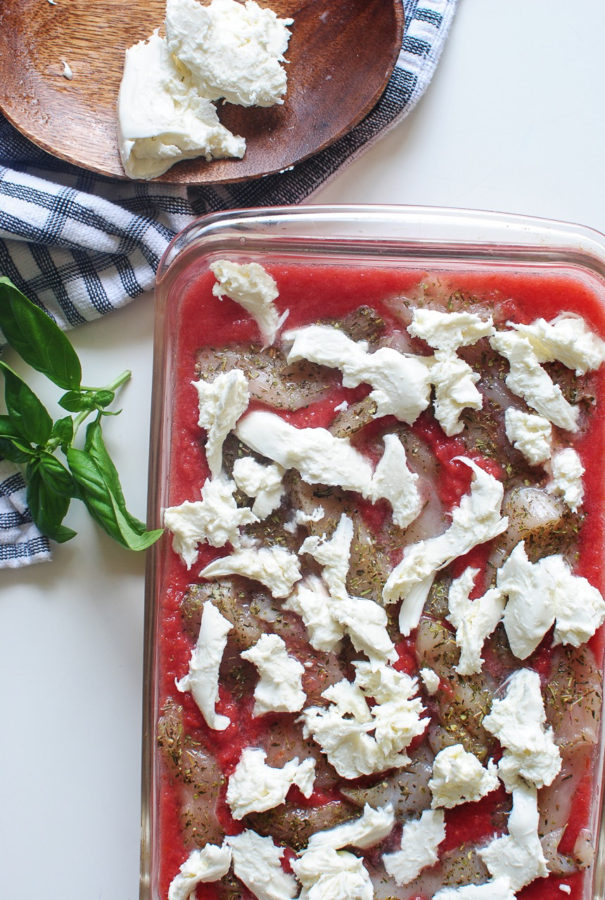 Yes, I'm showing you raw chicken, but it's for the greater good!
Seasoned chicken strips will be gently nestled and arranged on the tomatoes and rice. Just like baby birds in a nest. Except without the nest and the baby birds part.
Then you'll tear some fresh mozzarella cheese and just sort of scatter it over the top of the casserole. Go willy nilly. Get weird with it. No one's watching.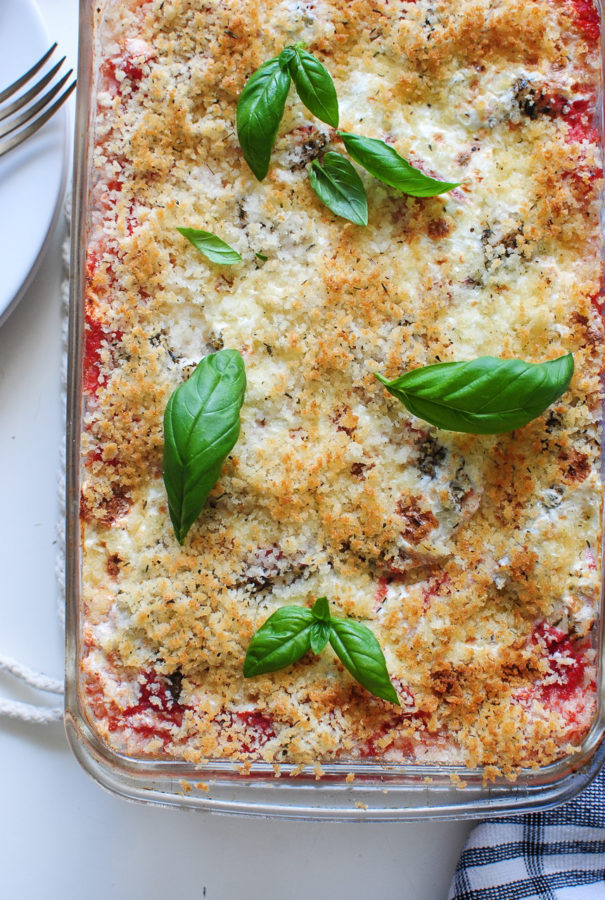 After 45 minutes of baking, flip the oven to broil and get the cheese good and browned and bubbly. Only take a nano, so do NOT WALK AWAY FROM THIS MOMENT. Sorry to scream at you.
Theeeen you'll sprinkle some panko (mixed with melted butter and Italian seasoning and a little bit of parm) all over the top, and pop her back under the broiler for seriously like a minute. Not long at all. Keep a watch on it! Like baby birds in a nes- right.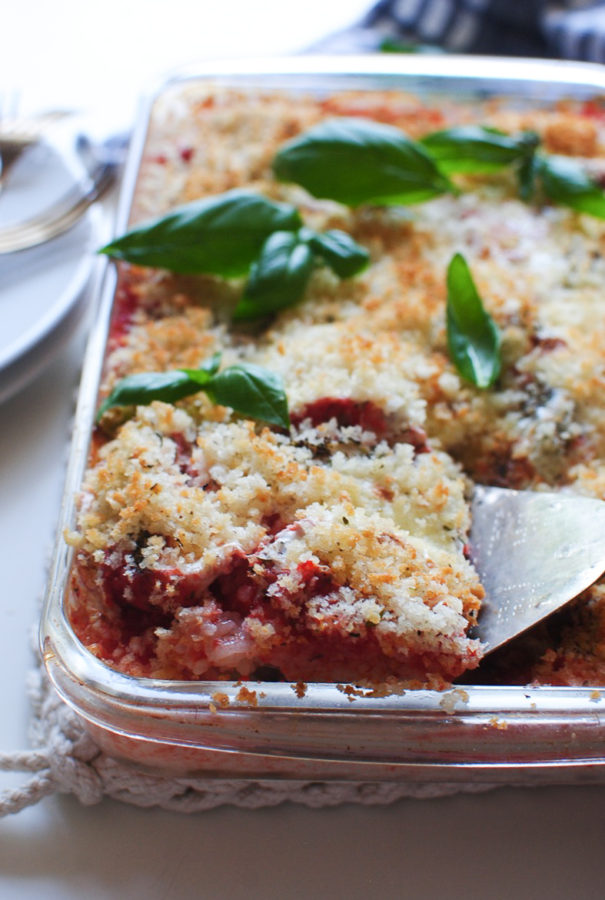 This photo isn't fabulous, but I can't even rightly care because you neeeed to seeee what you're in for.
The rice is perfect. It soaked up all the tomato saucejuicepulp stuff and is completely wonderful.
The chicken is cooked all the way through, but remains tender in all of that delicate tomato/rice biz.
The cheese is gorgeously melted and gives the whole thing sort of a caprese flavor! Matter of dang fact, I should call this the Caprese Casserole. Fresh mozz + fresh tomatoes + basil on top + casserole mania = slap me, Wanda.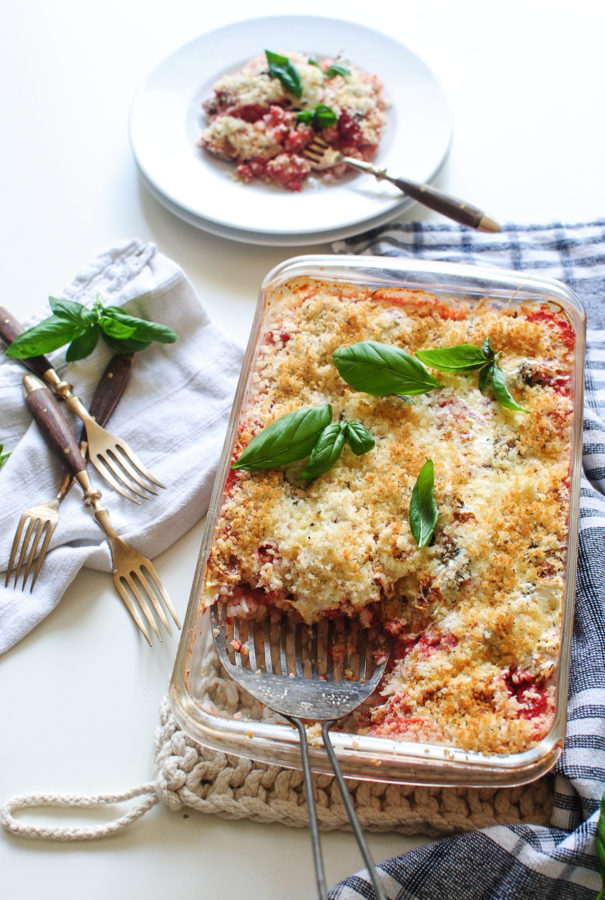 You seriously have to try this. If for nothing else, to say you made a Caprese Casserole.
PATENT PENDING.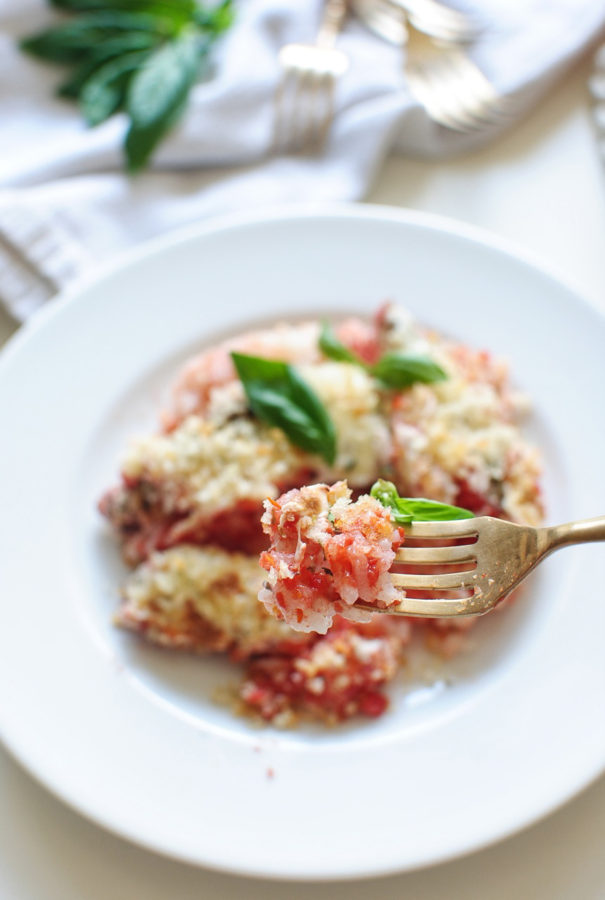 Would you just look at that.
Italian Chicken and Rice Casserole
Ingredients
1 cup jasmine rice
3 medium tomatoes, processed in a food processor (yielding about 3 cups puree)
1 pound chicken breast, cut into strips
1 Tbs. dried Italian seasoning, plus 2 more tsp
1/2 cup fresh mozzarella cheese, torn into pieces
3/4 cup panko breadcrumbs
2 Tbs. butter, melted
1/4 cup freshly grated parmesan cheese
coarse salt
basil for garnish
Instructions
Preheat oven to 350.
Arrange the dried rice in the bottom of a casserole dish. (8x12, 9x13) Evenly pour the tomato puree over the rice, covering all of it. Season the chicken strips with the Italian seasoning and a pinch of salt. Arrange over the tomatoes and rice. Scatter the torn mozzarella over the dish. Cover and bake for 45 minutes.
While the casserole bakes, combine the panko, melted butter, Italian seasoning and parmesan in a small bowl. Season with a tiny pinch of salt.
Remove the foil and flip the oven to broil. Cook until the cheese is browned and bubbly, only a couple of minutes.
Sprinkle the seasoned panko over the casserole, and broil for about a minute longer, until the panko is golden brown.
Garnish with fresh basil, and DISCOVER A NEW YOU.
And by that I mean, eat.
Serves four.
7.8.1.2
36
https://bevcooks.com/2016/07/italian-chicken-rice-casserole/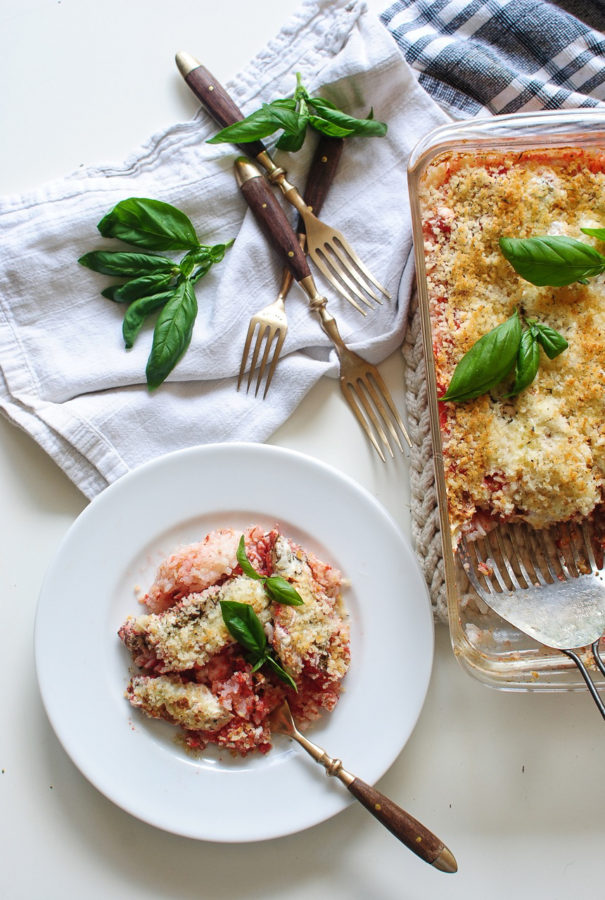 You didn't think I could stick summer in a casserole, did you?
Save
Save
Save
Save
Save