THIS.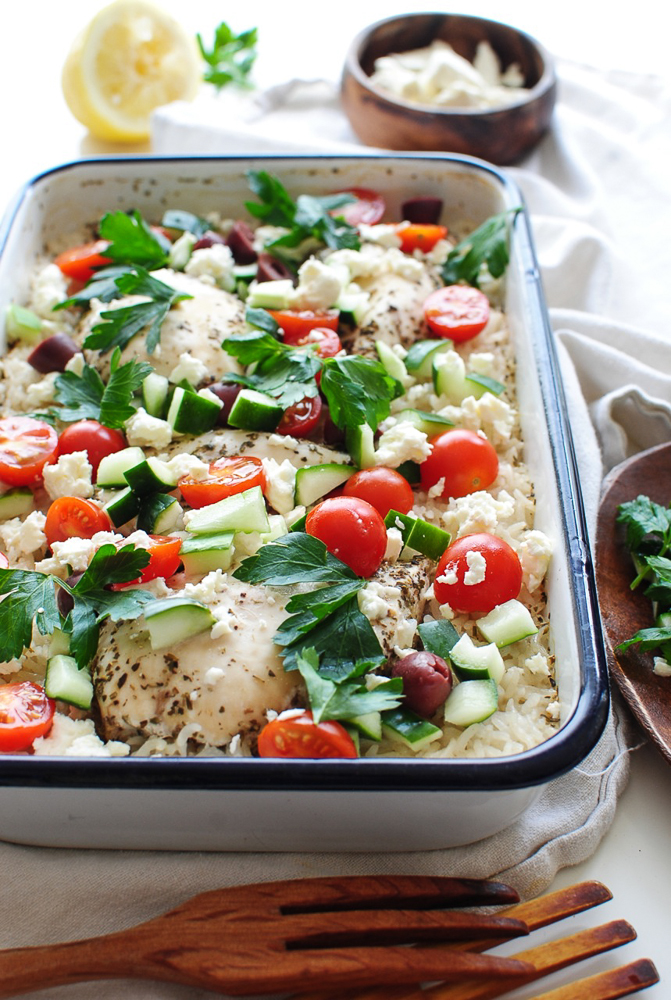 This this this this this. Even if you completely skip over this ridiculous blog post and head straight down to the recipe, I won't be offended because THIS. You fer realz need to eat this.
I hope showing you a photo of raw chicken is okay (<–rule breaker), because I want you to SEE with your own naked eyes just how simple this scrumptious weeknight casserole is to pull together. Raw everything + plus chicken stock = done and done and gah.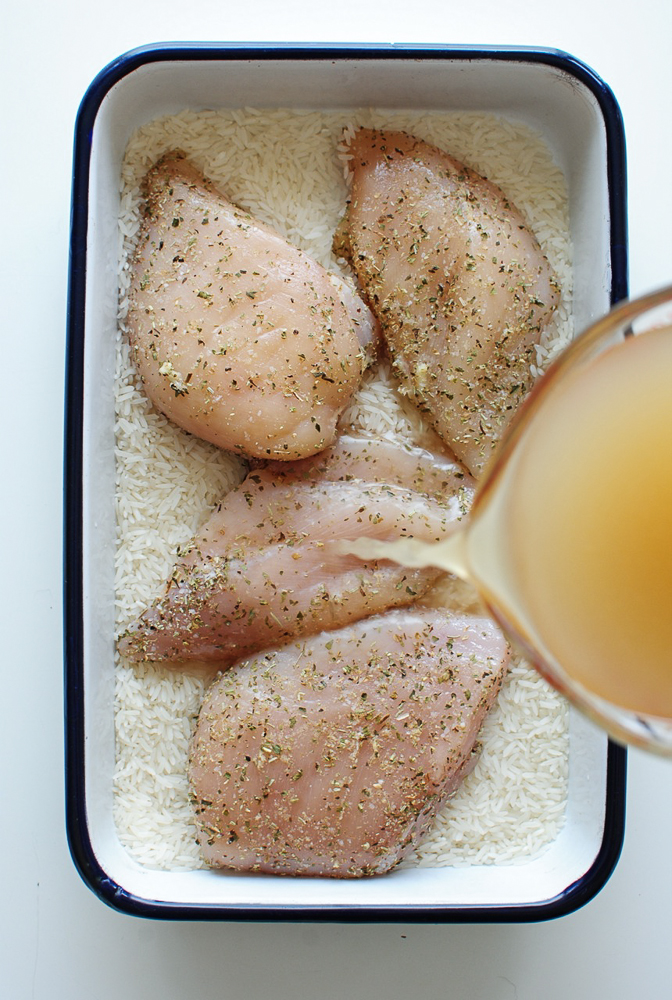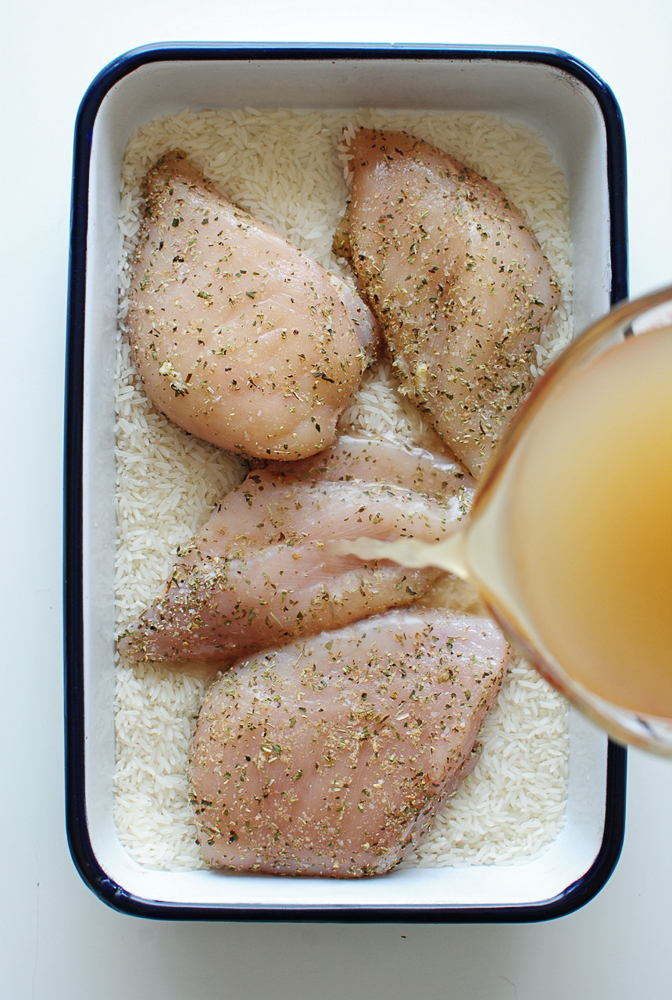 I guess raw rice isn't really a thing. I meant dried rice. But I couldn't say dried everything because chicken isn't dry. It's raw. So I went with raw. Thank you for your time.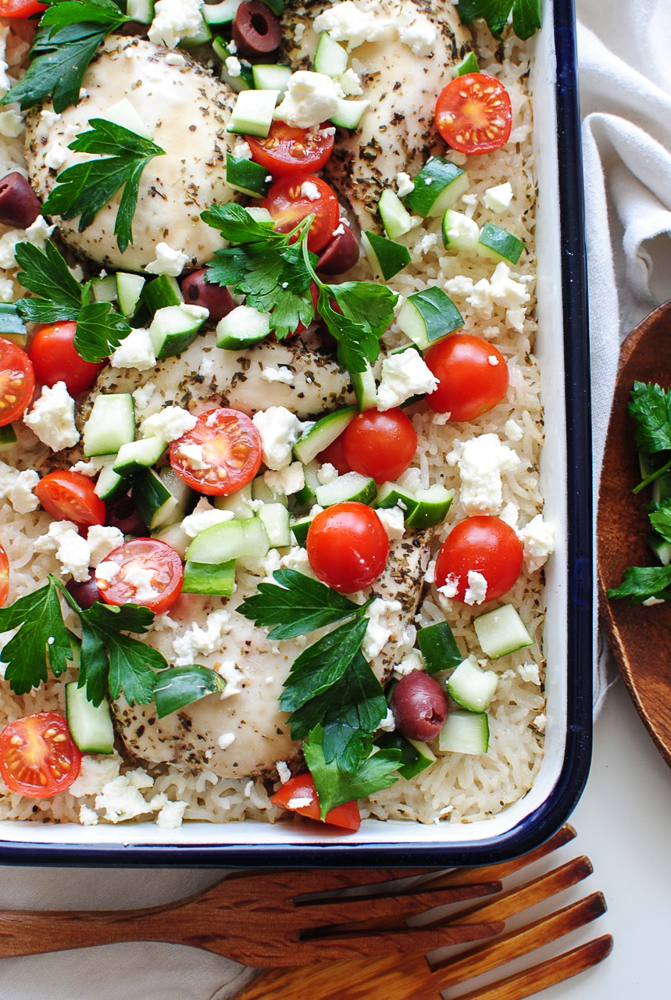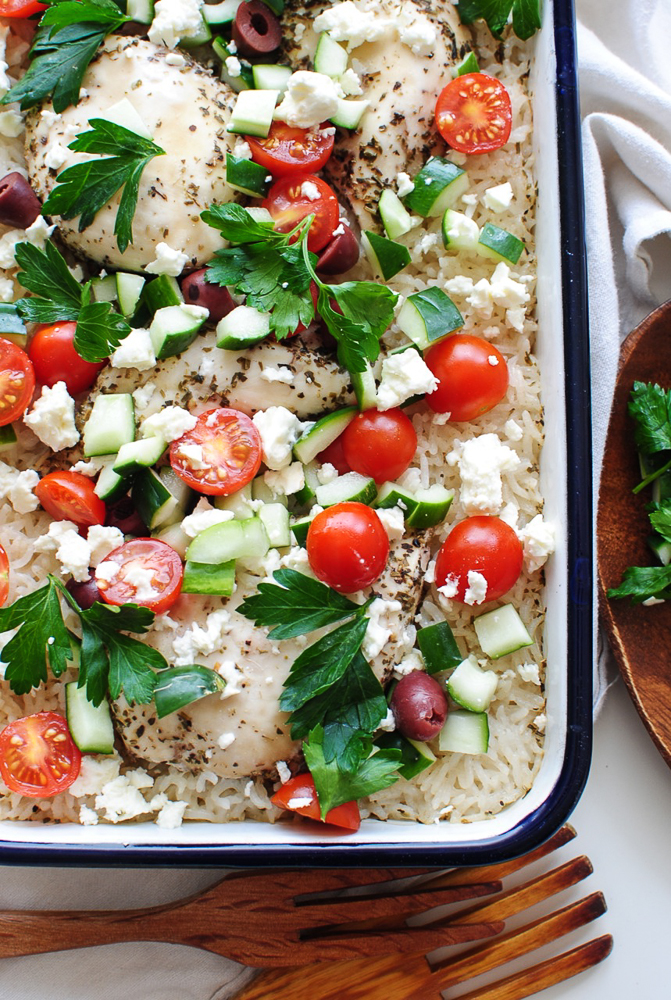 Would ya just look at that.
So after the chicken and rice bake together in an oven love nest, you just throw a bunch of Greekish toppings on top and call it a day. We've got crumbled feta, Kalamata olives, cherry toms, diced cucumber, lots of parsley, and fresh lemon. And it's CRAZY DELISH.
Oh! I should mention the spices. You can really play around with this, based on what you have in your pantry. And I encourage you to do so because self expression is important in life! I'm just kidding I have no idea.
I used a little bit of salt, some dried herbs, and a lil' pinch of onion and garlic powder. I feel like onion and garlic powder are the loop holes in life. They make EVERYTHING SO WONDERFUL.
Anything and everything that you're like, "Deeeeum, why does this taste like minced angels in my mouth?" It's most definitely onion and garlic powder. Trust meh.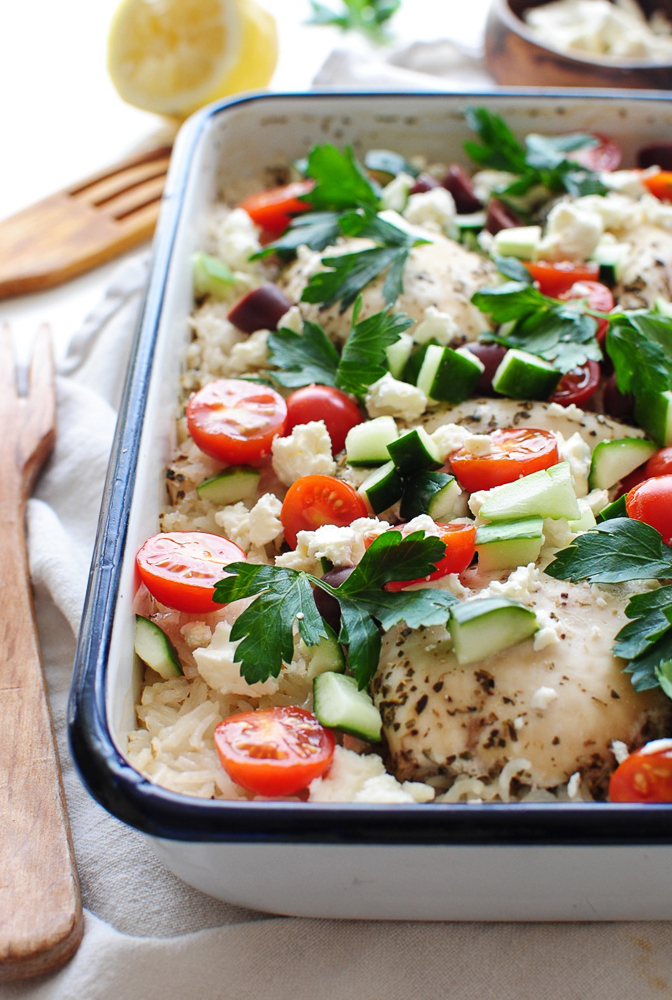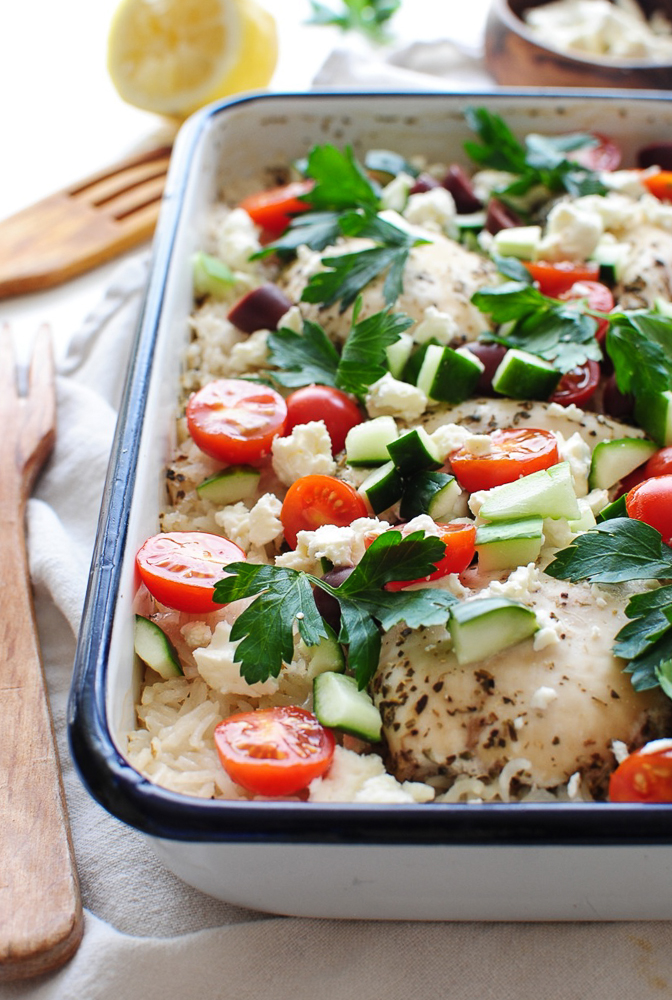 I love this casserole because it's, hi, a CASSEROLE. Comfy pants unite. But it's also topped with all the fresh. Go nuts with the toppings, or scale back, whatever you dig, bae.
I'd like to officially announce that this will be the last time I ever say or write bae.
I'm also lying.
Thank you.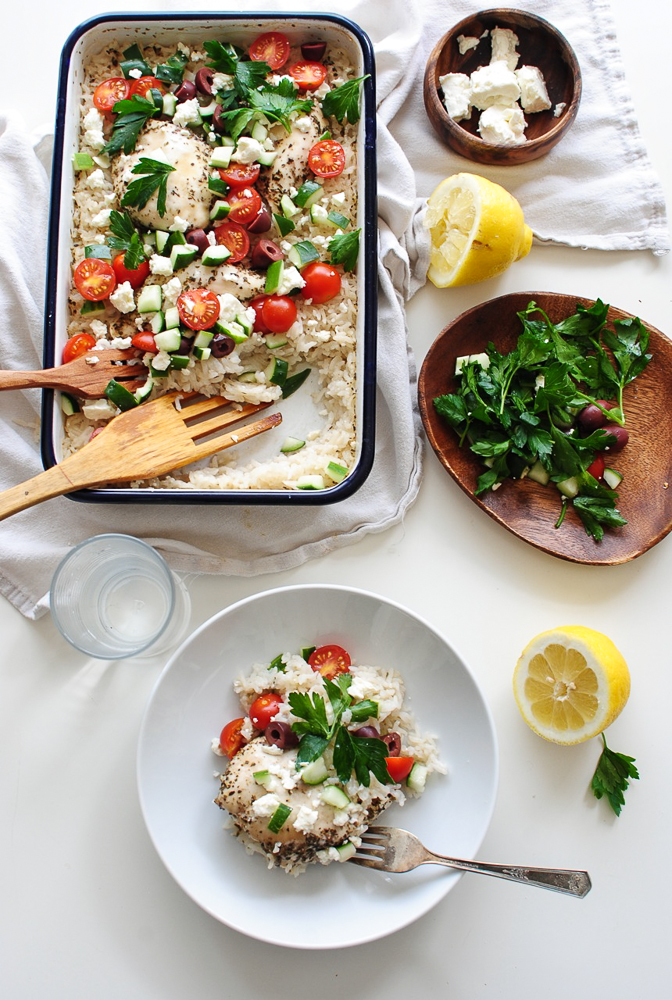 Greek Chicken and Rice Casserole:
What it took for four:
* 1 cup jasmine rice
* 2 cups chicken stock
* 1 1/2 pound chicken breast (about four)
* 1 tsp salt
* 1 tsp thyme
* 1 tsp dried oregano
* 1 tsp onion powder
* 1 tsp garlic powder
*1/2 cup crumbled feta cheese
* 1 cup (about) halved cherry tomatoes
* 1/2 cup diced cucumber
* 1/3 cup halved Kalamata olives
* fresh parsley leaves
* one lemon, for squeezing
Preheat oven to 350.
Pour the rice in the bottom of a casserole dish. (9×13 is fine. I used 8×12, but anything works around the 2 quart size!)
In a small bowl, combine the salt, thyme, oregano, onion powder and garlic powder. Rub all over the chicken breasts. Place the chicken on top of the dried rice. Evenly pour the stock over the chicken and rice. Cover and bake for 45 minutes to an hour, or until the rice is cooked through, but not mushy.
Once out of the oven, evenly sprinkle over the casserole the feta, cherry tomatoes, cucumber, olives and parsley leaves. Give the entire thing a good squeeze of lemon, and serve with extra lemon slices. YES.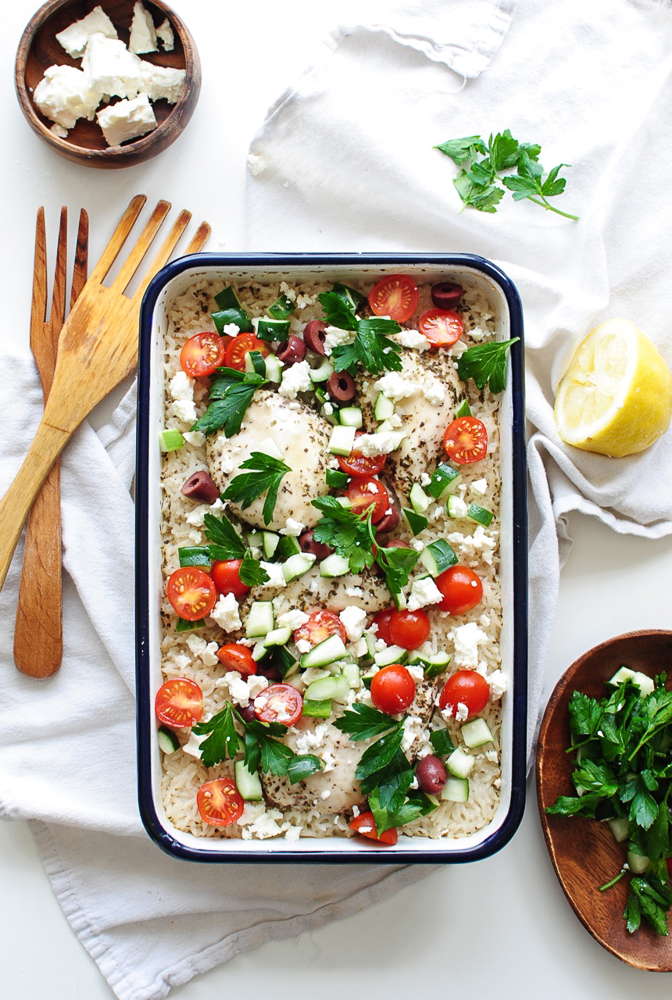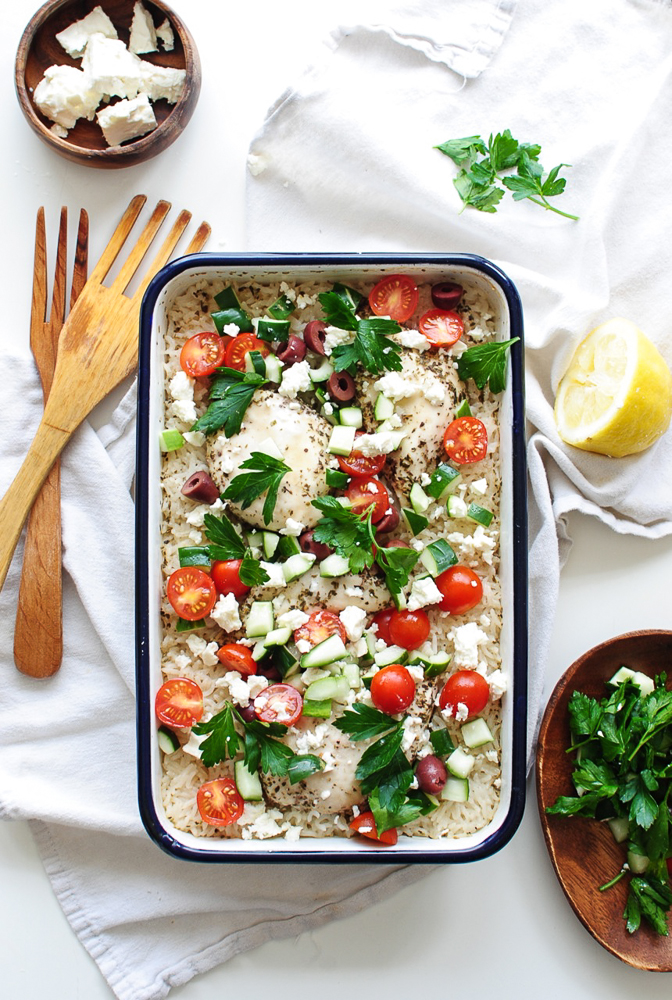 Oh just get in that.