I don't think you understand the level of deliciousness we're about to embark on here.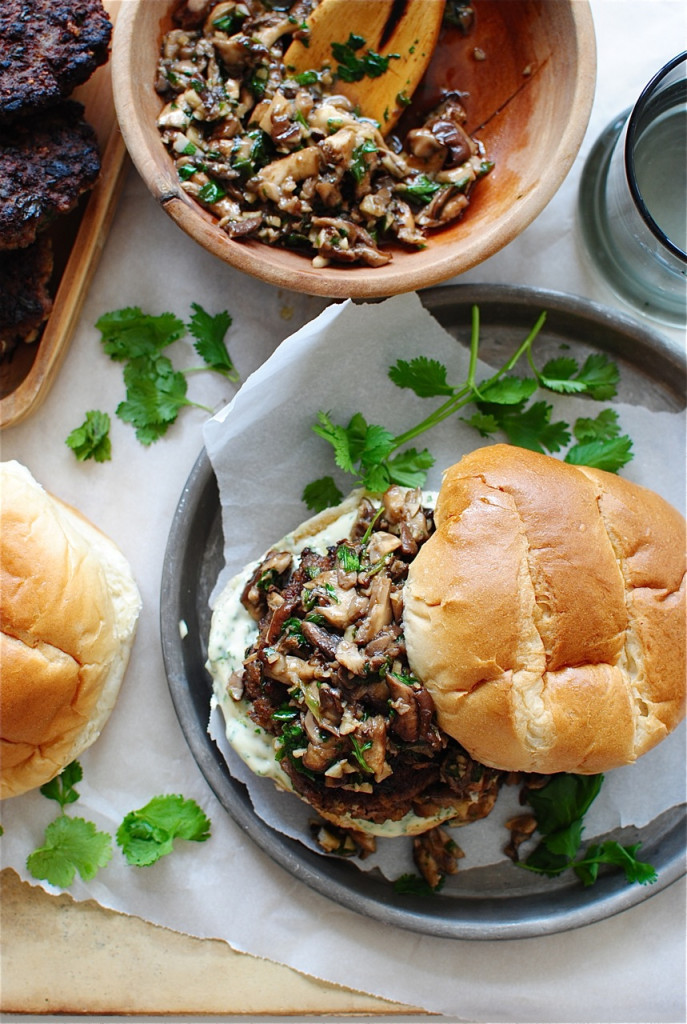 Matter of fact, there's a high probability of the use of ALL CAPS in this blog post. Just warning you now.
We all know of the glorious marriage of beef and mushrooms. Been around since the Beatle invasion, I think. Well, over the fourth of July, my father-in-law came home from the farmer's market with a crumbled brown paper sack filled with stunning shiitake mushrooms, flecked with fresh dirt, and zero plans for them. YESH. Of course I snatched the bag before any other grubbies could come near them. HooohahahaHAHAHAHAA.
I don't think I needed that laugh right there.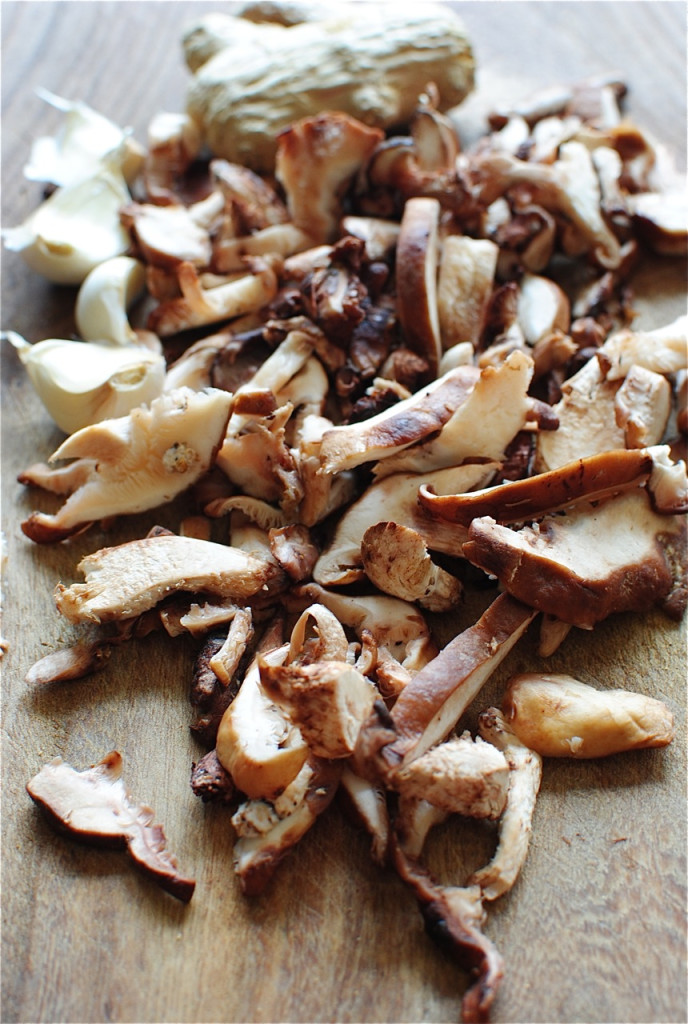 Ahhhh, such forest beauty, am I right? Earthy, fleshy, spongy, medicinal even! But enough about my brown eyes, let's talk about the shiitake mushrooms! At my store they come pre-sliced, but get whatever you can find. Since we're chopping these mushrooms up pretty small, I even left in some stems. They tend to be on the woody side, but once chopped you hardly notice.
For the party on the Fourth, I pulled together a quick mushroom mix with a little fresh ginger, garlic, cilantro, scallions, a splash of soy and sesame oil. Threw it over a flame for a kiss, then served it atop freshly grilled burgers. And it.was.incredible. So I'm showing you today!
Which is obvious by now.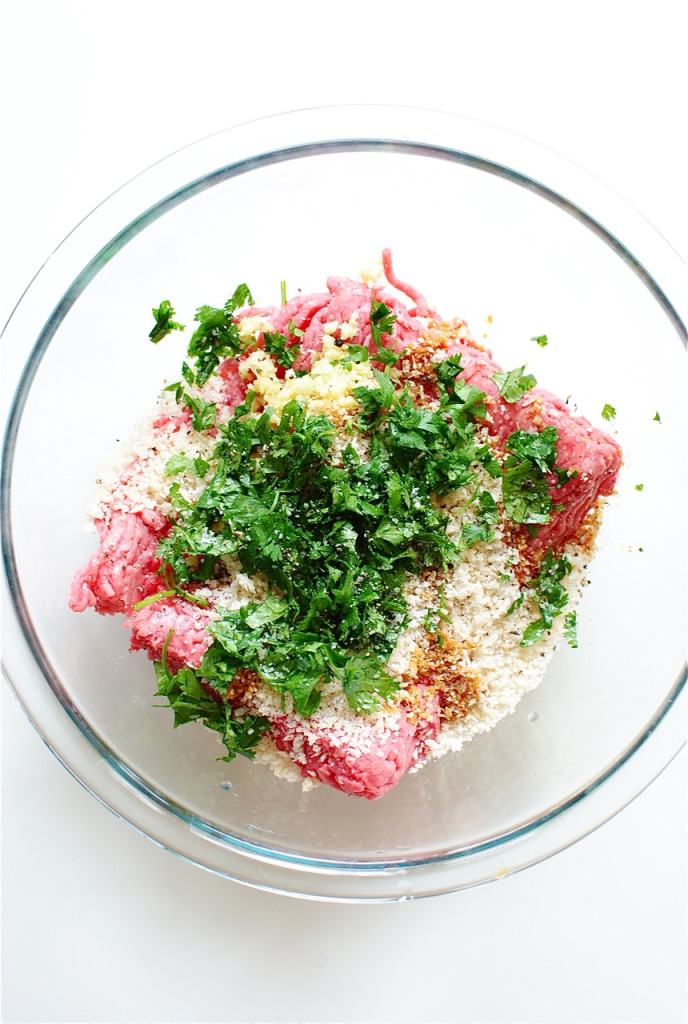 The awesome thing about this recipe, is that you can prep everything in the morning, and let it marry and chill all day. Then, once your stomach sounds like the Abominable Snowman taking down its fourth village in five minutes, you can throw the burgers on the grill, the topping on the stove and you're ready like THAT. (I just snapped in real life.) Like THAT. (snap) THAT. (snap)
The panko in these burgs adds a fun crunch factor that may surprise you at first, but after a bite or two will become your favorite thing in the entire world. However, if you need to add a little more soy sauce, go right ahead. I won't be mad.
Like THAT. (snap)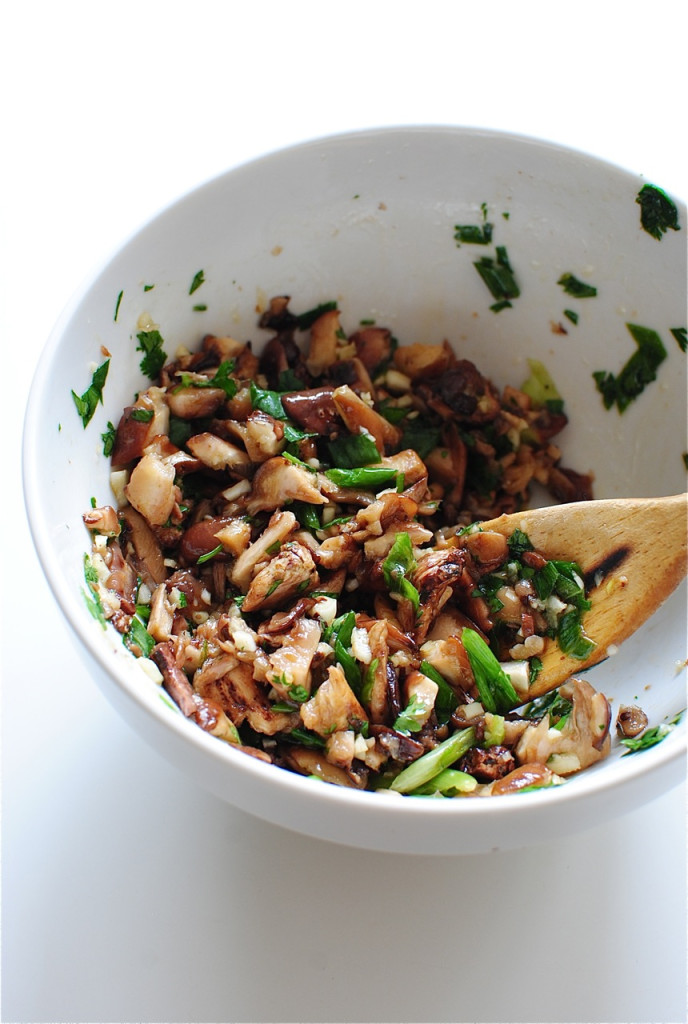 Would you even look at this? Honestly, the shiitake crumble, topping, relish, WHATEVER your heart wants to call it, is so freaking delicious as is, you could absolutely serve it raw. The sautéing will simply mellow the flavors a tiny bit, giving it a softer, rounder edge. I like warm food though, so I heated it. Don't you just want to go shiitake-bobbing in that bowl? It's unreal. You'll pass out.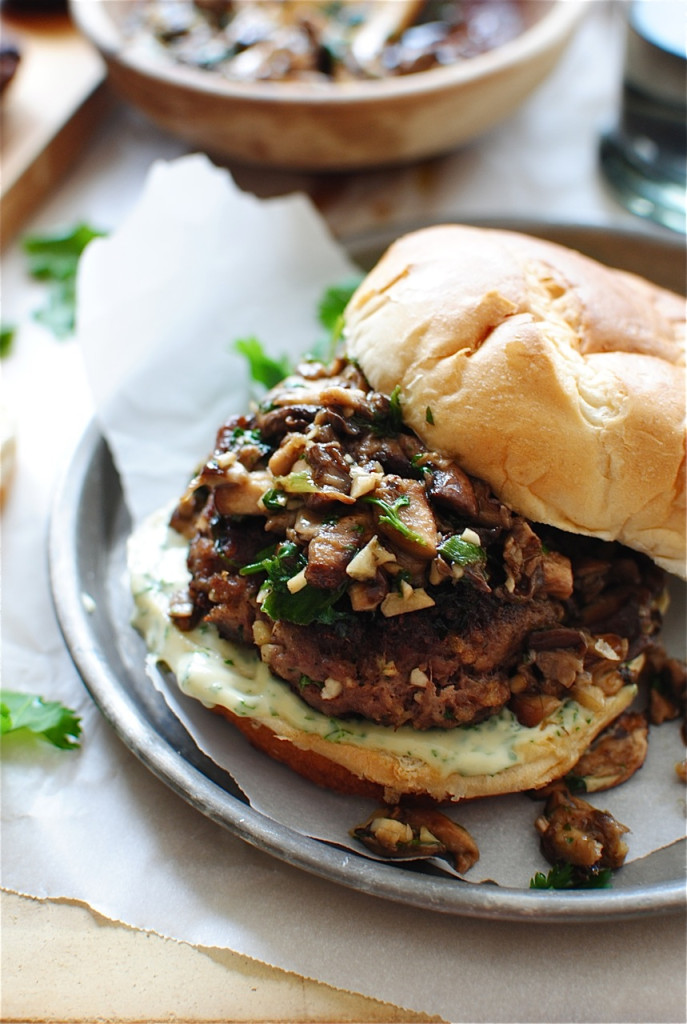 And then lastly, the bun sauce. GOOD LAWD 'ave mercy, the bun sauce. I feel like it pulls everything together. Ties it all into a yummy, spicy, juicy (<–sorry) bow. You think you don't need the sauce, but listen to me. YOUNEEDTHESAUCE.
I can't wait for you to make this! Like, I'm legitimately excited for your face and its impending mushroom experience of glory. Each layer plays off each other so wonderfully. The enticing bun sauce, the Asian-inspired burgers, the phenom shiitake topping. It's crazy, I tell you.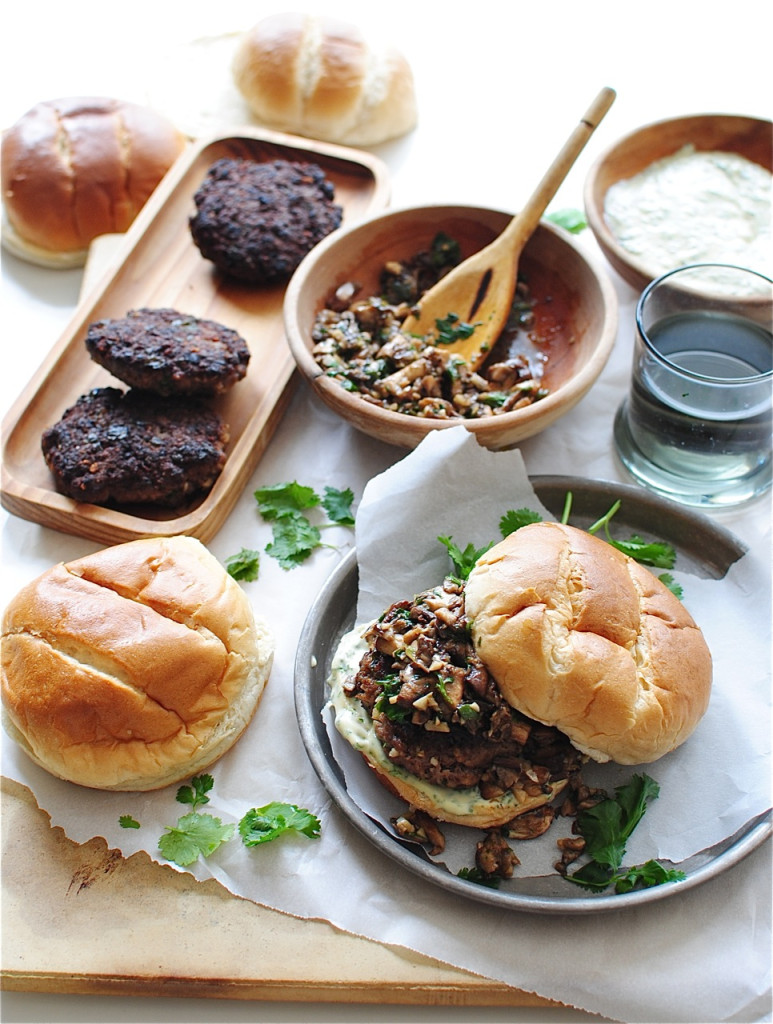 Freaking crazy.
Asian Beef Burgers with a Shiitake Sauté:
What it took for 4:
for the burgers:
* 1 pound grass-fed ground beef (regular beef is fine, too)
* 1 Tbs. freshly minced ginger
* 2 cloves garlic, minced
* 1 Tbs. soy sauce (maybe a little more if you need it!)
* 1/3 cup panko breadcrumbs
* 1 Tbs. freshly minced cilantro
* 1 pinch coarse salt and freshly ground pepper
for the shiitake topping:
* 5 oz sliced shiitake mushrooms, chopped
* 2 cloves garlic, minced
* 2 scallions, thinly sliced
* 2 Tbs. minced cilantro
* 2 tsp soy sauce
* 1 Tbs. extra-virgin olive oil
* 4 tsp sesame oil
* 1 pinch salt and pepper
for the bun sauce:
* 3 Tbs. mayo
* 2 tsp sesame oil
* 1 tsp soy sauce
* small pinch of minced cilantro (like a Tbs.)
the rest:
*your favorite burger buns
* extra cilantro for garnish
In a large bowl, combine all of the burger ingredients. Mix with your hands until thoroughly combined. Add a little more soy sauce if you feel the burgers are a little dry. Shape into four burger patties, cover and chill until you're ready to cook.
Combine all of the mushroom topping ingredients in a large bowl. Toss to coat with the oil. Chill until ready to cook.
Combine the bun sauce ingredients in a small bowl; chill until ready to eat.
To prepare the patties, either grill or sear over a medium-high heat until browned all over and cooked through, about four minutes per side.
Transfer the mushroom topping to a small sauce pan and sauté until heated through.
Smear a bit of the bun sauce on the bottom bun (toasted if you desire!), followed by a burger patty, and a healthful spoonful of the mushroom topping.
Serve and completely FREAK OUT because this burger, you guys.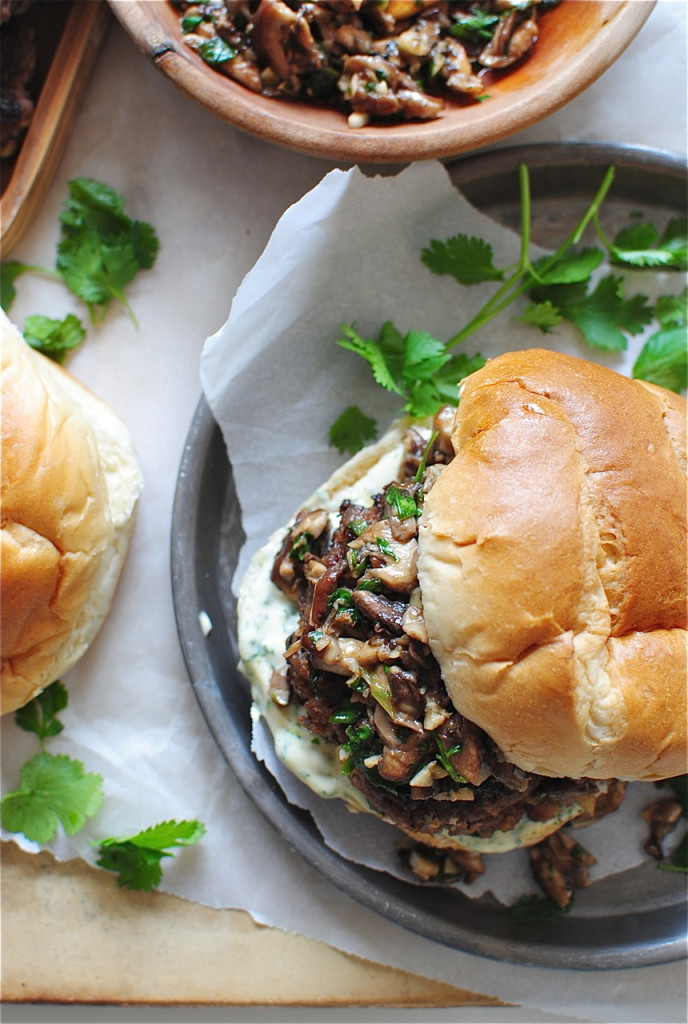 This is not a dream.