And pasta. I should definitely mention the pasta.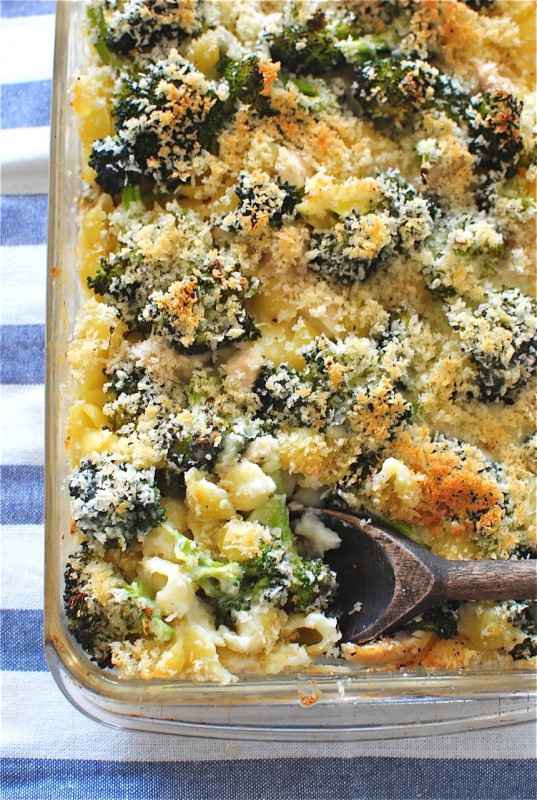 Oh, and the roasted garlic cream sauce! I'm gonna mention that, too. An entire head of garlic (duh) roasted until it's so tender you could use it as a face mask.
By the way!- don't do that.
This is like, one of your classics. Chicken and broccoli, yes yes. Alfredo sauce, I'm listening. Roasted GARLIC alfredo sauce, come a little closer. Some baby pasta shells, I'm yours for the rest of time.
This is what's so great. You'll boil your chicken and pasta at the same time. Sort of at the same time. The chicken gets a slight head start. Which reminds me, anytime I hear the words "head start" I think of that time in 4th grade when we had a track meet at my elementary school in Hot Springs, AR. And this horrible, little scrawny boy was next to me at the start of the race line, and right before they blew the horn for us to run, he flipped his eyelids right in my face, RIGHT IN MY FACE, and I've never recovered. That is what I think of when I hear the words "head start." Has nothing to do with the story, I realize. This is what trauma does to the brain.
Anyway, you'll never be the same if you don't try this easy, creamy, luscious (<—are we still friends?) recipe. A little boil boil, little chop chop, little whisk whisk, little bake bake, little gorge gorge.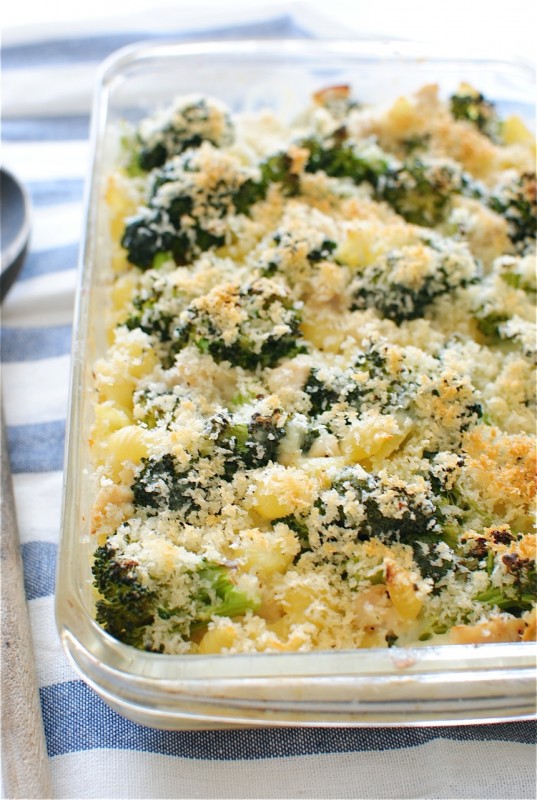 It's juuuuust enough sauce, too. The goods don't drown in it, but it's also not dry, withering away, hallucinating at the sight of mirages at the other end of the pan, parched as it becomes petrified in its own pitiful, brittle state.
Yeah this is definitely not coming out right.
It's awesome, basically. And you need to devote all of January to it.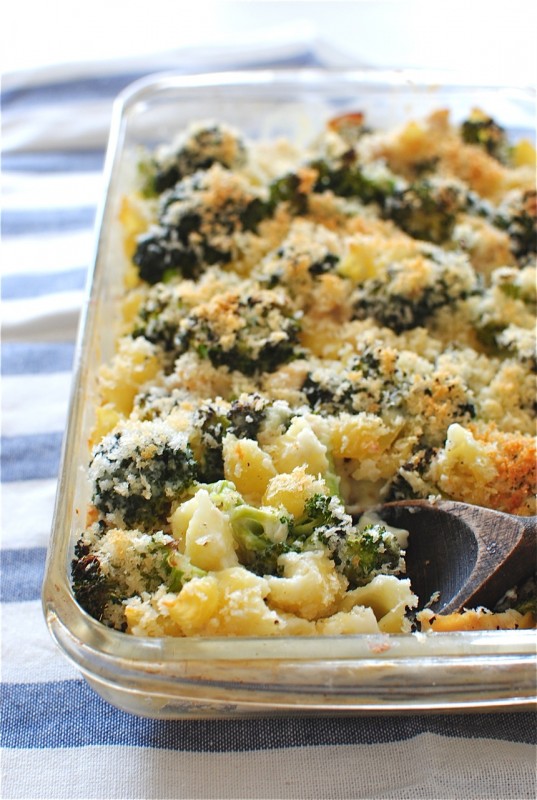 There's pasta in it.
Chicken and Broccoli Alfredo Bake:
what it took for 4:
* 1 head garlic + 1 tsp oil and a pinch of salt
* 2 chicken breasts (around 14 oz)
* 1 1/2 cup small pasta shells (you could even go a full 2 cups if you want)
* 2 medium heads broccoli, broken into florets
* 4 Tbs. butter
* 4 Tbs. all-purpose flour
* 2 cups milk
* 1/4 cup freshly grated parmesan
* 4 Tbs. panko
* 2 Tbs. butter, melted
* salt and pepper
Preheat oven to 400. Slice off the end of the head of garlic and place inside a small aluminum foil square. Drizzle with a tsp of olive oil and a pinch of salt. Fold the foil around the garlic and roast for 30 minutes in the oven. Once roasted, let cool a few minutes. Squeeze the cloves out of the skins and mince them to a paste.
Adjust oven to 350.
Bring a large pot of salted water to a boil. Add the chicken breast and poach for 5 minutes. Add the pasta to the pot and boil for 3 minutes.
Drain everything; give the chicken a good dice, and transfer the pasta to a 9×13 baking dish. Add the chicken and broccoli florets to the dish. Sprinkle everything with a pinch of salt.
In the meantime, make your cream sauce. Heat the butter in a small saucepan. Once melted, whisk in the flour and continue to whisk until it's slightly brown, and the flour taste is gone. You made a roux! Add the roasted garlic paste and whisk to combine. Add the milk and cheese; continue to whisk until the sauce has thickened, 5-10 minutes. Season with salt and pepper.
Pour the cream sauce over the casserole dish, covering all the broccoli, chicken and pasta. Get it good and covered. Mmmmm.
In a small bowl, combine the panko breadcrumbs and the melted butter. Season with salt and pepper. Sprinkle the panko mix over the whole dish.
Bake, uncovered, for 30-40 minutes, until the panko is golden brown and the pasta on the edges just gets just a weeee bit crispy. You know what I mean.
Eat!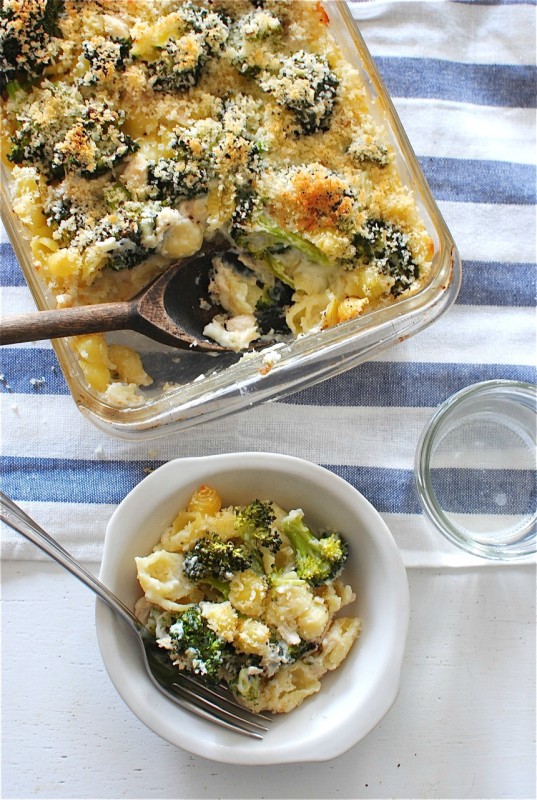 That panko on top is the best crunch in alllllll the land.