Ten days until Christmas and I'm just now showing you a gift guide. Oops?
Seriously though, lots of people wait until the veeeera laaaast second. They thrive in the chaos! They blossom under the pressure! They flourish in the mayhem! Not me, dudes. No way no how. I would have 57 panic attacks if I still had shopping to do.
So, for those still trying to figure out last minute ideas, allow me to throw some your way. Amazon prime it, expedite it, whatever you need to do. Ya still gots time.
Alright! For the ladies: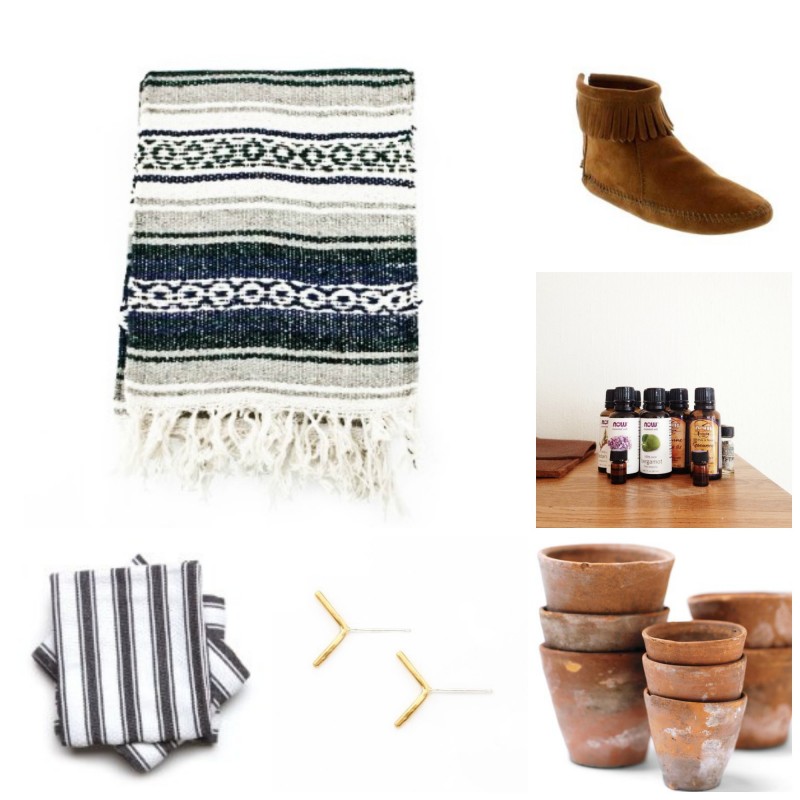 1) A nice Mexican blanket. Or any blanket or throw! I love these Mexican ones because they have a little sass, but remain simple at the same time. Some people even use them to practice yoga on! I do not do that. I practice lying underneath it watching Friends reruns.
2) Ahhhh, the Minnetonka bootie. I have a couple pairs of these moccs, and they.are.all.I.wear. I'm completely obsessed with them. Especially these back zippier booties. Classic, easy to slip on, and go with everything. Win win, yo.
3) Essential oils! I've been using essential oils for years and years, and it's seriously such a peacemaker in my home. Get a whole array of scents, or just a basic lavender for when you sleep at night. You can use the oils in so many ways. They will absolutely change your life. As far as where to get them, really anywhere. Even grocery stores. I'm linking you to the Now website, because most of mine are that brand. But Amazon them, go to your local hippie store, etc. You'll find 'em.
4) Terra cotta pots and planters – You just can't beat this classic look for planters. I have five zillion at home and plan on getting five zillion more this next year. The link shows you how to age your pots, but seriously, you can get these planters ANYWHERE. Any garden center or nursery. Lowe's, Home Depot, anywhere. If your girl likes to garden, she'll completely flip out over these.
5) Simple, stunning gold earrings. 'Nuff said.
6) Black and white striped tea towels – they are just so darned cute if your lady loves a slightly rustic farmhouse feel in her kitchen. Get a few. Get a few more. There you go.
For the dudes. I mean men. For the men dudes: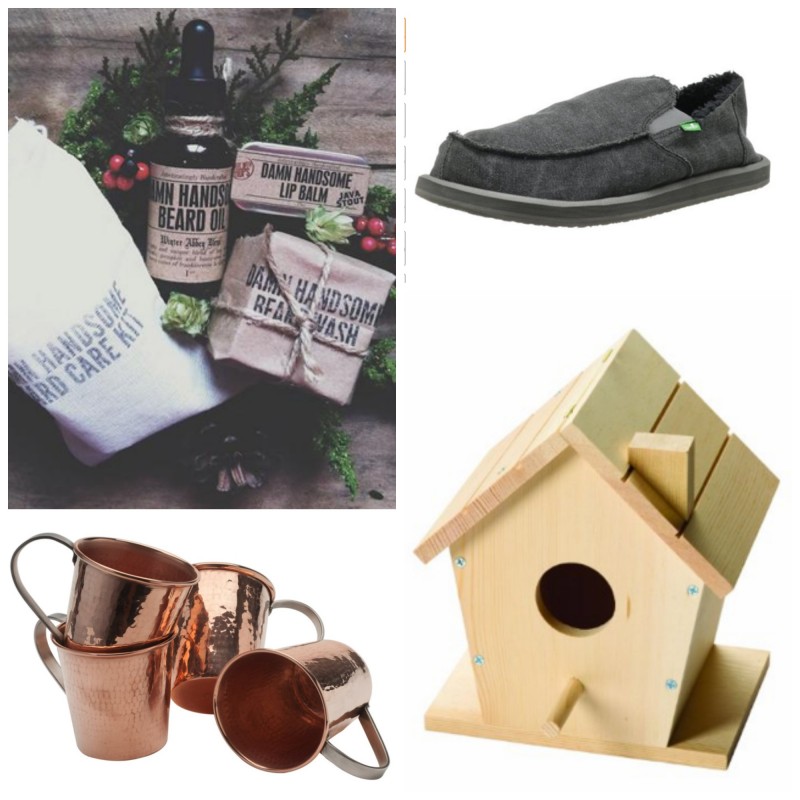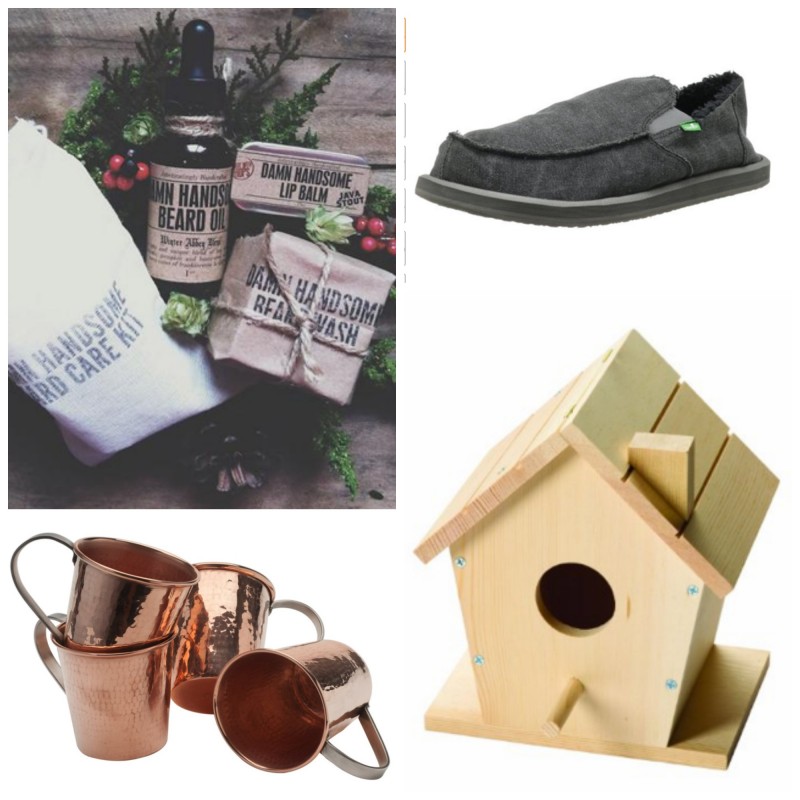 1) What dude isn't obsessed with shaving and five o'clock shadows? I love this little shaving package because it's studly, yet stylish. That entire site is amazing. Take some time and look through all the accessories, leather wallets, the other beard oils (<—gross?), and what nots.
2) My husband has two pairs of Sanuks and swears by them. They're slippers in a way, but you can wear them anywhere. Or at least he does. Your man will totally dig these.
3) Copper mugs! I want 13 billion of these. I'm not a whiskey drinker myself, but I would become one if I had these coppers mugs to sip on my Moscow Mules. If your guy's into whiskey, he needeth not liveth another day without these mugs. Ya hear me?
4) A birdhouse. I know it might seem a little kidish, but I'm telling you, he'll dig this. Aaron is super weirdly obsessed with birds and spends the majority of the winters feeding the different kinds of birds that flock to our back yard an array of colorful seeds. You could even go a step further and get a book on birds in your part of the country, a bag of seeds, and binoculars to study the birds with. Just don't let the neighbor catch you looking at them at night. Not that that's happened to me! It's happened to me.
For the gremlins: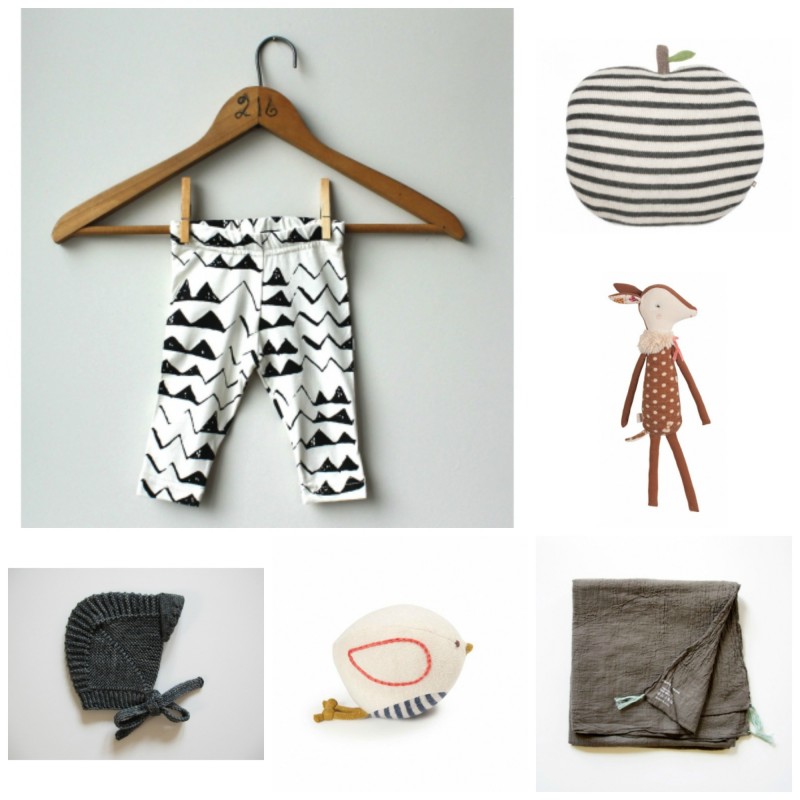 I could write an entire post on baby stuff, but I'll keep it simple for you with just a few things. And let me just say, everything here is from one adorable little shop in Brooklyn, called Darling Clementine. They have no idea I'm writing about this, just eff why eye.
1) The cutest little mountain leggings in all the land.
2) Black and white striped apple pillow. Are you kidding? No.
3) Bambi! Super soft, simple, as cute as can be.
4) This lightweight gray gauze blanket. Can't have enough blankets.
5) A white bird rattle. You can't even, can you?
6) This adorable gray visor bonnet. STAP.
And lastly, a few DIY gifties if you do feel inclined. These are all made by me, and are noooot hard at all.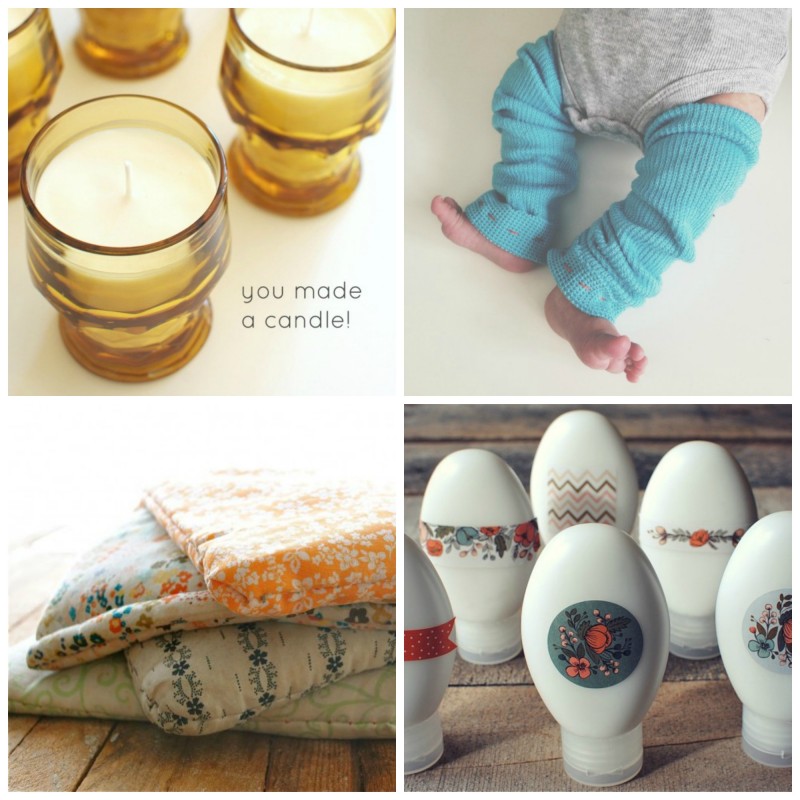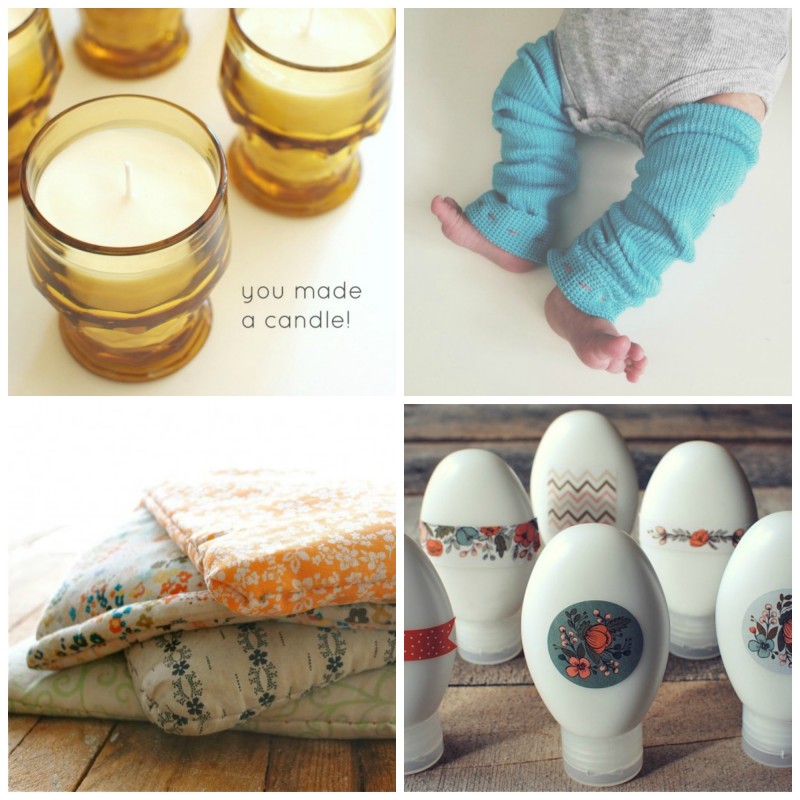 1) Homemade soy candles. Scented of course! These are ridiculously easy. Make 15 thousand.
2) Baby leg warmers! If you click on that link and go look at a wee-est of wee Natalie, we can cry together.
3) DIY rice heating pads! I've used these for over 10 years and will continue to do so, always and forever. Amen.
4) Homemade scented hand lotion. Pocket size, baby.
And this concludes my 2014 gift guide! I promise I'll post one next year earlier than 20 minutes before Christmas. HO! HO! . . . no?